Frosted Oreo Pizza made with chocolate chunk cookie dough, topped with cream cheese frosting & chopped Oreos. Oreo dessert pizza perfect for cookie lovers!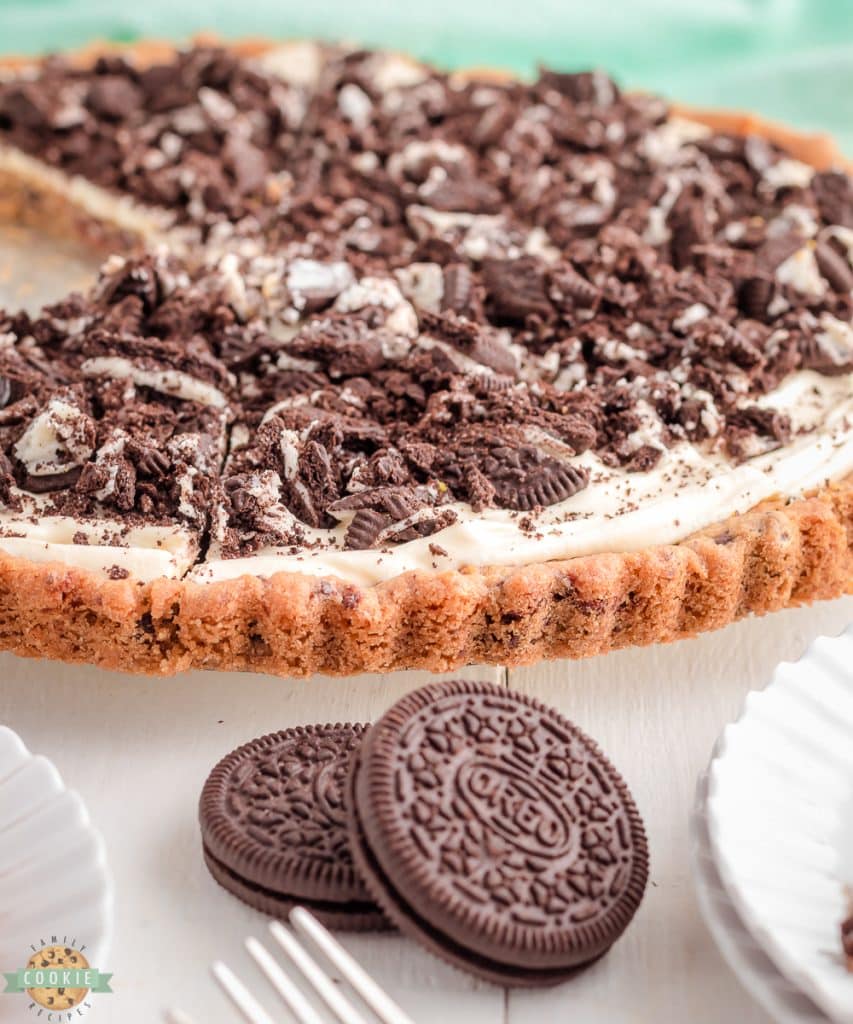 This cookie pizza is great for entertaining and sharing, it is so easy to make too. This chocolate chip cookie pizza is fun to make with the kids!
Frosted Cookie Pizza
This cookies and cream frosted dessert pizza is a heavenly treat you and your whole family will absolutely love. It has a chocolate chip cookie crust, topped with a smooth cream cheese frosting, and topped with crunchy Oreos bits. Making this tasty treat is so simple too, with minimal ingredients and little prep work, it comes together quickly and is devoured just as fast. This dessert pizza is a great recipe to make when you are entertaining, you can cut it into slices and everyone can grab a slice to enjoy!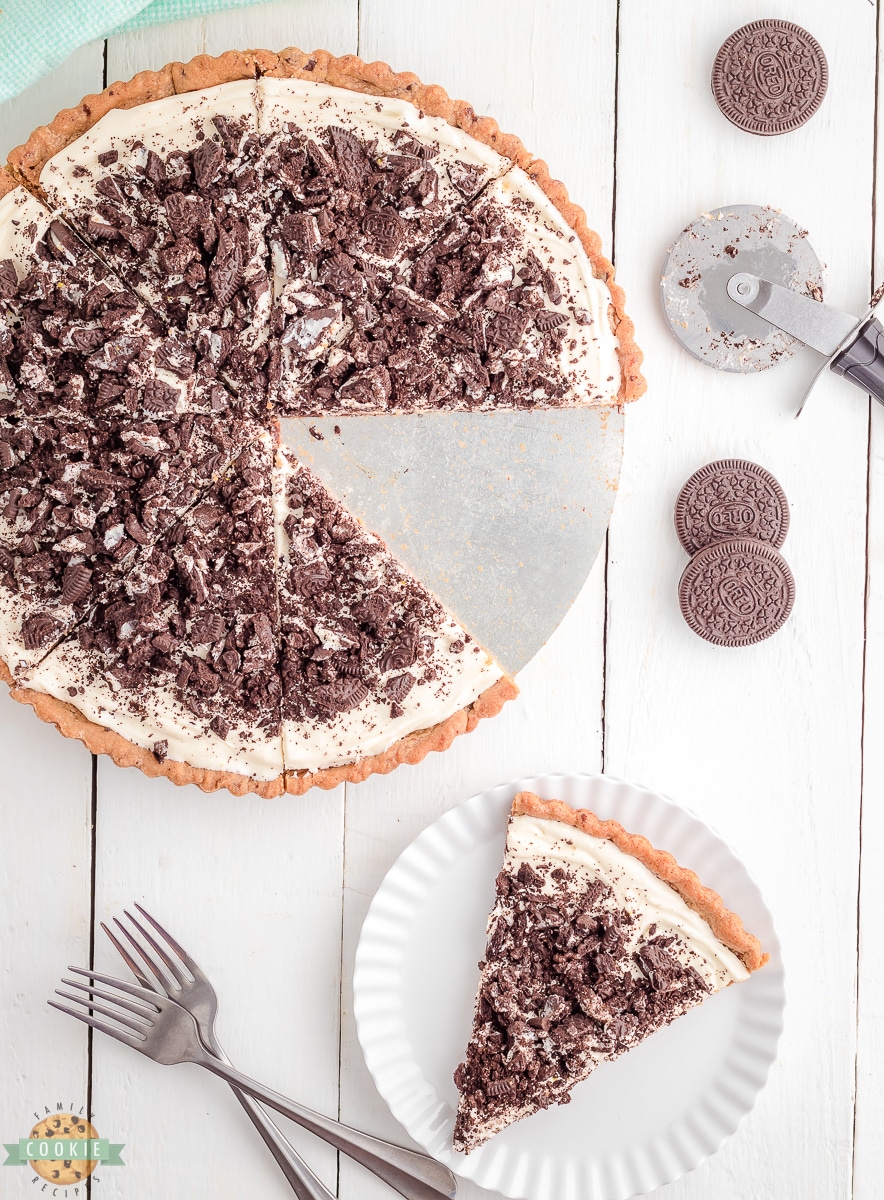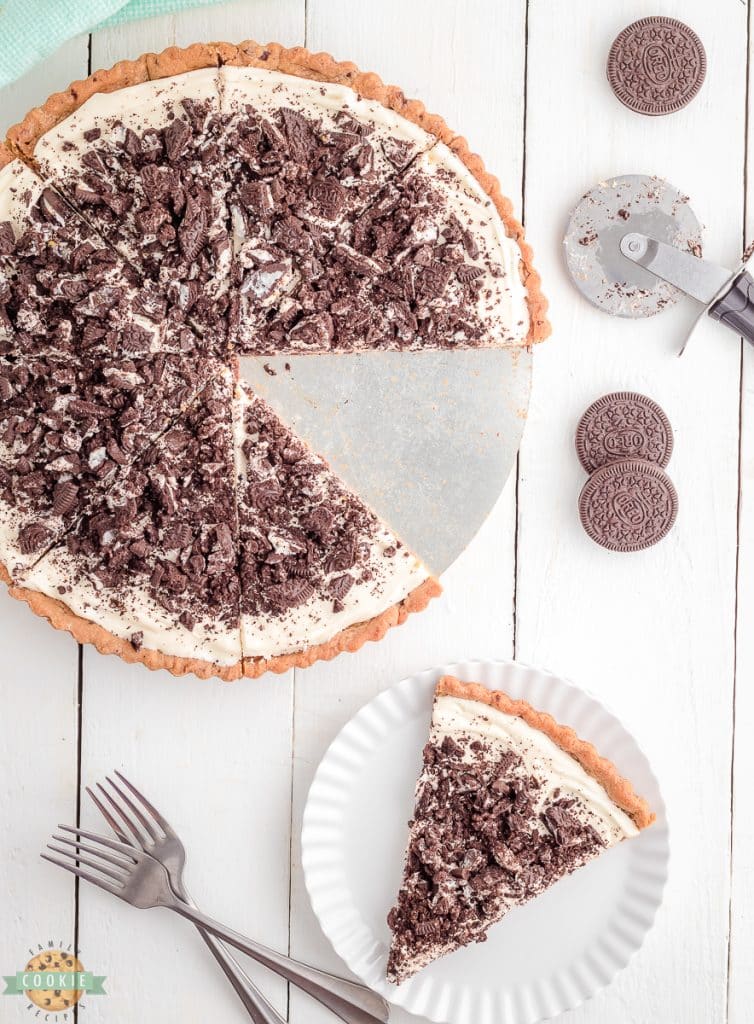 Why you should try this dessert pizza
In case you need convincing, here are the top three reasons why we think you will love this yummy treat.
Versatile recipe. This cookie recipe is so great because each time you make it a new creation can be born. You can switch up the cookie bits based on what you have on hand, or even add little candy pieces too. Have fun experimenting with toppings for this yummy dessert pizza.
Pizza cookie. My two favorite words, how can this not be a great recipe? This treat is a lovely combination of a sweet and chewy cookie with the crunchy cookie topping. It is sure to be a big hit at any party or gathering, just watch how quickly it disappears.
Easy to serve. I love this recipe for many reasons, but to have an easy dessert that looks fancy but still is simple to serve is so great. To be able to slice and everyone takes a piece makes it a go to recipe for any event.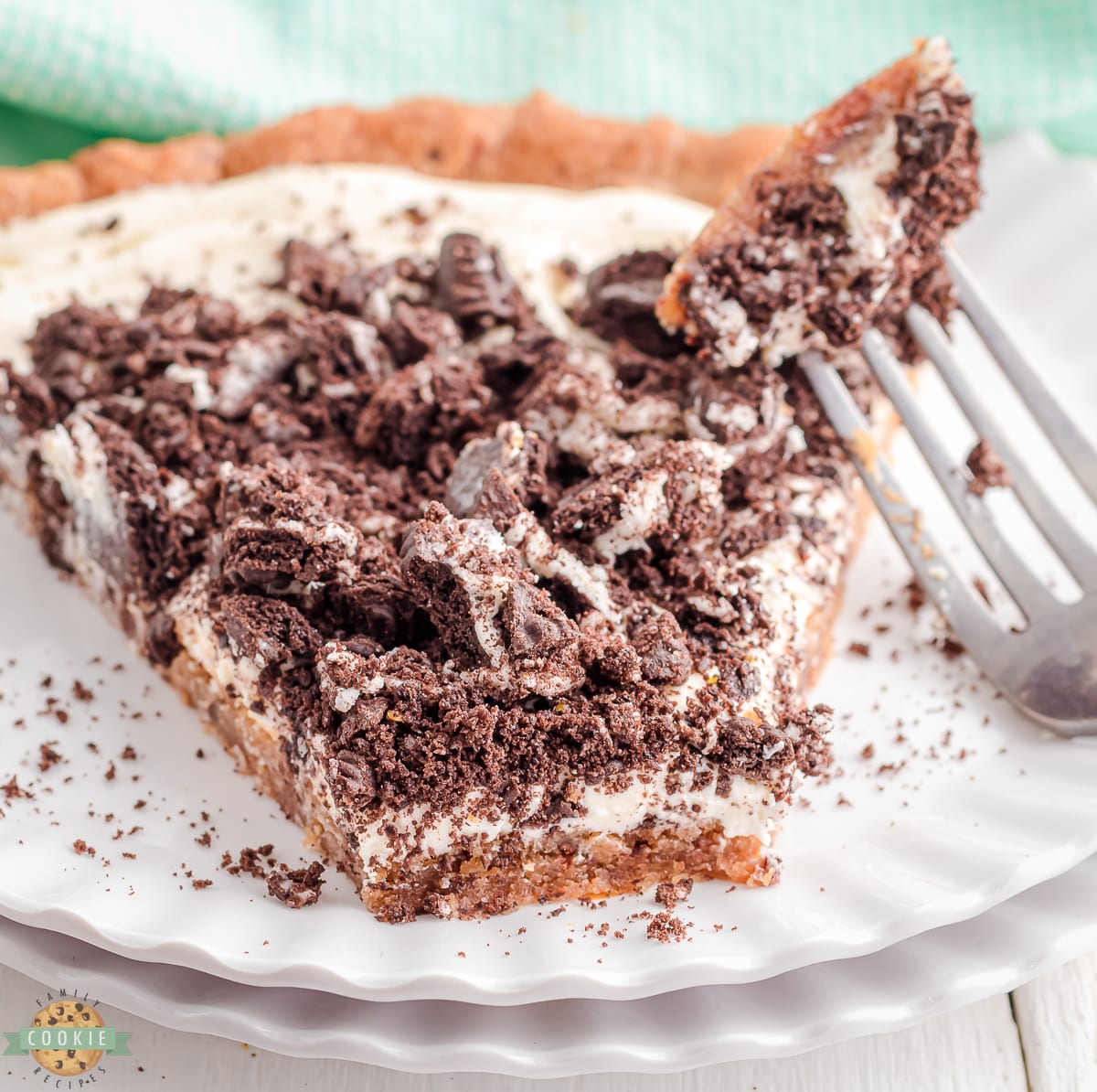 Frosted Oreo Pizza Ingredients
Crust
Chocolate chip cookie dough: You will need [1] 16.5 oz package of chocolate chip cookie dough, I used Pillsbury Chocolate chunk. Using a premade dough makes this recipe so simple and quick!
Frosting
Butter: Adding ¼ cup of butter (half a stick unsalted) gives the pizza frosting a nice rich flavor.
Cream cheese: Use 4 ounces of cream cheese (room temperature) to create a smooth and cream frosting.
Powder sugar: You need ¼ cup of confectioners sugar to give the icing a lovely sweet taste.
Vanilla extract: To add wonderful flavor to the topping, add in 1 teaspoon of vanilla extract.
Salt: Adding in just a pinch of salt will balance the flavors so greatly.
Oreo cookies: For the crunchy pizza topping you need 1 ½ cups of chopped Oreo Cookies, this is about 12 Oreos.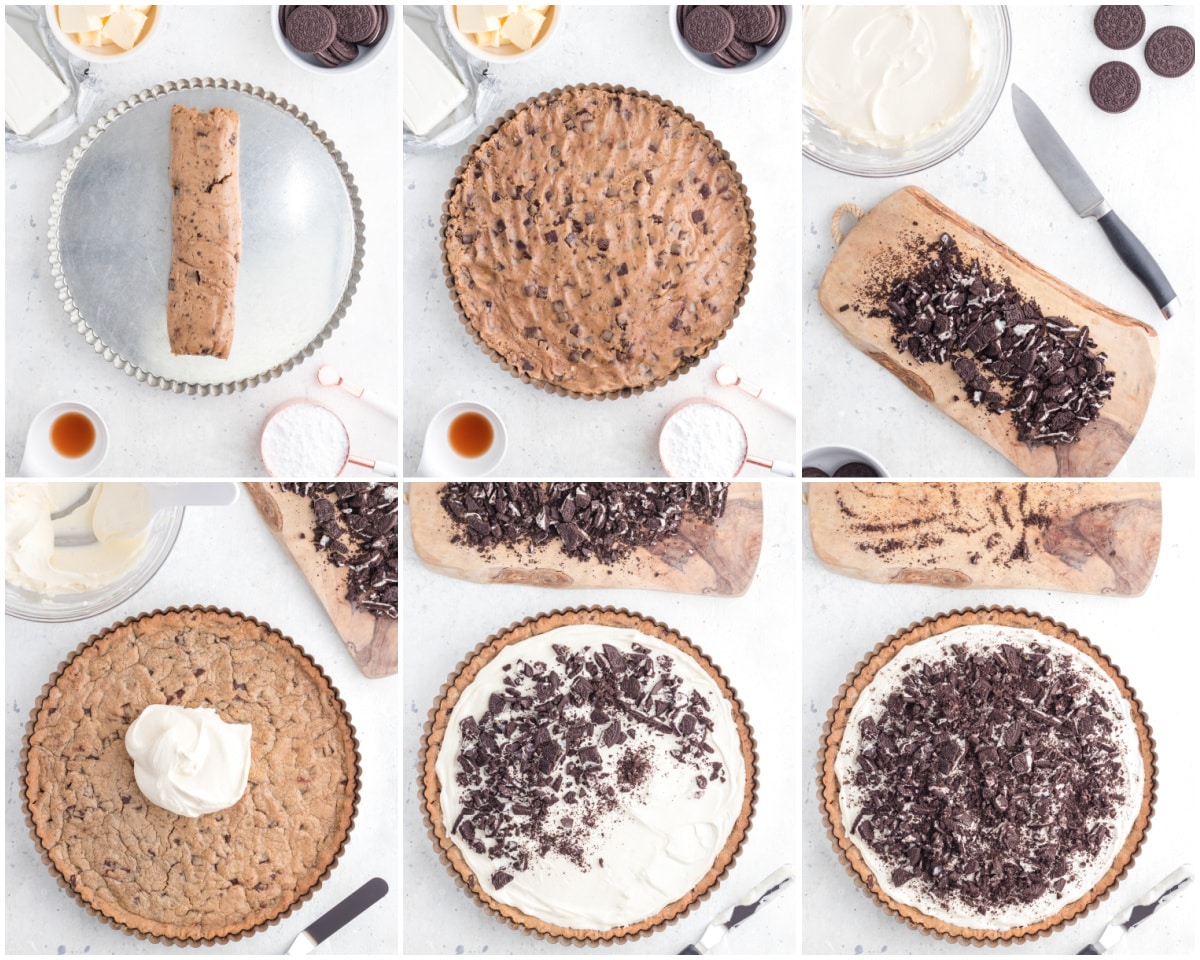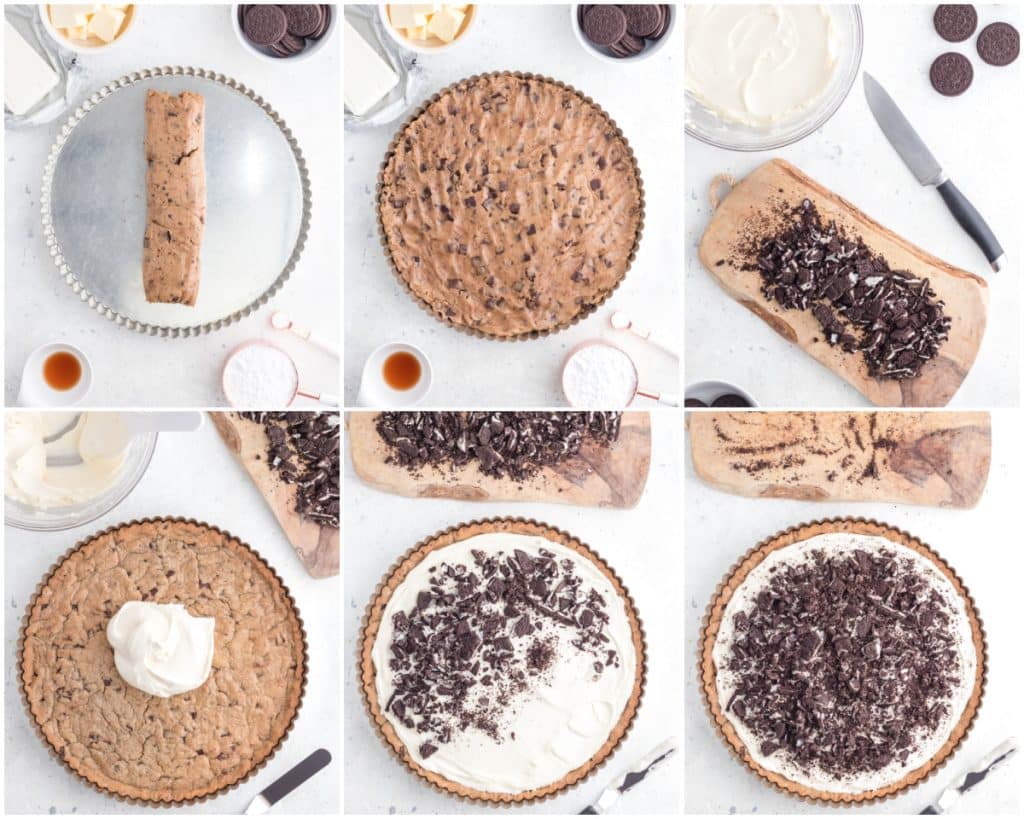 How to make Oreo Pizza
Start by preheating the oven to 350 degrees F.
Then, press the store bought cookie dough into a 12 tart or pizza pan. Bake it for 12-15 until a toothpick inserted comes out clean. Remove from the oven and allow to cool.
Frosting
Prepare the cream cheese frosting by mixing the (room temperature) cream cheese and butter until it is light and fluffy. This takes about 1-2 minutes with an electric mixer on medium speed.
Next, add the confectioners sugar, vanilla extract, and salt. Start mixing on low speed and then adjust to medium-high and beat until combined and smooth.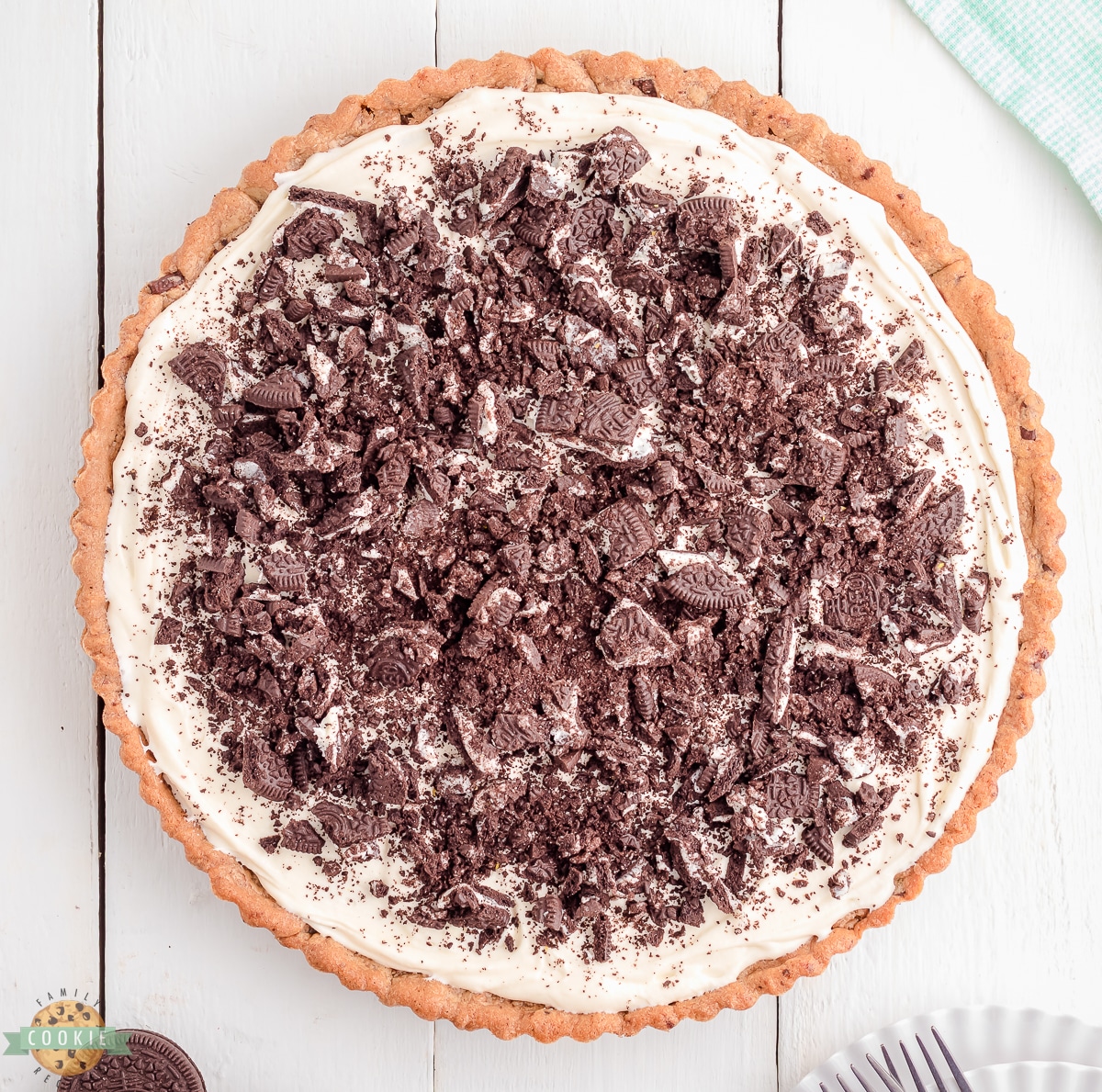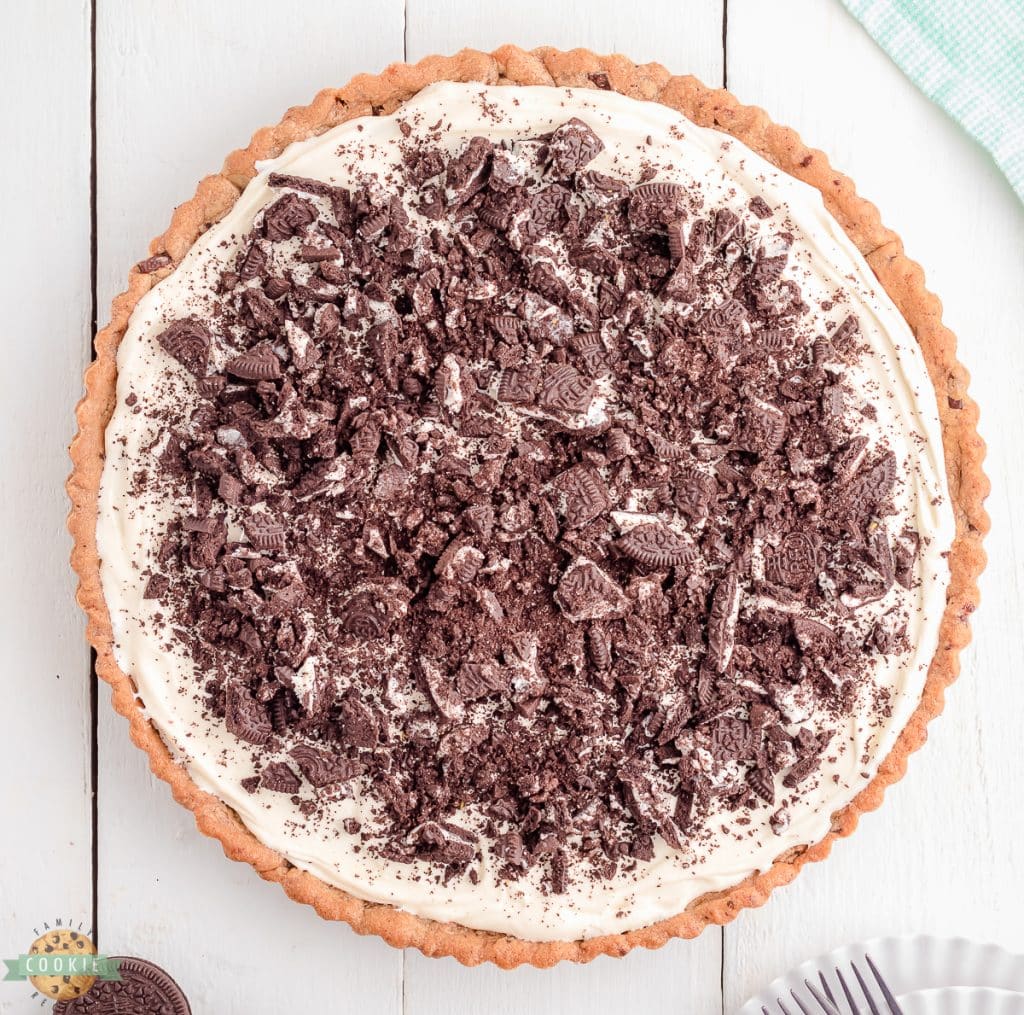 Assembly
When the cookie pizza crust is cool, add some of the cream cheese frosting to the center and spread it out evenly using an offset spatula. Continue adding frosting until you have a nice even layer. Leave a 1-inch border around the edge to give it more of a pizza look.
Chop the Oreo cookies into small pieces, then sprinkle them over the cream cheese frosting and cover the entire pizza surface.
Chill for 10 minutes in the refrigerator and then slice with a pizza cutter into 8 equal pieces or 16 if you want smaller slices! Serve and enjoy!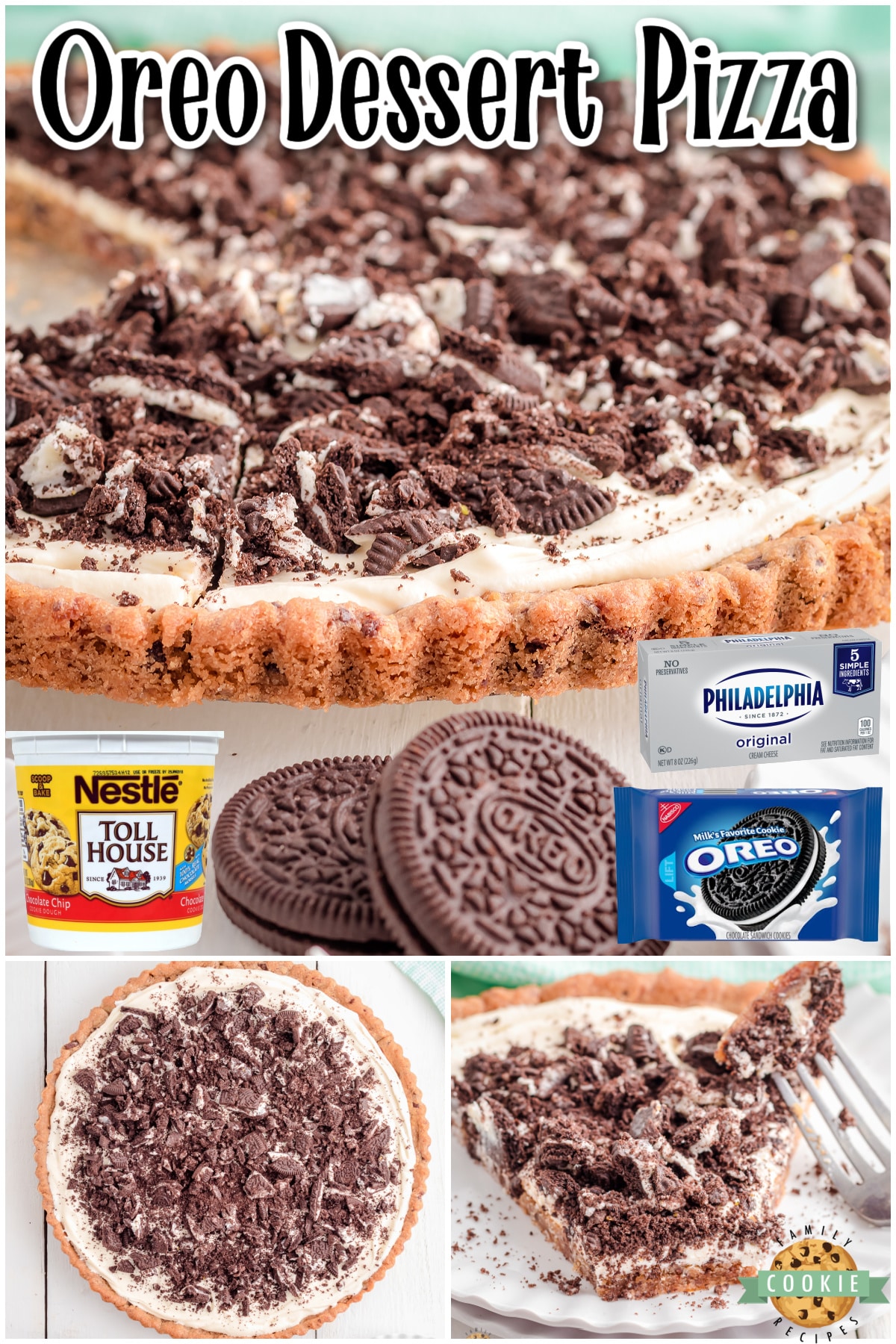 Tip for Recipe Success
Here are a few tips to create the most amazing dessert pizza ever.
If you would like to make this ahead you can bake and cool the cookie and store it in the fridge. When you are ready to serve bring it to room temperature and garnish with the Oreos.
You can substitute the store bought cookie dough for homemade but you will have to monitor the timing for baking as it may need more or less time.
This pizza will keep well up to a week in the refrigerator carefully double wrapped with saran wrap. The Oreos on top will not be crisp however they will still be delicious!
If you are making this recipe with kids, have them press the dough in the pan while you make the cream cheese frosting, and then have them sprinkle on the Oreos after you chop them!
How do you store dessert pizza?
Since this cookie pizza is topped with a cream cheese frosting, it does need to be refrigerated and in an airtight container. It is best when served the same day it is made, but when we have had left overs they are just as delicious the next day.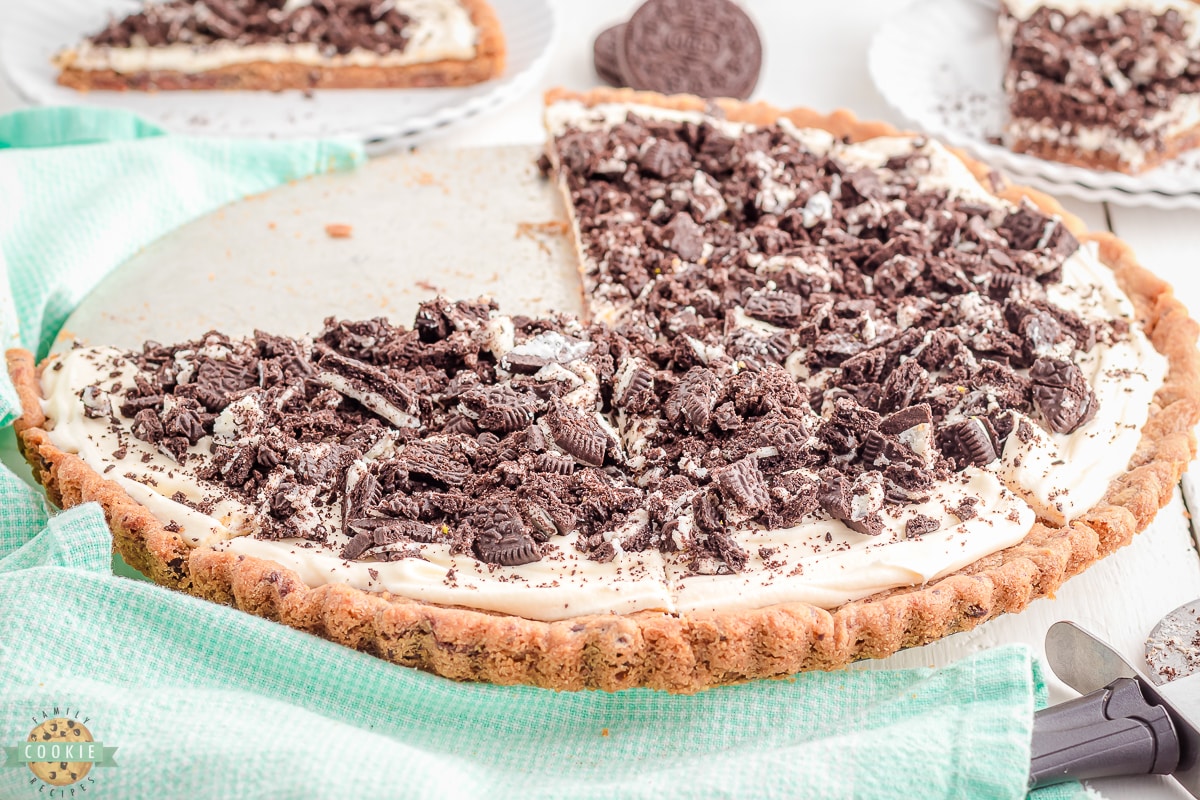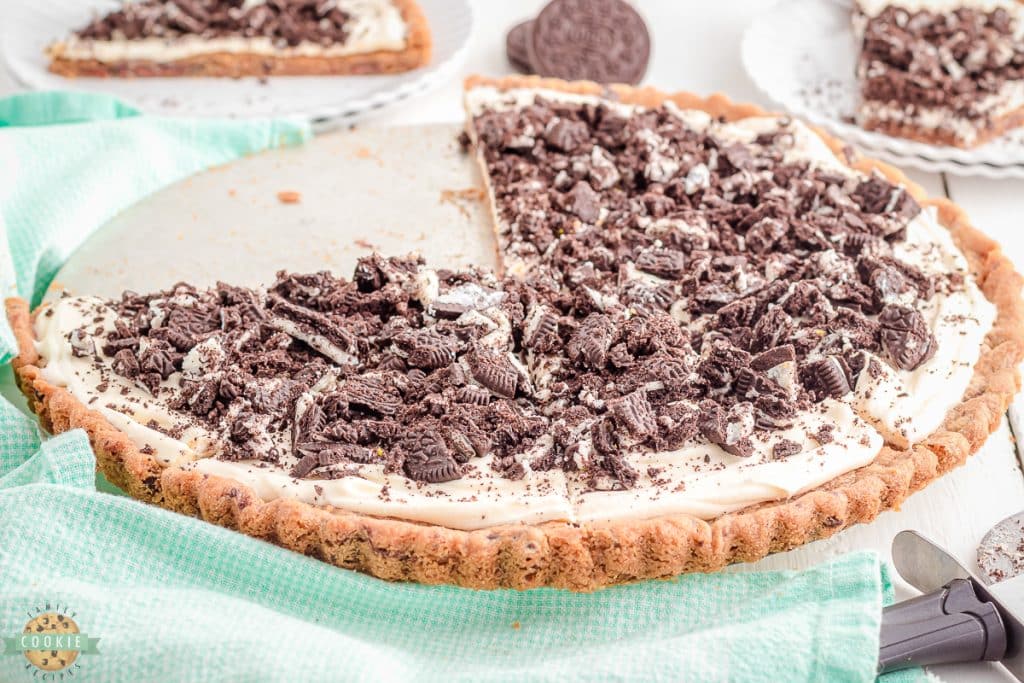 Can I freeze this frosted cookie pizza?
Yes and no. You can freeze the actual cookie itself, hold off on the frosting and the cookie topping until you are ready to enjoy. The cookie will freeze well and be good for up to three months. When you are ready to create the pizza cookie, then prepare your frosting and cookie crumbles.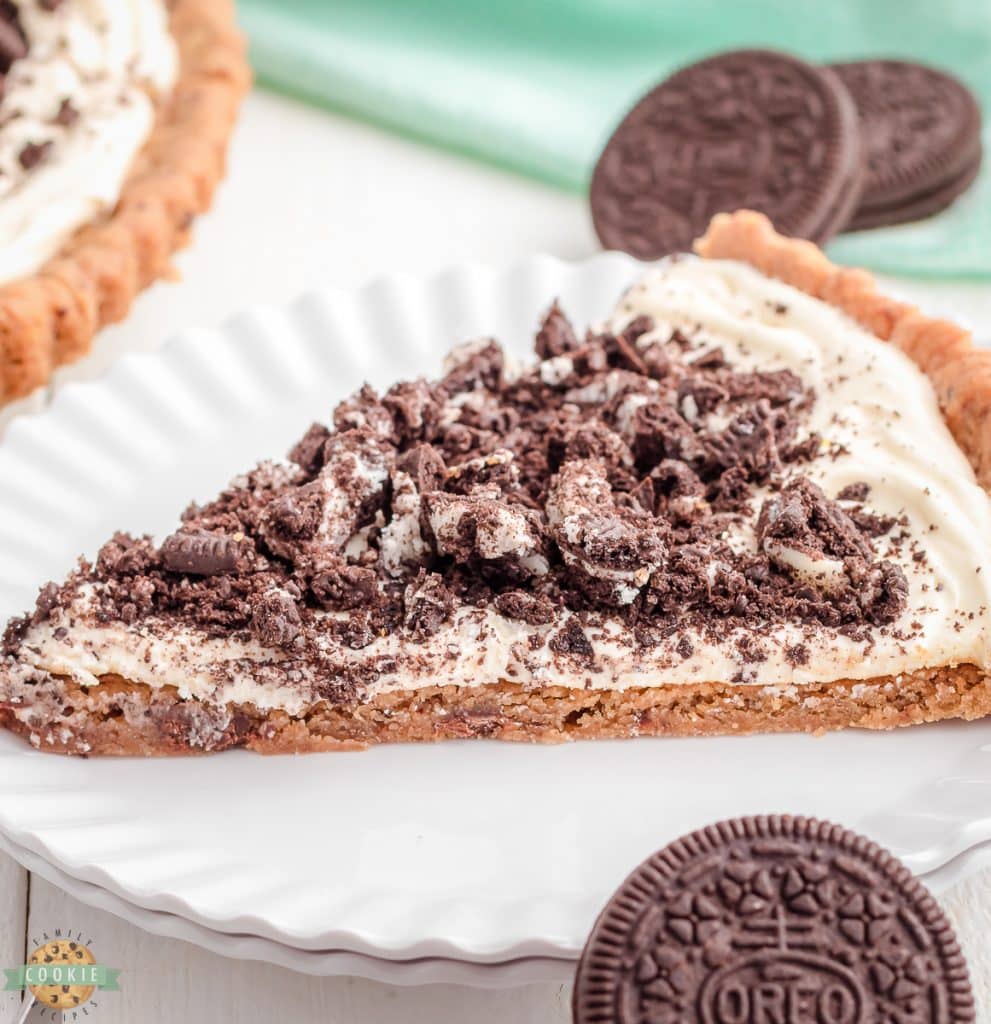 Can I use other toppings for my dessert pizza?
You sure can! These pizza cookies can be fun to experiment with. Feel free use another type of cookie crumble, whatever you have in your kitchen or your families favorite cookie. You could go another direction with mini chocolate chips and chopped walnuts! Or you can even add your favorite candy pieces instead of cookie crumbles, Reece's Pieces would be amazing on top of this dessert pizza. This is the great thing about this recipe, you can create your out pizza as you see fit!


Our puppies LOVE wandering outside after it's rained…snails are the BEST SNACK EVER! Ha! Totally gross, right?! They play with them, they chase them around, and then yes, they tend to eat them. Eeewwwwwww.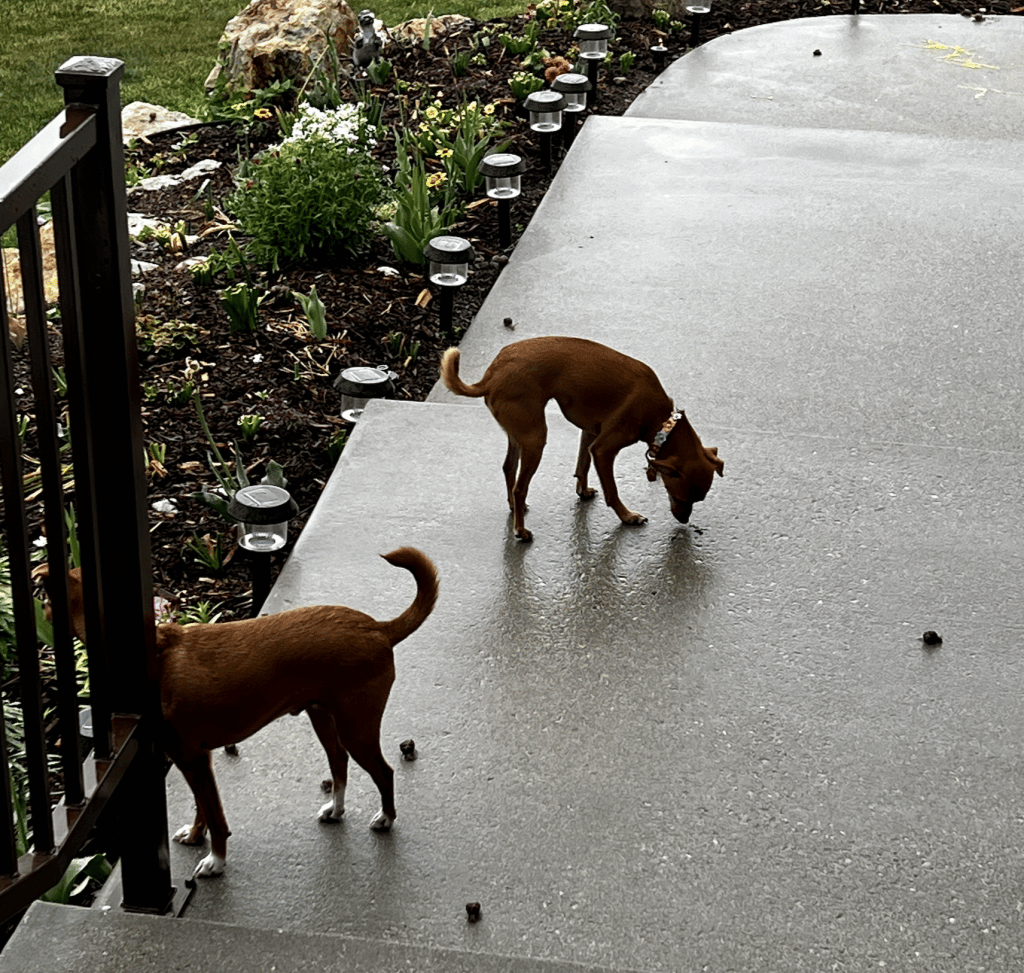 Try some of our other favorite cookie recipes here!
Frosted Oreo Pizza is a easy to make recipe, loaded with great flavor, and one that is a chocolate lovers dream come true. This Oreo dessert pizza is created with a store bought chocolate cookie dough and topped with a sweet cream cheese frosting and chopped Oreos.