Rocky Road Cookie Cups made with a sugar cookie mix and topped with marshmallows, chocolate chips and pecans! Delightful rocky road dessert in cookie form for bite-sized fun!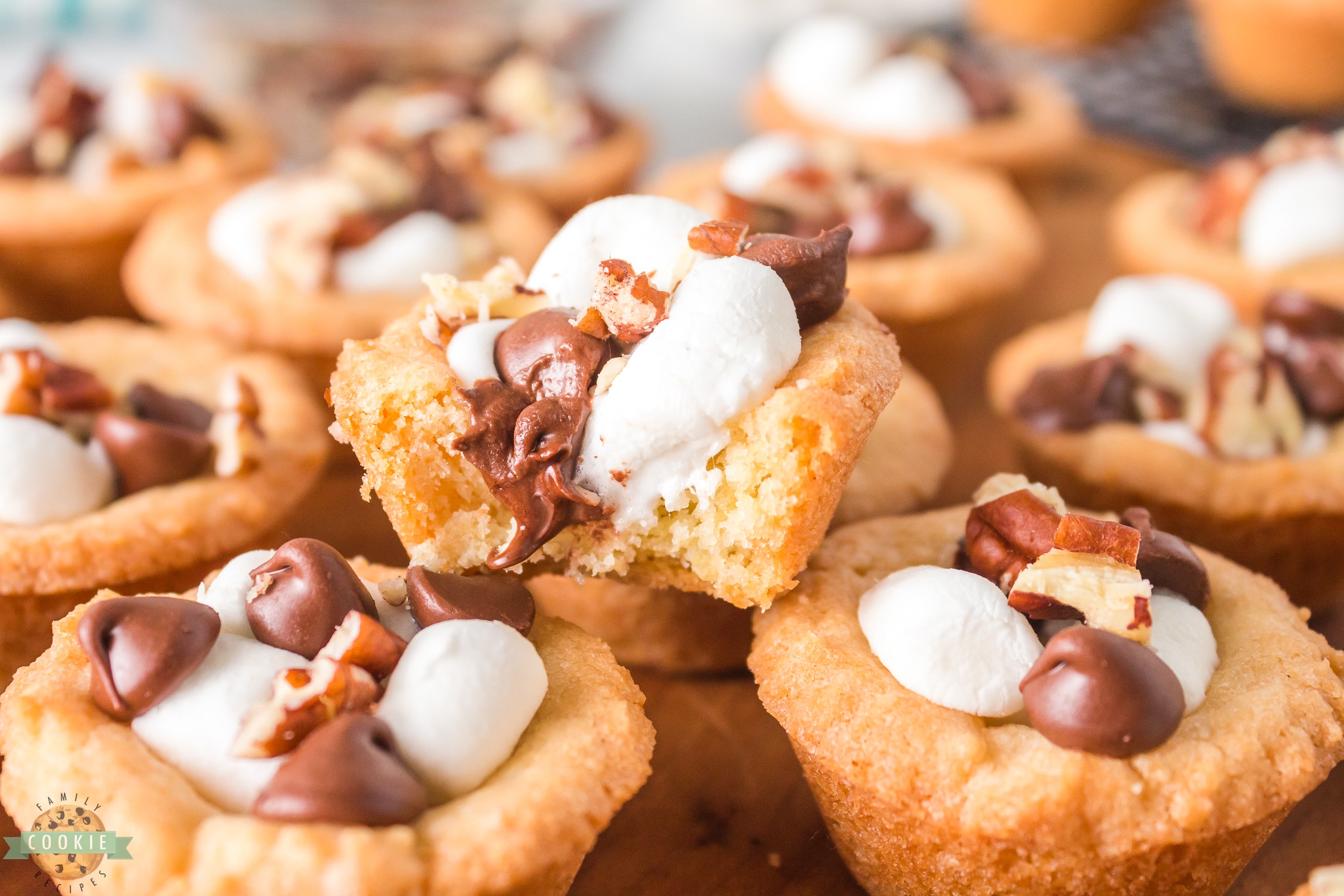 The heavenly combination of chewy cookie with crunchy pecans, marshmallow and chocolate filling, makes these cookie cups a delightful dessert. These chocolate marshmallow cookies are perfect for any occasion, casual family events or big parties.
Marshmallow Chocolate Pecan Cookie Cups
I made these amazing Rock Road Cookies for a family event and boy where they a huge hit. Everyone loved them so much, they disappeared fast. It is a good thing they are so easy to make! This simple cookie cup recipe comes together fast thanks to the box cookie mix, a shortcut that is totally worth it. If you don't have a mini muffin pan, I highly suggest getting one (I use mine ALL the time). I make muffins, of course, but I also use it to make pancake bites and cookie cups just like these.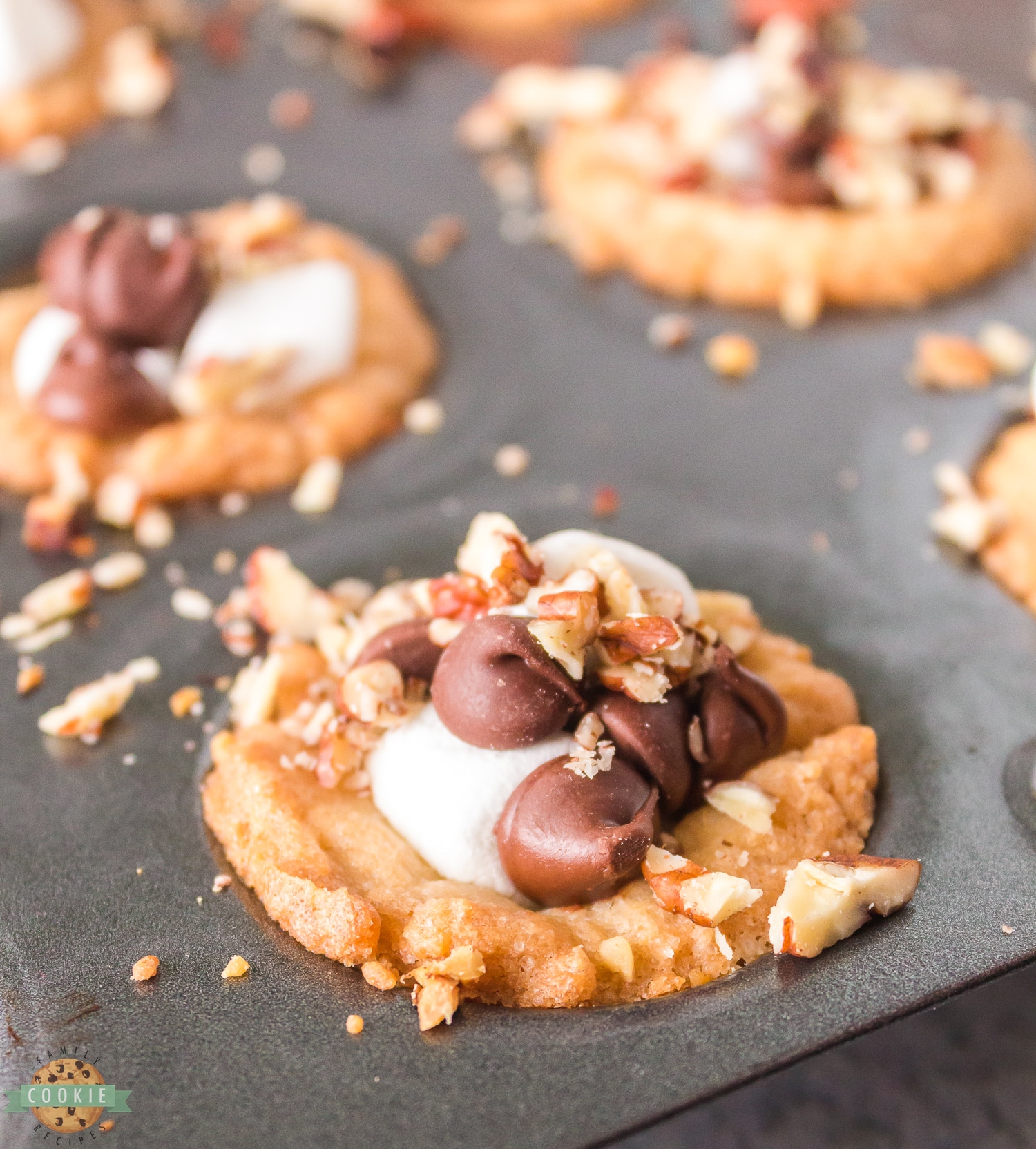 Why you'll love this amazing cookie recipe
Simple ingredients. What I love about this recipe is that most of the ingredients are most likely already in your kitchen. With only 6 basic ingredients, you can whip up a batch without having to buy a bunch of extra items at the store.
Classic cookie turned up a notch! This cookie cup is created by using a simple sugar cookie mix. Then take this cookie to the next level by adding in smooth chocolate, soft marshmallows and crunchy pecans!
Quick and easy. To make these amazing rocky road cookie cups you need less than 30 minutes from start to finish. You can create a tasty treat in a short amount of time that will impress anyone who tries them.
Ingredients for Rock Road Cookie Cups
Cookie mix: To simplify this recipe, you need one 17.5-oz box of sugar cookie mix (any brand will work great).
Butter: Add in ½ cup of butter, softened (1 cube) to make the dough nice and rich in flavor.
Egg: Use 1 egg to help bind the dough together and create a great cookie texture.
Mini marshmallows: For one part of the traditional Rocky Road flavor, use ¾ cups of mini marshmallows.
Chocolate chips: Another filling for the cookie cup is ½ cup of semi-sweet chocolate chips.
Pecans: Don't forget the "rocky" part of this recipe, use ⅓ cup of chopped pecans.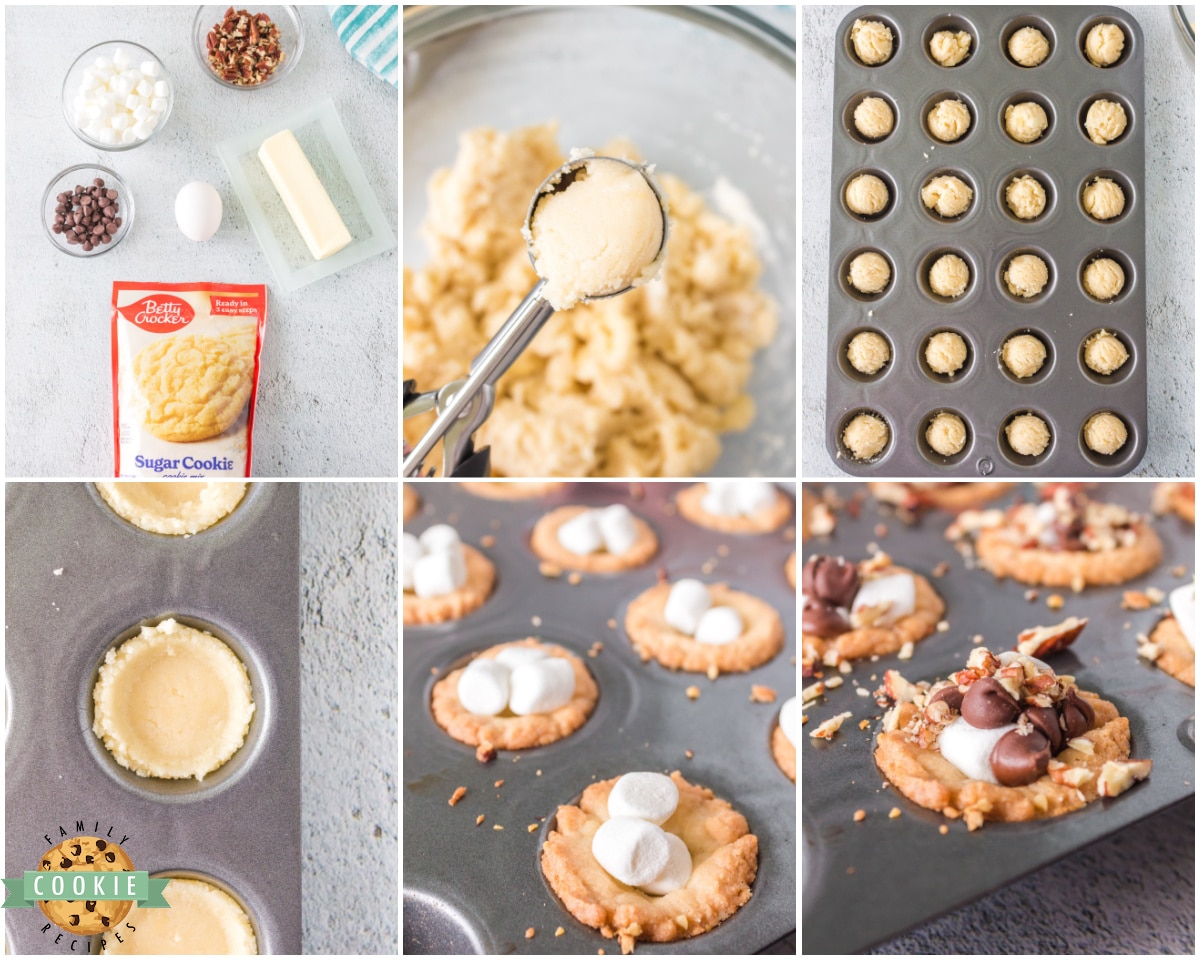 How to make Easy Chocolate Pecan Cookie Cups
Prep
Begin by preheating the oven to 350°F. Then, spray a mini muffin pan with non-stick baking spray and set aside.
Dough
Next, in a large mixing bowl, combine the sugar cookie mix, butter, and egg. Mix until all ingredients are well combined.
After that, use a small cookie scoop (2 teaspoons), scoop the dough into the mini-muffin cups. Use the back of a ½ teaspoon to make a well in the cookie dough, to create a cup.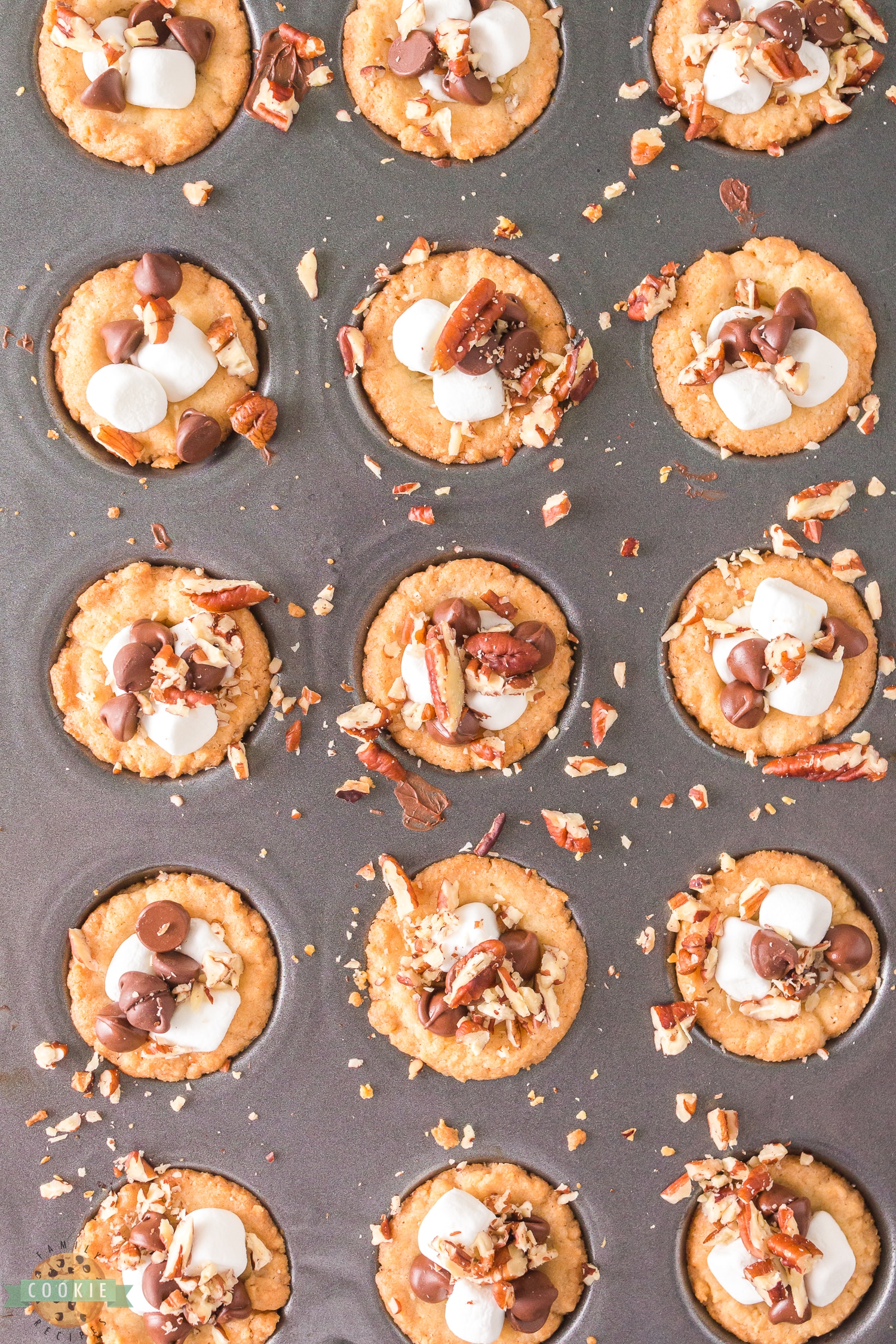 Bake
Place the cookie cups in the preheated oven and bake for 10-12 minutes or until the edges are nice and golden.
Stuff cups
Proceed to take the pan of cookies out of the oven and use the ½ teaspoon again to push down the dough to create the well again.
Continue to place 3 mini marshmallows, 3 chocolate chips and a sprinkle of chopped pecans in each cup.
Then place the cookies back in the oven and bake for an additional 1 to 2 minutes. Let the cookies cool in the pan for 10 minutes then carefully transfer to a cooling rack.
Serve immediately and enjoy!
HOW LONG ARE THESE COOKIES GOOD FOR?
These cookies can be kept stored in an airtight container for up to 3-5 days. Depending on your preference, you can store these cookies at room temperature or in the fridge. I like mine at room temperature best, it keeps them soft and easy to bite into. But whatever you prefer, they will taste amazing.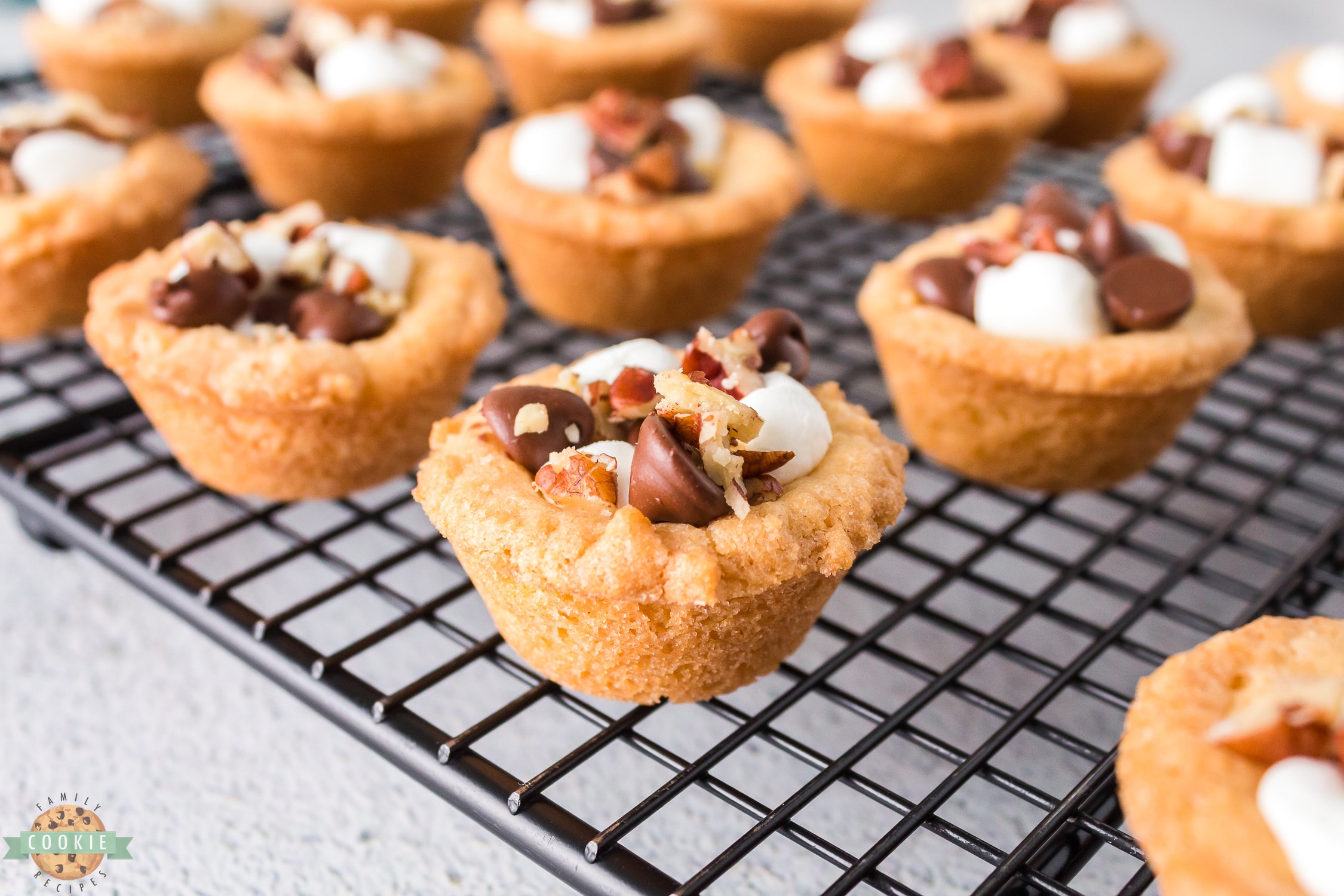 CAN I FREEZE ROCKY ROAD COOKIE CUPS?
Yes, you can freeze these cookies. They will last up to 3 months if store properly. To freeze them, place your cookies onto a baking sheet and freeze for about 2 hours until they are solid. Then transfer to an airtight container with a piece of parchment paper or wax paper between the cookie layers to prevent sticking.
How Long to Let Cookies Cool
Cookies are best left to cool on the baking sheet they're cooked on for at least 3-4 minutes, then you can transfer them to a cooling rack to cool further. This way, they don't fall apart as cookies are pretty soft still when they're pulled out of the oven. After a couple minutes on a cooling rack, cooking are usually cool enough to eat! Warm cookies are the best!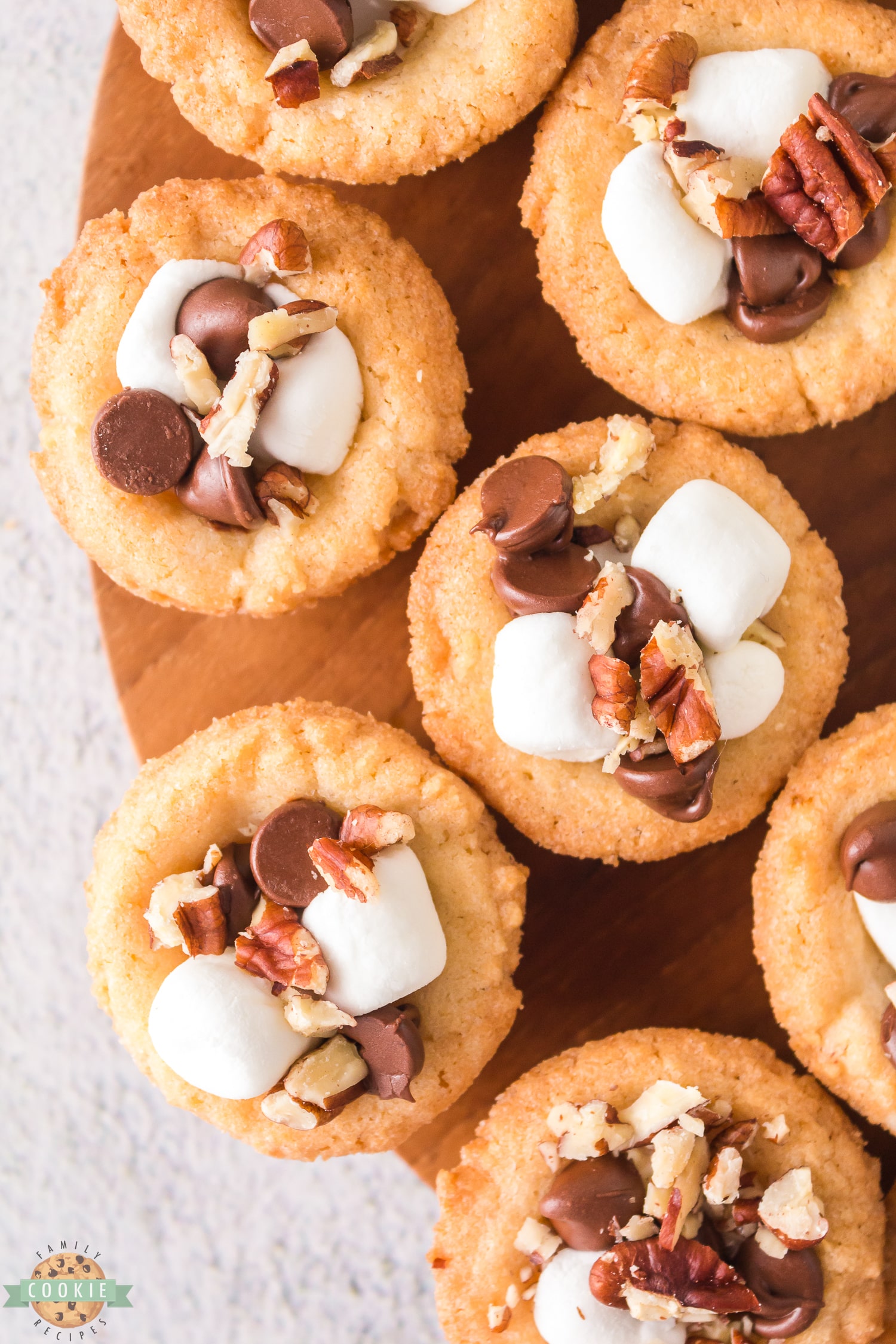 Love cookies? Try more delicious cookie cup recipes here:
Rocky Road Cookie Cups are easily made using a sugar cookie mix and then filled with soft marshmallows, yummy chocolate chips and crunchy pecans! An incredible rocky road dessert in a fun bite-sized form!