Boston cream pie macarons made with chewy macaron shells, custard filling & chocolate ganache. Delicate sandwich cookies that mimic delicious Boston Cream Pie!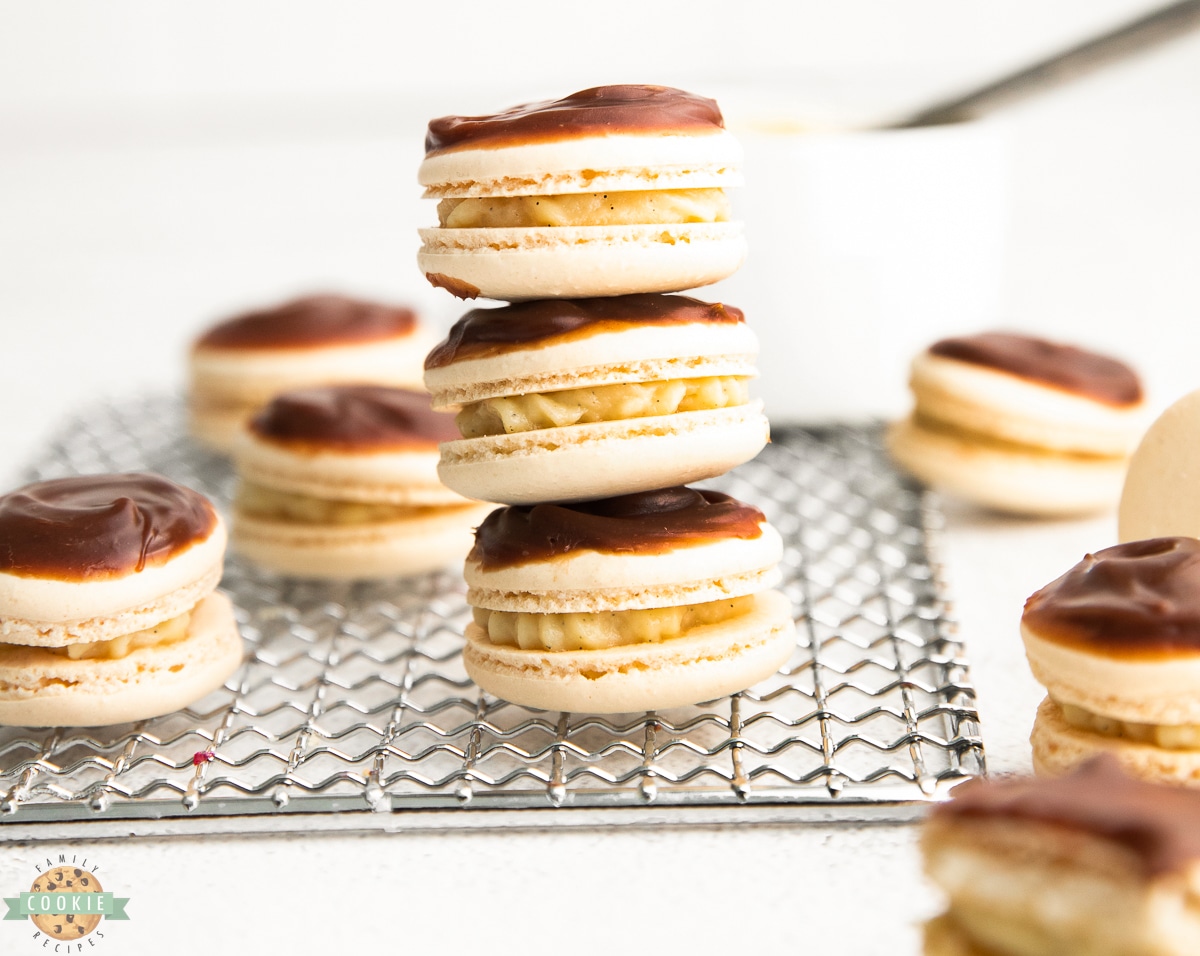 You're going to love these Boston cream pie cookies. Made completely from scratch they're a homemade treat that's as impressive as they are tasty. You won't want to keep these delicious creamy cookies to yourself (or maybe you will).
What Are Macarons?
Macarons are a french sandwich cookie made with almond flour and egg whites for the shells and then baked and filled with anything from custard to jams or ganache. They can come in various sizes, colors, flavors, and more making them fun and versatile. Our recipe today has them filled with a vanilla cream filling and dipped in chocolate ganache for a Boston cream pie flavor in every bite.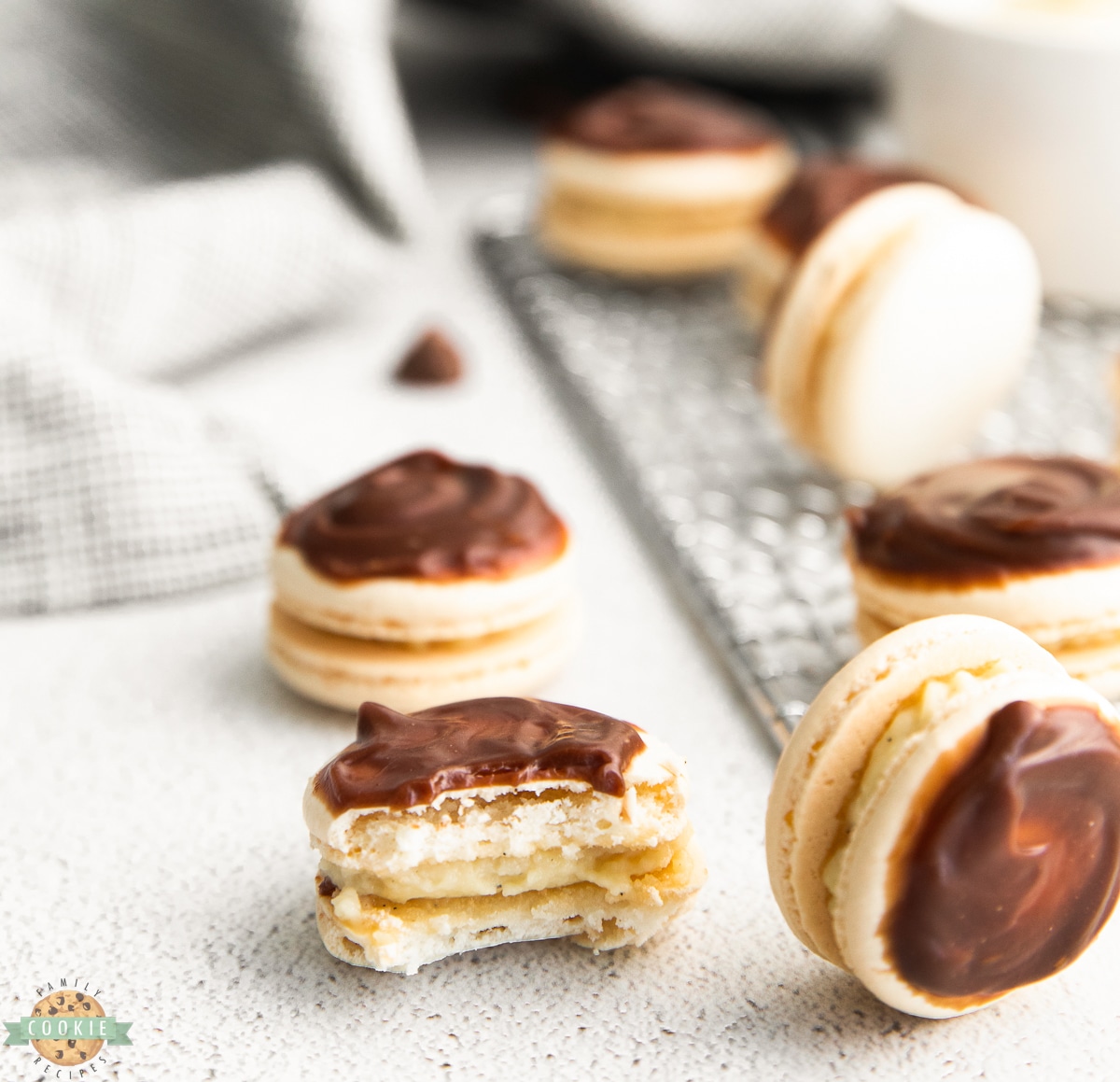 Boston Cream Pie Macarons Ingredients
Macaron Shells
-Eggs: You will need 3 large egg whites for these macarons to be nice and airy in texture.
-Sugars: Use ½ cup of granulated white sugar and 1 cup of powdered sugar for sweet cookie shells.
-Flour: You will want to use 1 cup of almond flour to give the cookies a finer texture.
Vanilla Cream Filling
-Sugar: Use 2 tablespoons of granulated sugar to get a sweet (but not too sweet) custard filling.
-Cornstarch: Using a tablespoon of cornstarch will help to thicken up the cream mixture as it cooks.
-Egg yolk: Adding in 1 ½ large egg yolks will give the custard a much richer taste.
-Milk: ½ cup of whole milk is needed to turn the mixture into nice cohesive cream.
-Vanilla bean paste: Use 2 teaspoons of vanilla bean paste to make the filling well flavors. If you do not have a paste, you can use the caviar from inside of a vanilla bean pod or vanilla extract may also be used.
-Butter: One tablespoon of butter will give you a richer result.
Ganache for Macarons
-Chocolate: You need 4 ounces of chopped chocolate or chocolate chips for the base of the chocolate ganache.
-Heavy cream: Add in 1/2 cup of heavy cream to make the ganache thick, rich, and creamy.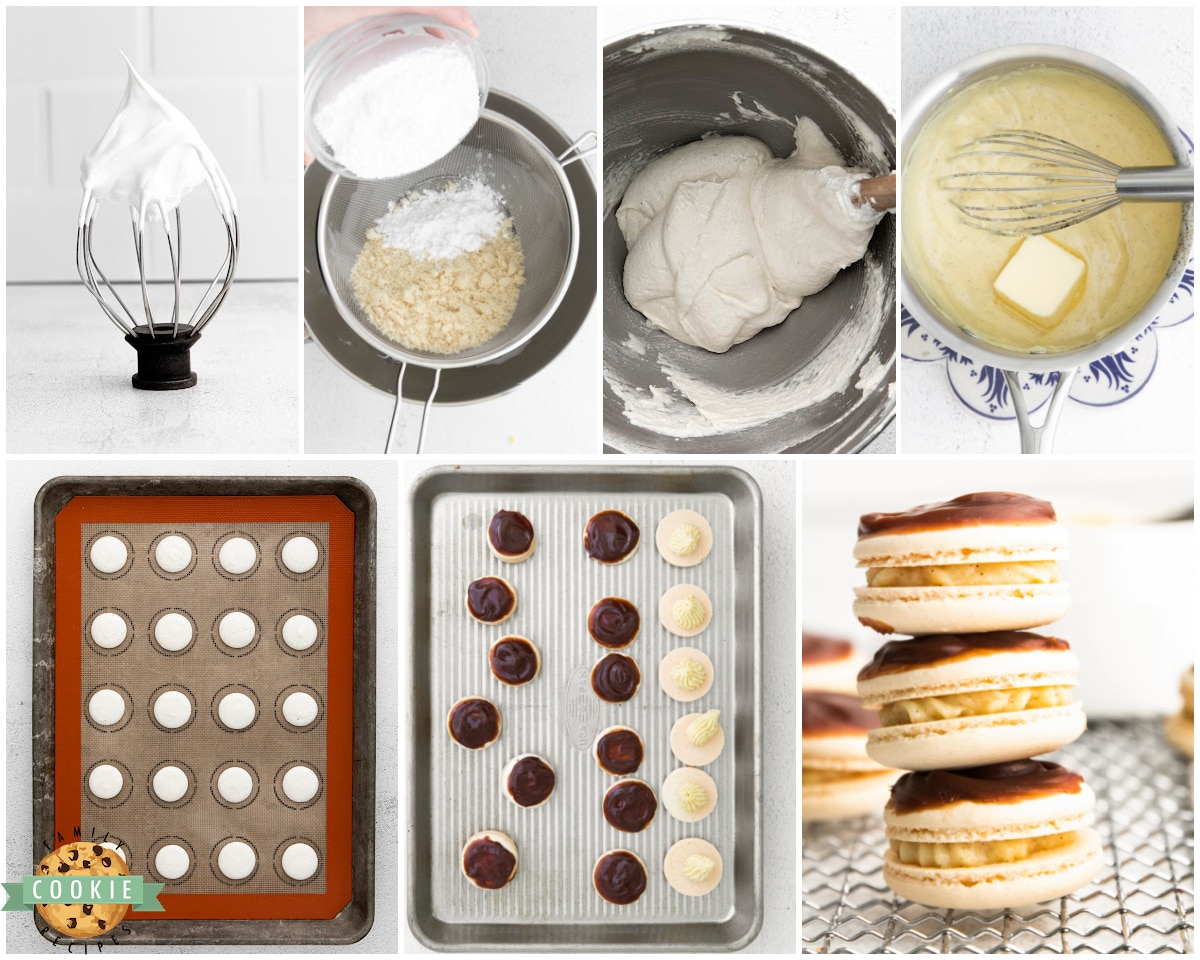 How to make Boston cream pie macarons
Start by making the shells
First, line two large sheets with parchment paper or Silpat mats
Next, heat a pot of water on the stove over medium-low heat and place a heatproof bowl on top.
Add in the egg whites and granulated sugar and whisk the egg whites until the sugar has been completely dissolved. This will take about 2 minutes.
Transfer the mixture to the bowl of a stand mixer that has been fitted with a paddle attachment and be careful not to get water into the bowl.
Beat the mixture at medium-high speed until stiff peaks form. This will take about 5-7 minutes.
Use a fine-mesh sieve to sift in the almond flour and powdered sugar, removing any large clumps that don't go through the holes, do not force them through.
Gently fold the mixture together making a J shape with the spatula.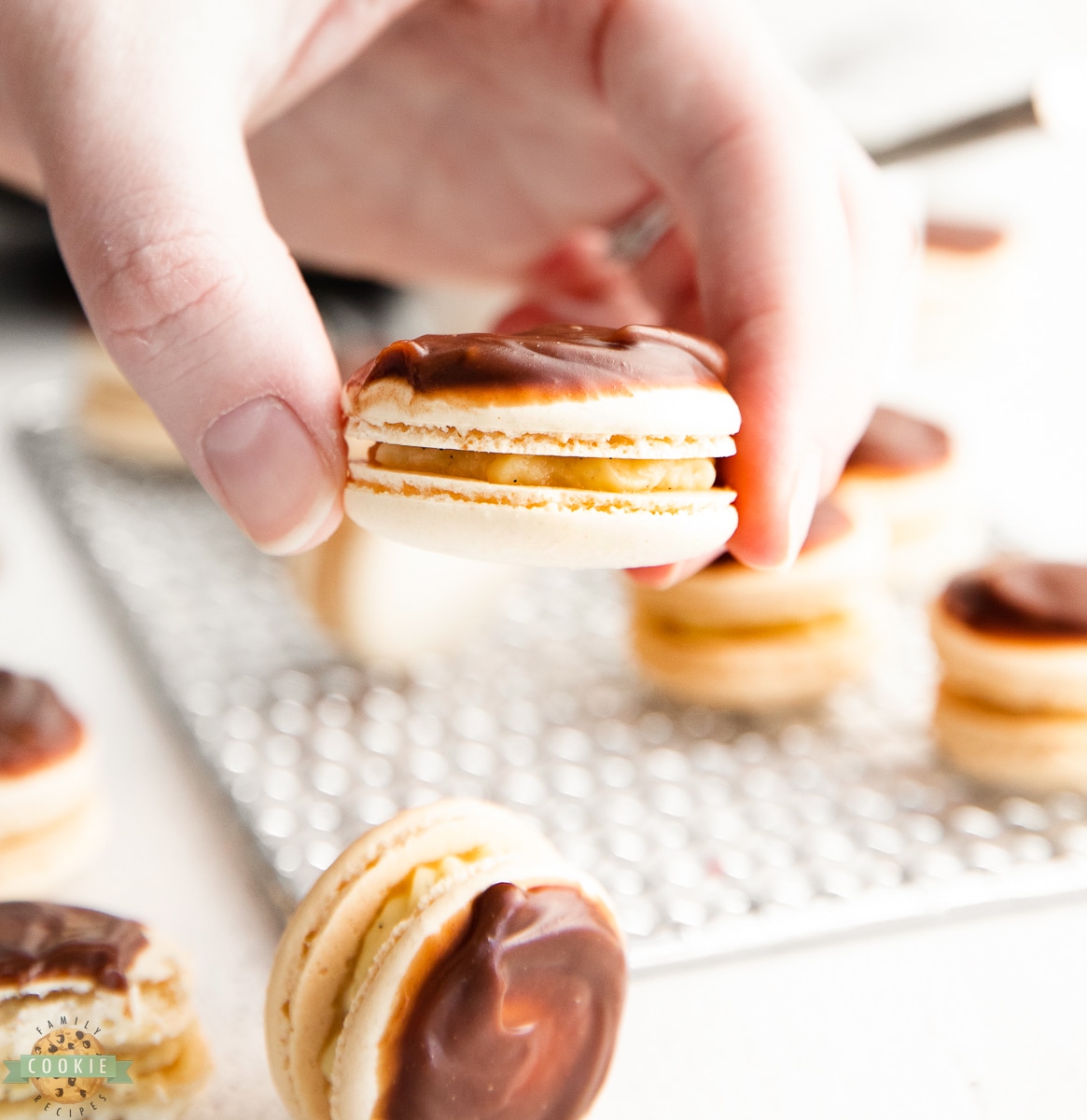 Once the dry ingredients have been added, continue to fold the meringue around but smush the batter against the sides of the bowl as you go, and continue doing so until you can make a figure 8 in the bowl and have it hold shape without breaking.
Transfer the meringue to a piping bag that was fitted with a small round tip. I like to use Wilton #10 or #12. Pipe a 1" circle onto your prepared mat and continue making them. make sure that the circles are 2 inches apart and continue until both baking sheets are filled.
Once you've finished pooping circles, hold the baking sheet about 6-8 inches above the counter and drop them down onto the counter. Repeat 4 or 5 times to help release the air bubbles. Do this with both baking trays.
Set the trays on the counter and allow them to rest for about 25 minutes or until they develop a skin on the meringues that are not sticky when you touch them.
Preheat the oven to 325 degrees F and bake the macarons, one tray at a time, for 13 minutes, flipping them around at the halfway mark.
Allow cooling completely on the baking sheet. Trying to remove the macarons while still warm may result in sticking.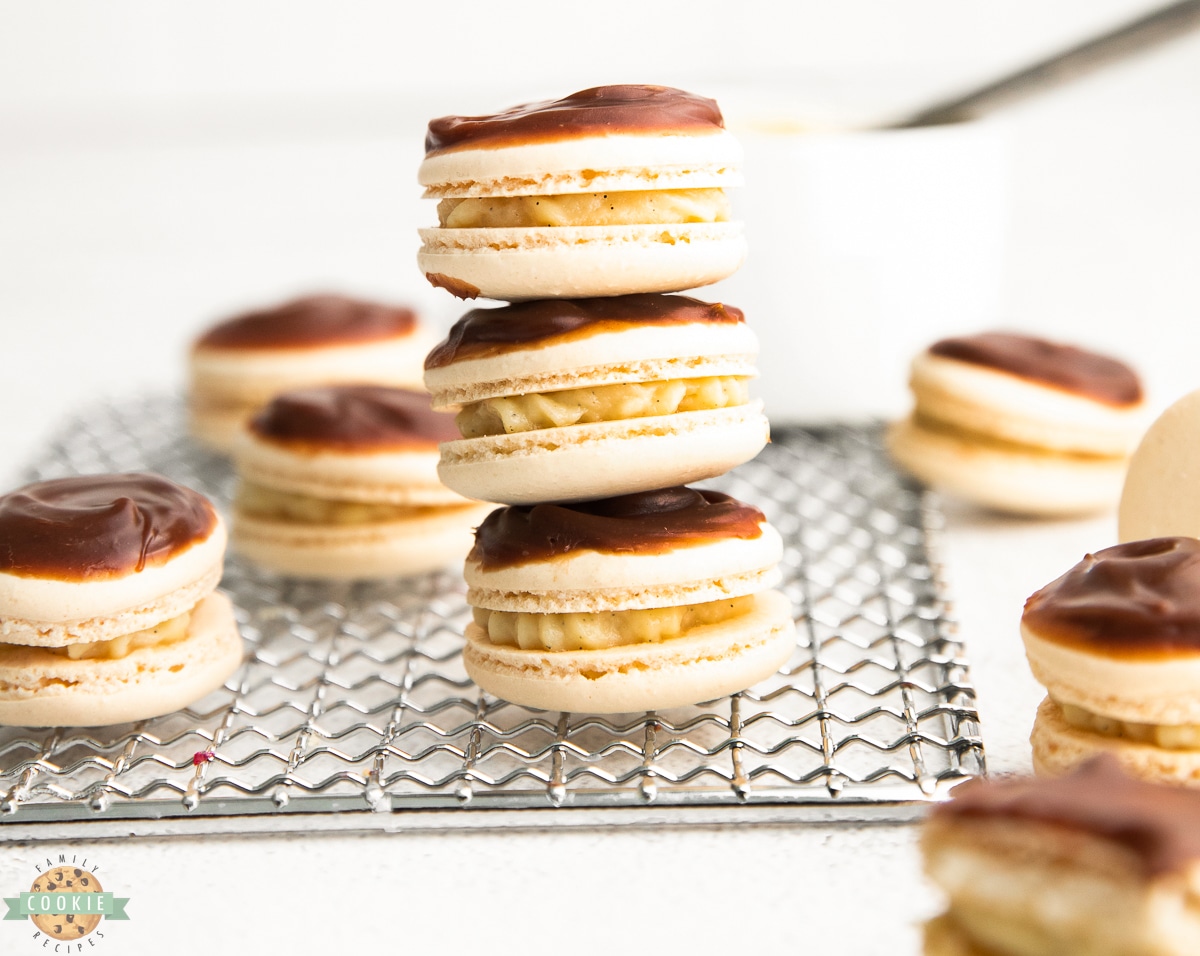 Make the Filling
In a medium-sized heat-proof bowl, whisk together the sugar, cornstarch, and egg yolks until the mixture is a pale yellow in color. This will take about 1 minute.
In a small saucepan over medium heat add your milk and vanilla bean paste. Bring it to a simmer, where the bubbles are just appearing around the edges of the pot.
Slowly pour the egg mixture into the bowl of egg and whisk constantly while pouring slowly so that you don't scramble the egg.
Once the milk has been added, pour the mixture back into the saucepan and cook over medium heat for another 1-2 minutes or until the mixture begins to thicken. Once the mixture can coat the back of a spoon, remove it from the heat and whisk in the butter. Be careful because it can go from super thin to super thick really quickly and you don't want it to burn.
Transfer the filling to an airtight container and cover the top with plastic wrap, pressing down so that it touches the custard. This will help to prevent the custard from forming skin.
Place the custard in the fridge to cool completely before transferring it to a piping bag.
For the Chocolate Ganache
Add your chocolate and cream to a heatproof bowl and microwave for 1-2 minutes, whisking every 30 seconds until smooth.
Dip half of the macaron shells into the ganache and allow them to set fully before continuing.
Place the macaron shells in the fridge to help speed up this process.
Assemble and Age
Pipe a small dollop of the pastry cream onto the flat side of a macaron that was not dipped in chocolate and then place a chocolate-dipped macaron shell on top, pressing down gently until the filling reaches the edges.
Repeat with the remaining macarons and transfer to an airtight container and place in the fridge to chill overnight to soften.
Bring the macarons to room temperature before eating. Enjoy!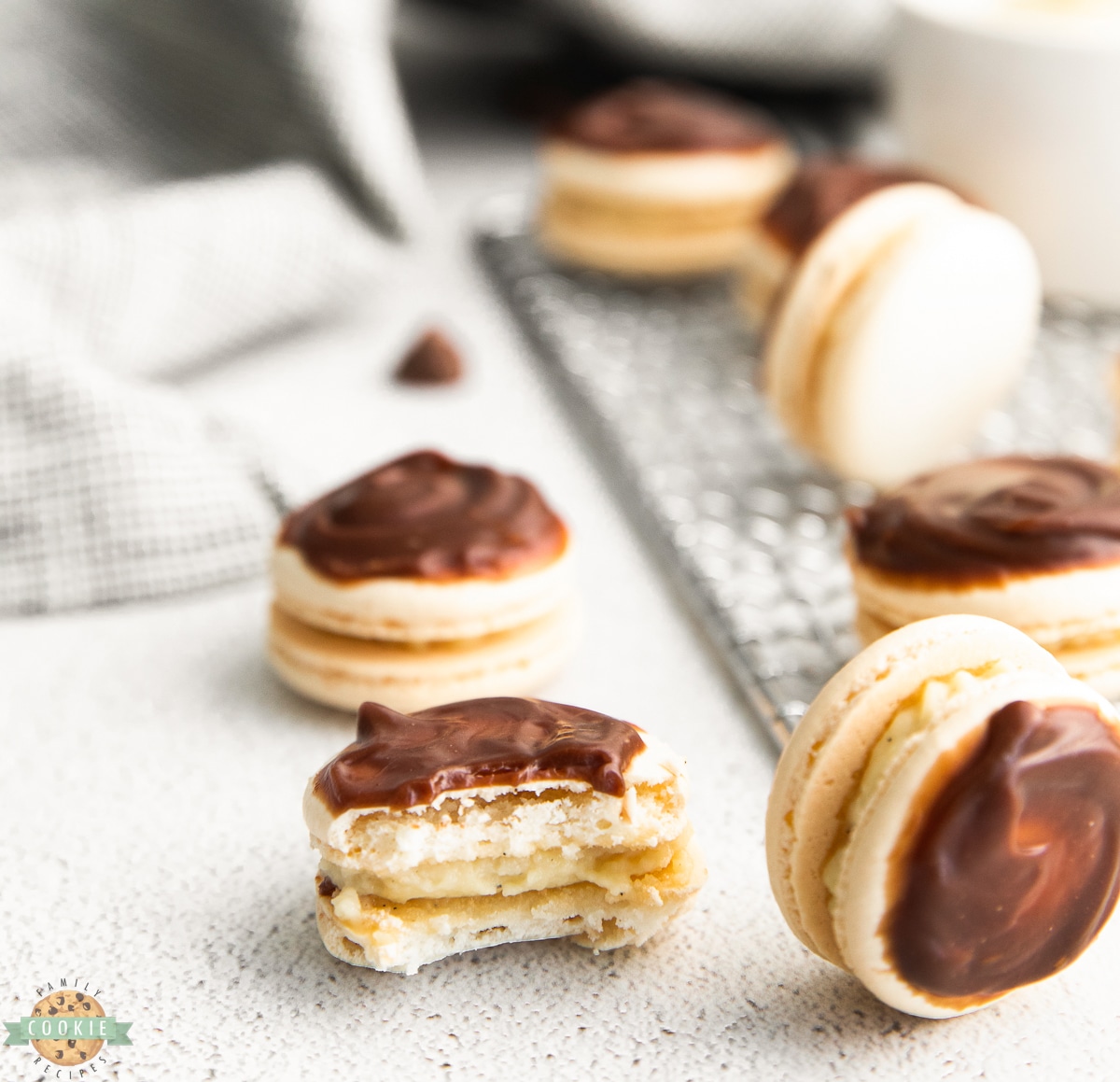 Are Macarons hard to make?
Macarons can be a little tedious to make, but they're actually easier than you think! Just take your time and carefully complete each step. I hardly ever sift ingredients with other cookies, but I do with Macarons. They also need time to set on the cookie sheet before AND after baking. But they're SO WORTH IT! Here are a few items that helped me when I first began making macarons:
Can macarons go bad?
Macarons are good for about 3-5 days if kept stored in the fridge. I wouldn't try to keep them any longer than that because they can become soggy thanks to the moisture in the filling.
Why do my macarons have bumps?
If you have tiny bumps on your macarons, a good reason for that can be as simple as air bubbles. If you didn't hit the pan against the counter hard enough or enough times, then little air bubbled can rise up to the top as the macarons bake and create a textured top instead of a smooth one as desired.


My hubby travels for work and it's SO FUN when I get to join him! Here we are on a beach in Maui… right before we went snorkeling…with my husband's cell phone in his pocket. Ahhh, memories. I think he did it on purpose because he wanted a new phone, LOL!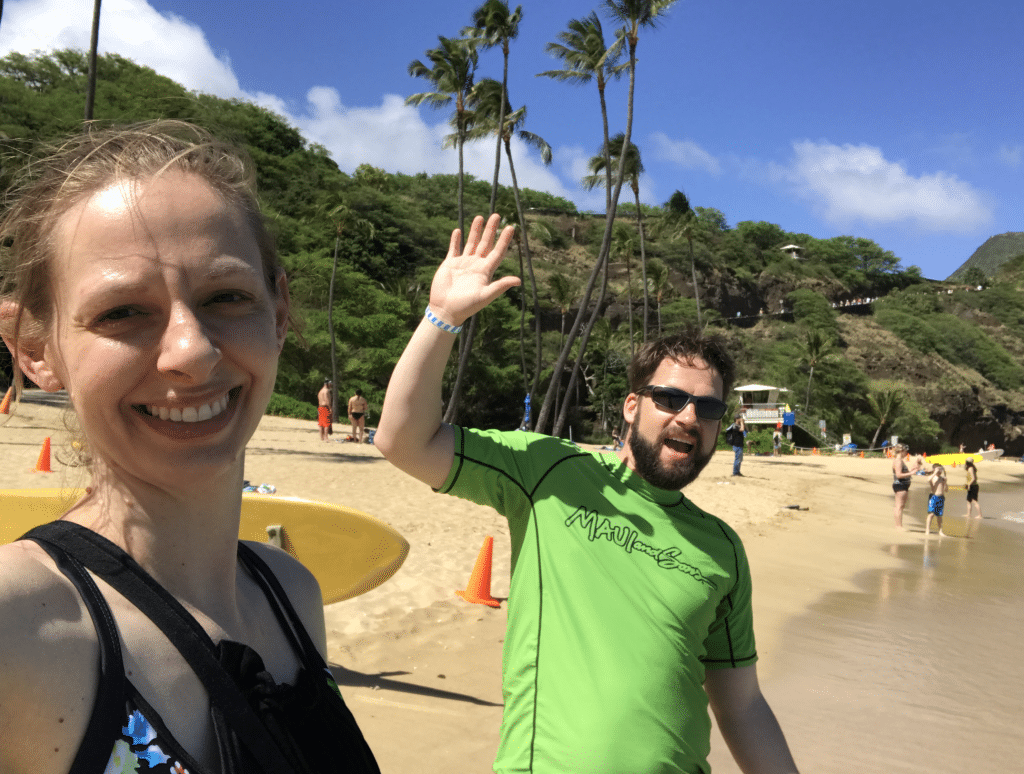 Check out these other great sandwich cookie recipes
These Boston cream pie macarons are a delicious blend of vanilla, chocolate, and melt-in-your-mouth macaron shells for a perfect flavor experience in every bite.