Easy Raspberry Cheesecake cookies with a graham cracker cookie base & topped with cream cheese and raspberry pie filling! These raspberry thumbprint cookies are perfect for cheesecake lovers!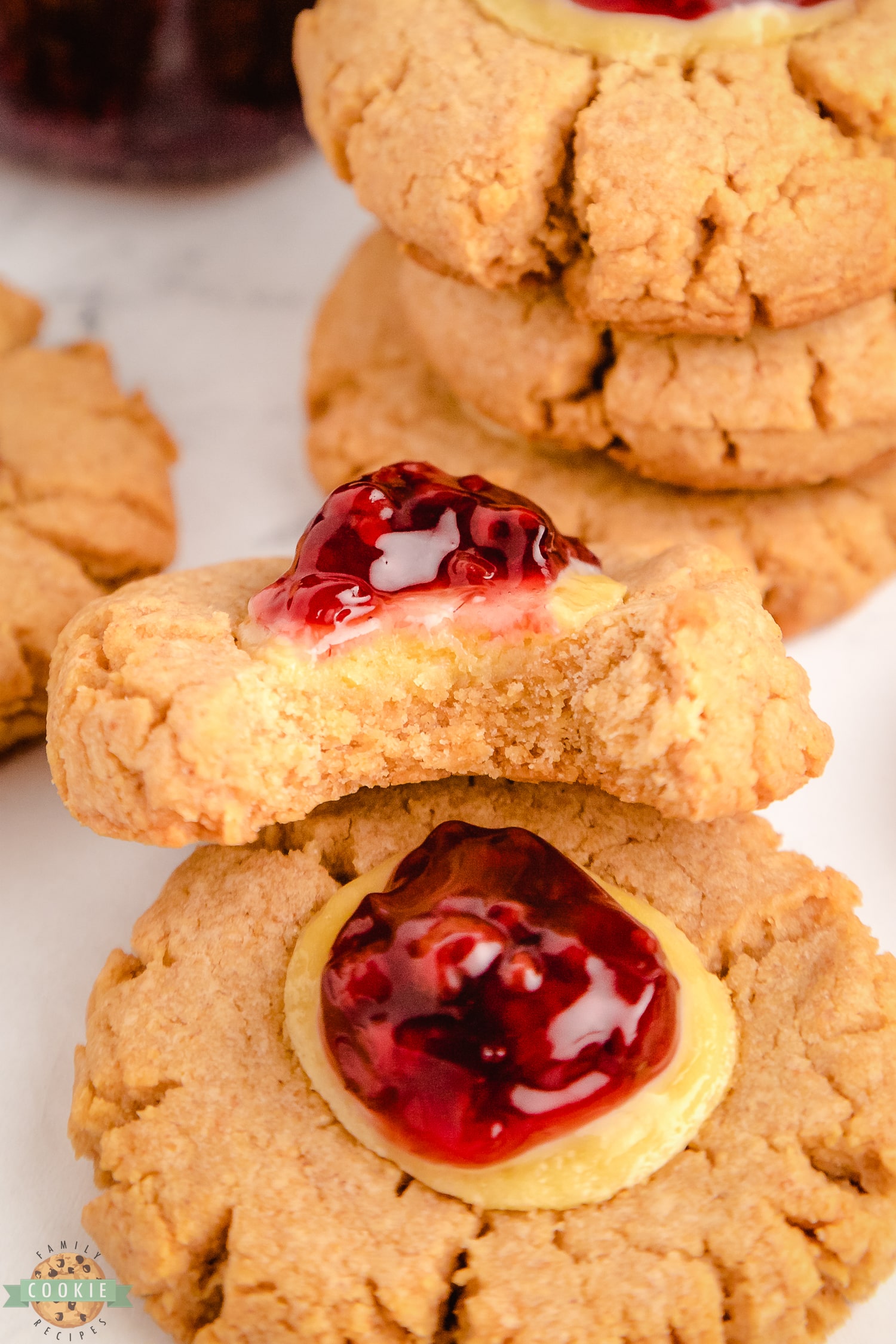 The graham cracker crumbs in these cheesecake cookies create wonderful texture, then add in the cheesecake filling and they are simply heavenly. Make these raspberry cheesecake cookies easily with staple pantry ingredients, the results are soft, chewy treats that taste just like cheesecake.
Raspberry Thumbprint Cookies with Cheesecake Filling
These raspberry thumbprint cookies taste so much like cheesecake, you won't believe it! I have been wanting to try a recipe for cream cheese cookies for a while. Then when I started making the dough, I had the idea of making them thumbprint cookies with a cream cheese filling and turn them into these cheesecake inspired cookie instead. The dough is absolutely amazing, the addition of the graham cracker crumbs is a perfect touch for the flavor of a cheesecake crust. Adding the raspberry filling on top is an incredible topping that really bring these cookies to peak deliciousness.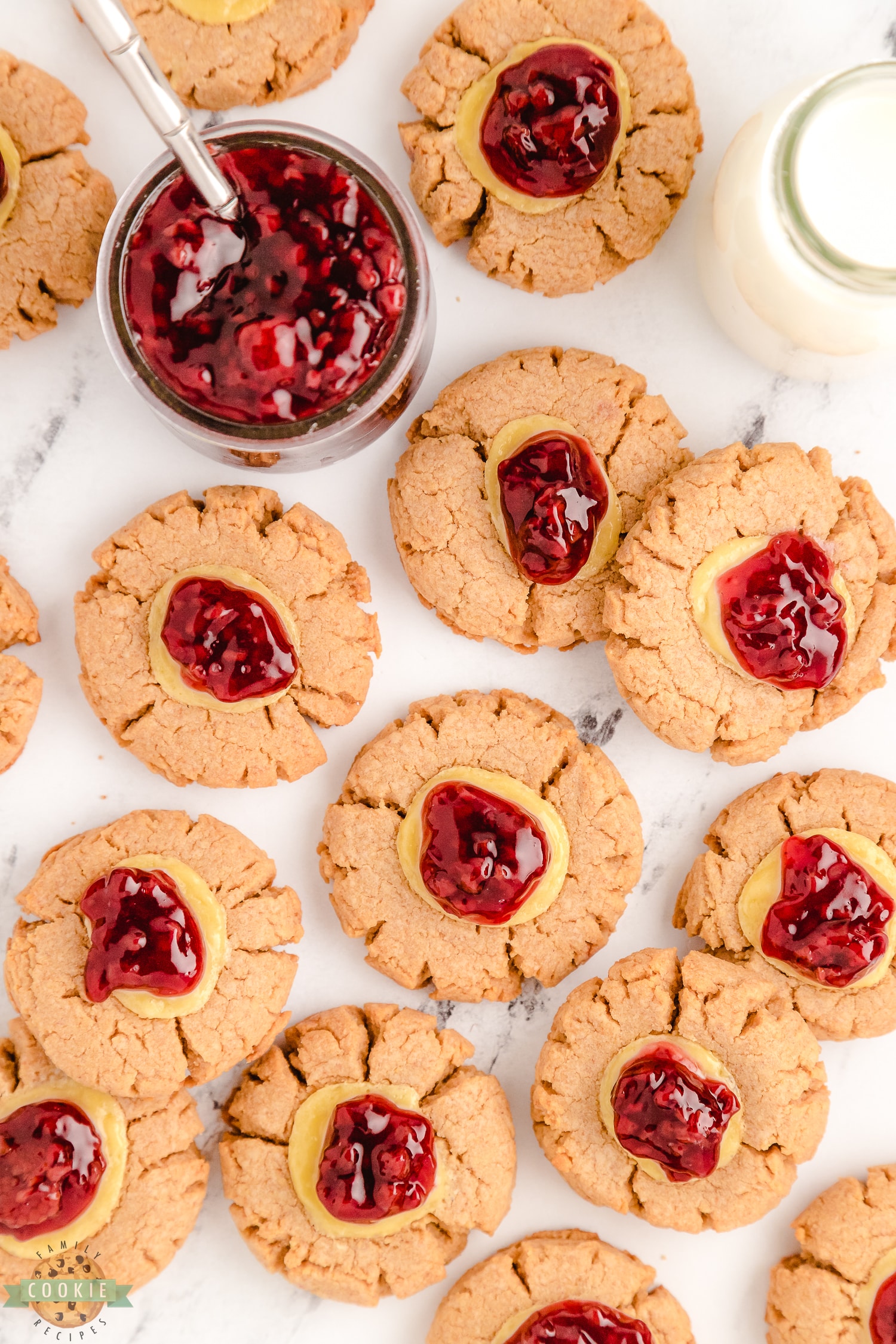 Helpful tips for making amazing cookies every time
Make sure your butter is softened, NOT melted. One of the most common errors in cookie making is using butter that is either really cold and hard, or using butter that is too warm and melted. If you have time, just leave butter out on the counter for about 1-2 hours before making your cookies. If you are like me and don't plan your cookie cravings that far in advance, just place the butter in your microwave and soften in 5 second intervals, being very careful to pull it out before it melts.
Preheat the oven. This step is a sure fire way to help your cookies turn out right every time. It is such a simple and effective step to not overlook.
Use a cookie scoop. If you want all your cookies to be perfectly shaped and have them all be the same size, a cookie scoop is the way to go.
Use parchment paper or a silicone baking mat. By doing this, it will make it really easy to remove the cookies from your cookie sheet so that you don't have to scrape them off the pan. They will just slide right off in perfect shape!
Don't over bake the cookies. When I take mine out of the oven, they still look slightly under baked but they will continue to bake on the cookie sheet for a couple more minutes so that's ok.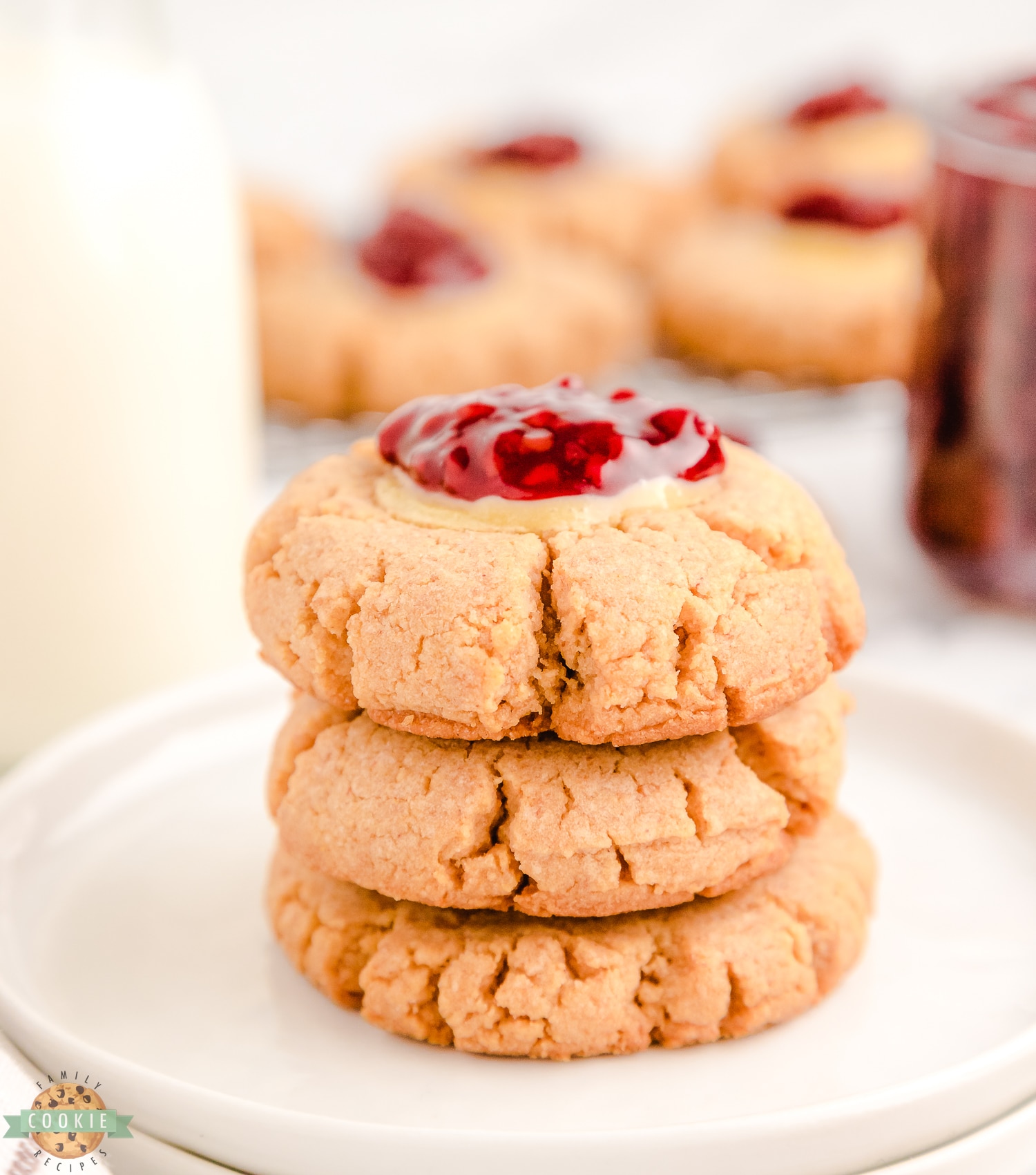 Raspberry Cheesecake Cookie Ingredients
Graham crackers: For a delicious addition to the cookie dough, you will need 2 ½ cups of graham cracker crumbs (which is about 20 graham cracker sheets).
Flour: Add in 2 cups of flour for the structural base of these tasty treats.
Baking powder: To help the cookies rise as they bake, use 3 teaspoons of baking powder.
Butter: For a deliciously rich cookie, add in 1 cup of butter, softened.
Sugar: You need 1 cup of brown sugar to give these cookies a wonderful depth of flavor.
Eggs: Use 2 eggs, separated, to give the dough great flavor and the cream cheese filing great texture too.
Cream cheese: For a nice creamy, rich filling, use 6 oz of cream cheese, softened.
Sugar: Adding in ½ cup of white sugar will create a lovely, sweet cookie filling.
Vanilla extract: To help enhance all the flavors in this recipe, user 1 teaspoon of vanilla extract.
Pie filling: For the cookie topper and additional flavor, use 1/2 cup of raspberry pie filling.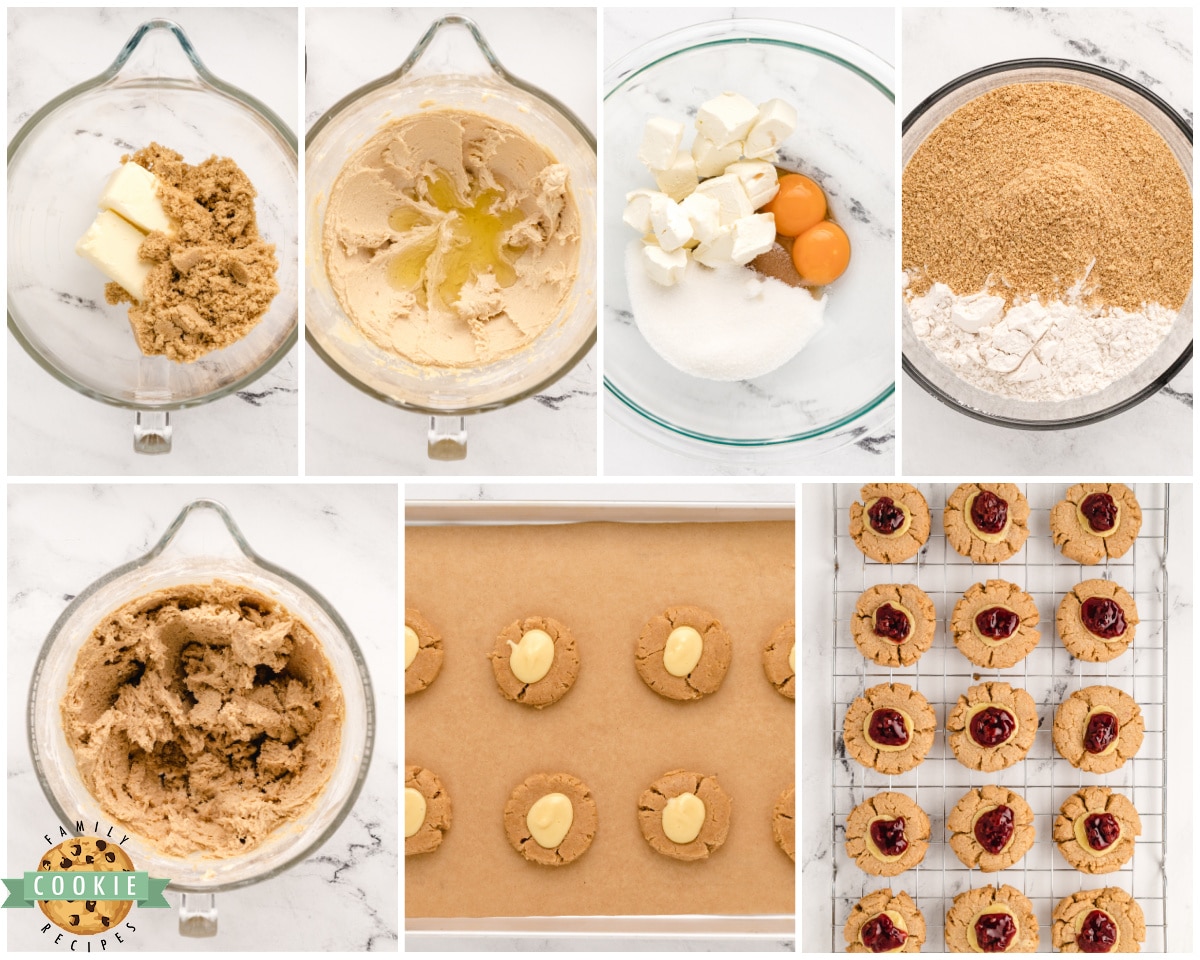 How to make Easy Raspberry Cheesecake Cookies
Prep
Begin by preheating the oven to 350°. Then, line a baking sheet with parchment paper or a silicon mat.
Also, crush the graham crackers. The best way to get uniform crumbs that are fine enough is to crush them in the blender. I like to do about 6-7 graham crackers at a time. If you put too many graham crackers in the blender at once, it will be difficult for the blender to blend them all at once. Or you can use a ziplocked bag and rolling pin for this step as well.
Dough
Next, in a medium size bowl, mix together the graham cracker crumbs, flour and baking powder. Set aside
In a separate large bowl, using an electric mixer, beat the softened butter and brown sugar together for 2-3 minutes. Then add in the egg whites from the two eggs and beat for another 1-2 minutes.
Proceed to add the dry flour mixture to the butter mixture and stir just until combined.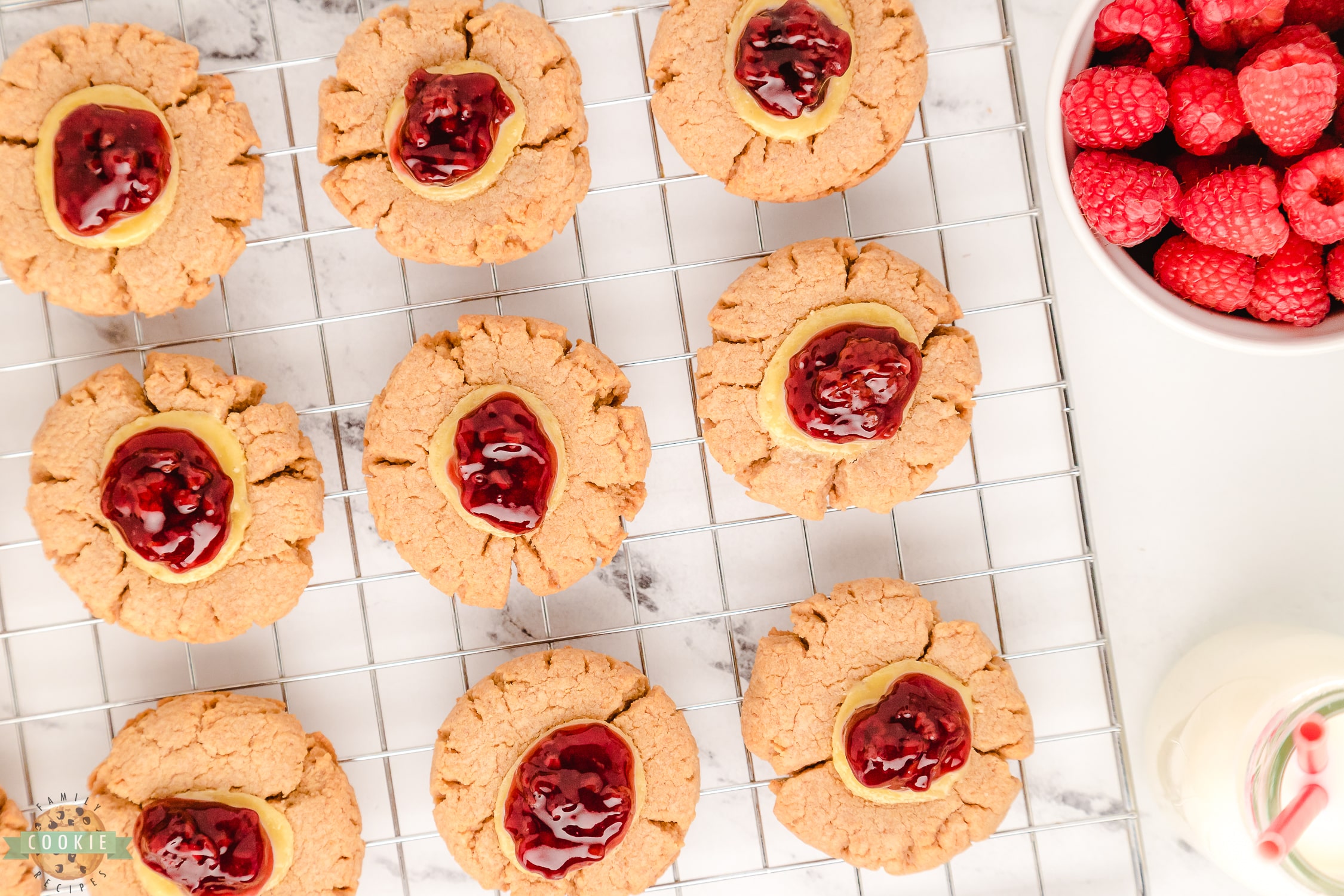 Cream cheese filling
In another bowl, beat the soft cream cheese, egg yolks, sugar and vanilla extract together. Mix until smooth and well combined.
Assemble
Using a large cookie scoop (2 Tbsp), scoop out the cookie dough. Roll each scoop into a ball and place two inches apart on the prepared parchment paper lined cookie sheet. Use the palm of your hand to flatten each cookie dough ball a little bit (cookies should be about 1/2″ thick). Then use your thumb to press an indentation in each cookie. Be careful not to press down too far into the cookie.
After that, use a small spoon to scoop the cheesecake filling into each indentation.
Bake
Place the cookies in the preheated oven and bake for 12 minutes. Once finished baking, let the cookies cool for about 4-5 minutes before transferring to a wire rack to cool completely.
Once the cookies are cooled, top with about ½ tsp raspberry pie filling per cookie. Refrigerate them until you are ready to serve.
Serve and enjoy!
WHAT KIND OF CREAM CHEESE TO USE IN CHEESECAKE FILLING?
I usually use regular cream cheese, but you can also use a low-fat or non-fat variety in cheesecake. Just make sure it is softened to room temperature before adding to the recipe.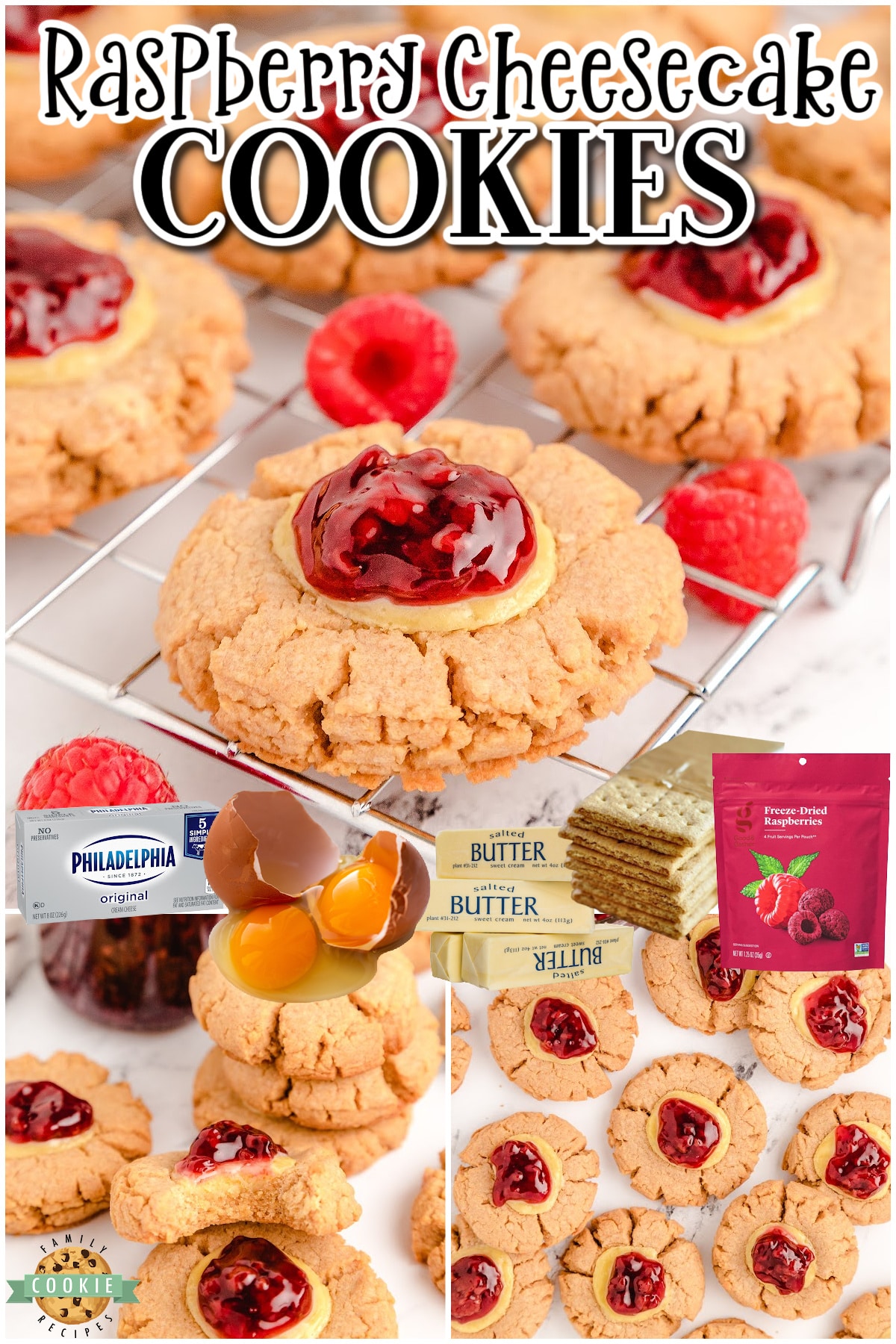 HOW MANY GRAHAM CRACKERS TO MAKE 1 CUP OF CRUMBS?
It takes about 8 full graham cracker sheets to make about 1 cup of crumbs. You'll need 2 1/2 cups of graham cracker crumbs for this recipe, so you will need about 20 graham crackers. My favorite way to make graham cracker crumbs is in the blender – it only takes a few seconds, and the crumbs are perfect!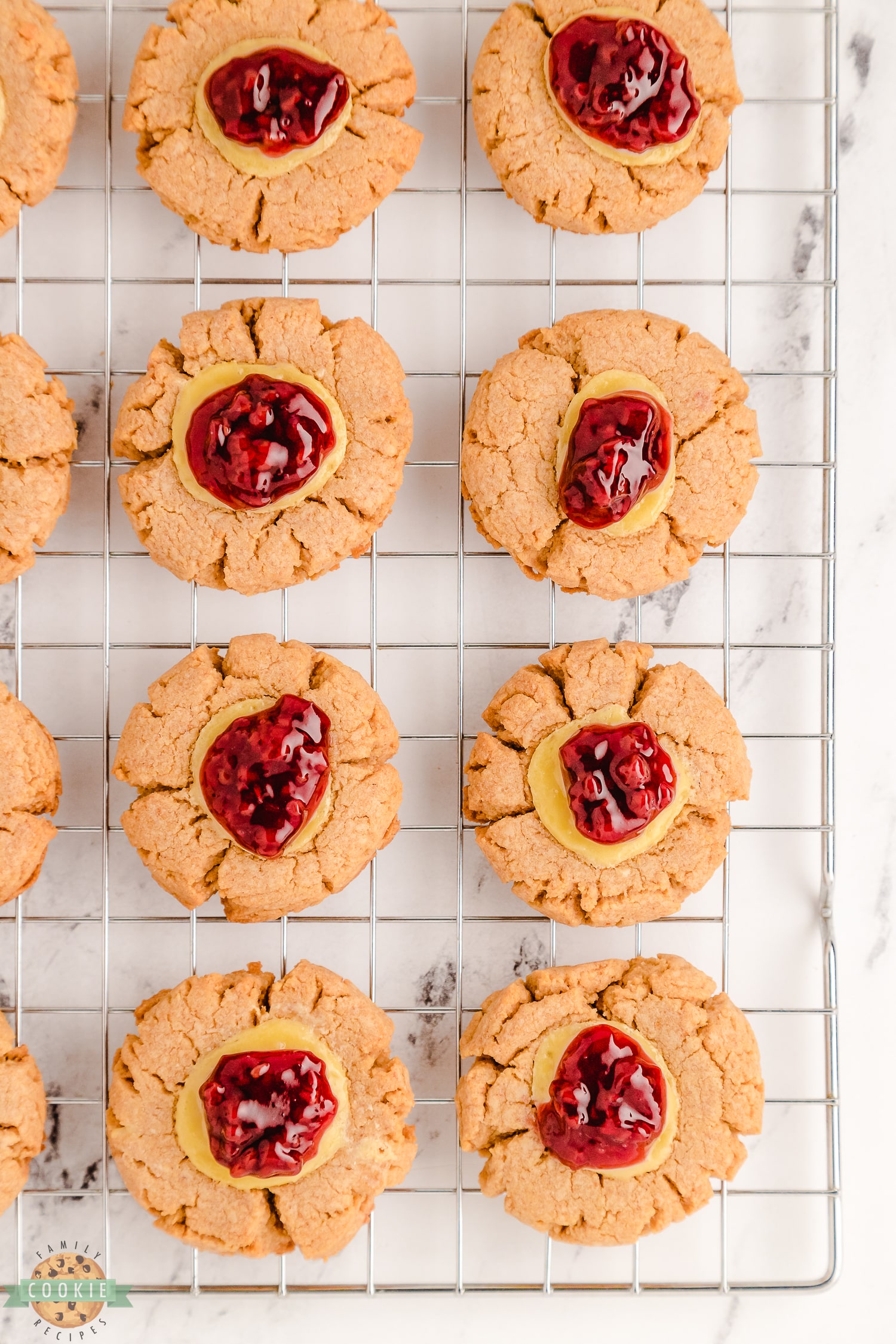 WHAT OTHER KIND OF TOPPING CAN I PUT ON THESE COOKIES?
I prefer raspberry pie filling, but cherry or strawberry pie filling is absolutely delicious as well. You can also use fresh berries, strawberries, raspberries, and blueberries are all fantastic. Or you could use some type of cookies or candy. Crushed Oreos, crushed Snickers bars, bits of cookie dough, anything that tastes good with cheesecake will be delicious with these cookies.


My daughter is a competitive gymnast and I've learned that you've got to take the wins where you can get them! This meet was after a particularly difficult one and she managed to come back strong. I was.. and still am… so proud of her. Gymnastics is a truly difficult sport! She's amazing!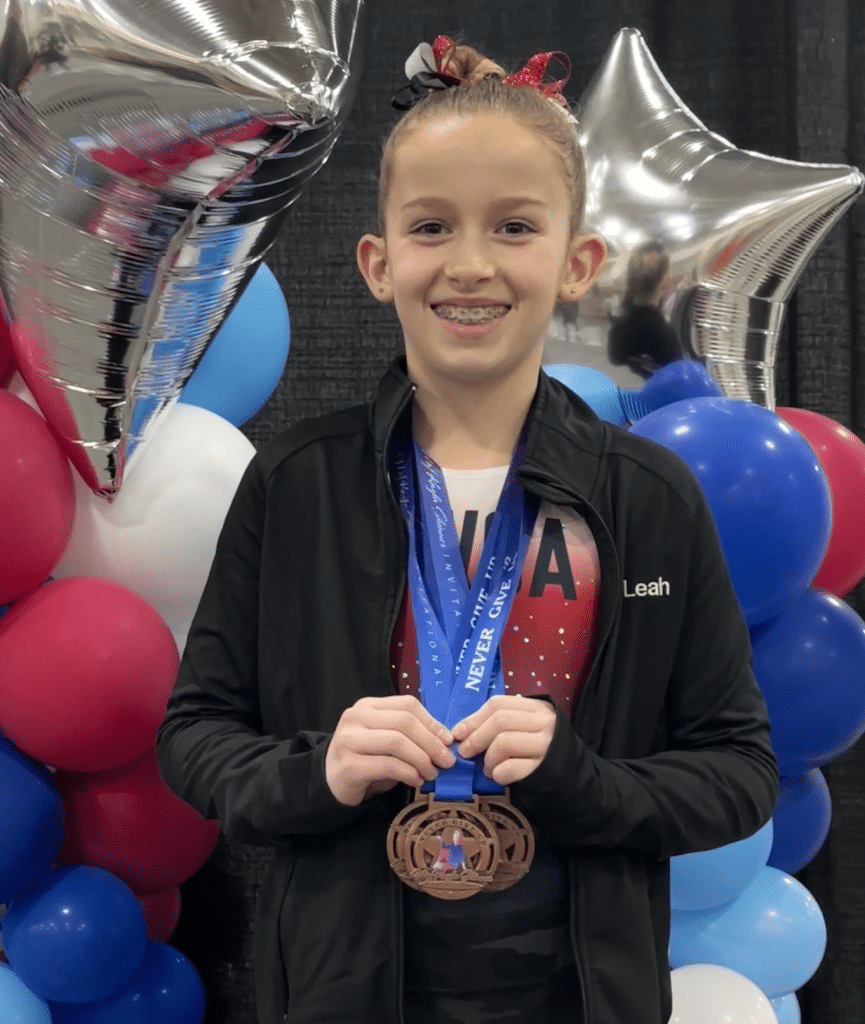 If you love cheesecake, try more amazing recipes here!
Easy Raspberry Cheesecake cookies made with a graham cracker cookie base, topped with cream cheese and a sweet raspberry pie filling! These raspberry thumbprint cookies are perfect for cheesecake lovers in your life!