Nutella macaron recipe made from scratch & sure to impress! Delicate French cookies filled with a Nutella cream & drizzled with chocolate!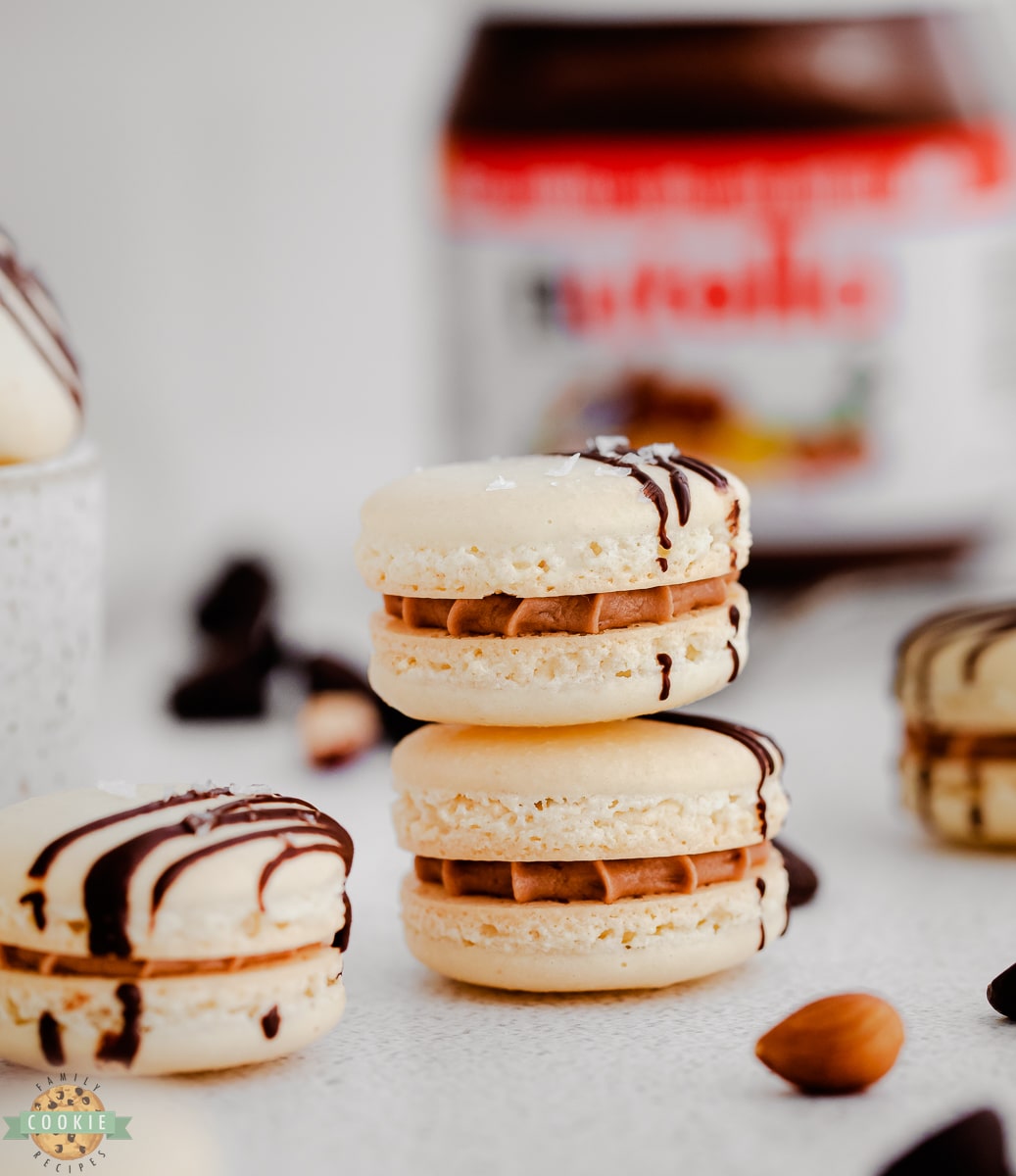 These tasty macarons combine a french recipe classic with an American favorite- Nutella. Good old-fashioned Nutella, packed with chocolate and hazelnut in every bite but sandwiched between two fluffy macaron pillows, what could be better? You're going to love this super simple and easy macaron recipe because it's practically foolproof.
What are macarons?
Macarons are an egg white and almond flour mixture turned into a sandwich cookie. Usually filled with anything from frosting to jams, these are a French classic and can come in many different shapes, sizes, flavors, and colors. They do all have one thing in common though, when done properly, they'll be melt-in-your-mouth good.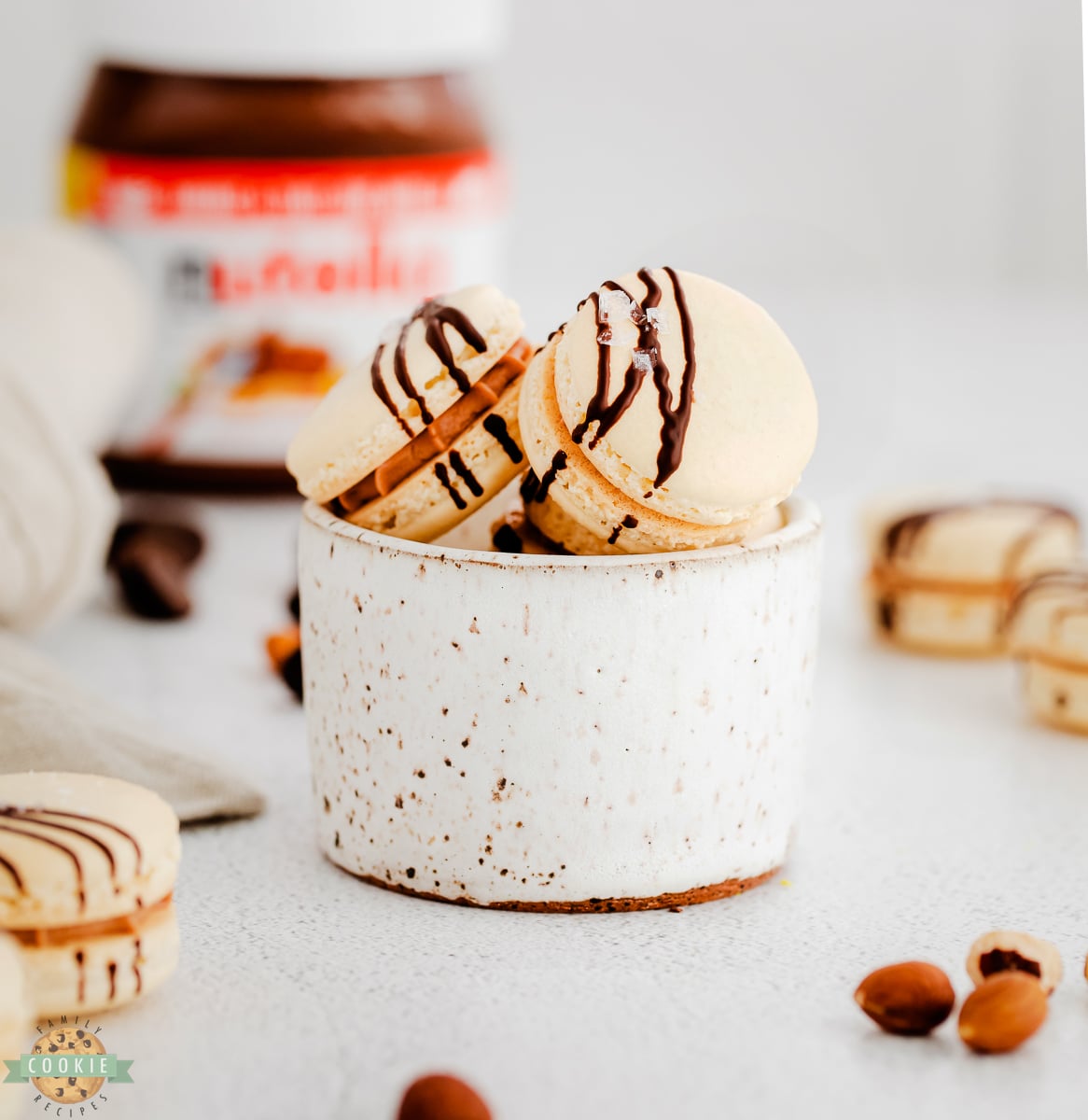 Nutella macarons ingredients
For the shells, you will need:
-Eggs: You will need 3 large egg whites for the shells. This will help them to get their airy texture.
-Sugar: Use 1/2 cup of granulated sugar and 1 cup of powdered sugar for a sweet cookie.
-Almond flour: You will need 1 cup of almond flour for the cookies. Almond flour is used to help create a finer texture.
For the filling, you will need:
-Butter: You need ½ cup of softened butter (this is one stick).
-Powdered sugar: Use 2 ¼ cups of powdered sugar for a sweet filling with a smooth texture.
-Nutella: 2 tablespoons of Nutella will give us a wonderfully flavored filling rich in hazelnut taste.
-Vanilla: Add in ½ teaspoon of pure vanilla extract to help enhance the flavors.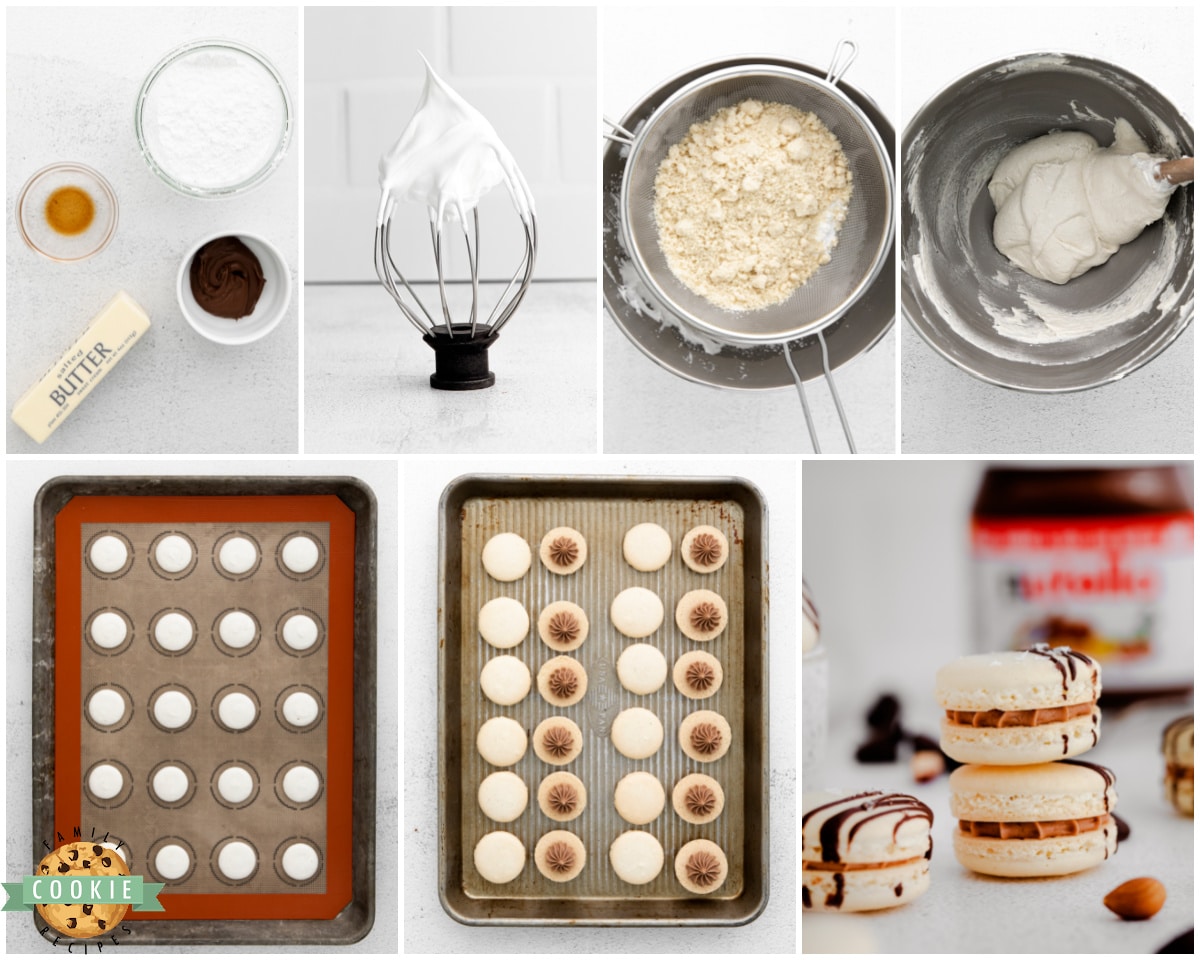 How to make Nutella macarons
Start by making the shells. First, line two large baking sheets with parchment paper or Silpat mats.
Add your eggs and granulated sugar to a heatproof bowl and set it over a pot of simmering water, you do not want the water to touch the bottom of the bowl. You are trying to DIY a double broiler.
Whisk the egg white and sugar together until the sugar is fully dissolved, this should take about 2 minutes.
Transfer the mixture to the bowl of a stand mixer fitted with a whisk attachment and beat on medium-high speed for 4-5 minutes or until the mixture forms stiff peaks.
Add the almond flour and the powdered sugar to a fine-mesh sieve and sift them together into the egg whites, discarding any large lumps, do not force them through the sieve.
Gently fold the dry ingredients into the egg whites at this point.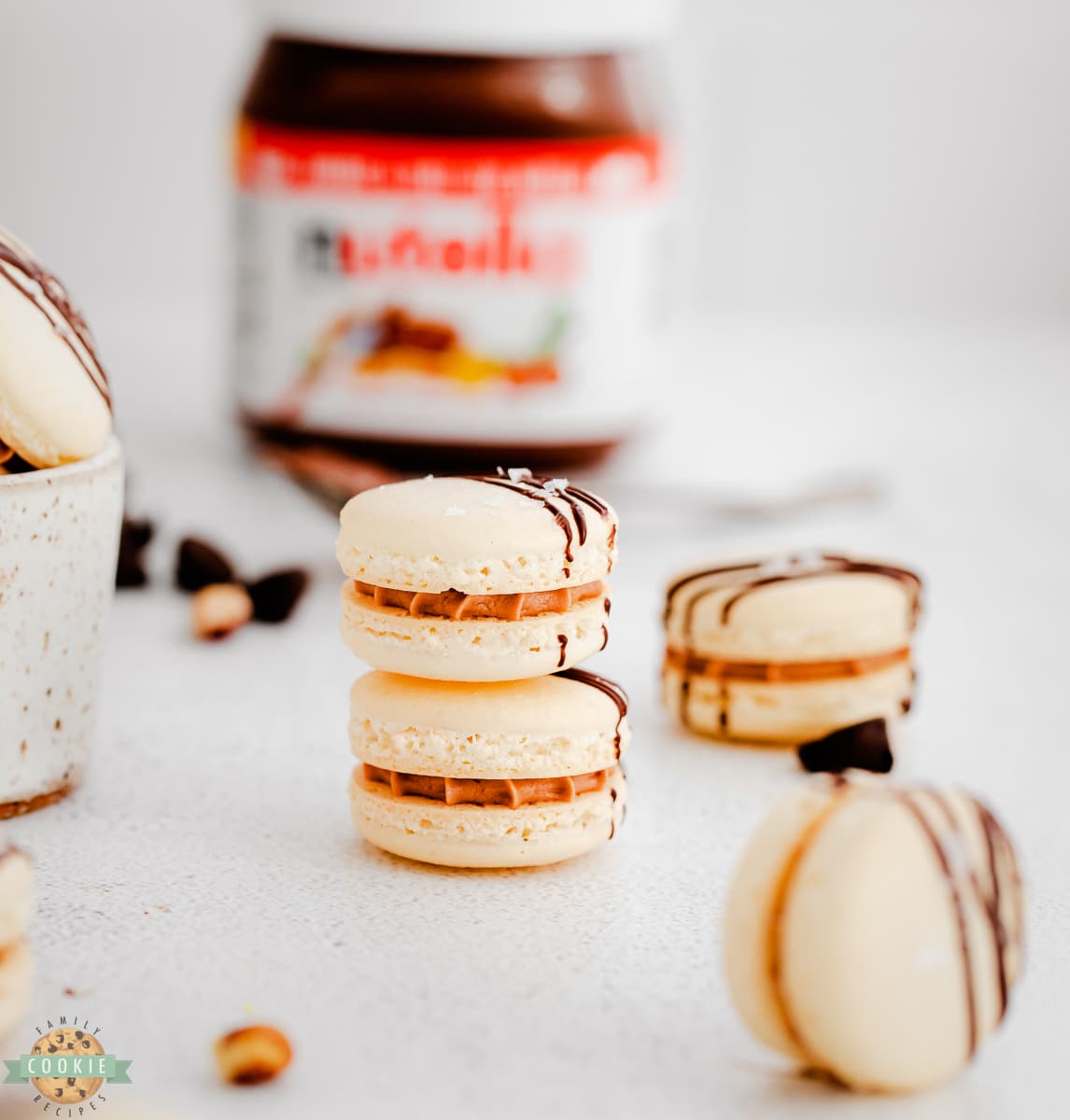 Once the dry ingredients have been fully incorporated, smoosh the batter against the sides of the bowl and fold it back together, repeating a few times to check to see if the batter is at the figure 8 stage.
If you can draw a figure 8 in the meringue without it breaking, it's ready to pipe. If the batter breaks or falls off in clumps, smush and fold a few more times before redrawing the figure 8.
When the meringue flows smoothly, transfer it to a piping bag fitted with a round tip (I like to use Wilton #10). Pipe 1.5" circles onto your prepared sheet pan and once finished hold it about 6-8 inches above the countertop and drop it down. Do this about 4-5 times to help release the air bubbles. Repeat with the second tray of circles.
Set the trays aside for about 25-30 minutes or until they form a skin. You'll know that they are ready to bake when they don't stick to your fingers when you lightly touch them.
Preheat your oven to 325 degrees F.
Bake them for 14 minutes, one tray at a time, turning the trays around halfway through the baking process.
Remove from oven and allow to cool to room temperature on the trays.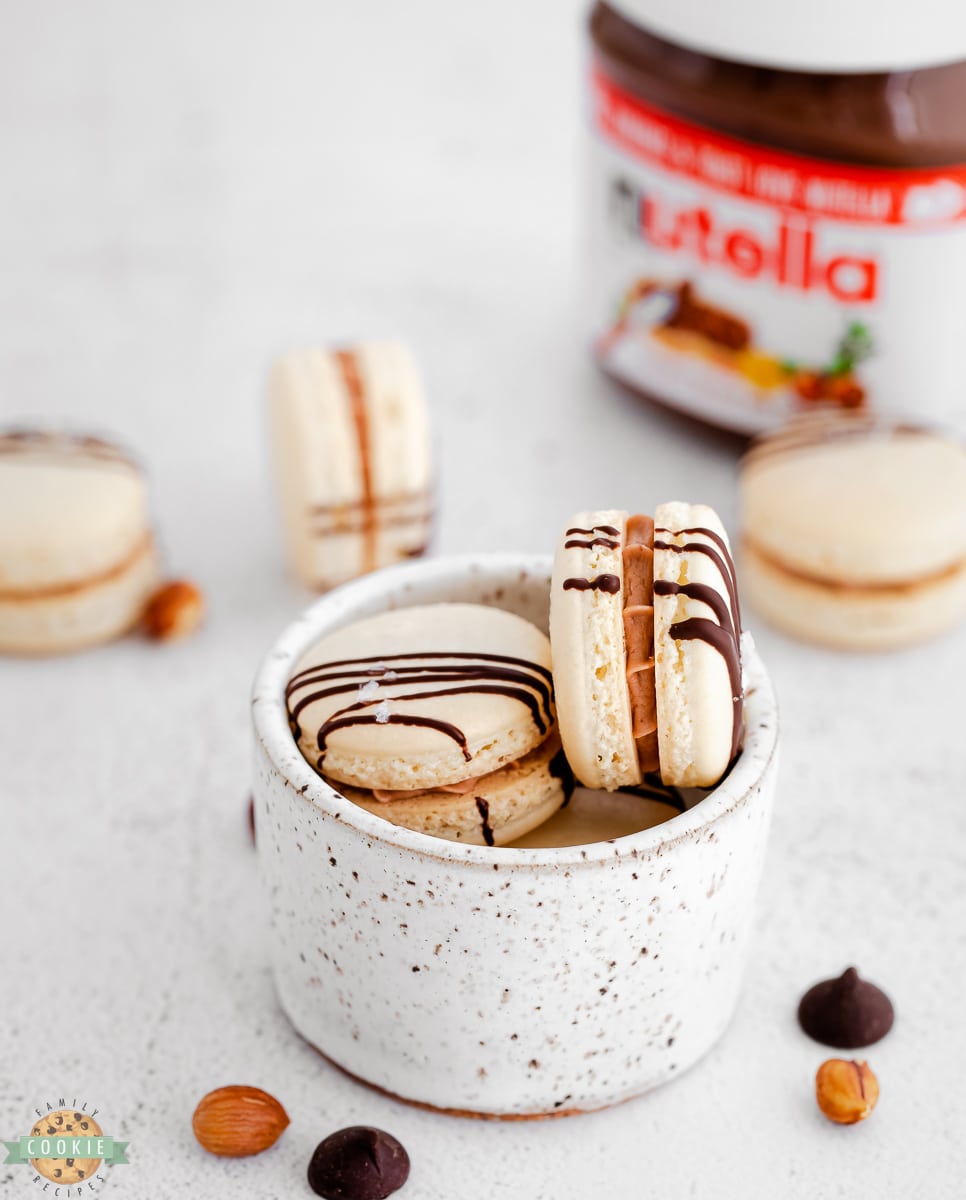 Prepare the filling by adding the butter to the bowl of a stand mixer fitted with the paddle attachment. Beat at medium-high speed until the butter has become light and fluffy. This should take about 2 minutes.
With the mixer on low, slowly add in the powdered sugar, followed by the Nutella and vanilla.
Turn the mixer onto high speed and beat the buttercream until it becomes smooth and airy. This should take about 2-3 minutes. Make sure to scrape down the sides of the bowl as you go so that you don't end up with unincorporated clumps of butter.
Transfer the mixture to a piping bag and set it aside until you're ready to use.
Place the macaron shells into similar sized pairs and pipe a small dollop of the Nutella filling onto one of the shells, place another shell on top and gently press them together until the filling reaches the edges. Repeat with the remaining shells.
Transfer the cookies to an airtight container and place them in the fridge to age overnight.
Bring the macarons to room temperature. Enjoy!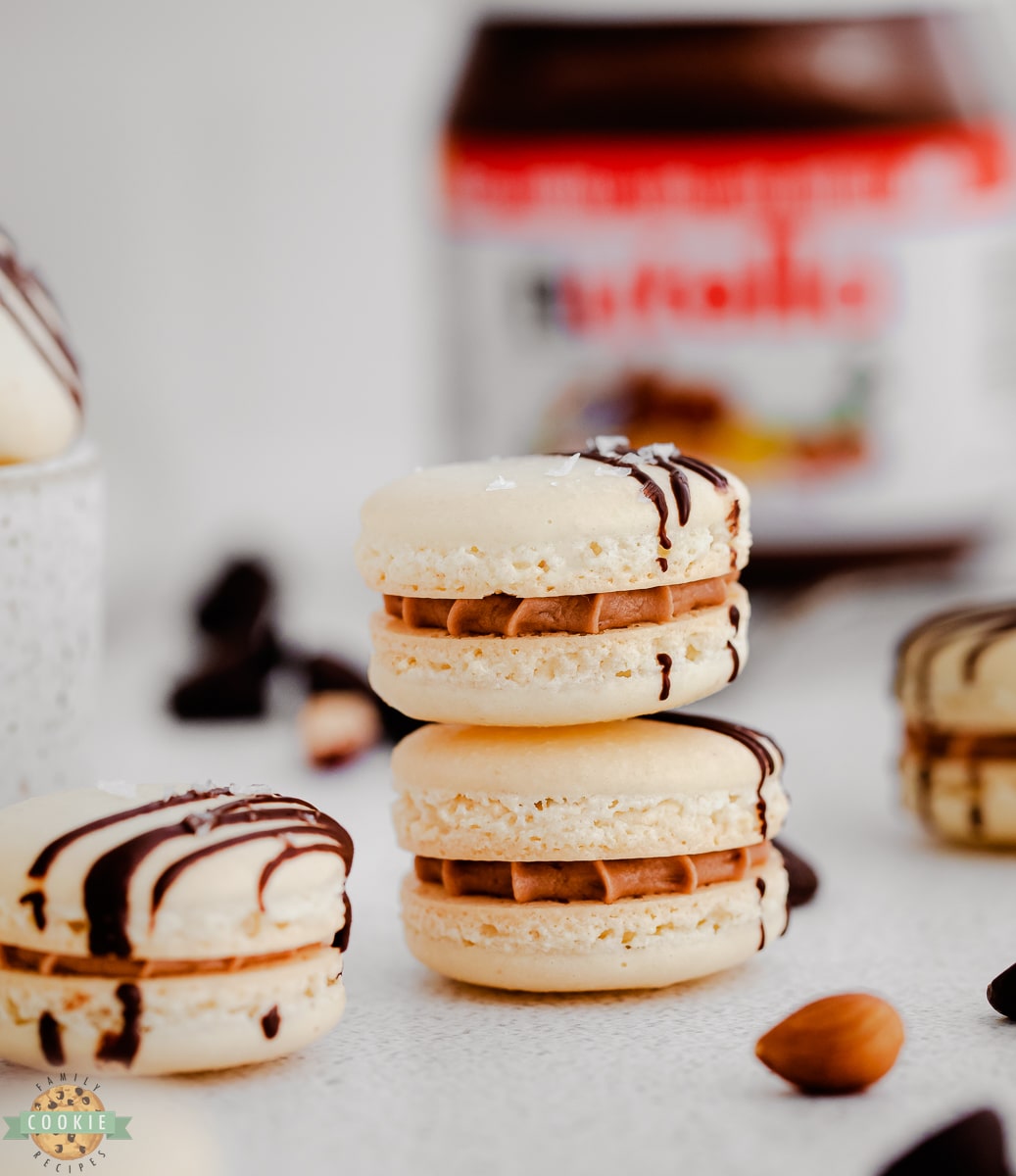 Are Macarons hard to make?
Macarons can be a little tedious to make, but they're actually easier than you think! Just take your time and carefully complete each step. I hardly ever sift ingredients with other cookies, but I do with Macarons. They also need time to set on the cookie sheet before AND after baking. But they're SO WORTH IT! Here are a few items that helped me when I first began making macarons:
Do I have to use room-temperature eggs for macarons?
You can choose to use egg whites that are at room temperature if desired but it is not necessary for this recipe.
Are macarons gluten-free?
Yes, macarons are made with almond flour, egg whites, and sugar making the shells naturally gluten-free. The Nutella macaron filling used in this recipe does not contain any gluten either making this recipe 100% gluten-free.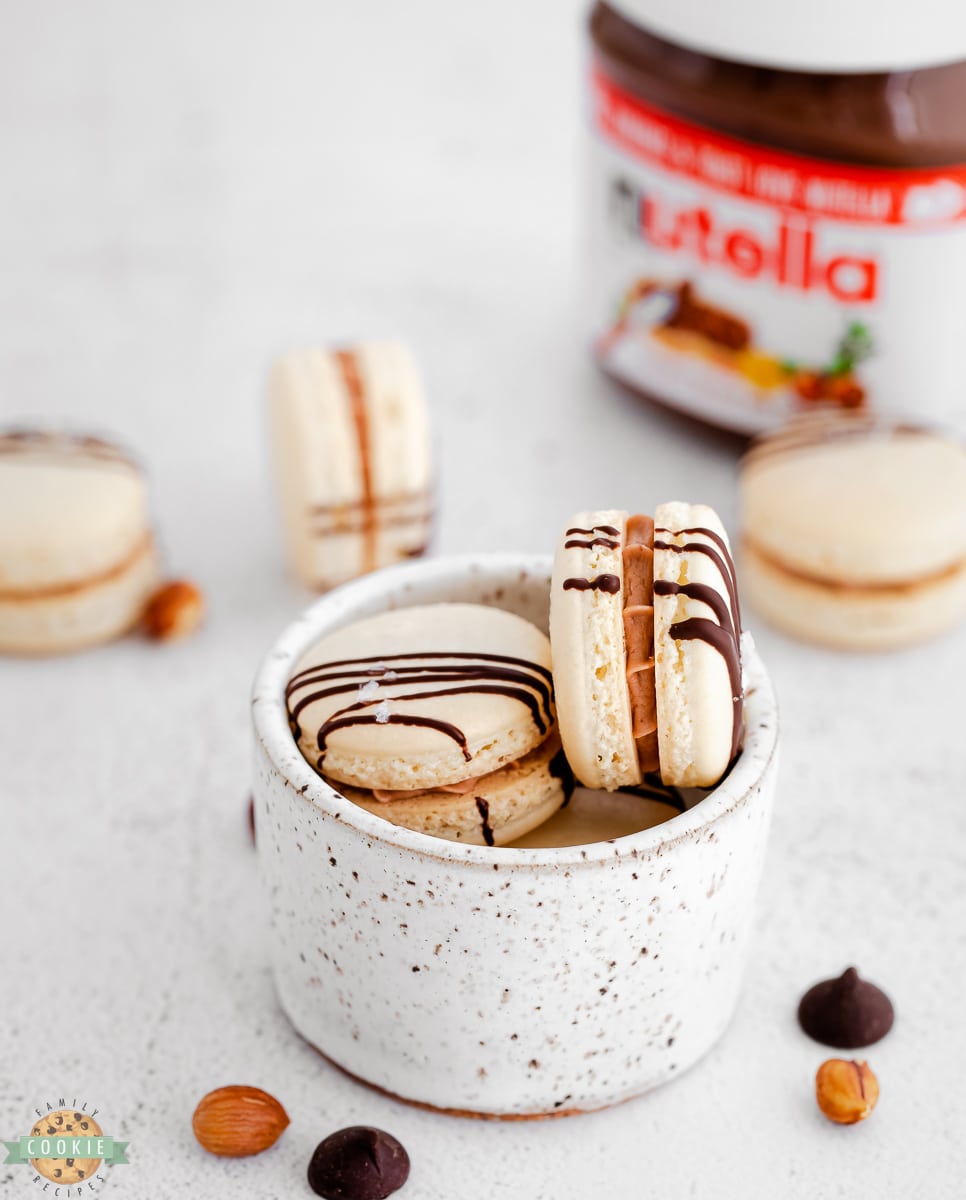 You're going to love these Nutella macarons. They're an incredible melt-in-your-mouth sandwich cookie packed with delicious rich flavors in every smooth bite.