Lovely Peaches and Cream Cookies made with buttery cookie dough, baked & topped with peach pie filling and cream. These darling peach cookies with their bright, fruity flavor, are a crowd pleaser!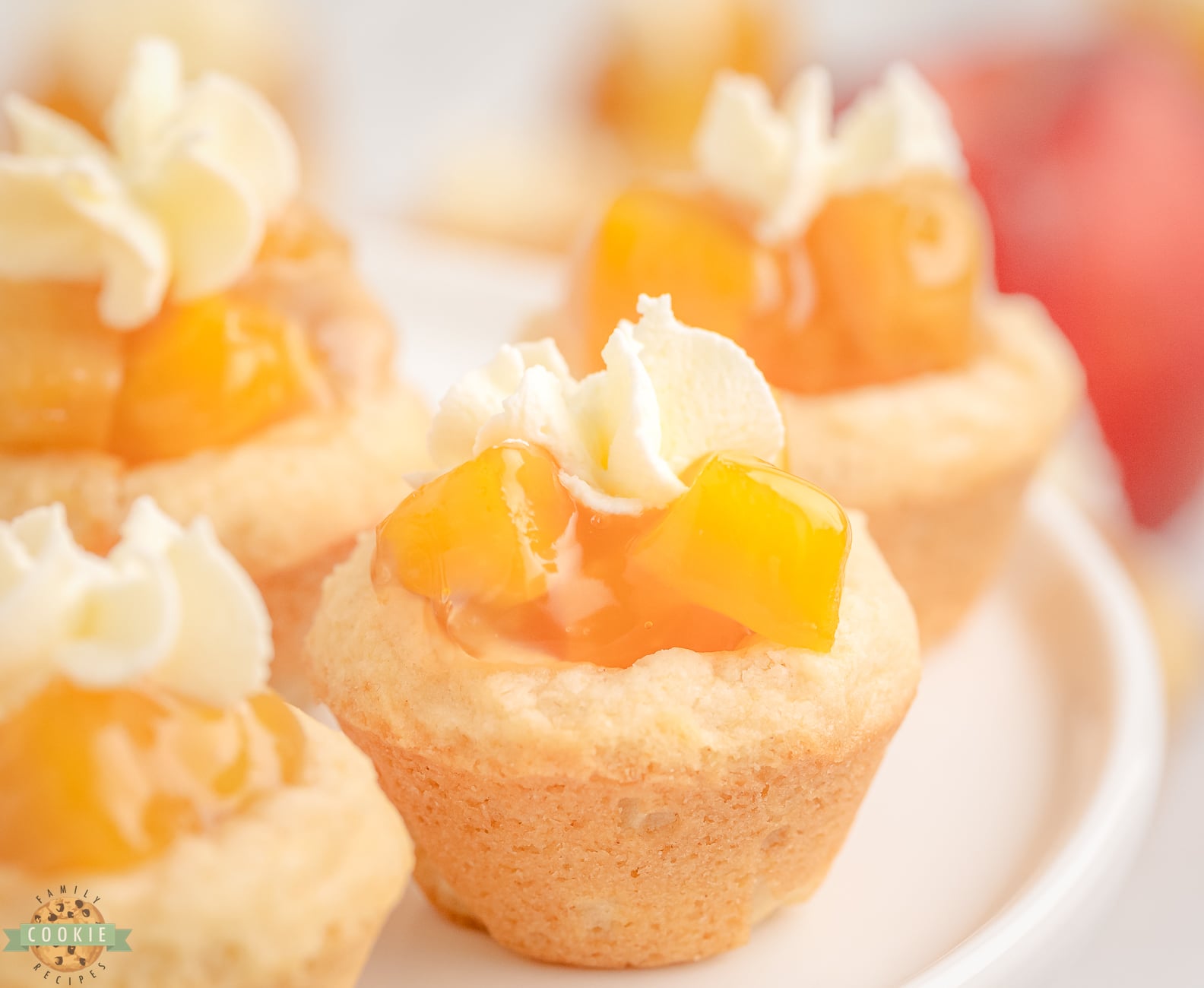 This peaches and cream recipe are a delicious and unique twist on traditional cookies. These peach cobbler cookies are made with fresh peaches and a whipped cream topping that creates a soft and chewy texture.
Easy Peach Cookie Recipe
To make peaches and cream cookies, you start by mixing together flour, sugar, and other dry ingredients. Then after the cookies are baked, top each with delicious peach pie filling. These cookies aren't complete without the dollop of whipped cream on top to finish them off!
Whether you're looking for a unique twist on traditional cookies or simply want to enjoy the flavors of summer, peaches and cream cookies are a delicious and satisfying treat. With their soft and chewy texture and sweet, fruity flavor, these cookies are sure to be a hit with anyone who tries them.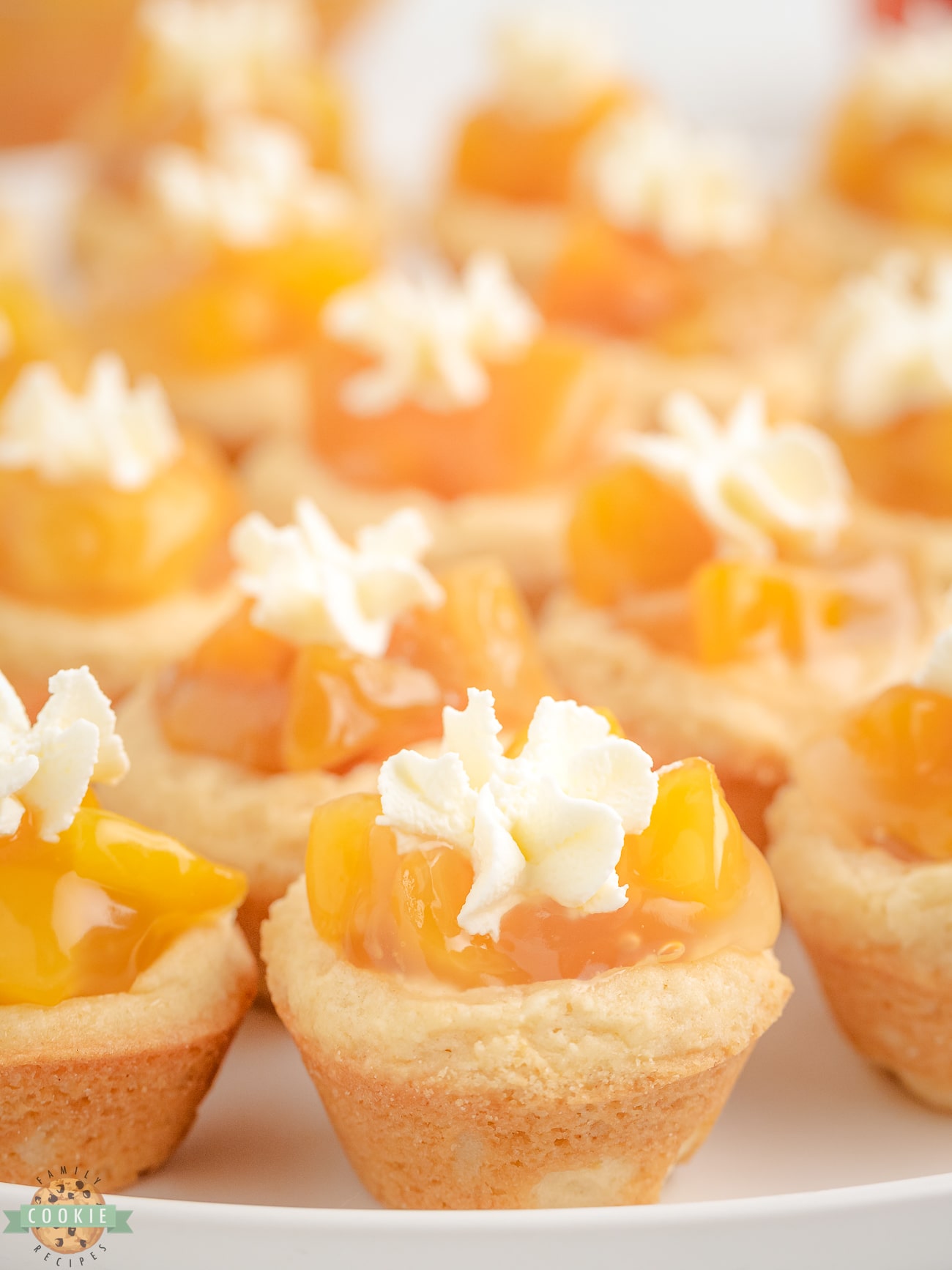 Why You Will Love These Peaches & Cream Cookies
Perfect for Summer: The combination of sweet peaches and whipped cream make these cookies a refreshing treat on a hot summer day.
Soft and Chewy Texture: These cookies are soft and chewy, with a slightly crispy edge. The texture is perfect, making them a crowd-pleaser for all ages.
Easy to Make: These cookies are simple to make and require only a few ingredients. They are perfect for beginner bakers or those short on time.
Ingredients for Peaches N' Cream Cookies
Sugar: You need 1 cup of sugar to make these cookies perfectly sweet and chewy.
Butter: Adding in ½ cup of butter, softened, will give these treats a wonderful rich flavor.
Egg: To create a lovely cookie texture, add in 1 egg to this cookie dough.
Vanilla extract: Help enhance the flavors well by using 1 tsp of vanilla extract.
Almond extract: For even more amazing flavor, add ½ tsp of almond extract.
Sour cream: Using ⅓ cup of sour cream to give the cookies more moisture to create a soft and tender crumb.
Baking soda: You need ½ tsp of baking soda for the cookies to rise properly as they bake.
Flour: The structural base of these treats are 2 cups of flour.
Cookie topping
Peach pie filling: You need ½ cup of peach pie filling, with the peaches cut up into smaller pieces, for the amazing filling in this sweet summertime dessert.
Whipped cream: Add a dollop of whipped cream to each cookie for the "cream" part of these peaches n' cream cookies.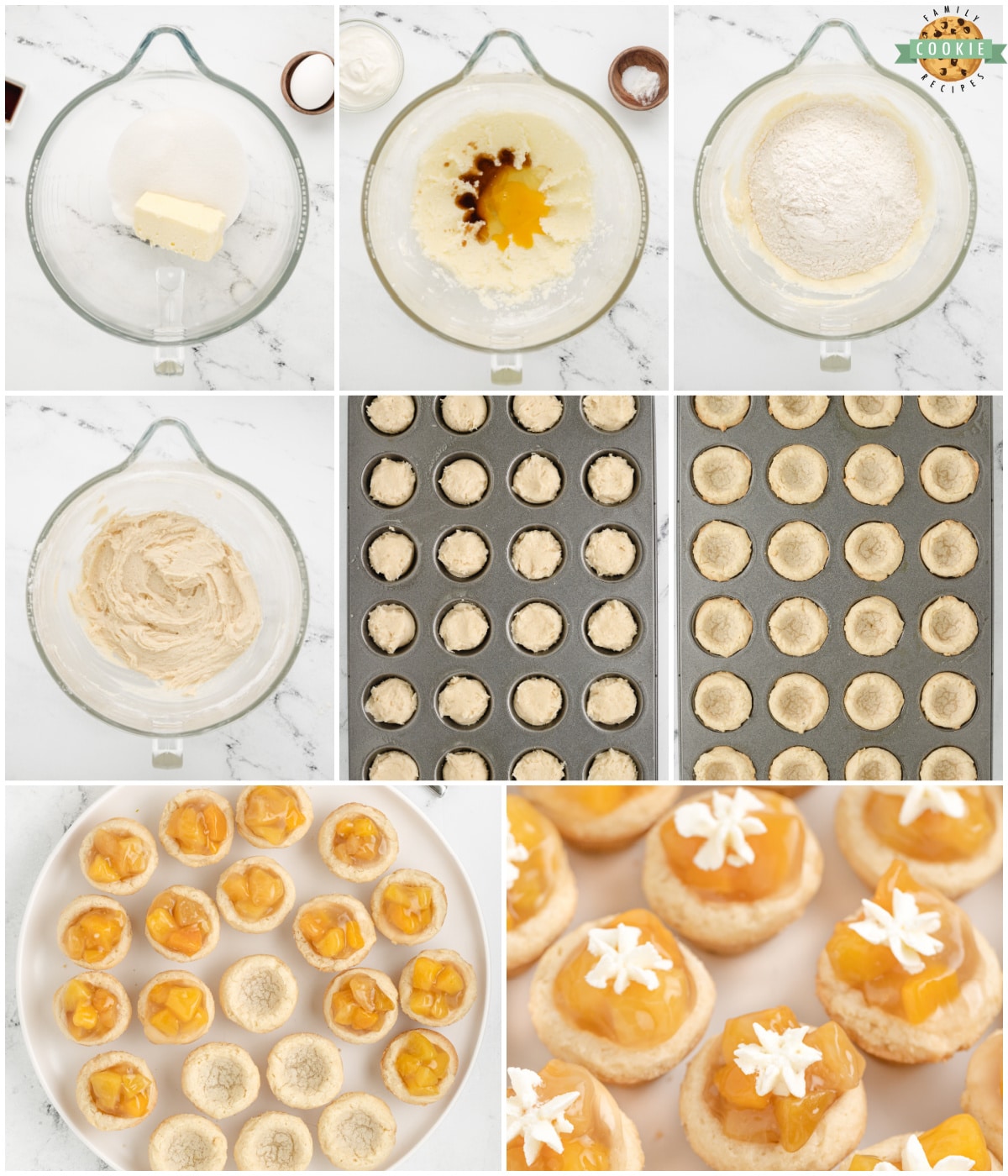 How to make Sweet Peaches N' Cream Cookies
Prep
Get started by preheating the oven to 325° F. Then, liberally spray a mini muffin tin with non-stick cooking spray.
Cookie dough
Next, in a medium size bowl, using a hand mixer, cream together the sugar and butter.
Then add in the egg and vanilla extract, mix again, and add the sour cream, salt, and baking soda. Lastly, add in the flour and beat until smooth.
Bake
Proceed to scoop out 1 tablespoon of dough into each muffin cup. I use a cookie scoop, it makes this process so fast, and I love that all the cookies are uniform size. You should have enough dough to make 24 cookie cups, plus about 6 more cookies. I baked these additional cookies like normal on a cookie sheet.
Place the cookie cups in the preheated oven and bake for 17-18 minutes. Be sure to let the cookies stand for 1-2 minutes after taking them out of the oven.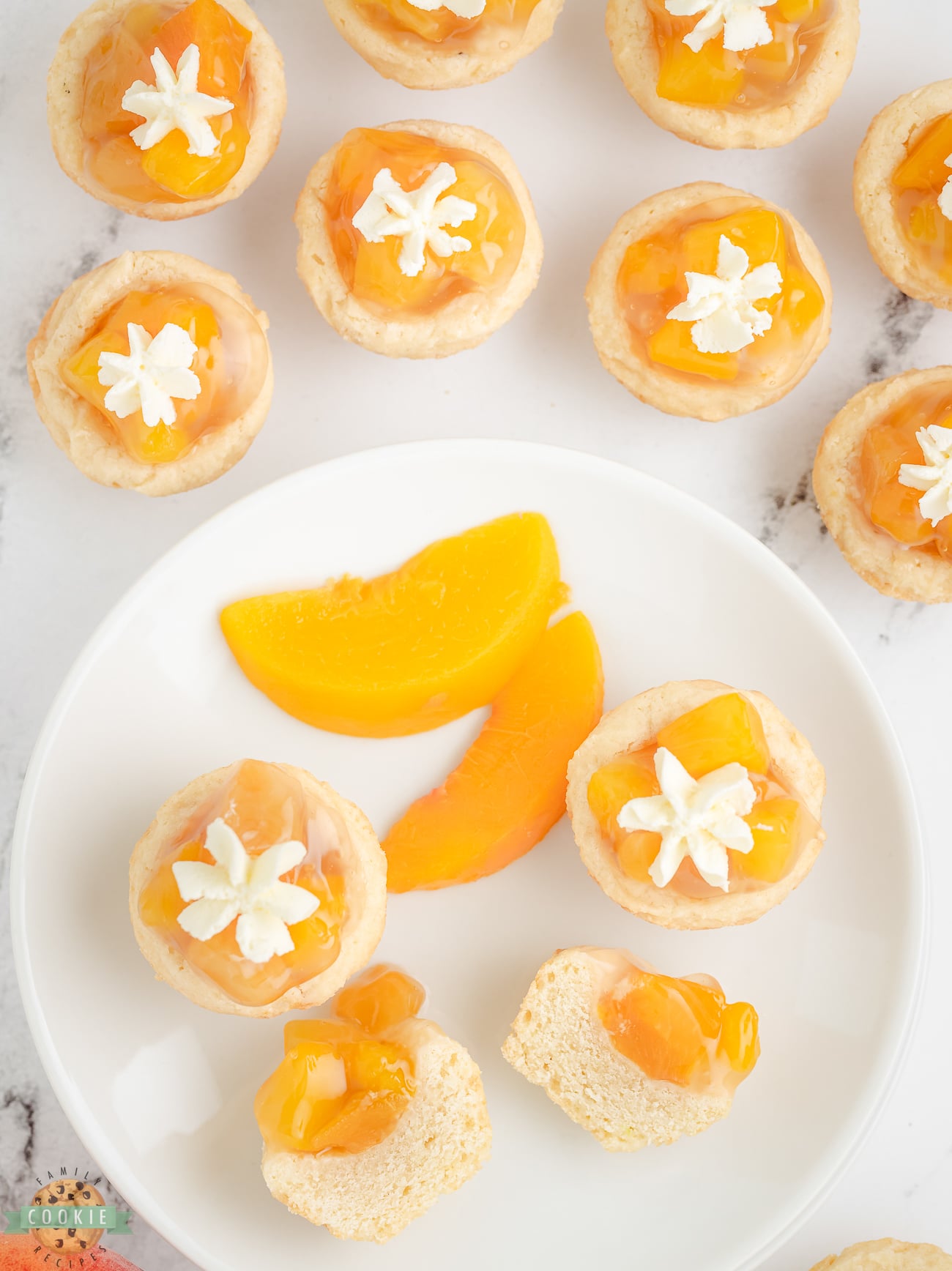 Shape
Now, spray the round side of a 1 teaspoon measuring spoon with non-stick spray then press down into the center of each cookie to create a well. Then let them cool completely, if you need to hurry this process, feel free to stick the pan in the freezer for 20 minutes.
To take the cookies out of the muffin tin, I just slid the tip of a knife down 1 side and they popped right out.
Filling & topping
Now, spoon about 2 teaspoons of peach pie filling into each cookie cup. If serving immediately, you can top with a dollop of whipped cream. If not, cookies can be completely made and assembled up to 24 hours ahead of time and stored in an airtight container in the fridge. Top with cream just prior to serving.
Serve and enjoy!
What are some variations to this peach cookie recipe?
One popular variation is to use fresh peaches instead of canned ones. This can be a great option if fresh peaches are in season. Simply peel the peaches, chop them into small pieces and heat them on the stove to cook them until tender.
Another variation is to add different spices or extracts to the cookie dough. Cinnamon, nutmeg, and vanilla are all great options that can add depth and complexity to the flavor of the cookies. You can also experiment with different types of sugar, such as brown sugar or honey, to give the cookies a different sweetness.
For those who prefer a more indulgent treat, you can add chocolate chips or chopped nuts to the cookie dough. This will give the cookies a rich, decadent flavor that is perfect for special occasions or as a dessert.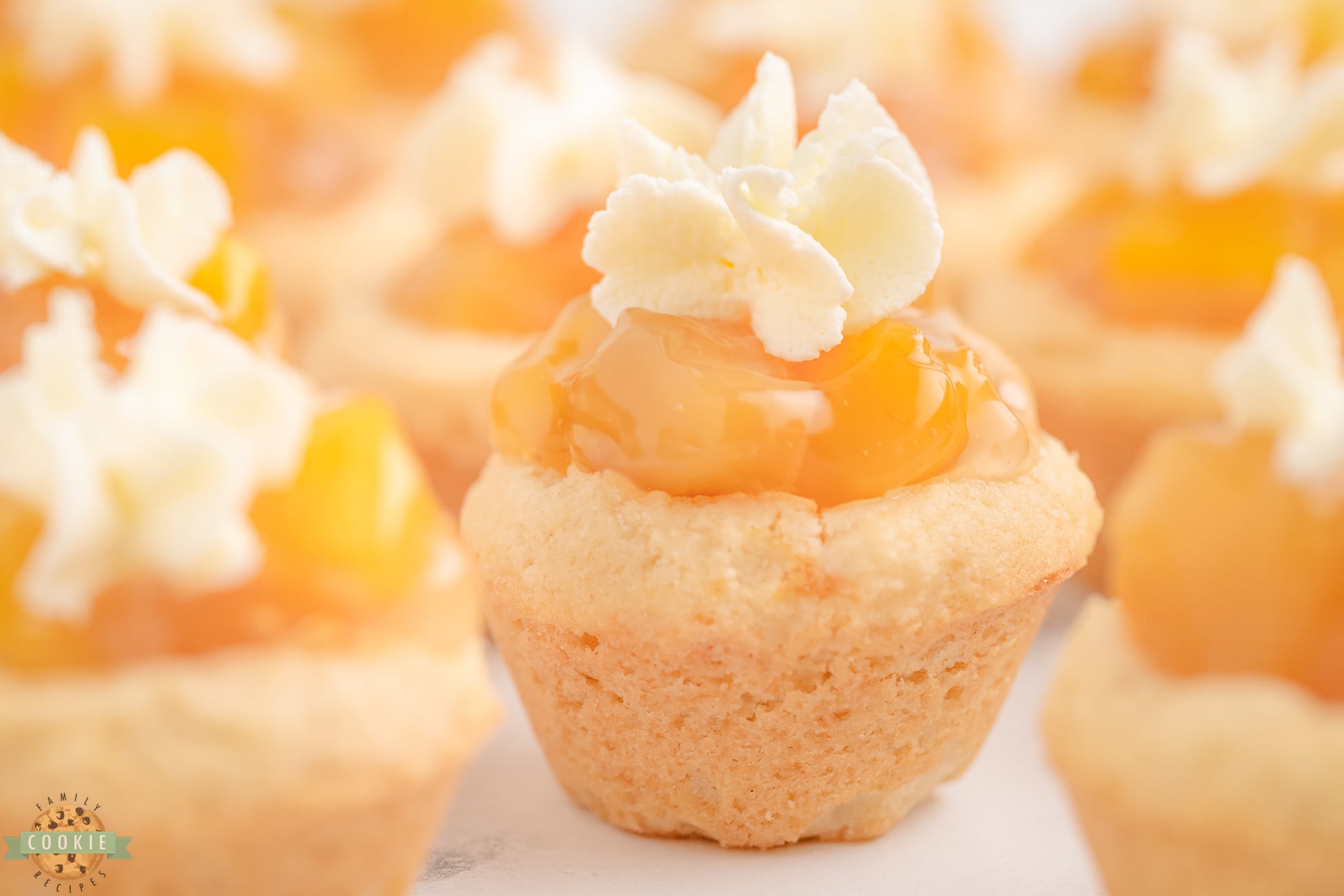 WHEN TO SERVE PEACH PIE COOKIE CUPS?
Summertime and holidays are the perfect time for peach pie, and I found a way to make this traditional treat easier and yummier too! I've made these little treats for Thanksgiving and I've made them for the 4th of July and they work perfectly for both occasions (and everything in between). I have taken these little treats to lots of parties and everyone always wants the recipe – they are always a big hit! They are perfectly portioned and so easy to serve!
DO YOU NEED TO HEAT THE PEACH PIE FILLING?
Store-bought peach pie filling is already baked, so you do not need to heat the filling before adding to the cookie cups. A lot of readers have asked about this! You can definitely heat the pie filling up if you prefer to warm it up before serving, but it is completely cooked as is.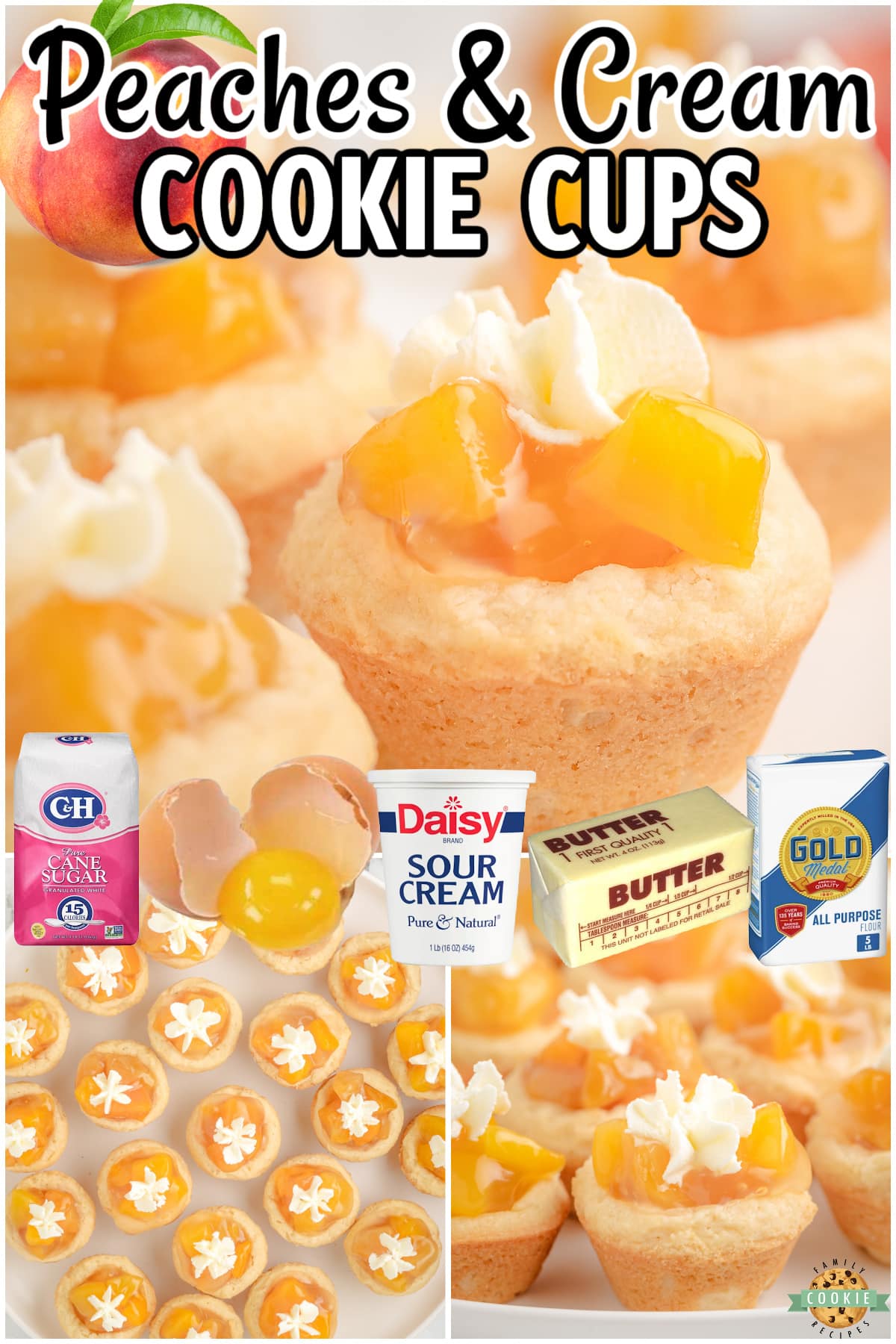 HOW LONG ARE THESE COOKIES GOOD FOR?
These cookies can be kept stored in an airtight container for up to 3-5 days. To keep the cookies nice and chewy I recommend keeping them stored in the fridge.
Give more amazing cookie cup recipes a try here!
These incredible Peaches and Cream Cookies are made with a soft cookie dough, baked and topped with peach pie filling and whipped cream. Easily make these peach cookies for a wonderful summertime treat!