Easy Jello Cookies start with a cookie mix & Jello for a fun, colorful treat! This sugar cookie recipe comes together quickly & the results are amazing.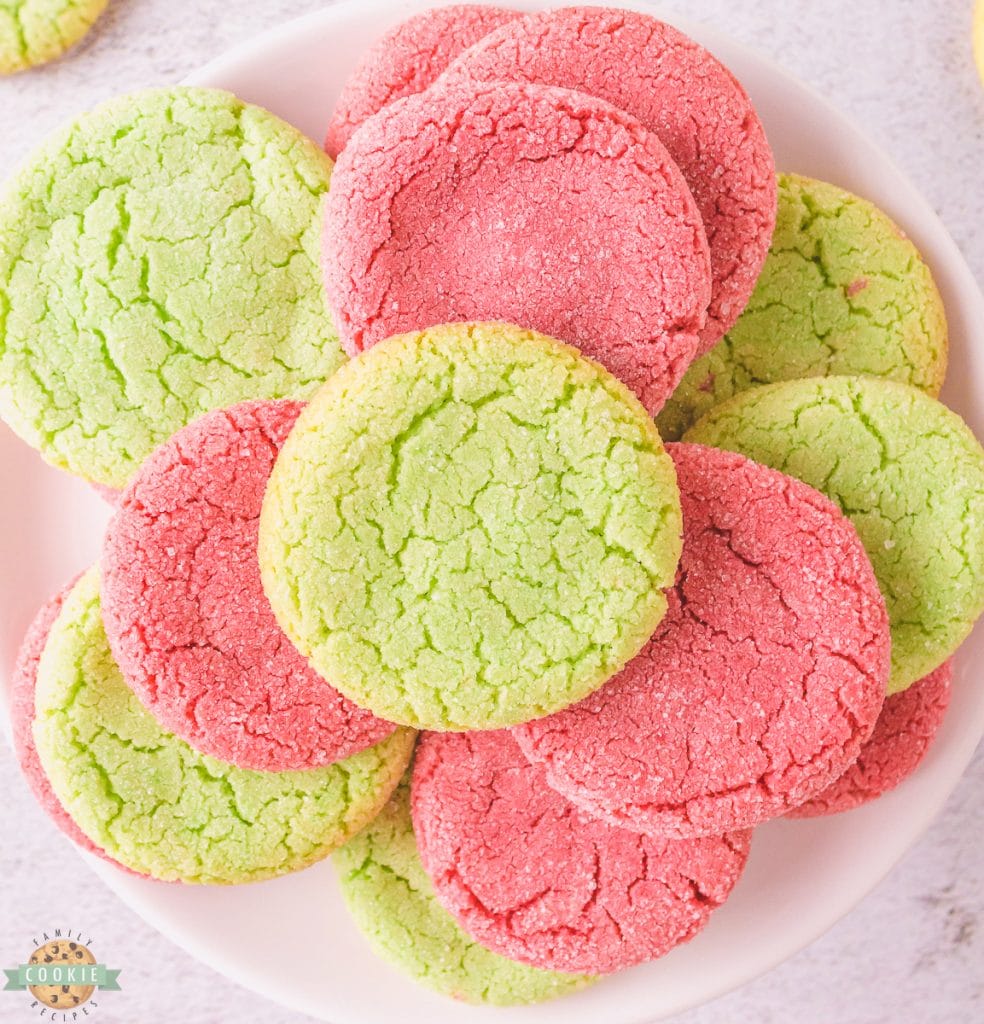 Making these colorful cookies only takes a few minutes of prep and baking time for a quick dessert when the mood strikes. The colors of these Jello cookies are just part of the appeal, the crisp outside texture and chewy soft middle makes them the perfect cookies.
The BEST Jello Cookies
These Jello flavored cookies are simply amazing. Made with just 5 ingredients, they are as easy as mixing together the dough, scooping, and baking. These amazing and delicious cookies require no chilling time or complicated steps to make. Choose any flavor of Jello and these cookies will always turn out amazing.
The best part is this dough comes together so easily that you can have a batch of cookies prepped, baked, and in your hand ready to eat within just a few minutes. Match the colors of these Jello cookies to fit in with seasonal events, parties, or occasions and your cookies are sure to be a huge hit!
Tips for making the most amazing cookies every time!
Here a a few tricks to making delicious cookies every time you make a batch.
First, I line my cookie sheets with a piece of parchment paper. They're sold in sizes that fit a 12×16 cookie sheet perfectly and enable to cookies to bake well without sticking- and no mess from spraying oil on the cookie sheets!
The second item is a KitchenAid mixer. I love mine! I have a Bosch as well but I find I use my KitchenAid for cookies. There is a cookie paddle that comes with every mixer that you attach to the top of the mixer. They're easy to use and help you mix the ingredients uniformly.
The third item is a cookie scoop! Years and years ago I used to use 2 spoons to measure and scrape cookie dough onto the pans. It wasn't a perfect process and I often ended up with oblong cookies in various sizes. My solution? A cookie scoop! They come in three sizes- 1/2 tablespoon, 1.5 tablespoon and 3 tablespoon scoops. I used the middle size- 1.5 tablespoon for these, and most other cookies. (Although when I'm serving a large crowd, I use the small cookie scoop. People love having a smaller cookie, especially at an event with several other desserts.) For this Peanut Butter Cookie recipe I used the middle scoop and even the large 3 TBSP scoop for a few cookies!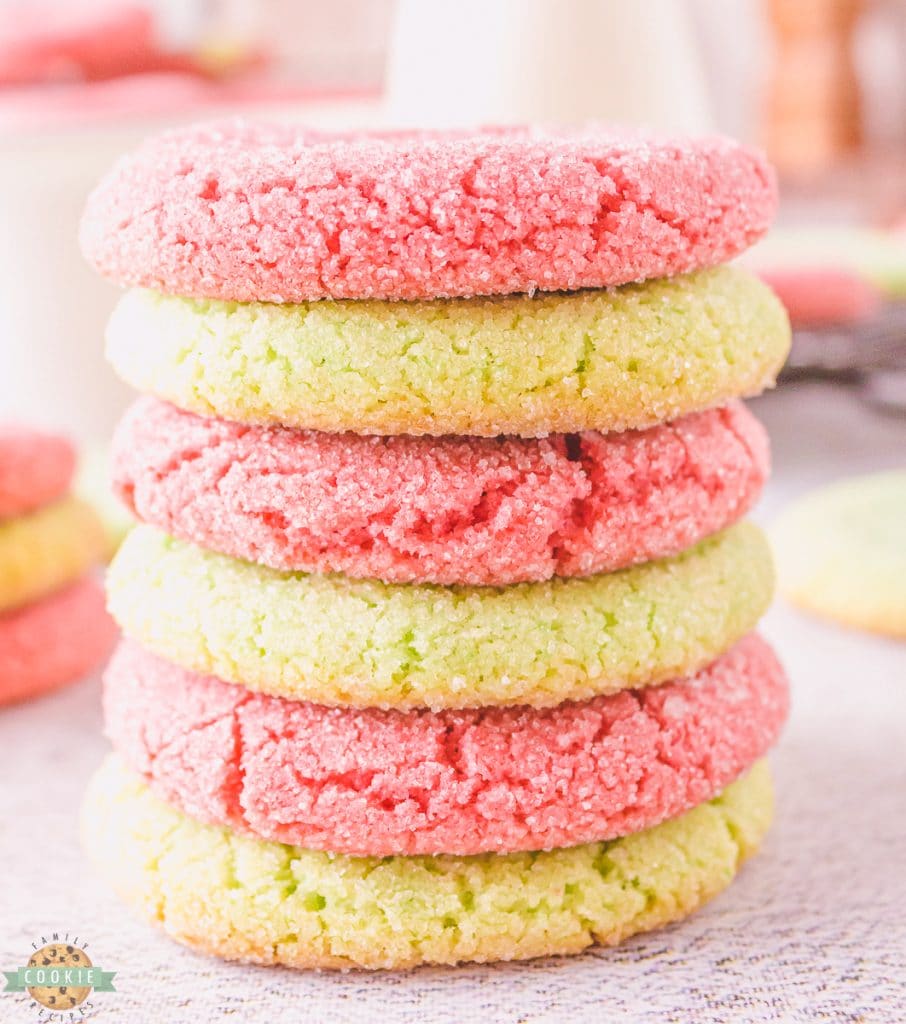 Jello Cookie Ingredients
Sugar cookie mix: You will need one 17.5-ounce box of sugar cookie dough mix. I like the Betty Crocker brand best, but any kind you prefer of have on hand will taste great too.
Butter: Use ½ cup of butter, softened, for a wonderfully rich tasting cookie.
Egg: Use 1 egg to help bind the dough together well and create great texture.
Jello boxes: You will need two 3-ounce sized boxes of dry Jello mix, this is about 6 tablespoons. Feel free to use any flavors that you want. Take note that sugar-free Jello is only .3-ounces per box and the colors aren't as vibrant.
Sugar: You will want to roll your cookies in ½ cup of granulated sugar for a fantastic crunchy texture for the outside of your cookie. Note that this is an optional, but delicious and recommended step.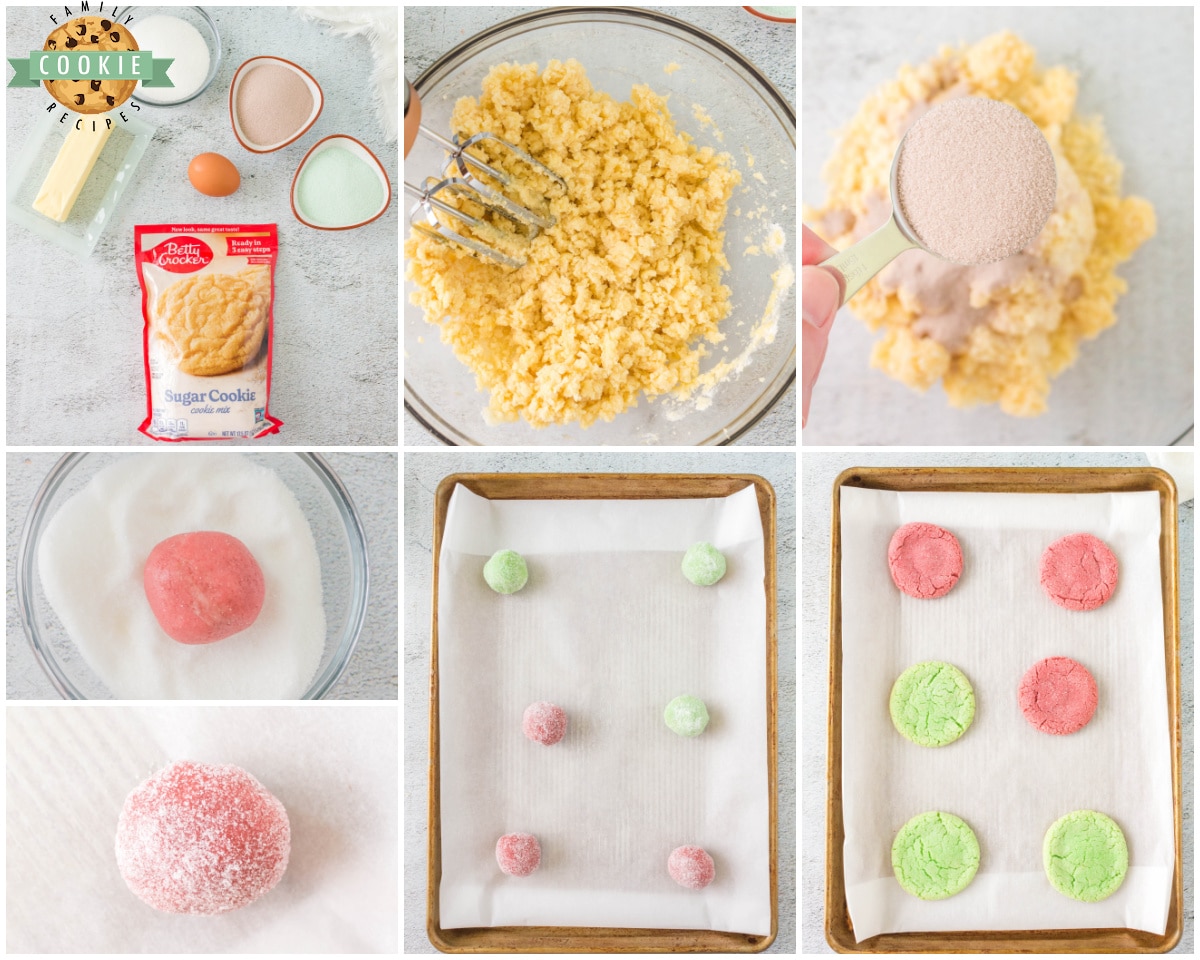 How to Make Jello Cookies
Prep
Get started by preheating the oven to 350 degrees F. Then, line a cookie sheet with parchment paper and set aside.
Also, using a small bowl, measure out the ½ cup of sugar, this is what the cookie dough balls will be rolled in before baking.
Make Dough
In a large mixing bowl, combine the cookie dough mix, softened butter, and egg using a handheld mixer on medium speed. If you do not have a handheld mixer, use a spoon to stir and combine together well.
If you are making two different colored cookies then divide the dough into 2 bowls.
Next, add the dry Jello mix of your choice to each bowl, 6 tablespoons of dry mix per bowl. You can adjust this step to accommodate more or fewer colors. See recipe card note for more information.
Use a hand mixer to get the Jello evenly distributed throughout the dough. Once mixed, knead the dough with your hands to make the colors more prominent.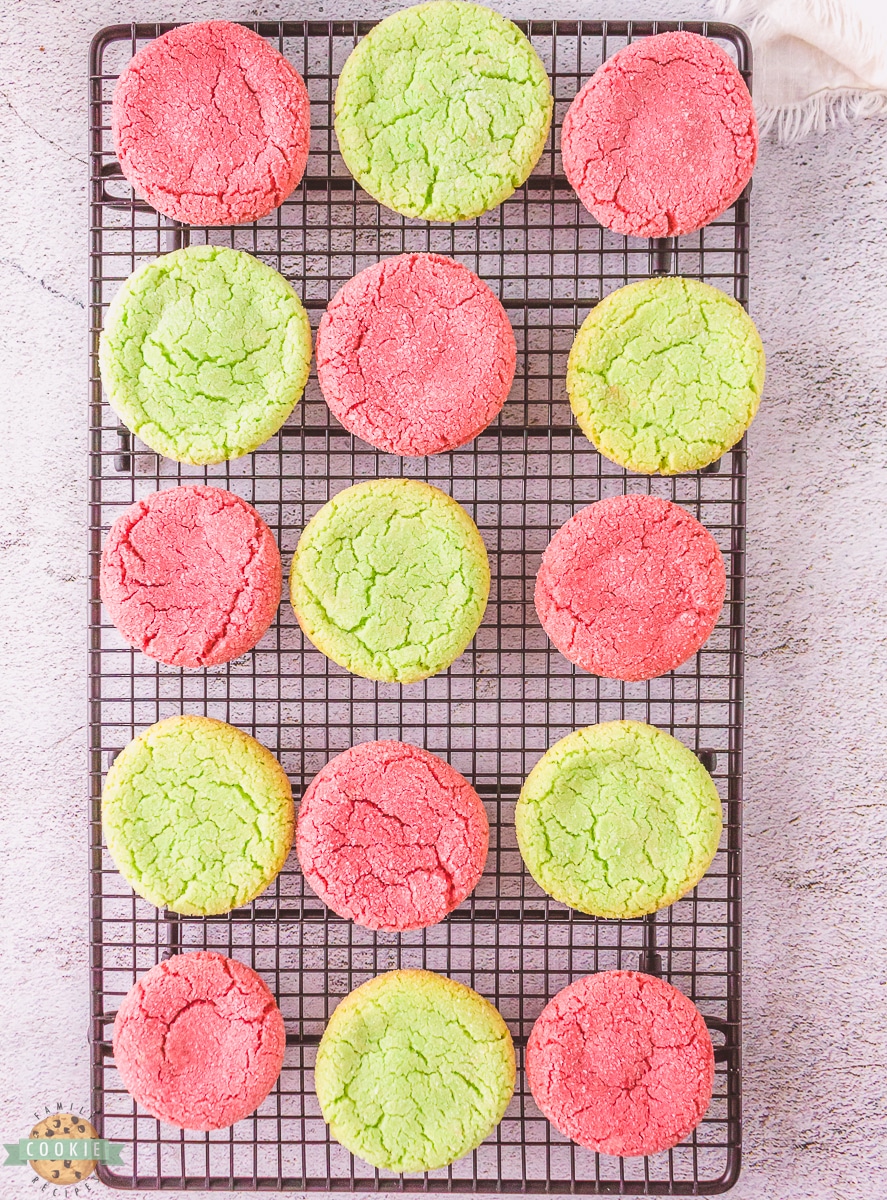 Bake
Continue to scoop the dough into balls using a medium-sized cookie scoop. Then, roll each ball of dough into the granulated sugar.
Proceed to place the dough onto your prepared baking sheet and leave 2 inches of space between each cookie.
Place the cookies in the preheated oven and bake for 12-14 minutes.
After baking is complete, cool on the pan for 2 minutes before transferring to a wire rack to cool completely.
Serve slightly warm and enjoy!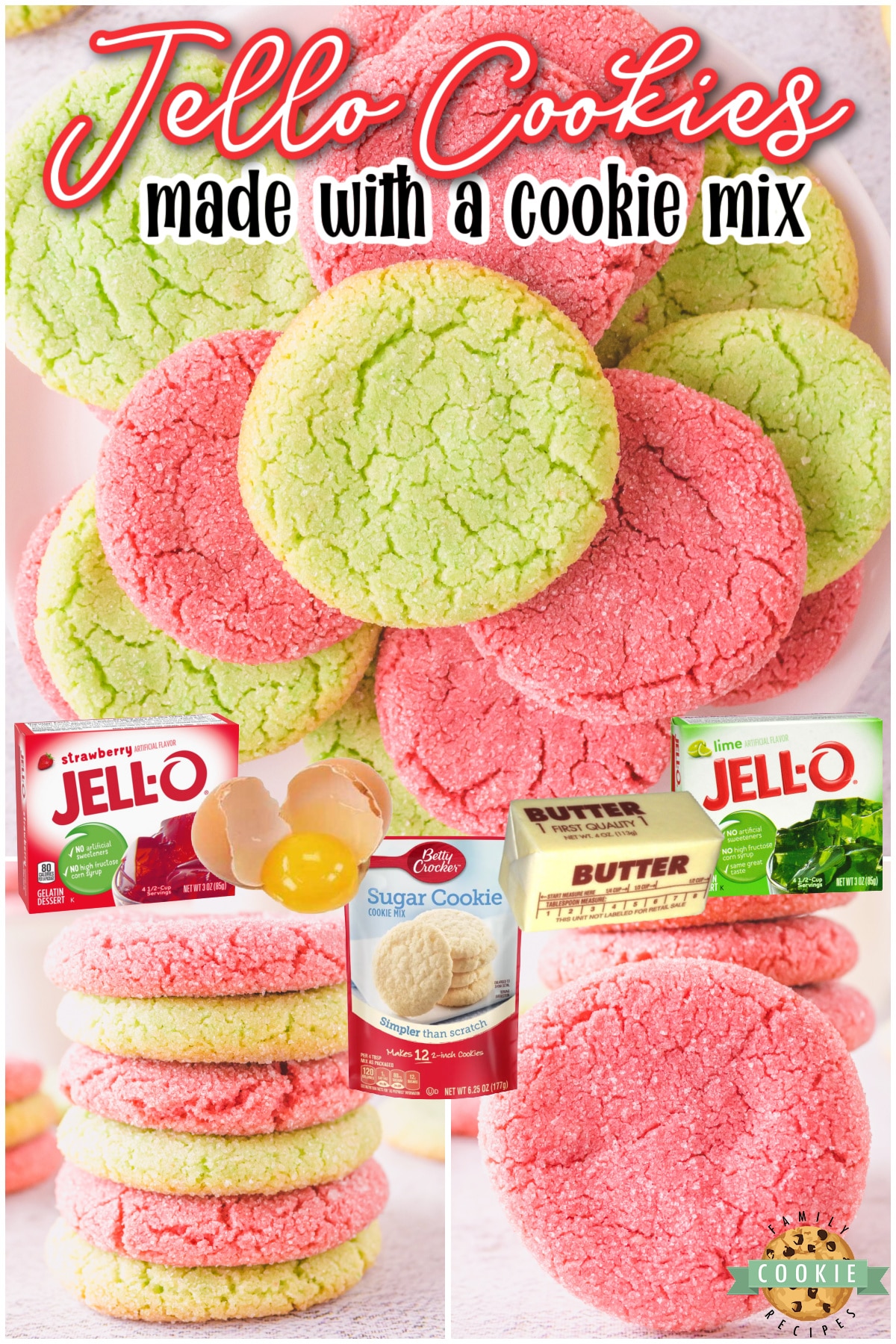 How do I store
Jello sugar cookies

?

Keep these cookies stored in an airtight container for up to 3 or 4 days at room temperature or keep them stored in your fridge for up to 7 days. Note that the cold air will make the cookies a bit chewier too. Yum!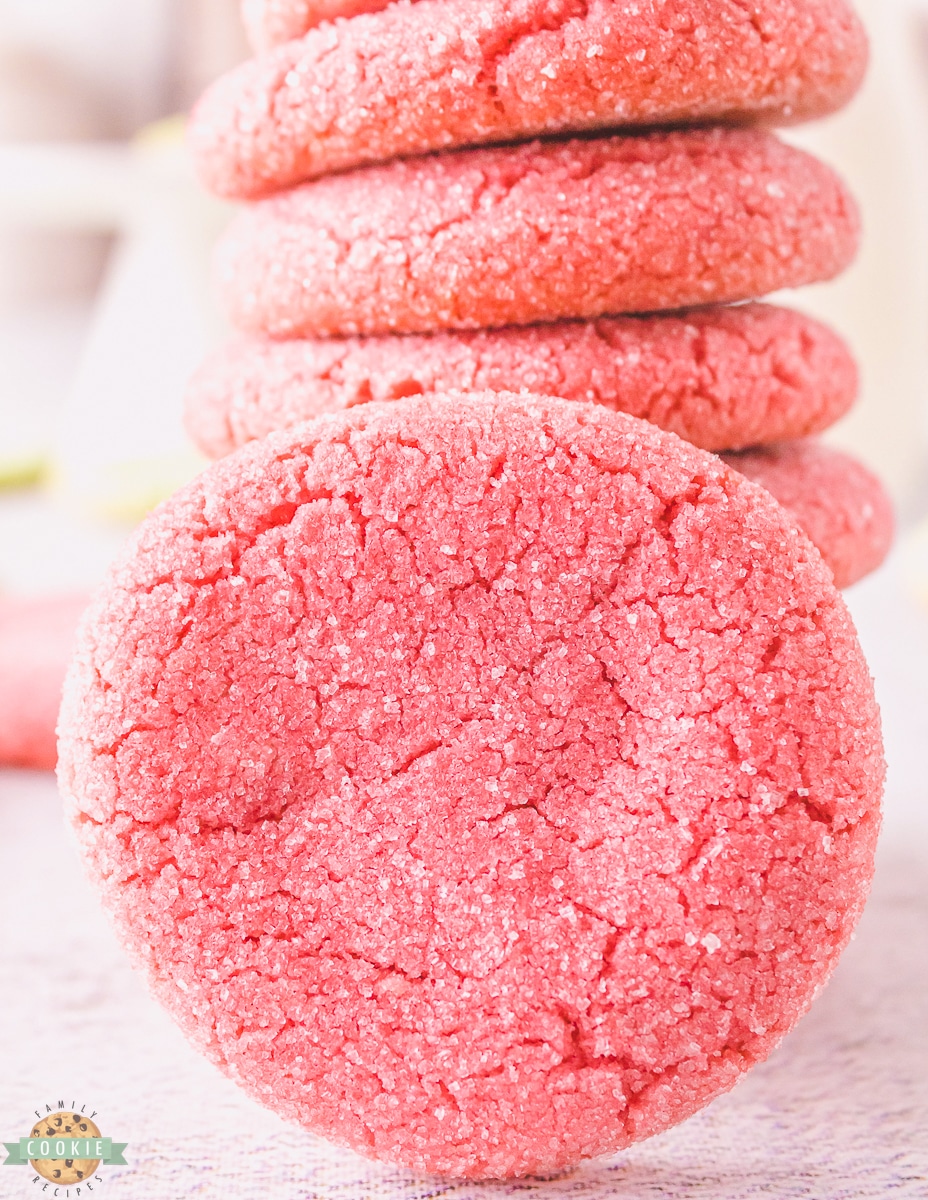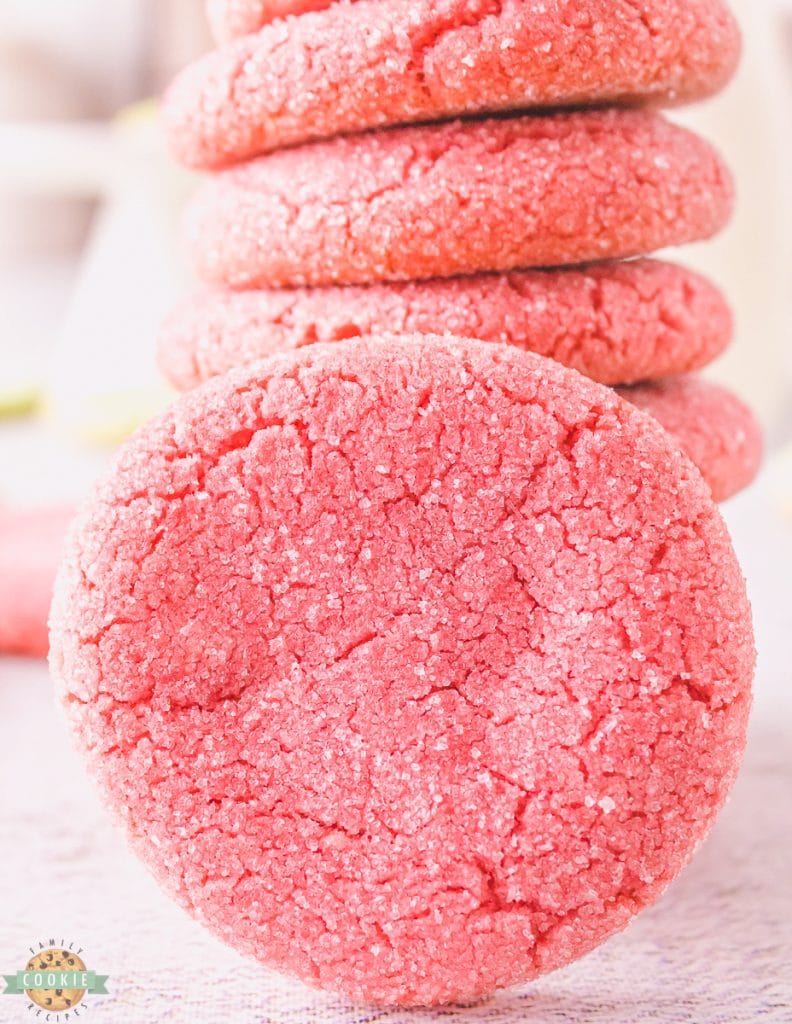 Can I freeze this Jello cookies recipe?
Yes, you can freeze these cookies after they have cooled completely by placing them into an airtight container for up to 3 months. Simply allow the cookies to thaw before eating.
Do I have to roll my cookies in sugar?
You do not need to roll the cookie balls into the granulated sugar. By doing so you are adding a fun layer to the cookie. It adds a nice crisp edge and the texture of the sugar make it the perfect bite, crunchy and then chewy!


The one in the middle is mine! How on earth is one of my kids a high school graduate?! Time flies! It's been so fun seeing him as this young adult making choices and venturing out on his own… kinda!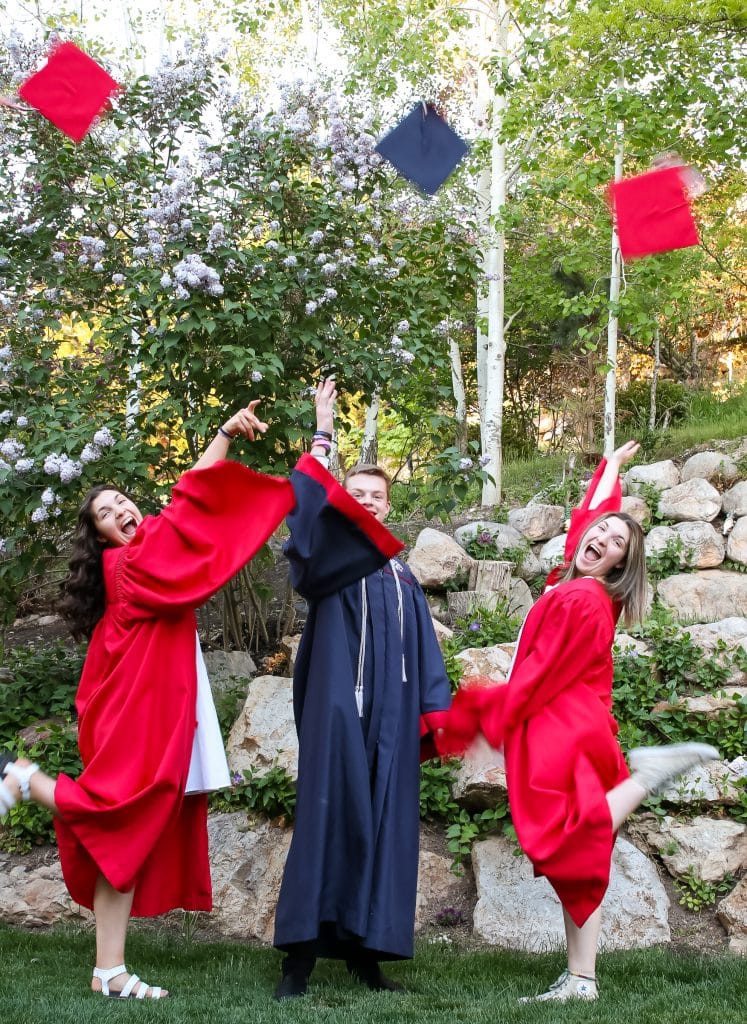 For more delicious Jello cookies, check out these tasty treats!
Easy Jello Cookies is a simple, fun & colorful treat! This sugar cookie recipe requires minimal effort and delivers maximum flavor in every bite.