Halloween Skeleton Cookies are festive & fun chocolate sugar cookies decorated in a perfectly creepy way! Simple cut-out skeleton cookies that are fun to make & enjoy!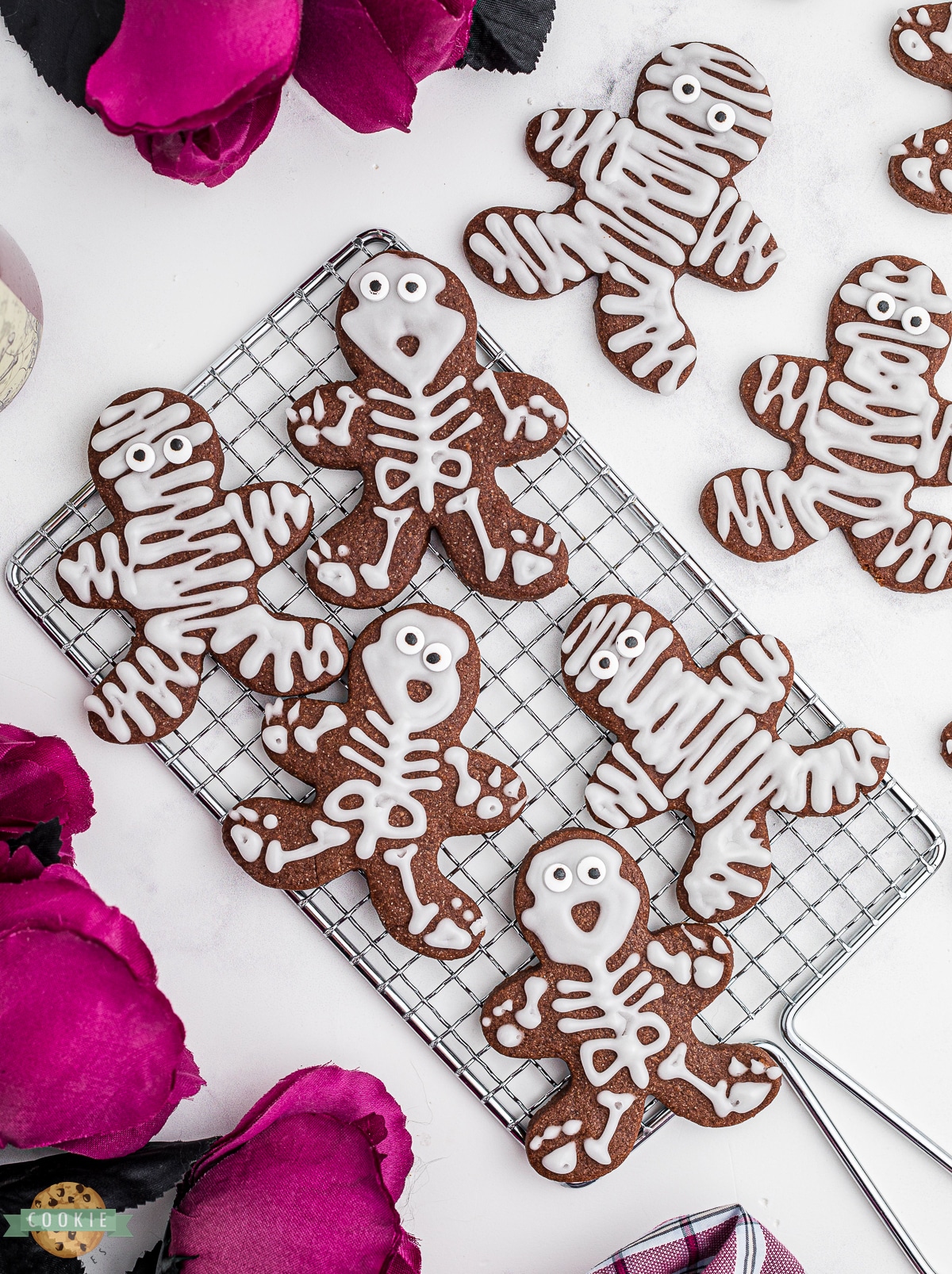 These skeleton Halloween cookies are as much fun to decorate as they are to eat, grab the kids and have them join in on the cookie decorating fun. This Halloween sugar cookie recipe is a dessert and art project all in one, watch everyone squeal in excitement as they reach for a sweet chocolatey treat of their own.
Halloween Chocolate Sugar Cookies
Making chocolate sugar cookies is very simple, but the recipe has several steps that can be spread out over days even! It is worth it though because these skeleton sugar cookies are a festive and spooky treat to serve at your next Halloween party. Made from scratch so that every cookie is uniquely wonderful, this will quickly become one of your favorite Halloween recipes. Let your kids and their friends have fun decorating, make it a party of its own making this fun treat.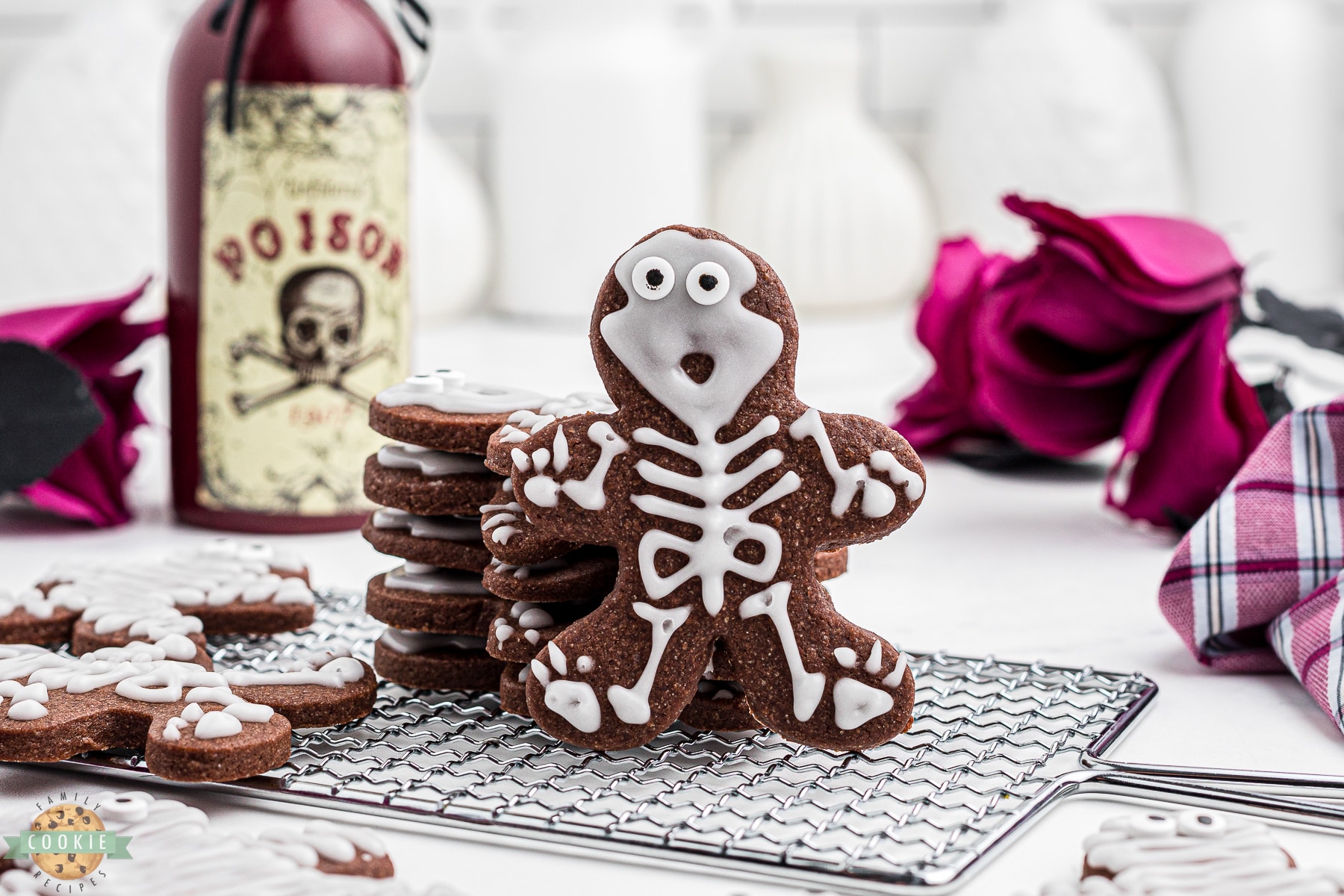 Why we think you will love this Halloween Cookie Recipe
If you were not already adding the ingredients to your shopping list, here are a few more reason to convince you.
Simple ingredients. You will be pleasantly surprised to find that most of the ingredients for this recipe are already in your pantry, including flour, baking powder, salt, and more.
You can prep the cookie dough in advance. The dough will need to chill for 2 hours before you roll it out and shape it, but that doesn't mean you can't make it sooner. You can prep the dough up to 2 days in advance and just roll, shape, bake and decorate when it is more convenient.
You are repurposing Christmas cookie cutters! If you have gingerbread man shaped cookie cutters in a drawer somewhere, then you should feel great about giving them a little more attention. Using a simple gingerbread cutter, we get the cookies shape so that we can add a skeleton.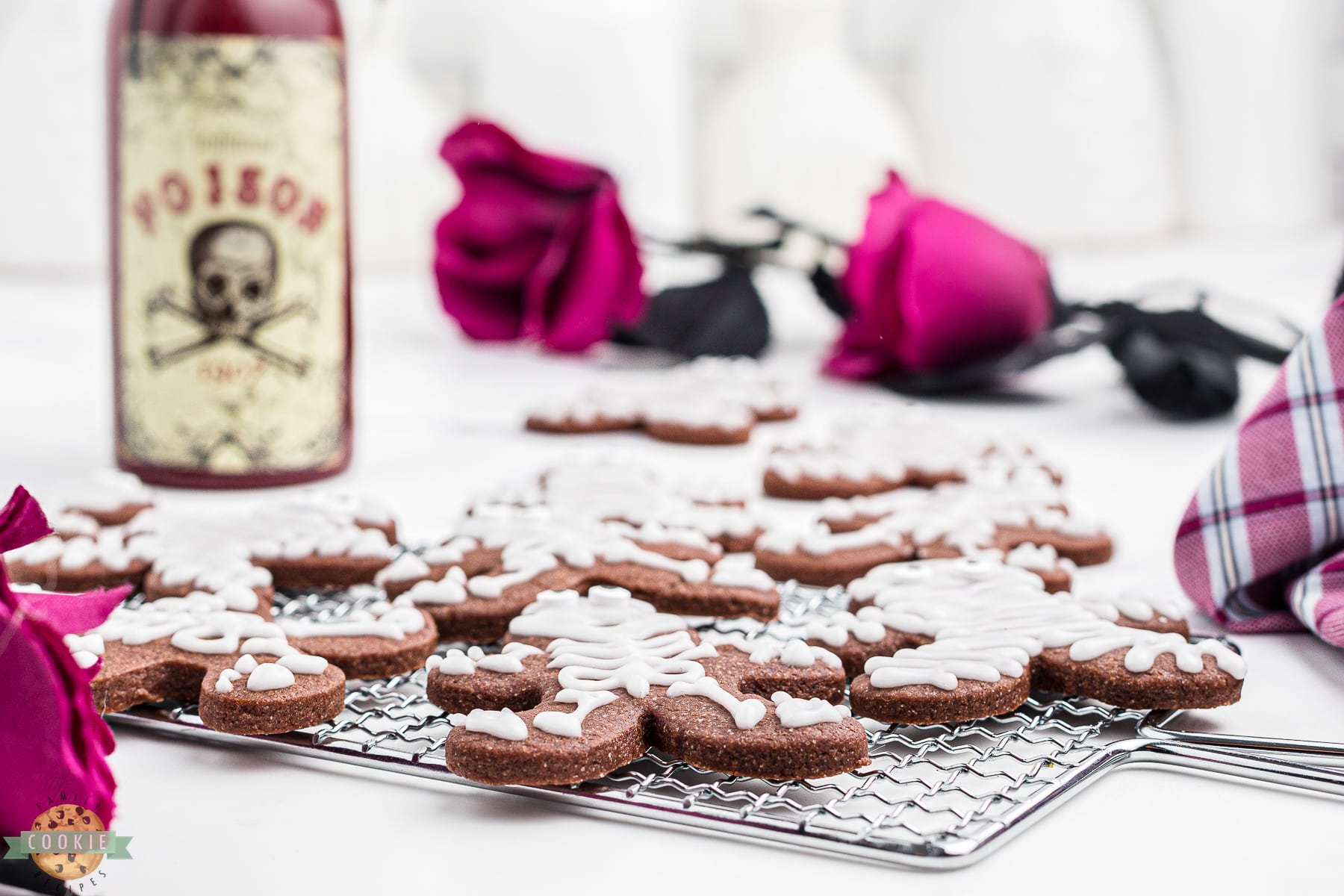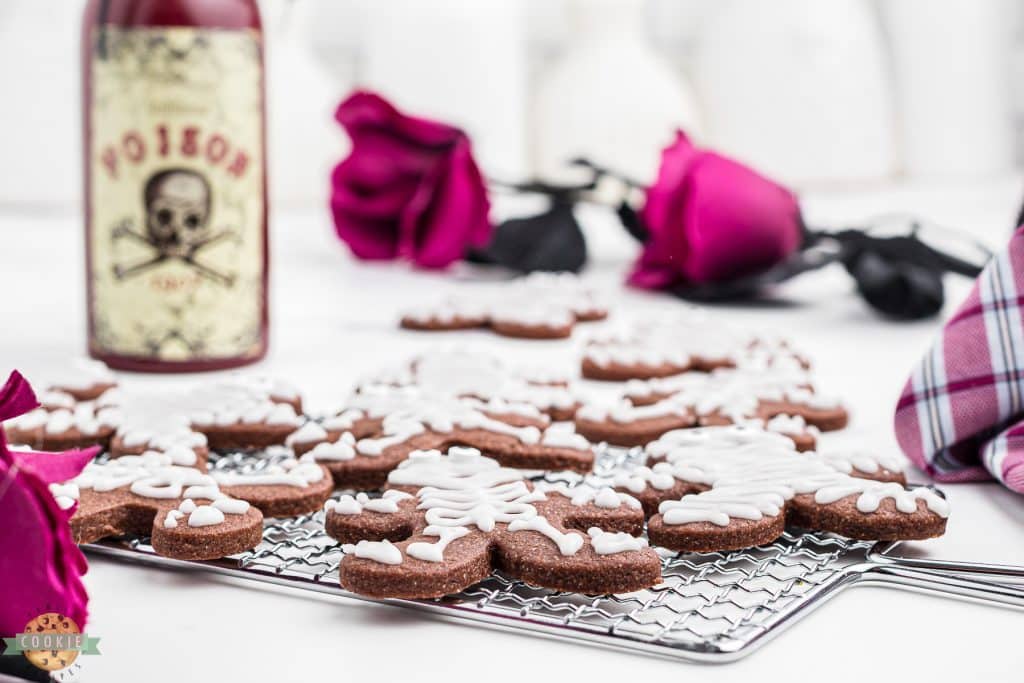 Skeleton Halloween Cookie Ingredients
Cookie Dough
Butter: You will need 1 cup of unsalted room temperature butter, this is two sticks of butter.
Sugar: Use 1 cup of granulated sugar to help make the cookies soft and sweet.
Extracts: You will need 1 teaspoon clear vanilla extract (divided) and ¼ teaspoon almond extract. Together these will give you a richer tasting cookie.
Egg: Use 1 large egg to bind the dough together well.
Flour: To create a good cookie structure, you will need 2 cups of all-purpose flour (plus another 2 tablespoons for rolling the dough out on).
Cocoa powder: Add in ½ cup of unsweetened natural cocoa powder to give the cookies a nice rich chocolate taste.
Baking powder: Adding in ¾ teaspoons of baking powder is needed to help the cookies puff up and rise as they bake.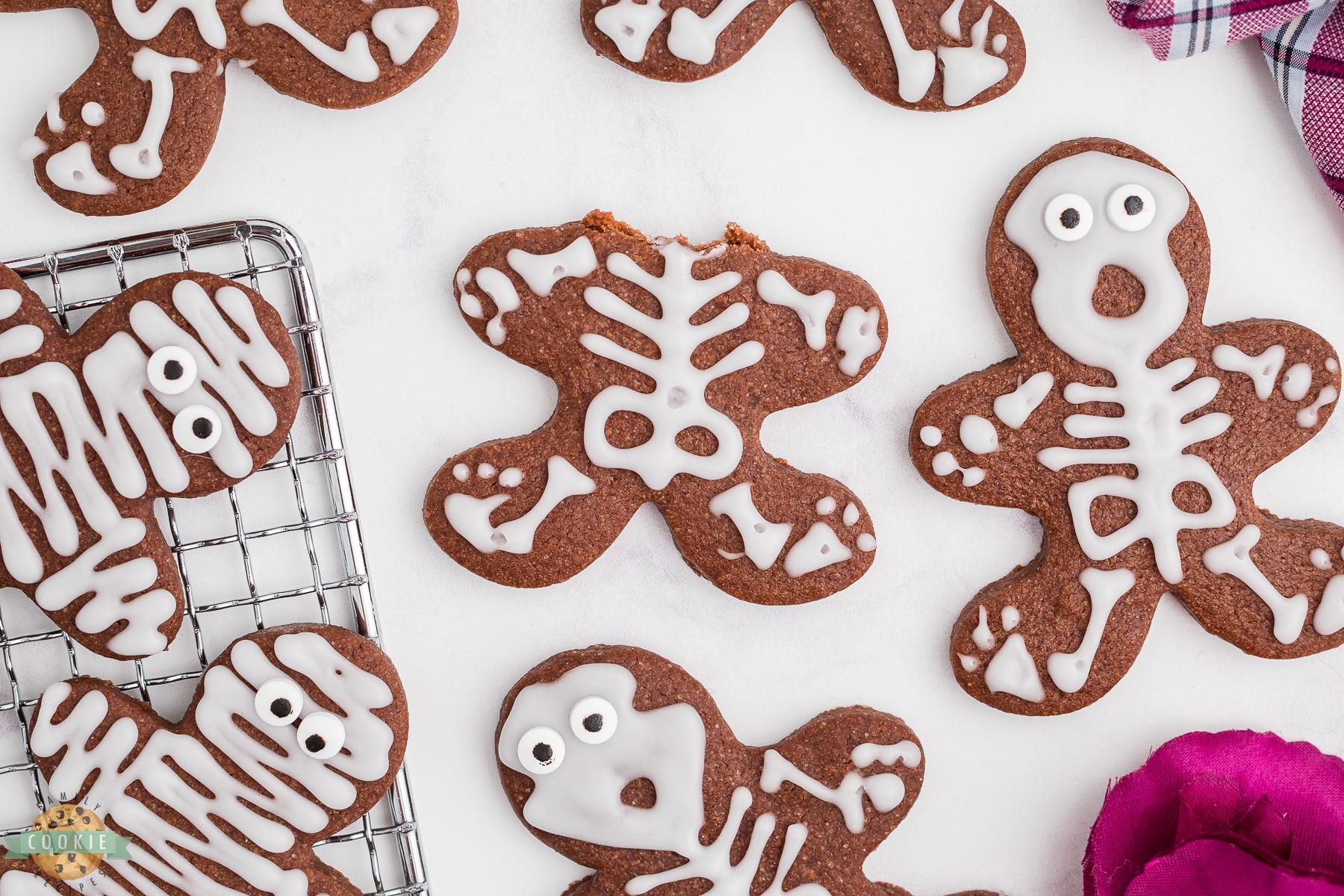 Salt: To enhance the flavors in the cookies, add in ¾ teaspoons of salt.
Glaze
Powdered sugar: The base of the icing is 3 cups of powdered sugar, making it smooth and sweet.
Milk: Add in ¼ cup of whole milk to make the glaze the right consistency.
Corn syrup: Adding in 2 tablespoons of light corn syrup will make the glaze have a shiny finish and keep it from crystallizing.
Candy eyeballs: These are used to decorate your Halloween cookies. You can find them in the cake decorating sections of crafts stores, Walmart, or here on Amazon.
Edible ink pens: If desired, you can use edible ink pens to add designs over the hardened icing. You can use any colors desired.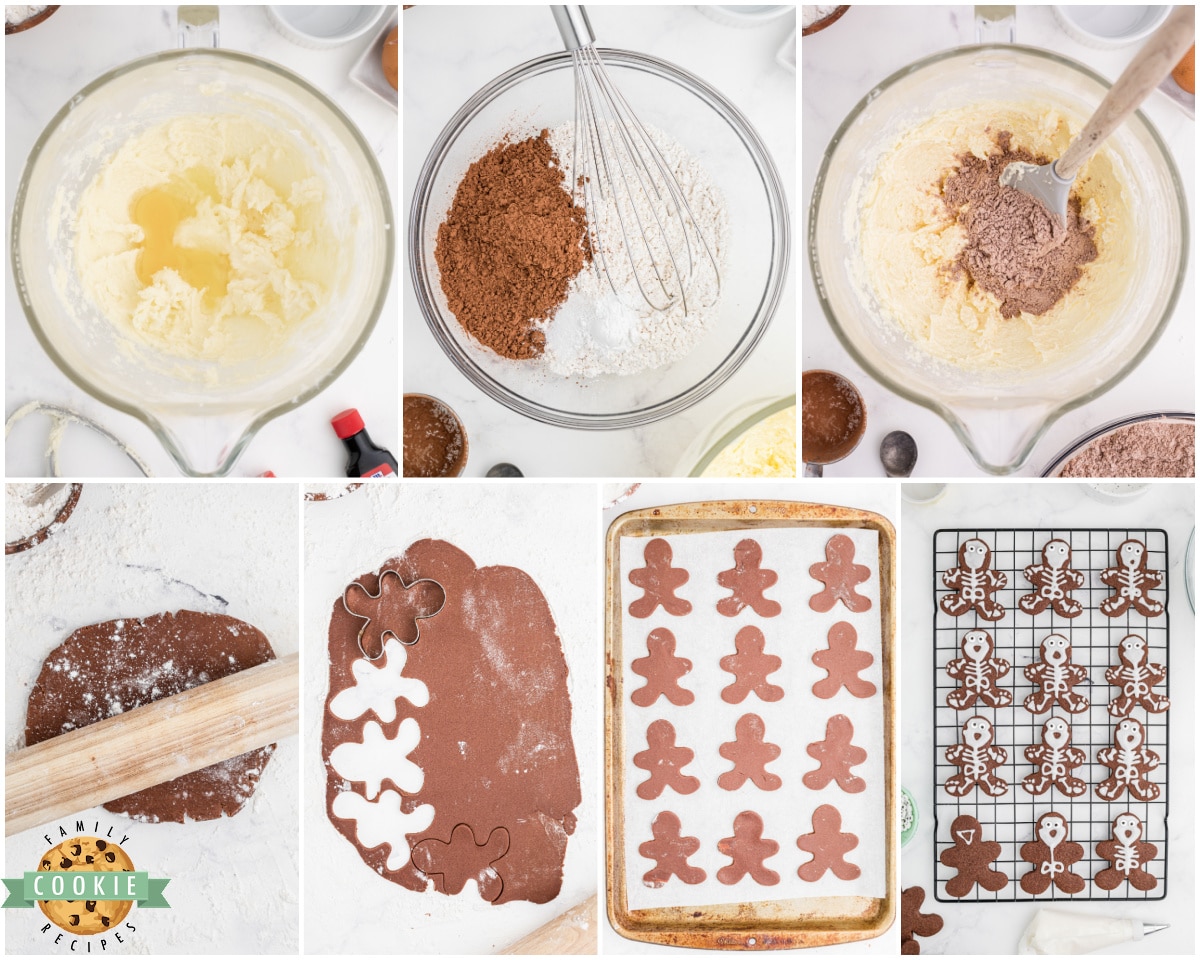 How to Make Halloween Skeleton Cookies
Make dough
In a stand mixer bowl, cream the butter and sugar until nice and creamy. This should take about 5 minutes. You can also accomplish this with a large bowl and an electric hand held mixer.
Next, add in the egg, vanilla extract, and almond extract. Beat again for about 1 minute to mix.
In a separate bowl, combine the flour, cocoa powder, baking powder, and salt with a whisk.
Then, add the dry ingredients, in batches, to the creamed butter mixture. Mix until just incorporated.
Chill dough
Proceed to divide the dough in half and spoon it onto plastic wrap. Cover and wrap the dough well before pressing it into a disc shape and placing it in the fridge to chill. Repeat with the remaining half of dough. Place the discs of dough into the fridge to chill for at least 2 hours.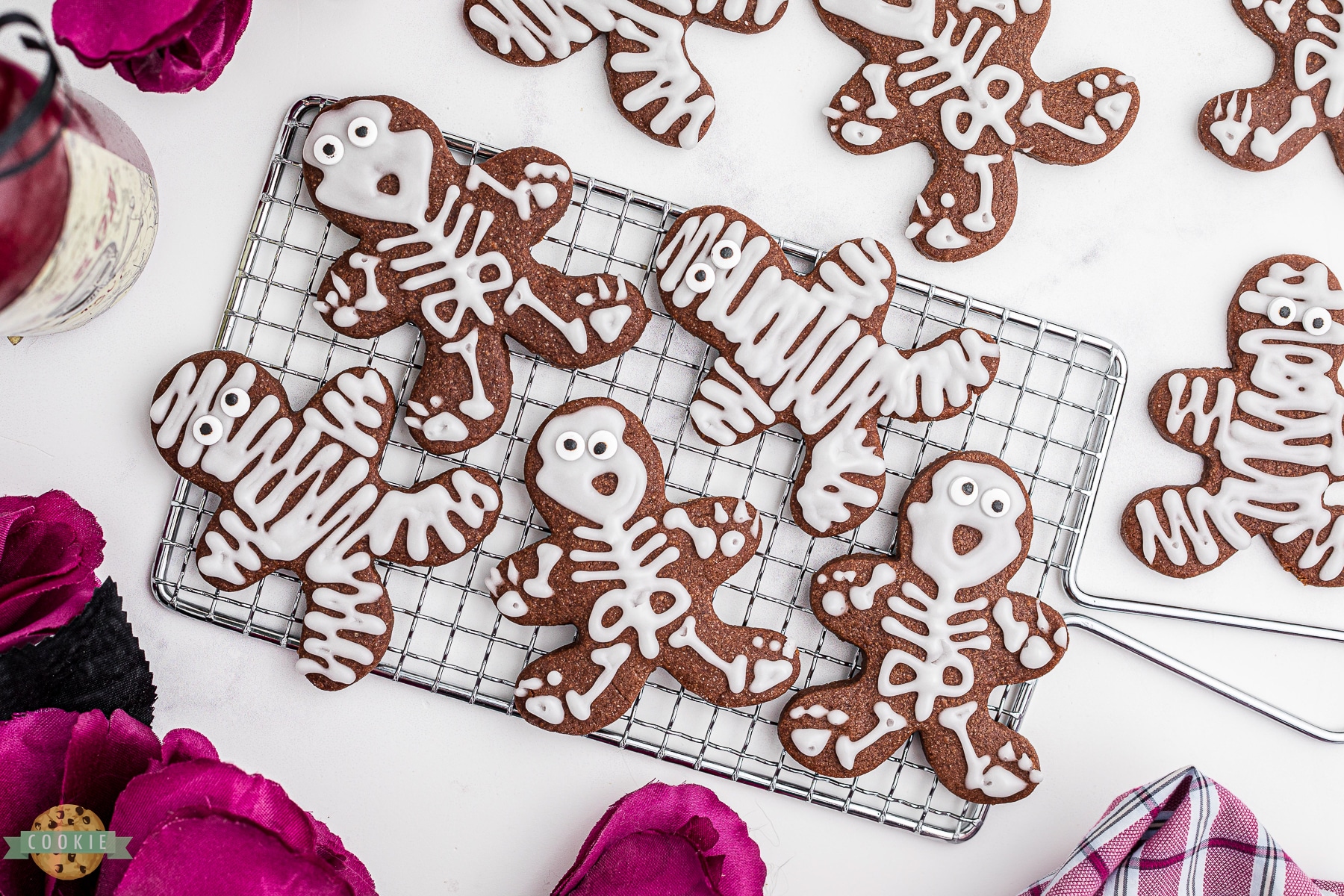 Prep
Begin preheating the oven to 350 degrees F. Then line a cookie sheet with parchment paper or silicon mat and set it aside.
Roll and cut
Take one disc of cookie dough and unwrap it. Place onto a liberally floured surface. Roll the dough out with a rolling pin so that it is between 1/8 and 1/4 inch thick.
Use a gingerbread man shaped cookie cutter to cut out shapes. Reroll and cut the dough as many times as needed, placing your cut cookies onto the prepared baking sheet. Repeat this process with the remaining half of dough.
Bake
Proceed to bake the cookies in the preheated oven for 8-10 minutes.
Remove the baking sheet from the oven and allow the cookies to cool on the sheets for 10 minutes before transferring to a wire rack to cool completely.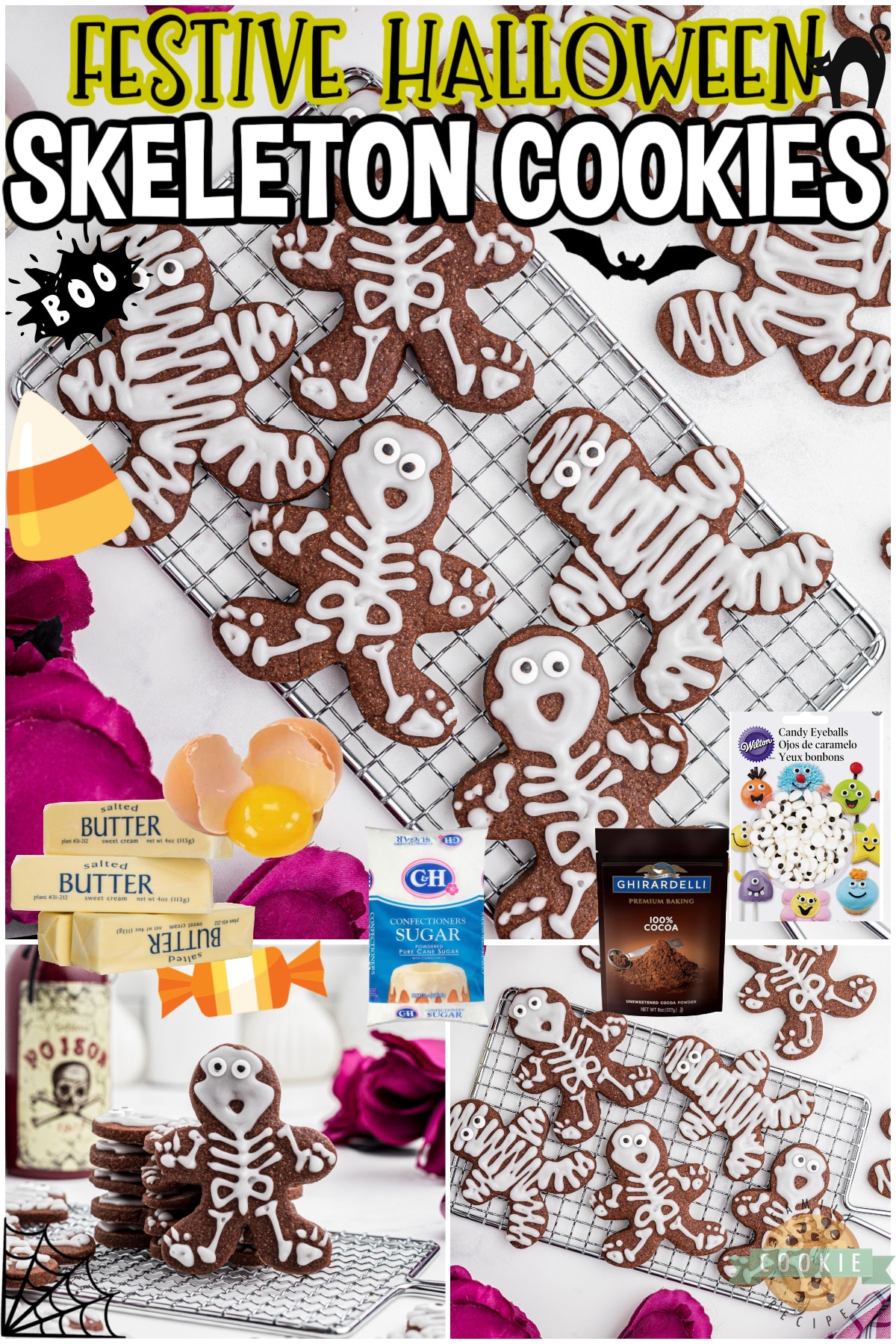 Make glaze
Sift the powdered sugar into a large mixing bowl and add in the milk, corn syrup, and vanilla extract. Whisk until the icing is a good consistency. You will know that it is ready when you drizzle the icing back onto itself it should hold its shape a little before melting back into the icing.
Spoon your icing into a piping bag that has been fitted with Wilton #1 piping tip and a coupler. Carefully pipe the icing onto the cooled cookies.
Decorating Instruction
For making skeletons– Start by drawing a hole to become the mouth and then pipe around it to make the skull. Use a toothpick as needed to fill in small gaps. Attach two eyeballs to each skull.
For making mummies- Pipe outlines on the cookies (not too close to each other) and then add the eyeballs. Allow the cookies to dry for several hours, and then decorate with the edible markers as desired.
Serve and enjoy!
How long are
skeleton decorated cookies

good for?

Once the icing on the cookies has fully hardened, you can place the cookies in an airtight container at room temperature for up to 2 weeks.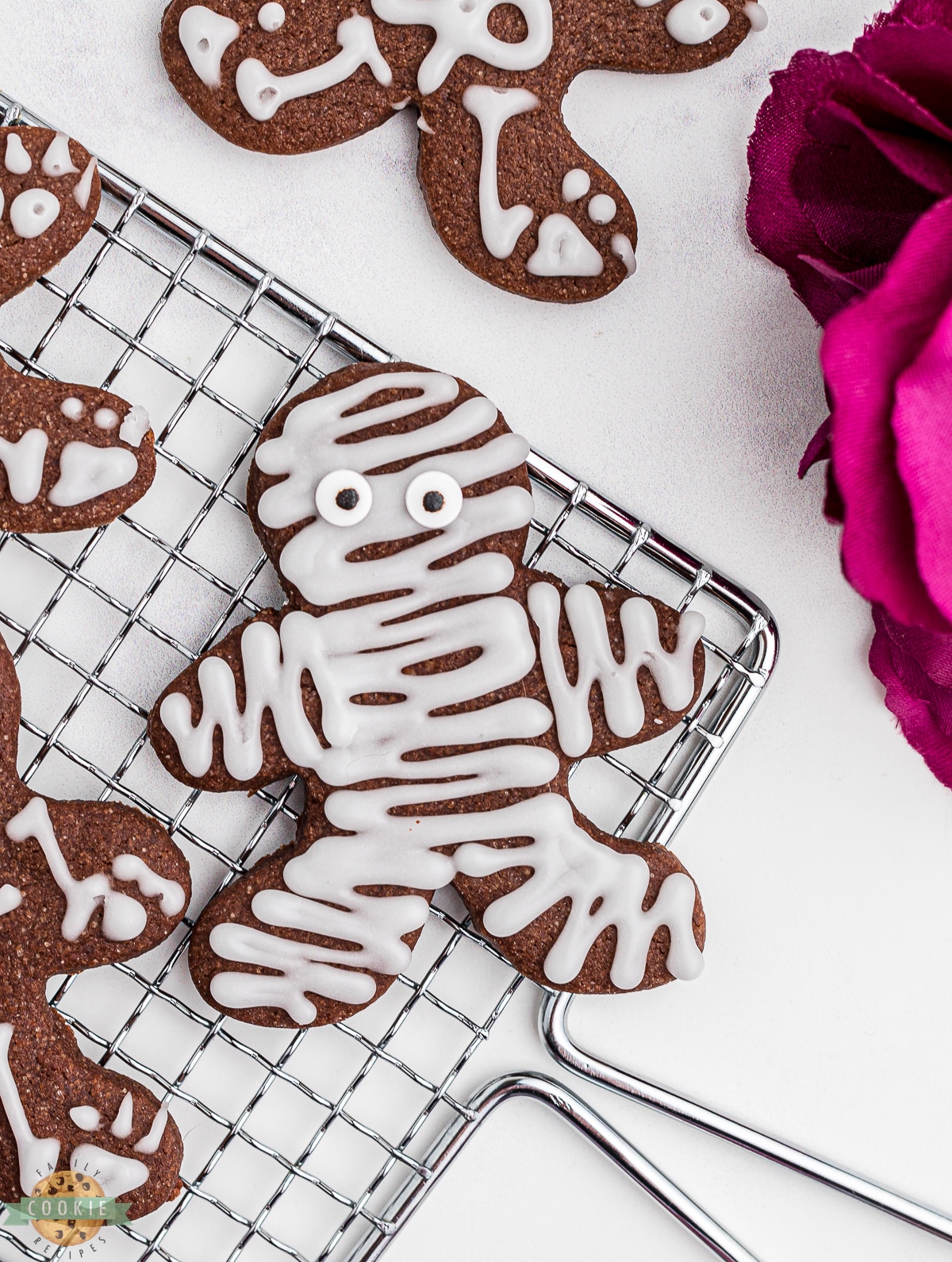 What would I use the edible ink pens for?
If you want to add more detail to the skull perhaps, you could use the black marker. You could also just ice the entire cookie and draw pretty Halloween themed pictures on the royal icing.
Can I make regular sugar cookies instead of chocolate sugar cookies?
Definitely, leave out the cocoa powder and increase the ingredients to 2-1/2 Cups of flour instead. You might then want to add some color to your royal icing as it won't be as noticeable.


This is my youngest and oh heavens, I look forward to the day where I don't have to have so many orthodontics appointments! Ha! I know, I know, I'll look back on this all and miss it someday. But now is not that day. I mean, I feel like I should have my own recliner in their office, I'm there enough, it'd get good use!!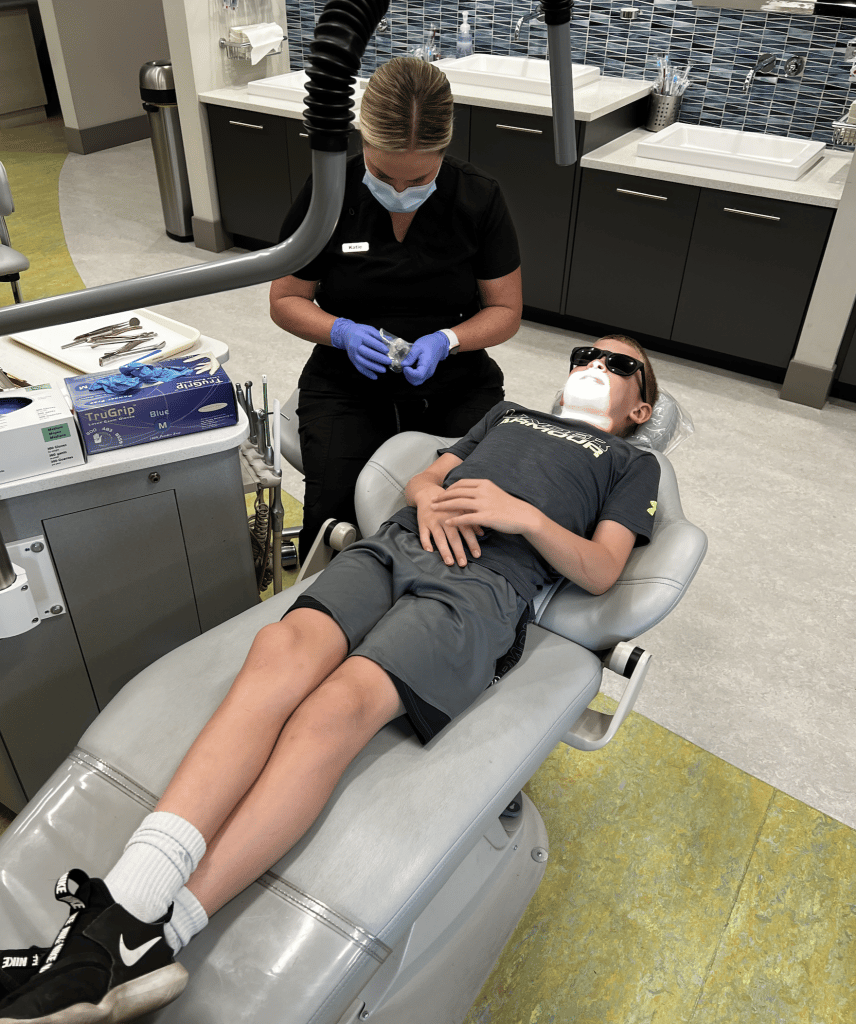 Halloween Skeleton Cookies are great treat, you design each skeleton to be as cute or scary as you want. Making these chocolate sugar cookies is so easy, this recipe calls for basic ingredients that you most likely already have in your kitchen too.