Halloween Sprinkle Cookies are buttery brown sugar cookies dyed Halloween colors, then rolled in festive sprinkles! Fun & tasty festive holiday cookies that everyone loves!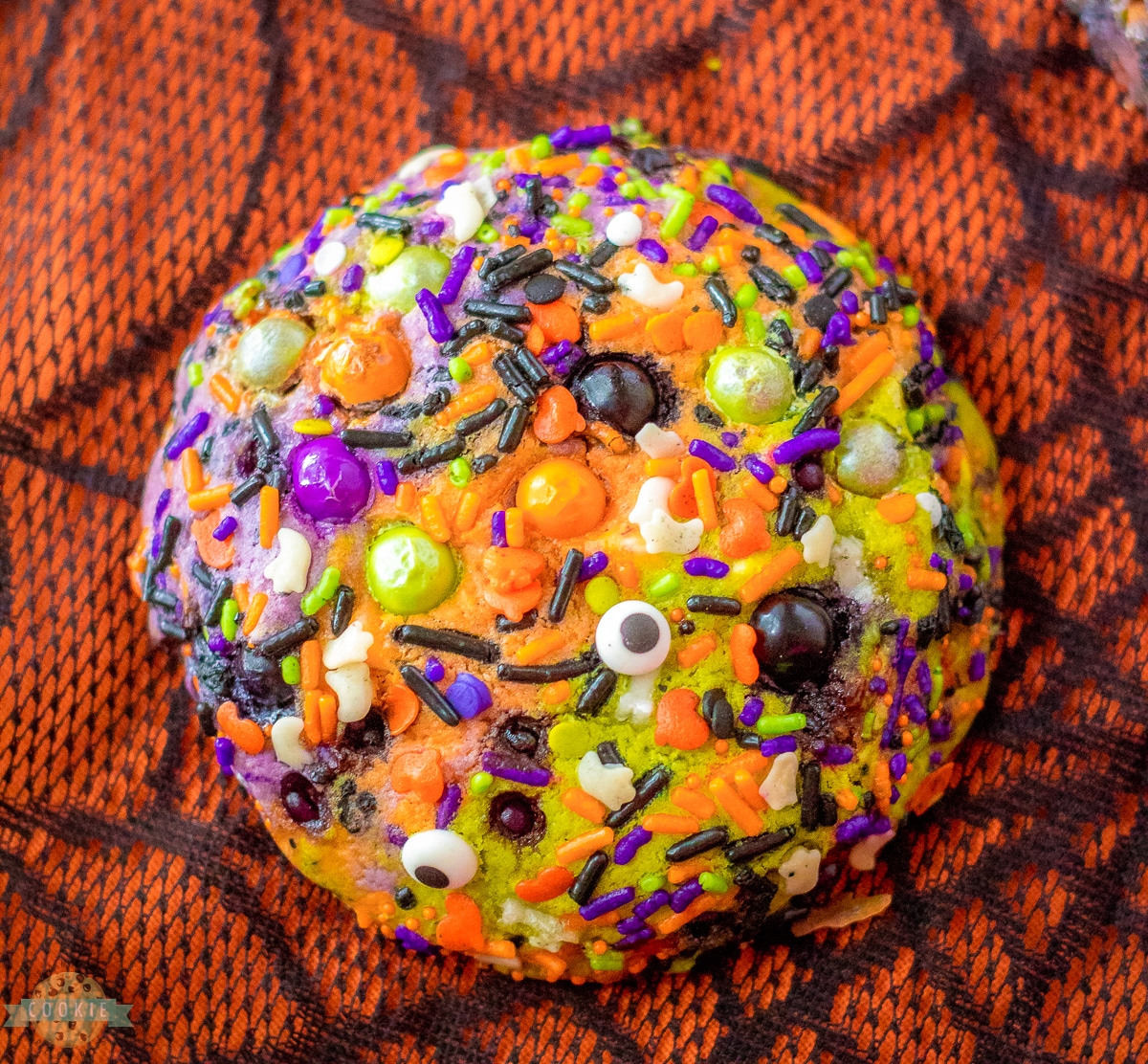 Made with homemade cookie dough these Halloween cookies with sprinkles are boo-tiful and fun. It doesn't take too much effort to make these tasty cookies and soon you can trick or treat yourself with a large cookie. Every batch makes 6 wonderfully sized cookies so store them for yourself or share them with the family.
What are Halloween sprinkle cookies?
Halloween sprinkles cookies are large cookies made with three differently colored chunks of dough all swirled together to form one beautiful and uniquely designed cookie. Each cookie is paced with white chocolate chips and covered in festive Halloween sprinkles so you really know you're in for a ghouling good time when you see these sweet treats.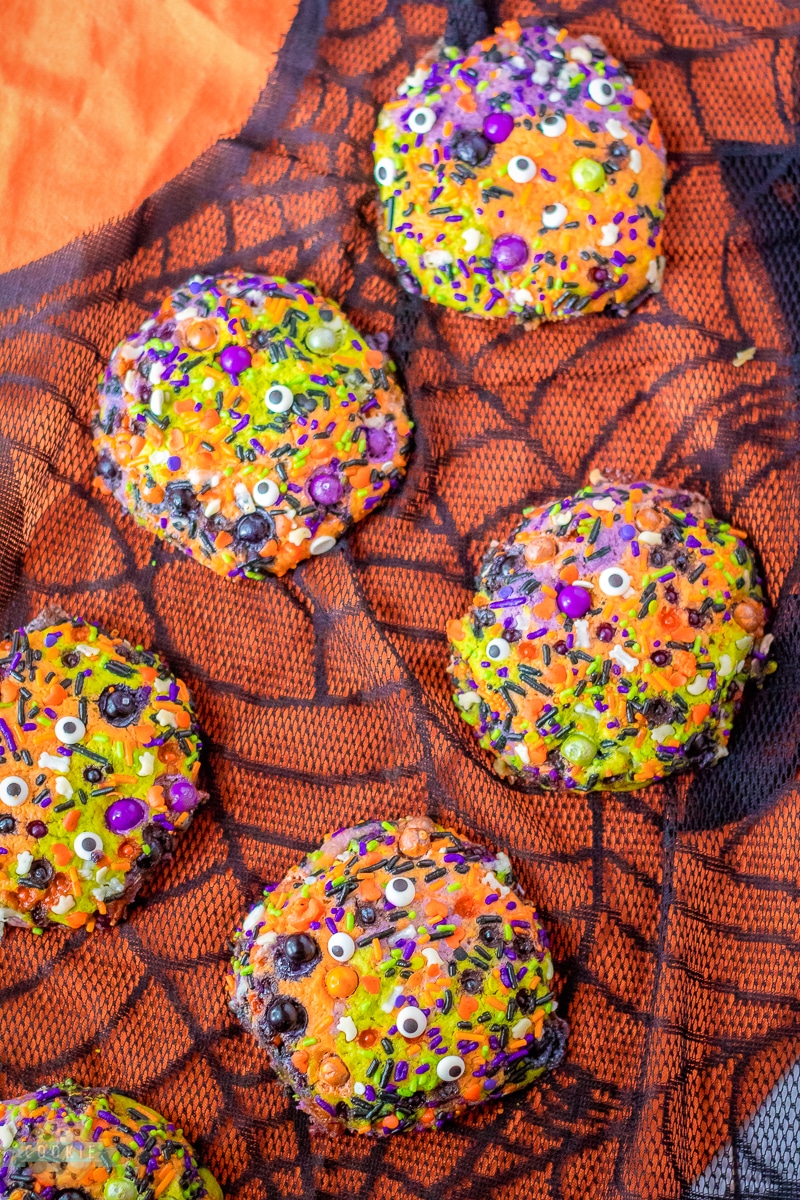 Halloween Cookies Ingredients
-Butter: You will need ½ cup (one stick) of softened unsalted butter to make these cookies taste rich and delicious.
-Sugars: Use ¾ cups of brown sugar and ¼ cup of granulated white sugar for a sweet cookie with chewy edges.
-Egg: Adding in 1 egg will help to make the cookie taste richer and bind well together.
-Vanilla: Use 1 teaspoon of vanilla extract to help enhance the flavors in the dough.
-Flour: 2 cups of all-purpose flour will be the base of the cookie dough.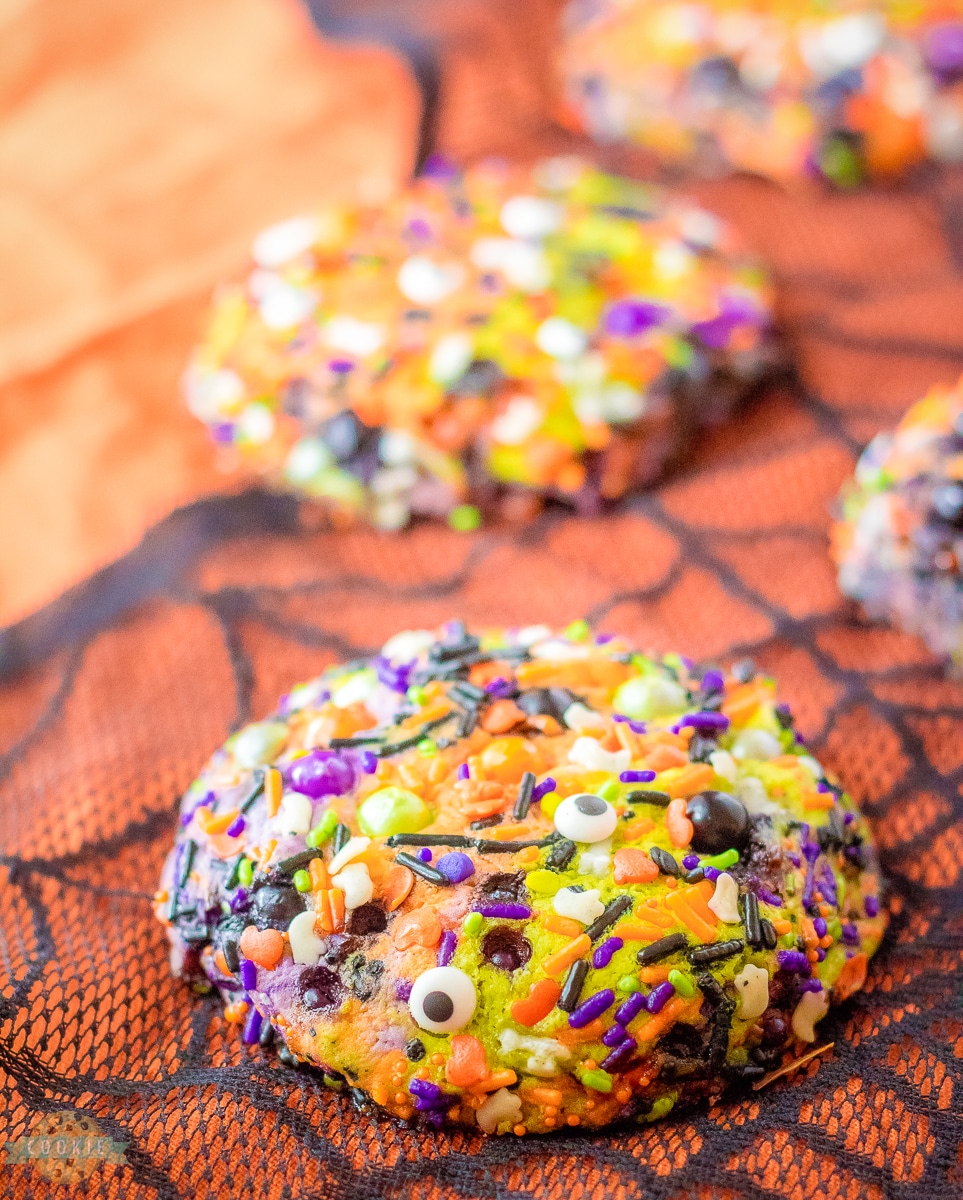 -Salt: ½ teaspoon of salt will help to naturally enhance the flavors in the dough.
-Baking powder: use ½ teaspoon of baking powder to help leaven the cookies so that they puff up as they bake.
-White chocolate chips: Use ½ cup of white chocolate chips so that these cookies are packed with great flavor.
-Food coloring: You will need neon green, orange, and purple food coloring to keep with the festive Halloween theme.
-Sprinkles: Use Halloween sprinkles to make these cookies truly unique and colorful.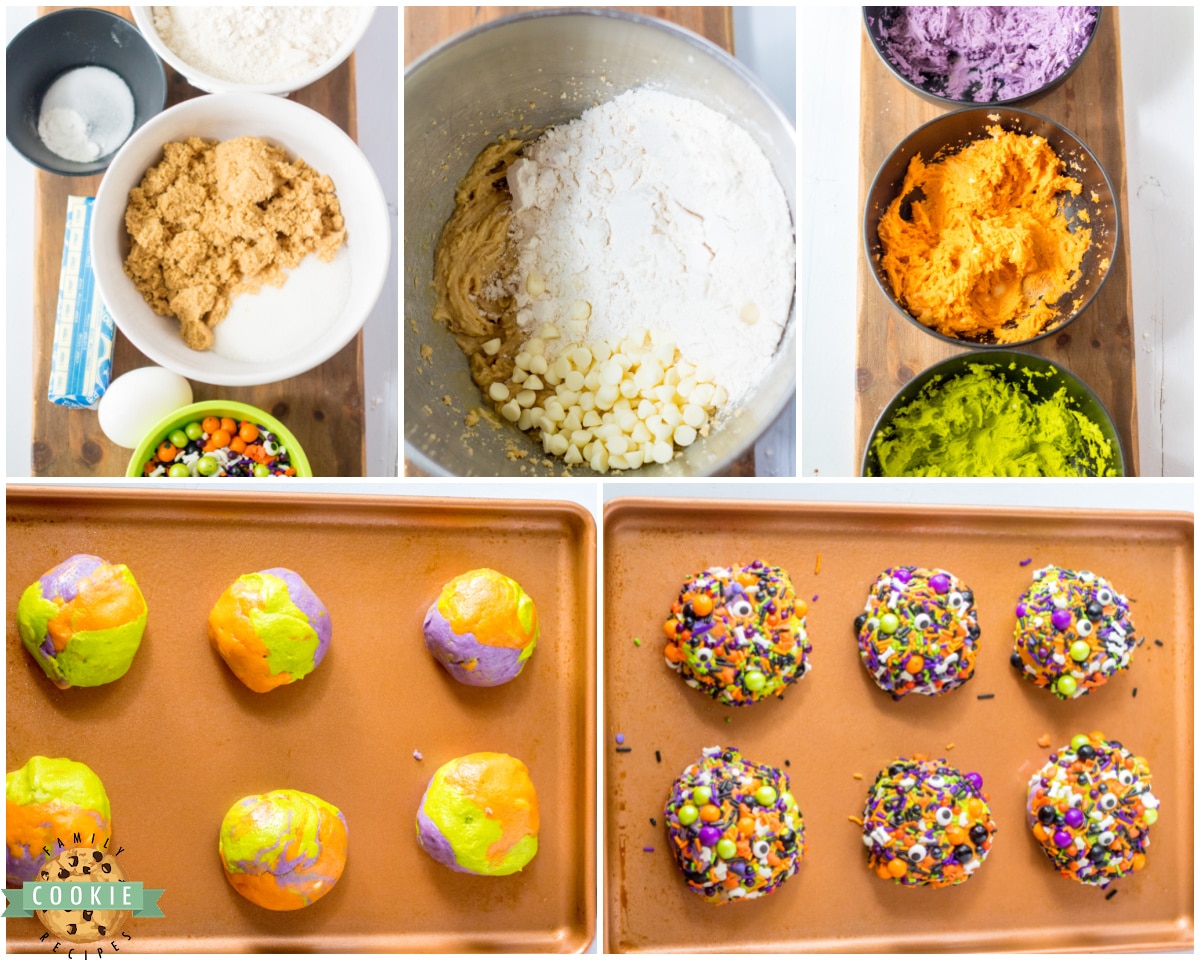 How to make Halloween sprinkle cookies
Cream together the butter and both sugars in a large mixing bowl until fluffy. Beat in the egg and the vanilla.
Add the flour, baking powder, and salt, mixing until just combined. The dough will be crumbly.
Stir in the white chocolate chips.
Divide the dough into 3 equal-sized portions and add one color to each portion. Mix until the dough is uniform in color.
Take a little bit from each color and roll together to form a ball. The colors should swirl around and you should end up with 6 cookies.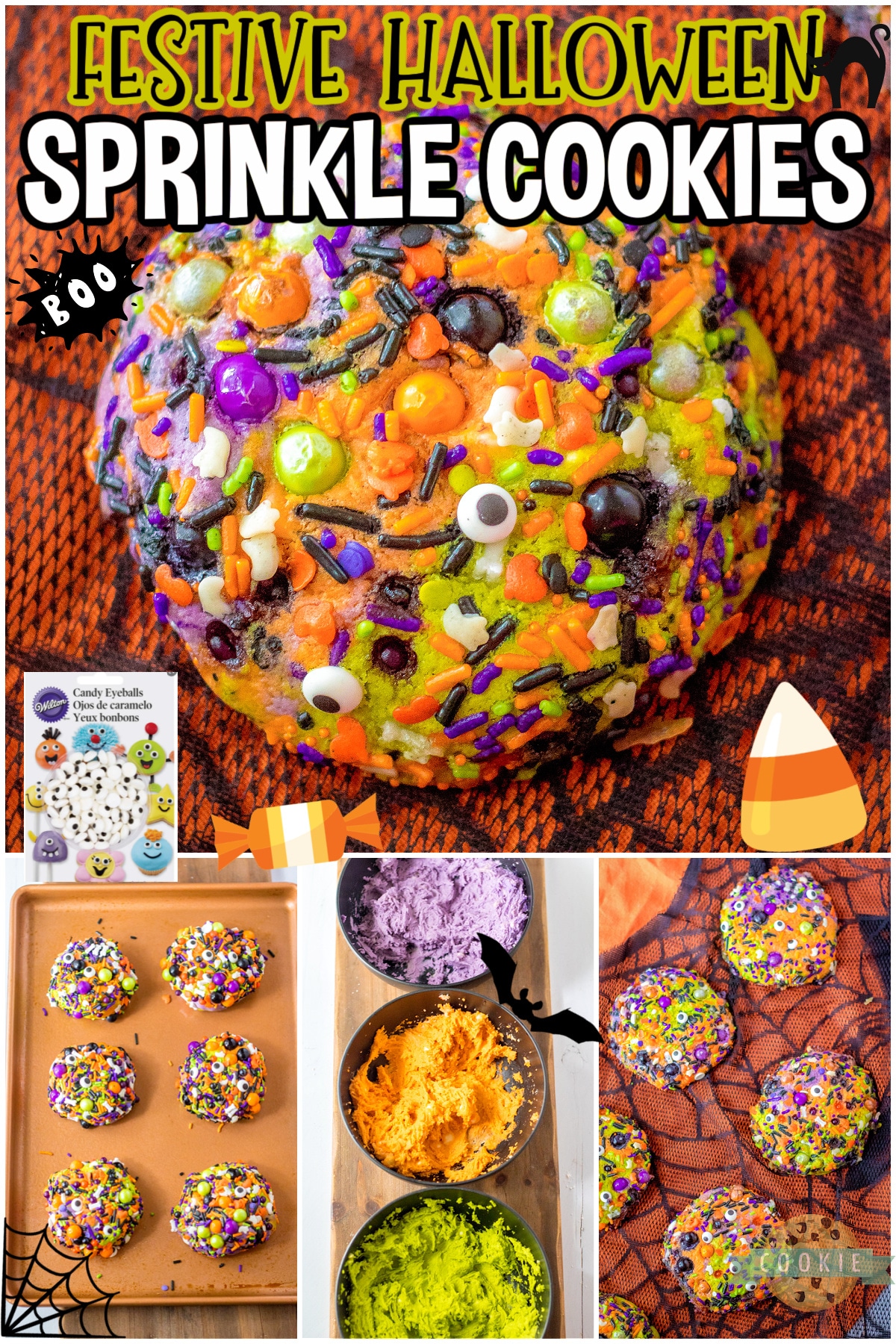 Roll the top and sides of the cookies in your Halloween sprinkles and place them on a greased cookie sheet. Place in the fridge for at least 30minutes.
Meanwhile, preheat your oven to 375 degrees F
Bake the cookies for 18 minutes and if after baking some spots on the cookies look bare, you can add some more sprinkles to the tops of the hot cookies.
Cool for at least 5 minutes on the baking sheet before transferring to a wire cooling rack. Enjoy!
How long are Halloween sprinkle cookies good for?
These cookies are good for about 3-5 days if stored in an airtight container at room temperature but taste best when fresh and warm from the oven. Especially if you serve a warm cookie with a glass of cold milk.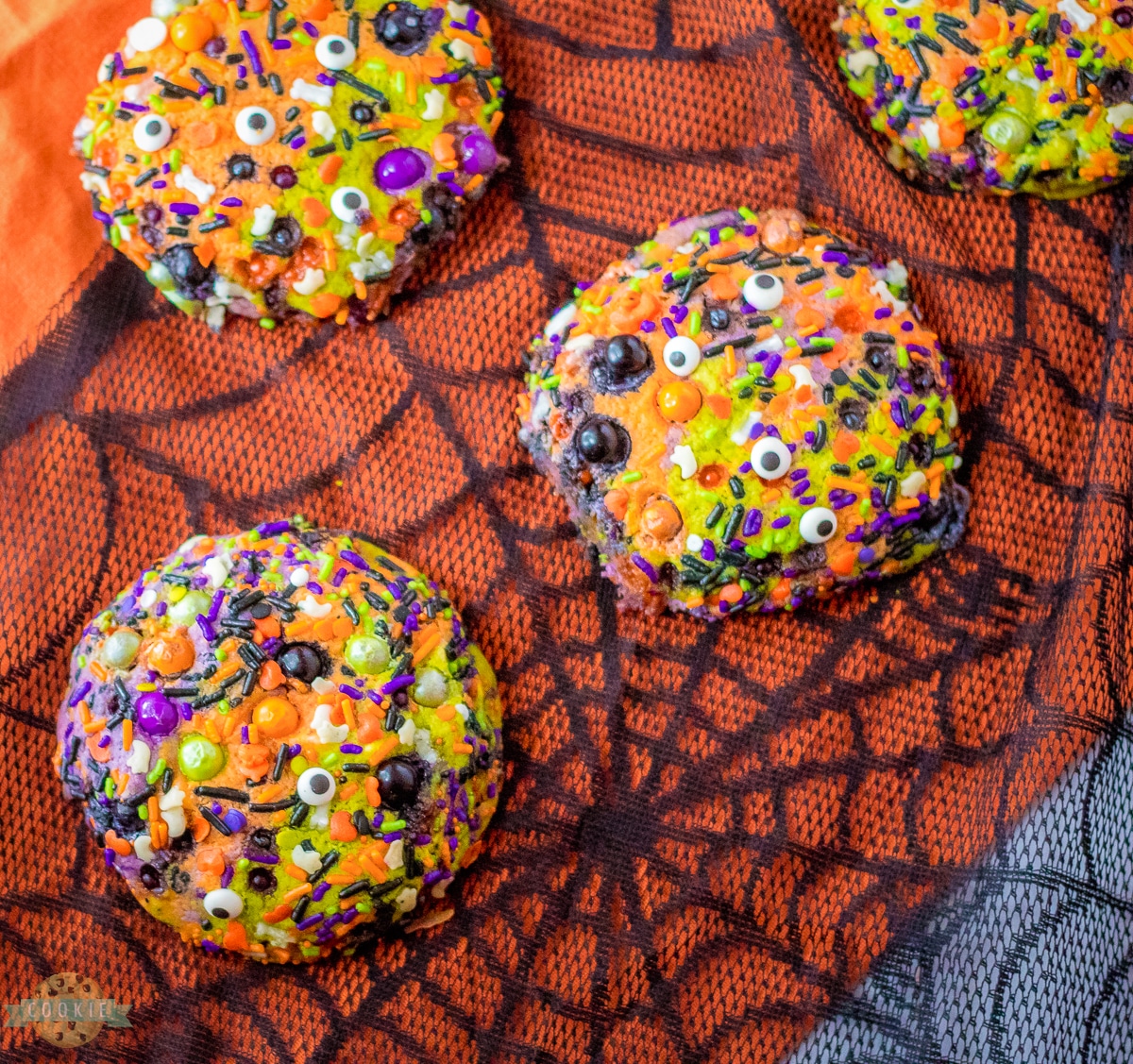 What kind of Halloween sprinkles should I use?
This is totally up to you. You can use colored sugar sprinkles, confetti sprinkles (the ones with fun shapes), or colorful jimmies depending on what you have on hand or find in your nearby grocery store. Some sprinkles may work better than others but all of them should pack some fun Halloween spirit into every bite.
Check out these other cookie recipes perfect for Halloween


Halloween weather can be a bit crazy where we live. We aim for costumes that allow the kids to bundle up & don't look odd with a winter coat over the top. Ha! This year we had SNOW. Ugh. My poor kids, they are troopers for sure. I mean, free candy, so it's not like they're hurting or anything. Makes for some fun memories!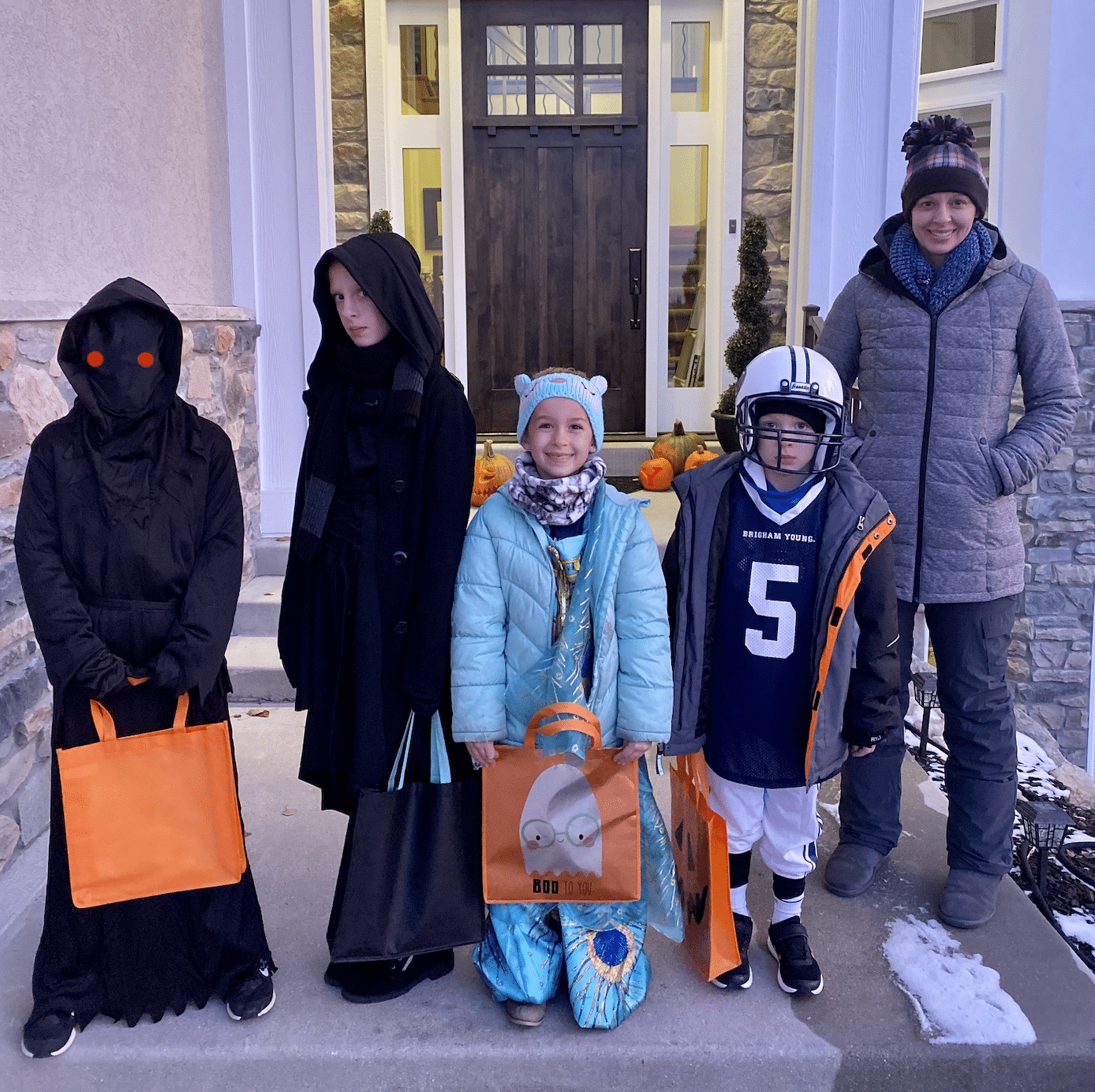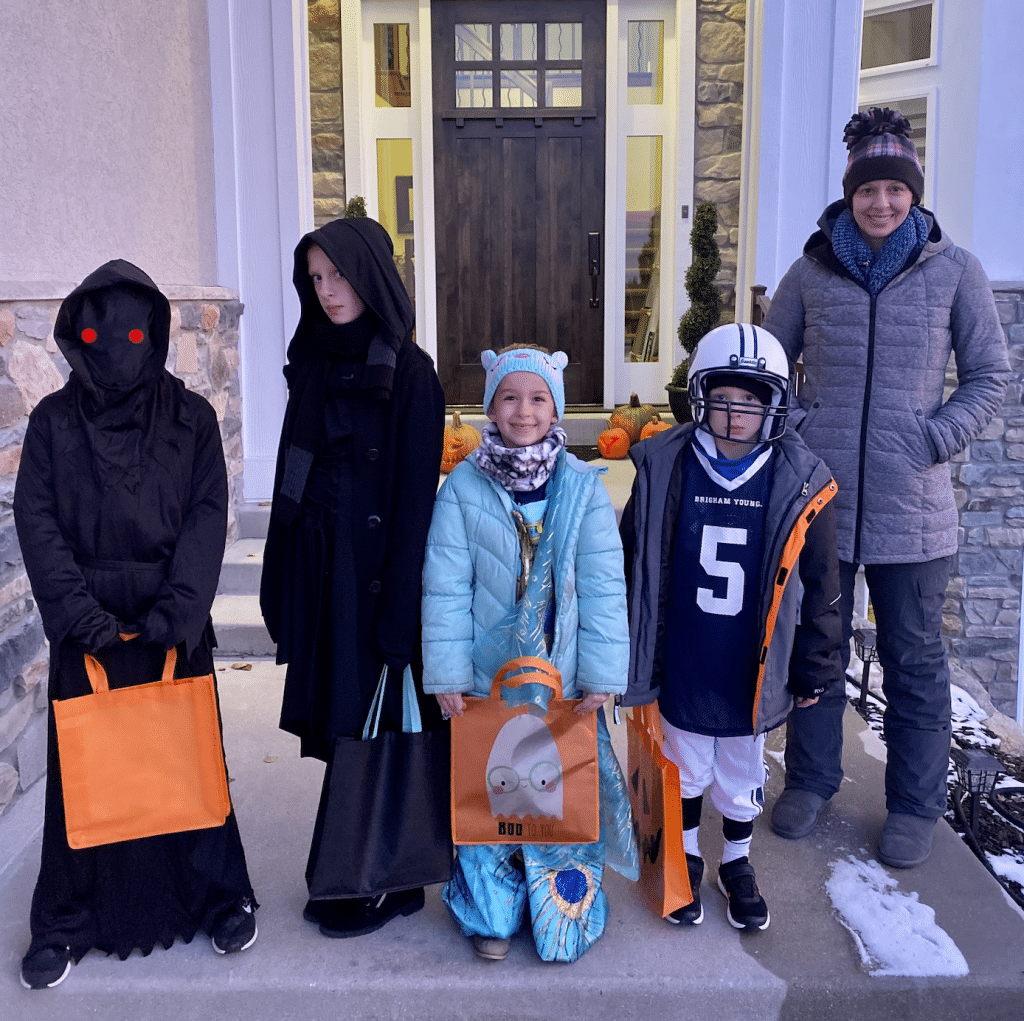 You're going to love these Halloween cookies with sprinkles. Every bite is a colorful blend of sweetness and fun making them the perfect treat for this holiday.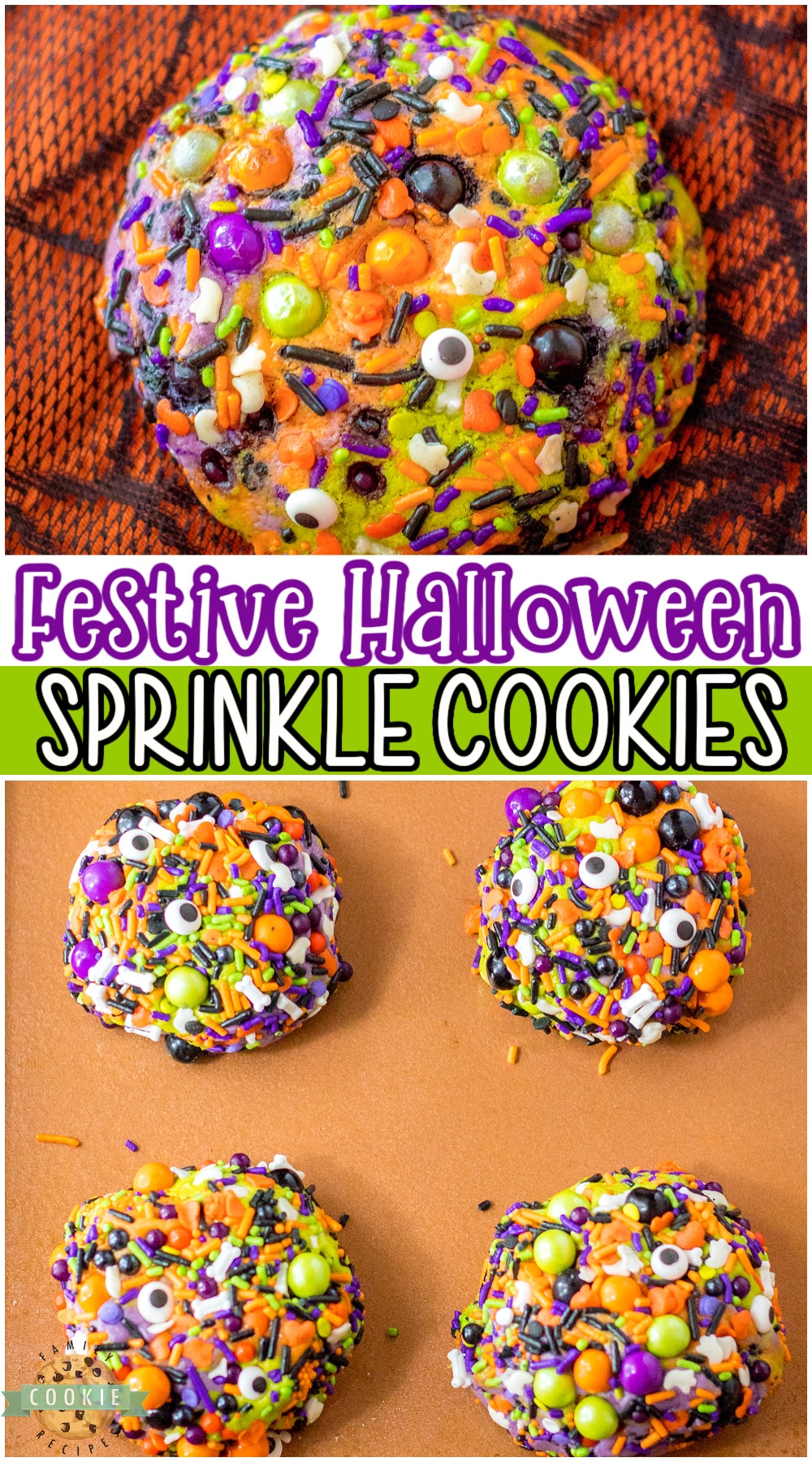 Halloween Sprinkle Cookies are big & buttery brown sugar cookies dyed Halloween colors, then rolled in festive sprinkles! Fun & tasty festive holiday cookies that everyone loves!