Coconut Almond Cherry Shortbread Cookies are tender, buttery cookies with lovely cherry flavor! This recipe for almond shortbread cookies is made with juicy cherries, coconut & sliced almonds.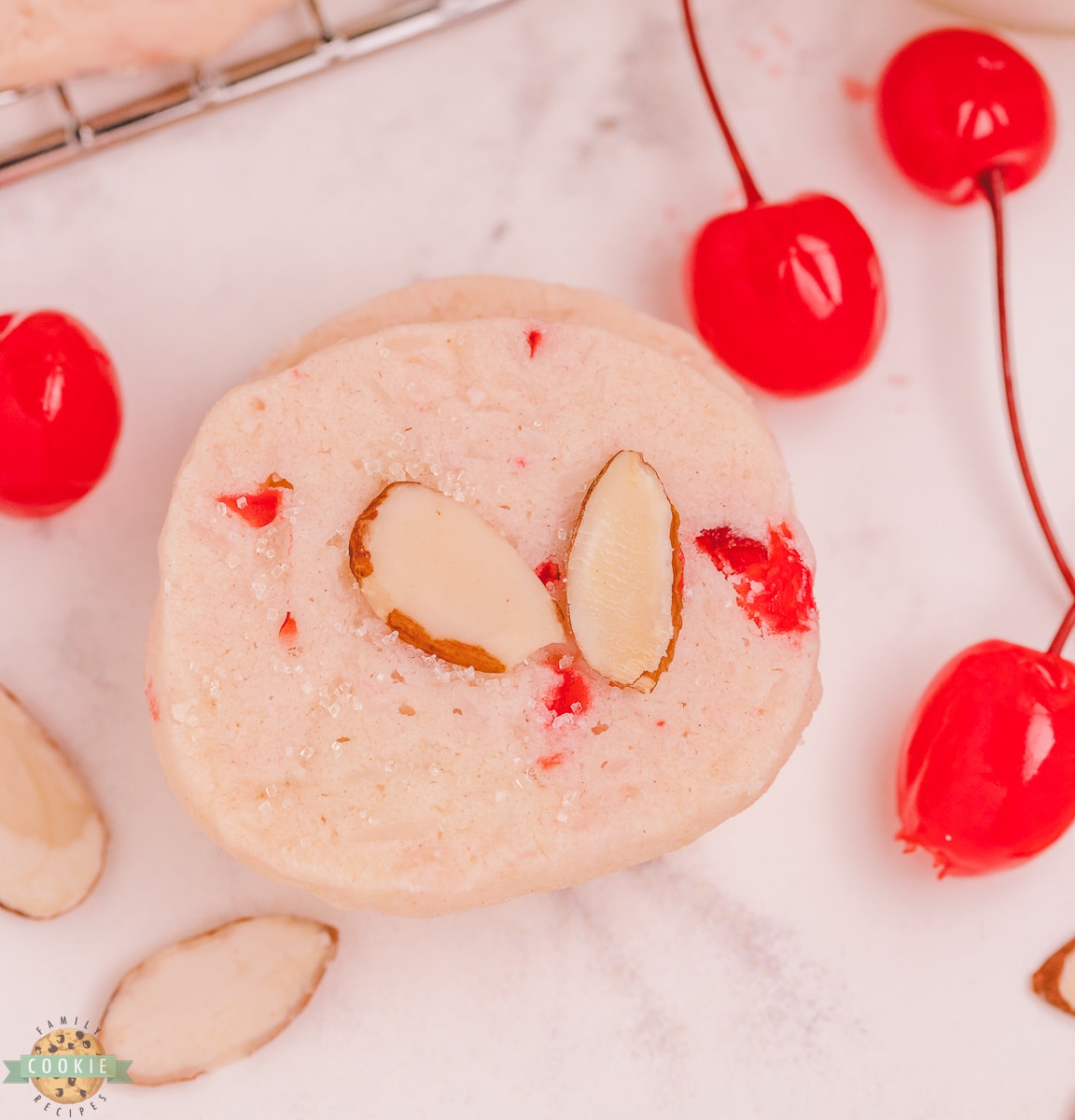 These tender cherry shortbread cookies will easily make their way into your heart and become your next go-to recipe. The cherry chunks in this treat produce wonderful flavor that compliment the subtle coconut, these almond cherry shortbread cookies are absolutely heavenly.
CHERRY ALMOND COCONUT SHORTBREAD COOKIES
This is not a cookie you will find on the grocery store shelf in premade packages, but it is one you can make in your own kitchen with very little effort. Just grab a jar of maraschino cherries, some almond extract, and sweetened coconut flakes, you can easily make these slice and bake cookies with a little patience. The recipe does call for a dough chilling period, but I promise, the wait is worth it. These unique cookies are a combination of flavors and textures that compliment each other so greatly, try them today and see just how delicious they are!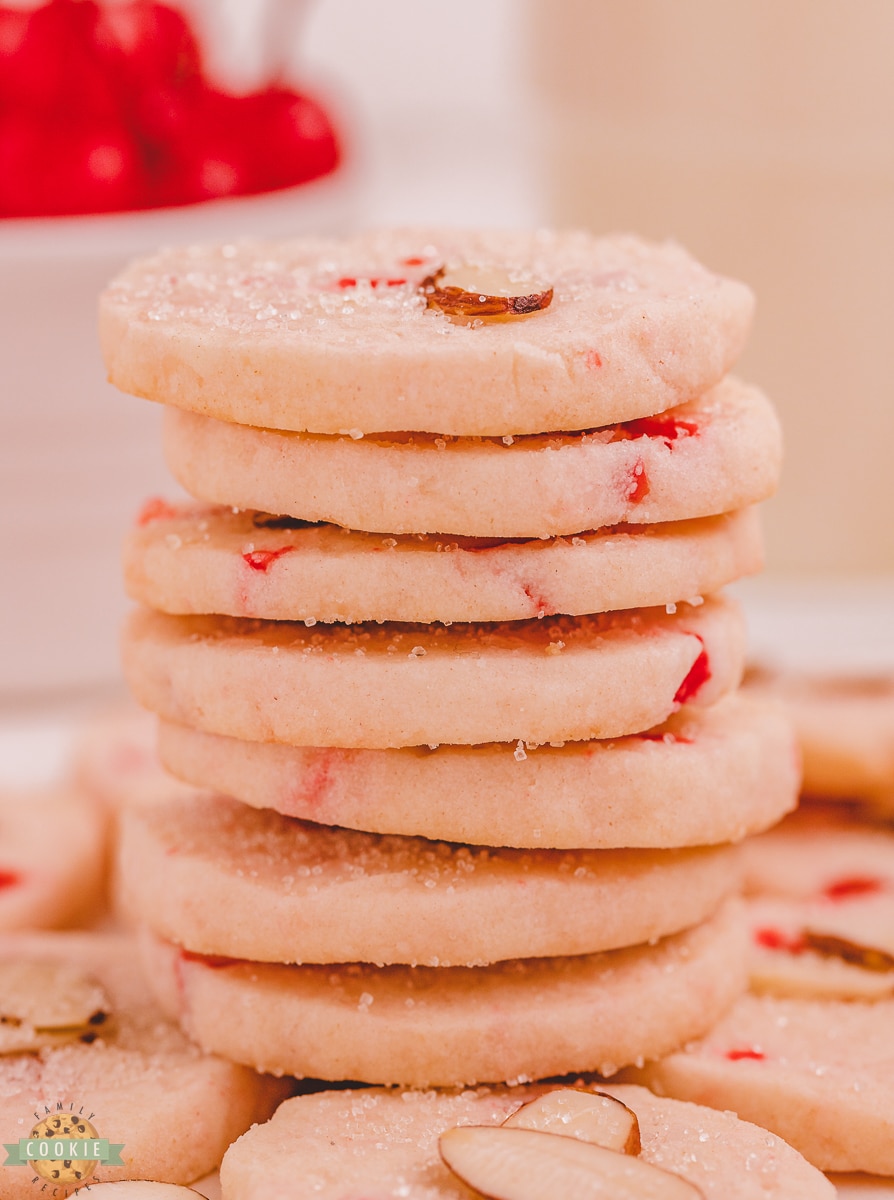 WHY WE THINK YOU SHOULD TRY THIS RECIPE TODAY
If you need more convincing to give this different shortbread cookie recipe, read on for reasons why we think you will love these cookies.
Simple to make. This recipe is easy to make, don't let the pictures fool you. They look like a lot of effort, but really they are so simple and come together quickly. The effort they do require is worth it!
Fantastic flavor. The flavor combinations in these cookies is one you will not soon forget. The cherry mixed with the crunchy almonds and chewy coconut flakes, makes for an incredibly delicious treat.
Common ingredients. Another thing that makes this recipe so great is that most of the ingredients are probably already in your kitchen. It calls for pantry staple ingredients like flower, sugar, salt, and baking powder, which means you are already half way to whipping up a batch of these cookies.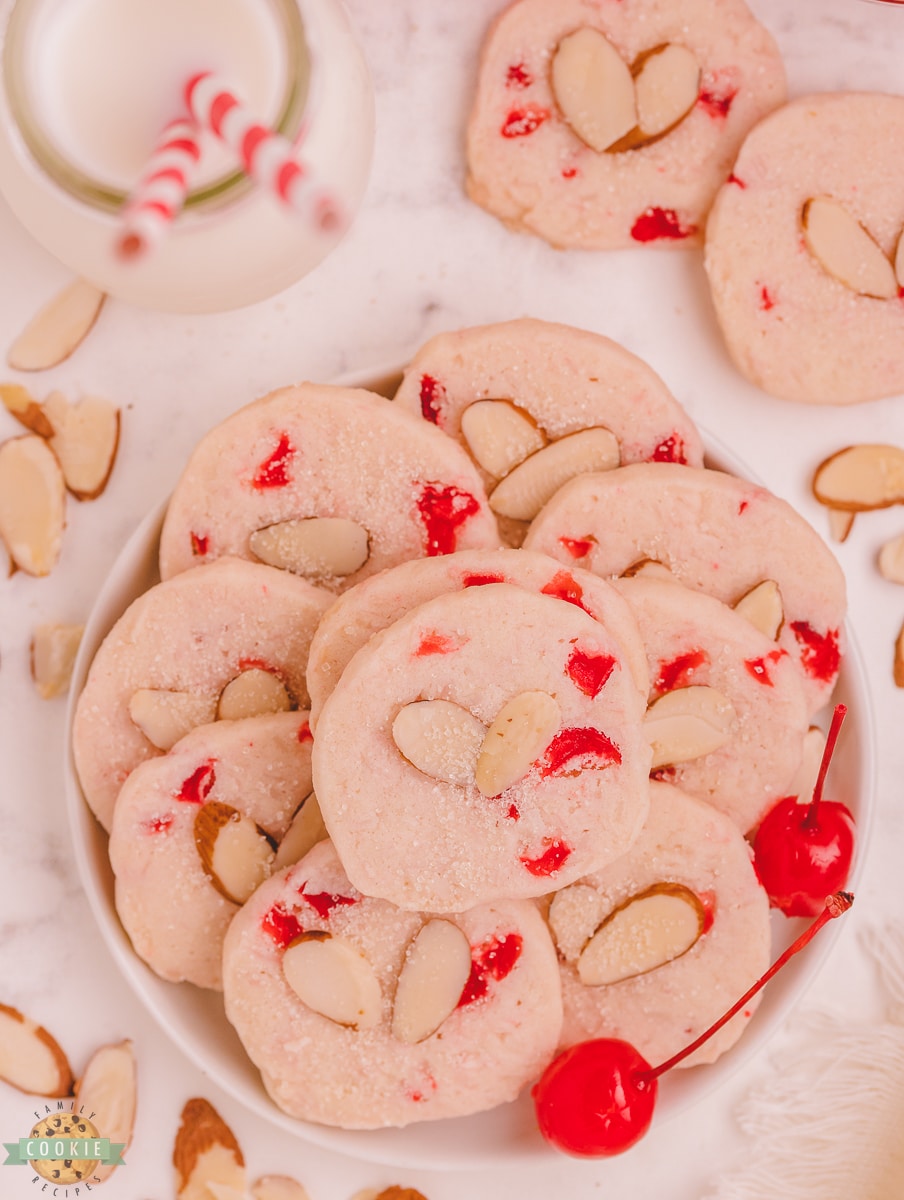 COCONUT ALMOND CHERRY SHORTBREAD COOKIE INGREDIENTS
Butter: You will need 1 cup of unsalted butter, softened, to create these wonderful rich tasting cookies. You can also use salted butter and simply omit the requested salt in the recipe so that they don't taste too salty.
Sugar: Use 1/2 cup of granulated sugar in the cookie dough and a little bit of turbinado sugar for the topping, the cookies will be perfectly sweet (but not too sweet).
Maraschino cherries: Adding in 1/4 cup of maraschino cherries, chopped, will give bursts of flavor in every bite.
Almond extract: For a great depth of flavor, use 1 teaspoon of almond extract.
Cherry extract (optional): This is an optional ingredient, but adding in 1/2 teaspoon of cherry extract really does make the cherry flavor more pronounced in the dough.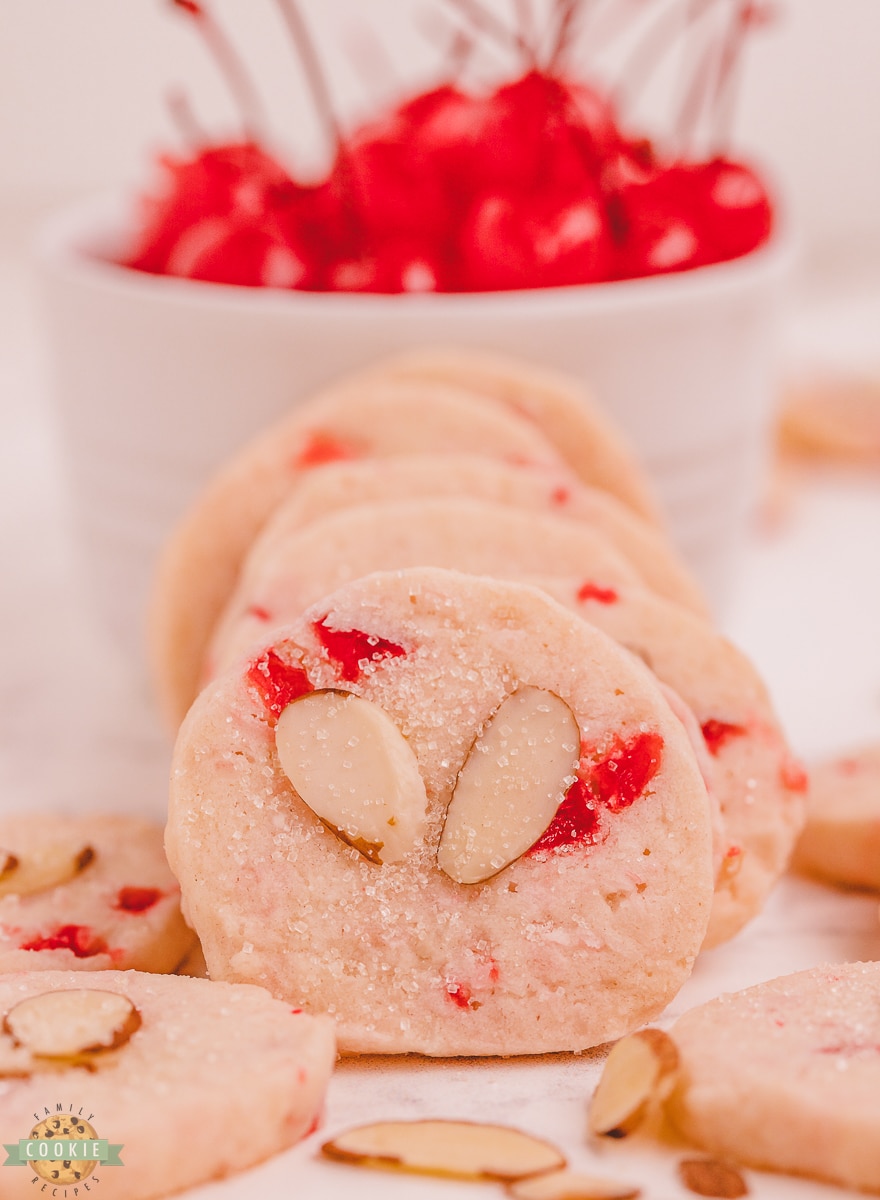 Flour: The structure and base of the cookie dough is 2 cups of all-purpose flour.
Baking powder: To help the cookies puff up as they bake, add in 1 teaspoon of baking powder.
Salt: To balance all the amazing flavors in these cookies, add in 1/4 teaspoon of salt. If you used salted butter, consider leaving this measurement out.
Coconut flakes: Adding in 1 cup of sweetened coconut flakes will add texture and sweetness to these delightful cookies.
Sliced almonds: Using 1 cup of sliced almonds on top of the cookies adds a nice appearance and crunch.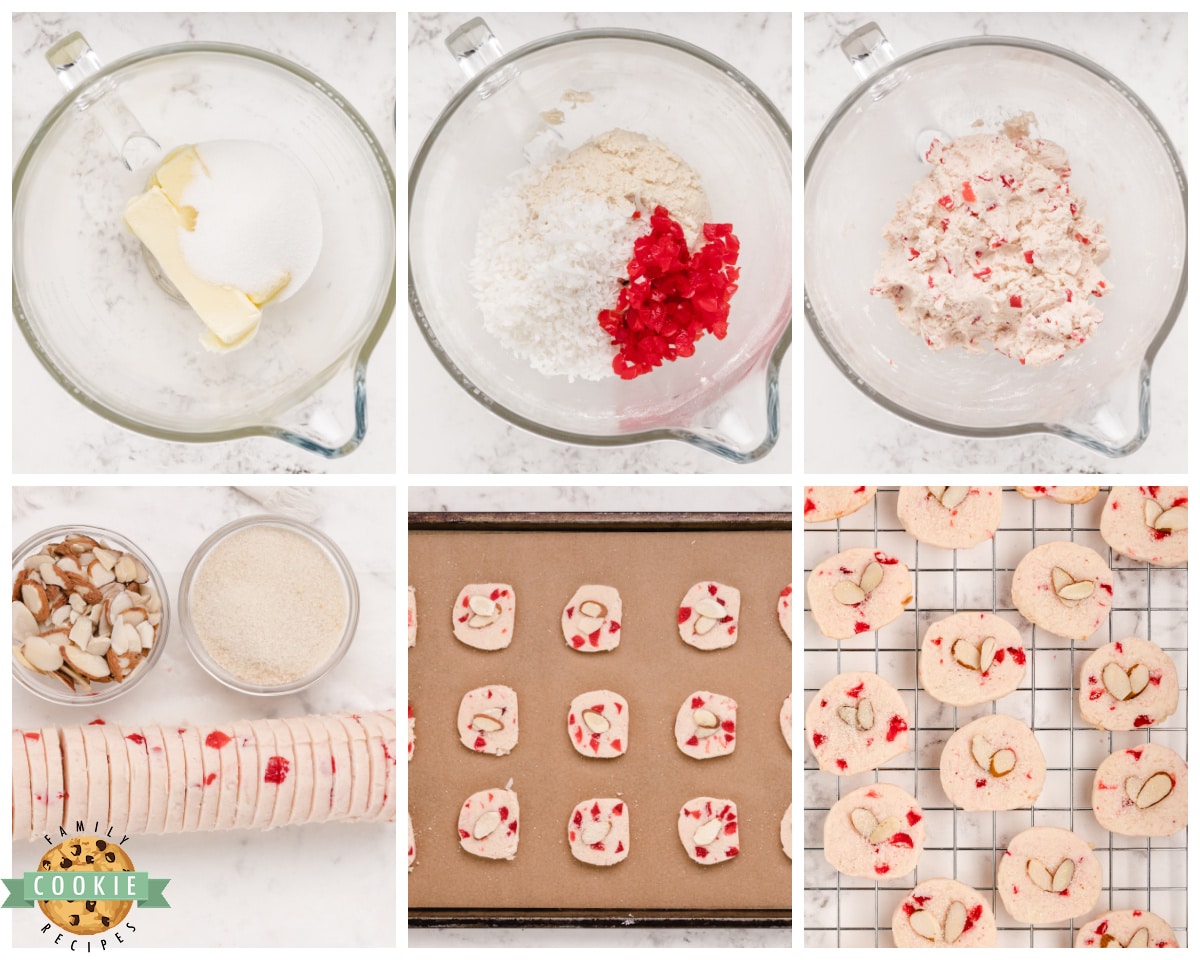 HOW TO MAKE CHERRY ALMOND COCONUT SHORTBREAD COOKIES
COOKIE DOUGH
Begin by creaming the butter and sugar in a large bowl with an electric mixer or stand mixer, until the mixture is light and fluffy.
Then, add the almond extract and cherry extract (if desired) and mix again.
Next, add in the flour, baking powder, and the salt and stir to combine. Mix together until a soft dough forms.
Lastly, stir in the chopped cherries and the coconut flakes until all the ingredients are well distributed.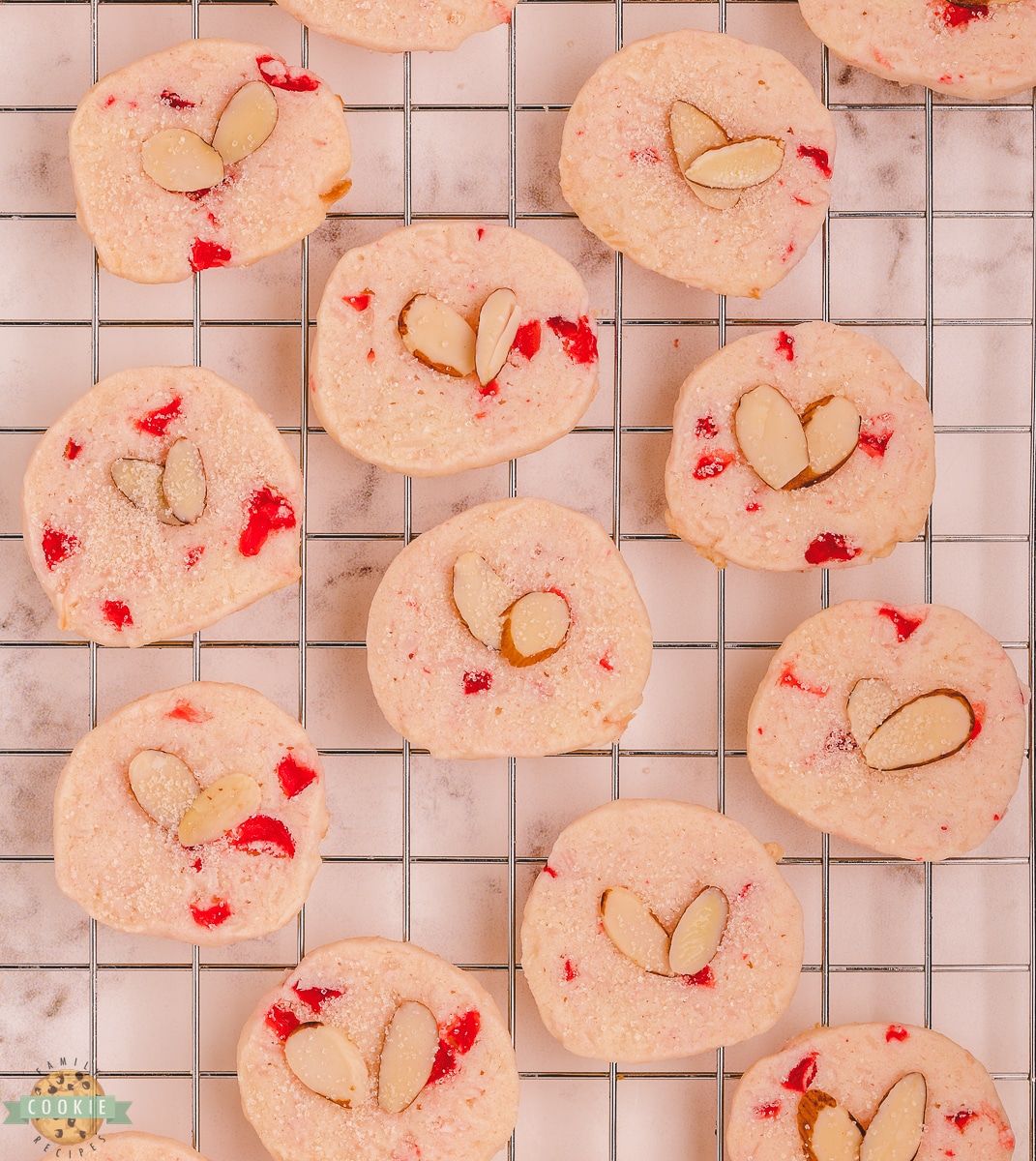 CHILL DOUGH
Continue to divide the dough in half and lay out on two pieces of wax paper. Then, form each ball of dough into an 8 inch long log.
Proceed to wrap the logs of dough in the wax paper and put in the refrigerator to chill for at least 4 hours, or overnight.
BAKE
Once the dough has chilled and you are ready to start baking, get the oven preheating to 300 degrees F.
Grab the cookie dough from the fridge, un-wrap it and cut the dough logs into ¼ inch thick slices with a knife.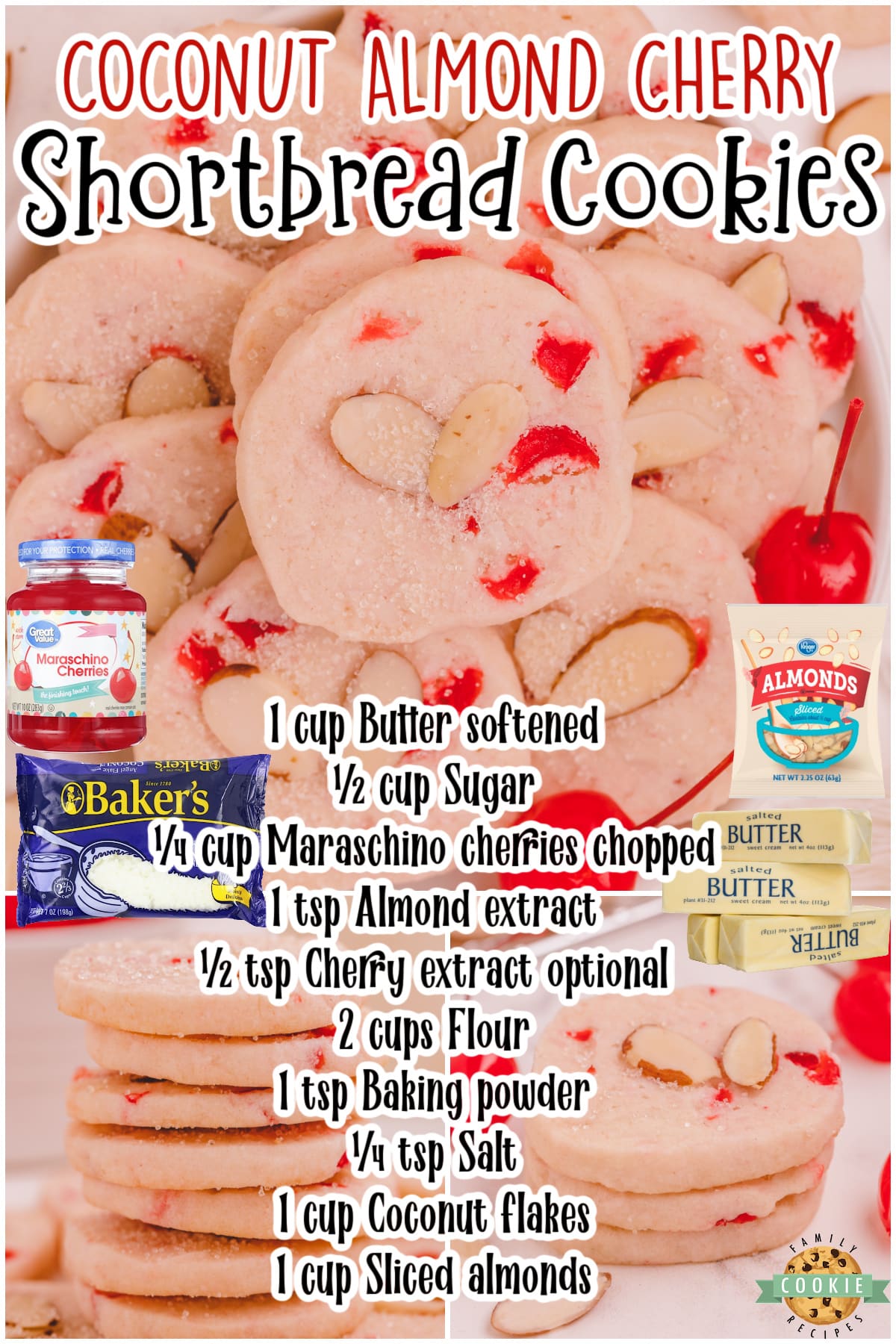 Place the cookie slices on baking sheets lined with parchment, at least 2 inches apart.
Then, sprinkle the tops of each cookies with turbinado sugar (if desired) and a few slices of almonds.
Place the cookies in the preheated oven and bake for 25-30 minutes or until they are a pale golden color.
Let the cookies cool on the baking sheet for a few minutes before transferring to a wire rack to finish cooling.
Serve and enjoy!
HOW LONG ARE COCONUT SHORTBREAD COOKIES GOOD FOR?
These tasty cookies will be good for up to 5 days, stored at room temperature in an airtight container.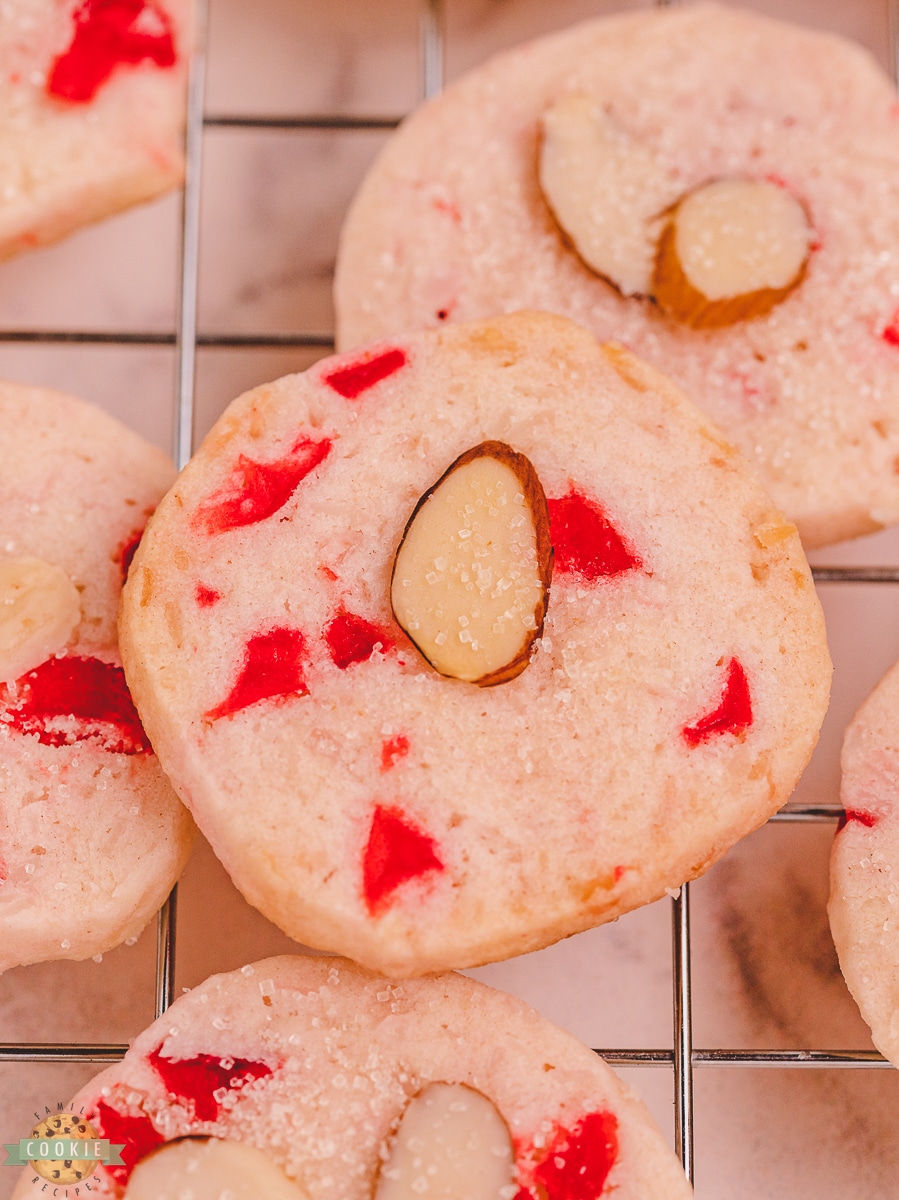 CAN I FREEZE CHERRY SHORTBREAD COOKIES?
Yes, these cookies can be frozen in dough form by wrapping the dough logs well and sticking in the freezer for up to 3 months. The cookie can also be frozen after they bake and are finished cooling.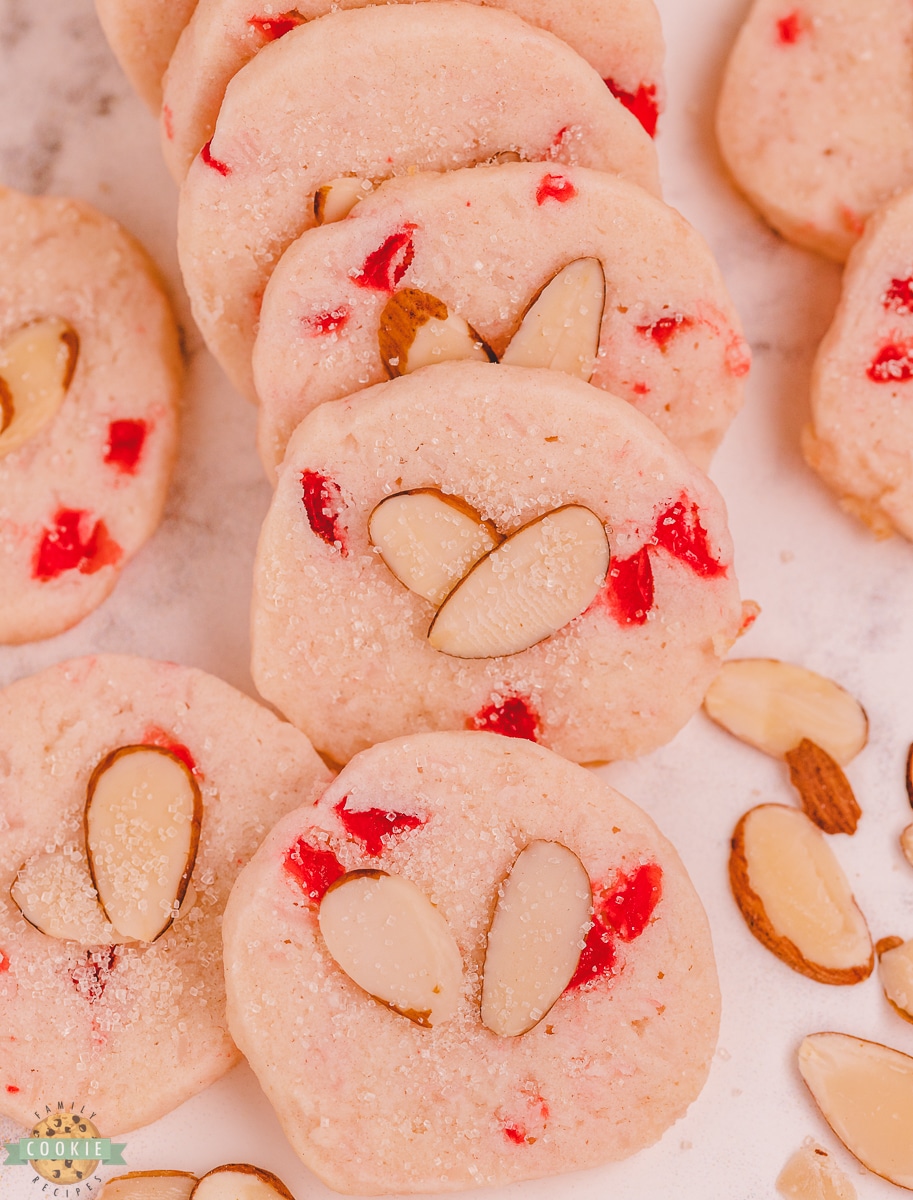 CAN CHERRY ALMOND SHORTBREAD COOKIES BE MADE IN ADVANCE?
You can make the cookie dough for this recipe up to a week in advance. It is perfect for allowing the cookie flavors to truly develop and for getting to enjoy baked cookies on a busy day by planning ahead.


These 3 cute girls are cousins all born within 5 months of each other, and it's SO fun to have them together! They're chatty, animated and I adore that they love and care for each other!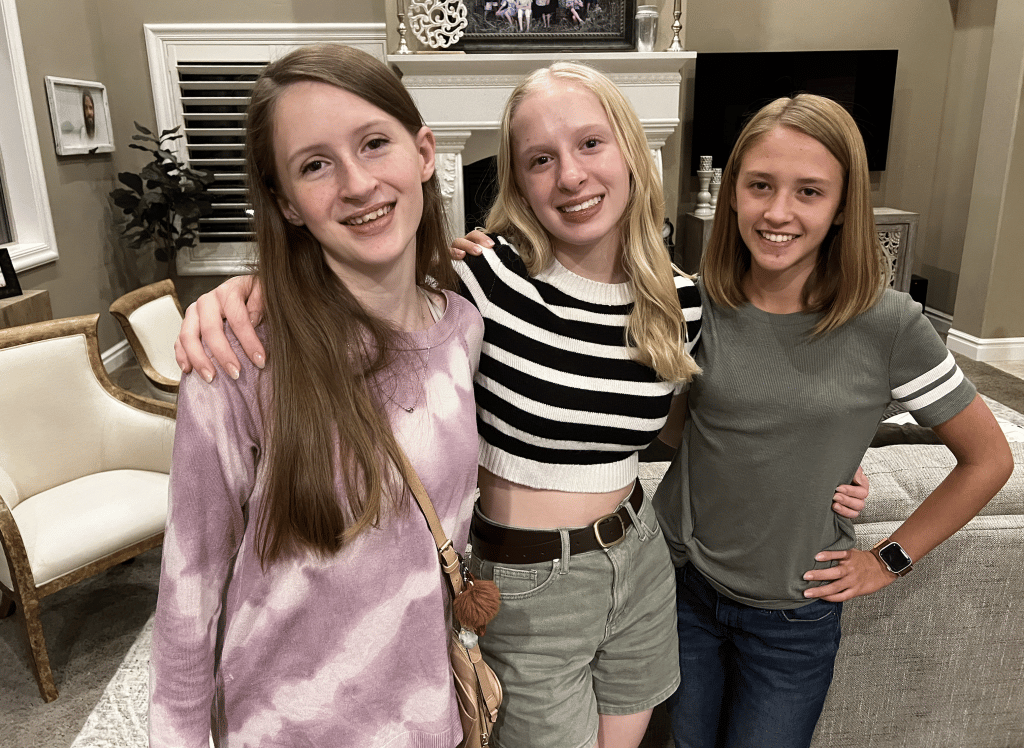 Love this recipe? Try more holiday recipes here!
Coconut Almond Cherry Shortbread Cookies are a wonderfully soft and tender treat that tastes amazing. This recipe for almond shortbread cookies is made with juicy cherries, sweet coconut flakes and sliced almonds on top.