Krispy M&M 4th of July Cookies are soft & chewy, made with M&M's, white chocolate & Rice Krispies! These patriotic cookies are a festive red, white & blue treat for the holiday dessert table.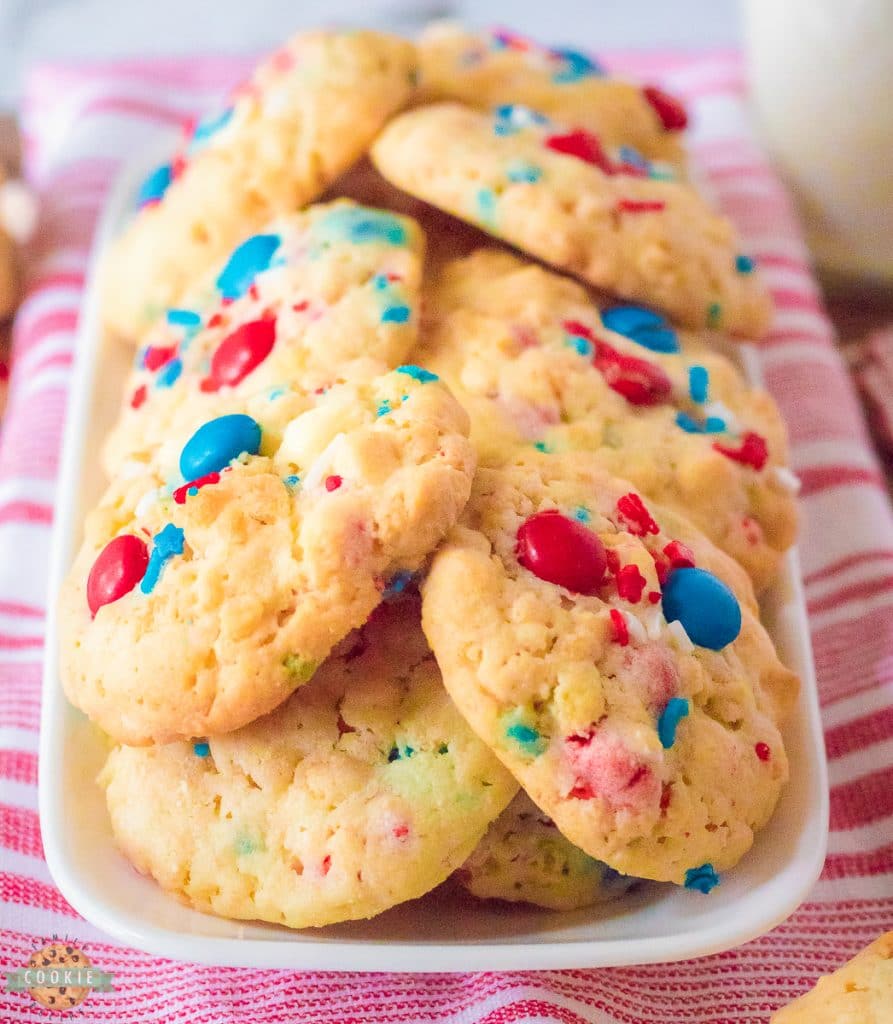 These 4th of July cookies are a wonderful combination of soft and crunchy textures, the flavors all pair well together and the results are a truly addictingly delicious cookie. Making these m&M rice krispie cookies is simple too, in under 30 minutes you will have a delightful and tasty treat to share with friends and family.
Patriotic M&M Cookies
These krispie M&M 4th of July Cookies start with a simple cookie recipe, but with a not so secret ingredient. The rice krispies in this cookie create an amazing texture and flavor! These combined with the festive red, white and blue M&M's and sprinkles makes for an absolutely incredible cookie treat.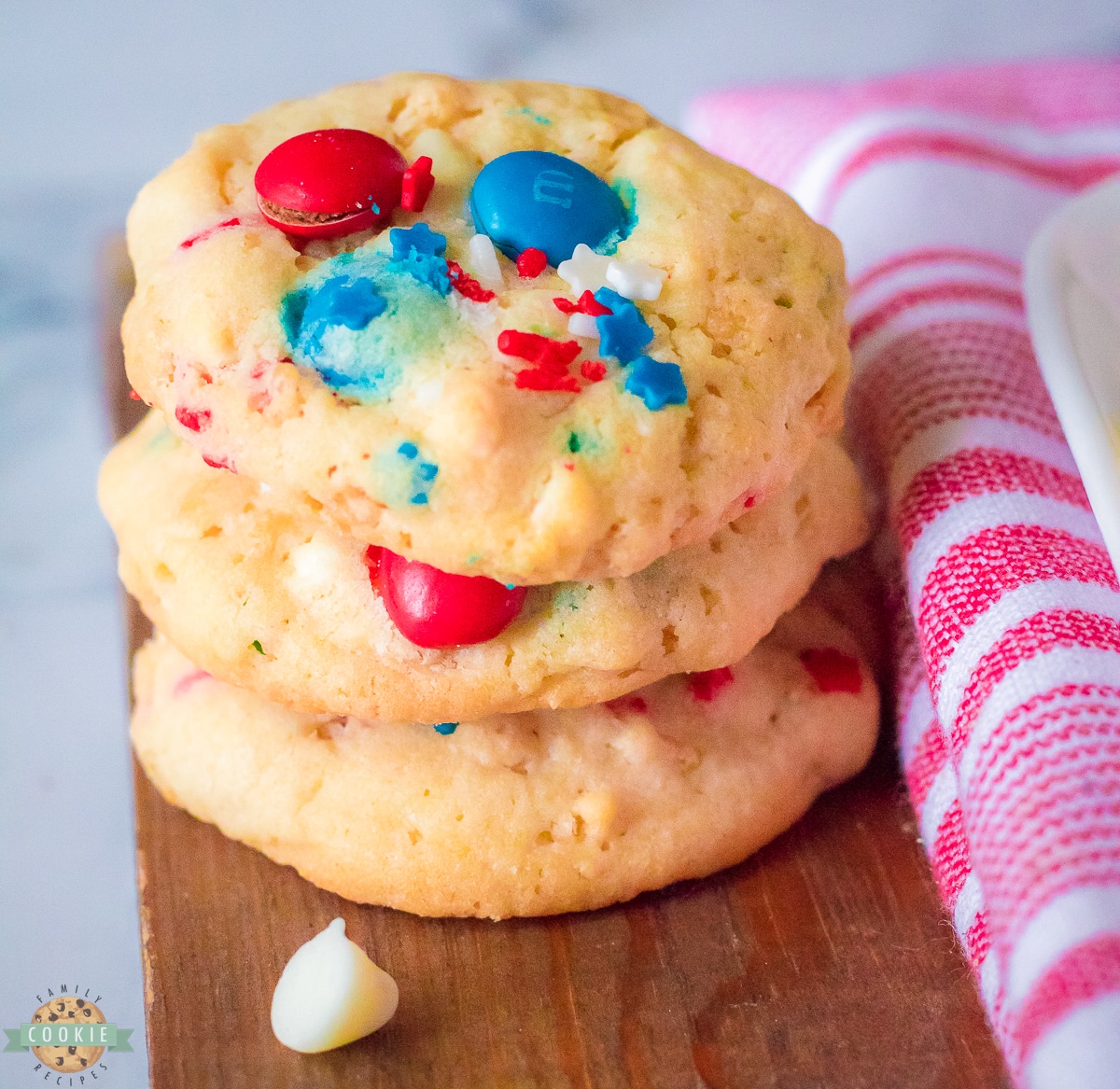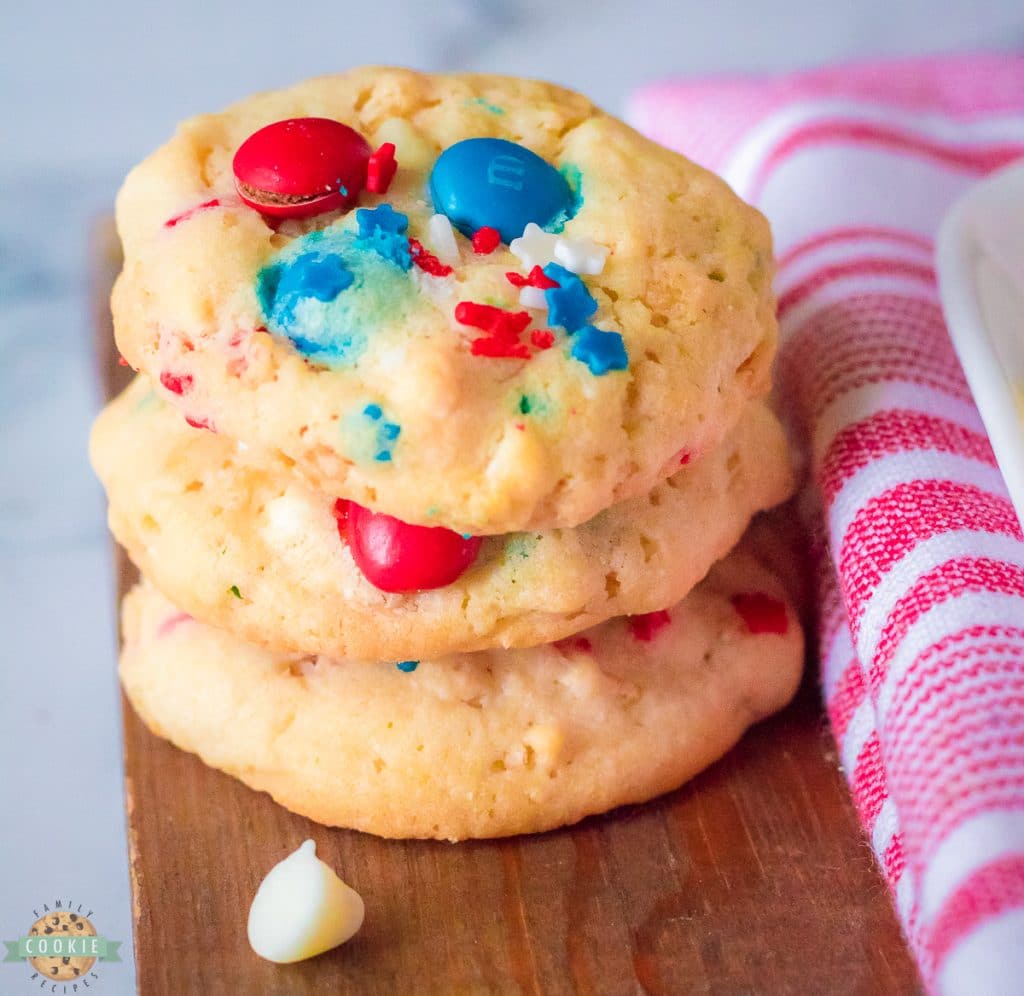 Why we think you will love this chocolate rice krispie cookie!
Just in case you need more convincing to treat these amazing cookies, here are a few more reasons why we love them and think you will too.
The ingredients are simple. The ingredients needed for this recipe are pretty basic, with the addition of M&Ms, chocolate chips, and rice krispies. All the main ingredients are most likely already in your kitchen.
They are so easy to make! These cookies are super simple and easy to make, they require no chilling time, so you can easily have a batch of cookies in the oven in no time, meaning snack time isn't too far away either!
Every batch makes a ton! You will not have to worry about running out of cookies any time soon because every batch makes about 36 cookies (that's 3 dozen!) So go ahead and grab a few at a time or share them with the family and neighbors because there will be plenty to go around.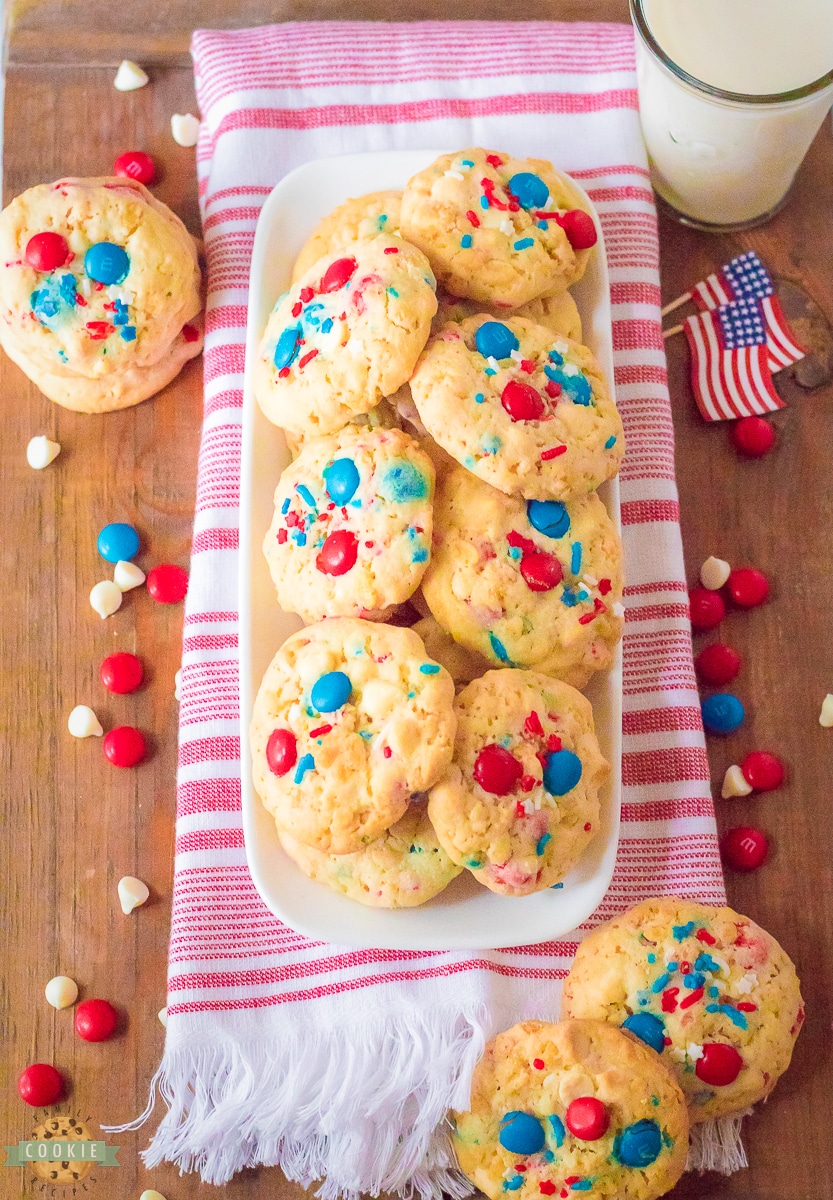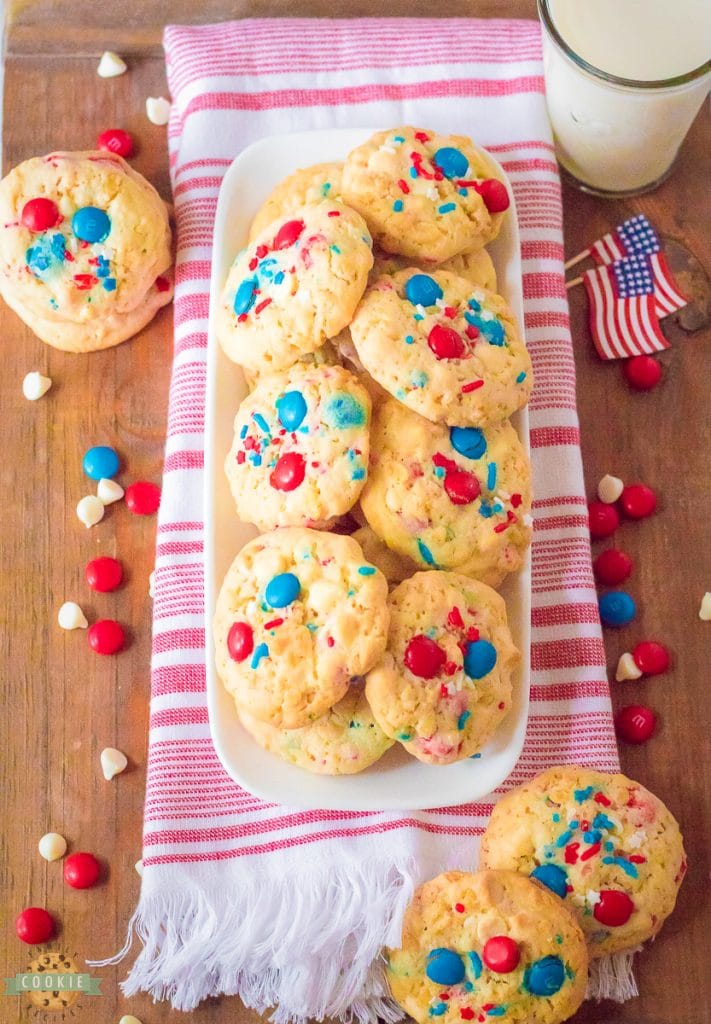 Patriotic Rice Krispie M&M Cookie Ingredients
Butter: You will need 1 cup (2 sticks) of salted butter, softened, to give these cookies a wonderfully rich flavor.
Sugar: Add in 3/4 cup of granulated white sugar to help flatten the cookies out a bit while baking.
Brown sugar: Using 3/4 cup of brown sugar will help create a soft, chewy cookie with a great depth of flavor.
Eggs: For this cookie recipe you need 2 large eggs to help bind the dough together.
Vanilla extract: You will need 2 teaspoon of vanilla extract to help enhance the flavors in the dough.
Flour: Add in 2 1/2 cups of all purpose flour for the base of this cookie dough.
Baking soda: Use 1 teaspoon baking soda to help the cookies rise as they bake.
Salt: To help balance all the delicious flavors in this recipe, add in 1/2 teaspoon of salt.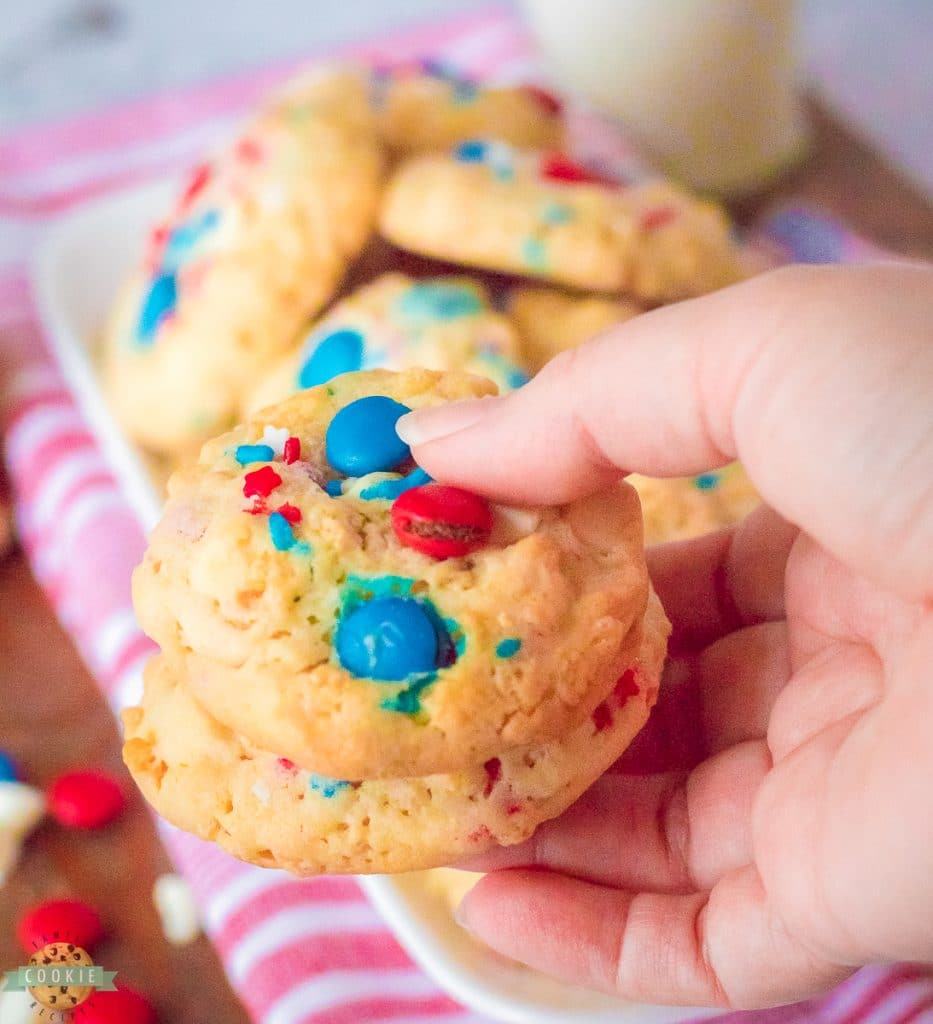 Rice Krispies: For a fantastic addition to this cookie, use 2 cups of Rice Krispie cereal. Make sure they are fresh for the best results and taste.
M&M's: You will need 1 cup of each red and blue M&M's for the festive flare in these cookies. You can either buy the holiday theme option for the red, white and blue or pick the red and blue out of a regular bag. If you want, you can also use mini M&M's too, if you like smaller chocolate chunks.
White chocolate chips: Add in ½ cup of white chocolate chips for the "white" portion of the red, white, and blue theme. If you found patriotic theme M&M's and want to eliminate the white chocolate chips and just use the red, white and blue M&M's that would be fine too.
Sprinkles: To make these cookies even more fun and festive, pick up a patriotic color of sprinkles and you will need about 2 tablespoons.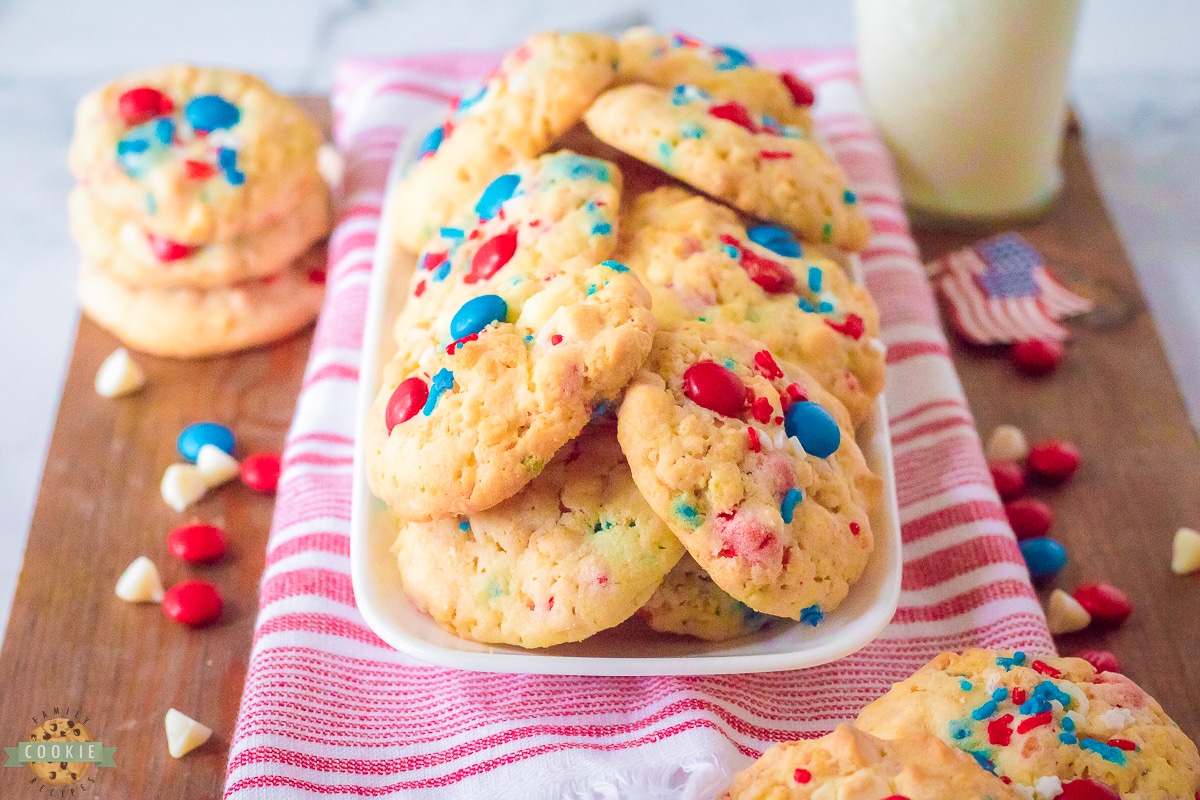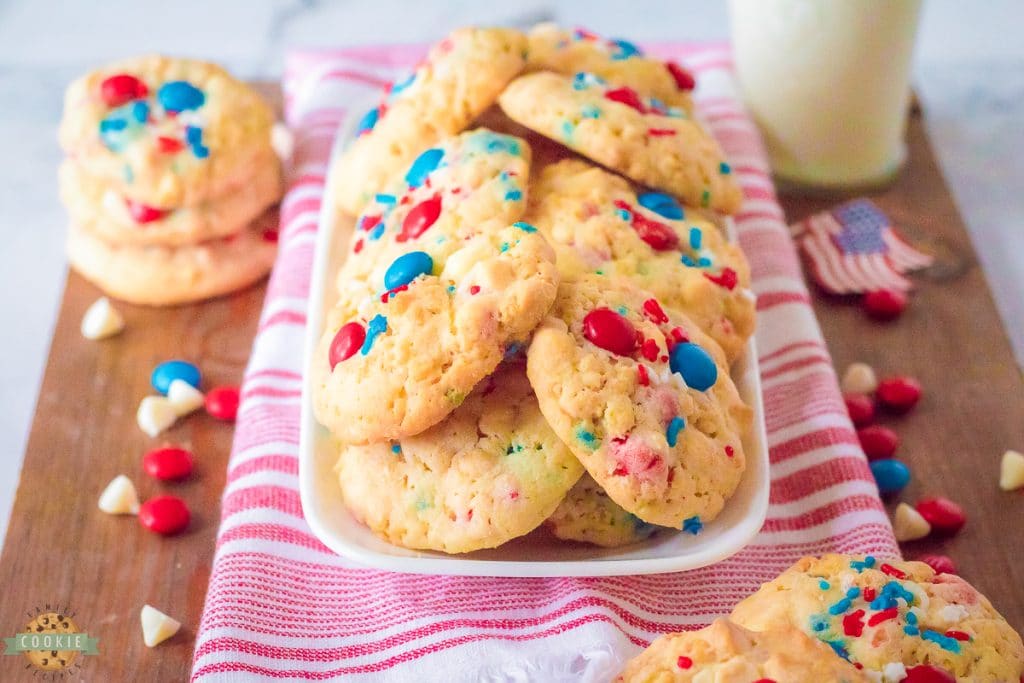 How to make 4th of July M&M Rice Krispie Cookies
Prep
Start by preheating the oven to 375°F.
Then, line a baking sheet with parchment paper and set aside.
Cookie dough
In a large mixing bowl, using an electric hand held mixer, cream together the softened butter and both the brown and white sugars, until the mixture is light and fluffy.
Next, add in the eggs and vanilla extract and mix until smooth.
Then, mix in the baking soda and salt.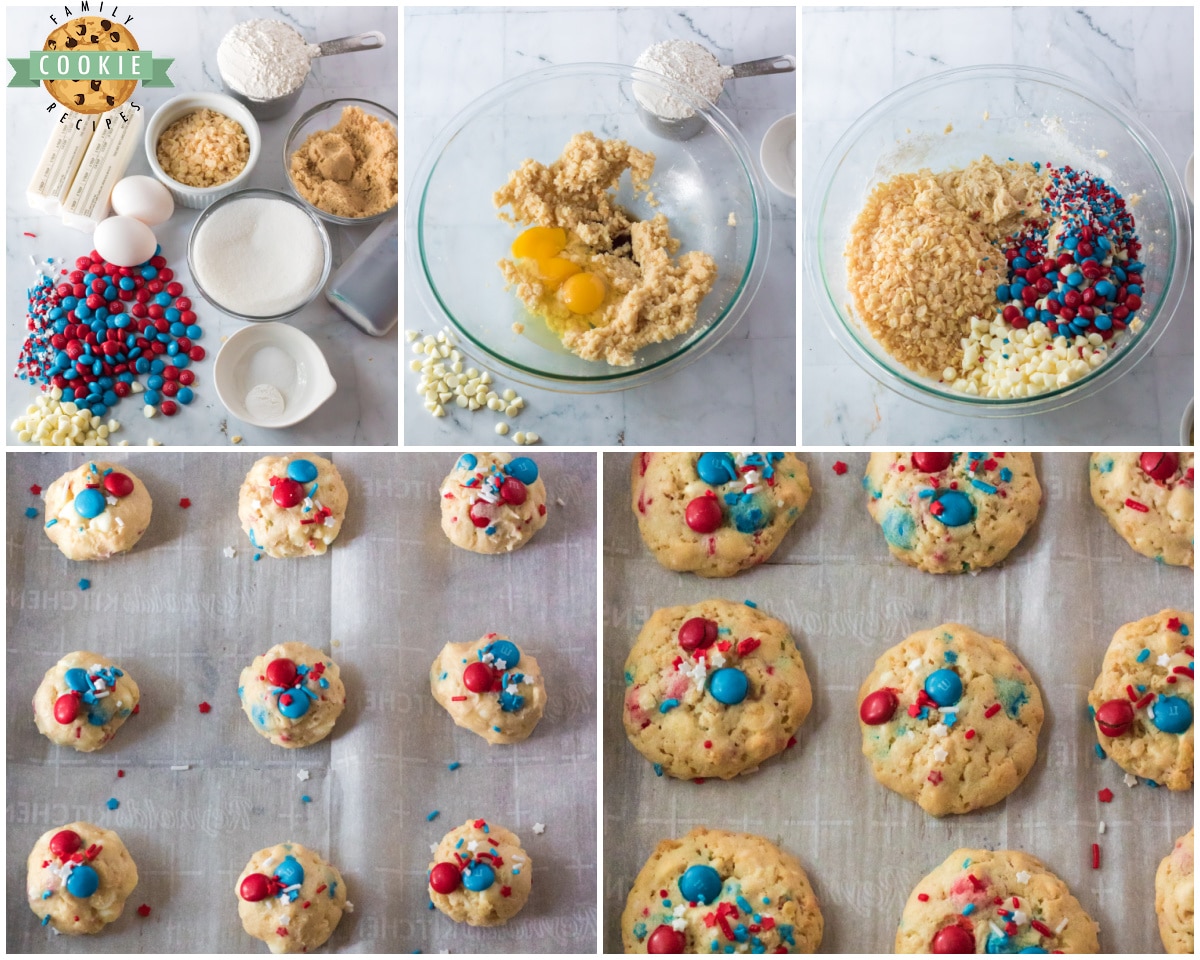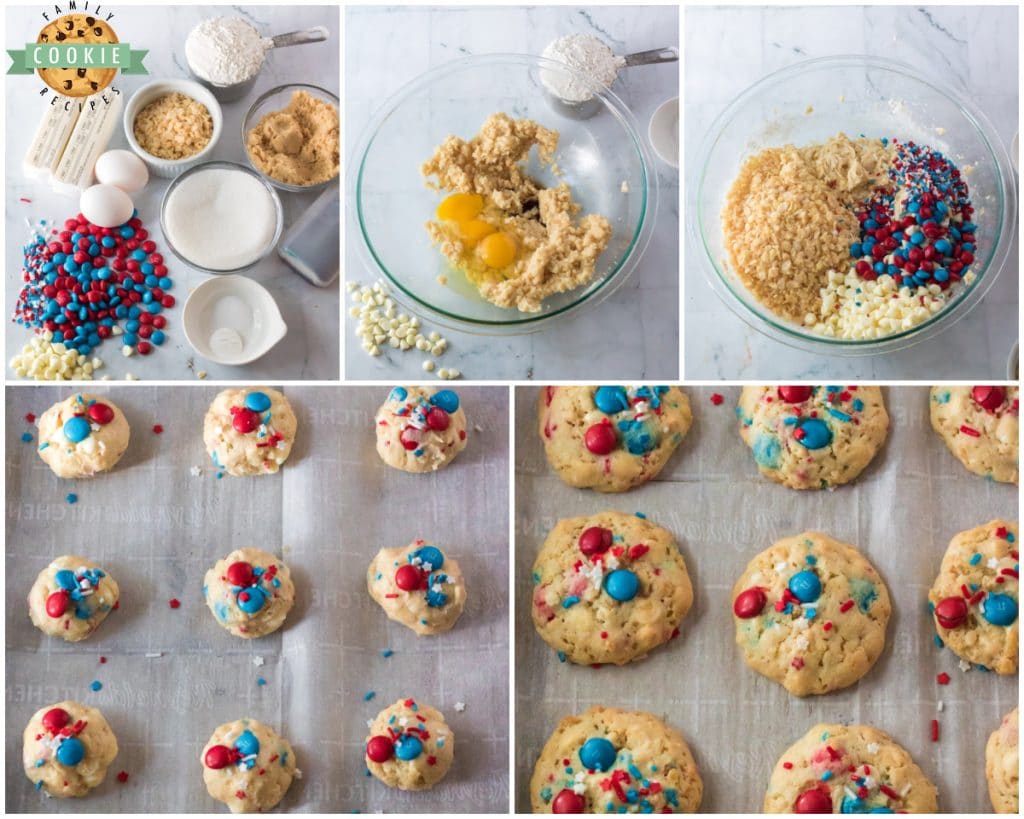 After that, fold in the flour until just combined.
Lastly, gently fold in the rice krispie cereal, M&Ms, white chocolate chips and sprinkles.
Next, using a 1 ½ tablespoon cookie scoop, place balls of dough onto your prepared cookie sheet.
If desired, top each one with additional chocolate chips, M&Ms and/or sprinkles.
Bake
Proceed to put the cookies into the preheated oven and bake for 8 to 10 minutes.
Let them cool slightly before transferring to a wire cooling rack.
Serve and enjoy!
Can I make the cookie dough in advance?
Yes, you can make the dough and keep it in a well-covered bowl in the fridge for up to a day in advance. So make the dough one day and bake it the next. Perfect for parties and occasions where you want fresh cookies but without being in the kitchen for too long.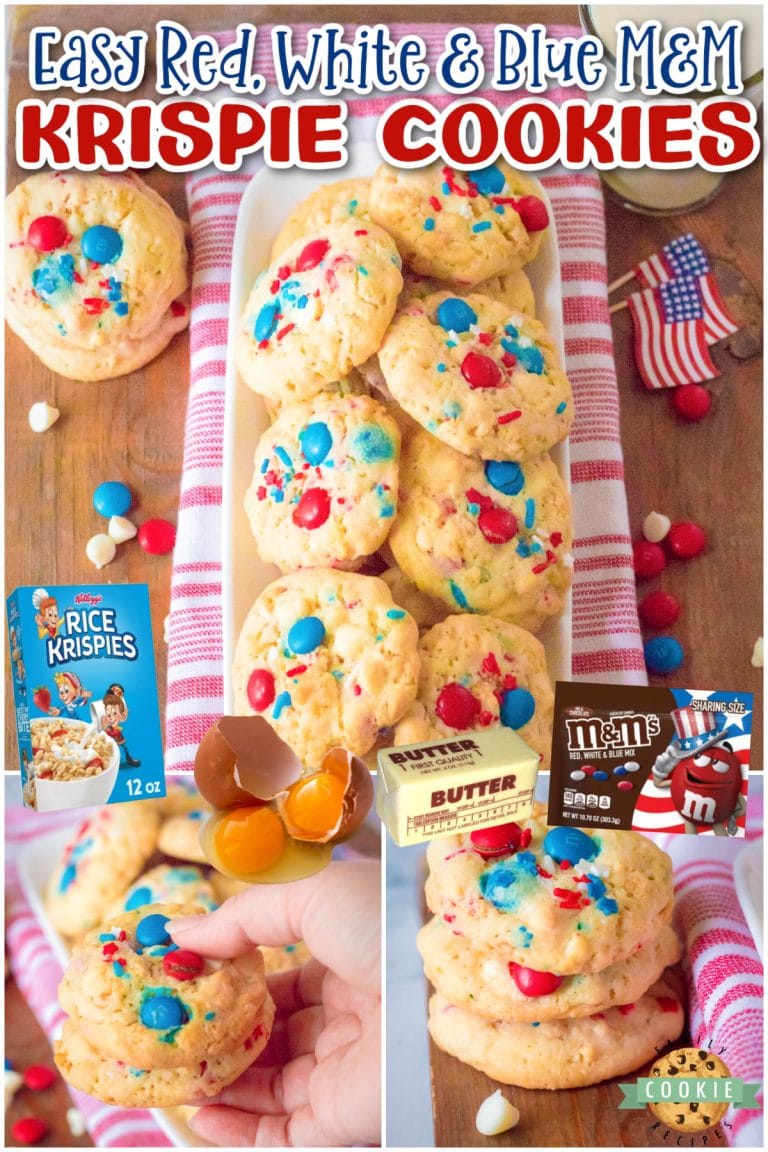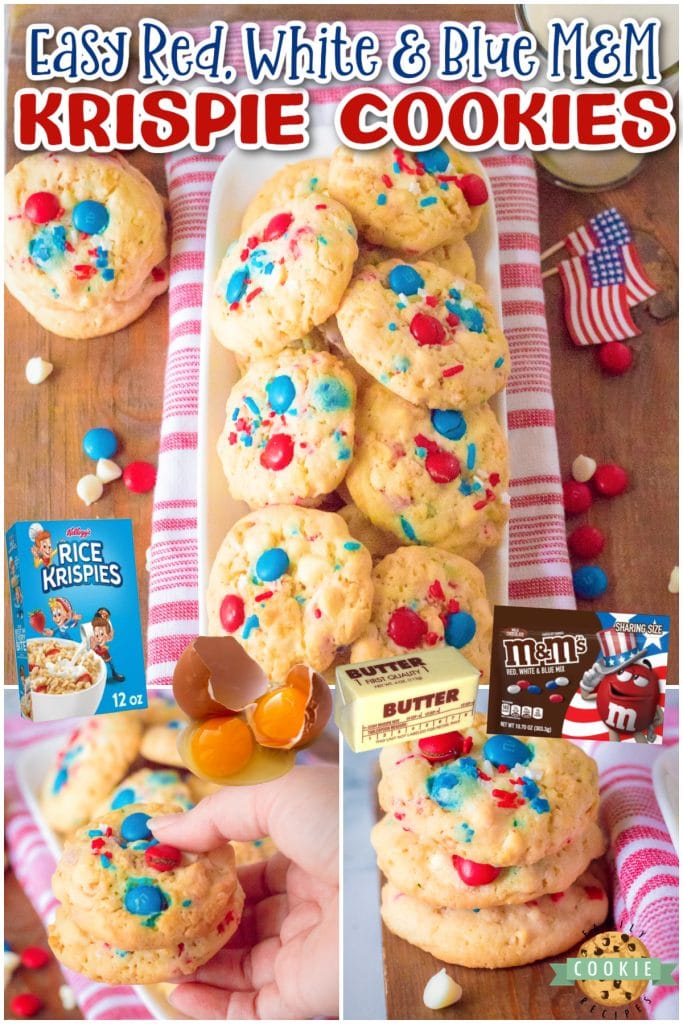 How to Get a Perfectly Round Cookie Shape
Want to know a neat little trick? After your cookies have been baked, while they are still hot and cooling on the pan, take a medium-sized round cookie cutter or a round glass/drinking mug and place it over the top of the cookie. The round shape should be slightly bigger than the cookie for this trick to work.
Swirl the round cutter/object around the cookie, knocking it into the sides a bit as you go. The more you swirl, the smaller and thicker the cookie will become. Then let the cookies cool. This is how you can get homemade cookies to look perfectly rounded. This trick won't work with cutout cookies, but it works fine with drop cookies and rolled cookies.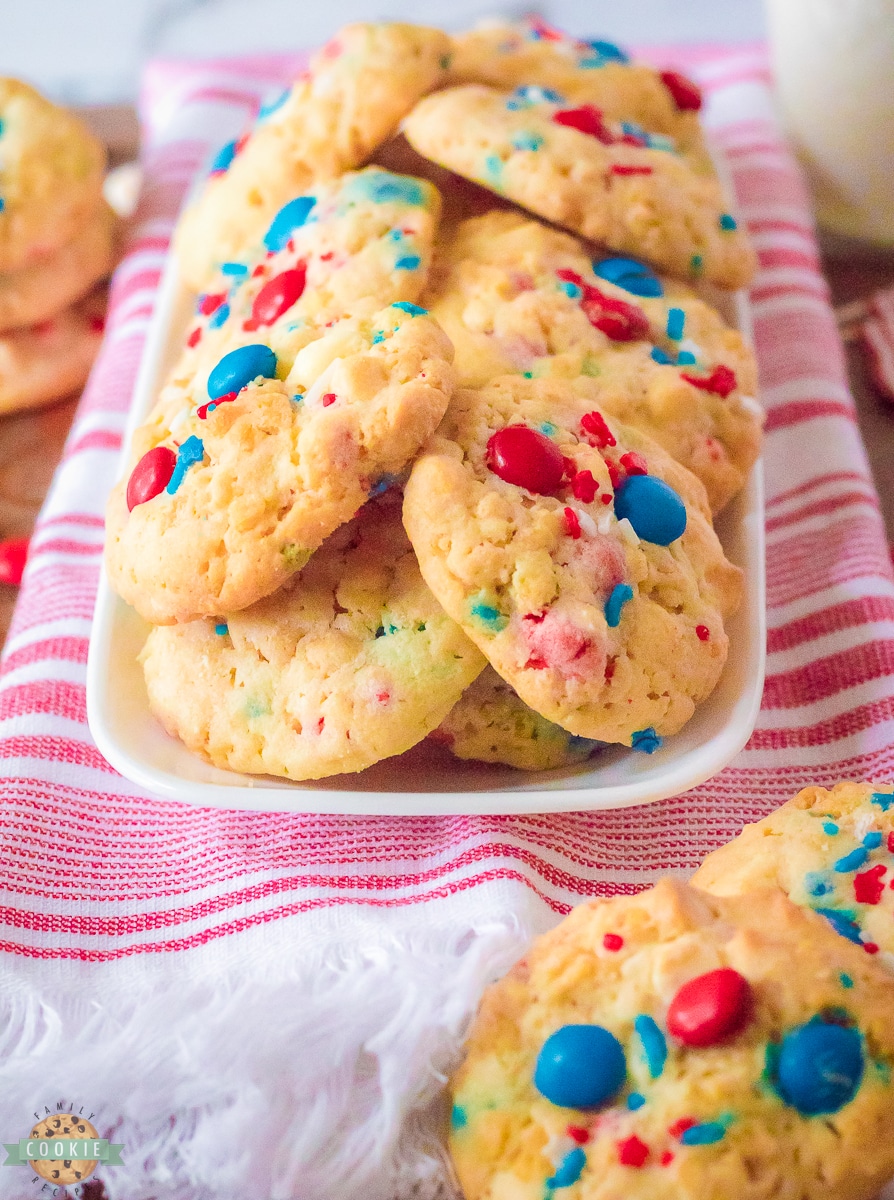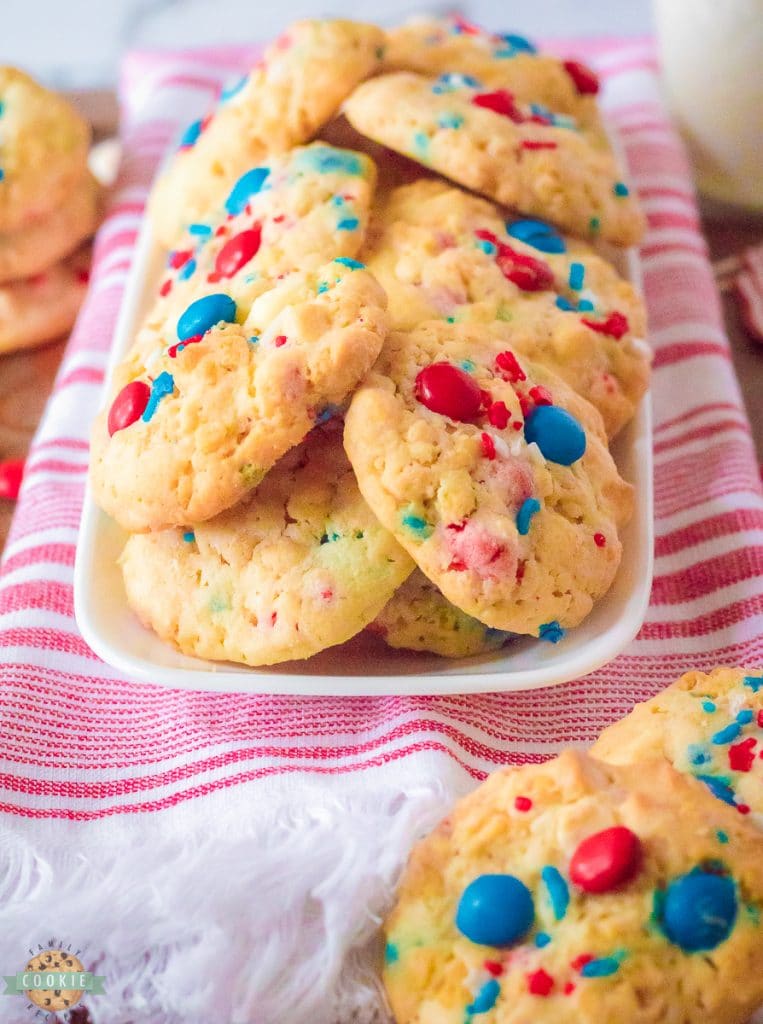 HOW DO YOU SOFTEN BUTTER?
I like to soften butter by using the defrost function on my microwave. If you need the full 1/2 cup cube of butter, you can leave it in the paper wrapper, otherwise, place the amount of butter you need in a glass or porcelain bowl. I use the lowest defrost setting on my microwave and just let it run for 20 seconds. Check the butter and see how soft it is by pressing it with a rubber scraper. If it is still not soft to the touch, meaning it doesn't indent when you press into it, let it warm for another 5-10 seconds. Watch it closely! Butter softens very quickly.
How long are these cookies good for?
These cookies should be stored in an airtight container, or ziplocked bag, and will last for 3-5 days.
Try some more of our favorite cookie recipes here!
Krispy M&M 4th of July Cookies are a soft and chewy cookie, studded with M&M's, white chocolate chips and the star ingredient being Rice Krispies! These cookies for 4th of July are a fun and festive way create a perfect treat for the holiday dessert table.