4 Ingredient S'mores Chocolate Chip Cookies made with just four simple ingredients! Satisfy your s'mores craving with these delightfully easy cookies!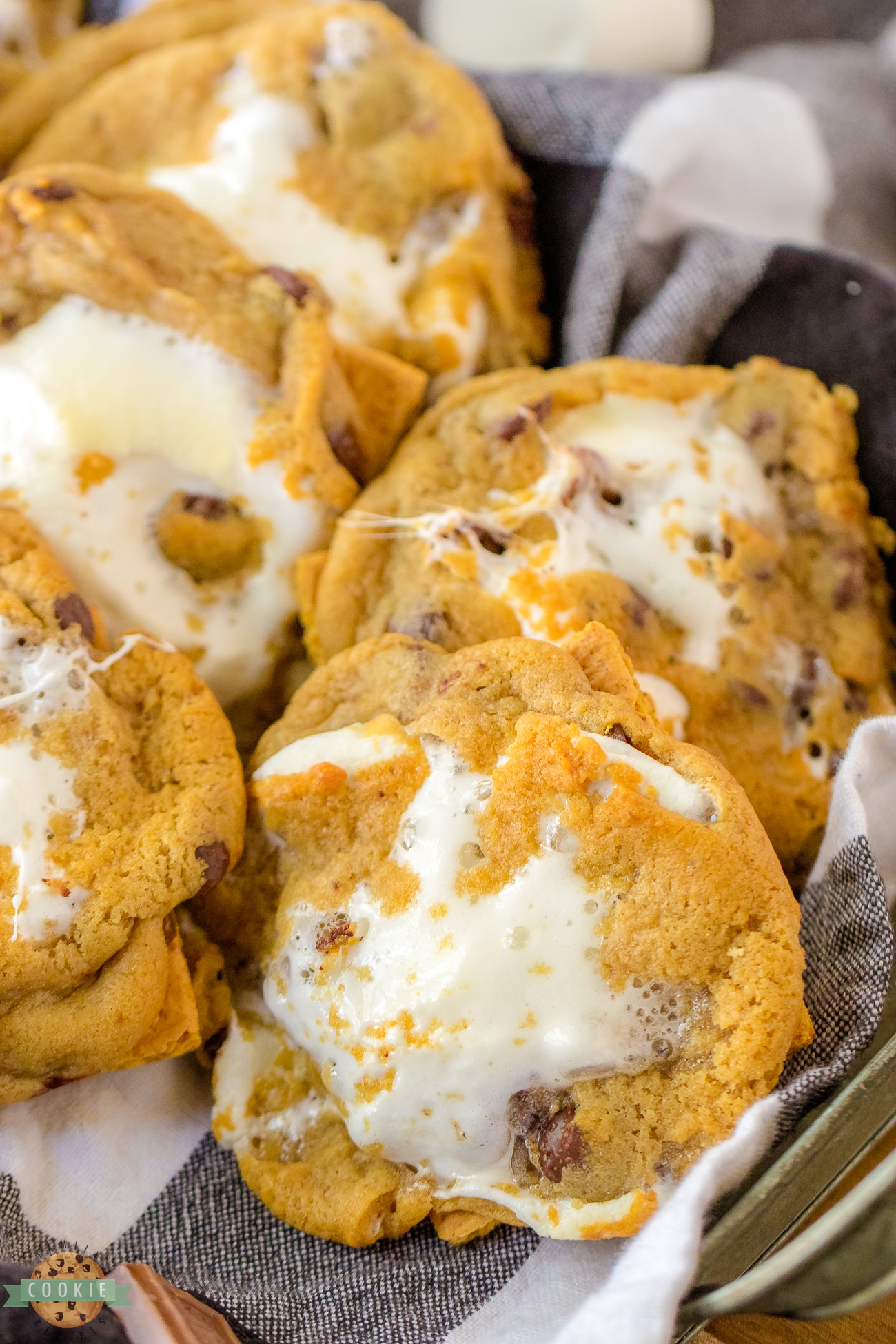 The recipe for these smores cookies is incredibly easy to follow, all you need is graham crackers, chocolate chip cookie dough, chocolate and marshmallows! Make these chocolate chip marshmallow cookies for a cozy night in with family and friends.
S'mores Cookies
I cannot get over how delicious these 4 Ingredient S'mores Cookies are! I am totally obsessed with them. These cookies are SO easy to make and incredibly delicious. Only 4 ingredients too? Count me in! To make these yummy gooey cookies all you do is place graham crackers down on a sheet pan, add a Hershey's chocolate bar on top, cover the marshmallow with cookie dough and bake! Classic s'mores meets chocolate chip cookie dough in an epic summer treat mashup everyone loves!
Overall, these 4 Ingredient S'mores Chocolate Chip Cookies are a must-try for anyone who loves the traditional campfire treat. They are easy to make, delicious, and perfect for any occasion. Whether you are hosting a party or just looking for a quick and easy dessert, these cookies are sure to be a hit.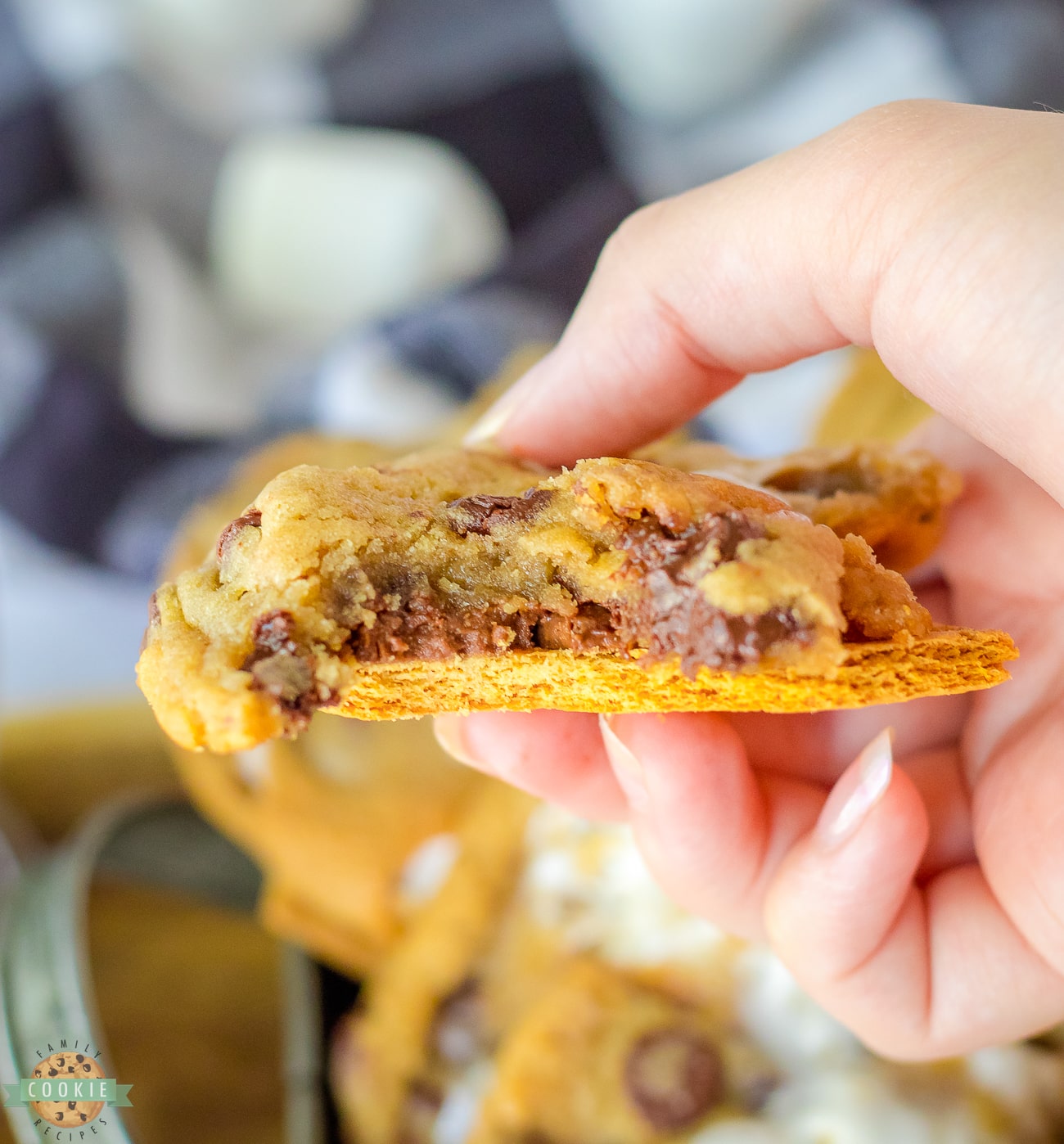 Why You Will Love These S'mores Cookies
Easy to Make: With only four ingredients, these cookies are incredibly simple to make. They require minimal prep time, so you can have fresh-baked cookies in no time.
Delicious Flavor: These cookies have a rich, chocolatey flavor that is perfectly complemented by the gooey marshmallows and crunchy graham crackers. They are sure to satisfy any sweet tooth.
Versatile: These cookies can be customized to suit your preferences. You can add more or less chocolate, adjust the amount of marshmallow, or even swap out the cookie dough for another type.
Chocolate Chip S'mores Cookie Ingredients
Graham crackers: You will need 6 full size Graham crackers, broken in half, to make 12 total cookies.
Chocolate bars: Grab 3 Hershey's chocolate bars to use 3 bricks on each cracker.
Marshmallows: 12 large marshmallows will be perfect for these s'mores cookies, one for each cookie.
Cookie dough: Make this recipe even easier by using a 30-oz premade chocolate chip cookie dough. Any brand will work and taste great.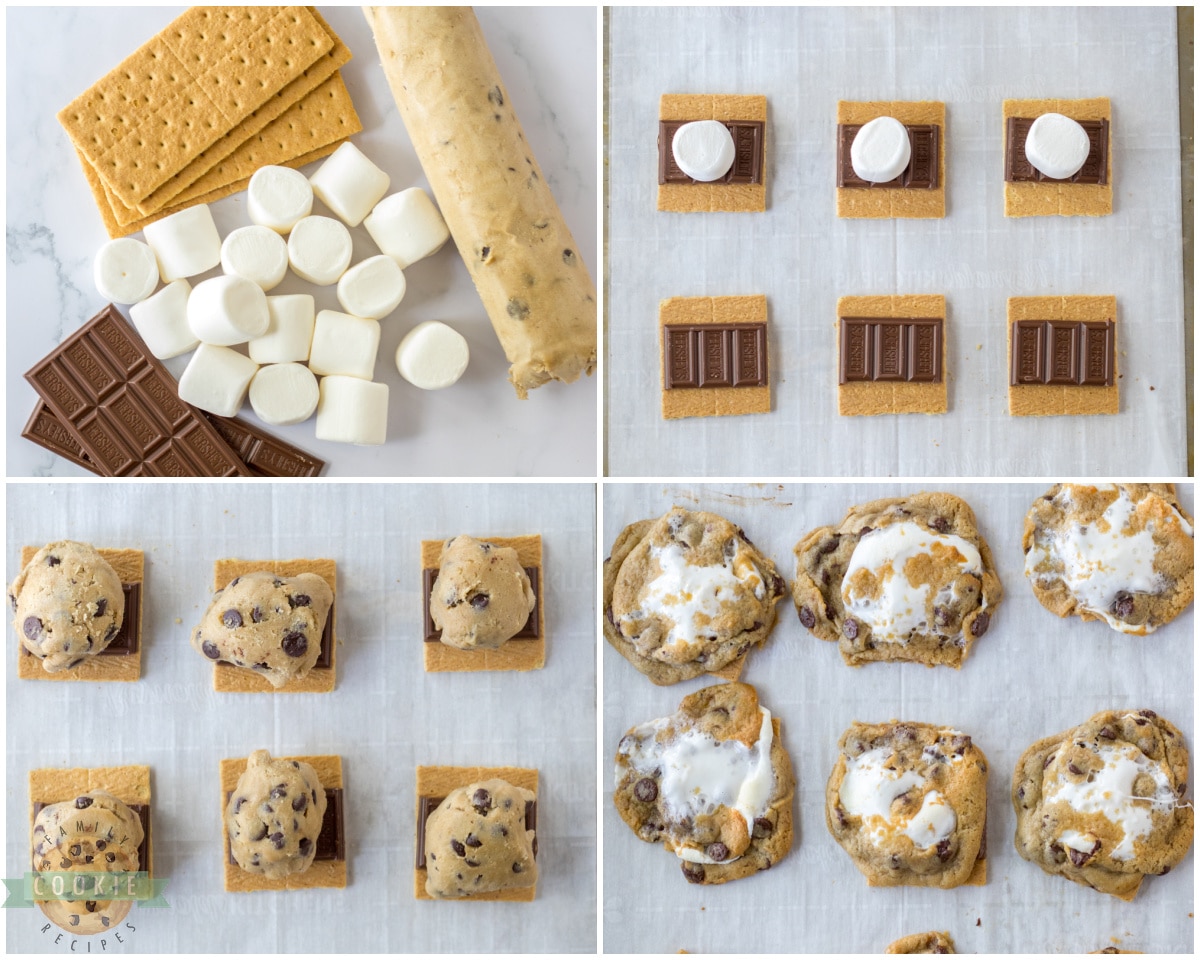 Easy step by step on how to make S'more Cookies
Prep
First things first, get the oven preheating to 350°F and then line a baking sheet with parchment paper.
Next, break each Graham cracker in half and place 12 squares down on the parchment paper lined sheet. After that, place 3 squares of the chocolate bar on each cracker.
Cookie dough
Now, divide the premade cookie dough into 12 balls. Then flatten out the balls of cookie dough and gently wrap it around one large marshmallow. Proceed to place the cookie dough wrapped marshmallow on top of the chocolate bars, make sure they are not falling over.
Bake
Proceed to place the baking sheet in the preheated oven and cook for 13-15 minutes or until the cookie is golden brown. Be sure to let the cookies cool on the baking sheet for 5-10 minutes before removing or serving, they will be very hot!
Serve and enjoy!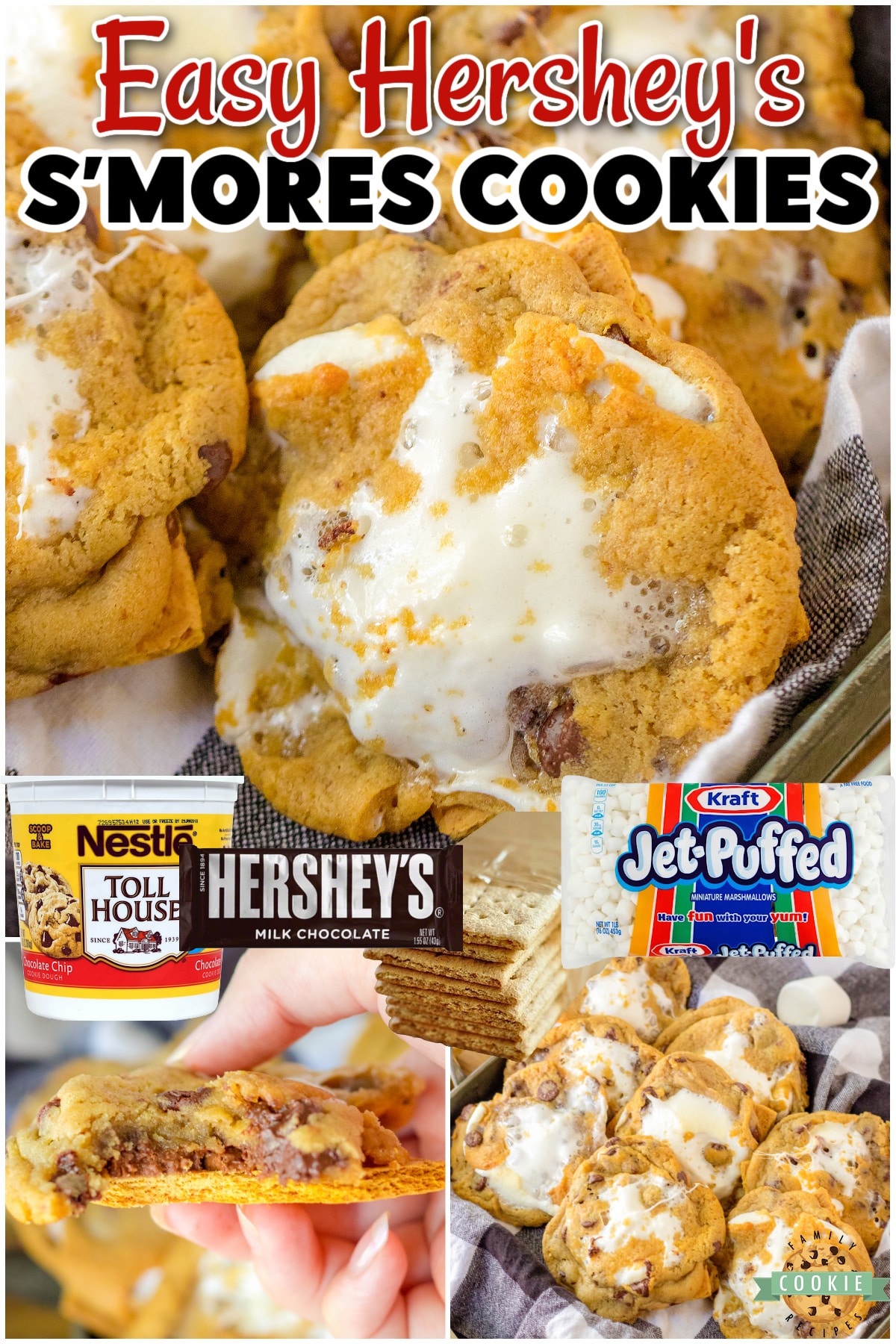 Serving Suggestions for Chocolate S'mores Cookies
These 4 Ingredient S'mores Chocolate Chip Cookies are a delicious treat that can be enjoyed in a variety of ways. Here are a few serving suggestions to help you enjoy these cookies to the fullest.
For a warm and gooey treat, pop these cookies in the microwave for a few seconds before serving. The chocolate chips will melt and the marshmallows will become even more gooey, making for a decadent dessert.
These cookies make the perfect base for an ice cream sandwich. Simply place a scoop of your favorite ice cream between two cookies and press gently. Roll the edges in crushed graham crackers for an extra s'mores flavor.
Enjoy these cookies the classic way with a cold glass of milk. The sweetness of the cookies pairs perfectly with the creamy milk, making for a satisfying snack.
These cookies make a great gift for friends and family. Package them in a clear cellophane bag tied with a ribbon for a cute and thoughtful present.
Whether enjoyed warm and gooey, as an ice cream sandwich, with milk, or given as a gift, these 4 Ingredient S'mores Chocolate Chip Cookies are sure to be a hit.
How do I keep Chocolate S'mores cookies fresh?
When it comes to storing 4 Ingredient S'mores Chocolate Chip Cookies, there are a few things to keep in mind to ensure their freshness and deliciousness.
Firstly, it is important to let the cookies cool down completely before storing them. This helps prevent moisture buildup and ensures that the cookies maintain their texture and crispiness. Once the cookies have cooled down, they can be stored in an airtight container. This helps prevent air and moisture from getting in, which can cause the cookies to become stale or soft.
If you plan on storing the cookies for an extended period of time, it is recommended to freeze them. Simply place the cookies in a freezer-safe container or bag and store them in the freezer. When you're ready to enjoy them, simply thaw them at room temperature for a few hours before serving.
It is also important to keep in mind that storing the cookies with other foods that have strong odors can cause the cookies to absorb those odors. To prevent this, store the cookies separately from other foods.
By following these simple storage tips, you can ensure that your 4 Ingredient S'mores Chocolate Chip Cookies stay fresh and delicious for as long as possible.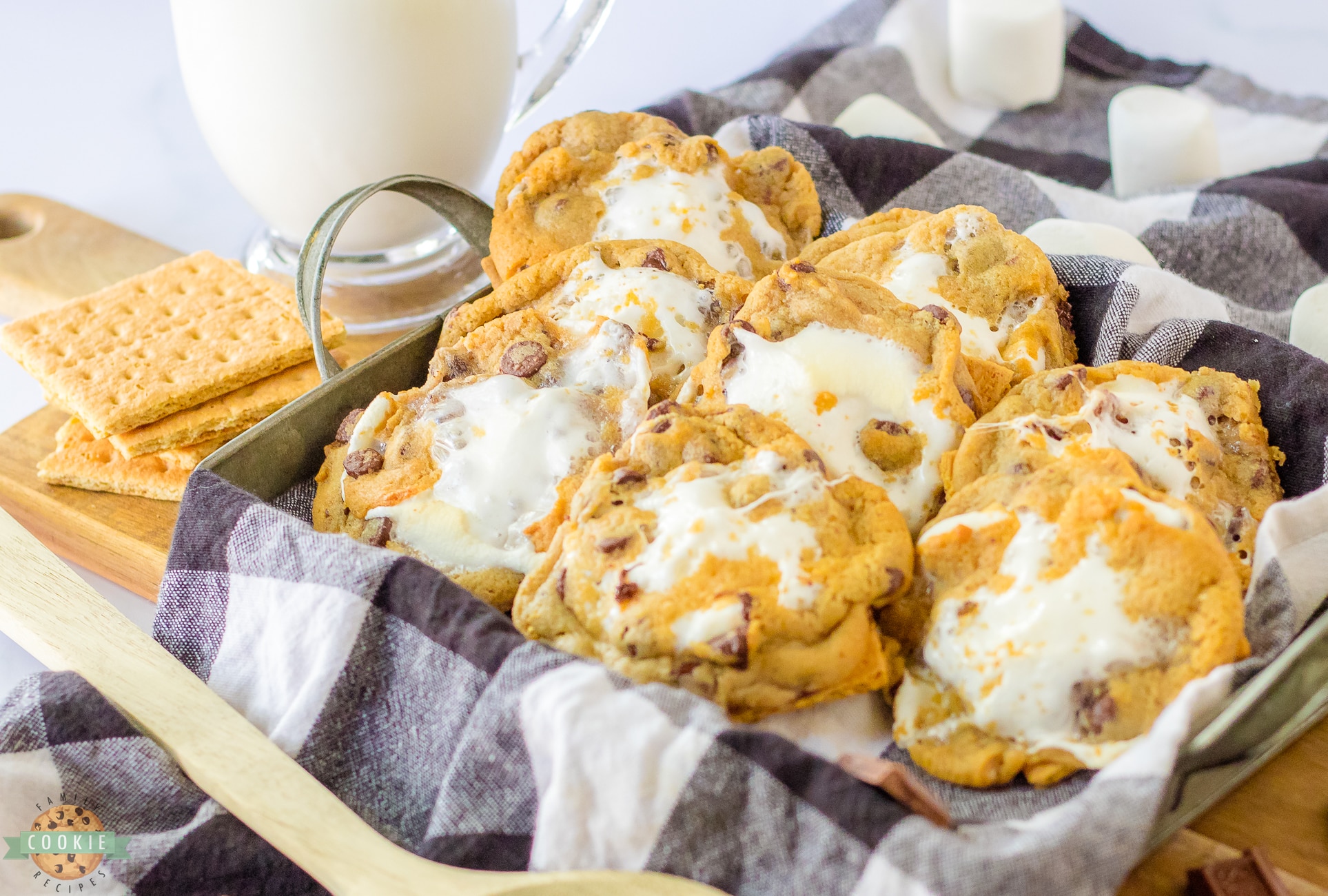 Can I use dark chocolate in s'mores cookies?
Yes, dark chocolate bars can be used instead of milk chocolate in s'mores cookies. The taste will be slightly different, but it will still be delicious. Keep in mind that dark chocolate has a higher percentage of cocoa solids, which may affect the texture of the cookie. If you prefer a sweeter taste, you can add a little more sugar to the recipe.
Love S'mores? Try more amazing S'more inspired treats here!
4 Ingredient S'mores Chocolate Chip Cookies make a fantastic dessert when you are looking for a quick and easy treat. Using only 4 simple ingredients, these chocolate marshmallow cookies come together fast and are simply delicious!