We love Halloween and over the years we have created some really fun Halloween cookie recipes. All of these are perfect for Halloween parties!
Perfect M&M HALLOWEEN Cookies made with butter, sugars, pudding mix & festive M&M's candies! Fun & festive Halloween Cookie recipe that everyone loves!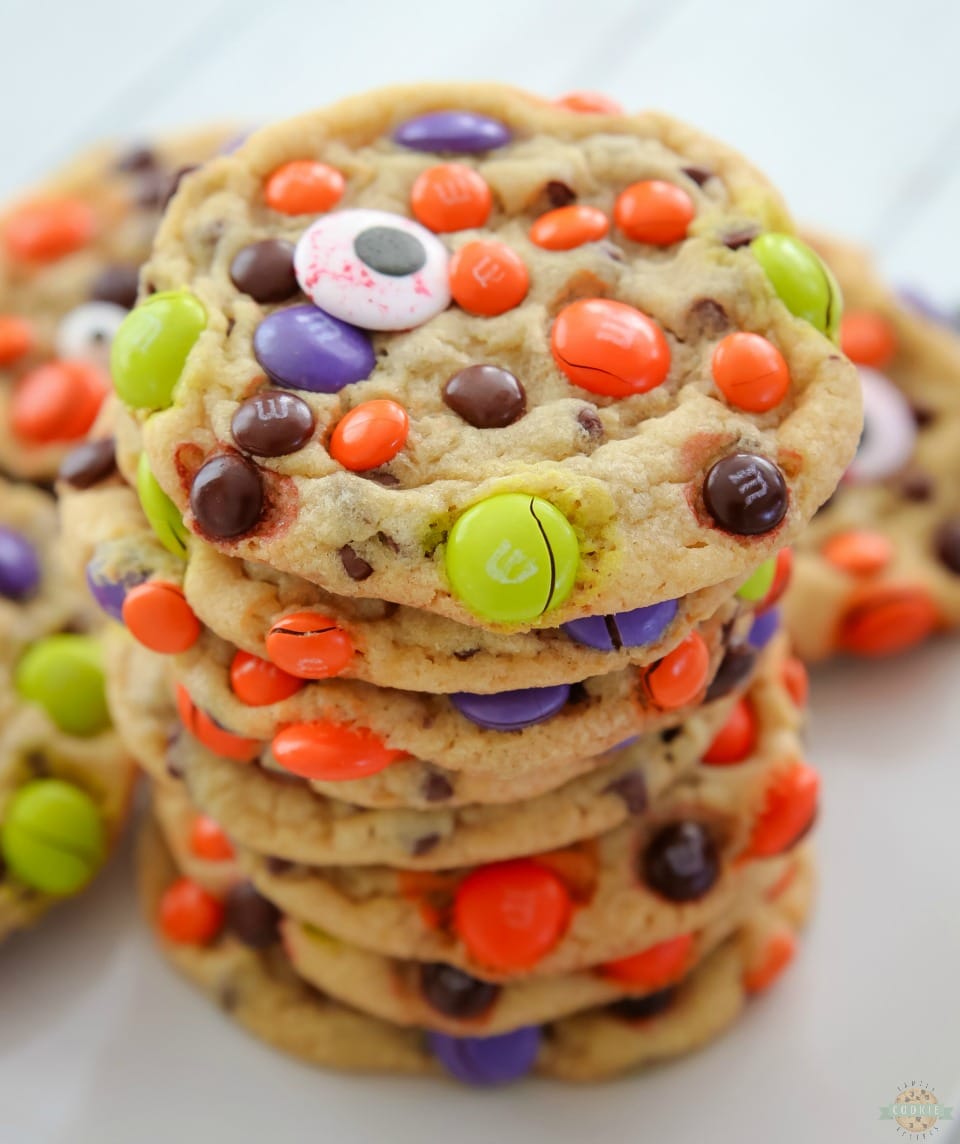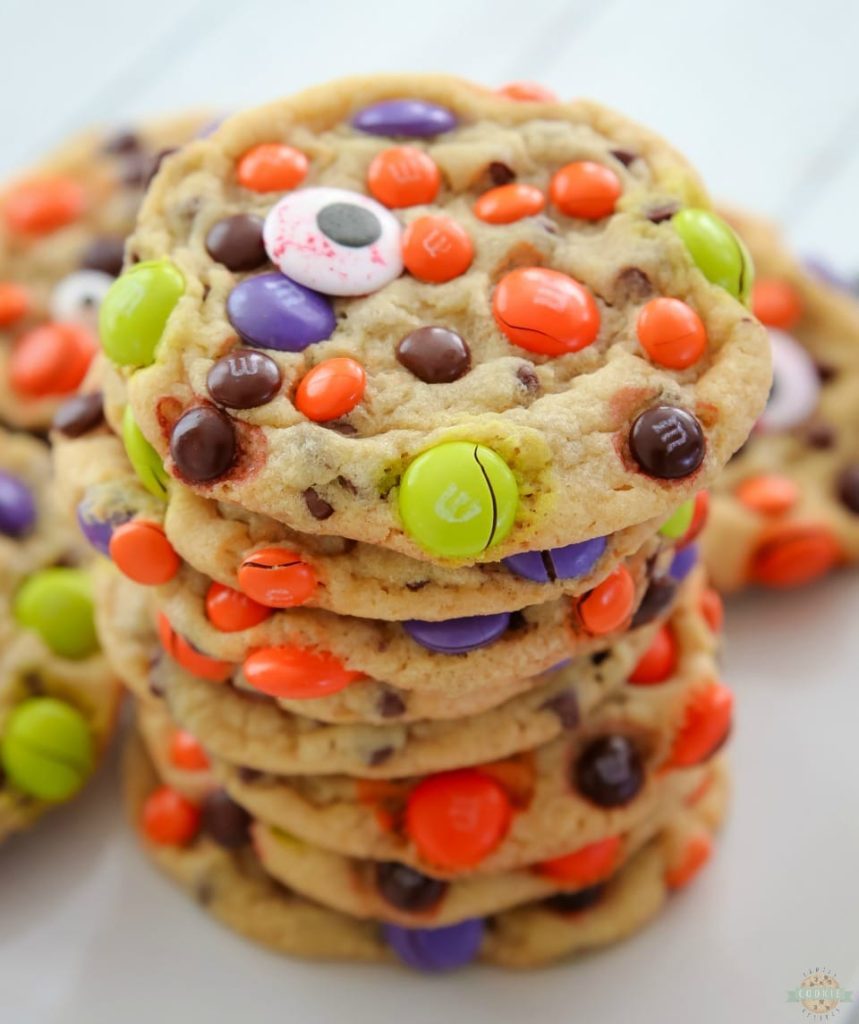 It's the perfect texture with slightly crispy edges and a soft & chewy center. Using mini chocolate chips and a combination of regular sized & mini M&M's is CRITICAL! The final result is very balanced cookie with just the right amount of chocolatey sweetness to cookie dough.
Halloween Cobweb Cookies are spectacularly spooky and completely delicious! Sugar cookies topped with chocolate & vanilla icing- no coloring! Quick & easy spider web design made in seconds. Perfect Halloween treats!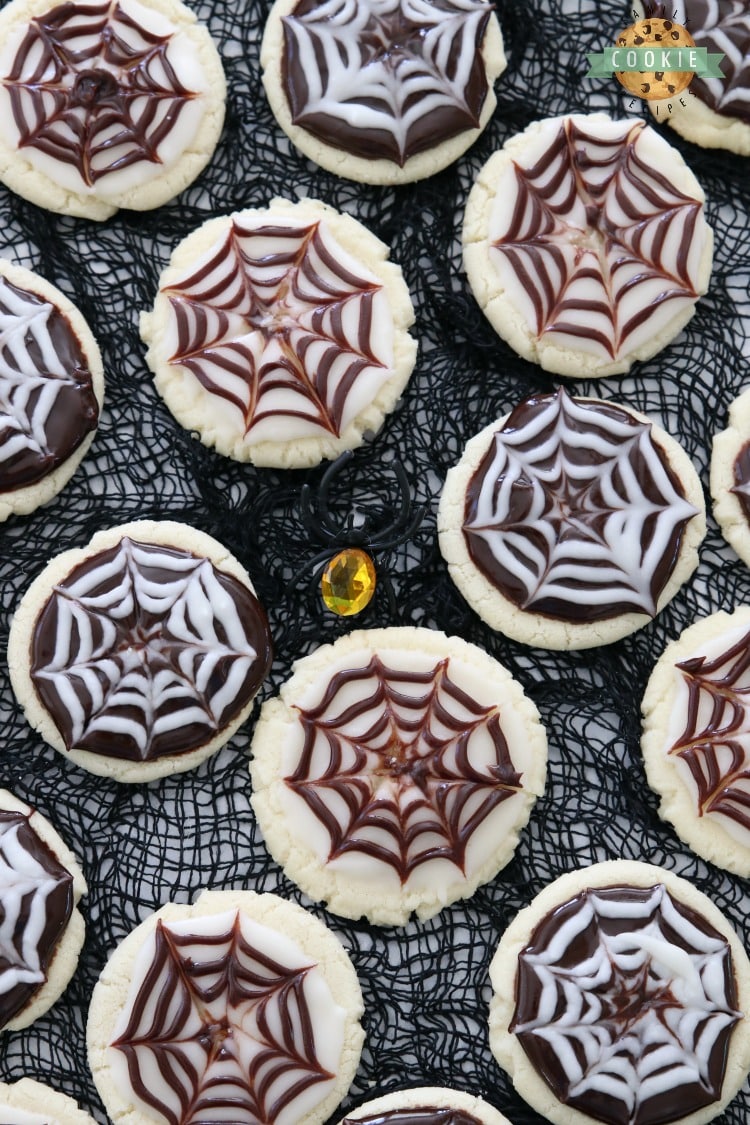 My kids adore these festive, tasty Cobweb Cookies for Halloween. I had to call them cobweb cookies because I don't care for spiders, so the idea of putting them on cookies is a no-go. Ha! I love that they're made with all chocolate and vanilla icing- no food coloring. I'm not a big fan of the taste of food coloring, so the idea of not having to use it is wonderful.
Halloween Brownie Cookies are everything you love about brownies, in cookie form! These fudgy frosted brownie cookies are made from scratch and completely irresistible. Made to be soft and fudgy in the centers and chewy around the edges these cookies combine all of the best textures of freshly baked brownies.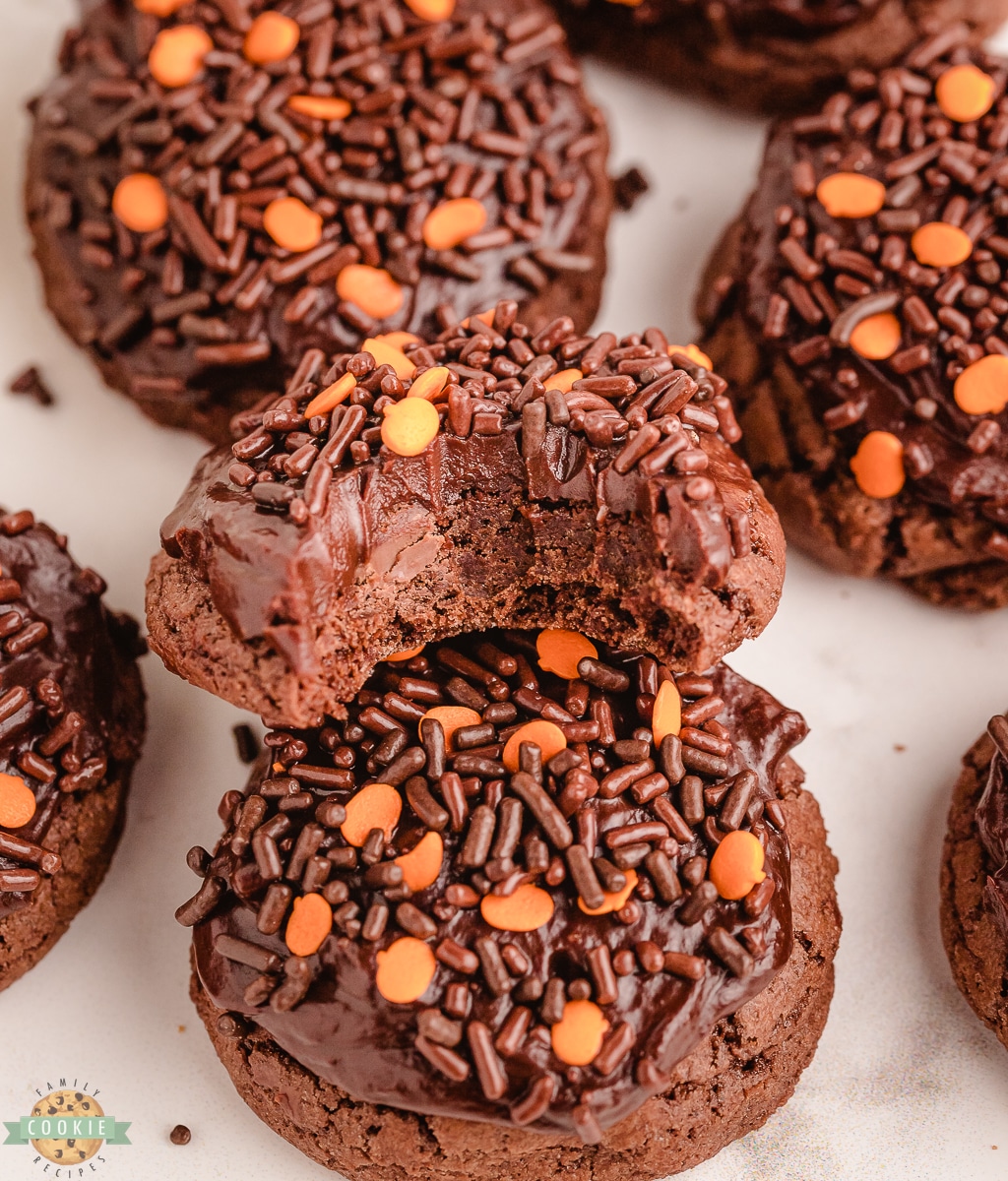 If you are a chocolate fan, these cookies are for you. Made with a chocolate brownie cookie, packed with chocolate chips, and then topped with a homemade chocolate ganache, you are sure to fulfill your chocolate cravings. Just don't forget a glass of cold milk to serve on the side.
Halloween Peanut Butter Cookie Pizza is made with a delicious peanut butter cookie crust that is topped with marshmallows and Reese's Pieces and then drizzled with chocolate, caramel and orange icing! The perfect Halloween dessert!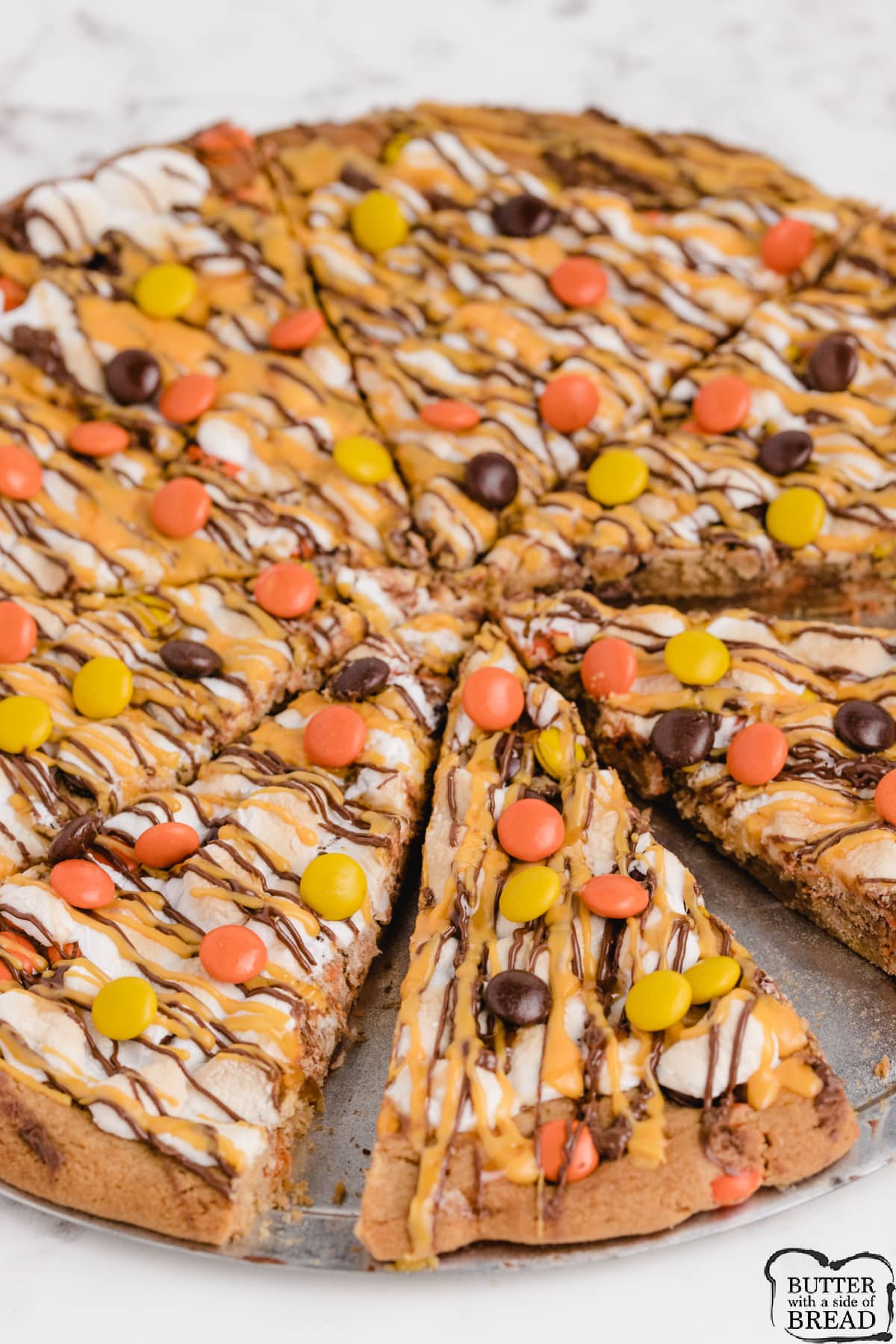 Halloween Peanut Butter Cookie Pizza is a favorite treat around our house, and not just at Halloween, although the colors work perfectly for this holiday in particular. This recipe is super easy to adapt to personal tastes, holidays, etc. so feel free to swap out the Reese's Pieces for holiday M&Ms or even just plain chocolate chips and of course you could use any color/kind of drizzle you'd like!
Funfetti Halloween Cookies are tasty & spooky treats made colorful with festive sprinkles baked into each cookie. We added pudding mix for texture and color for FUN!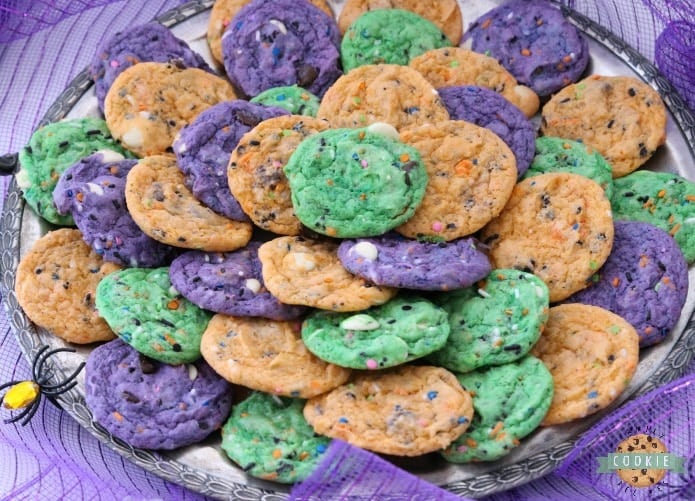 Funfetti Halloween Cookies not only taste delicious, but they're perfectly festive too! Great for Halloween parties and get togethers. The pudding mix addition gives these cookies a soft texture and great flavor. You're welcome to divide the dough into 3 and color each section, or you can just opt for 1 color and make things a bit simpler. Either way it's fun! The sprinkles add a nice pop of color too.
Halloween Skeleton Cookies are festive & fun chocolate sugar cookies decorated in a perfectly creepy way! Simple cut-out skeleton cookies that are fun to make & enjoy!
These skeleton Halloween cookies are as much fun to decorate as they are to eat, grab the kids and have them join in on the cookie decorating fun. This Halloween sugar cookie recipe is a dessert and art project all in one, watch everyone squeal in excitement as they reach for a sweet chocolatey treat of their own.
Halloween Cat Cookies are super cute & easy to make for Halloween! Festive Scaredy Cat Halloween cookies made with a packaged cookie mix, frosting & candy!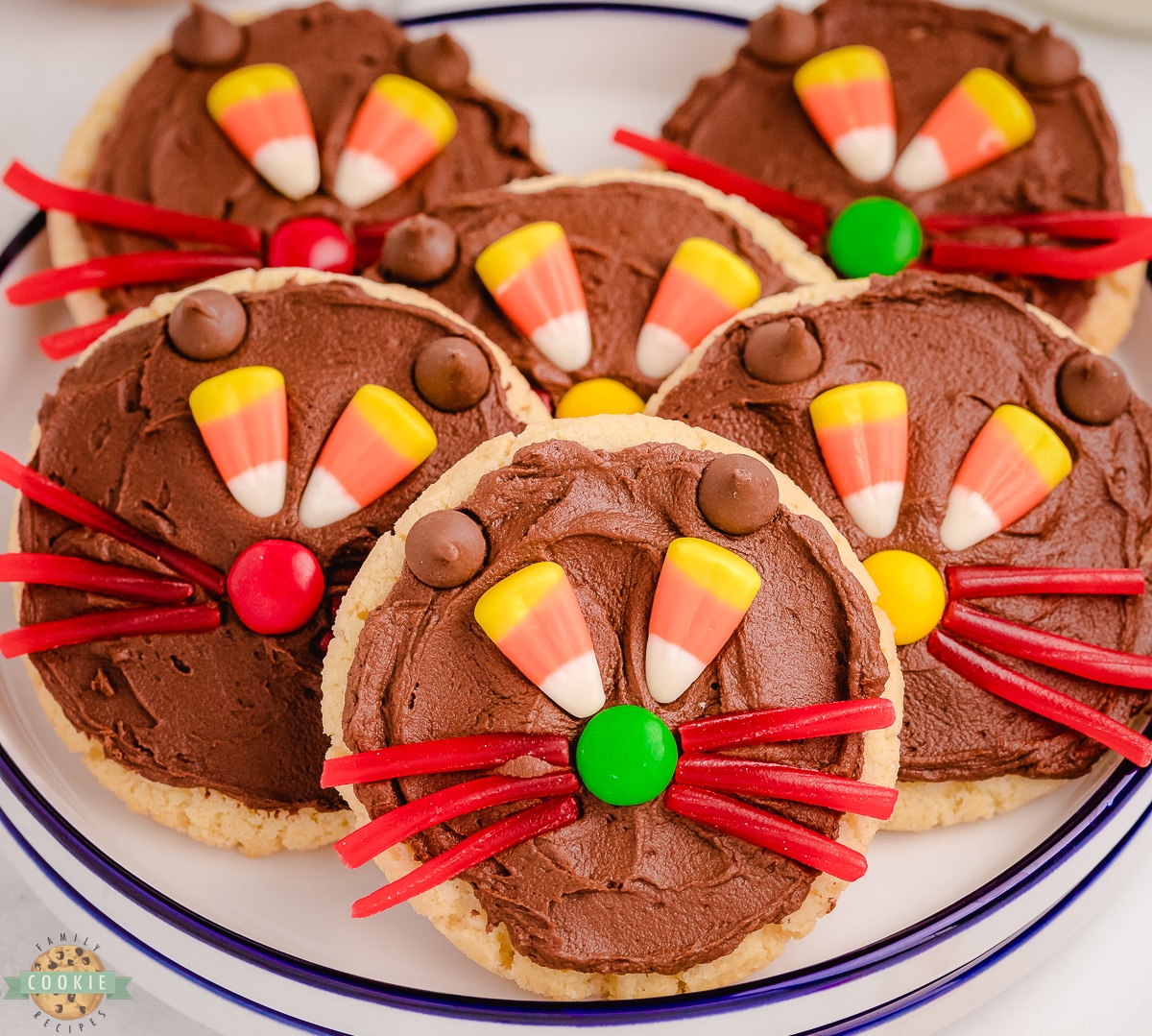 While these are not scary cat cookies, they certainly are cute! Black cats are a tradition around the Halloween season, so we had to incorporate them into something tasty around here. With this easy cookie recipe, we get to enjoy the festive features and our favorite candies on a chocolate frosted cookie. Although this recipe is amazing, you are welcome to go the fast route with store-bought chocolate icing. They are fun and just the right amount of Halloween for me, my kids loved helping too! 
Halloween Sprinkle Cookies are buttery brown sugar cookies dyed Halloween colors, then rolled in festive sprinkles! Fun & tasty festive holiday cookies that everyone loves!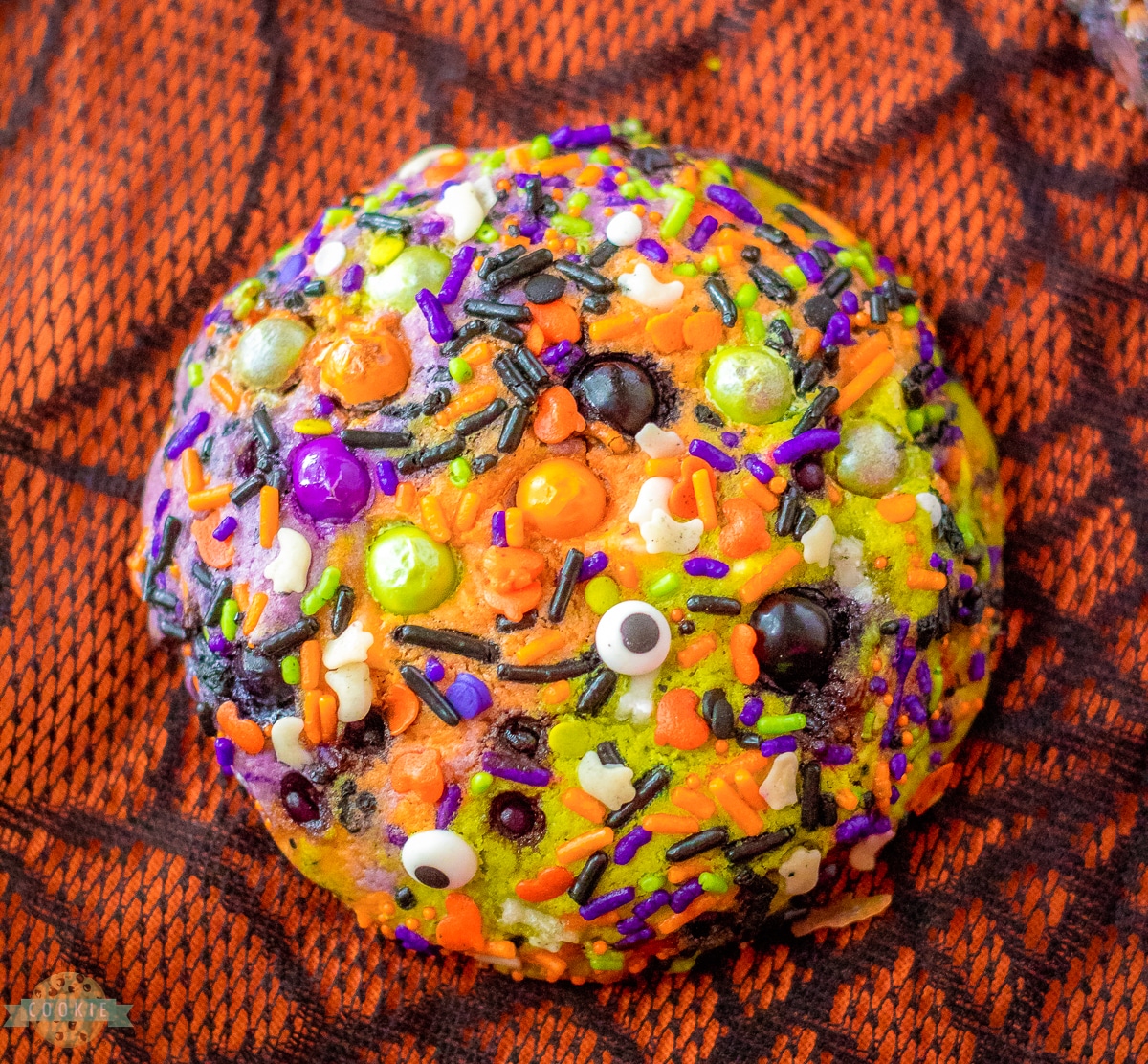 Made with homemade cookie dough these Halloween cookies with sprinkles are boo-tiful and fun. It doesn't take too much effort to make these tasty cookies and soon you can trick or treat yourself with a large cookie. Every batch makes 6 wonderfully sized cookies so store them for yourself or share them with the family.
Best Ever Reese's Peanut Butter Cookies made with a full cup of peanut butter! Loaded with chocolate chips, peanut butter chips & Reese's Pieces, to get the ULTIMATE chocolate peanut butter cookies!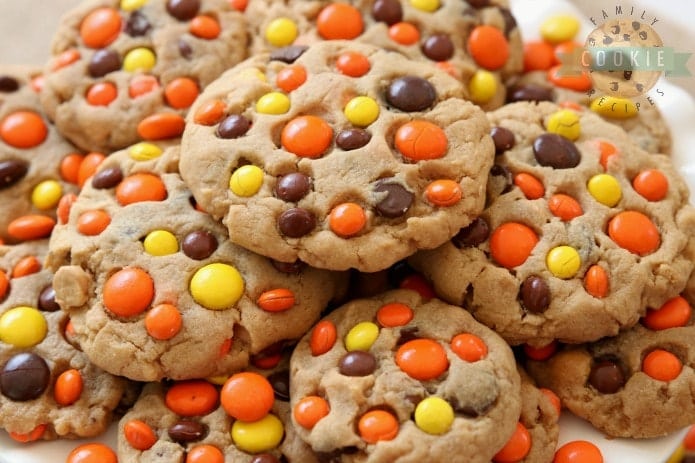 Make this peanut butter chocolate chip cookie recipe the next time you want to serve an incredible treat that will impress anyone who tries them. These peanut butter cookies with reese's pieces are simply heavenly and a treat you won't soon forget. Plus, they are festive and decorated perfectly for Halloween!
3 Ingredient Easy Ghost Halloween Cookies are a cute and festive treat! Made in minutes & devoured in seconds, these easy Halloween cookies are a hit!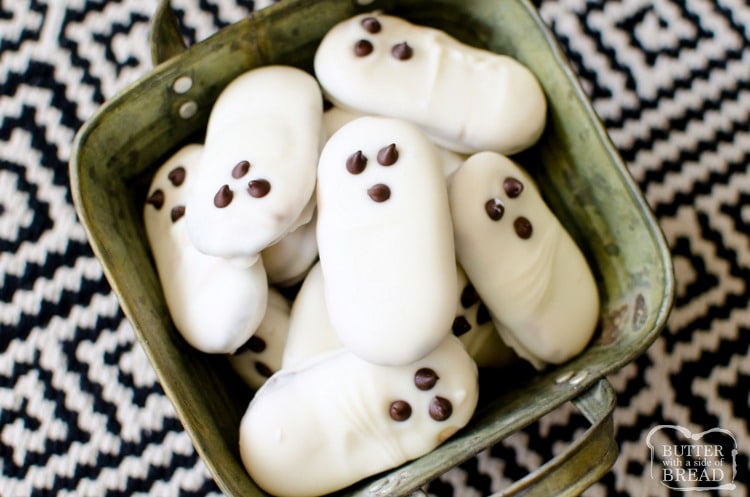 What is a better way to get into the Halloween spirit than making spooky treats in the kitchen with your kids? Not much! My kids absolutely love being in the kitchen and love being independent even more. 😉 Great news, these are little cookies they can make completely on their own!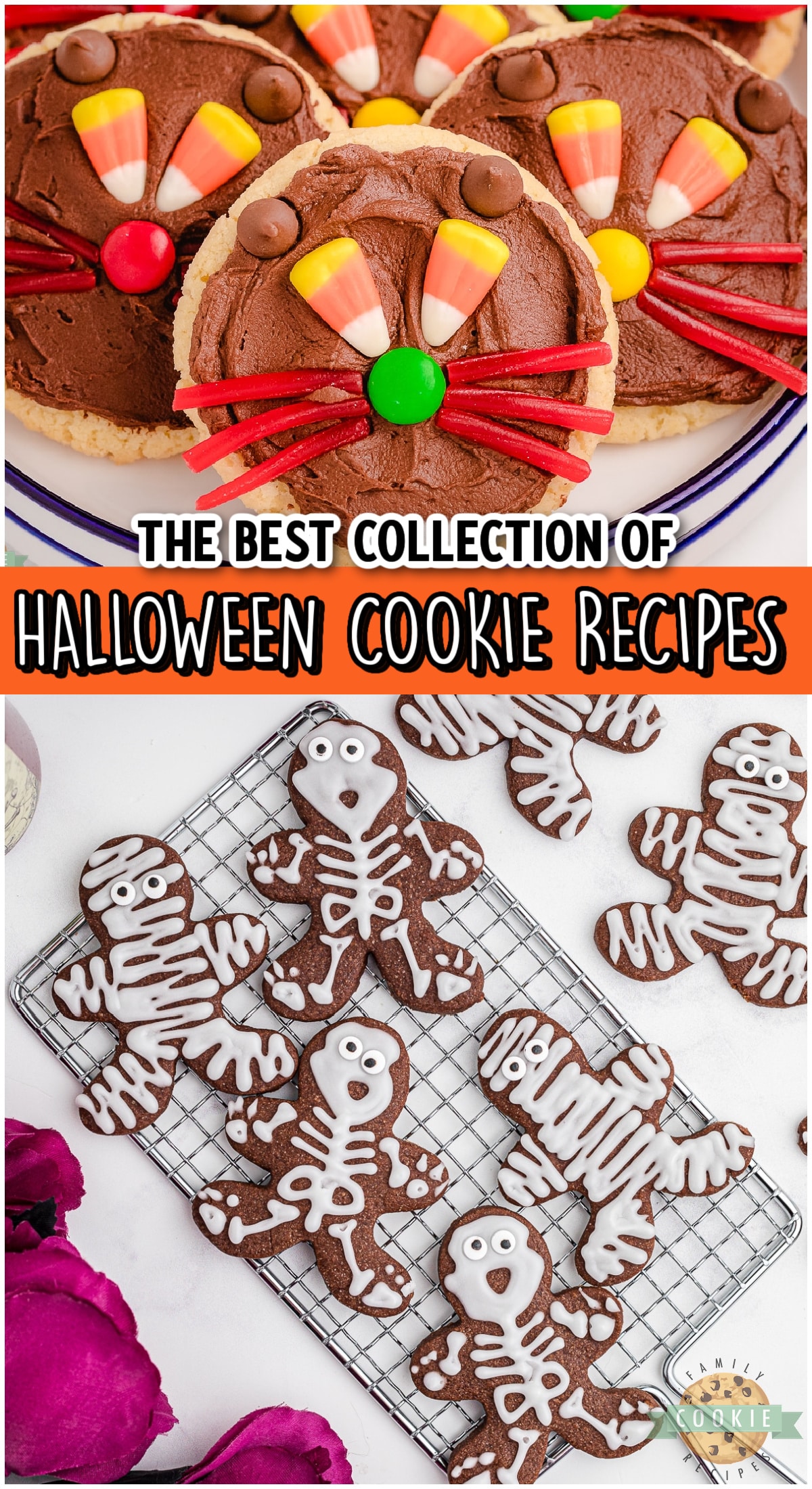 Amazing collection of Halloween cookie recipes! All of them are delicious, simple to make and perfect for Halloween parties.