Halloween Brownie Cookies are everything you love about brownies, in cookie form! Soft & chewy with a decadent chocolate icing, these festive cookies are perfect for chocolate lovers!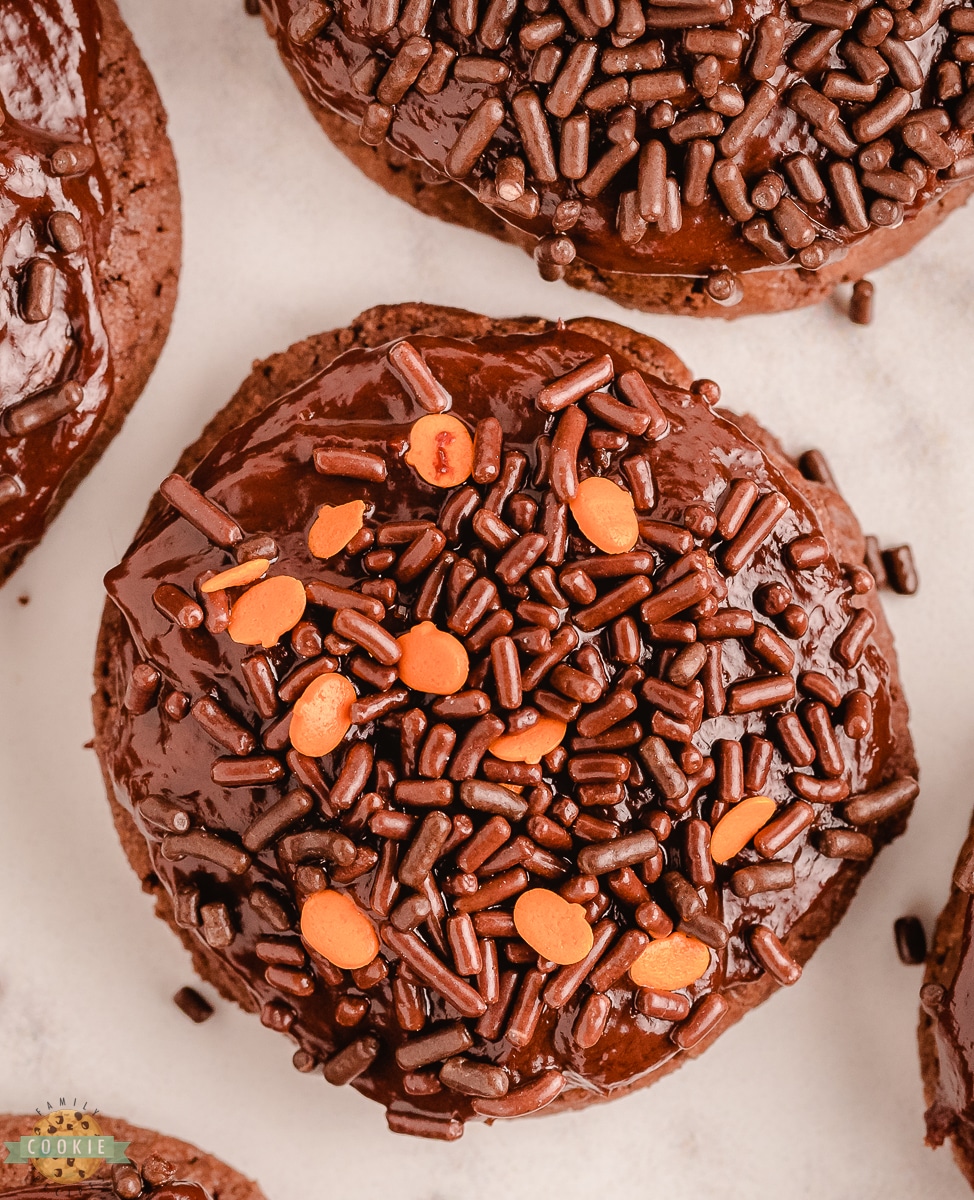 These fudgy frosted brownie cookies are made from scratch and completely irresistible. Made to be soft and fudgy in the centers and chewy around the edges these cookies combine all of the best textures of freshly baked brownies.
The BEST Brownie Cookie Recipe
If you are a chocolate fan, these cookies are for you. Made with a chocolate brownie cookie, packed with chocolate chips, and then topped with a homemade chocolate ganache, you are sure to fulfill your chocolate cravings. Just don't forget a glass of cold milk to serve on the side.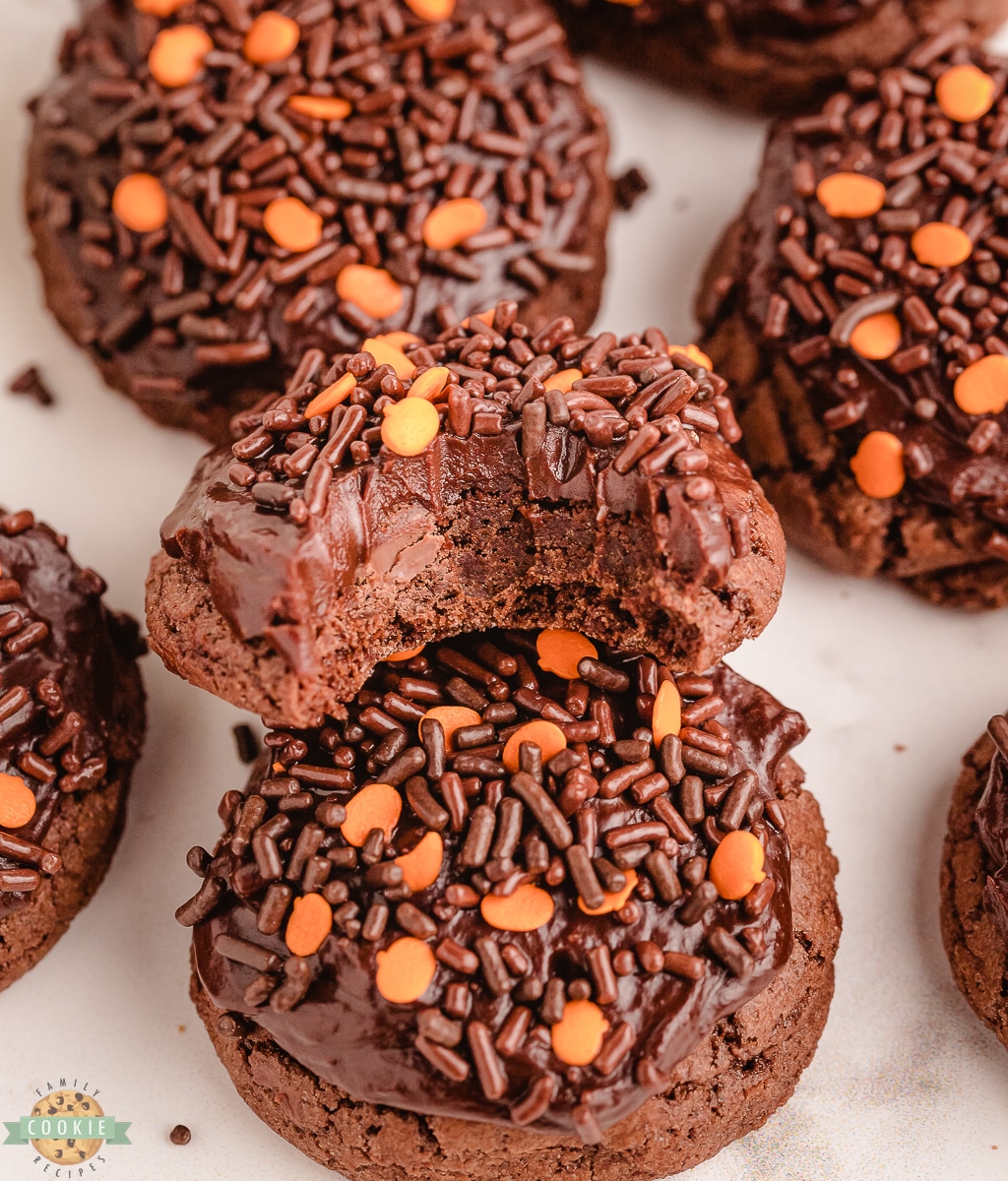 Why You'll Love This Recipe
I'm sure you don't need more reasons to love this recipe, but just in case you need a little more convincing to whip up a batch soon, here are three great reasons why we think you're going to love this tasty cookie recipe.
Simple ingredients. The ingredients needed in this recipe are very simple and basic making it ideal for any occasion without needing to make a large trip to a store.
No dough chilling! We don't need to chill the dough for these cookies meaning that you can start measuring your ingredients now, and in just a few minutes you can be enjoying a warm fudgy cookie or two.
The frosting is optional. While we highly recommend adding a little chocolate ganache frosting on top, these iced brownie cookies can be left as-is and still taste incredible. This means you can skip the topping and dig in while the cookies are warm if you don't feel like waiting longer.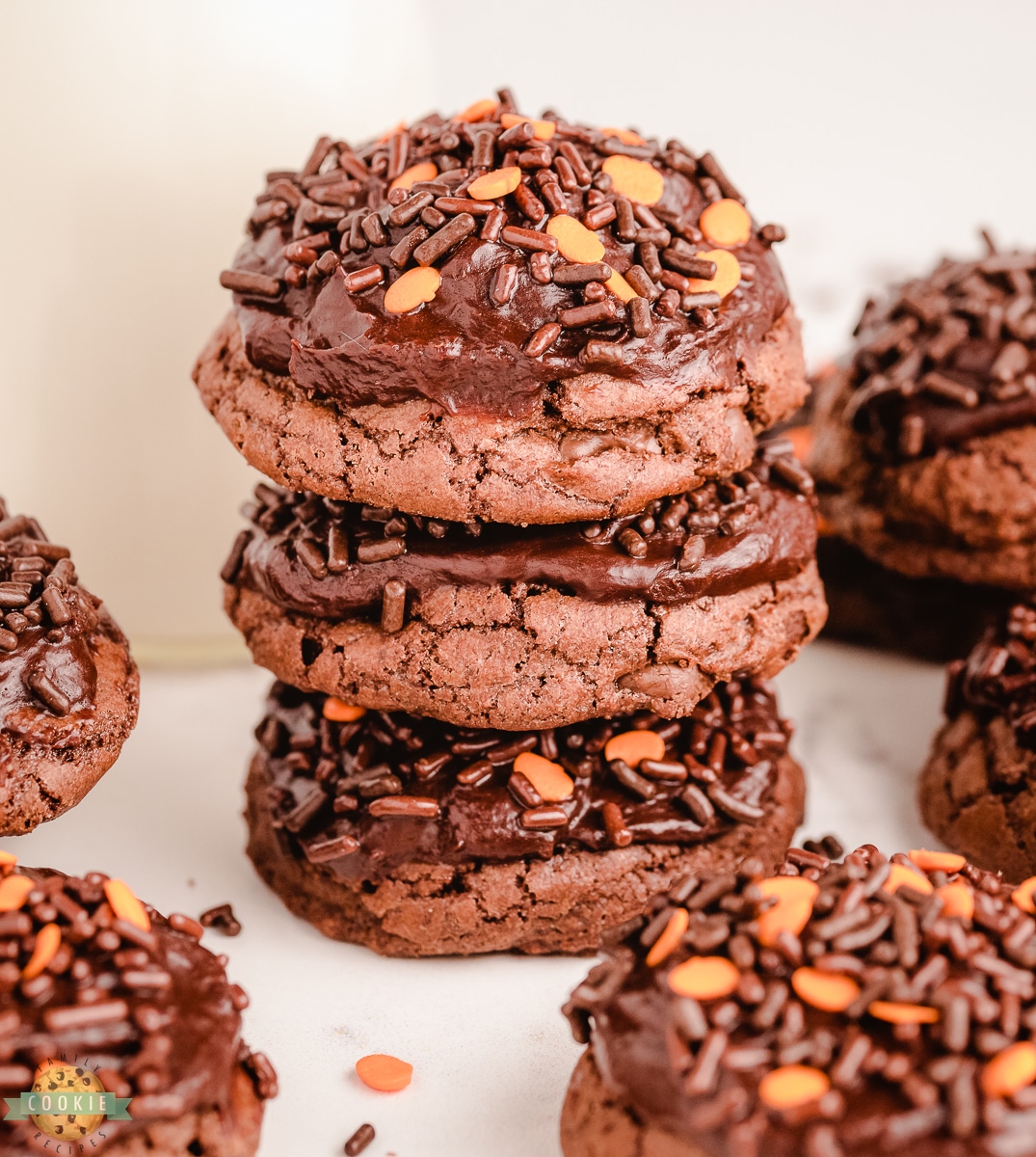 Chocolate Brownie Cookies Ingredients
For the Cookies, you will need:
Cocoa: For a rich chocolate taste you will need 3/4 cups of cocoa powder.
Butter: Use 1/2 cup (one stick) of butter to make these cookies richer in taste.
Shortening: Adding in 1/4 cup of shortening will give our cookies a nicer texture without changing the flavor.
Sugar: Use 2 cups of granulated sugar to make these cookies chewy and sweet.
Eggs: You will need 3 large eggs to bind the cookie dough together well.
Vanilla: Adding in 1 teaspoon of vanilla extract will help to flavor the dough well.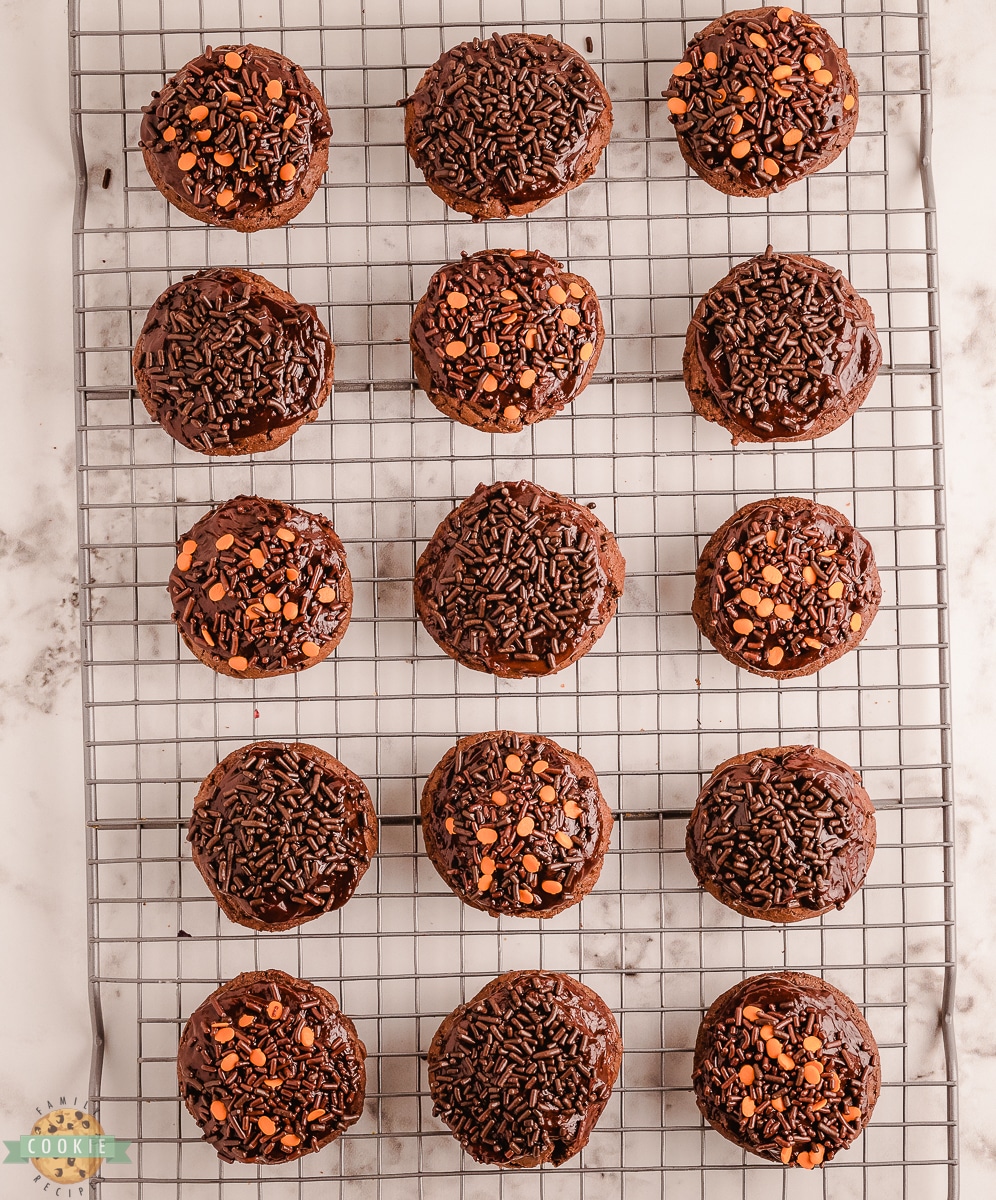 Flour: 1 1/2 cups of all-purpose flour to be the base of the cookies.
Salt: Adding in 3/4 teaspoon of salt will bring out the flavors and really enhance them well.
Chocolate chips: You will need 1 cup of chocolate chips for added chocolate taste in every bite.
For the Frosting, you will need:
Chocolate chips: For the best flavor we will use 1/2 cup of semi-sweet chocolate chips for the frosting.
Heavy cream: Use 1/3 cup of heavy cream to make the frosting rich and creamy.
Butter: You will only need 1/2 a tablespoon of butter for the frosting but it helps to add a shine and depth of flavor.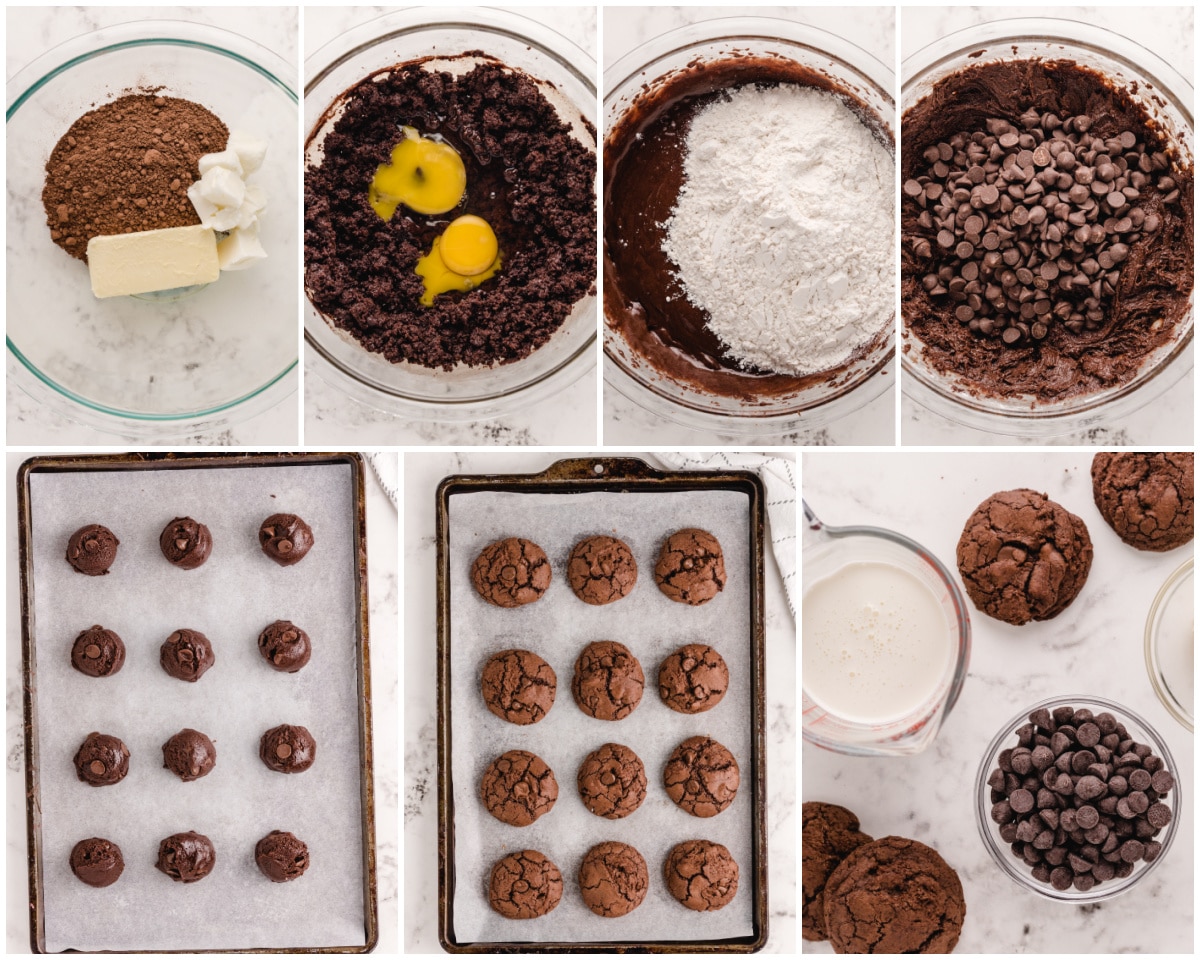 How to Make Frosted Brownie Cookies
To make the cookies
Preheat your oven to 325 degrees F.
In a bowl, microwave the cocoa powder, butter, and shortening for 1 minute and 30 seconds to 2 minutes. Stir until the cocoa has dissolved.
Stir in the sugar and mix until well blended.
Add in the eggs and vanilla until incorporated.
Add in the flour and salt. Mix well.
Stir in the chocolate chips.
Drop the cookie dough by the tablespoonfuls onto a lightly greased or silicone mat-covered baking sheet.
Bake in the oven for 18-20 minutes. The tops of the cookies should be slightly cracked.
Allow the cookies to cool on the baking sheet for 10 minutes before transferring them to a wire rack.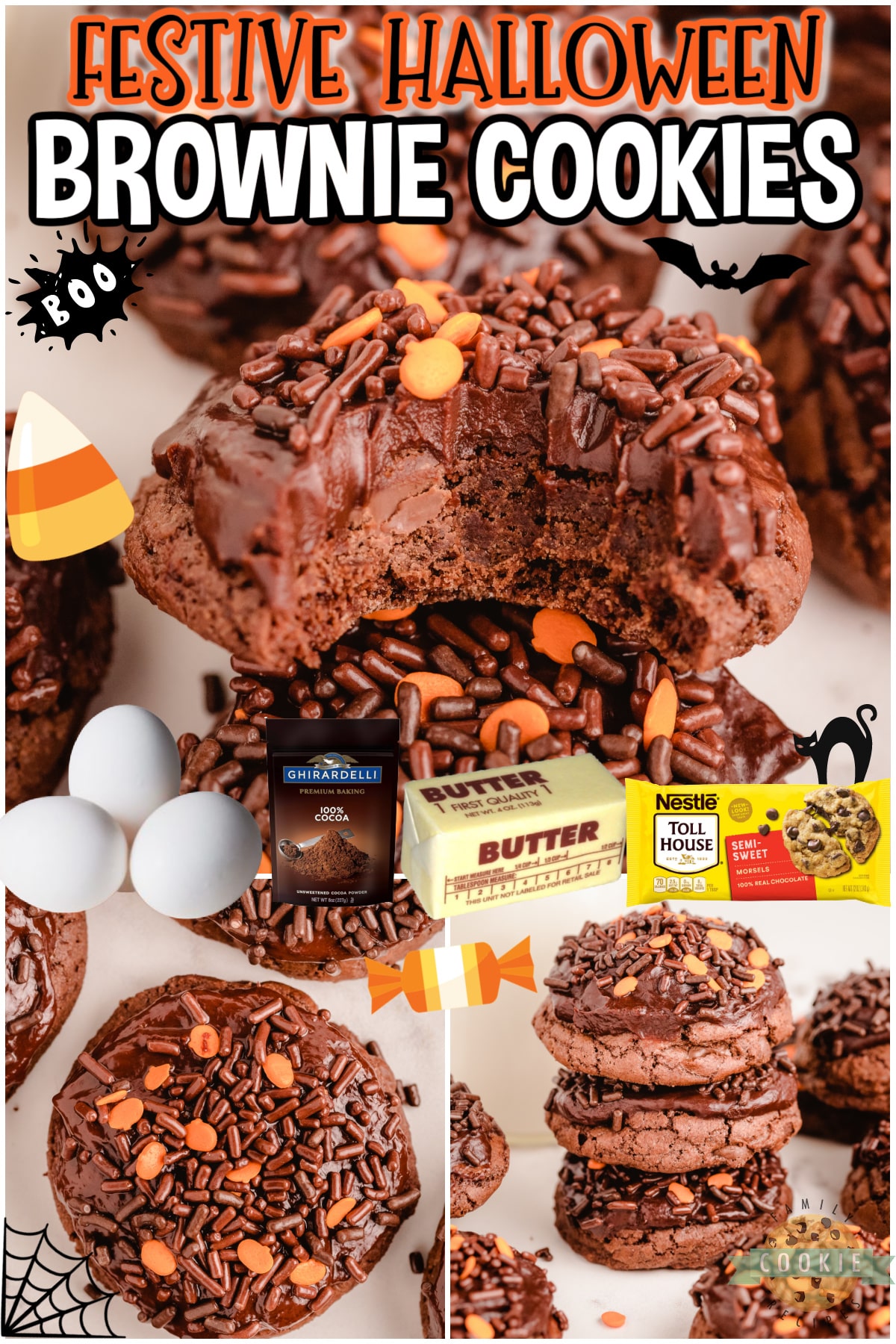 To make chocolate frosting
In a saucepan on the stove, heat your cream and butter just until the butter melts and the mixture begins to boil.
Pour the liquid over the top of the chocolate chips in a bowl. Allow the mixture to sit undisturbed.
After 5 minutes, stir the cream and chocolate until the chocolate ganache is thick and well combined.
Drizzle over the top of your cookies or dip them in the frosting depending on how you want to do it.
Let set and serve. Enjoy!
Fun Add-On Ideas
These cookies are ideal for any time of the year, but if desired you can make them a tad more festive for the season. After your cookies have been frosted, and while they are still wet you can add on colorful sprinkles if desired. Some fun ideas include using orange-colored sprinkles in Fall or red and green sprinkles around Christmas time. Pink and red would also be ideal for Valentine's day.
How long are fudgy brownie cookies good for?
These cookies can be left in an airtight container for up to a week but they'll taste best if eaten within three days. for best results, I recommend storing them only after the cookies have cooled completely and the frosting has set.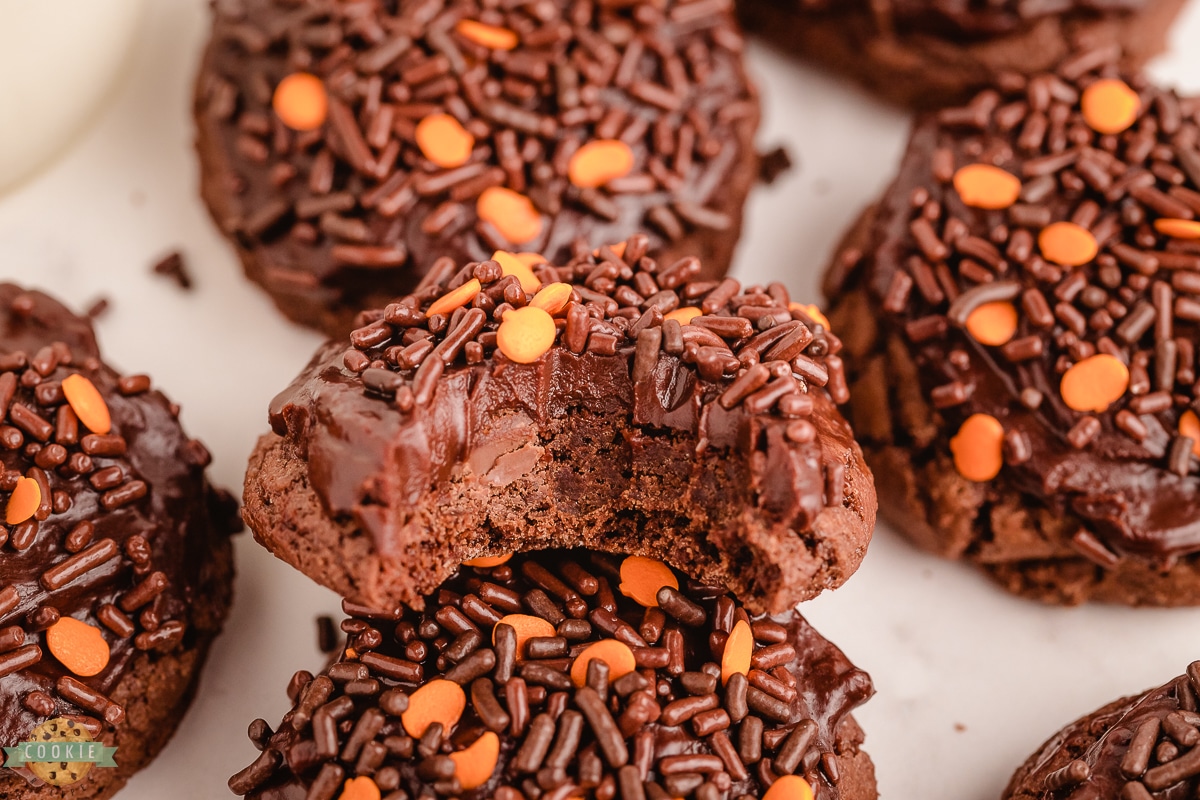 Can I freeze brownie cookies?
Yes, these cookies can be frozen for up to three months in an airtight container. I recommend not adding the chocolate ganache frosting until after the cookies have thawed because when ganache thaws it is known to sweat, which means your cookies could become soggy or unappetizing looking.


We call this a Penny taco! She absolutely adores being wrapped up in blankets. And hello, a taco blanket is always a good idea!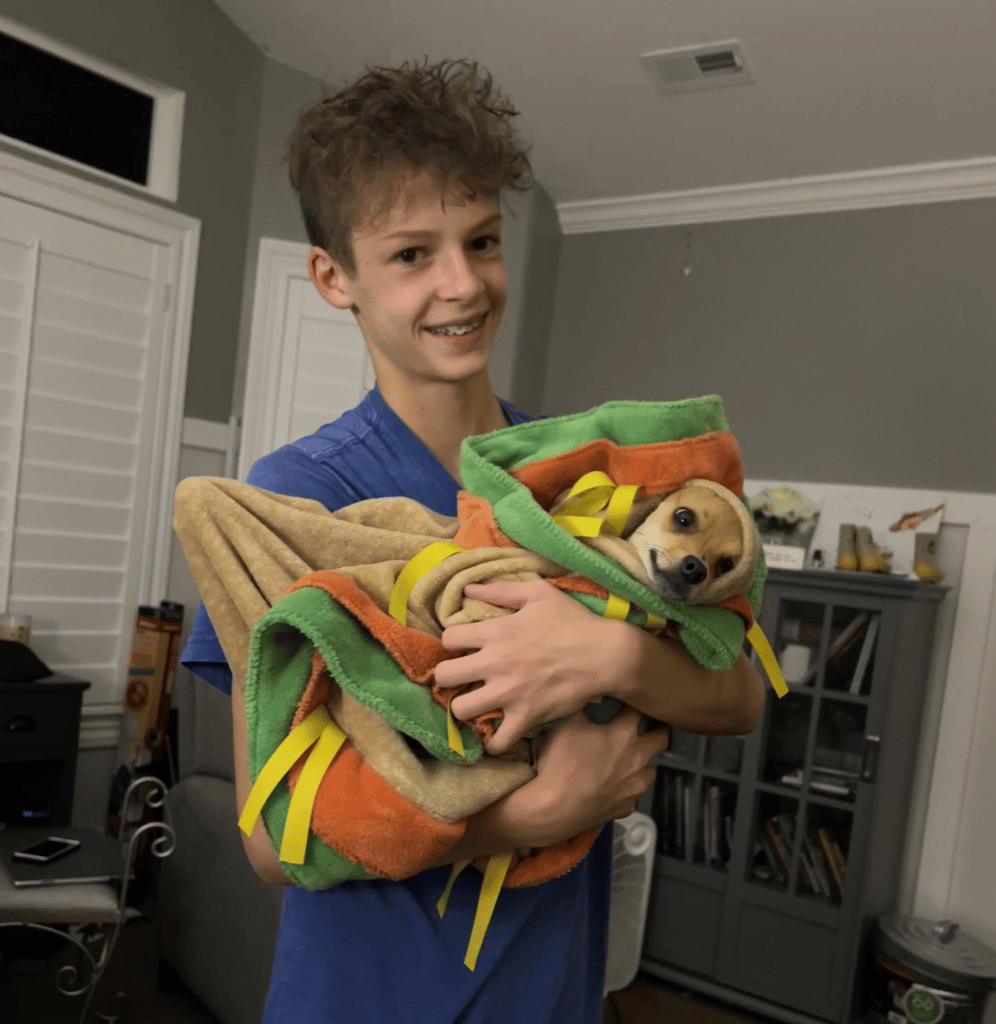 This frosted brownie cookie recipe is chewy, chocolatey, and perfectly sweetened in every bite. Perfect for any chocolate lover out there.