Strawberry Cookie recipes are light, refreshing and perfect for spring and summer. Over the years, we've created some amazing strawberry cookie recipes. Each strawberry cookie is a little bit different, but all of them are packed with strawberry flavor and are absolutely delicious.
Strawberry Cool Whip Cookies made with a strawberry cake mix, Cool Whip and an egg. A lighter cookie recipe that is easy to make and with less calories than traditional cake mix cookies!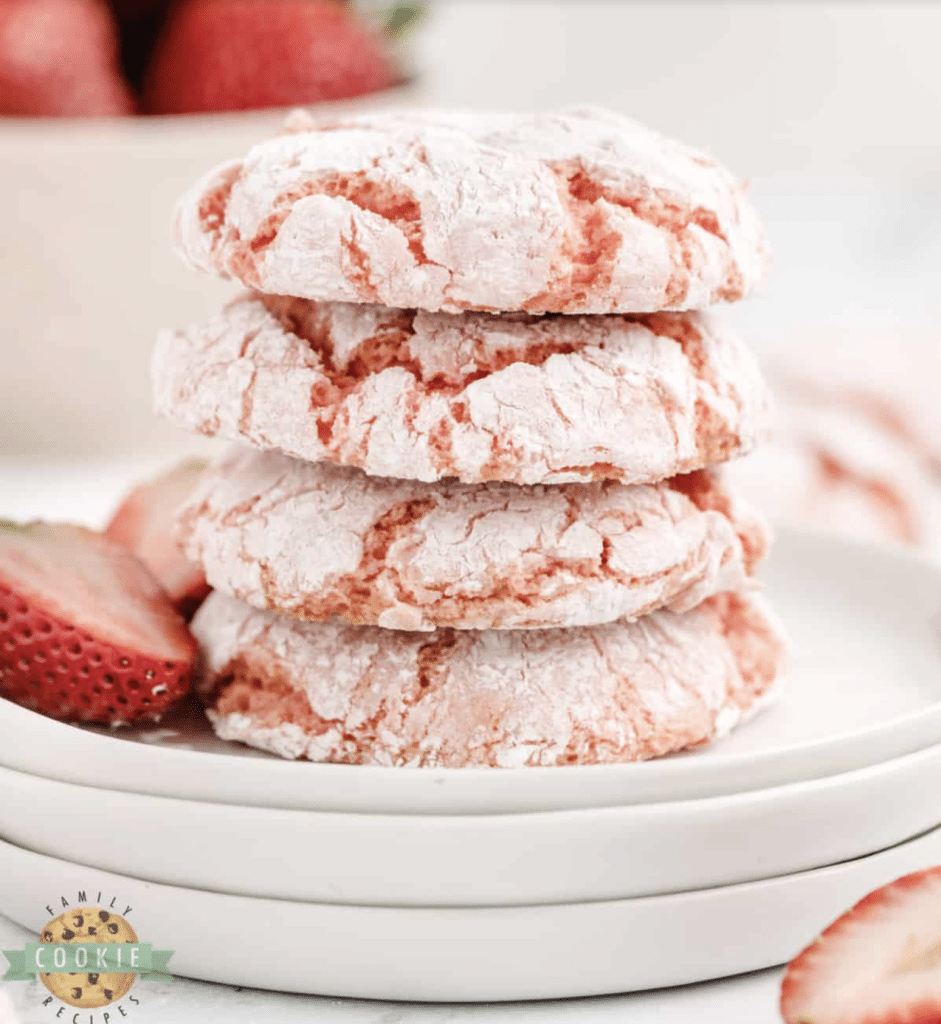 Strawberry Cool Whip Cookies are one of my favorite, fast and easy cookie recipes. Only a few ingredients and a few minutes needed to make soft, delicious cookies!
STRAWBERRY CAKE MIX SANDWICH COOKIES
Strawberry Cake Mix Sandwich Cookies are made with freeze dried strawberries and a simple cream cheese filling. Easy cookie sandwiches that are packed with strawberry flavor!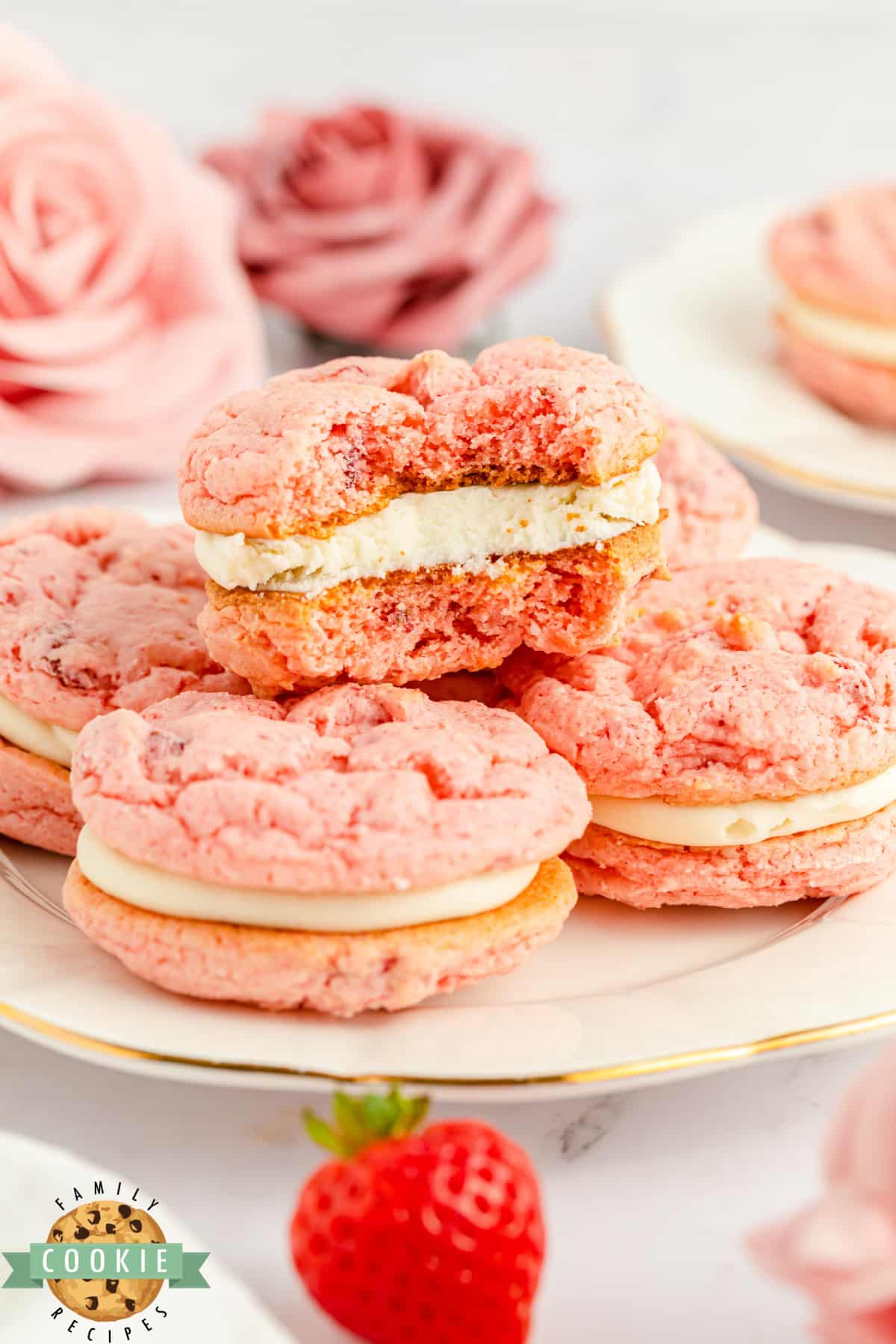 These sandwich cookies begin by making cookies with a strawberry cake mix that is mixed with baking powder, eggs, butter, strawberry extract and chopped freeze dried strawberries. The cookies are so soft, chewy and have TONS of strawberry flavor. A simple cream cheese frosting is made and placed in between two cooled cookies to make a deliciously sweet cookie sandwich. Cream cheese and strawberries taste so good together!
Strawberry Cream Cheese Sugar Cookie are soft & chewy with lovely, bright strawberry flavor! Perfectly sweet, tender sugar cookies perfect for springtime!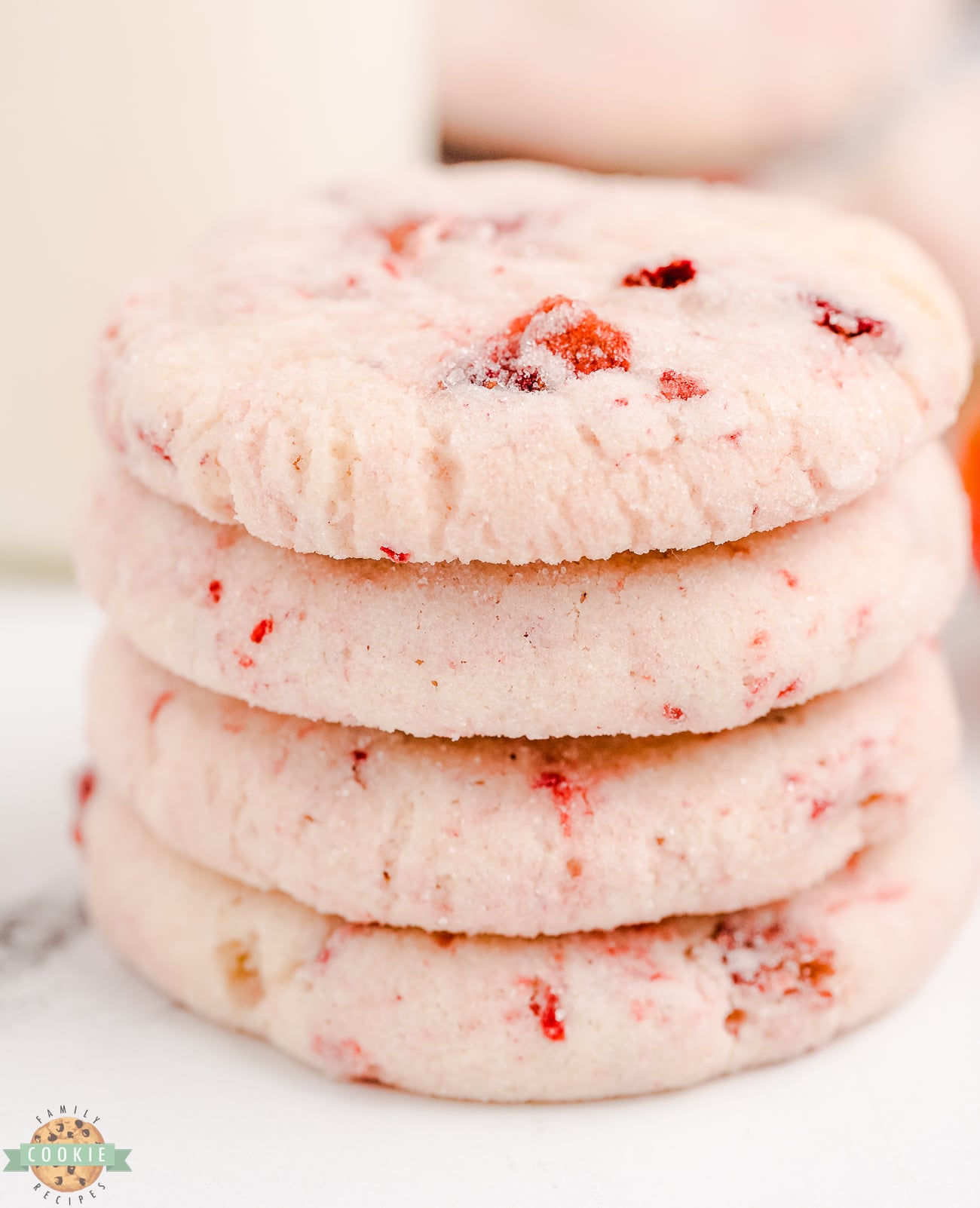 These strawberry cheesecake cookies are perfect for any occasion, take them to your next family gathering and watch how quickly they disappear. Making this cream cheese sugar cookie recipe is so simple, most of the ingredients are likely already in your kitchen and the results are absolutely amazing!
Strawberry Cookies made completely from scratch with fresh strawberries and white chocolate chips! Delicious strawberry cookie recipe made with simple ingredients.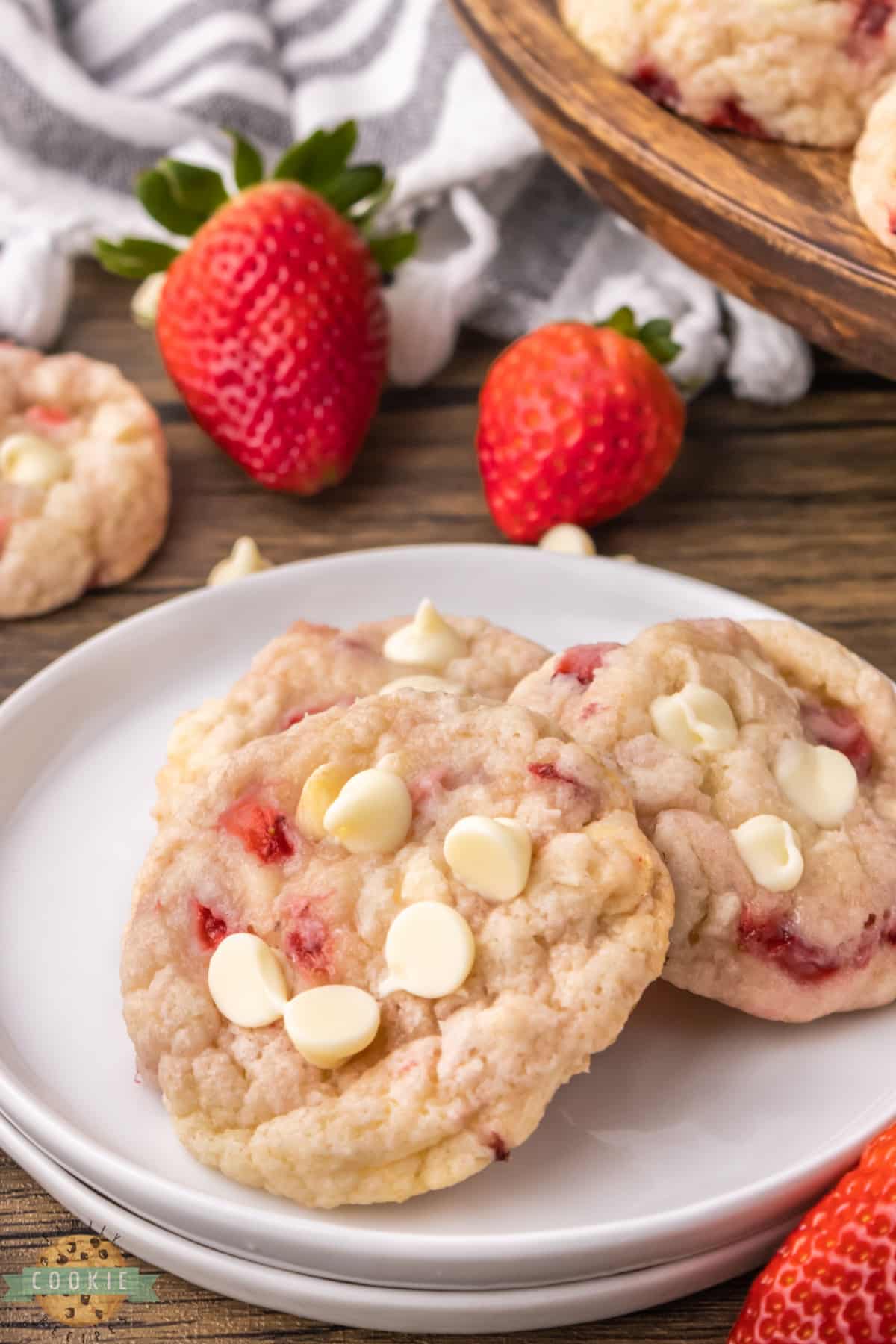 Strawberry cookies are made with butter, sugar, flour and a few other simple ingredients. One thing that is unique about this recipe is that no eggs are needed! Once the dough is made, diced strawberries and white chocolate chips are folded in. Once the cookies are scooped and baked, they are ready to eat! The strawberries and white chocolate chips give this cookie a bit of a "Strawberries and Cream" flavor that is absolutely amazing!
Chocolate Strawberry Thumbprint Cookies made with a buttery cookie & topped with chocolate fudge & strawberry jam! It's a chocolate covered strawberry in cookie form!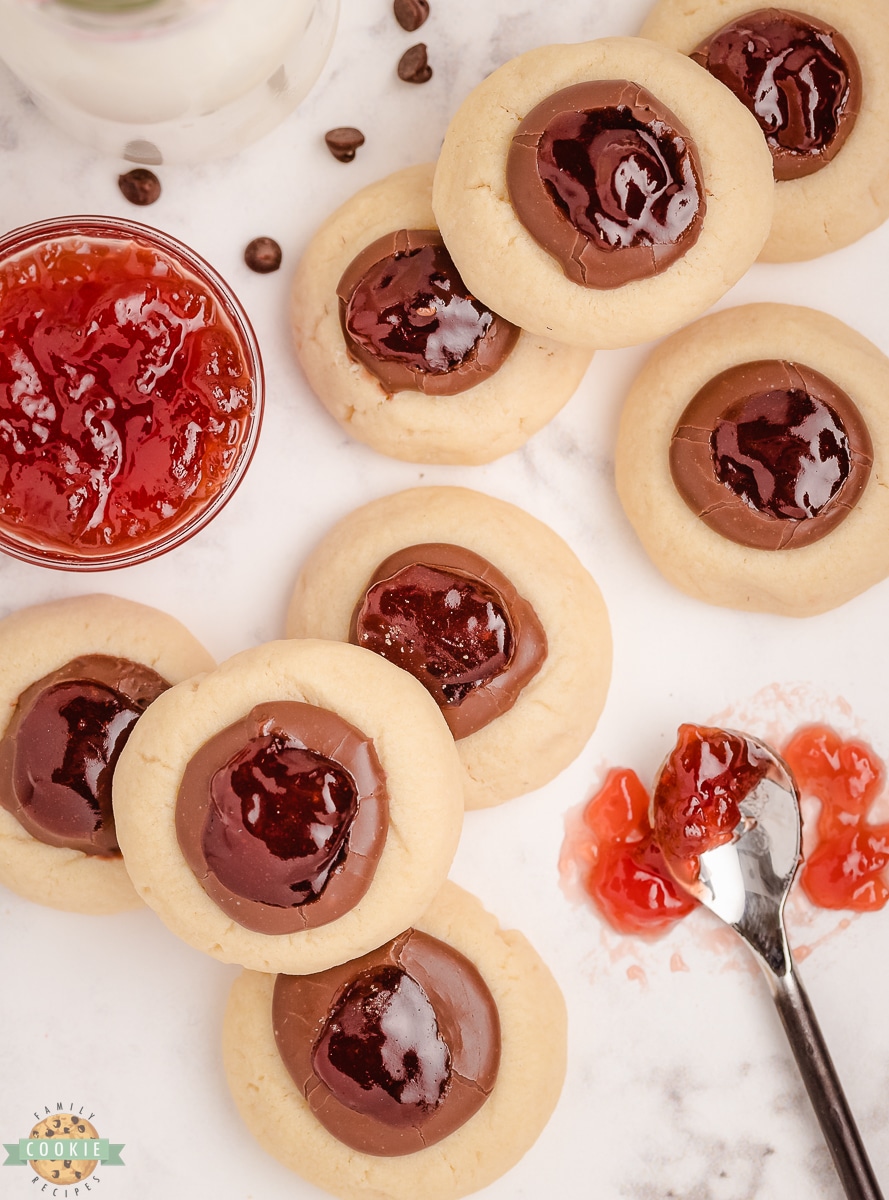 These cookies are a perfect pairing of fruit and chocolate, the combination works so great together. Made with a rich chocolate taste and sweet strawberry jam in every bite, these cookies are a great treat for any occasion. Serve them up for the holidays, Valentine's Day, and any day in between. They are sure to become a fast favorite in your household as they have in mine.
Strawberry Lemonade Cake Mix Cookies made with a lemon cake mix and freeze dried strawberries. Only 5 ingredients to make these soft crinkle cookies that are the perfect balance of tart and sweet.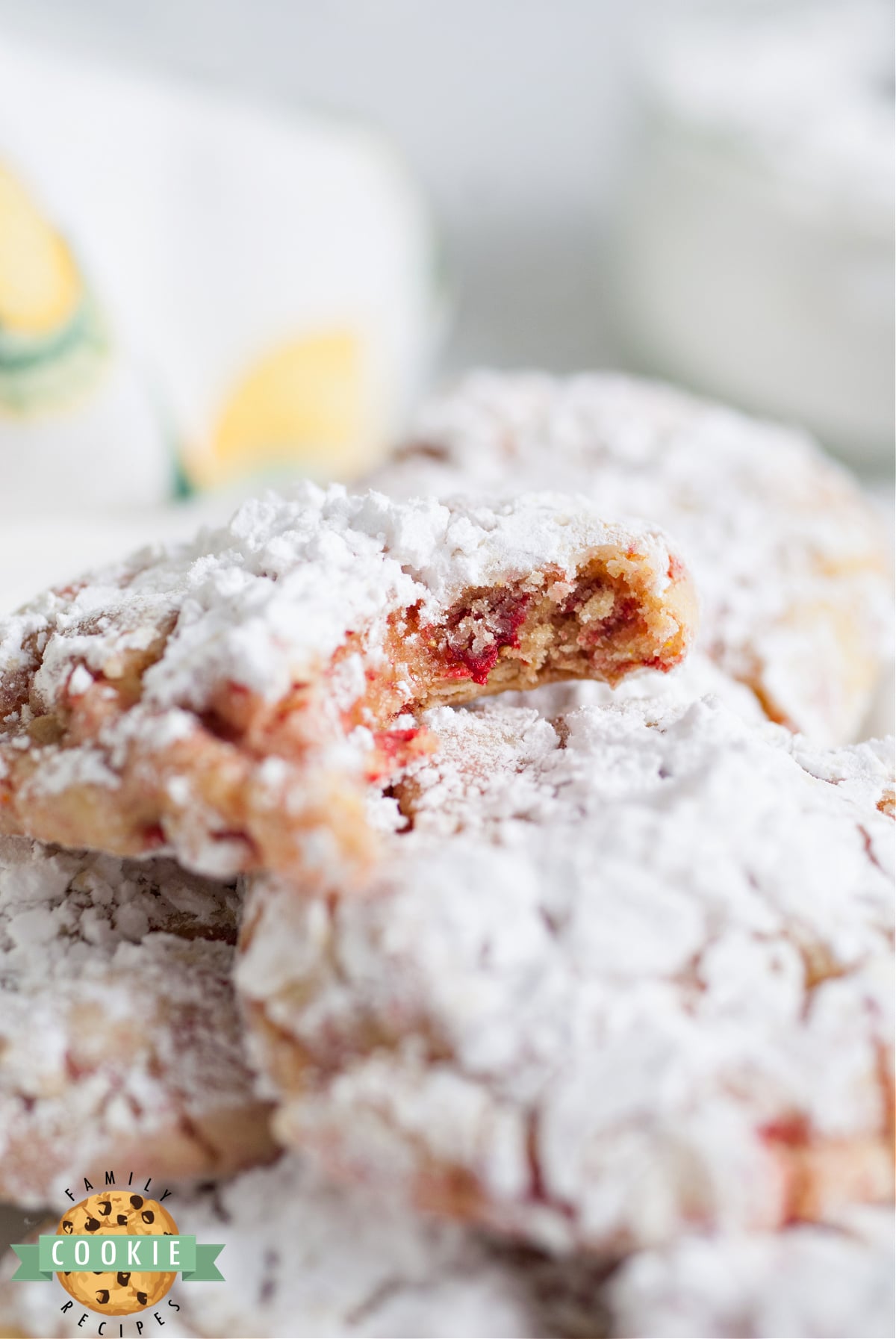 These crinkle cookies are made with a lemon cake mix and crushed, freeze-dried strawberries. Add some eggs and oil and shape the cookies into balls. Coat the balls in powdered sugar and bake. That's it! You can swap out the strawberries with raspberries or blueberries if you want – those flavors are delicious as well!
Strawberry Thumbprint Cookies are a soft, buttery melt-in-your-mouth cookie topped with sweet strawberry jam! Classic thumbprint cookies with jam are made easy with pantry ingredients & taste delicious!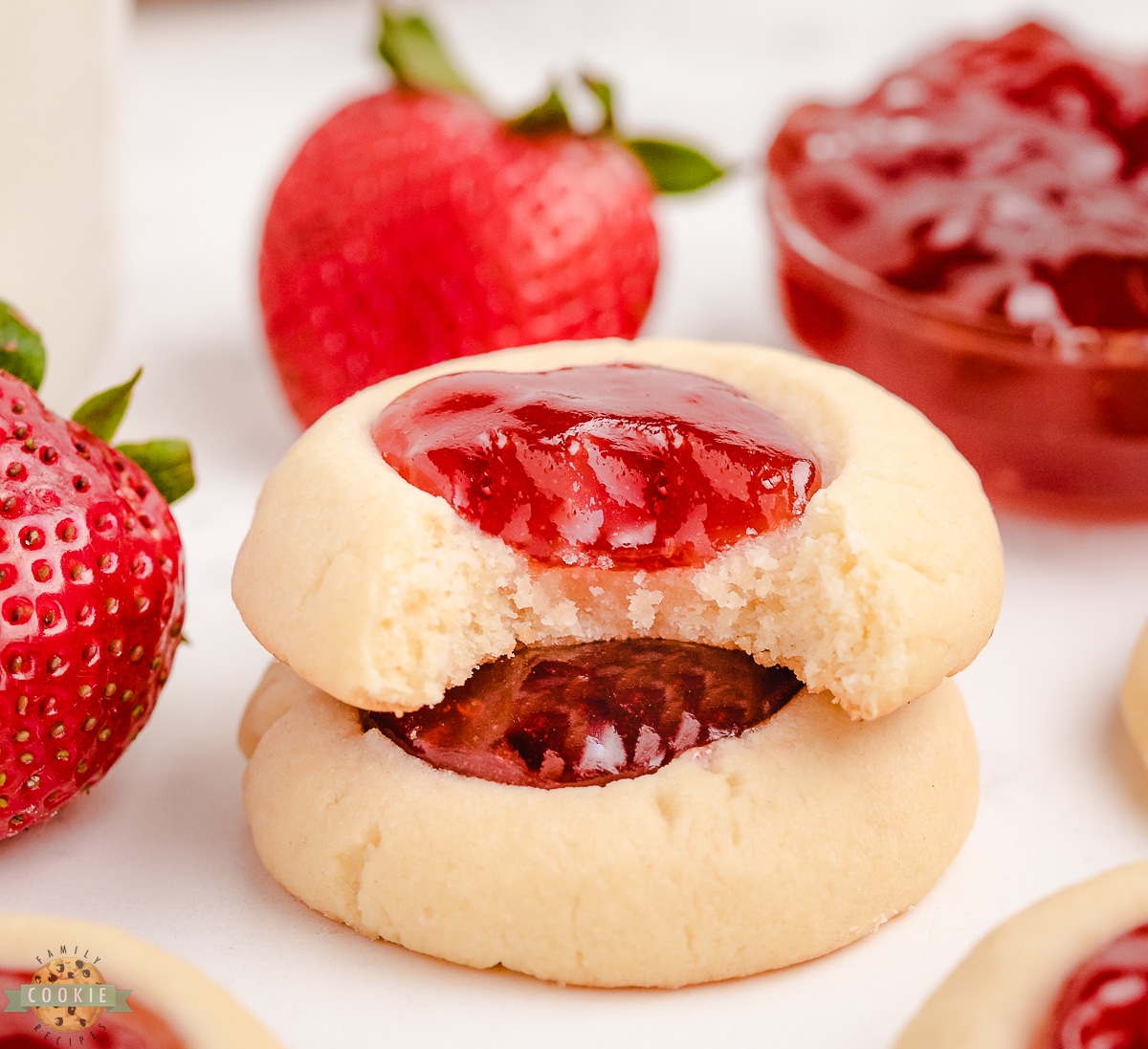 This type of cookie is super popular around the holidays, it is a staple for many cookie trays and cookie exchanges. The simple shortbread cookie base with the sweet jam center makes for a sensational dessert to share with family and friends.
Strawberry shortcake cookies are a delicious sugar cookie topped with whipped cream and fresh sliced strawberries. Every sweet bite reminds you of traditional strawberry shortcakes!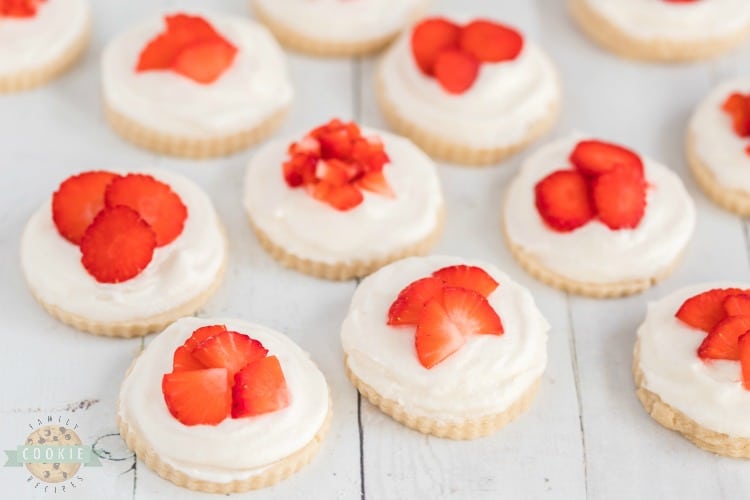 You can use any frosting you want, but this whipped cream frosting recipe (included on recipe card) is absolutely to die for. It really helps to mimic the flavors of a real strawberry shortcake because those are often topped with whipped cream. I recommend using whole fresh strawberries that you slice yourself, because freeze dried berries are chewy and frozen strawberries are messy and will result in a soggy cookie.
Strawberry Cheesecake Cookie Bars are made with a strawberry cake mix with a simple sweet cream cheese filling swirled in. Only 6 ingredients for these simple cookie bars that are soft, sweet and taste like strawberry cheesecake in cookie form!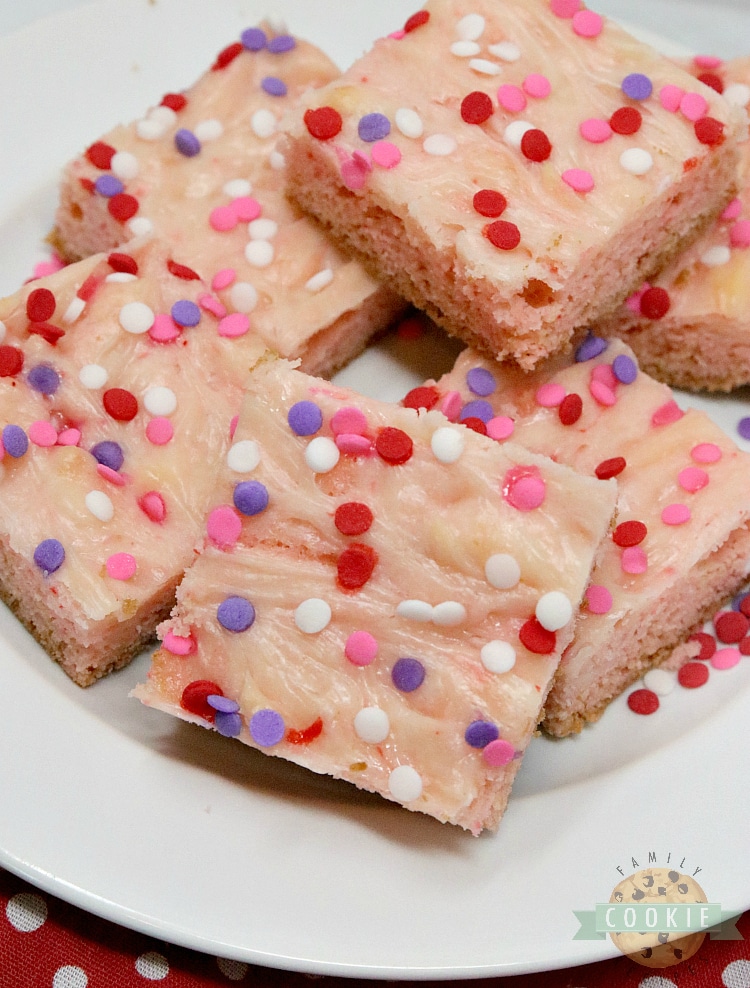 Strawberry Cheesecake Cookie Bars are so easy to make because they start with a cake mix. I love making cake mix cookies because most of them only require about 3-4 ingredients and they are delicious. Lately I've been on a cookie bar kick because cookie bars are so much easier to make than traditional cookies since you don't have to take the time to scoop out individual cookies. Plus, you get to cook the whole batch at one time instead of juggling multiple cookie sheets in and out of the oven.
Strawberry Cookie Cups are bite-sized treats made with the best buttercream strawberry frosting ever. Made with fresh strawberries, there just aren't better strawberry cookies than these!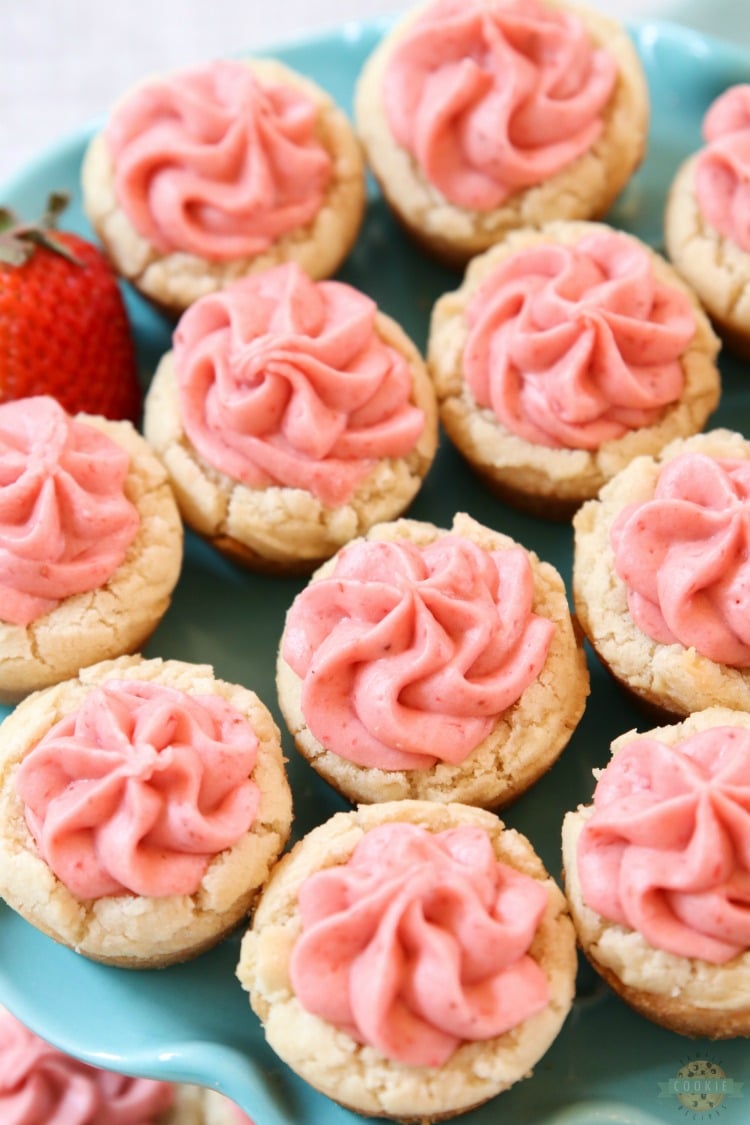 Strawberry Cookie Cups are one of my absolute favorite summer desserts. Actually, who am I kidding? This is actually one of my favorite desserts all year long! Are they cookies? Or are they scoops for this delicious strawberry frosting? Either way, they are absolutely delicious and they come together so easily too.
Strawberry Cake Mix Cookies are soft & sweet pink cookies made with just 4 simple ingredients! Perfect chewy cake mix cookies for Valentine's Day or any occasion to celebrate all things PINK!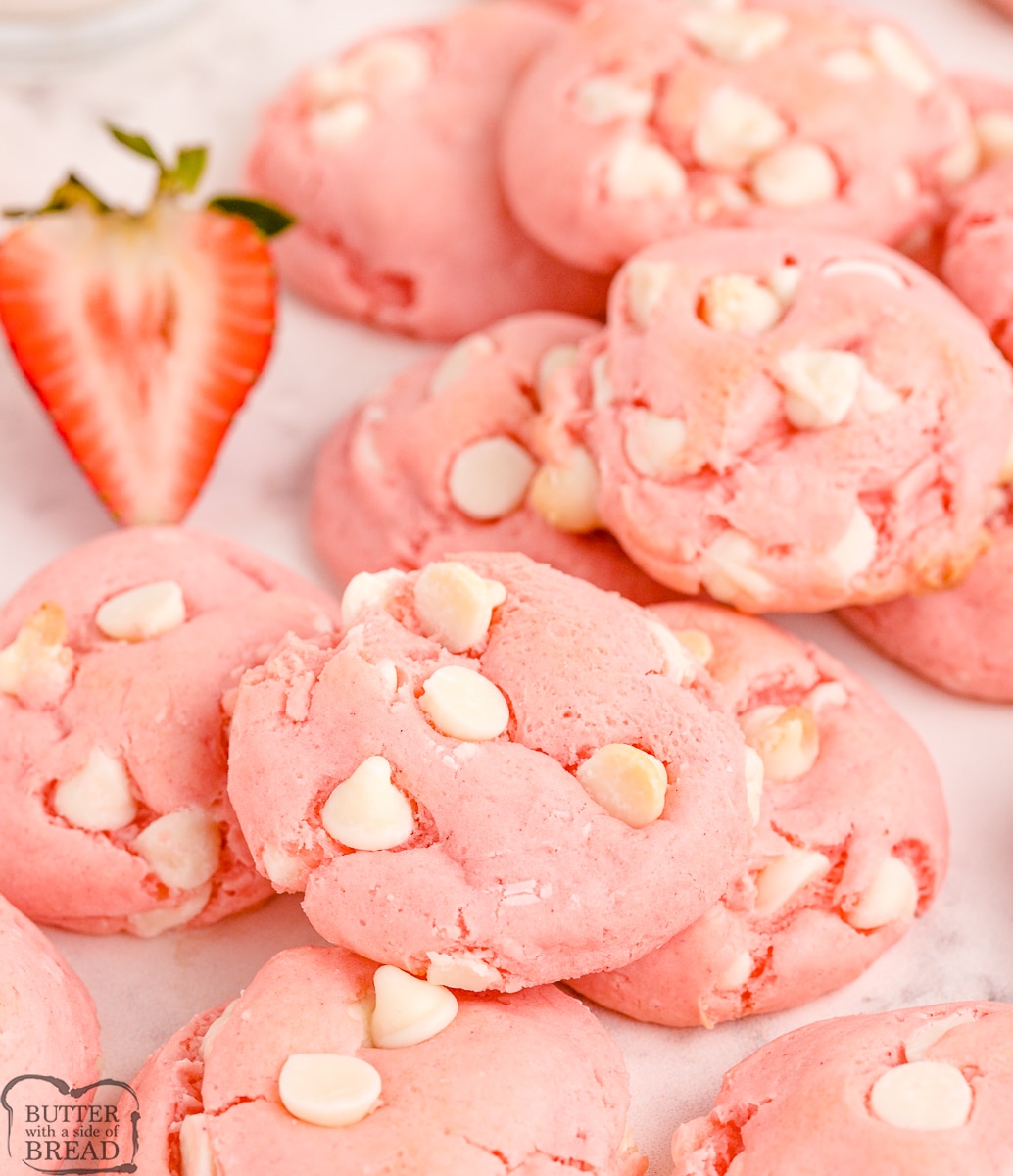 Strawberry Cake Mix Cookies are perfect for any occasion. They're so simple to make that you can make a batch whenever you want, including for holidays like Valentine's Day or even a baby shower (they are a perfect shade of pink).
Sugar Cookie Bars with Strawberry Frosting is the perfect spring-time dessert! The fruity frosting is the perfect way to level up your dessert!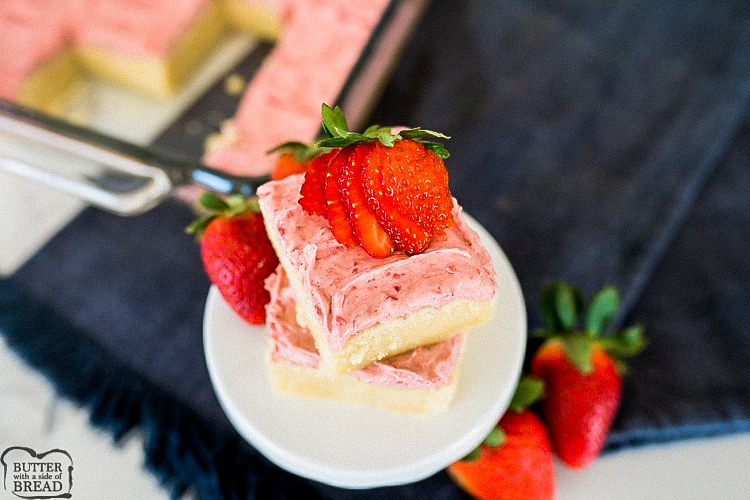 What makes this particular sugar cookie bar recipe extra special is the Strawberry Frosting. I bet you have never made a frosting like this before. I love the deep color, the flavor and texture of this frosting. Can I tell you my secret? Freeze Dried Strawberries. Spread the frosting on top of thick and chewy sugar cookie bars and you'll be amazed at how delicious these cookie bars are.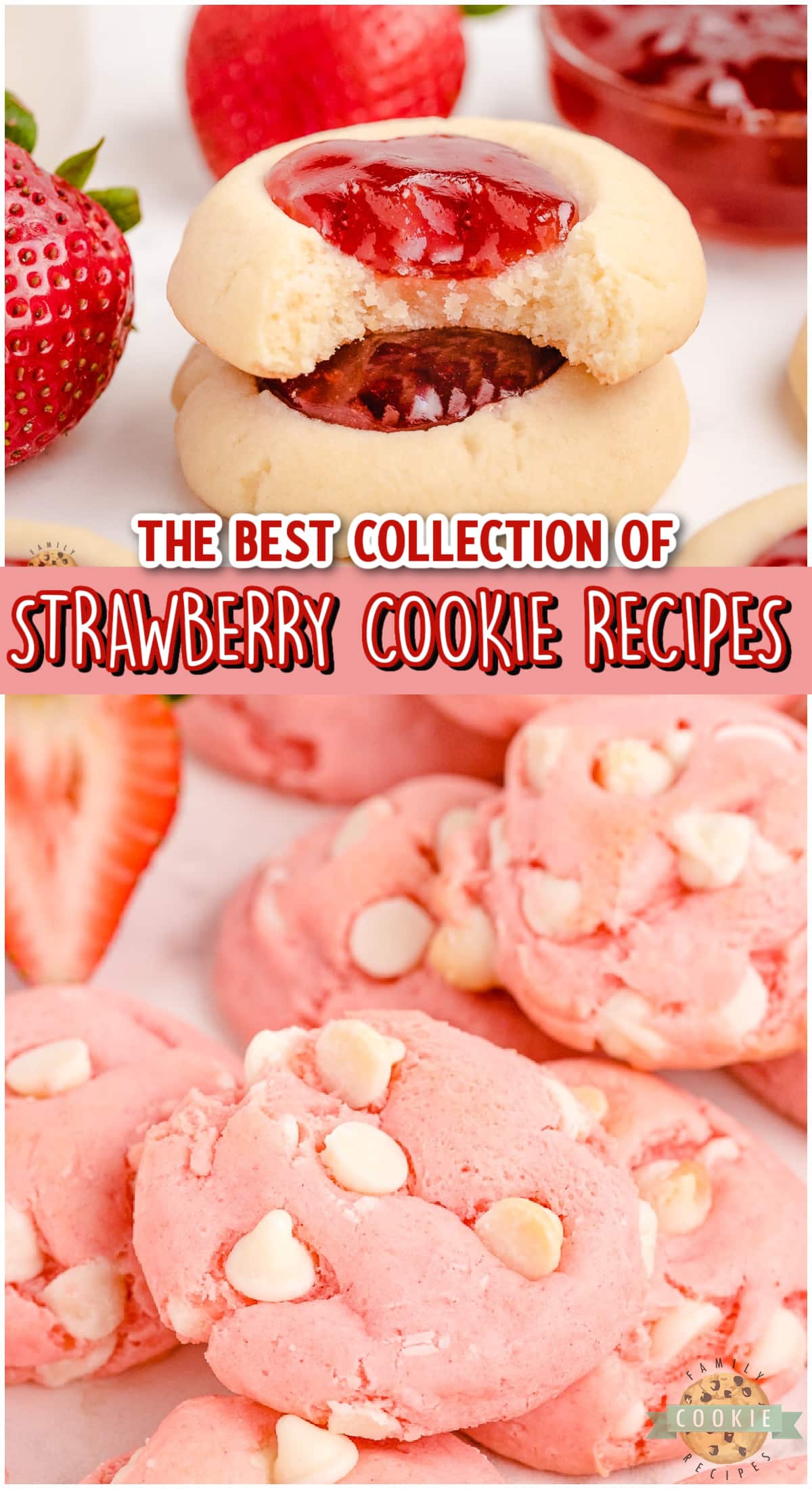 Amazing collection of strawberry cookie recipes! All of them are easy to make, full of strawberry flavor and are absolutely delicious.