These chocolate kitchen sink cookies are one you won't soon forget. With several types of chocolate and salty crunchy pretzel pieces in every bite, the only thing missing from this cookie recipe is the kitchen sink and a glass of milk.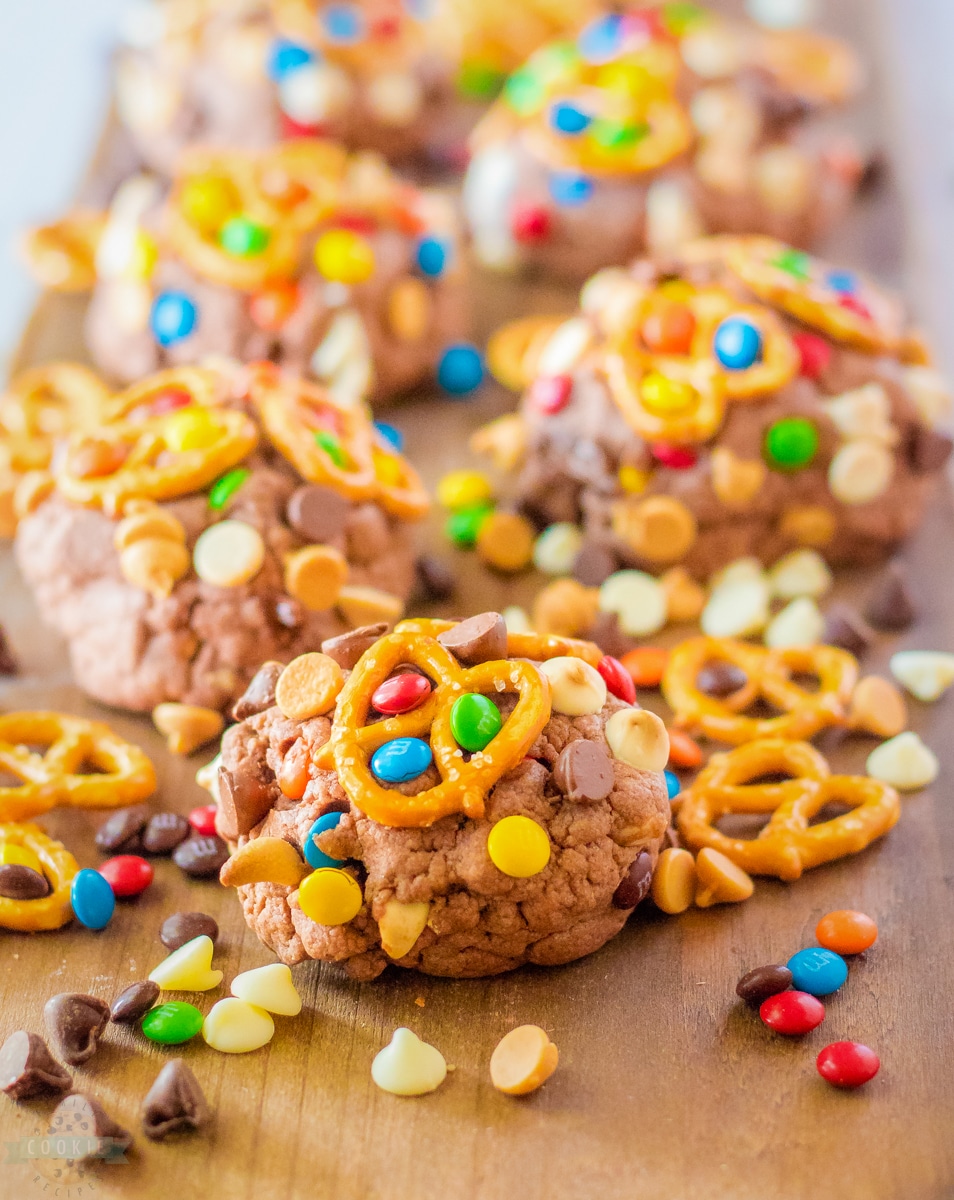 If you've never had a creative cookie recipe like this then there is no time like the present to try something new. It's so gosh darn tasty and wonderful that everyone will no doubt swoon at first bite. These everything cookies have a big amount of chocolate, flavor, and textures in every large cookie bite.
What are chocolate kitchen sink cookies?
These pretzel chocolate chip cookies are large cookies packed with mini M&Ms, several types of chocolate ranging from cocoa powder to semisweet and white chocolate chips, and even include peanut butter chips for good measure too. Every bite is packed with so much flavor it's like an explosion of awesomeness.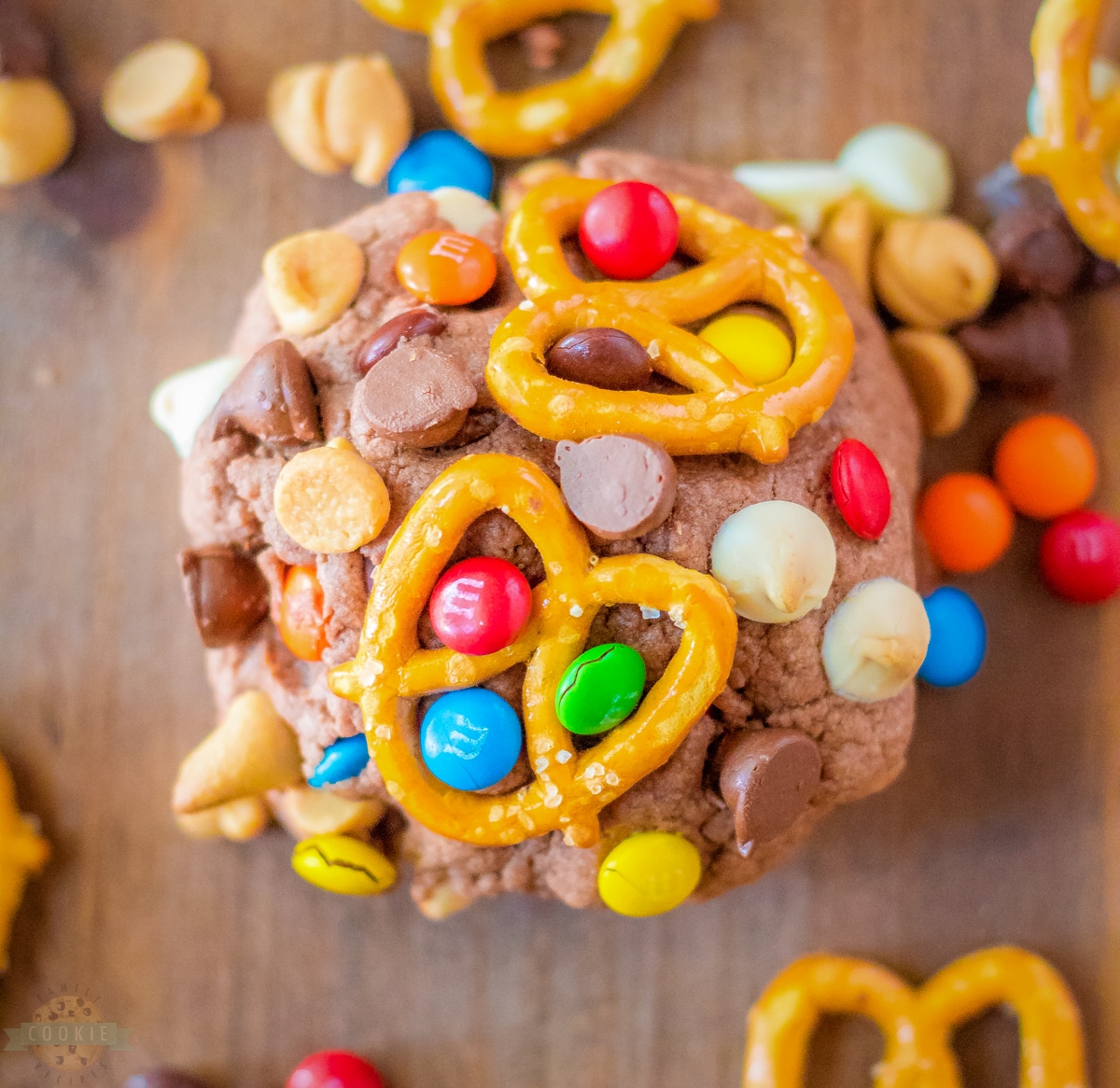 Everything Cookies Ingredients
-Butter: You will need ½ cup of unsalted and softened butter to help make the cookies rich and moist in every bite.
-Sugars: You will need ¾ cups of brown sugar and ¼ cups of granulated white sugar to make the cookies sweet and chewy.
-Cocoa powder: Use 2 tablespoons of unsweetened cocoa powder to make the cookies rich in chocolate taste.
-Egg: Use 1 large egg to help bind together the cookies well.
-Vanilla: Add in 1 teaspoon of vanilla extract to help enhance the flavors in this cookie dough.
-Flour: The base of this cookie dough is 2 cups of all-purpose flour.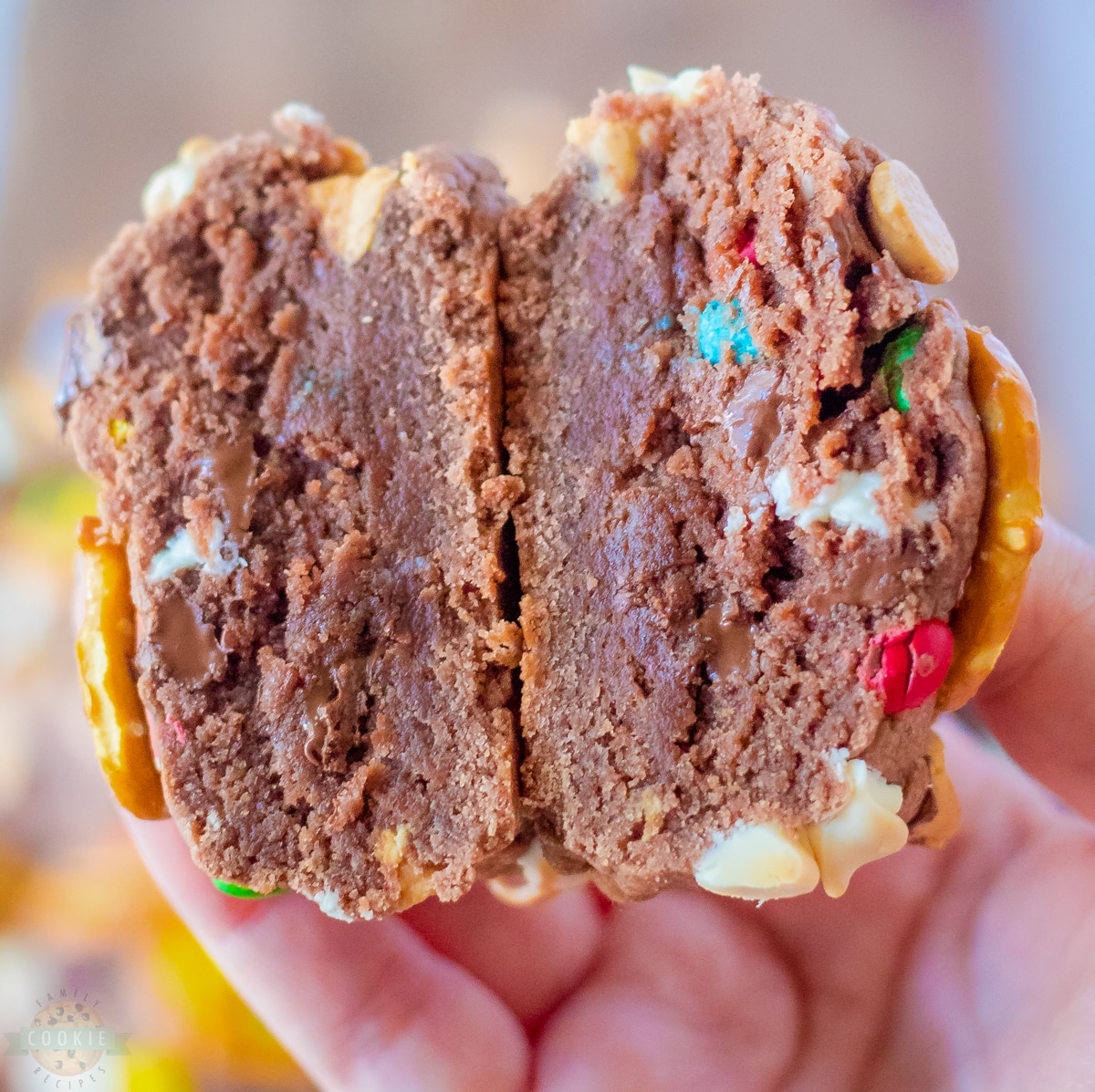 -Salt: Use 1.2 teaspoon of salt to help naturally enhance the other flavors in the cookies.
-Baking powder: To help leaven the cookies to the perfect texture, use ½ baking powder.
-Chocolate chips: You will need 1 ¼ cups each of semi-sweet chocolate chips and white chocolate chips so that the cookies have a great amount of chocolate in every bite.
-Peanut butter chips: Add in 1 ¼ cups of peanut butter chips to give your cookies a savory taste.
-M&Ms- Adding in 1 1/4 cups of mini M&Ms so that these cookies are packed full of colorful pieces.
-Pretzels: Using a handful of pretzel twists in the cookies will add a contrasting crunchy bite and a nice salty taste to pair well with the sweet chewy cookies.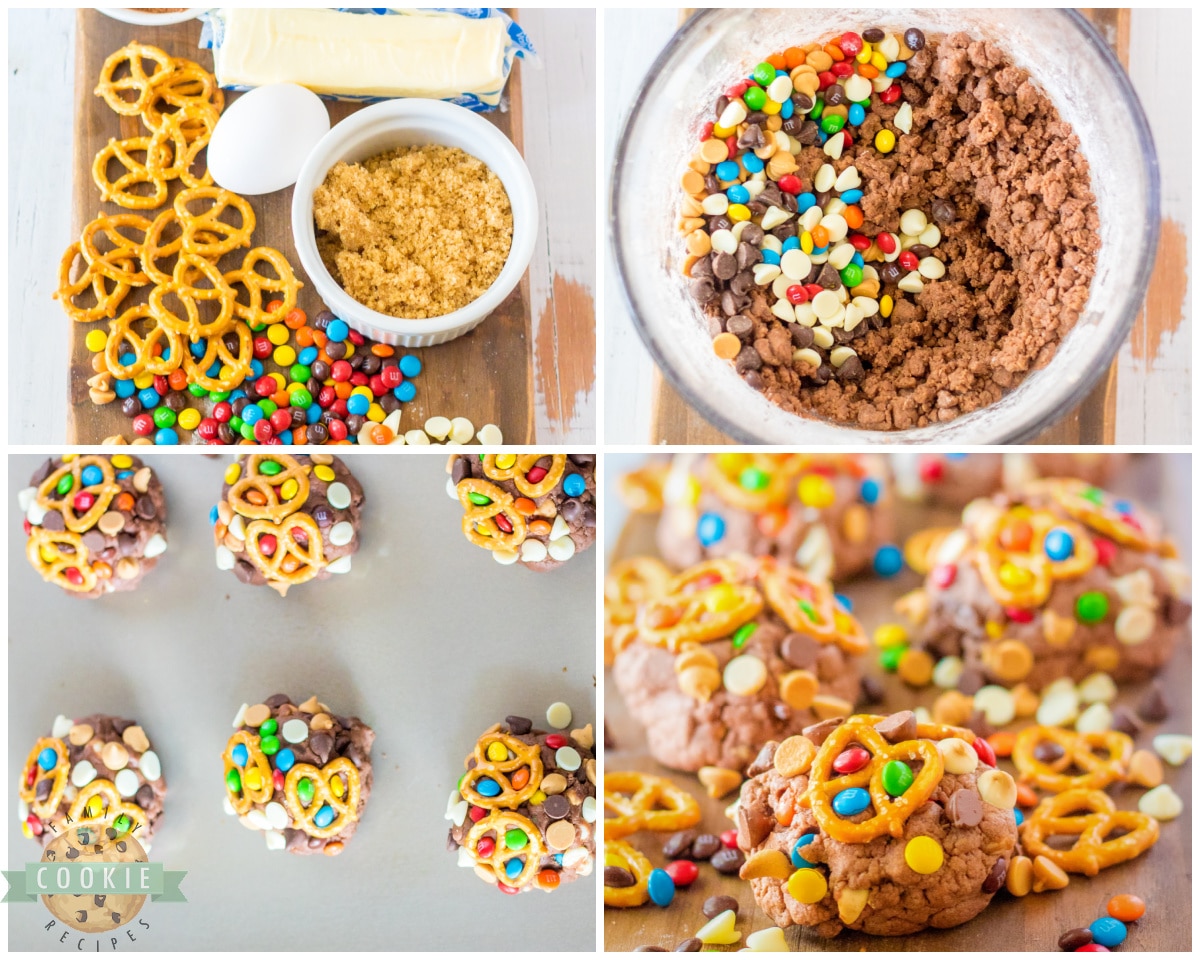 How to make Chocolate Kitchen Sink Cookies
In a large bowl cream together the butter and both of the sugar until they are fluffy.
Beat in the egg, the vanilla extract, and the cocoa powder.
Mix in the flour, baking powder, and salt until the dough is just combined. It will be very crumbly.
Add in ¼ cup each of the semisweet chocolate chips, peanut butter chips, white chocolate chips, and M&Ms. Stir into the dough.
Divide the dough into 6 equal-sized portions and form each one into a ball.
Next, press the remaining chis, M&Ms, and a few pretzel twists all over the tops and sides of the cookies.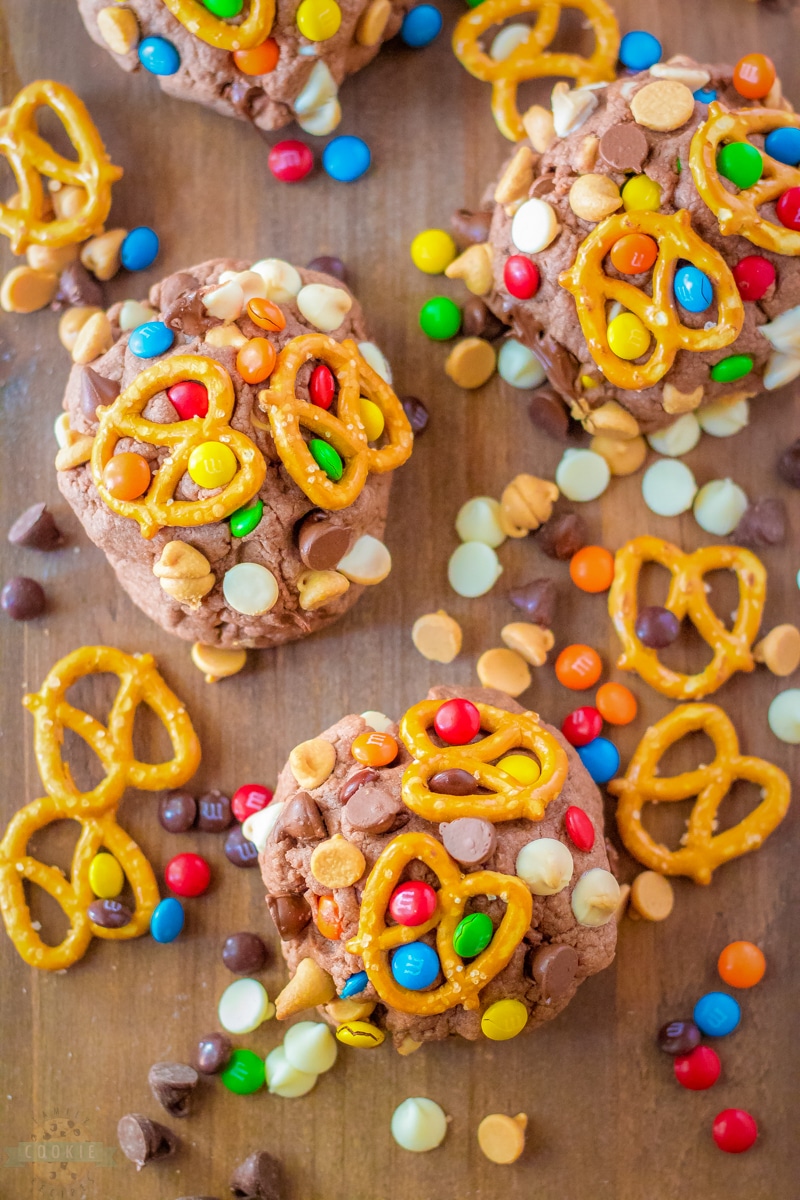 Place the cookies in the fridge to chill for 30 minutes.
Meanwhile, preheat the oven to 375 degrees F.
Bake the cookies for 18 minutes.
Cool the cookies on the baking sheet for 5 minutes before transferring them to a wire cooling rack.
Serve & Enjoy!
Why are they called kitchen sink cookies?
These cookies get their name from the expression "everything but the kitchen sink" which means to include a large number of random items into something. These cookies are made with several different ingredients from chocolate chips to m&ms and pretzels too. Other kitchen sink cookie recipes can go as far as to include dried fruits, toffee, coconut, or oats, or even potato chips.
Can I use margarine in the cookies?
While you can certainly try, margarine often causes cookies to spread and go flat as they bake (something we want to avoid. To help combat this, make sure the cookie dough is nicely chilled and firm so that it can hold shape a little better as it bakes.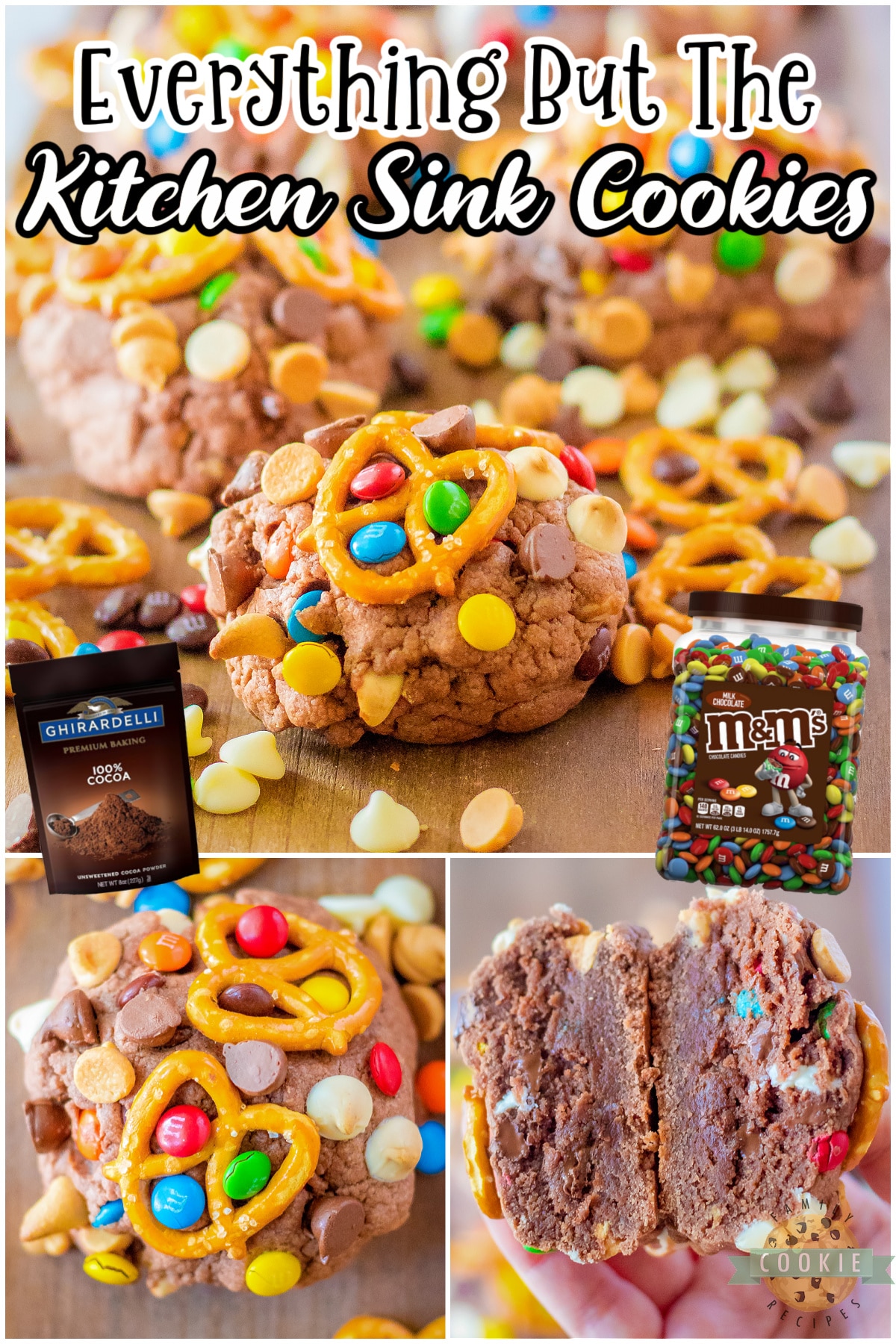 Looking for more chocolate-packed cookie recipes? We've got you covered!


We went on a couple fun trips this summer and I hope I never forget them! Taking a family of 7 on a snorkel trip is quite the feat. I mean, it's hard enough to keep track of your own flippers, noodle floats, goggles & snorkel, now multiply that! CHAOS. But dang, it was so fun.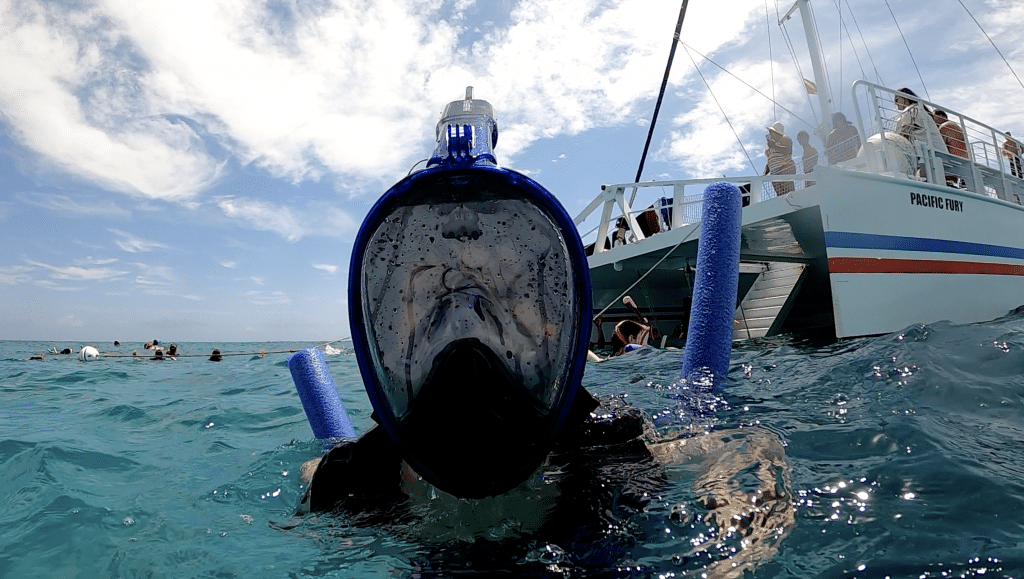 You can't tell, but this is my middle son. He did great! Now my youngest 2 were holding on to me for dear life, which made it exceptionally hard to FLOAT, much less see any fish. Ha! MEMORIES!
These salty-sweet chocolate-packed cookies are a tasty treat everyone can enjoy. You're going to love these "everything but the sink cookies" and all the goodies packed into every bite.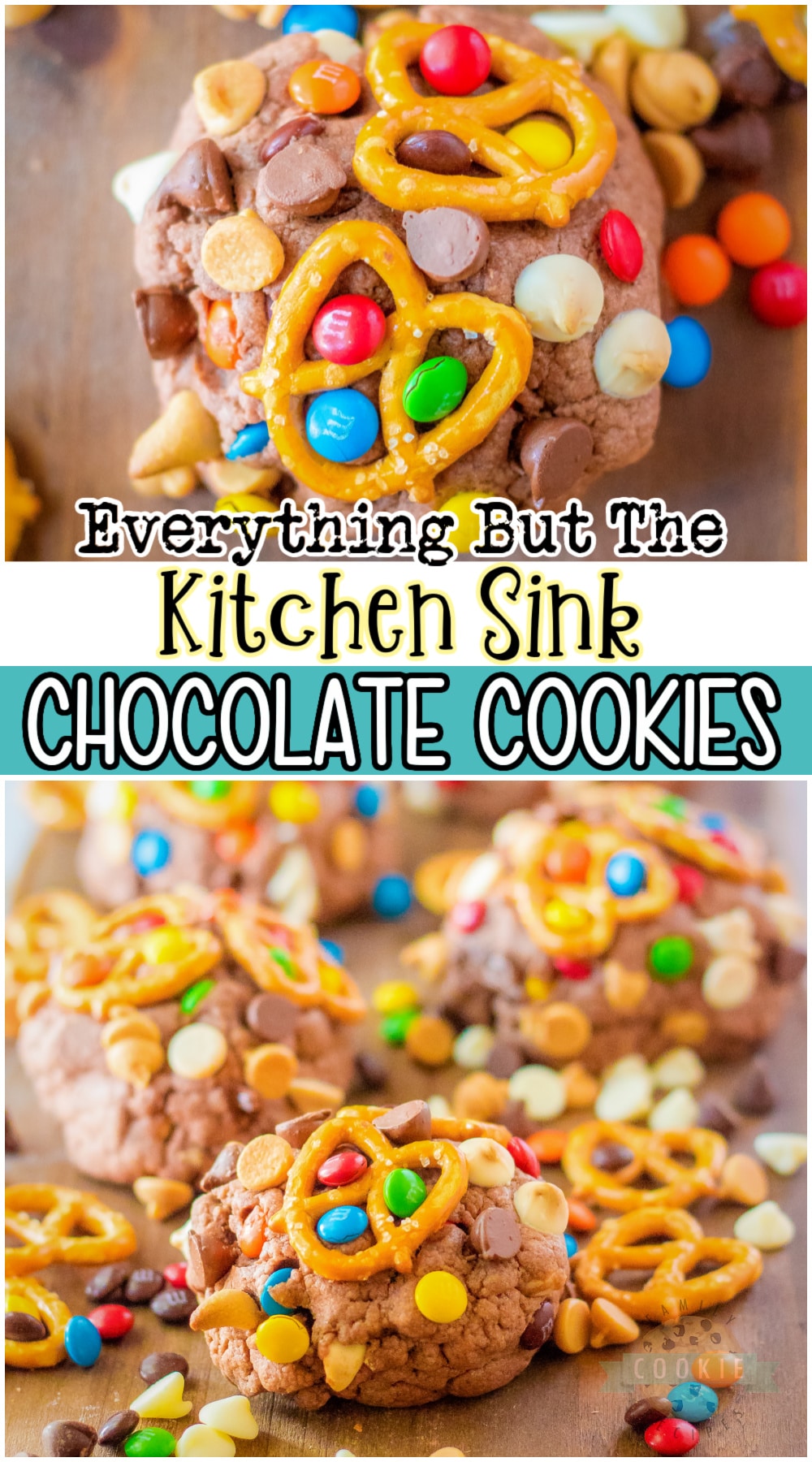 Everything But the Kitchen Sink Cookies for when you just don't know what kind to make! Delicious loaded chocolate cookie recipe with sweet & salty baked into every bite!