Glazed Pumpkin Oatmeal Cookies are soft, chewy oatmeal cookies packed with pumpkin and topped with a simple cinnamon sugar icing. The perfect cookie for fall!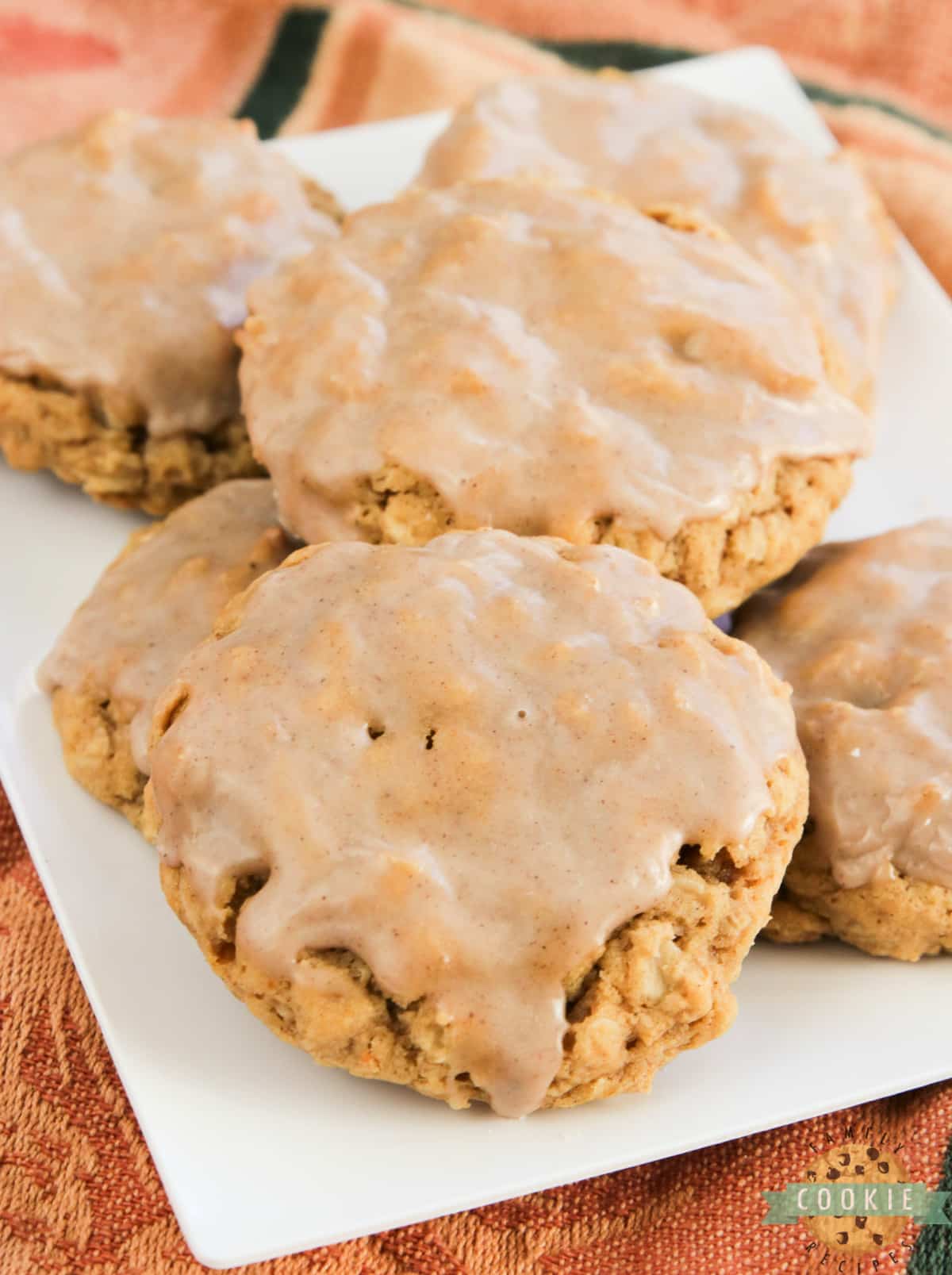 I have tried several different pumpkin oatmeal cookie recipes and they've all been delicious, but the icing on this one really makes a huge difference! The frosting is so simple to make, and the cinnamon flavor is absolutely perfect with the cookies. You don't even have to frost the cookies…you can just dip them in the glaze. It only takes a minute or two to frost the entire batch of cookies! It sets up quite nicely too, so you can easily stack the cookies without making a huge mess.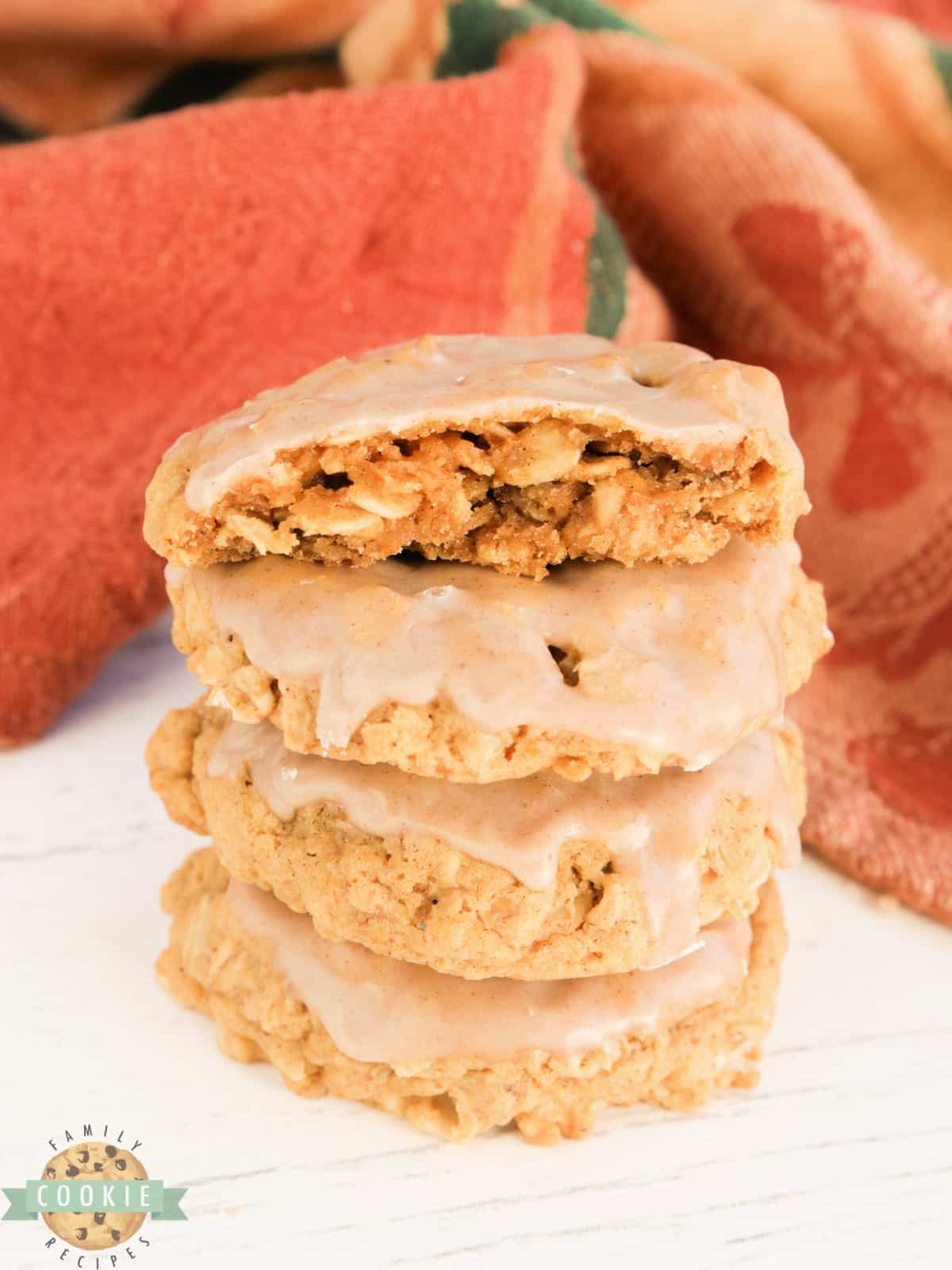 GLAZED PUMPKIN OATMEAL COOKIES
Delicious pumpkin oatmeal cookies that are made with oats, flour, cinnamon, nutmeg, pumpkin, molasses and a few other basic cookie ingredients. Once the cookies are baked and cooled, the glaze is made with powdered sugar, cinnamon, water and vanilla. Whisk the glaze ingredients together and then dip the top of each cooled cookie in it. Within an hour or two, the glaze sets up completely and the cookies are easy to stack on serving platters.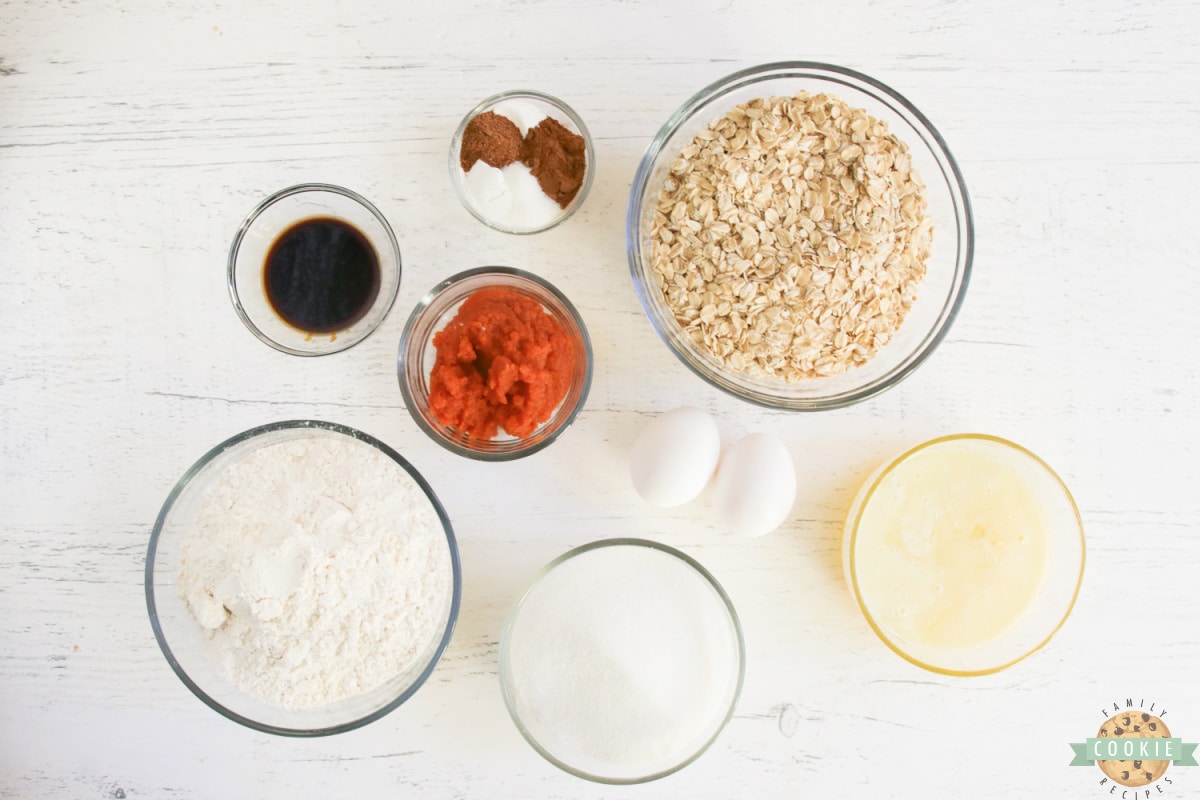 INGREDIENTS IN GLAZED PUMPKIN OATMEAL COOKIES
COOKIE INGREDIENTS
Oats – I prefer old-fashioned oats in these cookies, but you can use quick oats if you prefer. Or even a combination of the two!
Flour – I usually use all-purpose flour, but you can use wheat flour if you'd like. It will make the cookies more dense and change the consistency a little bit, but they are still delicious!
Baking soda & baking powder – The baking soda and baking powder act as the leavening agents in the cookies, so make sure they aren't old or expired!
Spices – You will need a little bit of cinnamon and a little bit of nutmeg. Feel free to add a little more if you'd like!
Butter– I always use salted butter, but unsalted works fine too! For best results, use real butter.
Pumpkin – You only need 1/3 cup of pumpkin for the recipe. Make sure it's just plain pumpkin, not pumpkin pie filling!
Sugar – Granulated sugar provides the sweetness in the cookies.
Molasses – The recipe only calls for a tablespoon of molasses, but even that small amount really does intensify the flavor of the cookies a lot!
Vanilla extract – The higher the quality of vanilla, the better!
Eggs – Two large eggs will help to bind all of the other ingredients together.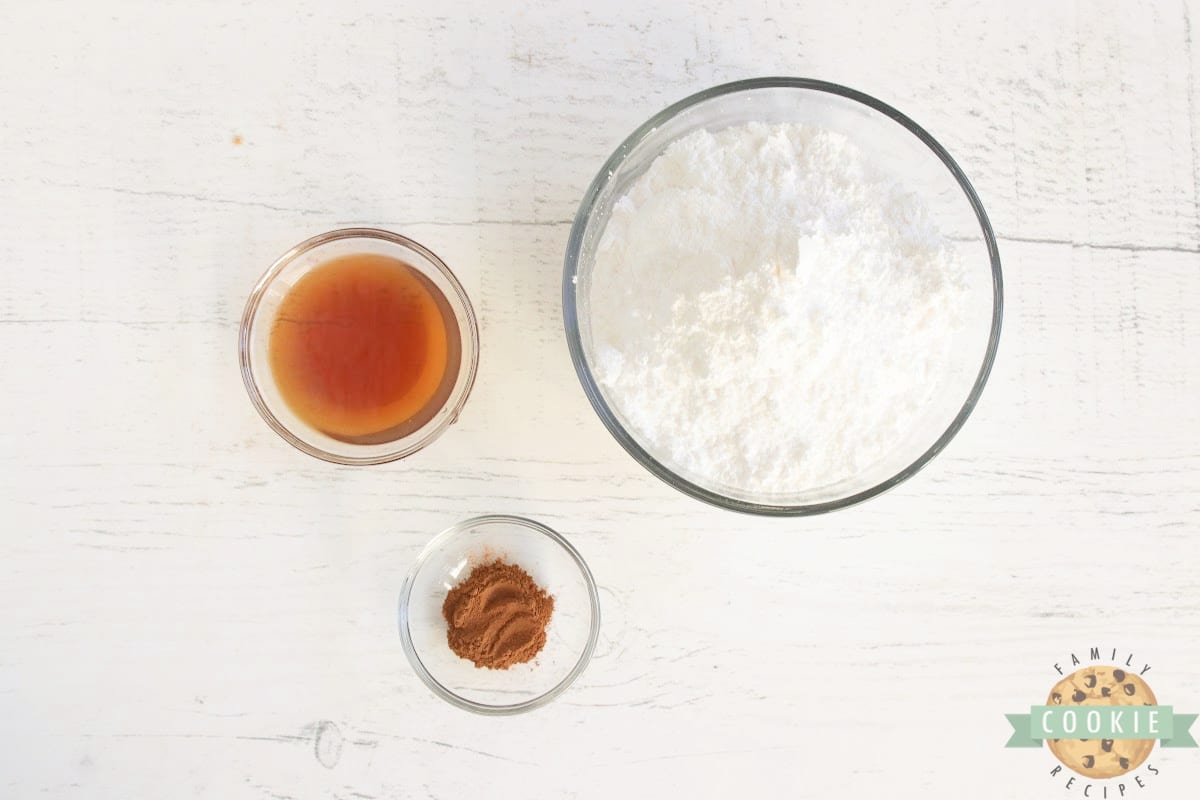 CINNAMON SUGAR GLAZE INGREDIENTS
Powdered sugar – Powdered sugar will provide sweetness to the icing, along with a smooth creamy texture.
Cinnamon – The cinnamon is what makes the glaze so delicious!
Water – The recipe calls for water, but you can use milk instead. Feel free to add a little more if you feel like the glaze is too thick.
Vanilla – Again, the higher the quality of the vanilla, the better!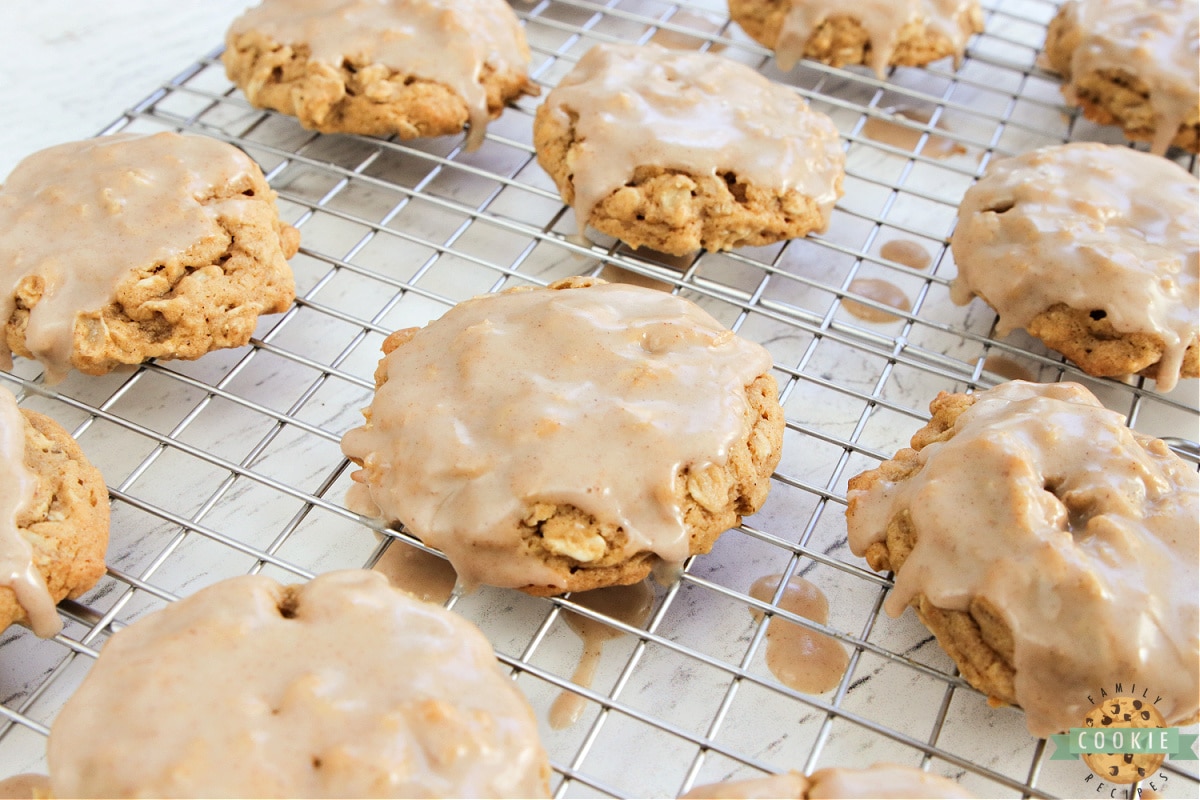 HOW TO MAKE GLAZED PUMPKIN OATMEAL COOKIES
Preheat oven to 350°. Line two cookie sheets with parchment paper or non-stick silicone baking mats.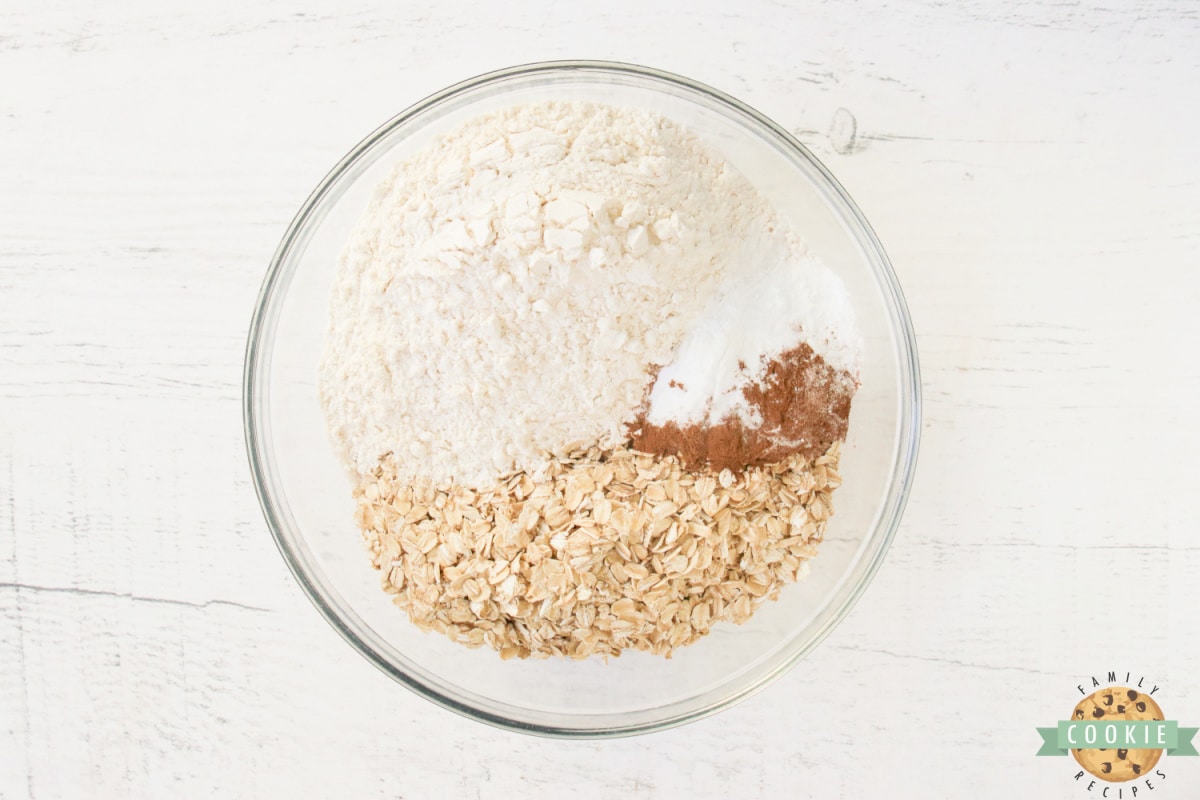 In a large mixing bowl, combine the flour, baking powder, baking soda, cinnamon, nutmeg and salt. Set aside.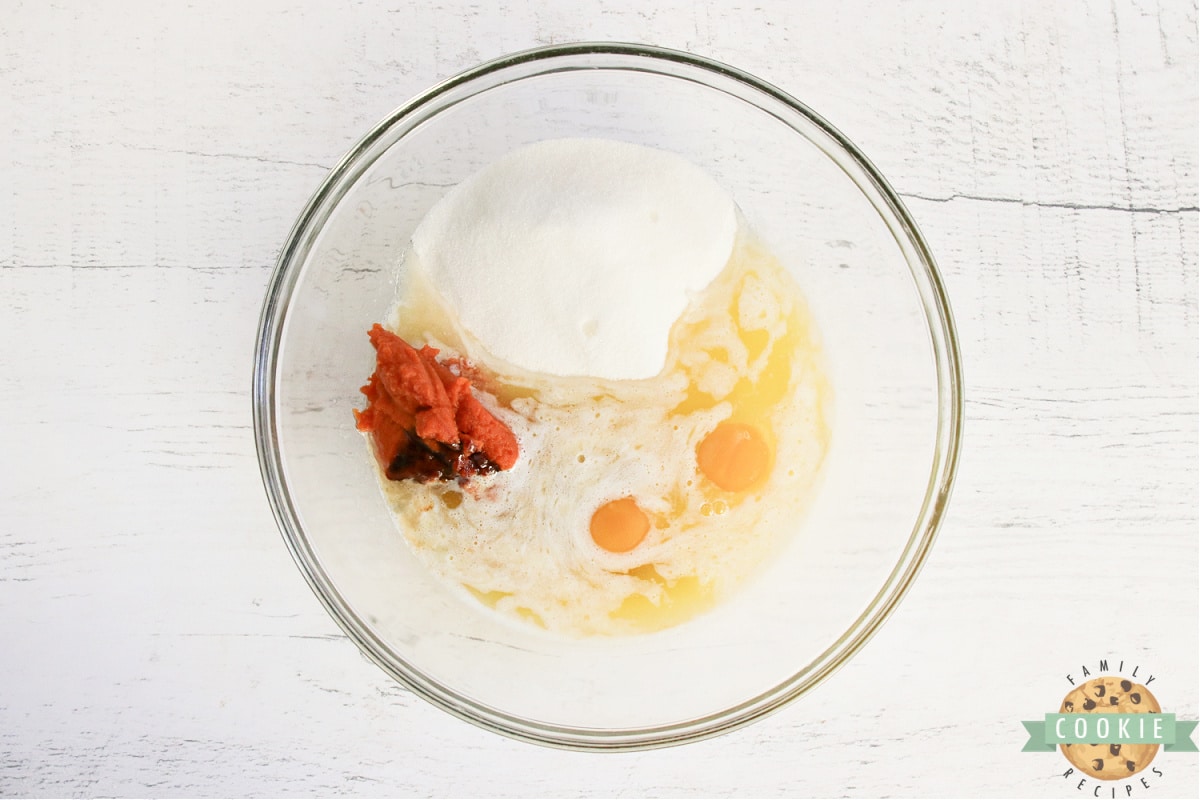 In another large mixing bowl, whisk together the melted butter, pumpkin, sugar, molasses, vanilla and eggs.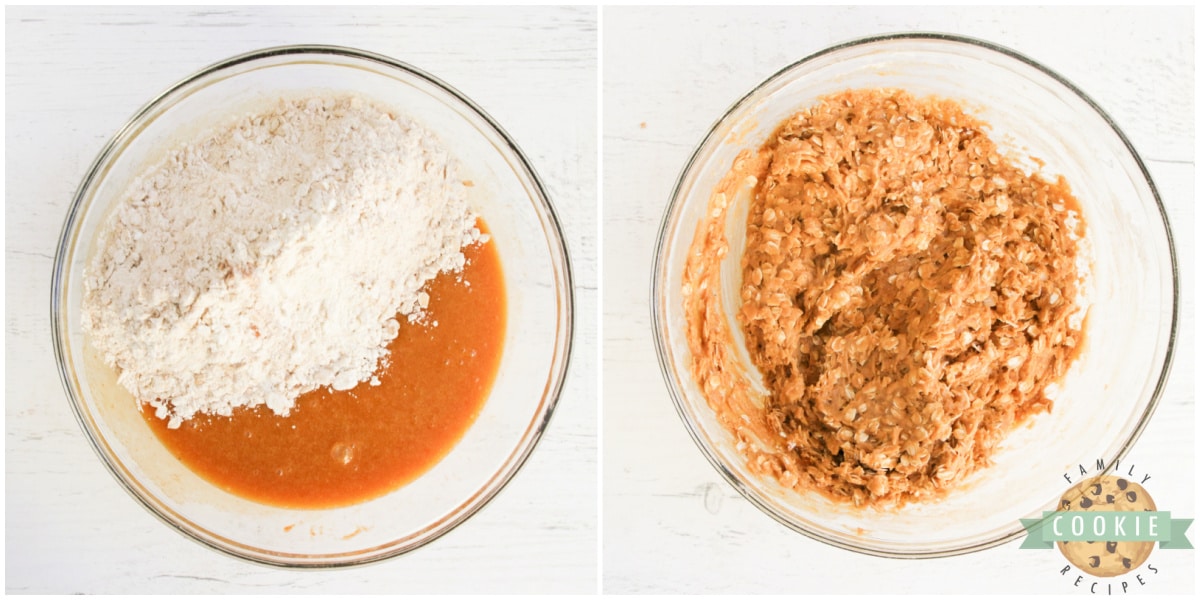 Add the dry mixture to the wet ingredients and stir until well combined.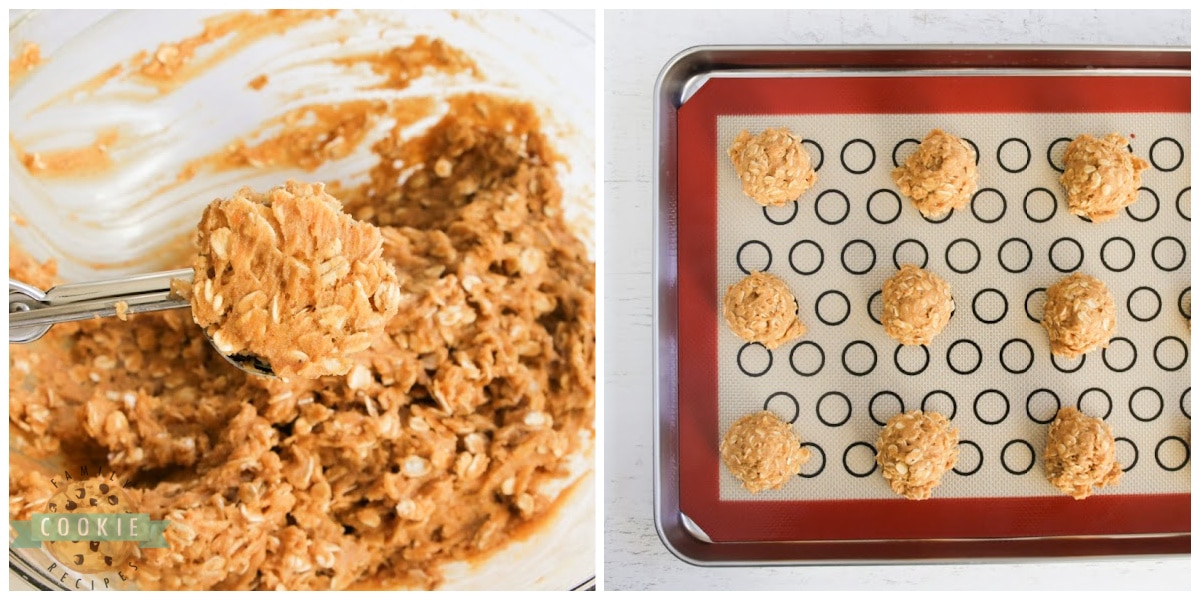 Use a cookie scoop to scoop the dough out onto prepared cookie sheets, leaving at least 2 inches between each cookie dough ball.
Bake for 10 minutes or just until the edges barely begin to brown. Let the cookies cool on the baking sheets for about 5 minutes before transferring them to a wire rack to cool completely.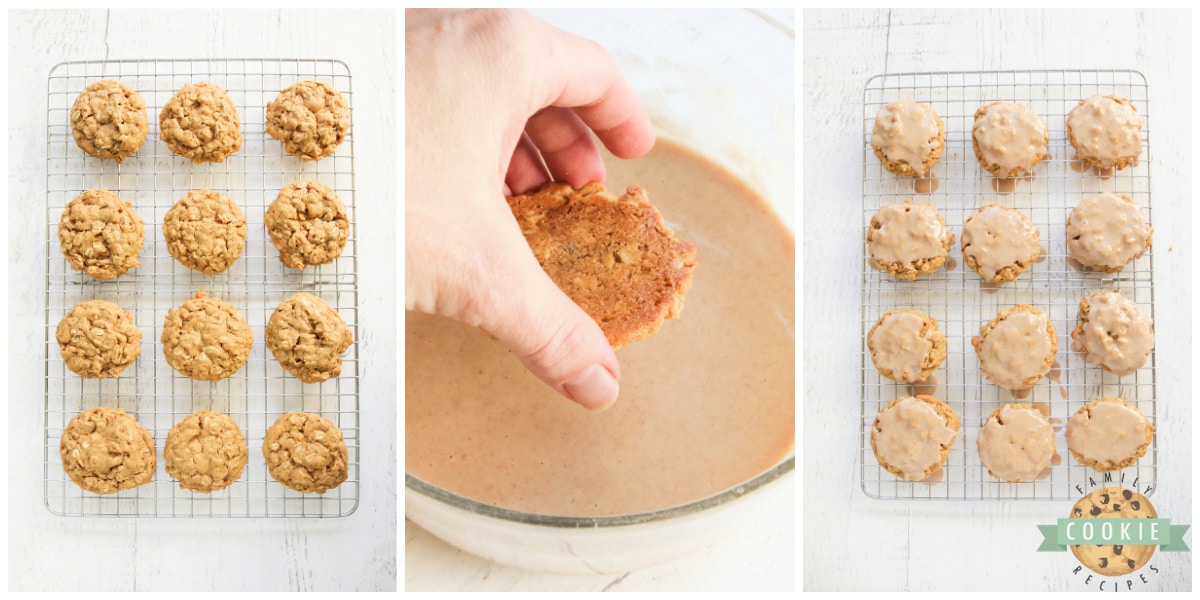 Once the cookies are cooled, whisk the glaze ingredients together in a small bowl. Dip the top of each cookie in the glaze and then set them back on the wire rack until the glaze sets up.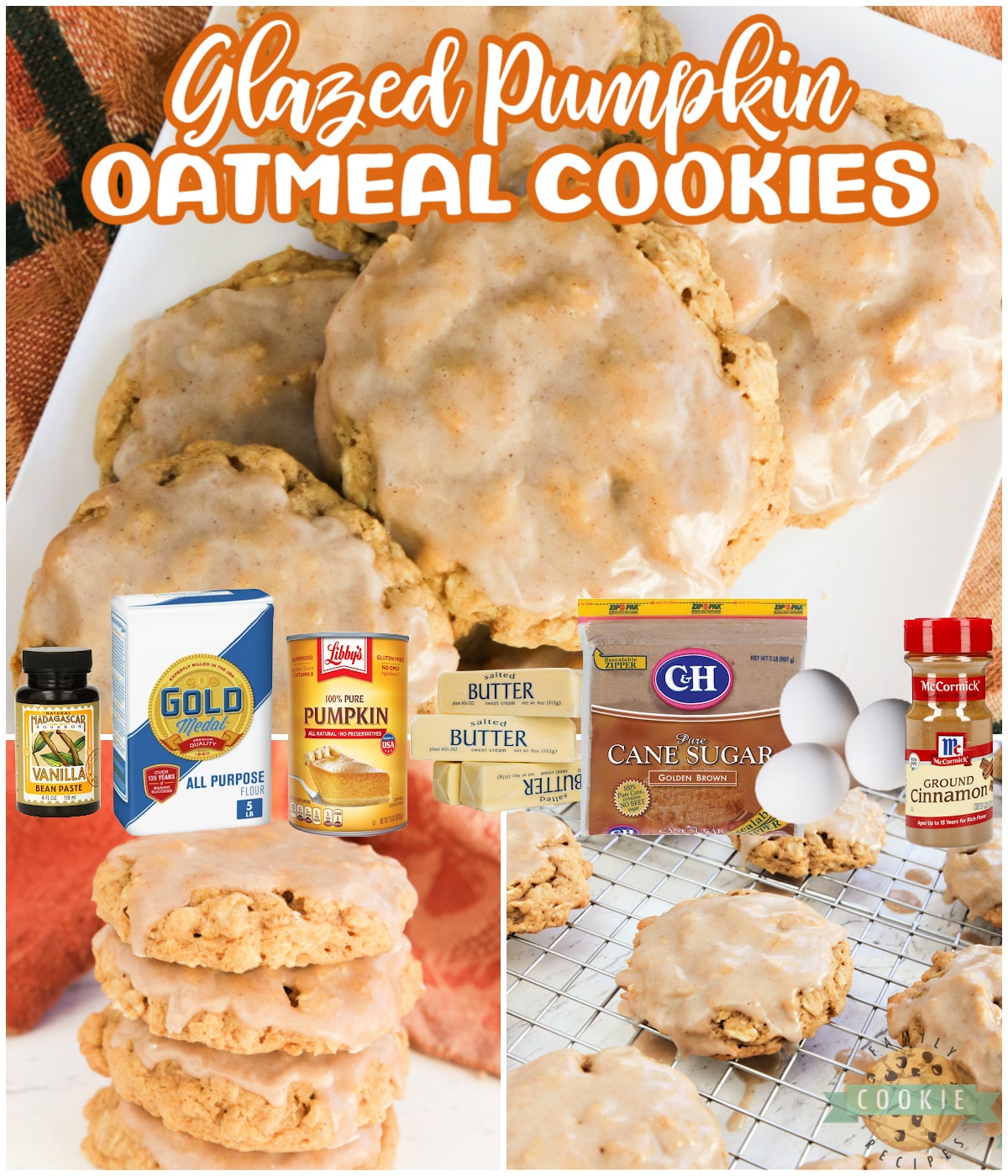 WHAT KIND OF OATS ARE BEST IN OATMEAL COOKIES?
You can use quick oats or old-fashioned oats in your cookies- it really comes down to a personal preference. I used old-fashioned oats in this recipe, but I often like to do a combination – half quick oats and half old-fashioned. It's totally up to you and what type of oats you have in your pantry! If you use all quick oats, the cookies will end up being a little bit more dense and a little bit puffier. I like the texture of old-fashioned oats because it make the cookies a little bit chewier (and also like I am eating real oatmeal which makes it easier for me to justify eating a few of these for breakfast!).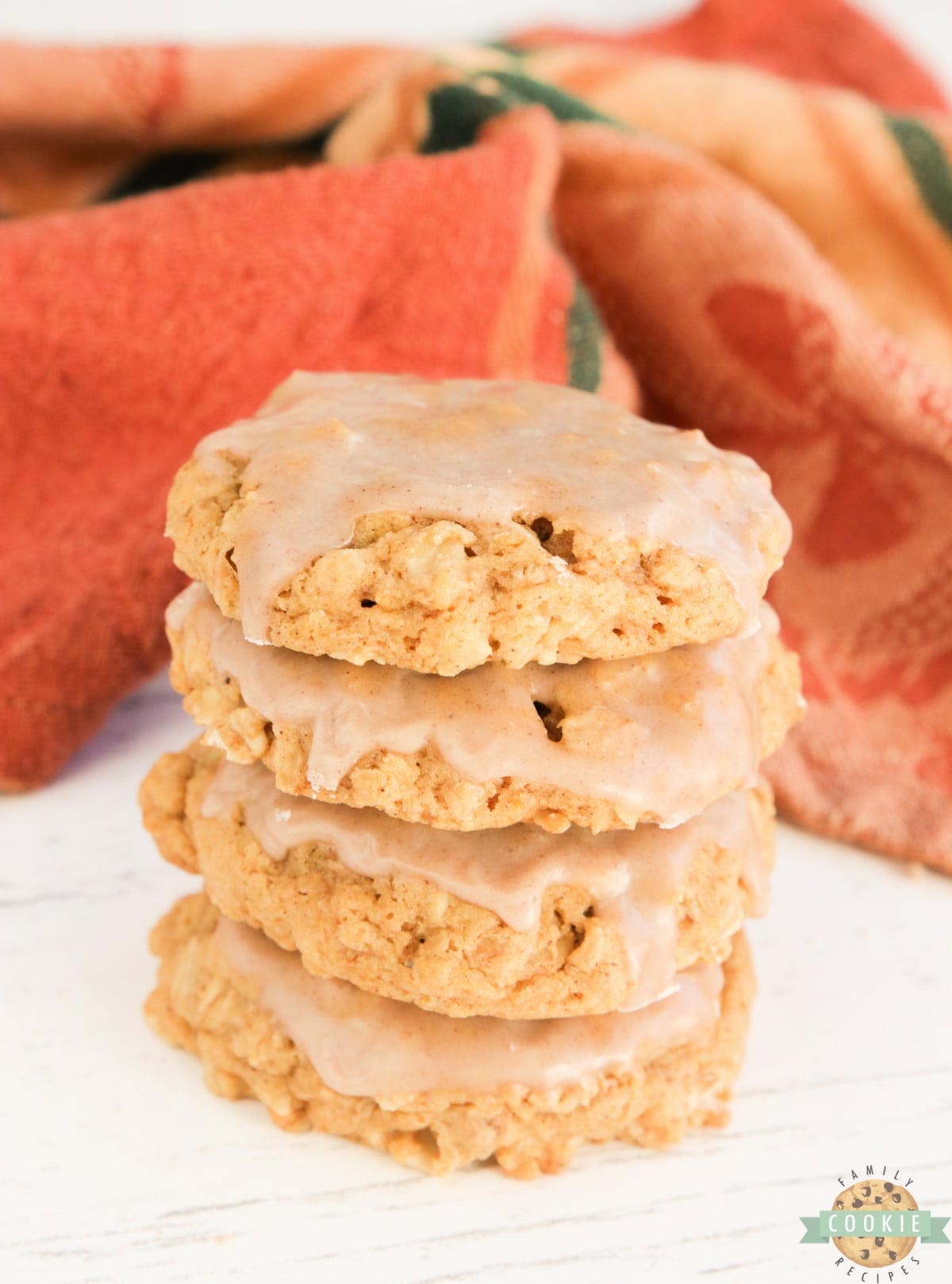 HOW DO YOU MAKE PERFECT PUMPKIN OATMEAL COOKIES?
Making pumpkin oatmeal cookies is easy! Here are a few tips to getting perfect cookies every time!
Most cookie recipes require that you mix the dry ingredients separately before adding the wet ingredients. This is an important step!
Preheat the oven. This will help your cookies turn out right every time!
Use a cookie scoop! If you want all your cookies to be perfectly shaped and have them all be the same size, a cookie scoop is the way to go.
Use parchment paper or a silicone baking mat. Doing this will make it really easy to remove the cookies from your cookie sheet so that you don't have to scrape them off the pan – they will just slide right off in perfect shape!
Don't over bake the cookies – when I take mine out of the oven, they still look slightly under baked but they will continue to bake on the cookie sheet for a couple more minutes so that's ok!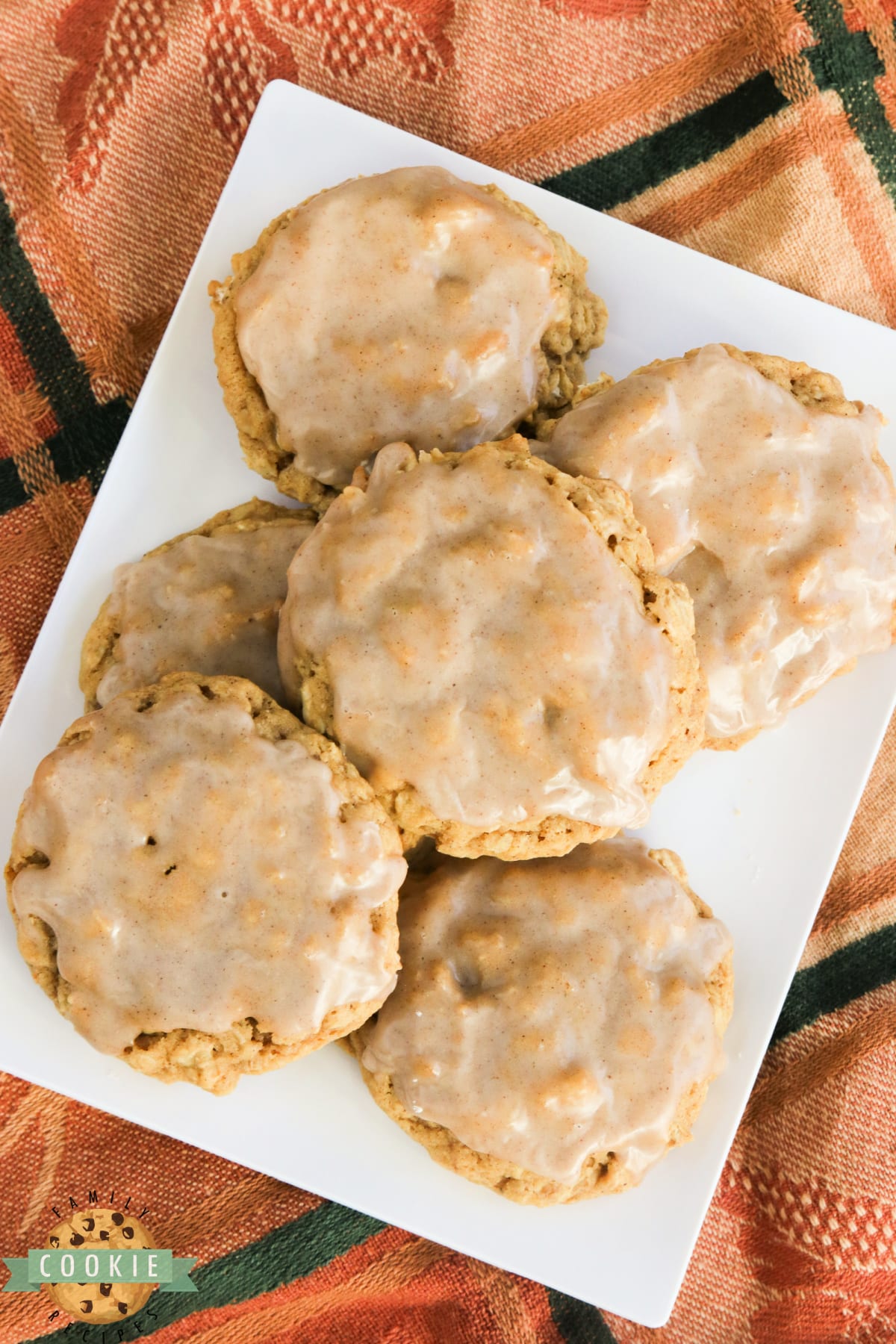 WHY DO MY COOKIES BURN ON THE BOTTOM BUT AREN'T DONE IN THE MIDDLE?
If your cookies are always burning on the bottom, it is probably a cookie sheet issue! If you are using really dark cookie sheets, the bottoms of your baked goods will tend to burn before they are actually cooked all the way through. If you use a lot of cooking spray, the same result can happen. I prefer to use lighter colored non-stick pans so that I don't have to use cooking spray at all. As mentioned above, I have been converted to silicone baking mats over the last couple of years and I love how easy it is for cookies to come off the tray – no sticking ever!
MORE DELICIOUS PUMPKIN COOKIE RECIPES TO TRY: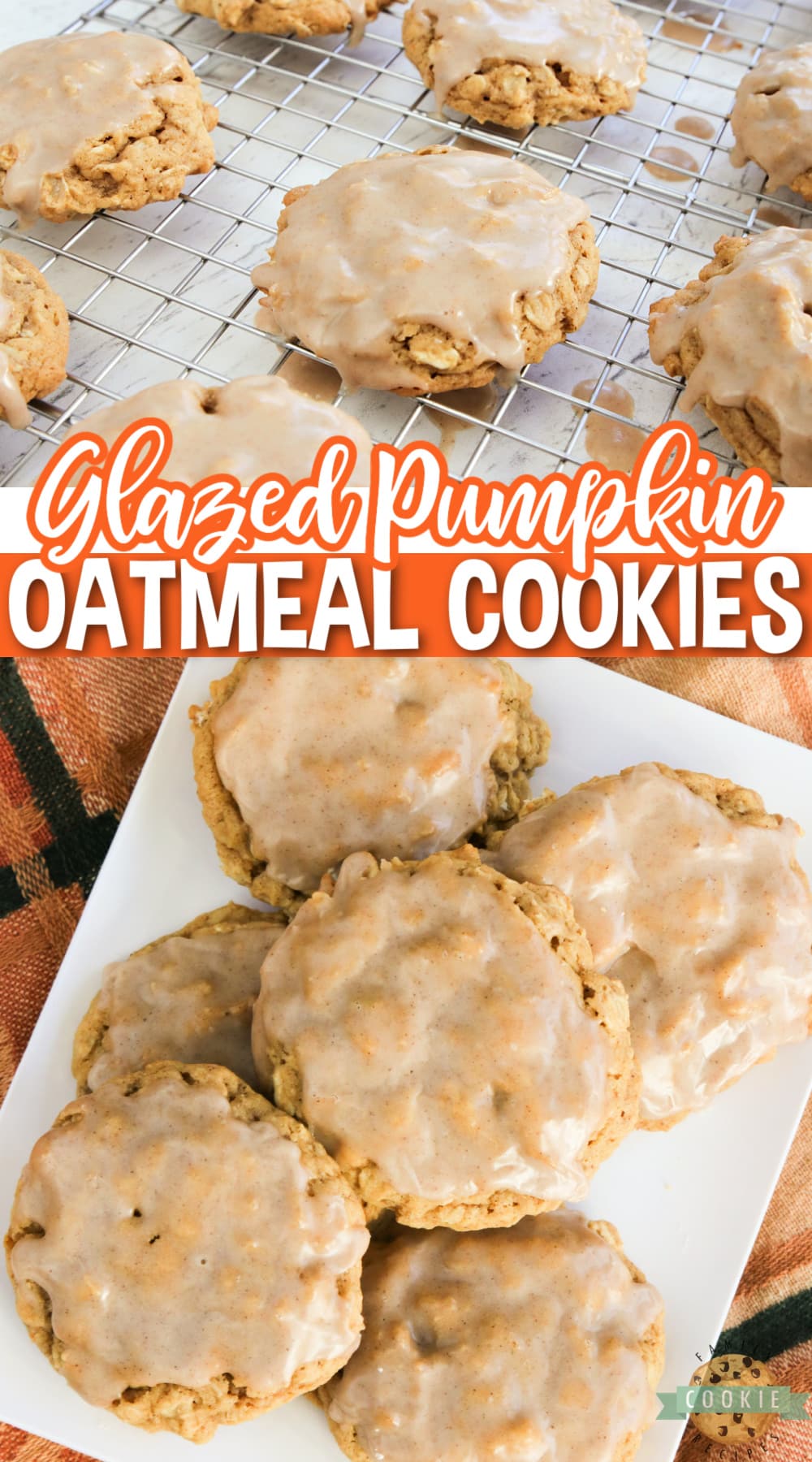 Glazed Pumpkin Oatmeal Cookies are soft, chewy oatmeal cookies packed with pumpkin and topped with a simple cinnamon sugar icing. The perfect cookie for fall!