Spiced Pumpkin Chocolate Chip Cookies are made with pumpkin & a fantastic blend of Fall spices!! This pumpkin chocolate chip cookies recipe yields soft, pillowy cookies made with classic ingredients!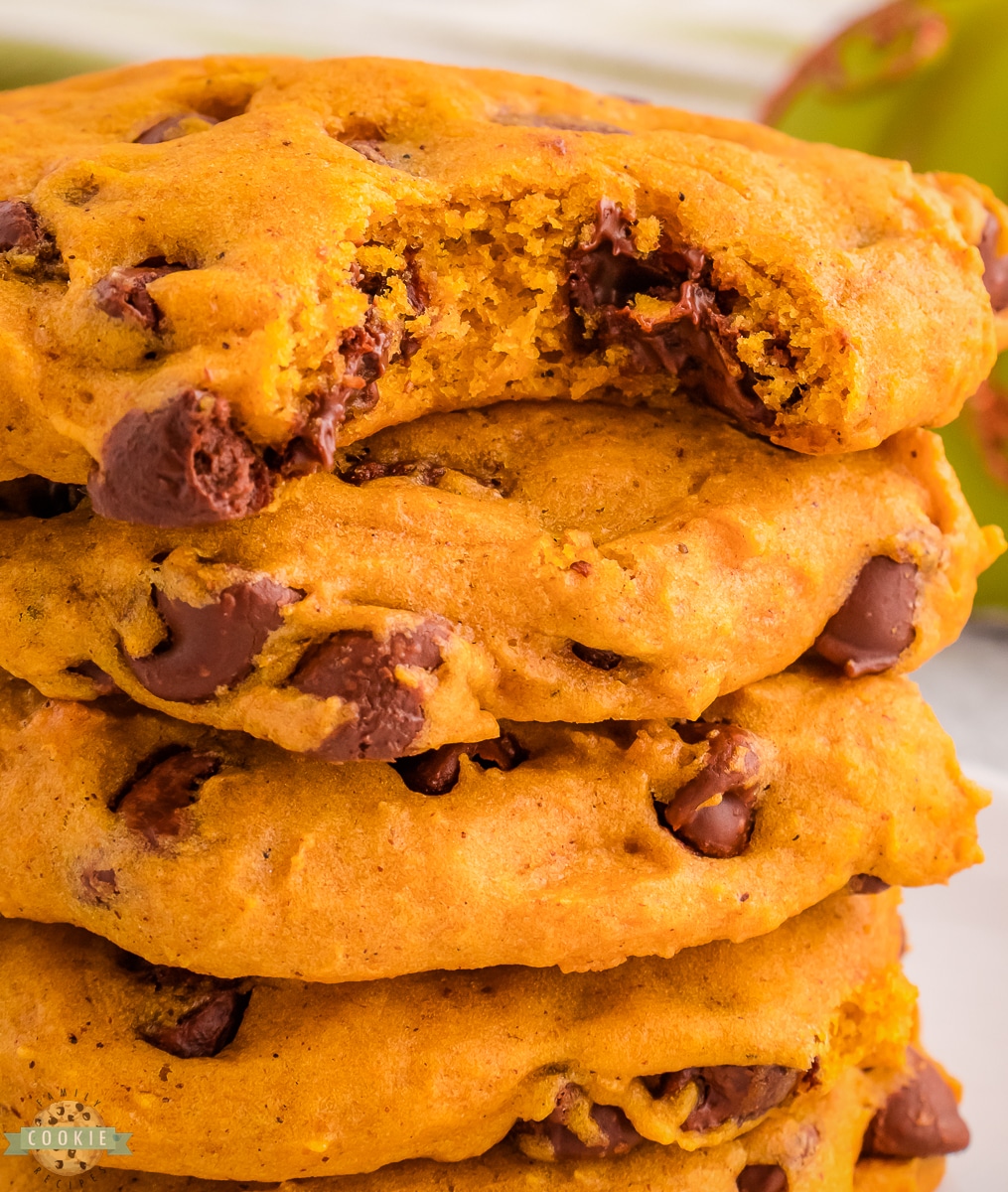 These easy pumpkin chocolate chip cookies are a fabulous and heavenly treat to serve up all Autumn long (or any time of the year really), just watch how quickly they disappear. Whip up a batch of these chocolate chip pumpkin cookies soon and see why we can't stop raving about them!
Easy Pumpkin Cookies with Canned Pumpkin
In my house we look forward to the change in weather every year in anticipation of Pumpkin Spice season. We look forward to comfy sweaters, cool weather and anything and everything pumpkin! It is a love and obsession we are not ashamed of. This recipe came to be from a love of pumpkin flavor and the timeless and classic chocolate chip cookie. By using canned pumpkin puree (not pumpkin pie filling) it means that we can enjoy these cookies any time of the year because we aren't forced to wait on our gardens to produce our pumpkins. You can use fresh pumpkin puree if desired, though. One can of pumpkin is 2 cups of homemade pumpkin puree.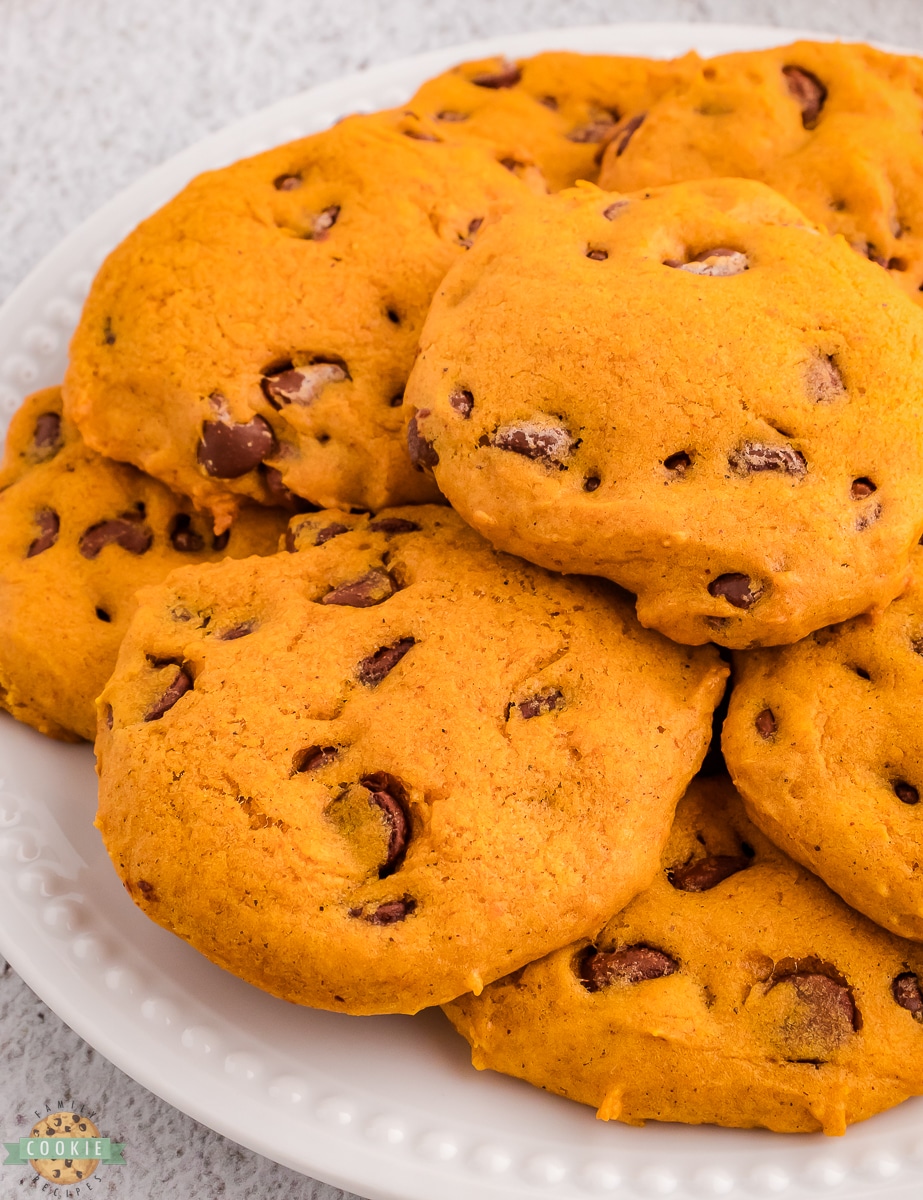 Why we think you will adore this chocolate pumpkin recipe
In case you needed more reasons to give these cookies a try, read on for our top reasons why you should.
Simple ingredients. This recipe uses very simple and basic easy-to-find ingredients. You may even be excited to know that you have most, if not all of them, on hand already.
Easy to follow steps. The steps for making these cookies is very beginner friendly, so even if baking isn't a big skill that you possess, you should have no problem whipping up a batch of these cookies.
There are several dozen reasons to love them! Every batch of cookies makes 36 or so (about 3 dozen cookies), so there are literally dozens of reasons to love them.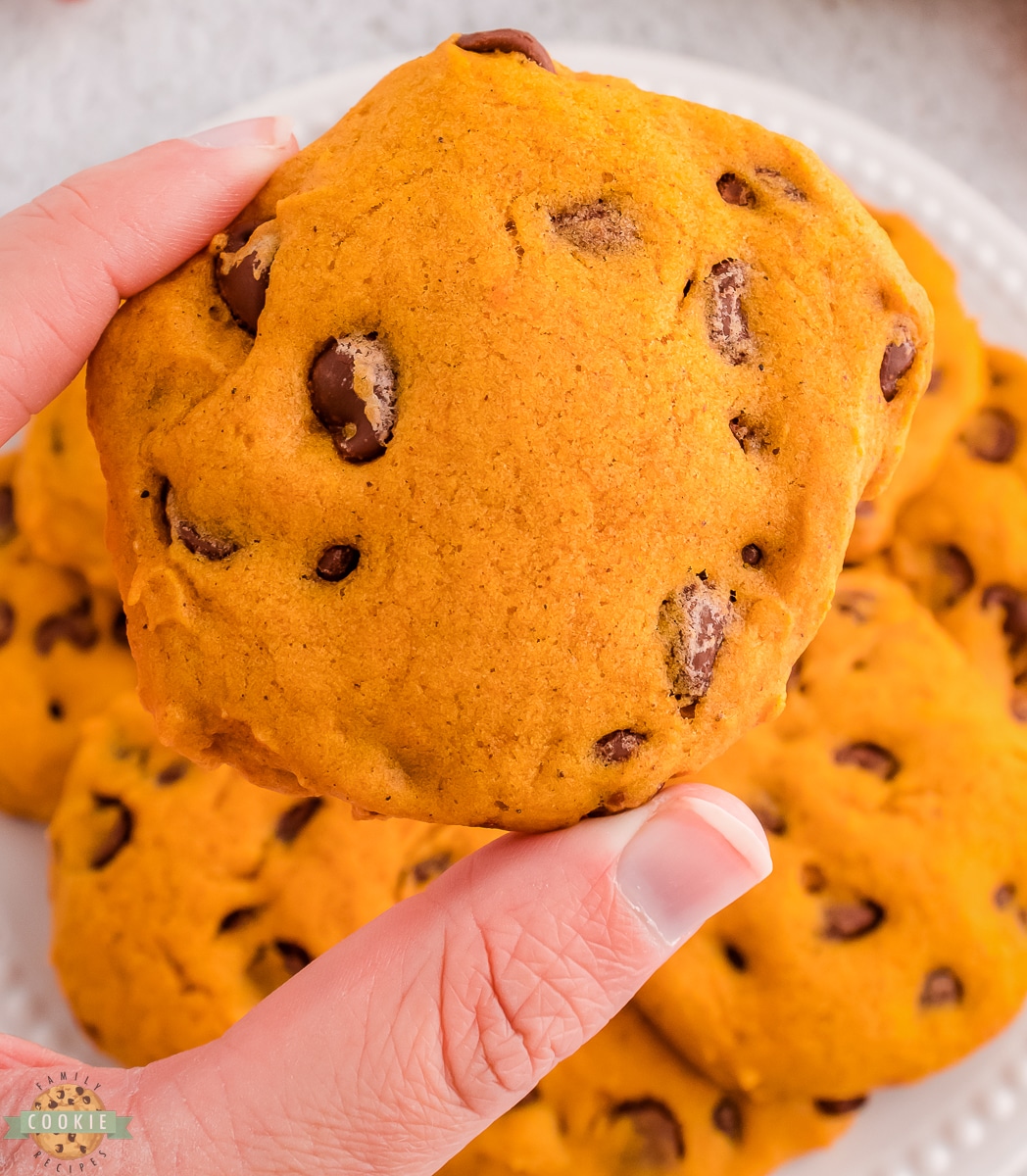 Spiced Pumpkin Chocolate Chip Cookie Ingredients
Pumpkin: You will need (1) 15-ounce sized can of pumpkin puree. You want it to be 100% pure pumpkin, not pumpkin pie filling, as that is something completely different and will not work with this recipe.
Sugar: Use 1 ⅔ cups of granulated sugar to make these cookies sweet and chewy.
Oil: Adding in ½ cup of vegetable oil will give you a moist cookie, so it is not crumbly and dry in texture.
Egg: You will want to use 1 egg for a binding agent.
Vanilla extract: Adding 1 teaspoon of vanilla extract will help enhance the flavors in the cookies well.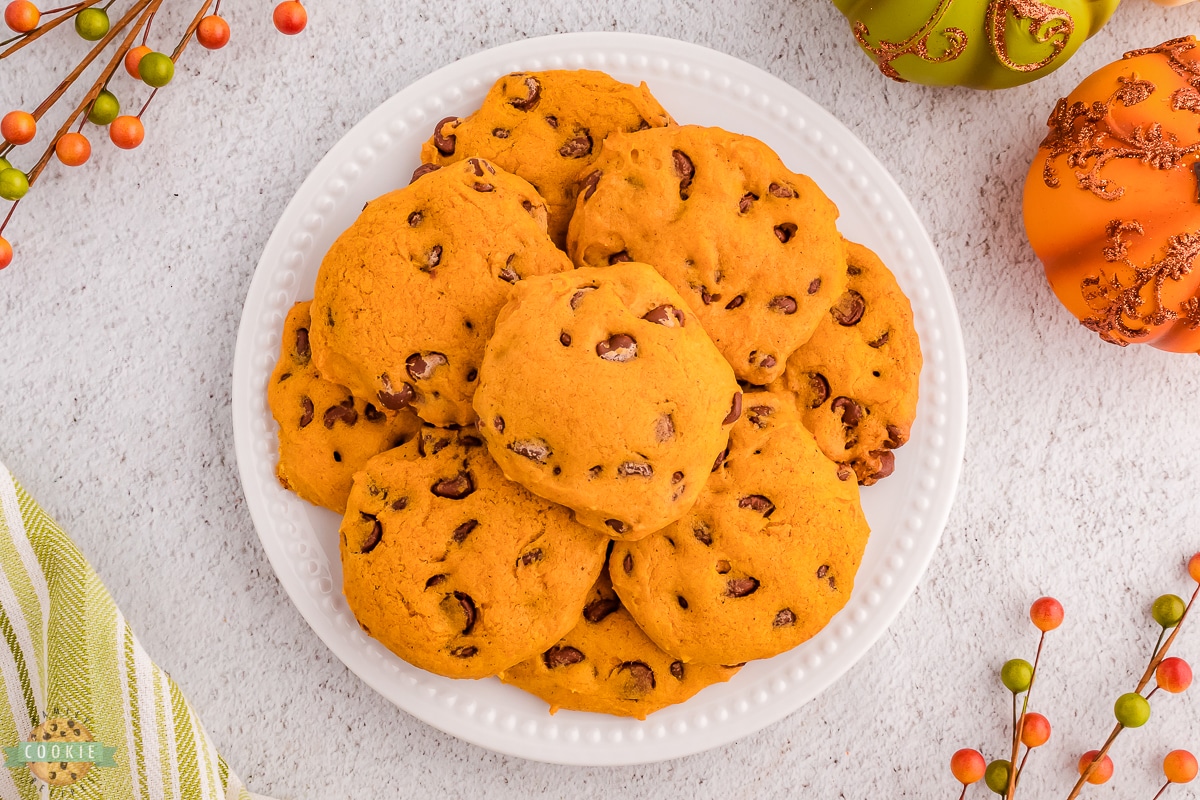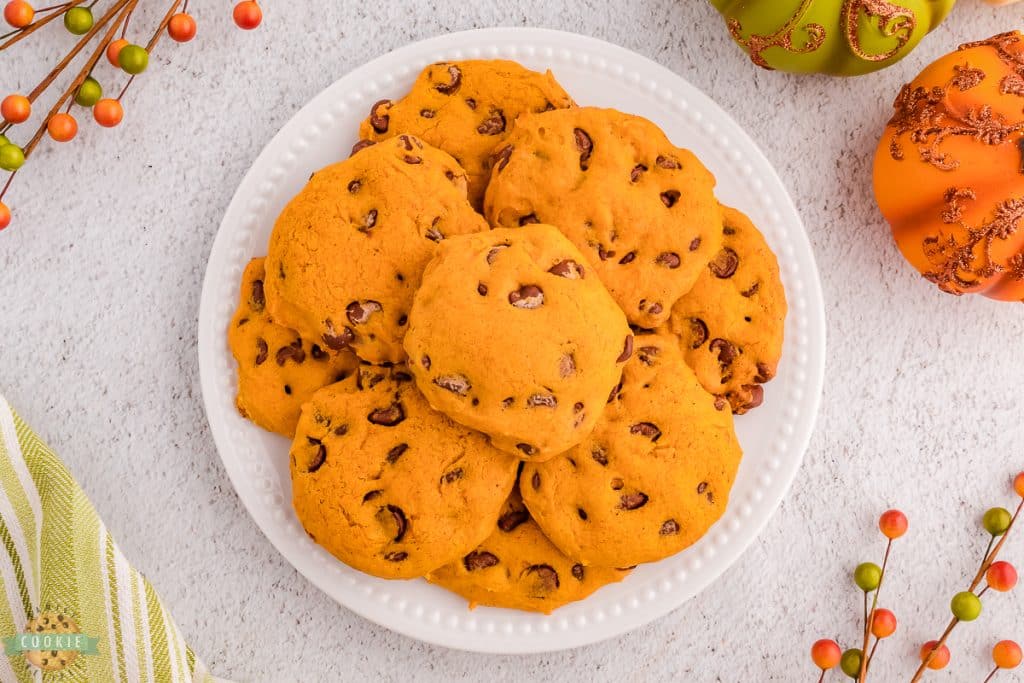 Flour: For the cookie dough base, you will need 2 ¾ cups of all-purpose flour.
Leavening agents: You will need 1 teaspoon each of baking powder and baking soda to make these cookies puff up and rise nicely as they bake.
Spices: You will need 1 teaspoon each of ground cinnamon and ground nutmeg as well as ½ teaspoon of ground cloves for a warm bite of spice in every cookie.
Salt: Adding ½ teaspoon of salt will give the cookies a well balanced taste.
Chocolate chips: For a burst of sweet chocolatey goodness in every bite, you will need 1 12-ounce-sized bag of semi-sweet chocolate chips.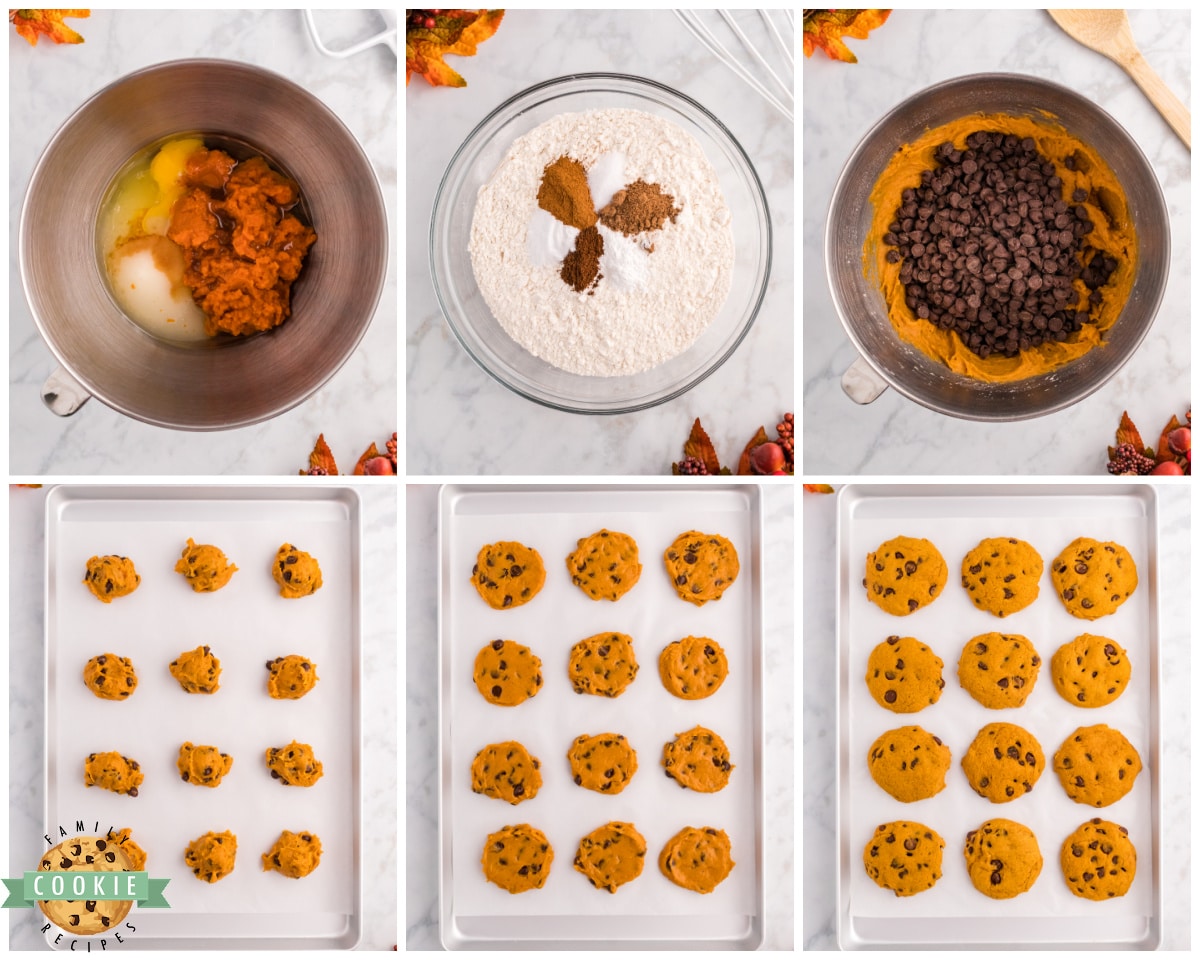 How to Make Spiced Pumpkin Chocolate Chip Cookies
Prep
Preheat your oven to 375 degrees F. Then, place parchment paper onto two baking sheets and then set them aside.
Make dough
In a bowl of a stand mixer, cream together the pumpkin puree, sugar, oil, egg, and vanilla extract on medium speed. You can also use an electric handheld mixer and use a large bowl for this step.
Next, in a medium size bowl, sift together the flour, baking powder, baking soda, cinnamon, nutmeg, ground cloves, and salt to combine.
After that, slowly add the dry ingredients to the wet ones and mix on low speed until combined. Scrape down the sides of the bowl as needed.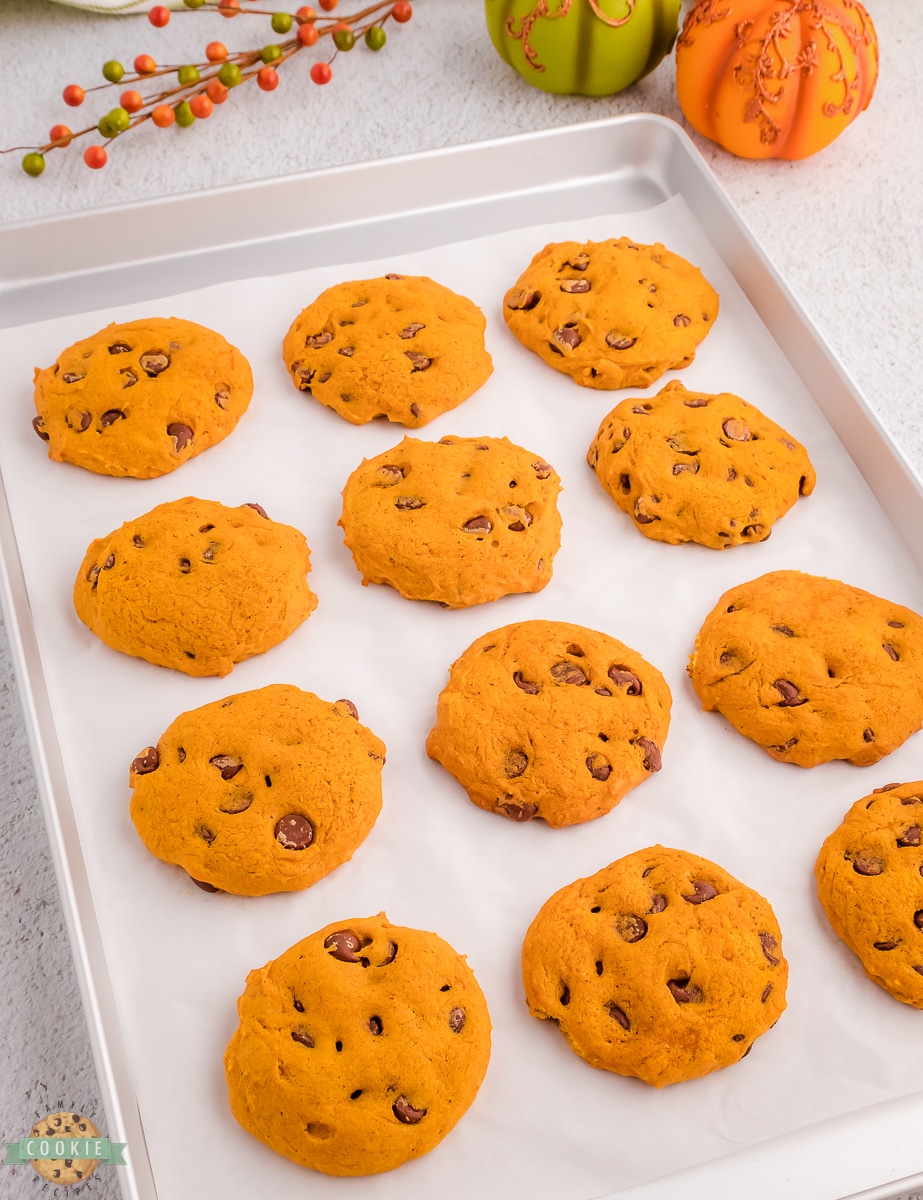 Then, use a spoon or spatula to stir in the chocolate chips until well incorporated.
Proceed to scoop your dough out into 2-inch-sized balls and place them onto your prepared baking sheets. Leave at least 2 inches of space between the cookies.
Using the back of a greased spoon, press down on the centers of the cookie dough mounds so that they are the thickness desired. The cookies will not spread much as they bake.
Bake
Place the baking sheets of cookies into the oven and bake for 10-12 minutes. The edges should look set before pulling the cookies from the oven.
Let cool, and then serve. Enjoy!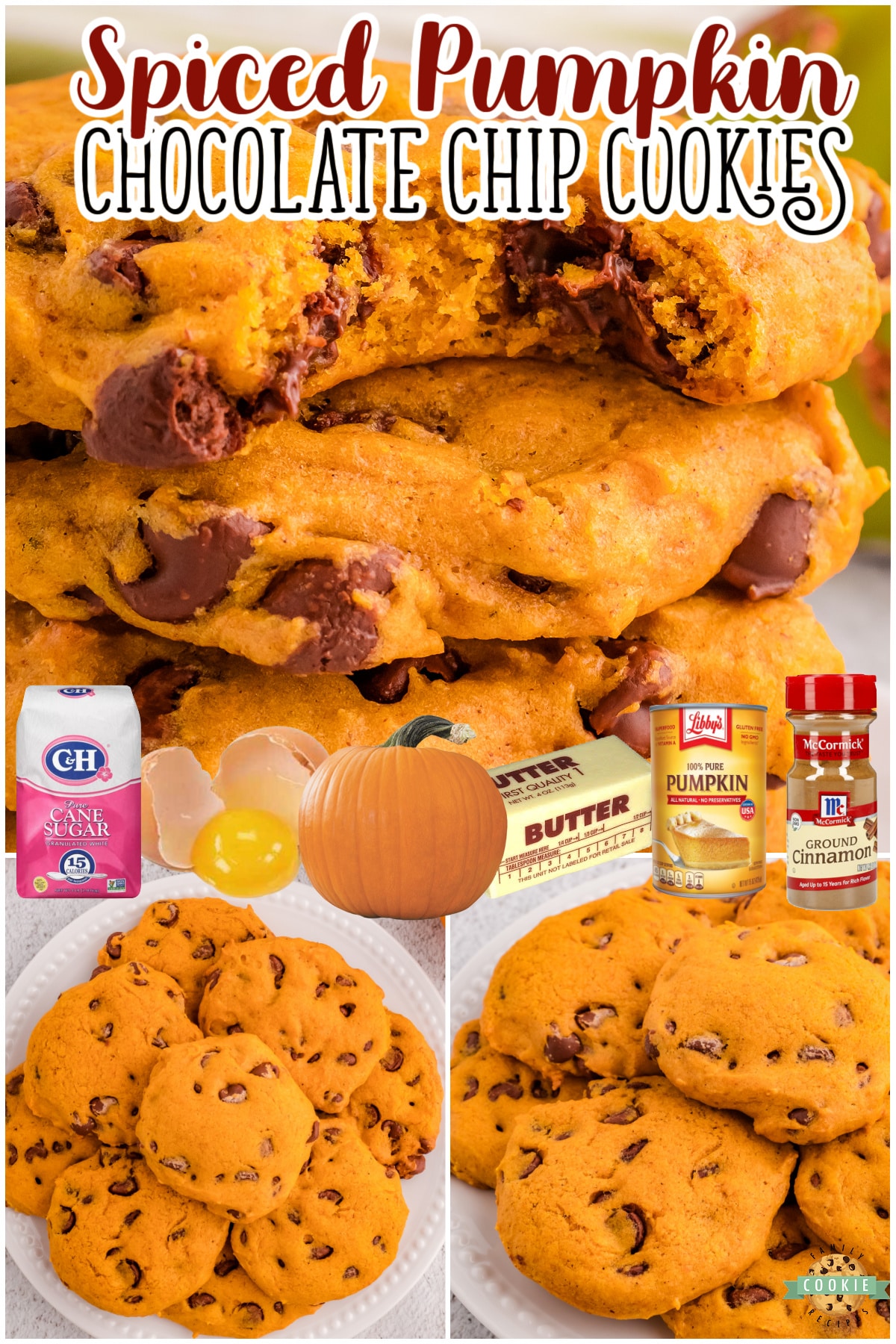 Helpful Recipe Tips for Amazing Cookies!
Here are just a few tips and tricks to ensure the best cookie results every time!
It is fine to flatten the cookies quite a bit, as they will still puff up while baking. Whatever the shape you create prior to baking will be close to the end result size and shape.
To make the 2-inch balls of dough, I take a heaping amount of dough using a small cookie scoop. I have multiple cookie scoop sizes, for this recipe I use a tablespoon size to create the round balls.
Make sure to spray the back of the spoon with some cooking spray every 2-3 cookies that you flatten to keep the dough from sticking to it. This helps prevent the cookie dough from sticking to the spoon and maintain its shape well.
How should I store the pumpkin chocolate chip cookies?
You can keep these cookies stored in an airtight container at room temperature for up to 2 or 3 days. This will give you plenty of time to enjoy them and share them with friends and family.
Do I have to flatten the cookies?
These cookies do not spread very much while baking, so we recommend flattening the dough out at least a little bit as it will help get the cookies to cook more evenly. If you skip this step, be warned that your cookies will be unevenly baked and will look like small mounds instead of a more traditional cookie shape.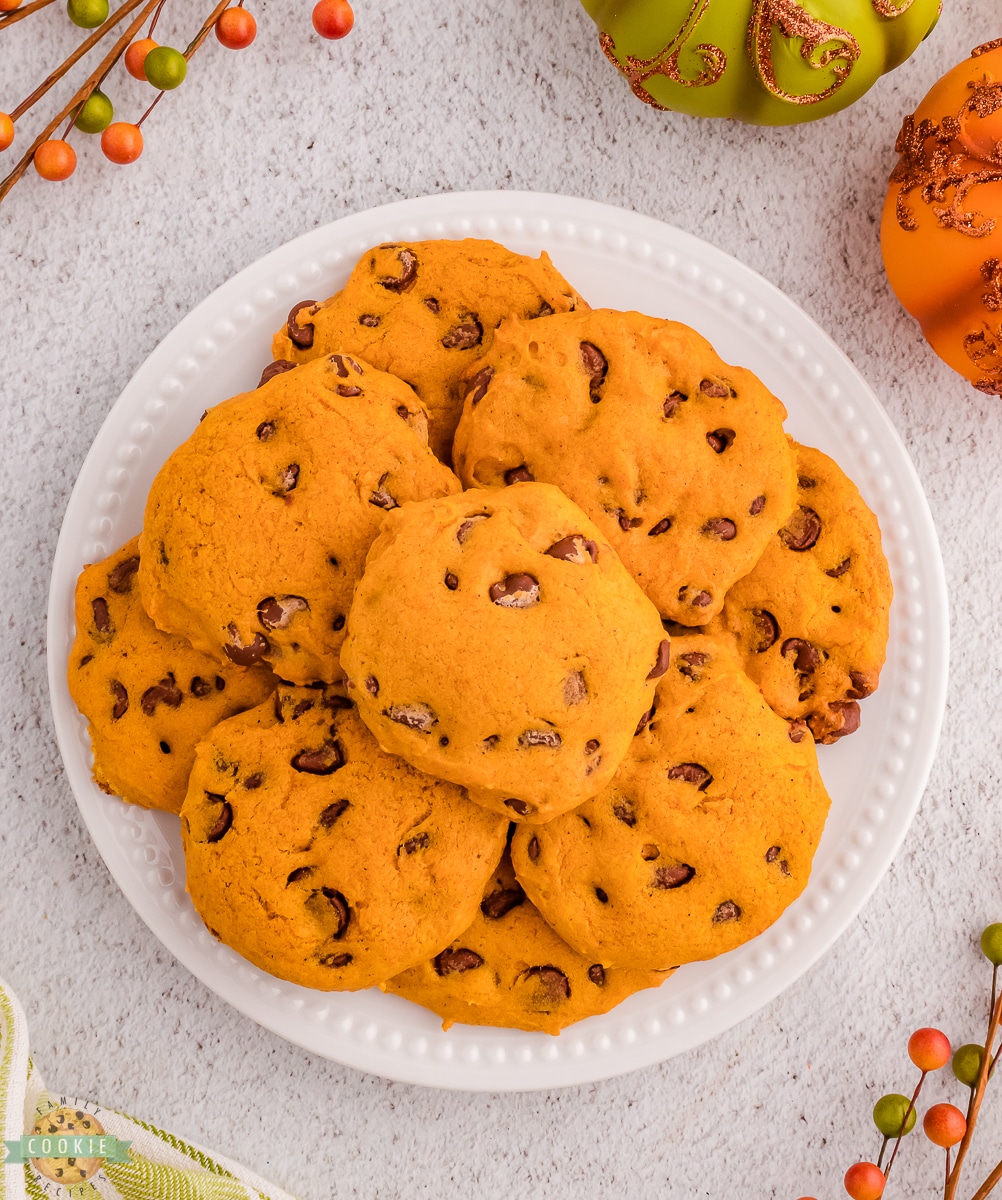 What are substitutions that I can make?
If you don't have all of the spices listed on hand, adding 1-2 teaspoons of pumpkin pie spice can be a great alternative. You can also use milk chocolate chips instead of semi-sweet. A tasty addition to these would be some chopped walnuts or pecans too. Feel free to make the substitutions based on what you want or what you have on hand.


We encourage our kids to support each other in each of their individual activities, but we also understand that there are a lot of individual activities. If we made our oldest daughter attend every single activity, her schedule would be jam packed, and that's not the kind of thing she enjoys. But we do strongly encourage her, and others, to attend some. Here she is, cheering her brother on in her own way. Ha!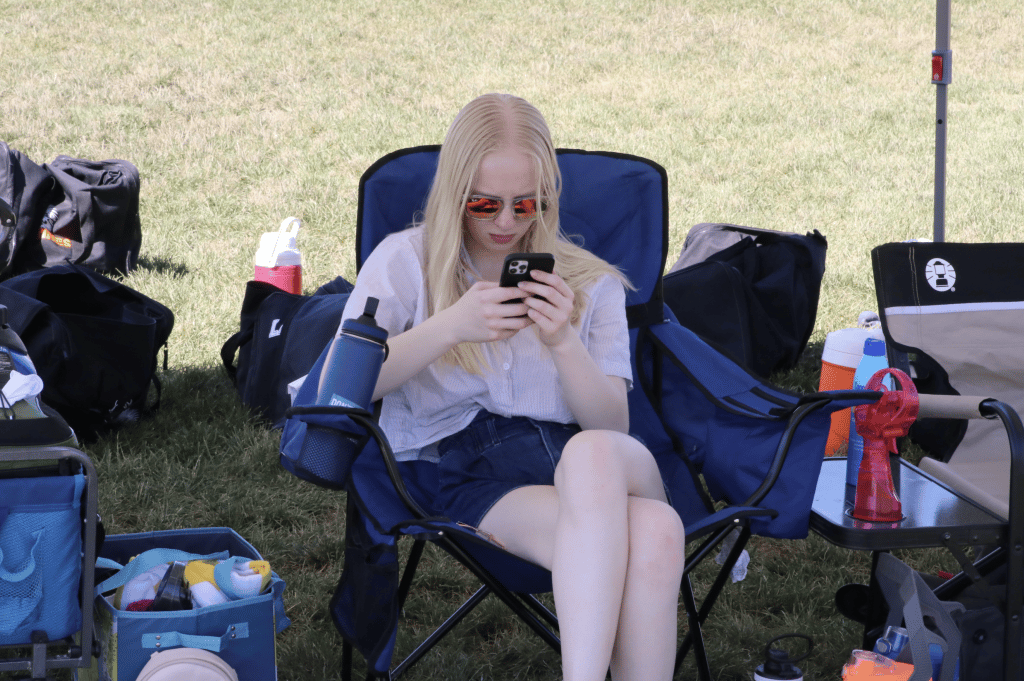 Spiced Pumpkin Chocolate Chip Cookies are made from pumpkin puree and have sweet chocolate in every bite, they are soft, chewy, and almost too good to share! This pumpkin chocolate chip cookies recipe has simple ingredients, they come together fast and are so delicious.