Orange Pumpkin Cookies are soft, chewy and perfect for fall! This pumpkin cookie recipe is topped with a simple orange glaze that complements the pumpkin flavor perfectly.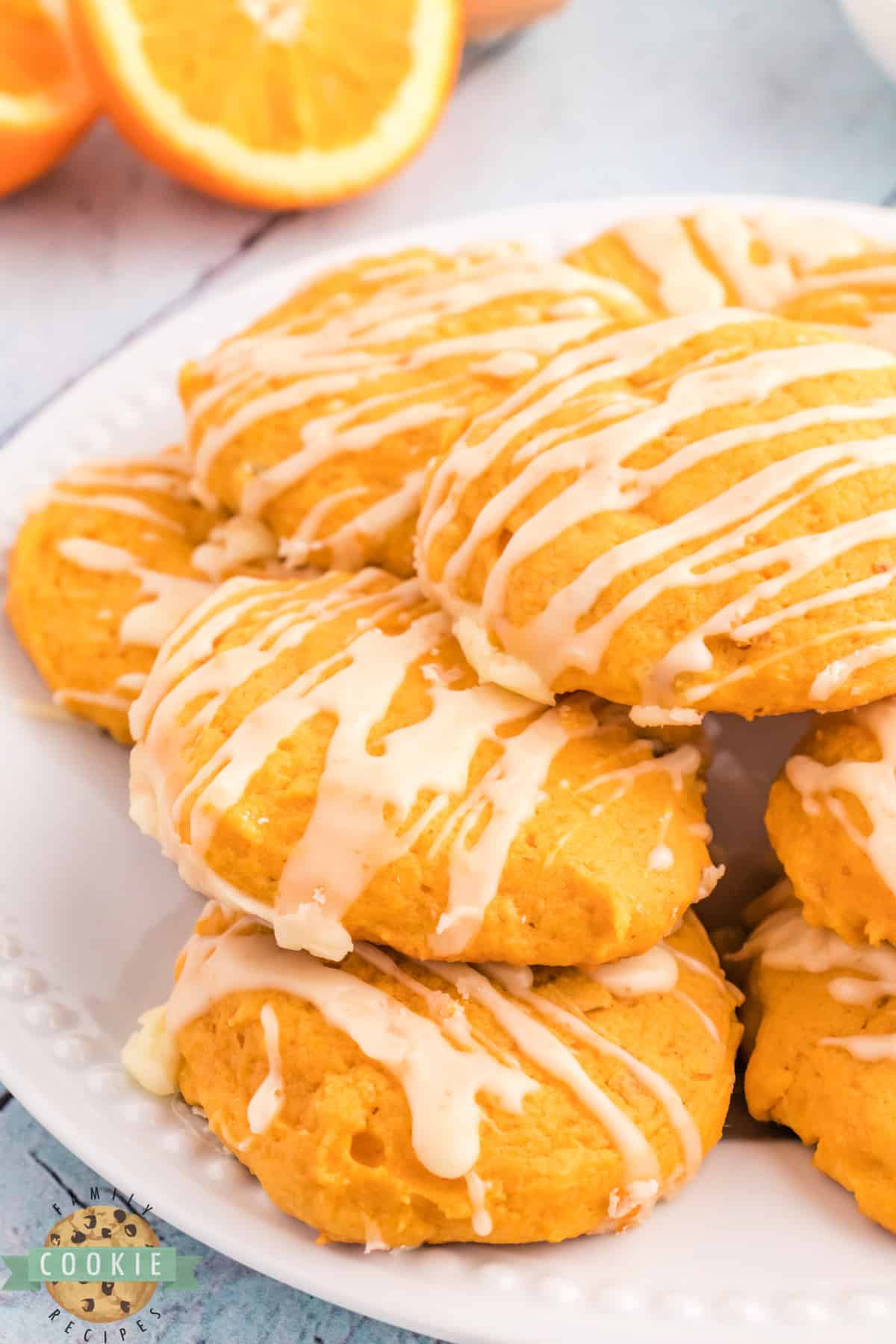 I absolutely love pumpkin and am always very excited when fall comes around and it becomes acceptable to start putting it in everything. Make sure to check out our collection of delicious Pumpkin Cookie recipes – we have quite a few that we've created over the years.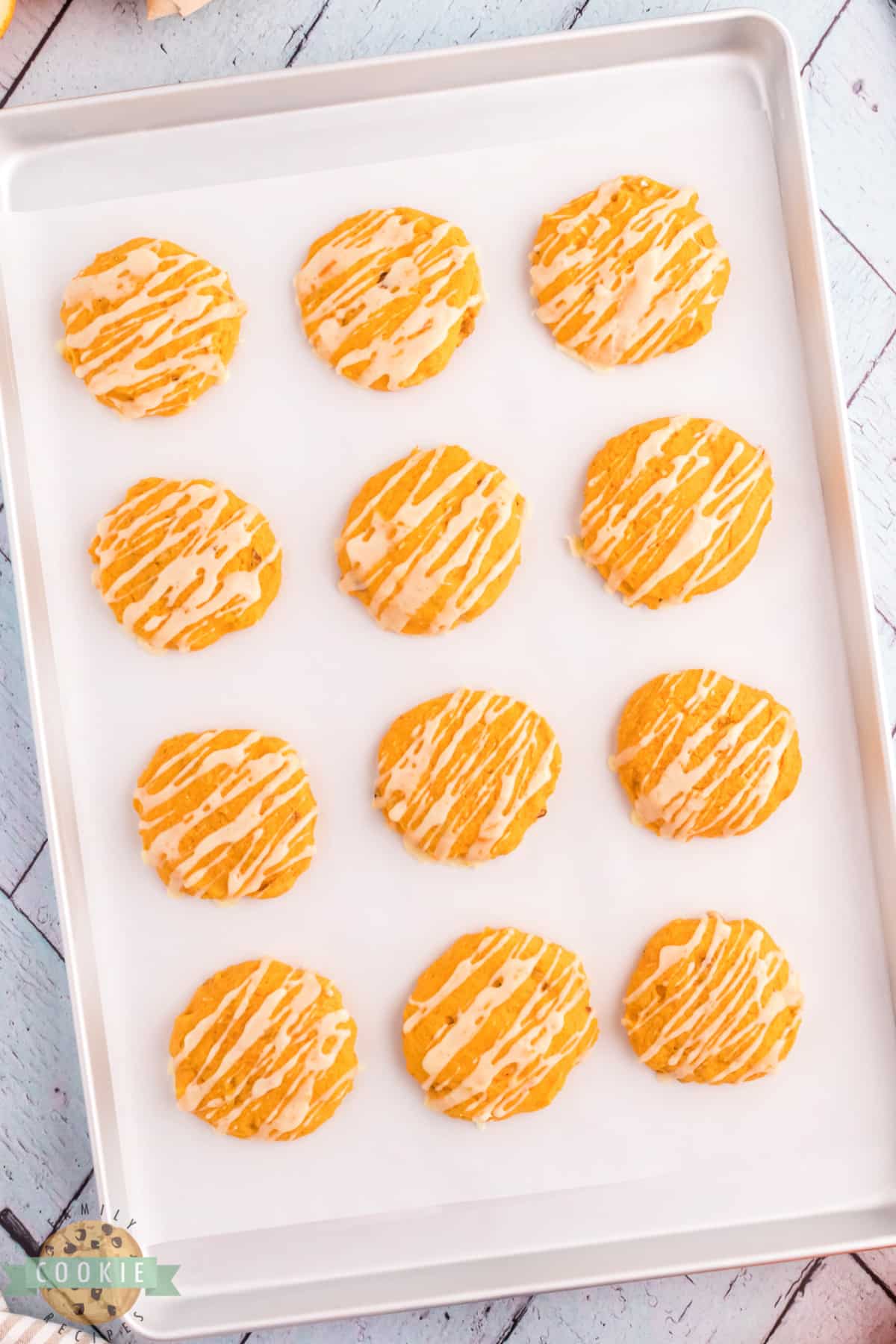 Orange Pumpkin Cookies
These cookies are made with very simple ingredients, including canned pumpkin. You can add walnuts or pecans if desired. The thing that makes these cookies so unique is the orange glaze. The glaze is made with orange zest, orange juice and powdered sugar. So simple, but the orange flavor is absolutely perfect drizzled over the pumpkin cookies!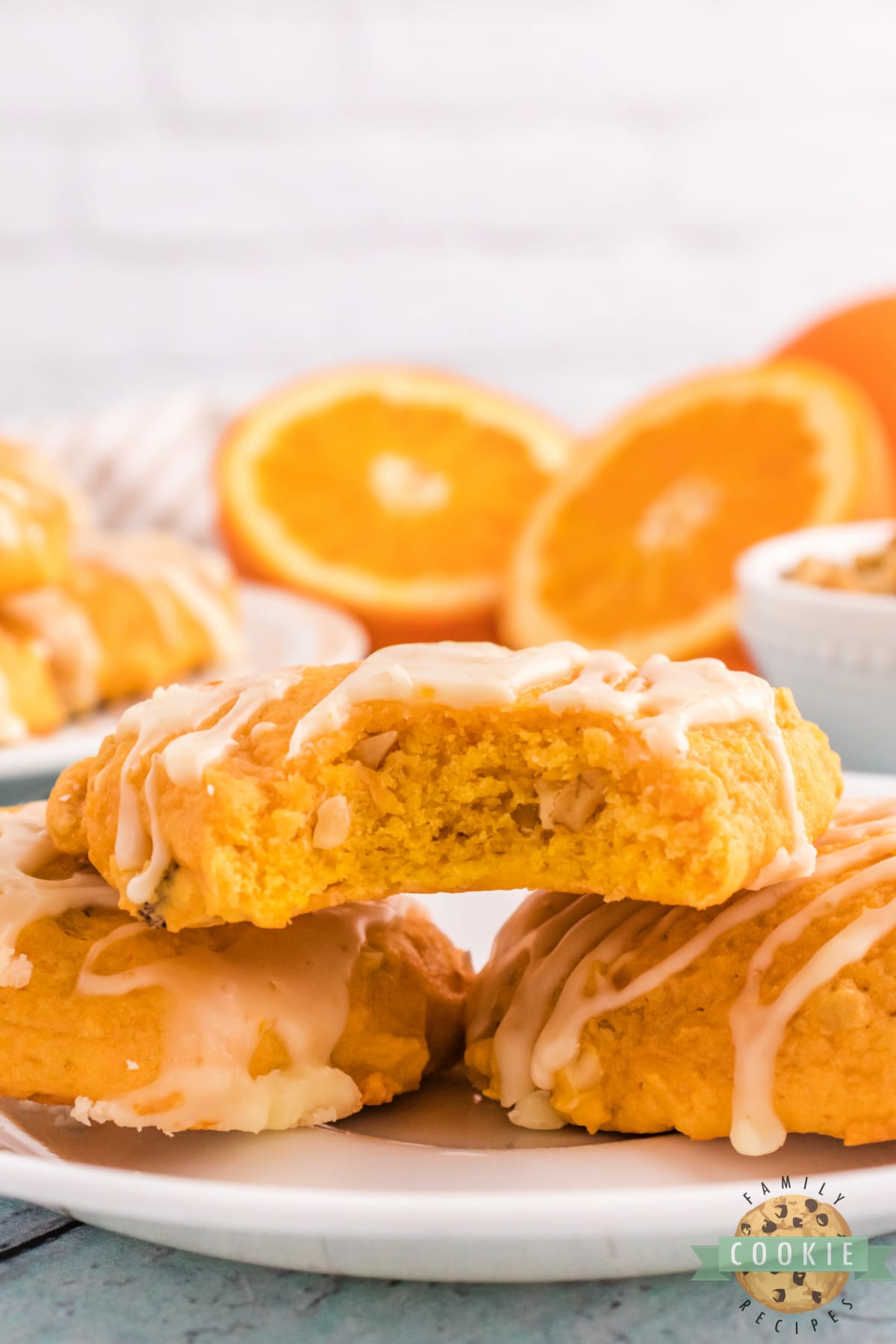 HOW DO YOU MAKE PERFECT PUMPKIN COOKIES?
Making pumpkin cookies is easy! Here are a few tips to getting perfect cookies every time!
Make sure that you have enough flour in the dough. If the dough is too sticky, you may need to add a little bit of flour. The dough in this recipe is slightly sticky and may stick to your fingers slightly as you are rolling the balls, but if they are impossible to shape into balls, add a little bit more flour.
Do not melt the butter! The butter needs to be softened (at room temperature), but using melted butter will ruin these cookies.
Spend a little extra time when you mix the butter and sugars. Creaming them together for 2-3 minutes will improve the consistency of your cookies.
Preheat the oven. This will help your cookies turn out right every time!
Use a cookie scoop! If you want all your cookies to be perfectly shaped and have them all be the same size, a cookie scoop is the way to go.
Use parchment paper or a silicone baking mat. Doing this will make it really easy to remove the cookies from your cookie sheet so that you don't have to scrape them off the pan – they will just slide right off in perfect shape!
Don't overbake the cookies – when I take mine out of the oven, they still look slightly underbaked but they will continue to bake on the cookie sheet for a couple more minutes so that's ok!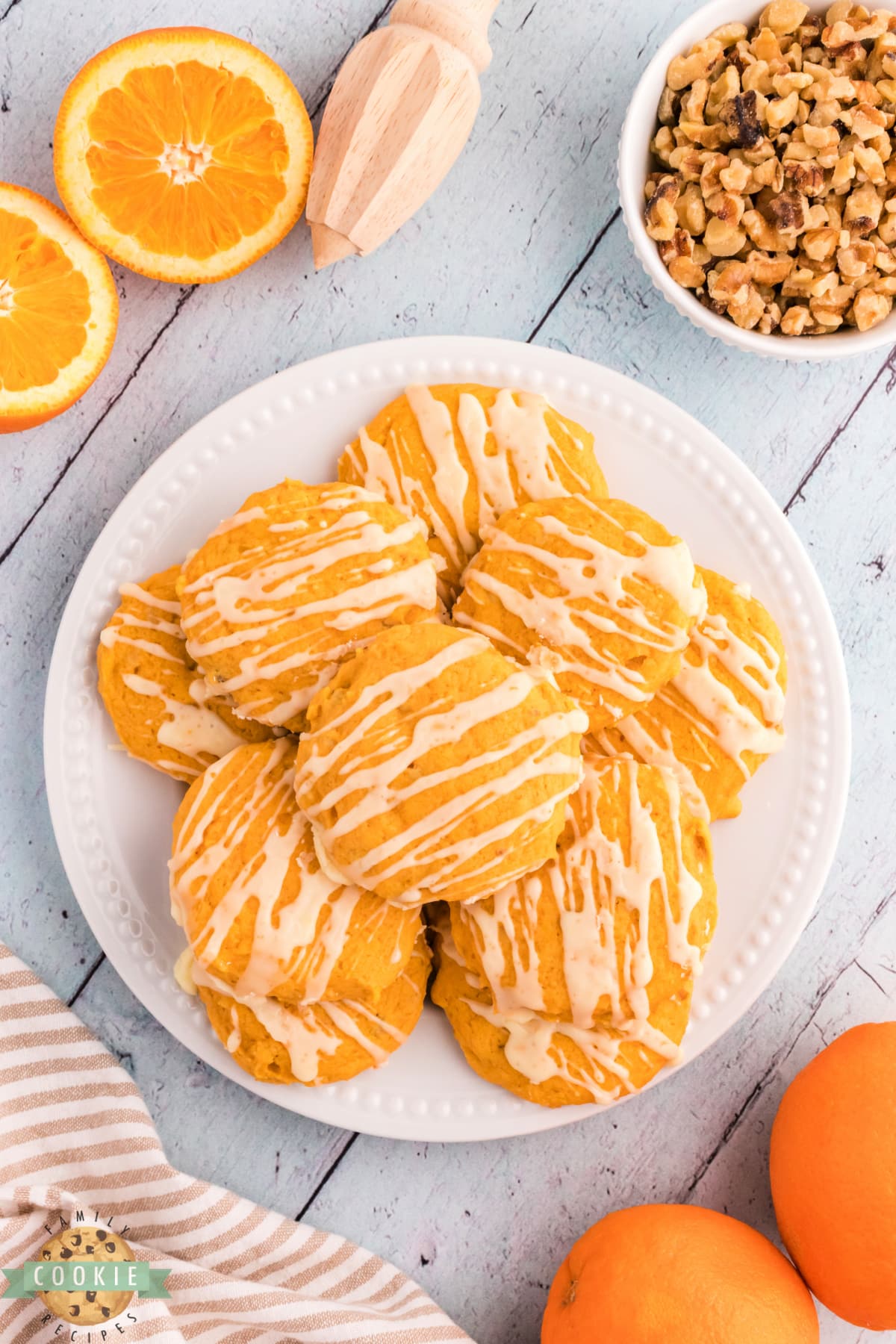 Ingredients in Orange Pumpkin Cookies
For the cookies: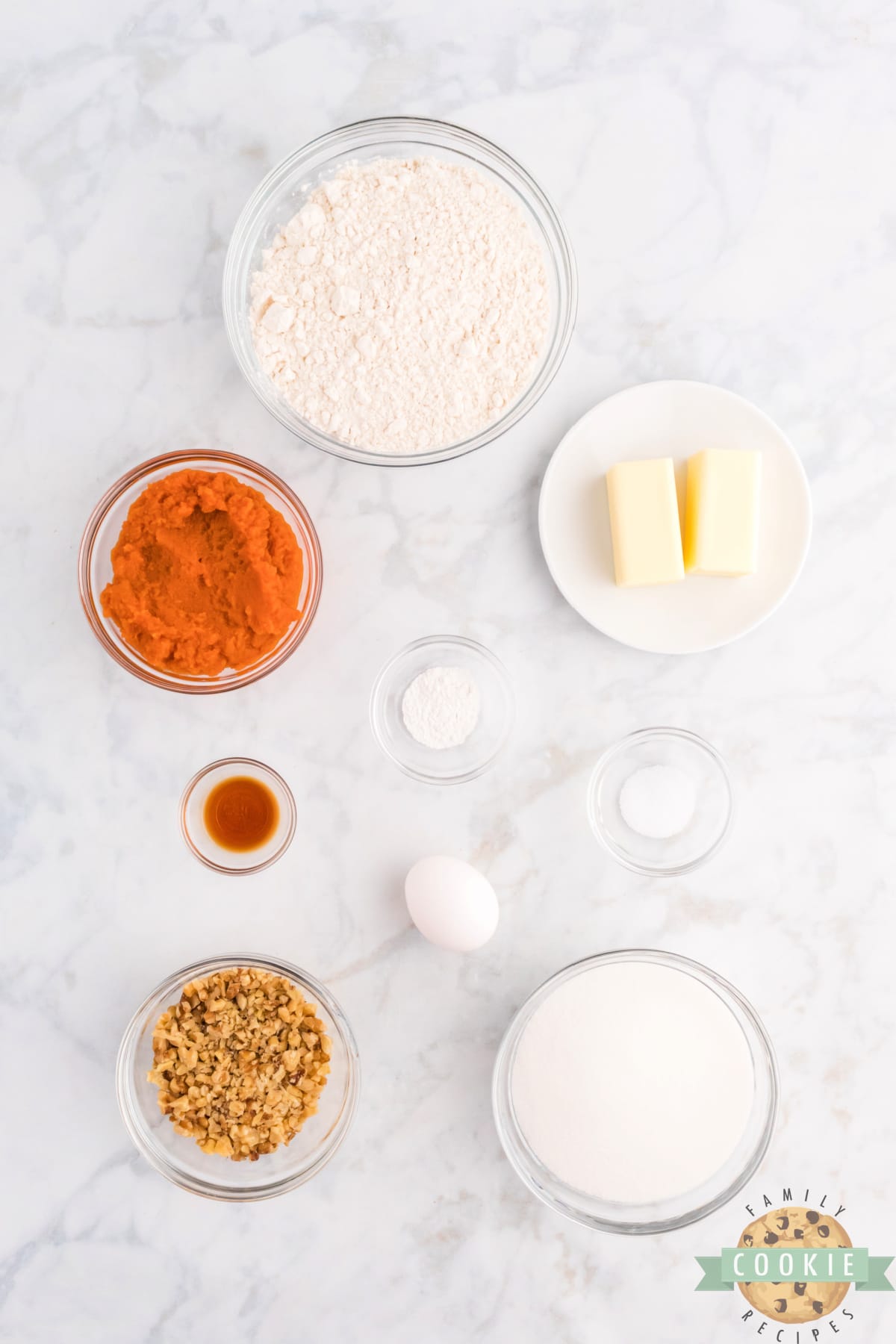 Sugar – Granulated sugar works perfectly for this recipe.
Egg – One large egg will help to bind everything together.
Butter – Make sure the butter is softened to room temperature before mixing with the sugars. For best results, use real butter.
Pumpkin: You will need 1 cup of pumpkin puree. Make sure it is 100% pure pumpkin, not pumpkin pie filling, as that is something completely different and will not work with this recipe.
Flour – Regular, all-purpose flour works perfectly in this recipe, but cake flour would be fine too.
Baking powder – The baking powder acts as the leavening agent in the cookies, so make sure it isn't old or expired.
Salt – Just a teaspoon of salt will help to intensify all of the other flavors in the cookies.
Vanilla extract – The higher the quality of the vanilla, the better.
Nuts – If you like nuts in cookies, add a cup of chopped walnuts or pecans.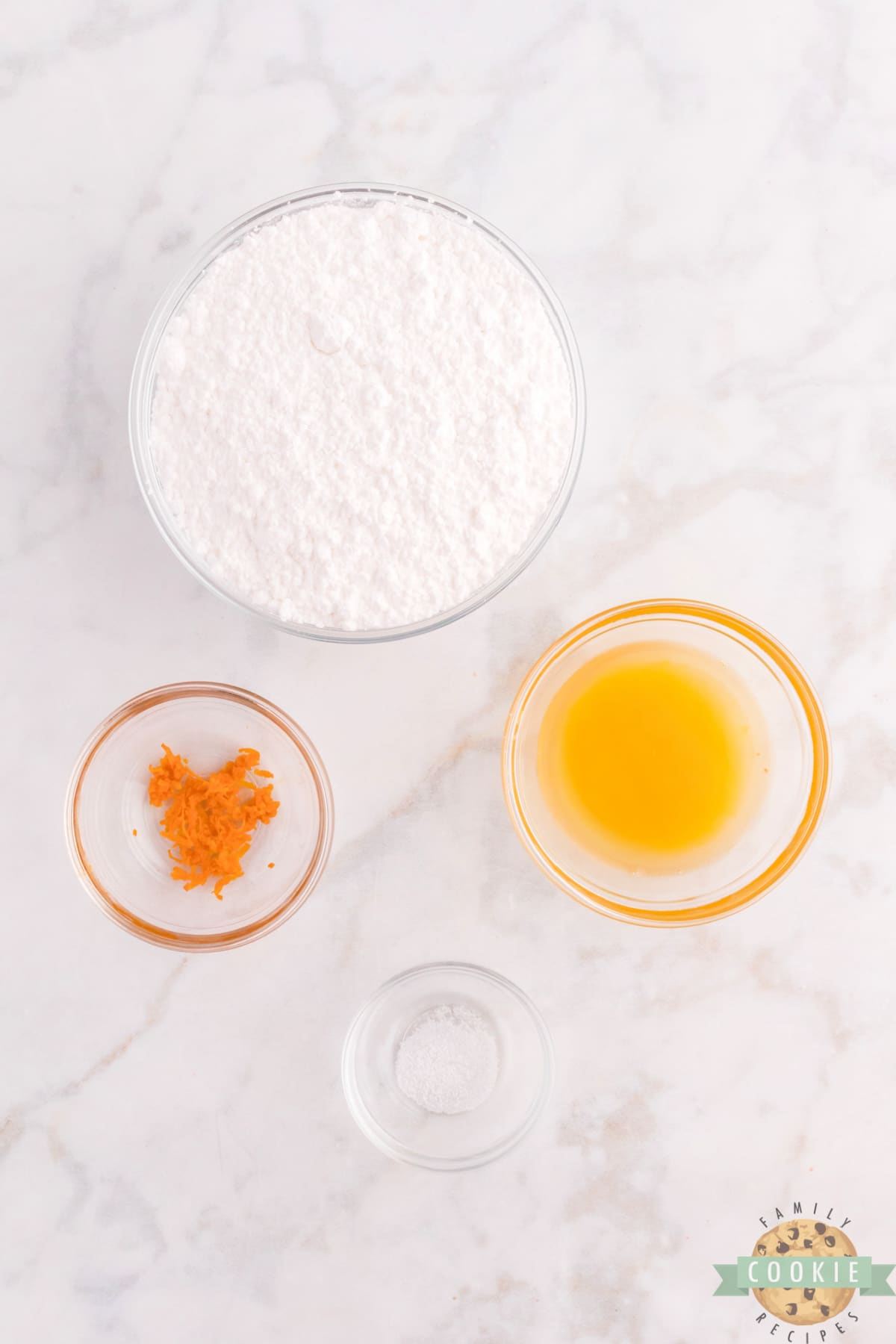 For the orange glaze:
Zest – You will use all of the zest from 1 orange.
Juice – You will need all of the juice from 1 orange, which is equal to about 2 tablespoons. You can use an equivalent amount of regular orange juice if you prefer.
Powdered sugar – The powdered sugar makes the glaze perfectly creamy and sweet.
Salt – Just 1/4 teaspoon of salt will help to intensify the orange flavor.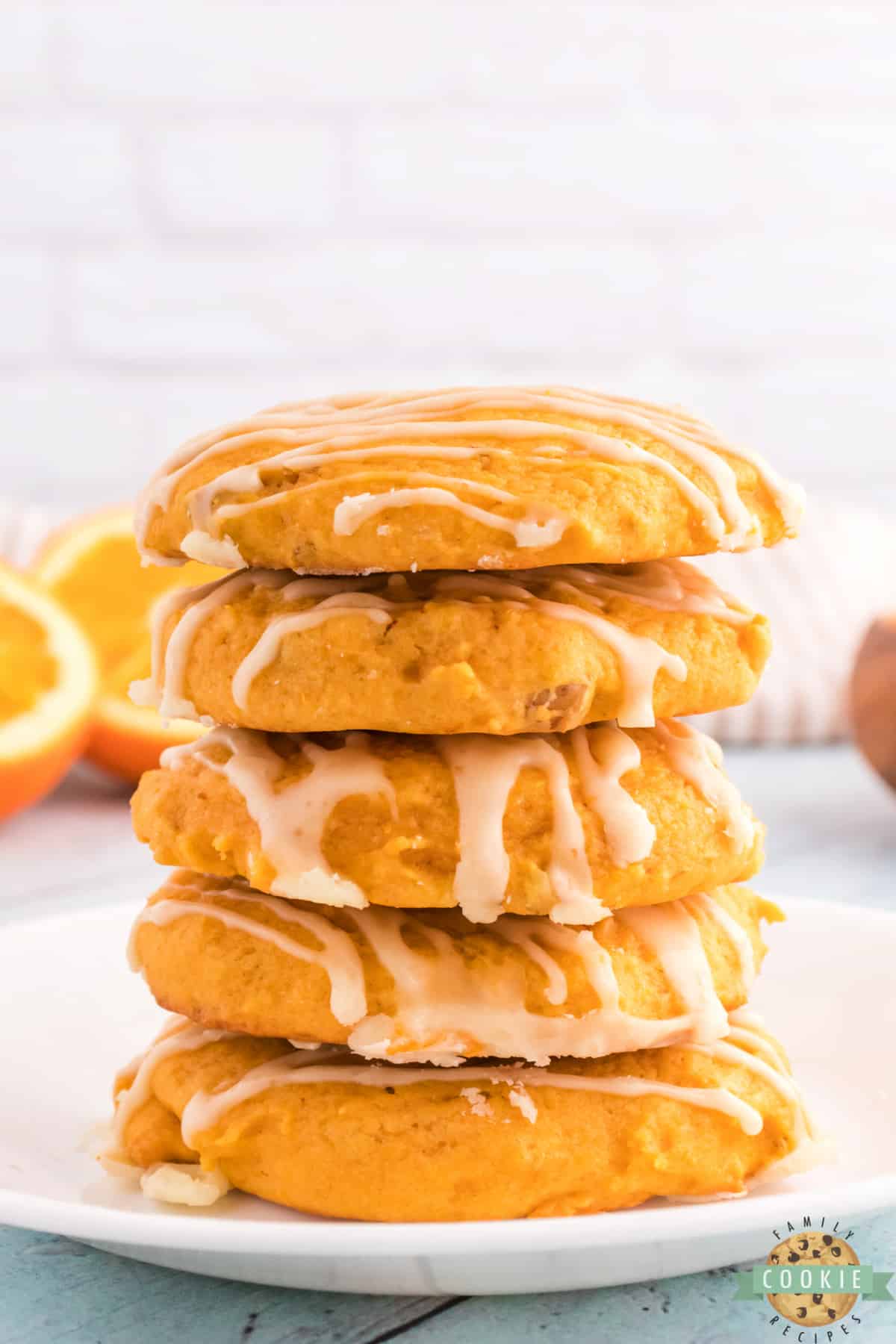 How to make Orange Pumpkin Cookies
Preheat the Oven
To begin making Pumpkin Orange Cookies, preheat the oven to 350°F. Grease a cookie sheet or line it with parchment paper or a silicone baking mat.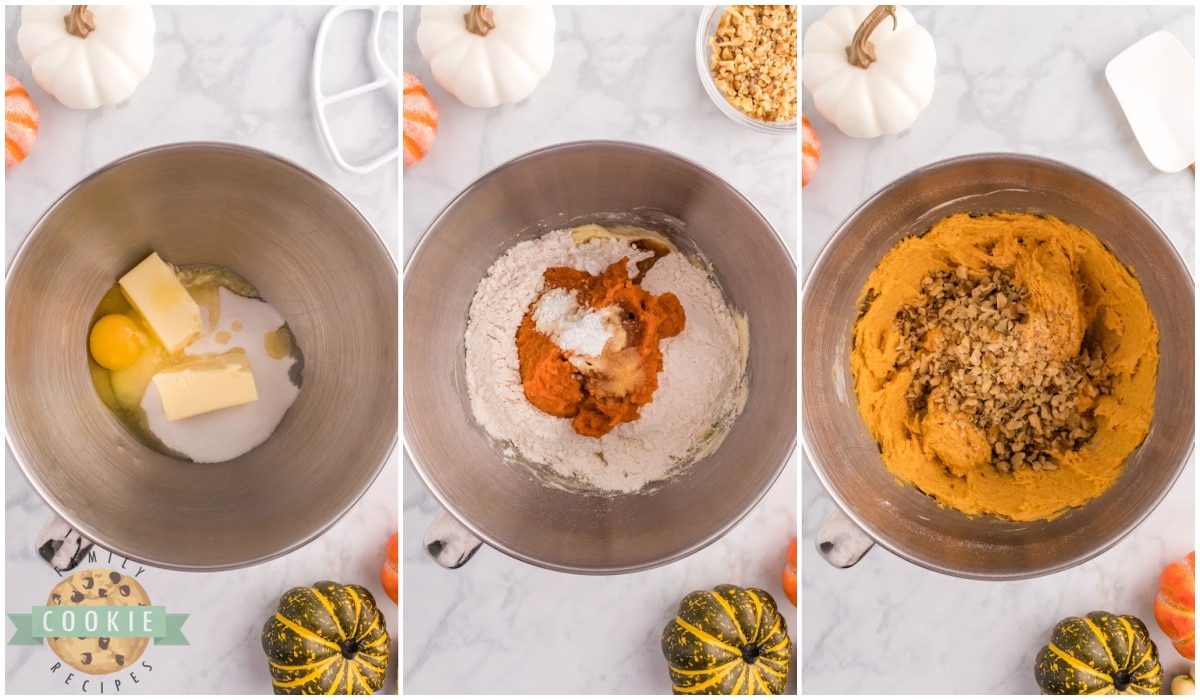 Mixing the Ingredients
In the bowl of a stand or hand mixer, cream together the sugar, egg, and butter. Beat for about 2-3 minutes. Add the pumpkin, flour, baking powder, salt, and vanilla. Mix until well combined. Fold in chopped walnuts or pecans.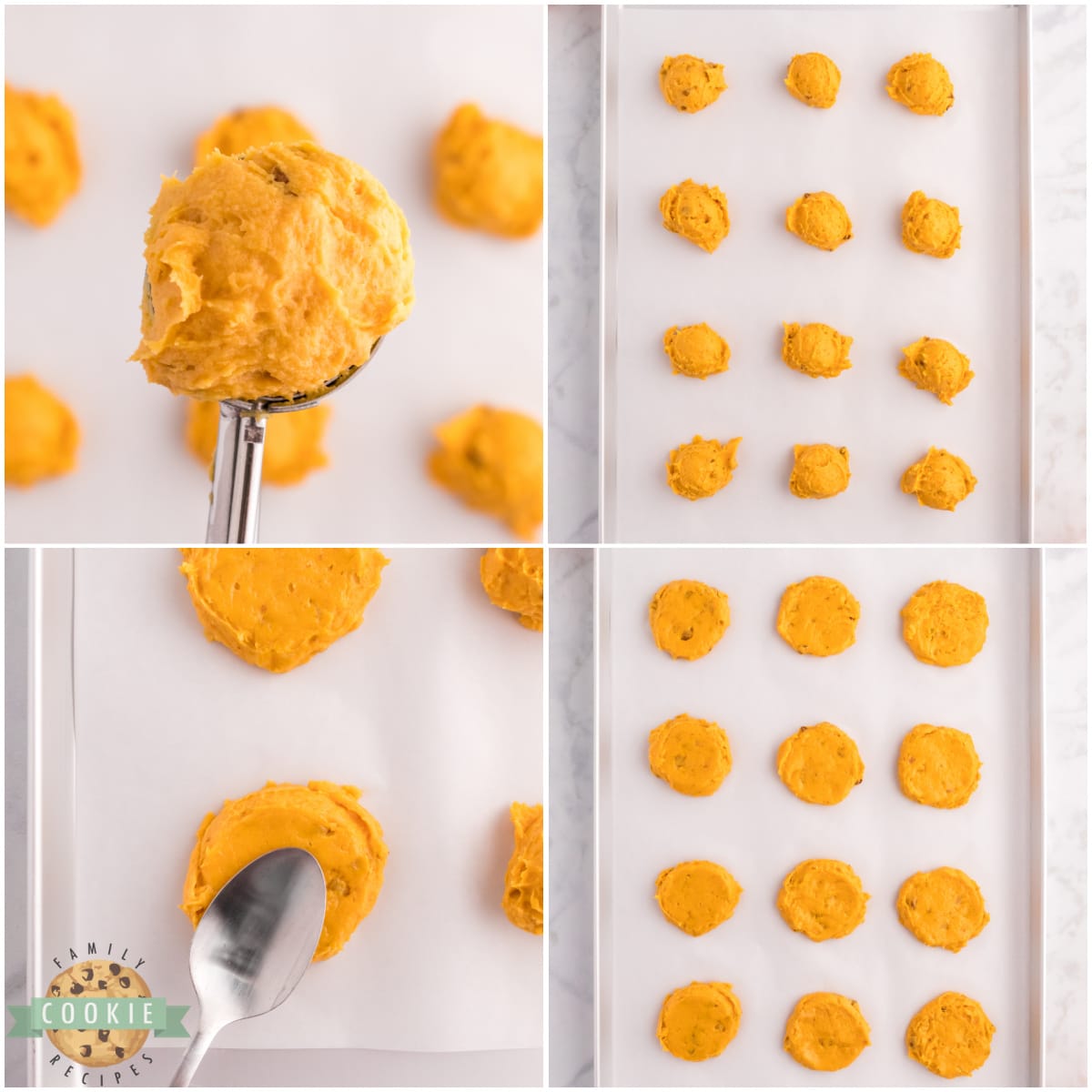 Baking the Cookies
Scoop 2-inch balls of dough onto the cookie sheets, spacing apart to have 12 cookies per sheet. Slightly flatten each cookie to about the size you want them to be (they don't spread much when baking). Bake for 13-15 minutes or until cooked in the center.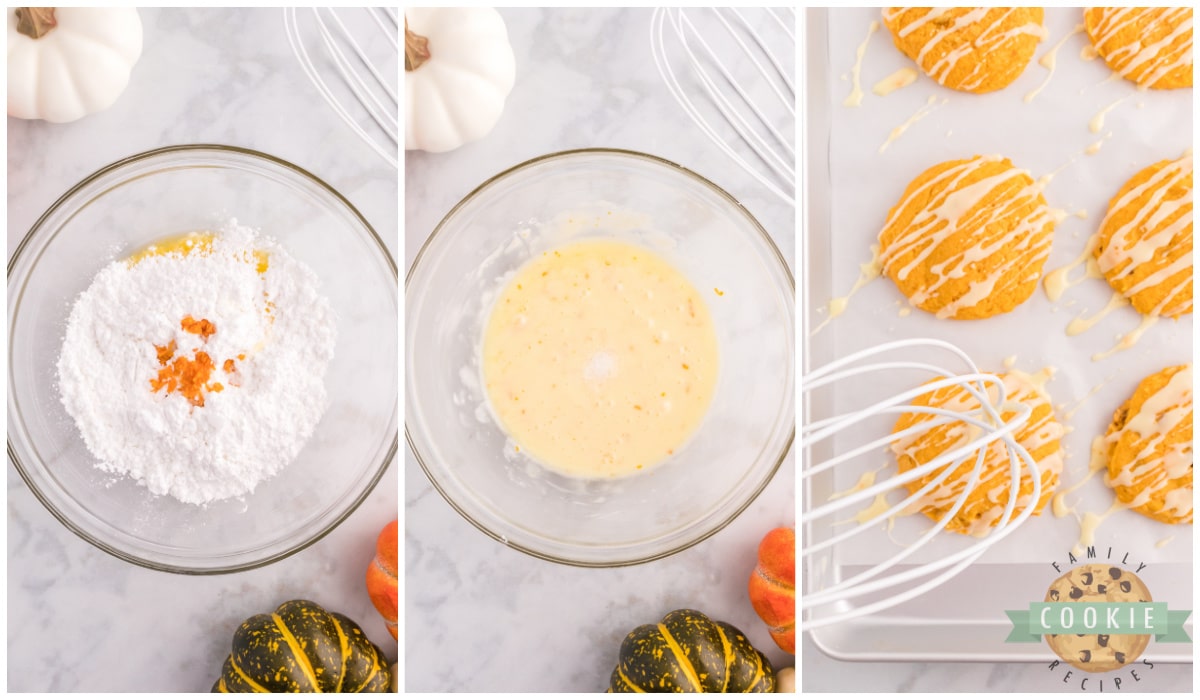 Preparing the Orange Glaze
To make the orange glaze, add the orange zest and juice into a medium bowl with the powdered sugar. Whisk until the glaze is smooth and has a slightly runny consistency to easily drizzle over the cookies. Mix in the salt. Drizzle the glaze over the cookies while they are still slightly warm.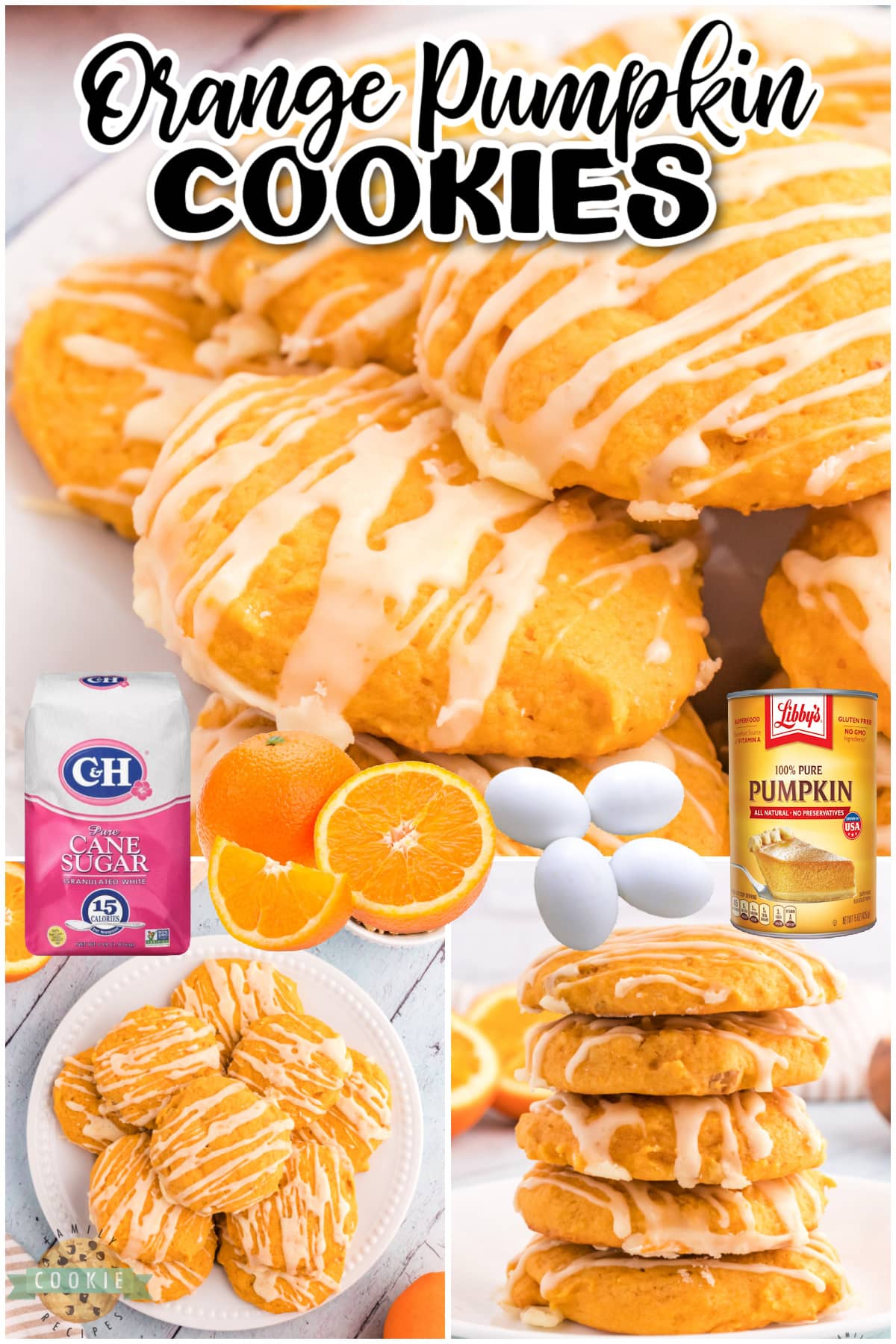 Tips for making the perfect glaze
To drizzle the glaze, I recommend using a whisk, but a spoon or fork can also be used.
When drizzling the glaze over the cookies, be sure to wait until they are mostly cooled down out of the oven. If they are too hot, the glaze won't stick properly to the cookie.
If the glaze becomes too thick and you have no more juice from the orange to thin it out, add 1 teaspoon of water at a time until it's the desired consistency. To thicken, add more powdered sugar.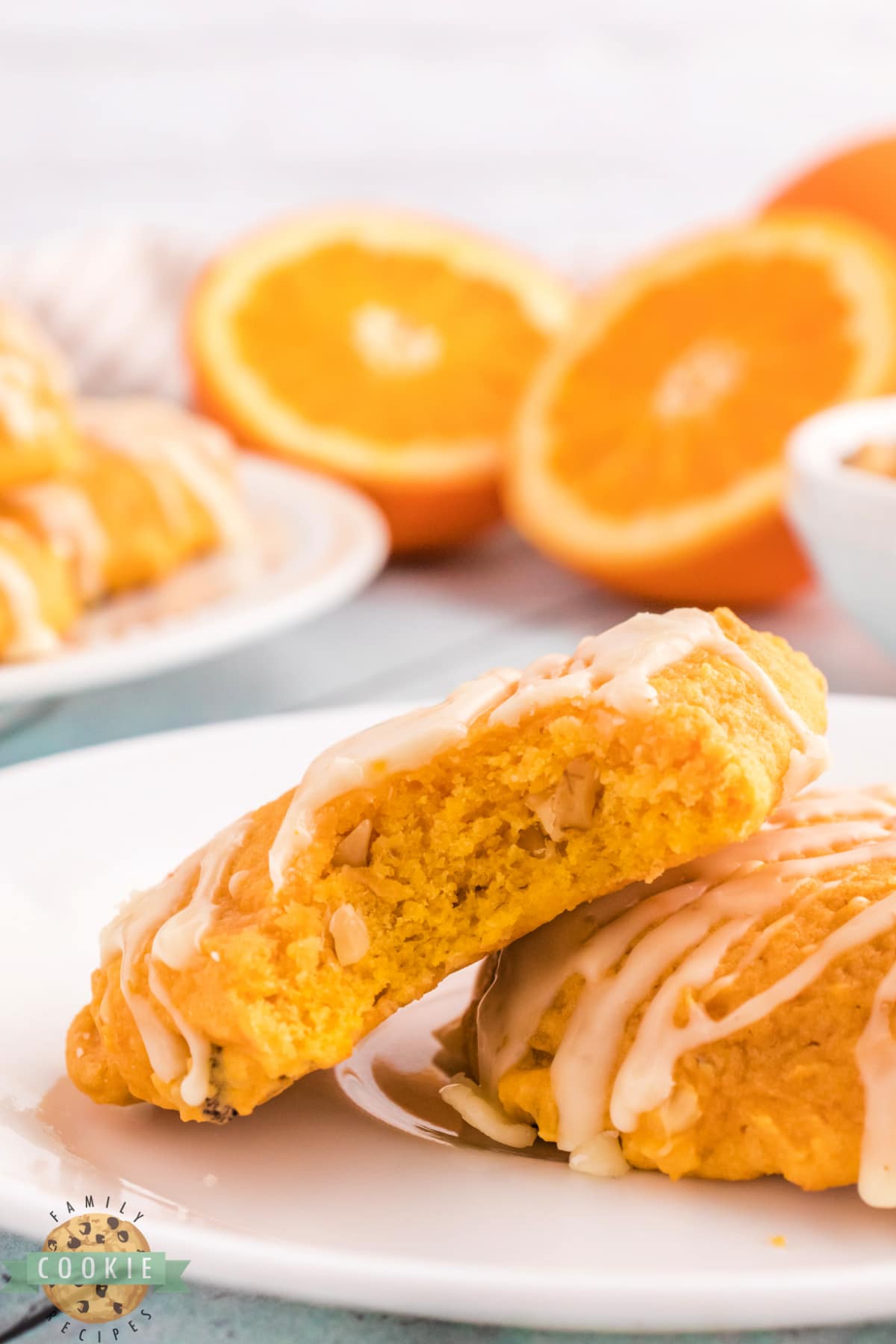 How should I store the pumpkin cookies?
Store the cookies in an airtight container at room temperature for up to 3 days. To keep them fresh for longer, store them in the refrigerator for up to a week.
What are some variations for orange pumpkin cookies?
You can experiment with different spices such as cinnamon, nutmeg, or ginger to add more flavor to the cookies. You can also swap the orange glaze for a cream cheese frosting or a maple glaze. You can even swap out the orange with lemon for an even more unique flavor combination!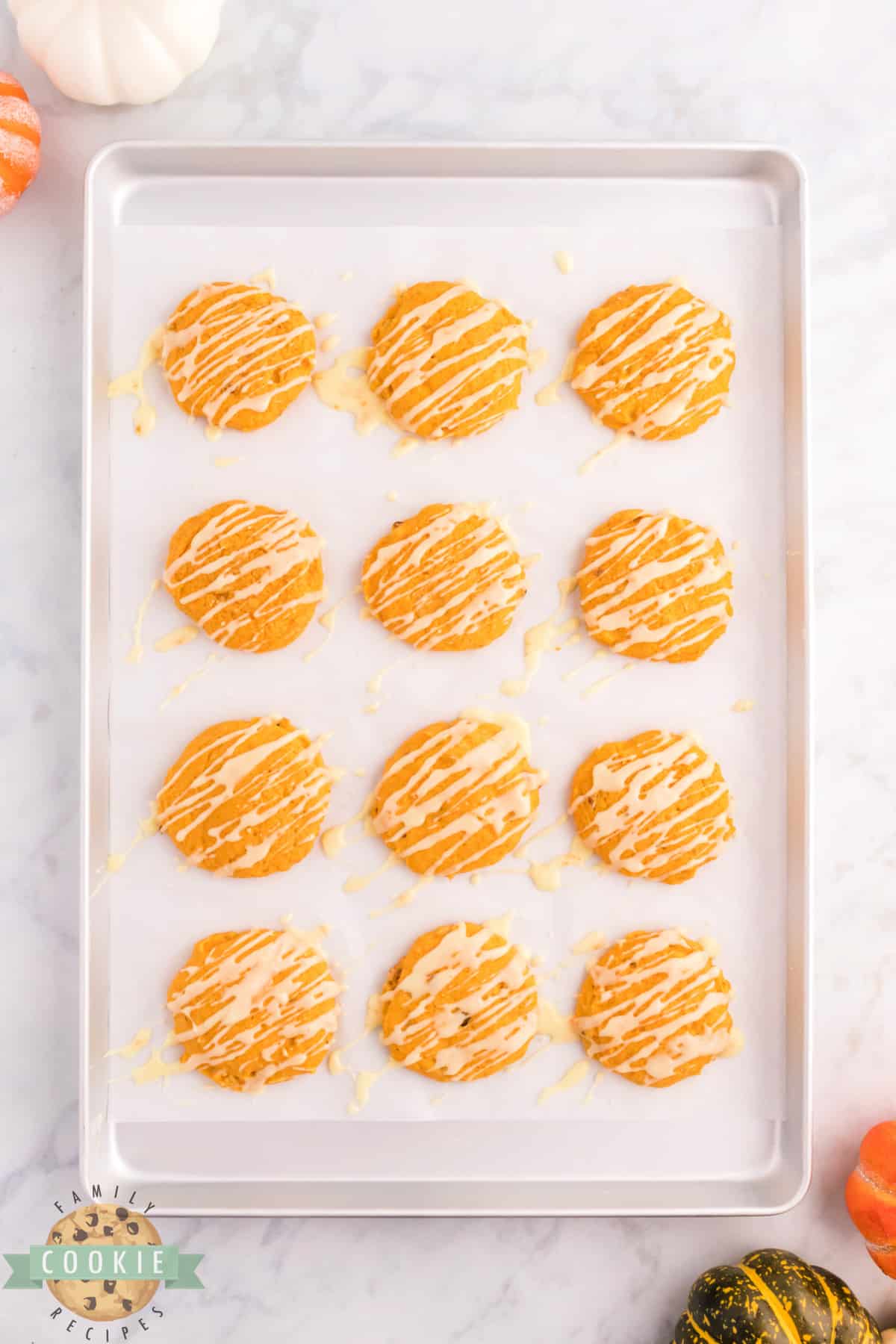 Can you freeze pumpkin cookies?
Yes, you can freeze the cookies for up to 3 months. Allow them to cool completely before placing them in an airtight container or freezer bag. When ready to eat, thaw the cookies at room temperature for a few hours.
HOW DO YOU SOFTEN BUTTER?
I like to soften butter by using the defrost function on my microwave. If you need the full 1/2 cup cube of butter, you can leave it in the paper wrapper, otherwise, place the amount of butter you need in a glass or porcelain bowl. I use the lowest defrost setting on my microwave and just let it run for 20 seconds. Check the butter and see how soft it is by pressing it with a rubber scraper. If it is still not soft to the touch, meaning it doesn't indent when you press into it, let it warm for another 5-10 seconds. Watch it closely! Butter softens very quickly.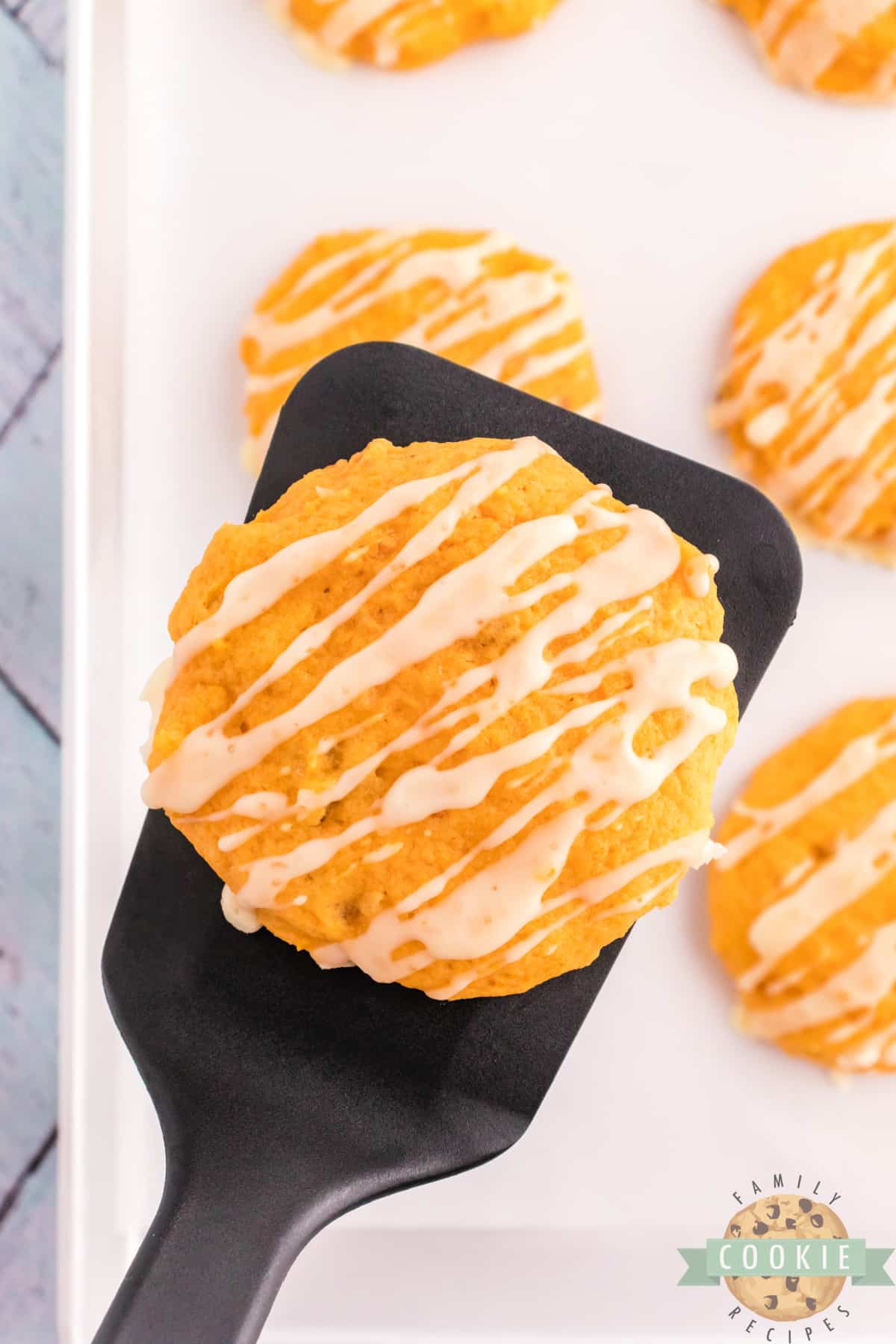 HOW DO YOU ZEST AN ORANGE?
To zest an orange, you'll need a zester or a fine grater. Start by washing the orange under cool water and drying it with a paper towel. Hold the orange in one hand and the zester or grater in the other. Rub the orange against the zester or grater, applying light pressure and moving the orange in a circular motion. Be sure to only remove the outer layer of the orange, and avoid grating the bitter white pith underneath.
MORE DELICIOUS PUMPKIN RECIPES TO TRY: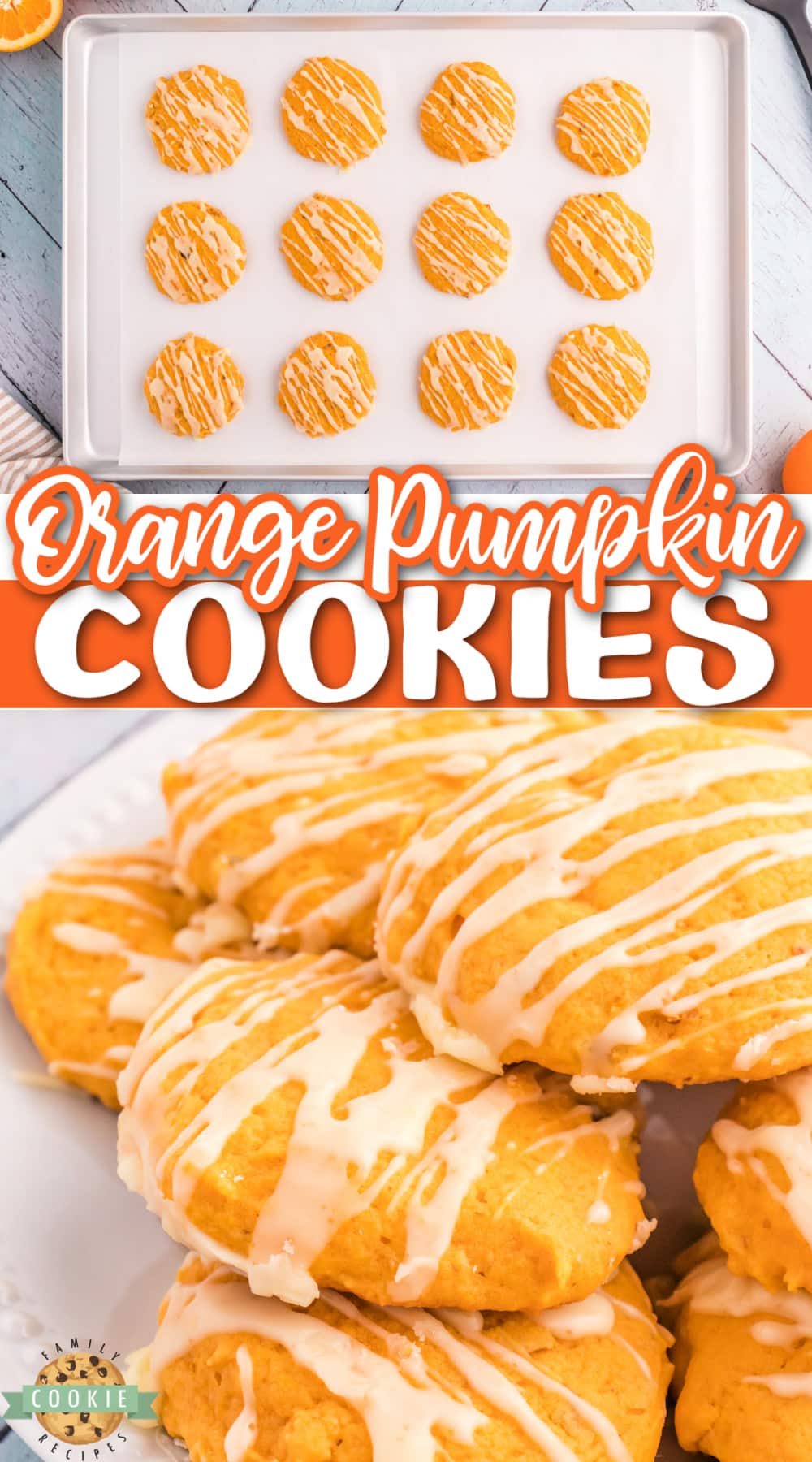 Orange Pumpkin Cookies are soft, chewy and perfect for fall! This pumpkin cookie recipe is topped with a simple orange glaze that complements the pumpkin flavor perfectly.