Marshmallow Sweet Potato Cookies are soft, sweet cookies with fabulous fall flavors! Sweet potato cookie recipe are spiced with cinnamon & topped with a marshmallow!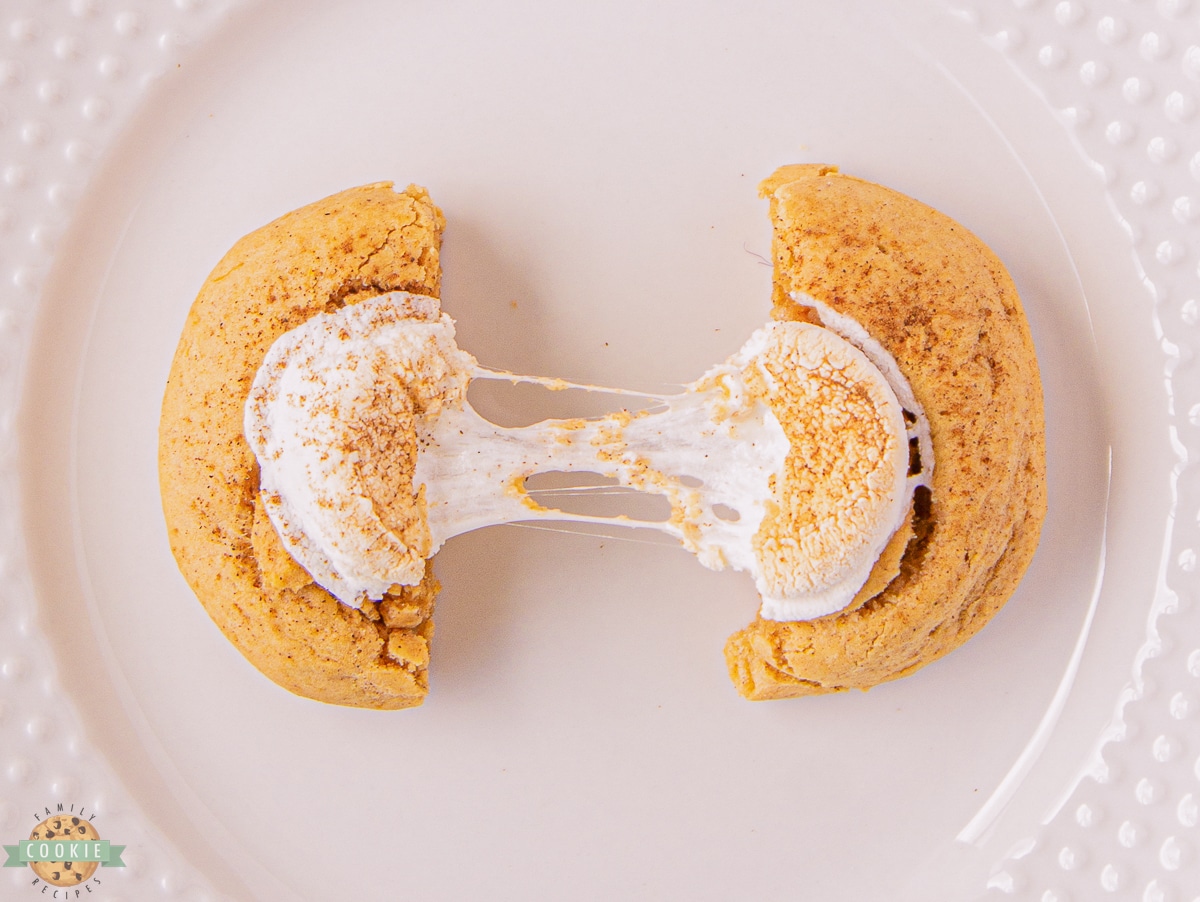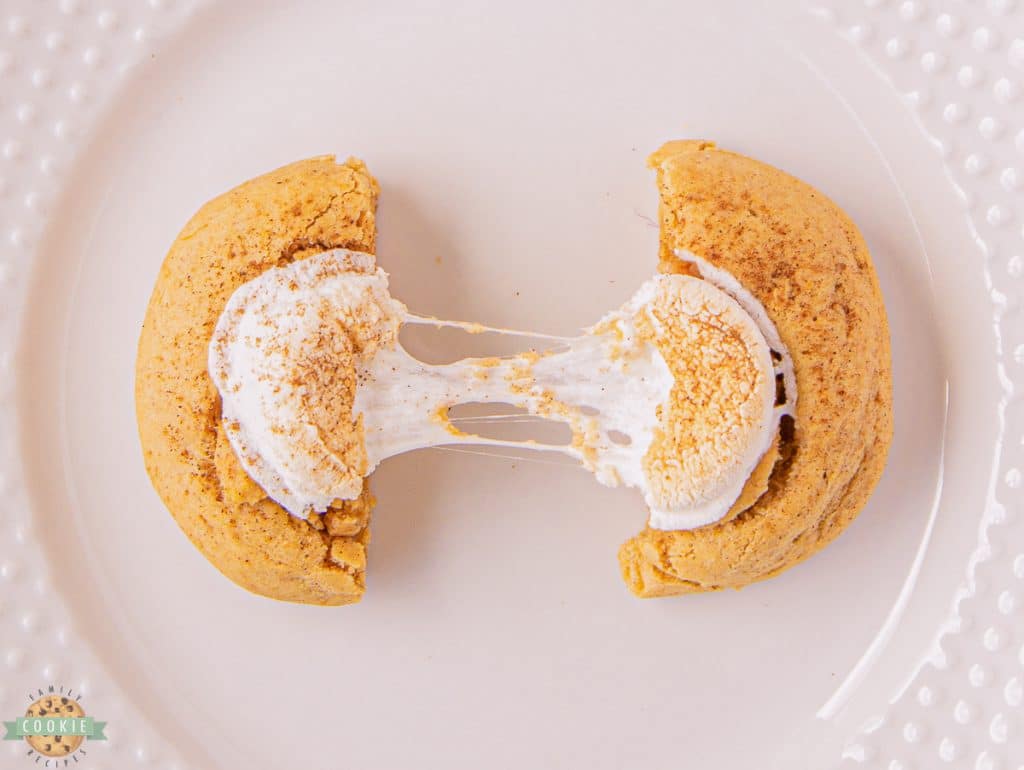 These sweet potato marshmallow cookies have a wonderful soft texture, combined with the gooey marshmallow, the results are a sensational treat. Sweet potato cookies with marshmallows takes what everyone loves about sweet potato casserole but in cookie form.
What are Marshmallow Sweet Potato Cookies?
When Thanksgiving comes around and the sweet potato casserole is being passed around, do you take some or pass it along? If you are not a fan of the consistency but enjoy the flavor, these cookies are for you. This delicious dish, turned into a cookie, has cinnamon spice and toasted marshmallow on top with a fluffy cookie base. Try changing it up at your next holiday event, bring these tasty cookies instead of the casserole and see how quickly they disappear!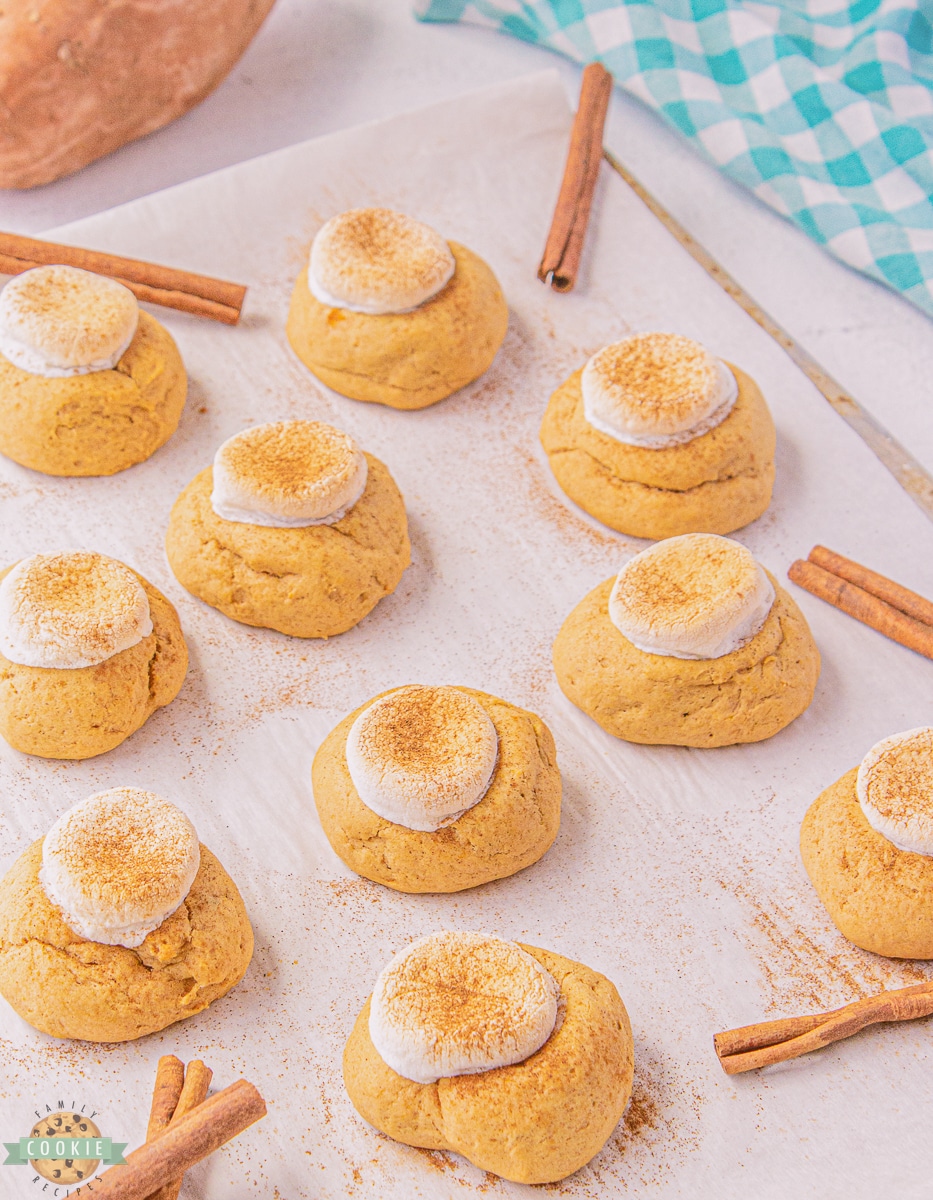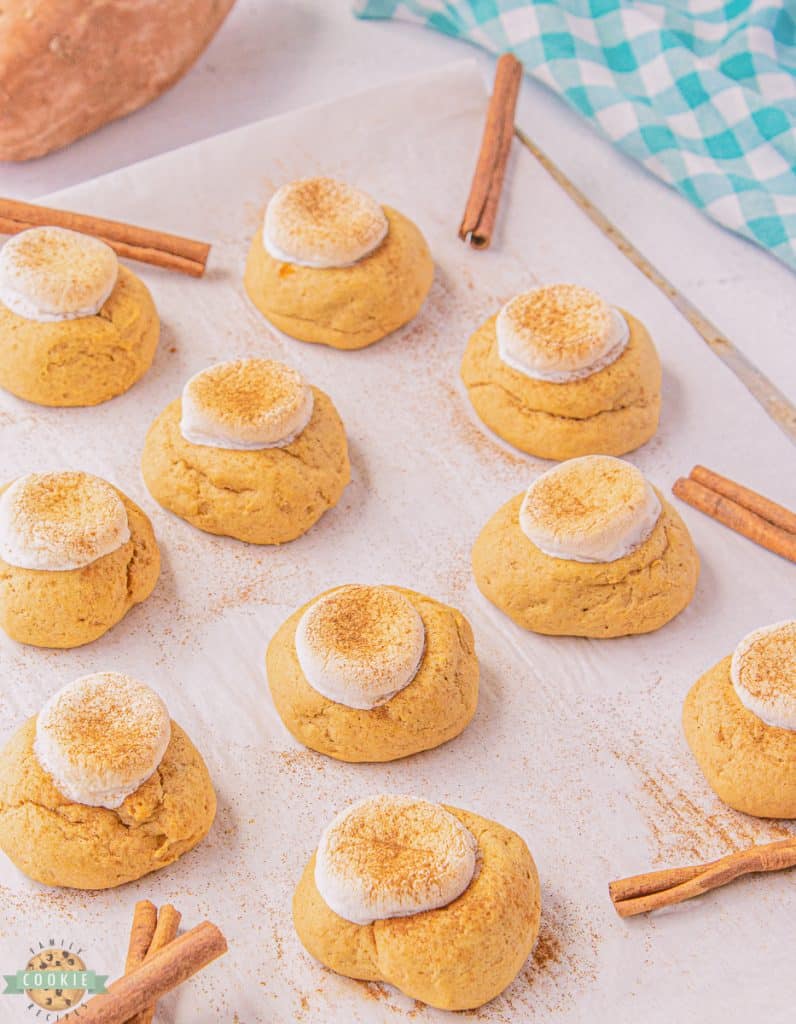 Marshmallow Sweet Potato Cookie Ingredients
Flour: You will need 2 ¼ cups of all-purpose flour for this cookie recipe.
Cinnamon: Adding in ½ tbsp of ground cinnamon, plus extra for garnish, give a lovely warm spiced taste to these cookies.
Baking powder: To help the cookies rise while baking, use 1 tsp of baking powder.
Salt: Using ½ tsp of salt helps balance the wonderful flavors in this treat.
Baking soda: Another leavening agent to add in is ¼ tsp of baking soda.
Butter: You need ½ cup (1 stick) of butter, room temperature, to make these amazing cookie nice and rich in taste.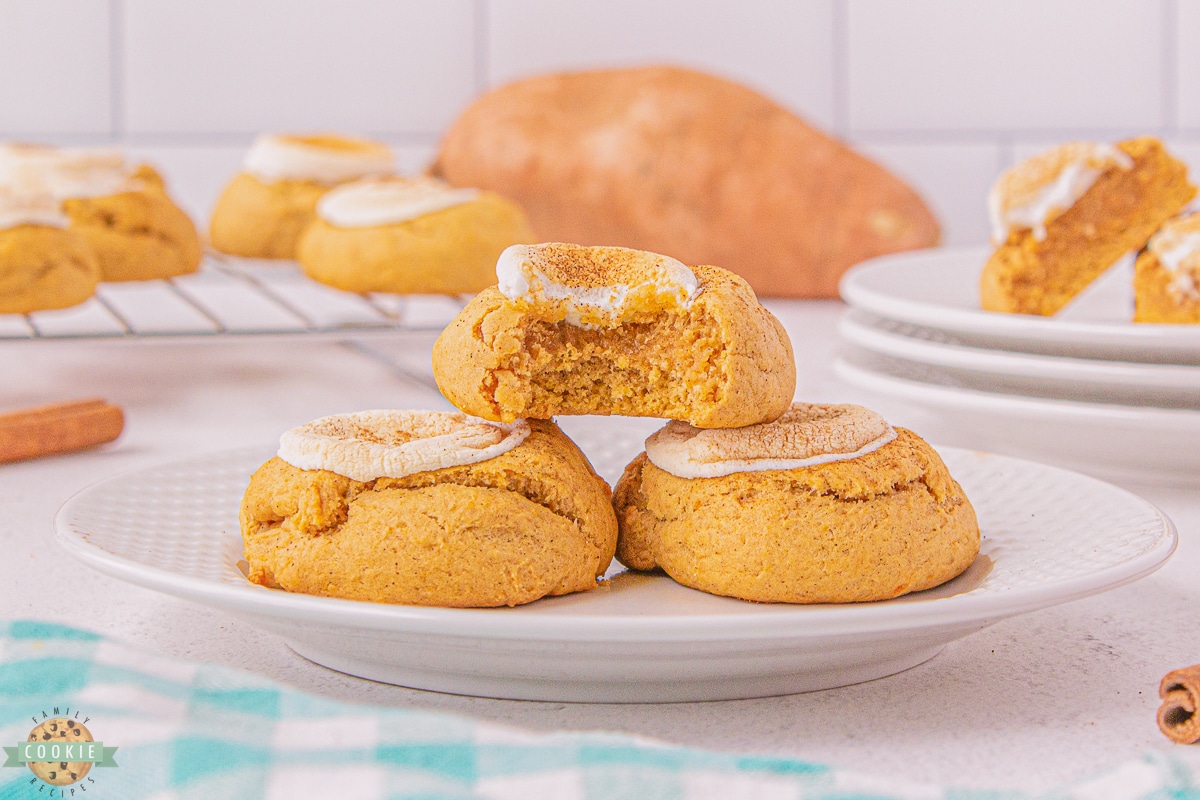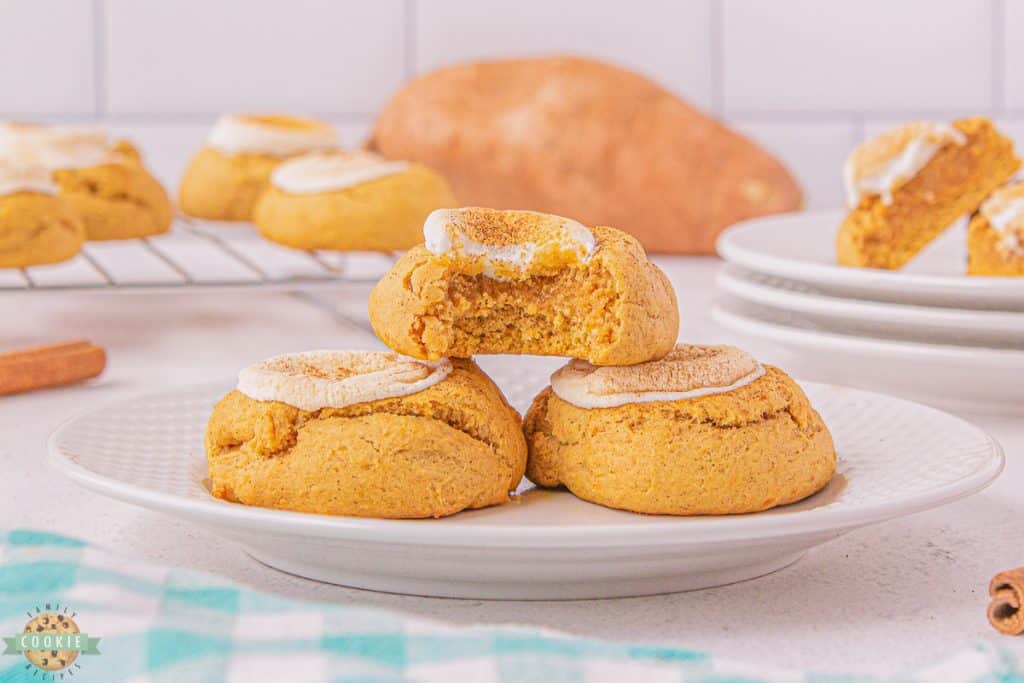 Brown sugar: Use 1 cup of brown sugar, packed, to give these cookies an amazing depth of flavor.
Sugar: For added sweetness, add in ½ cup of granulated sugar.
Vanilla extract: To enhance all the flavors in this cookie recipe, use 2 tsp of vanilla extract.
Sweet potato puree: For the base of this cookie recipe you need 2 cups of sweet potato puree, canned or homemade.
Marshmallows: You need 10 large marshmallows, cut in half, for the perfect cookie topping.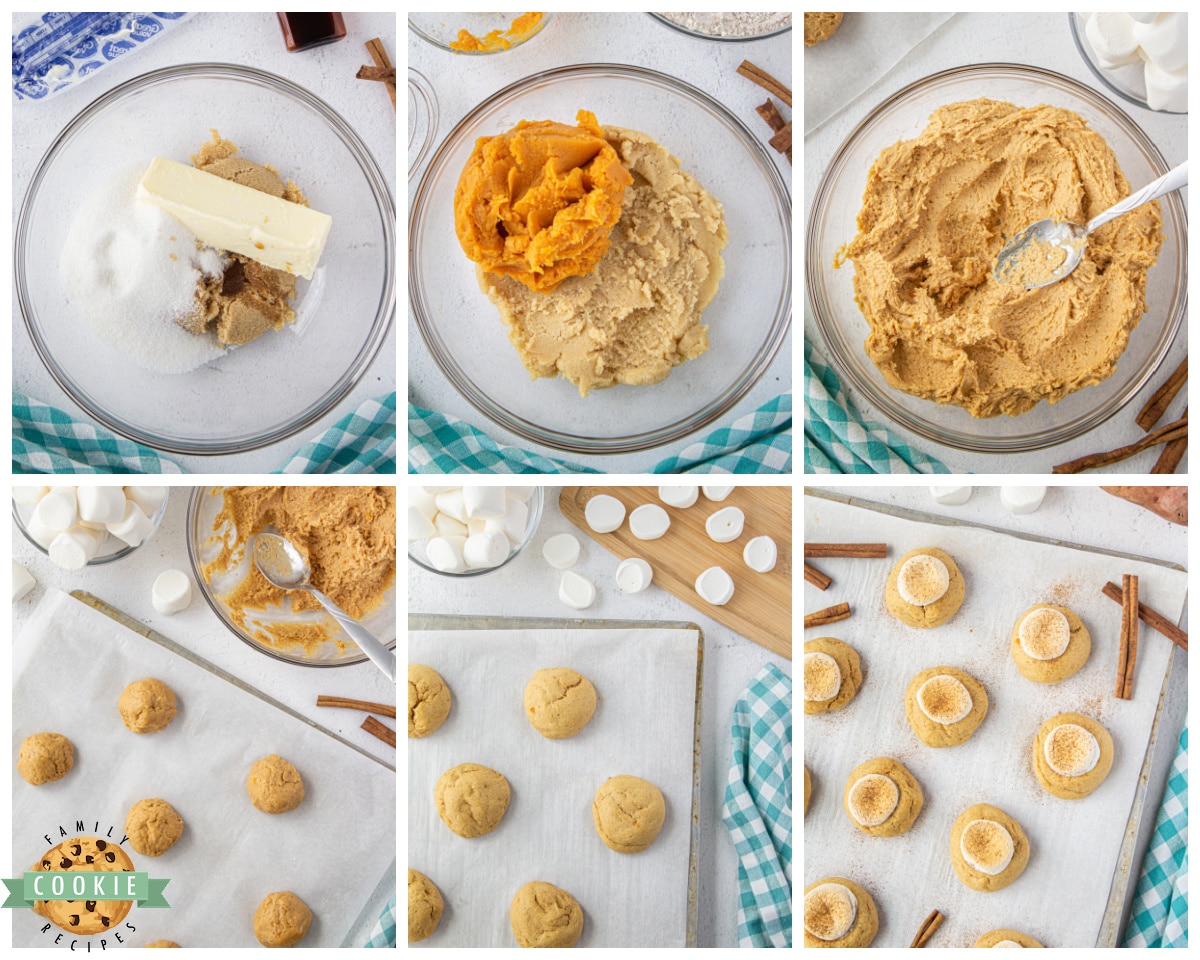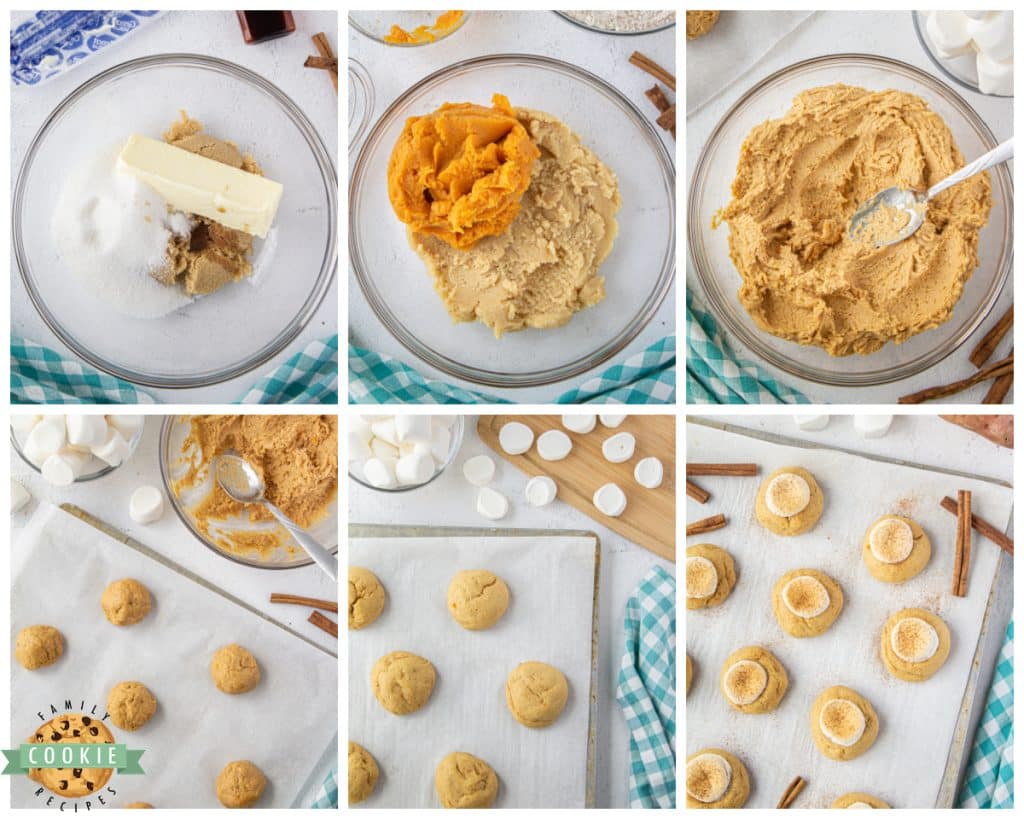 How to make Sweet Potato Cookies with Marshmallows
Prep
Preheat the oven to 350-degrees F. Then, grease or line a baking sheet with parchment paper or a silicon mat.
Cookie Dough
In a medium bowl, combine the flour, cinnamon, baking powder, salt, and baking soda. Mix well and set aside.
In a separate large bowl, mix together the butter, brown sugar, granulated sugar, and vanilla extract. Then add in the sweet potato puree and stir well. The mixture will be loose and slightly lumpy.
Next, add the flour mixture to the bowl with the sweet potato mixture. Combine thoroughly making sure to scrape the sides in the process. The dough should be thick and easily shaped into balls.
Proceed to scoop a spoonful of the cookie dough and gently form into a ball. Place 1 ½ to 2 inches apart from each other onto the lined baking sheet. Lightly press down on each cookie.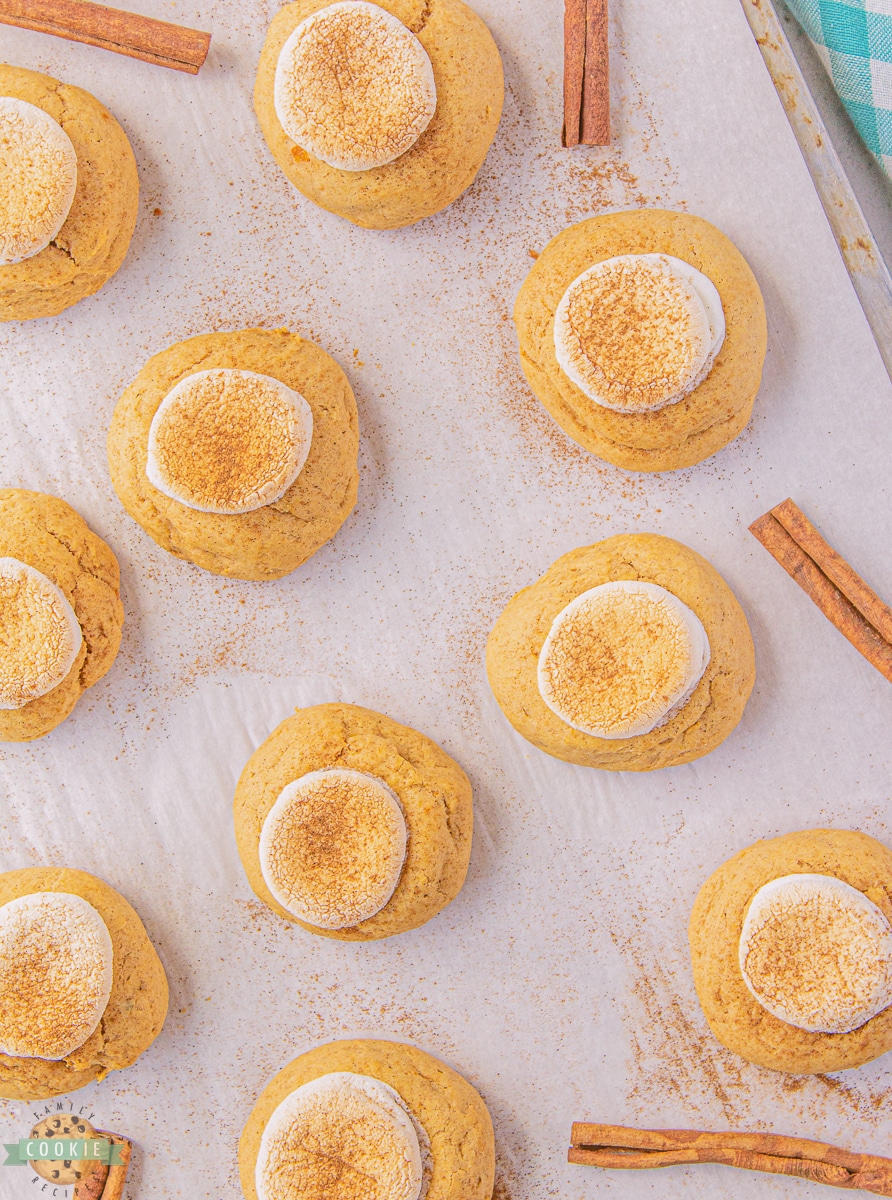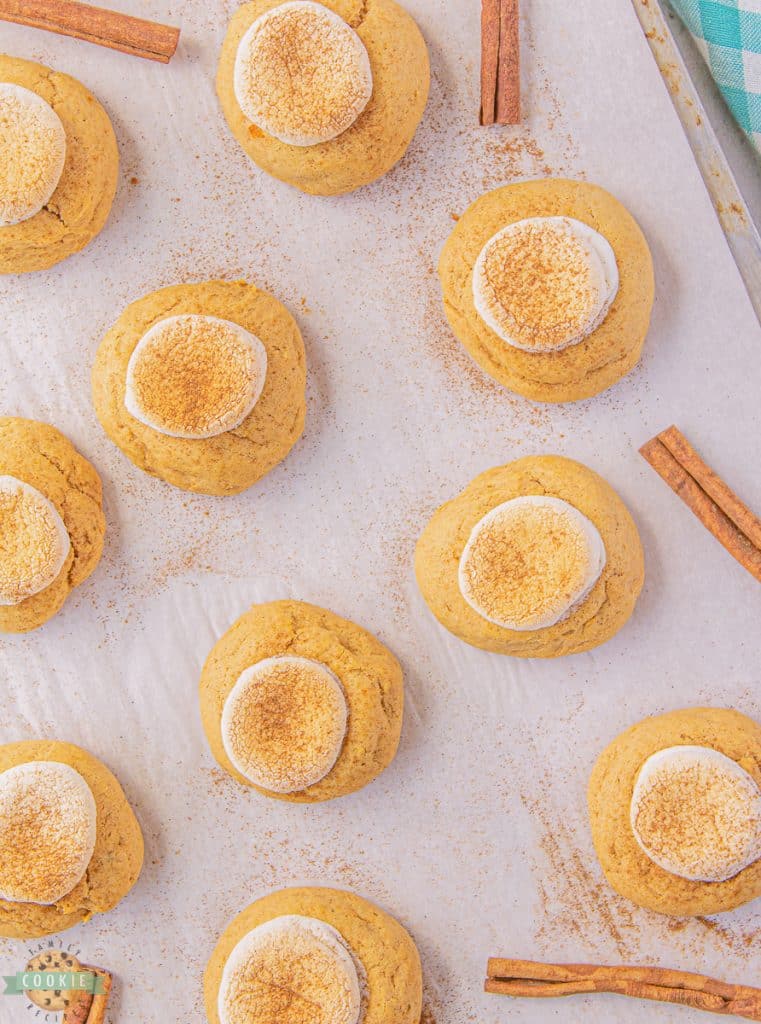 Bake
Partially bake the cookies in the preheated oven for 10-13 minutes, until the cookies are slightly firm to the touch but not quite finished in the center.
Using a pair of scissors, cut the large marshmallows in half. Remove the baking sheet from the oven, and carefully place ½ of a marshmallow, sticky side down, onto the top of each cookie.
Then return the pan to the oven, and bake the topped cookies for an additional 5-7 minutes until the marshmallows are lightly toasted.
Once they are done baking, remove from oven and sprinkle the top of each cookie with ground cinnamon.
Serve and enjoy!
Baking note to consider:
Oven temperatures may vary, so cooking times may be slightly longer or shorter depending upon the performance of your oven.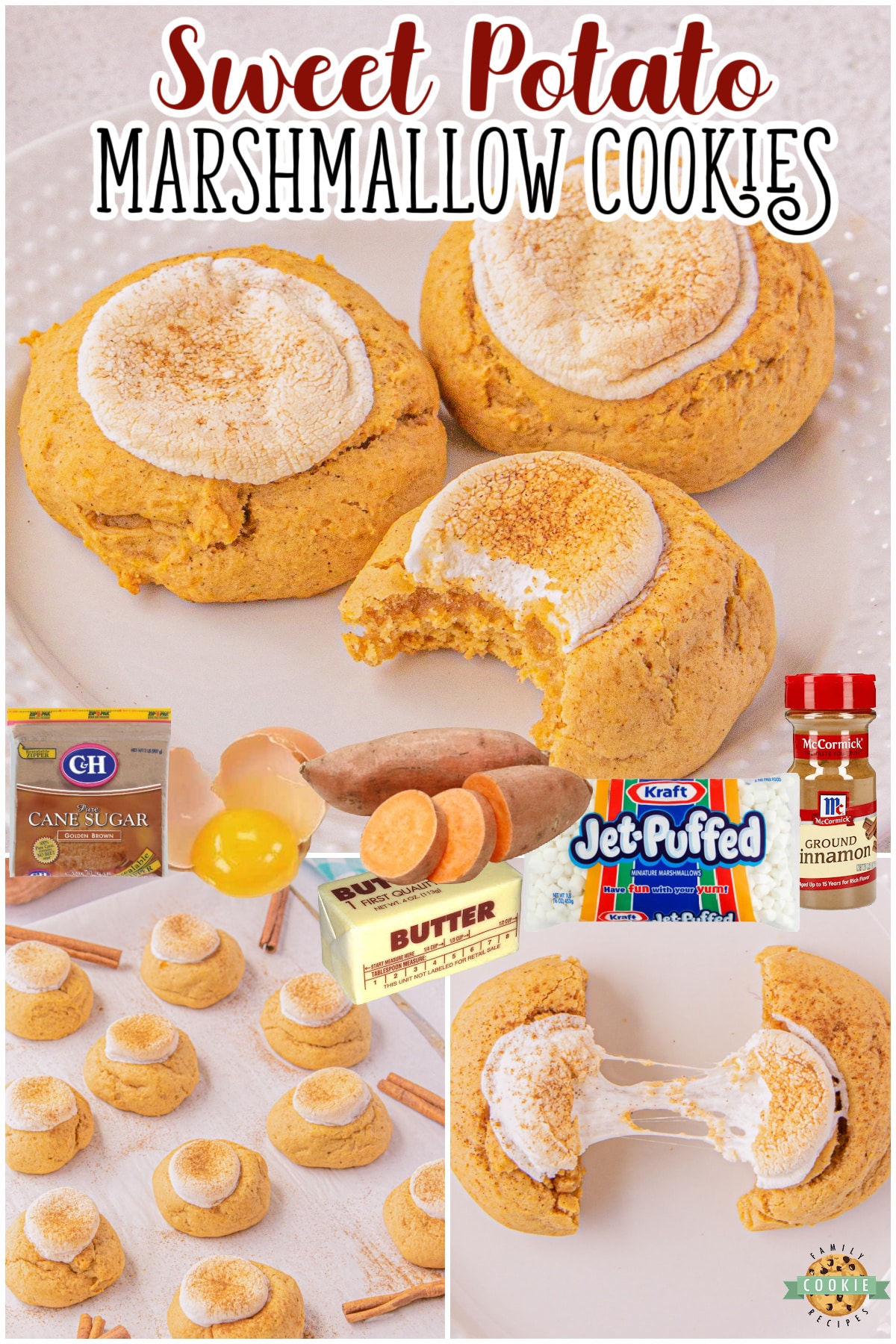 What if the marshmallow slides off the top of the cookie while it's still in the oven?
Because the cut marshmallows are placed sticky side down onto the cookie, sliding is less likely. However, if it does happen, open the oven, and using a fork, carefully push the marshmallow back into place.
Can I omit the white sugar in this recipe?
You can! Simply replace the white sugar with equal amounts of brown sugar or stevia. Other sugar substitutes may also be used in place of the white sugar in this recipe.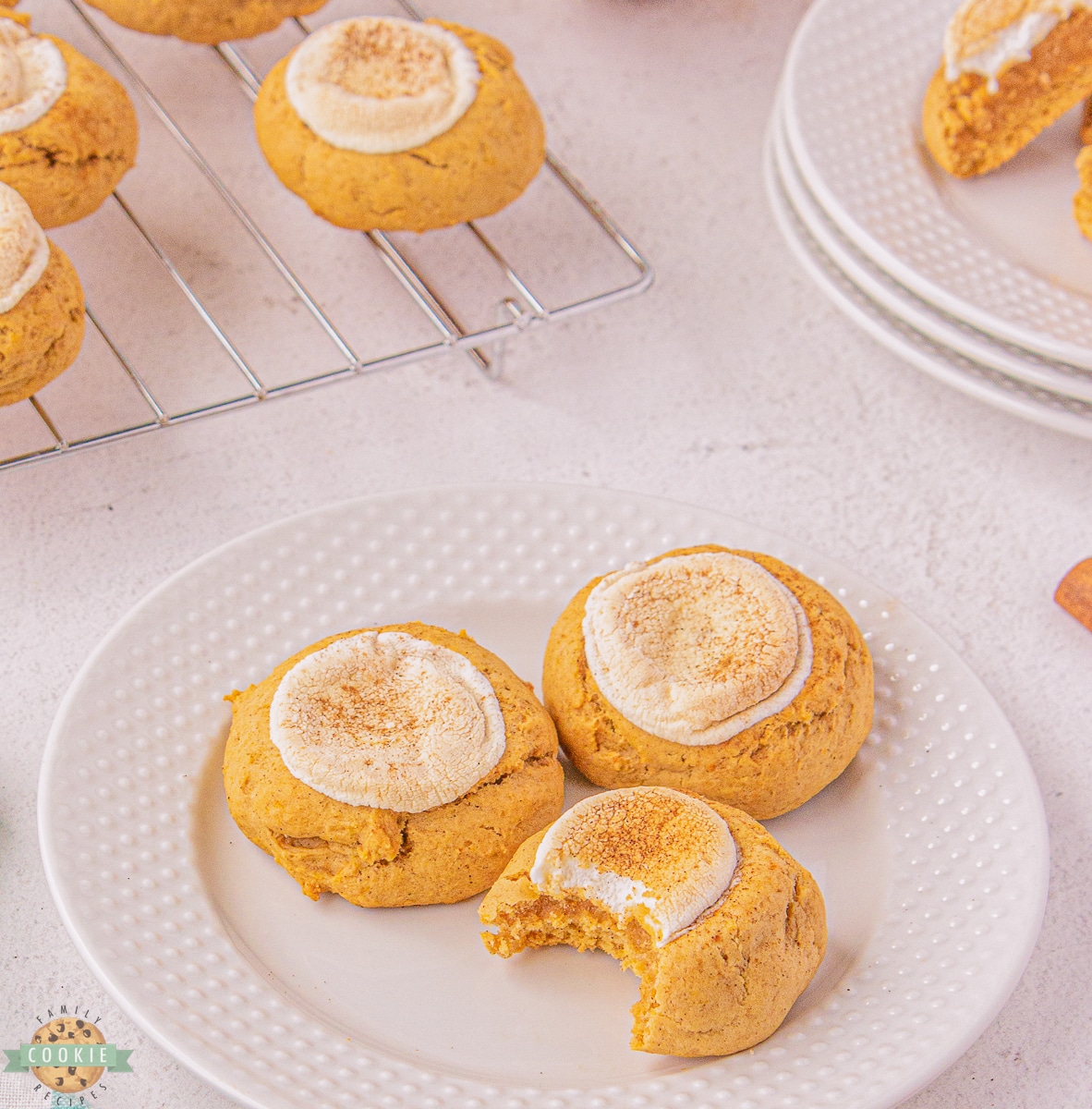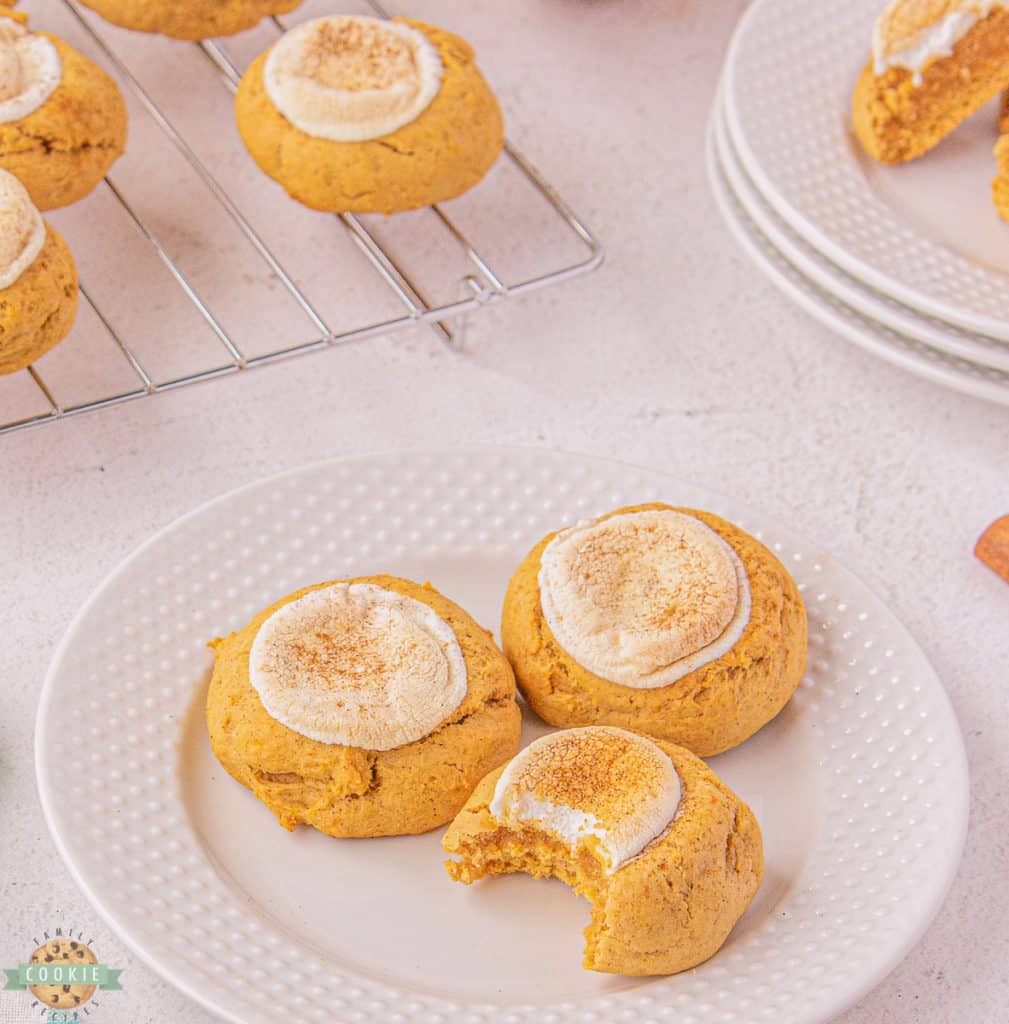 I cannot find sweet potato puree in the store, can I make my own?
Making sweet potato puree is simple! For this recipe, peel and cube 2 large sweet potatoes. Boil for 15-20 minutes until tender. Drain the potatoes, being sure to reserve the liquid, as you will need it for the puree. Put the cooked potatoes in a blender or food processor, and blend until smooth, adding the reserved liquid in small amounts until the desired consistency is achieved. For this recipe, a thicker puree will result in a denser cookie.
How long are these frosted cookies good for?
These cookies can be kept stored in an airtight container for up to 3-5 days. To keep the cookies nice and chewy I recommend keeping them stored in the fridge.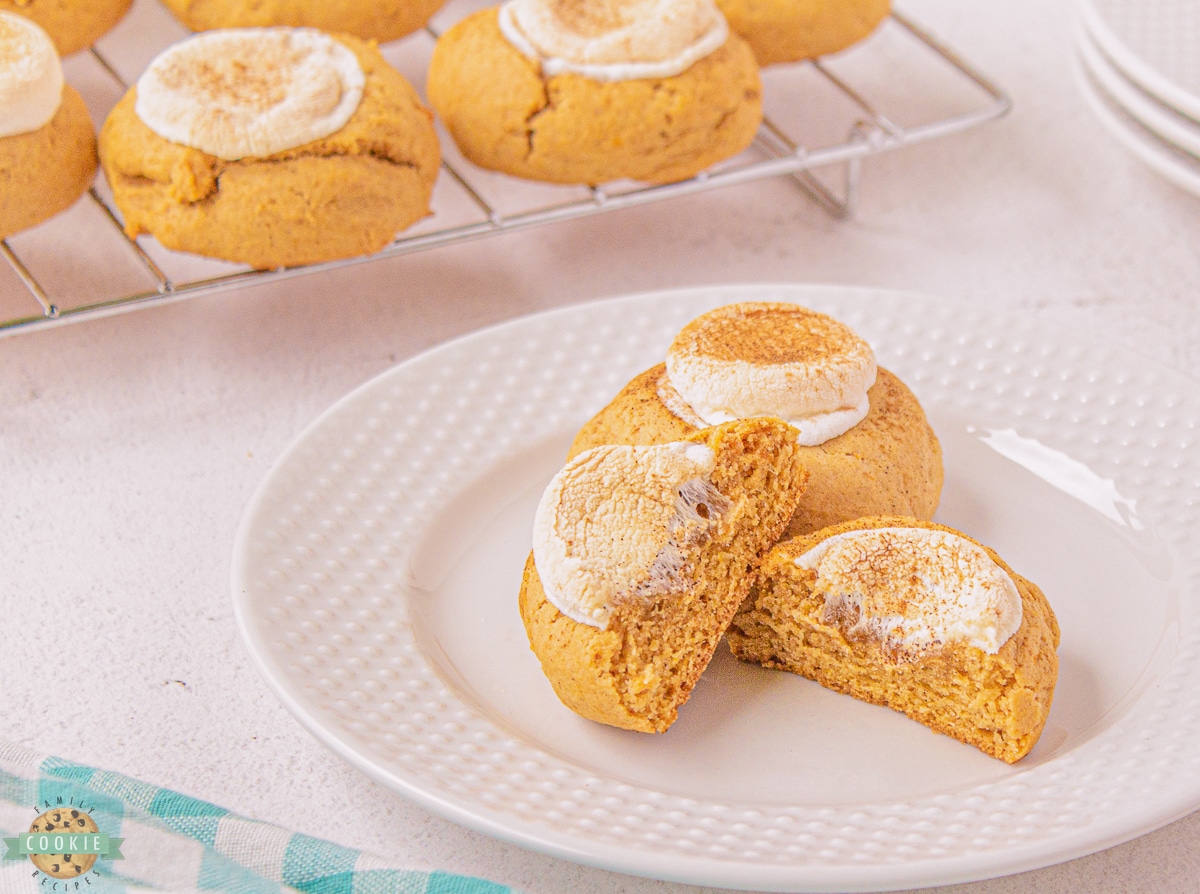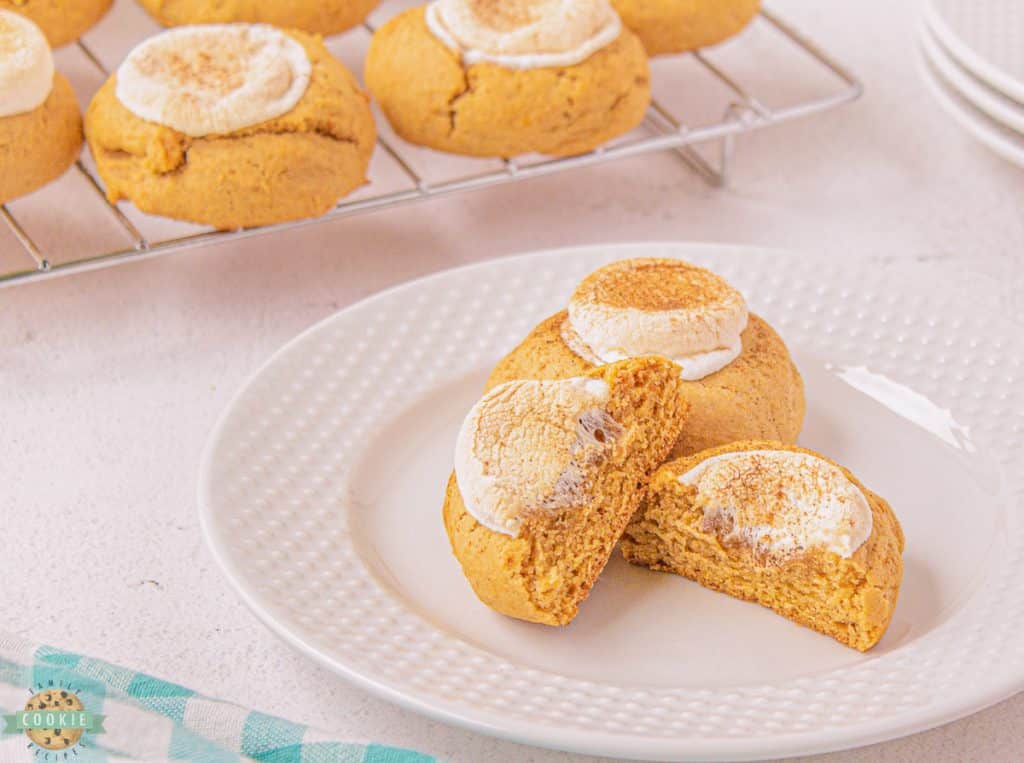 CAN YOU FREEZE COOKIES?
I love freezing cookies! There are 2 ways I prefer to freeze them. The first is by freezing the unbaked cookie dough balls. I scoop & shape the balls round with my hands, then freeze them in 1 layer on a cookie sheet. You can position them as close together as possible without touching. Freeze, then once solid, transfer them to a ziplock freezer bag. Then you can pull them out and bake them whenever you want! You'll want to either let them thaw on a cookie sheet while preheating the oven, or add a couple minutes to the bake time to compensate for frozen cookie dough.
The second way is to just freeze the baked cookies. My mother in law does this ALL the time. They turn out pretty well, albeit a tiny bit drier and more crumbly once thawed. Oh and you've got to make sure you thaw them. Frozen cookies are pretty hard to eat. Thankfully, they only take about 20 minutes or so to thaw out.


My son is serving a mission for the Church of Jesus Christ of Latter-Day Saints and is currently undergoing intense language study in Mexico. He sent us this picture of him helping remove a moth from a classroom. That's A MOTH! Not a bat, not a bird. 😳 I miss him every day, but am also so pleased that he's having an adventure!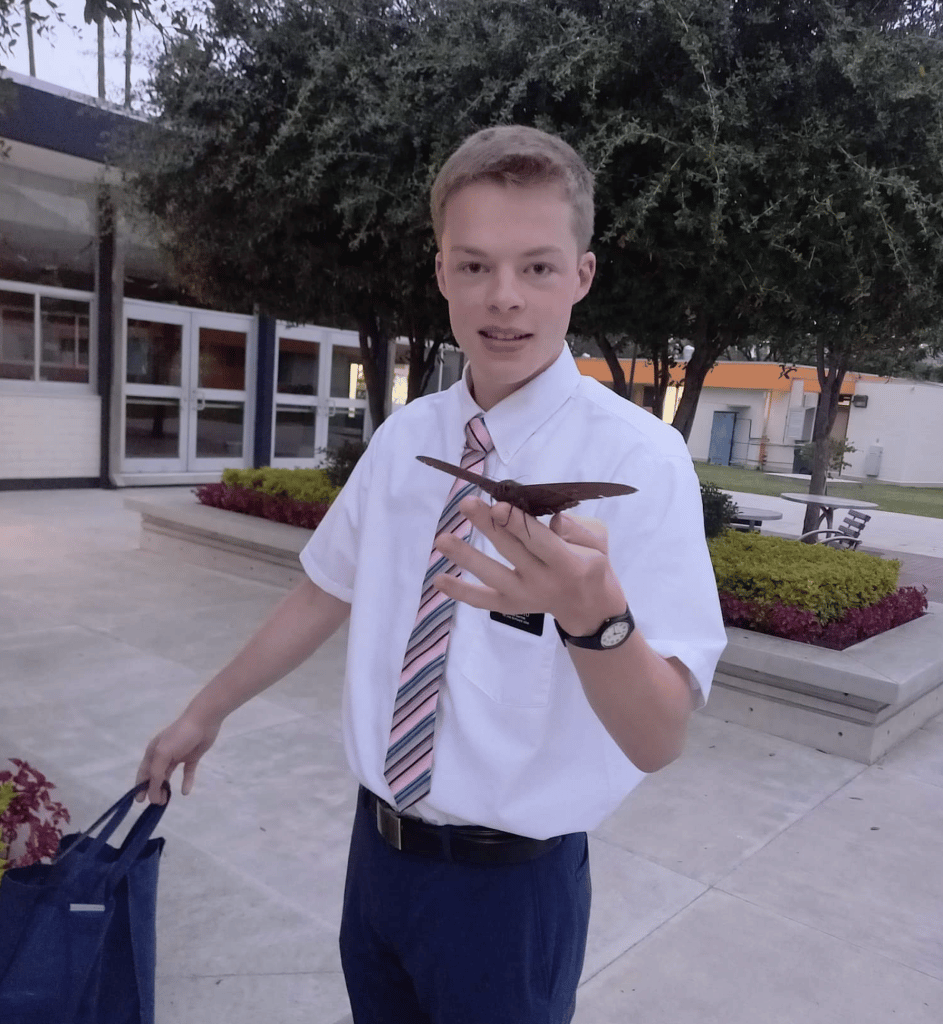 Try more amazing fall cookie recipes here!
Marshmallow Sweet Potato Cookies are a delightful and soft treat that is a perfect fall treat. This sweet potato cookie recipe is made with simple ingredients and is loaded with amazing flavors.