Almond Kiss Cookies made with almond extract and Hershey kisses with almonds! Drizzled with a simple raspberry glaze, these make a fantastic alternative to the traditional peanut butter blossoms!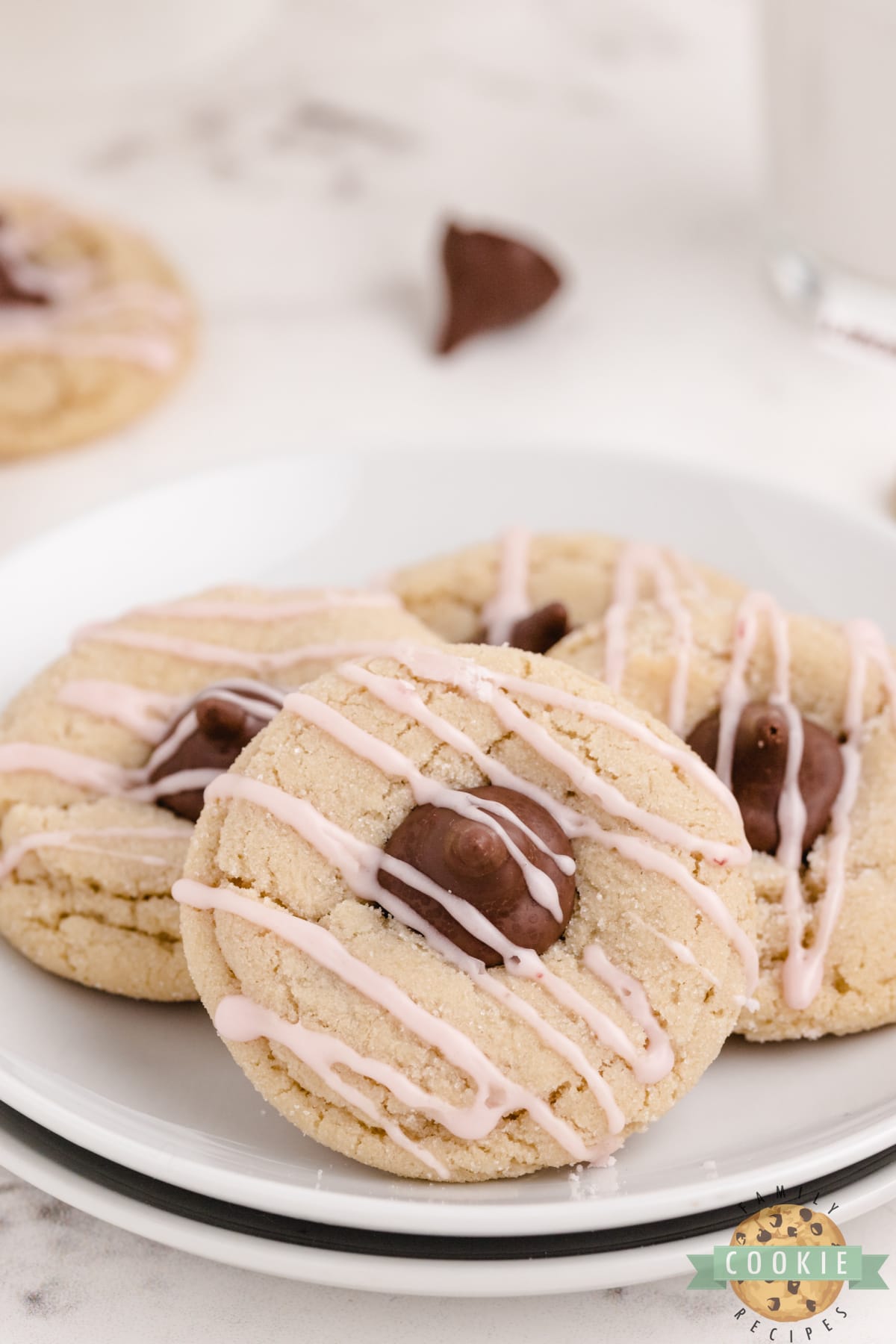 What are Almond Kiss Cookies?
Almond Kiss Cookies are very similar to Peanut Butter Blossoms…but without the peanut butter! These are basic cookies with a subtle almond flavor that comes from adding almond extract to the cookie dough. You can use regular Hershey kisses on top, but the ones that have almonds in the middle work even better! Add a very simple almond/raspberry glaze on top to fancy them up and add more flavor.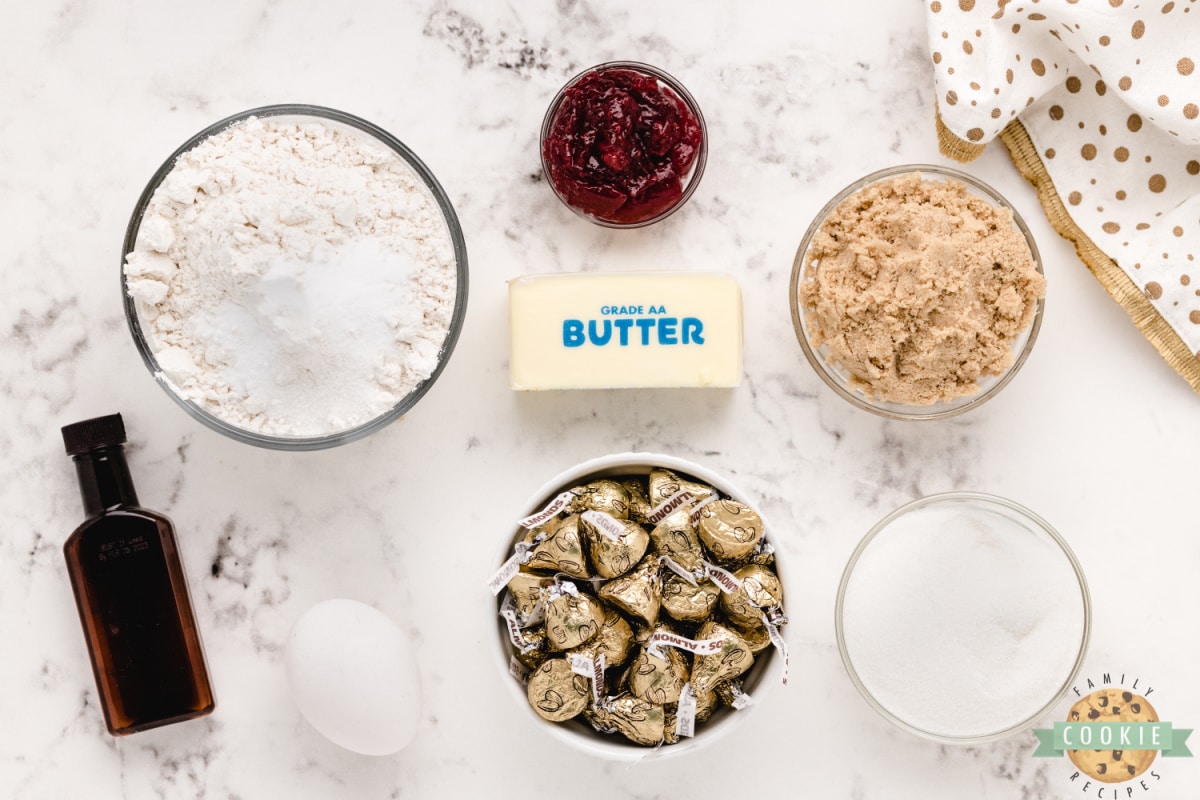 Ingredients in Almond Kiss Cookies
Butter – You will need one stick of butter to make these cookies. Make sure it is softened to room temperature before adding to the recipe.
Sugar – Just 1/2 cup of granulated sugar is needed for these cookies.
Brown sugar – For best results, you'll want to make sure that your brown sugar is fresh and soft.
Egg  – Just one large egg will help bind everything together.
Almond extract – You just need one teaspoon, but the almond extract is what gives these cookies all the flavor! If you prefer, you can use vanilla instead.
Flour – All-purpose flour works best in these cookies.
Baking soda – You'll need one teaspoon of baking soda to act as the leavening agent in these cookies. For best results, make sure it isn't expired.
Salt – Just 1/4 teaspoon salt helps to bring out all of the other flavors in the cookies.
More sugar – You'll just need about 1/4 -1/3 cup sugar in a small bowl so that you can roll the cookie dough balls in it to coat them.
Milk chocolate kisses with almonds – You can use any variety of Hershey kisses that you want to. I like to use the ones with almonds to go with the almond flavoring in the cookie dough, but you can use whatever kind you like!
RASPBERRY GLAZE
Powdered sugar – The powdered sugar will give the glaze the creamy consistency and sweet flavor.
Milk – You only need one tablespoon of milk and you can use any kind you'd like! Almond milk works great!
Raspberry jam – Just 4 teaspoons of raspberry jam give the glaze an amazing raspberry flavor. You can use a different flavor if you prefer.
Almond extract -Just another 1/4 teaspoon of almond extract in the glaze adds a little more almond flavor to these cookies.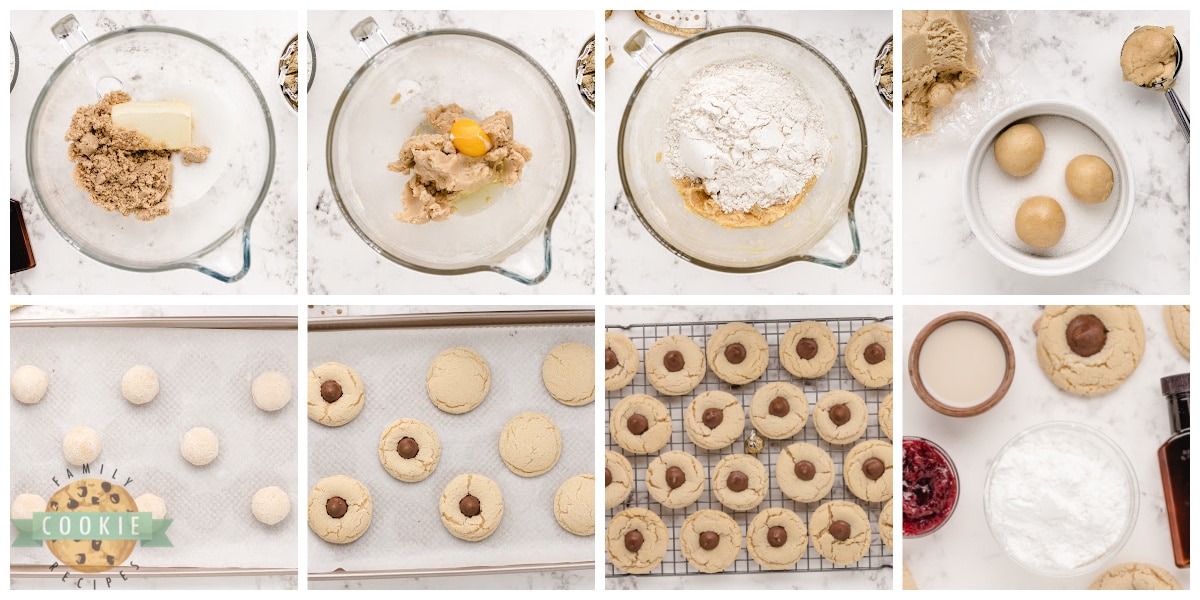 How to make Almond Kiss Cookies
Preheat oven to 325°.
In a large bowl, cream together butter and sugars for at least 2-3 minutes. Beat in egg and almond extract for another 2-3 minutes.
In a separate bowl, combine the flour, baking soda and salt and then add the dry ingredients to the butter mixture, mixing just until combined.
Cover and chill for about an hour.
Roll dough into 1 inch balls then roll in additional sugar. Bake for about 13 minutes or until cookies begin to barely turn a light golden brown. Immediately press a Hershey kiss into the center of each cookie. Remove to wire racks to cool.
Mix glaze ingredients together with a fork and then drizzle over the cooled cookies.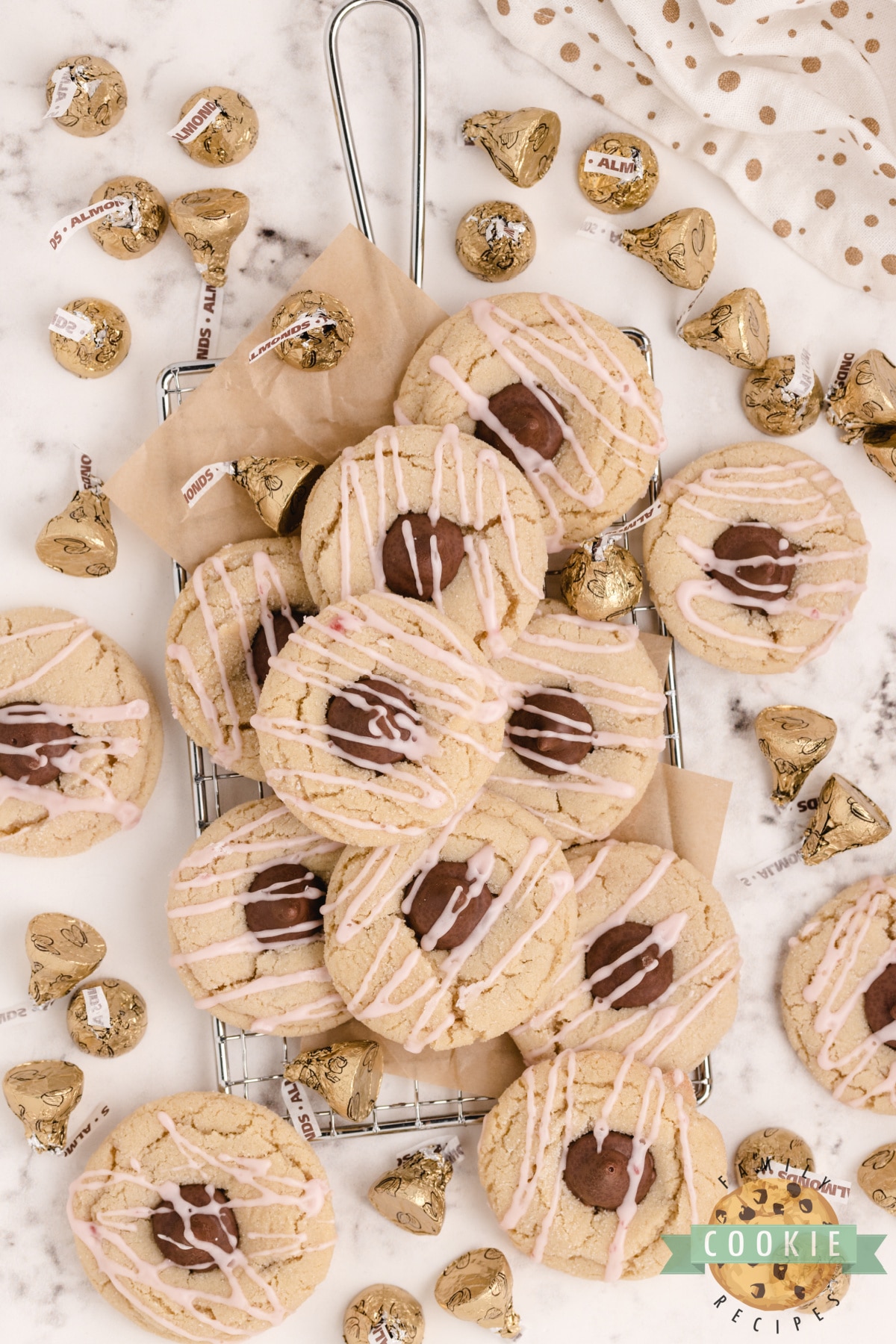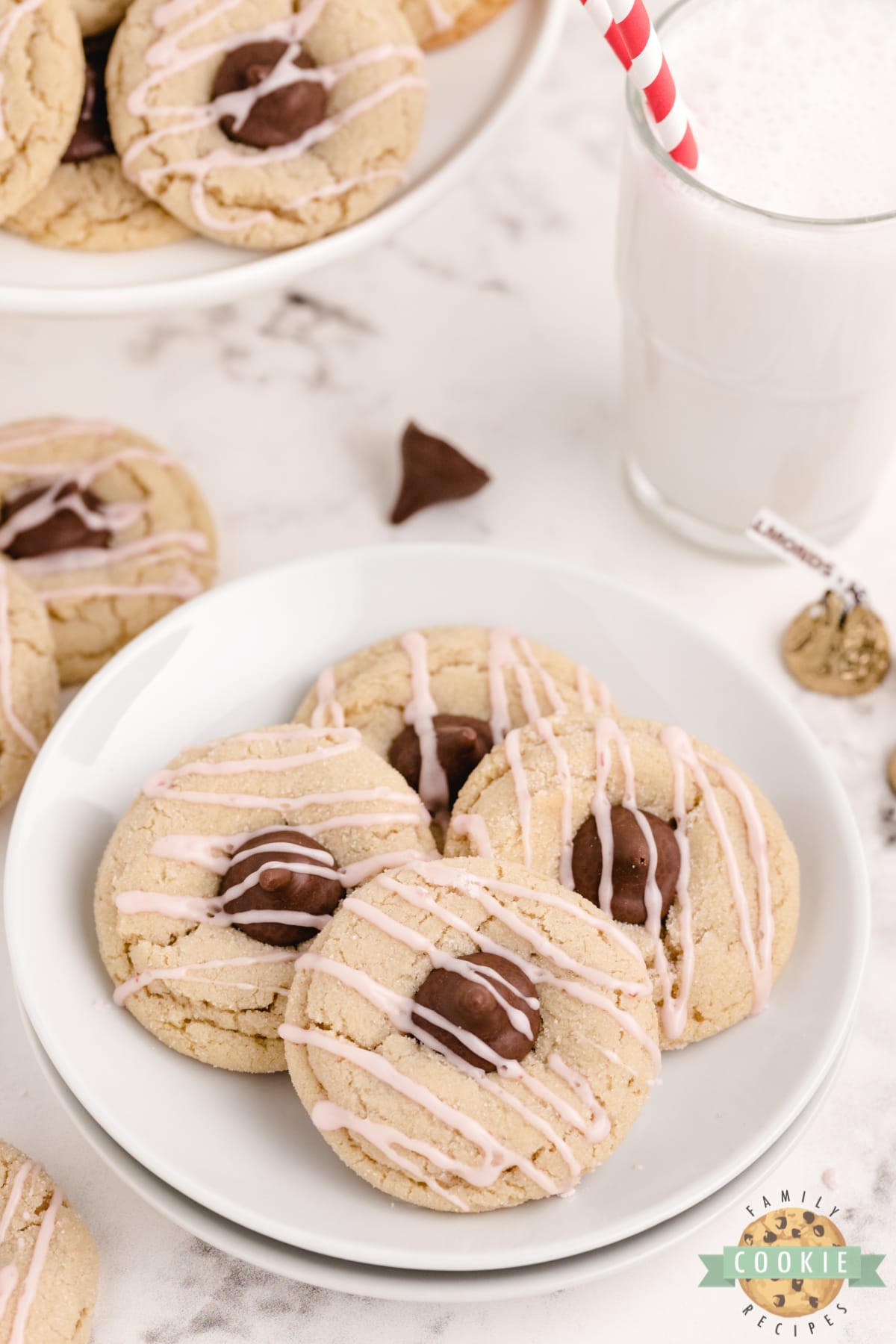 TIPS FOR MAKING THE BEST COOKIES
Three kitchen items really help you make the best cookies ever! I actually use these items in nearly every cookie recipe I make, as well as several other types of recipes, so they're quite versatile.
First, I line my cookie sheets with a piece of parchment paper or a silicone baking mat. They're sold in sizes that fit a 12×16 cookie sheet perfectly and enable to cookies to bake well without sticking- and no mess from spraying oil on the cookie sheets!
The second item is a KitchenAid mixer. I love mine! I have a Bosch as well but I find I use my KitchenAid for cookies. There is a cookie paddle that comes with every mixer that you attach to the top of the mixer. They're easy to use and help you mix the ingredients uniformly. Add this to your wish list because it's one of my all-time used small appliances ever!
The third item is a cookie scoop! Years and years ago I used to use 2 spoons to measure and scrape cookie dough onto the pans. It wasn't a perfect process and I often ended up with oblong cookies in various sizes. A friend of mine brought cookies to a party and I noticed each and every one of her cookies looked PERFECT. Her secret? A cookie scoop! They come in three sizes- 1/2 tablespoon, 1.5 tablespoon and 3 tablespoon scoops. I used the smallest size- 1/2 tablespoon for these thumbprint cookies.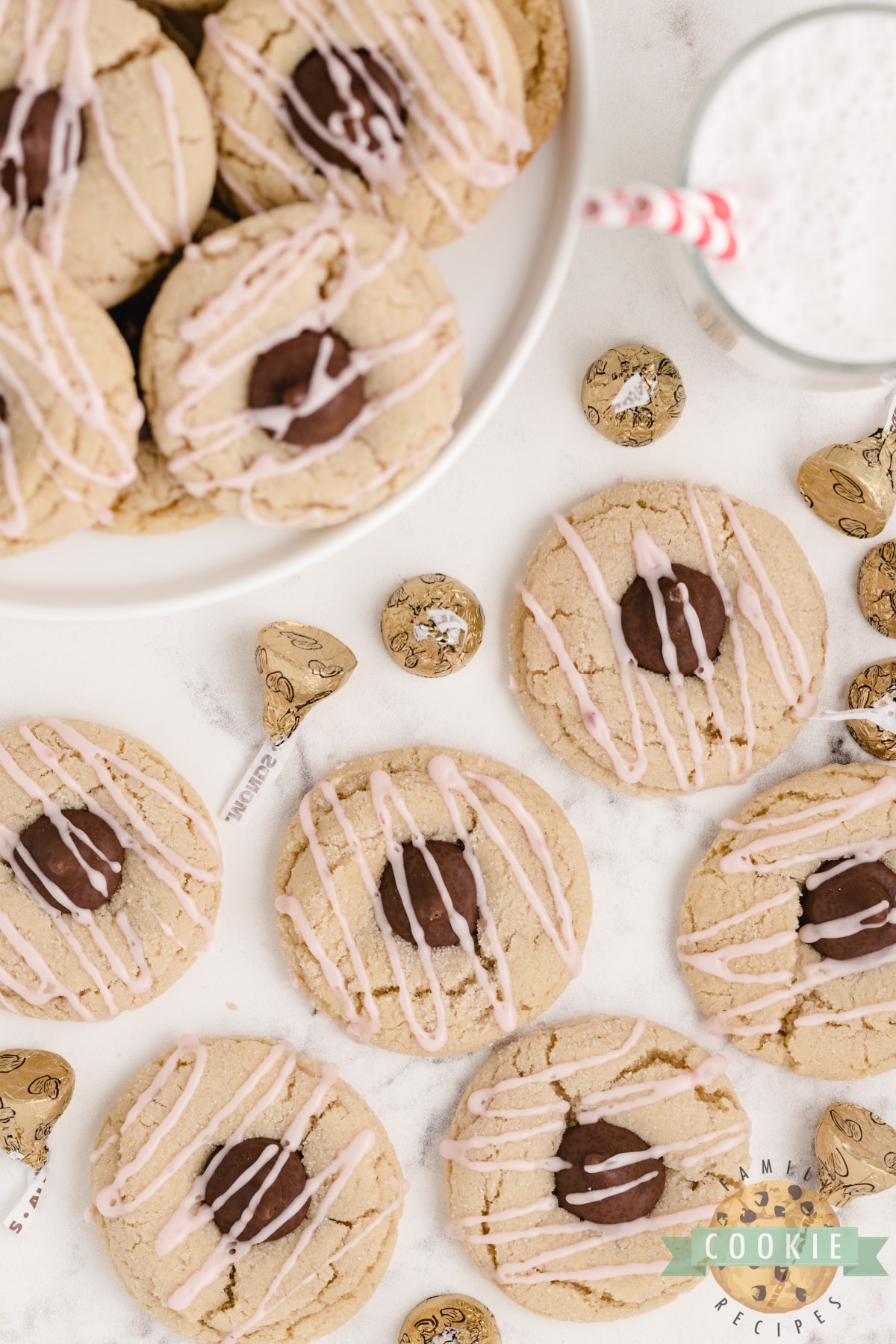 HOW DO YOU SOFTEN BUTTER?
I like to soften butter by using the defrost function on my microwave. If you need the full 1/2 cup cube of butter, you can leave it in the paper wrapper, otherwise, place the amount of butter you need in a glass or porcelain bowl. I use the lowest defrost setting on my microwave and just let it run for 20 seconds. Check the butter and see how soft it is by pressing it with a rubber scraper. If it is still not soft to the touch, meaning it doesn't indent when you press into it, let it warm for another 5-10 seconds. Watch it closely! Butter softens very quickly.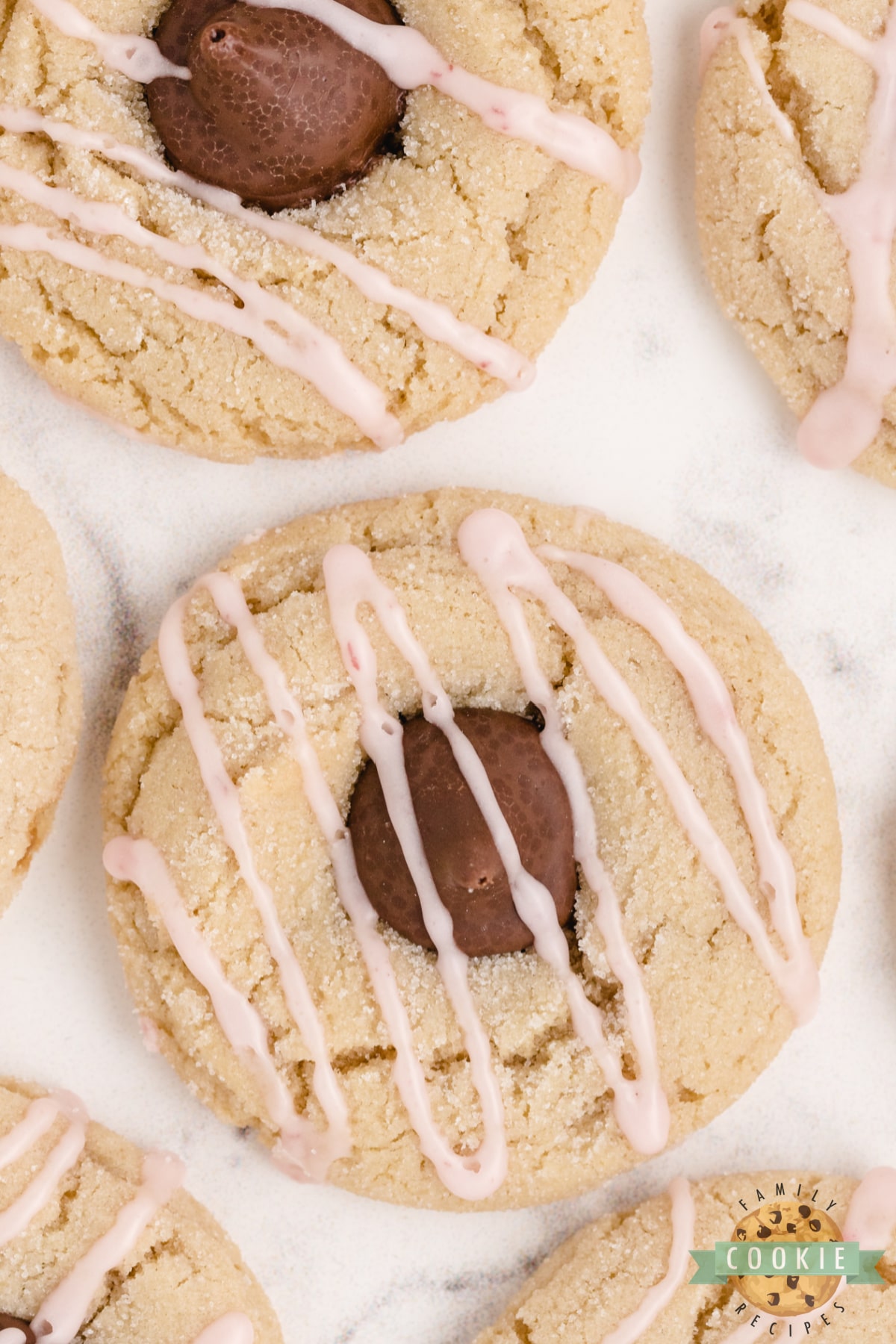 MORE FAVORITE COOKIE RECIPES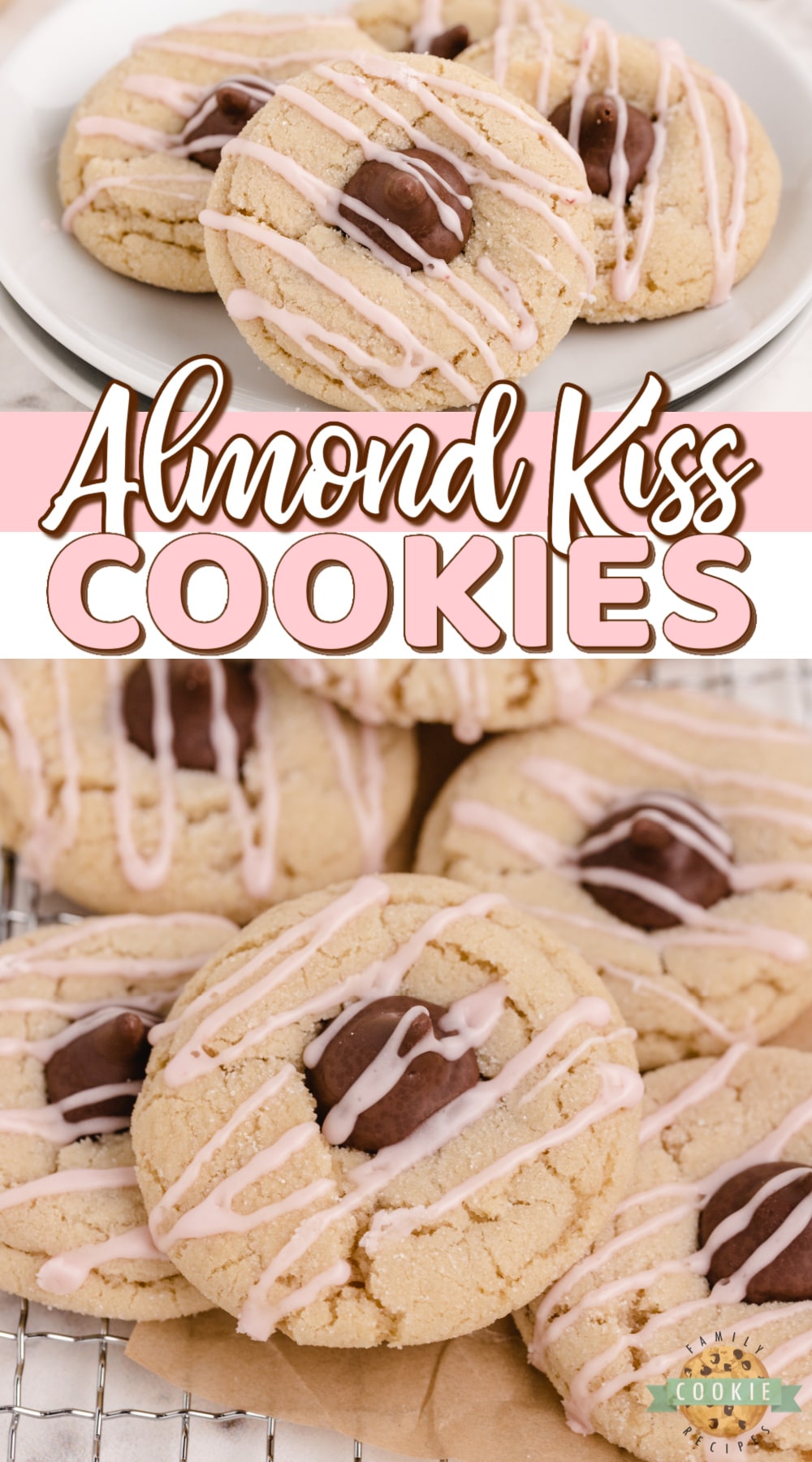 Almond Kiss Cookies made with almond extract and Hershey kisses with almonds! Drizzled with a simple raspberry glaze, these make a fantastic alternative to the traditional peanut butter blossoms!



Found this picture on my phone today and it was really making me wish I was back in Kauai! We went there a couple of months ago and it really was such an amazing trip. One of the highlights of the trip was this kayak trip that we went on. Spent about 3-4 hours in kayaks and I was so impressed with the endurance and attitudes of all of my kids! It was absolutely beautiful and we loved spotting turtles all over the river. These two were having a lot of fun in a kayak together – love these girls!