Caramel Banana cookies made with ripe bananas & cinnamon spice, then topped with a warm caramel icing! Banana + Caramel is a fantastic combination in these soft, pillowy cookies!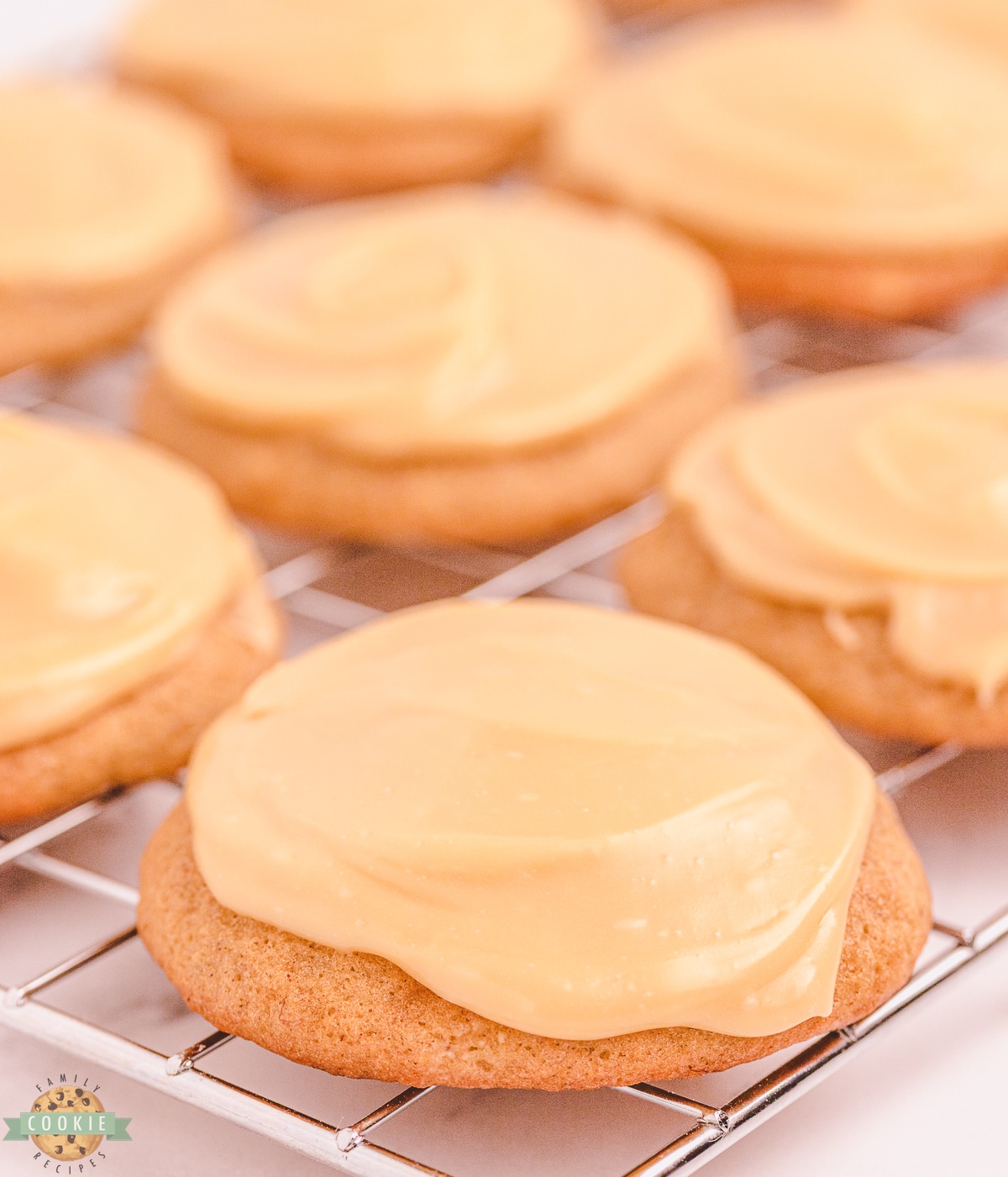 From the rich caramel topping to the flavorful banana cookies underneath, every bit of these soft banana cookies will have you reaching in for another. Making this banana cookie recipe is so simple, the basic ingredients and easy steps to follow require little effort.
Banana Cookies with Icing
We have so many different banana cookie recipes available on this blog, but this one is a little more unique. From the almost pancake batter-like thin dough to the cooked caramel topping glaze, these cookies will have a special place in your hearts as they have in ours. The sweet banana flavors and the rich caramel work together in every bite to make an indulgently rich experience that you simply cannot get enough of! This wonderful recipe is perfect for serving to party guests, at family get-togethers, or a nice relaxing weekend at home.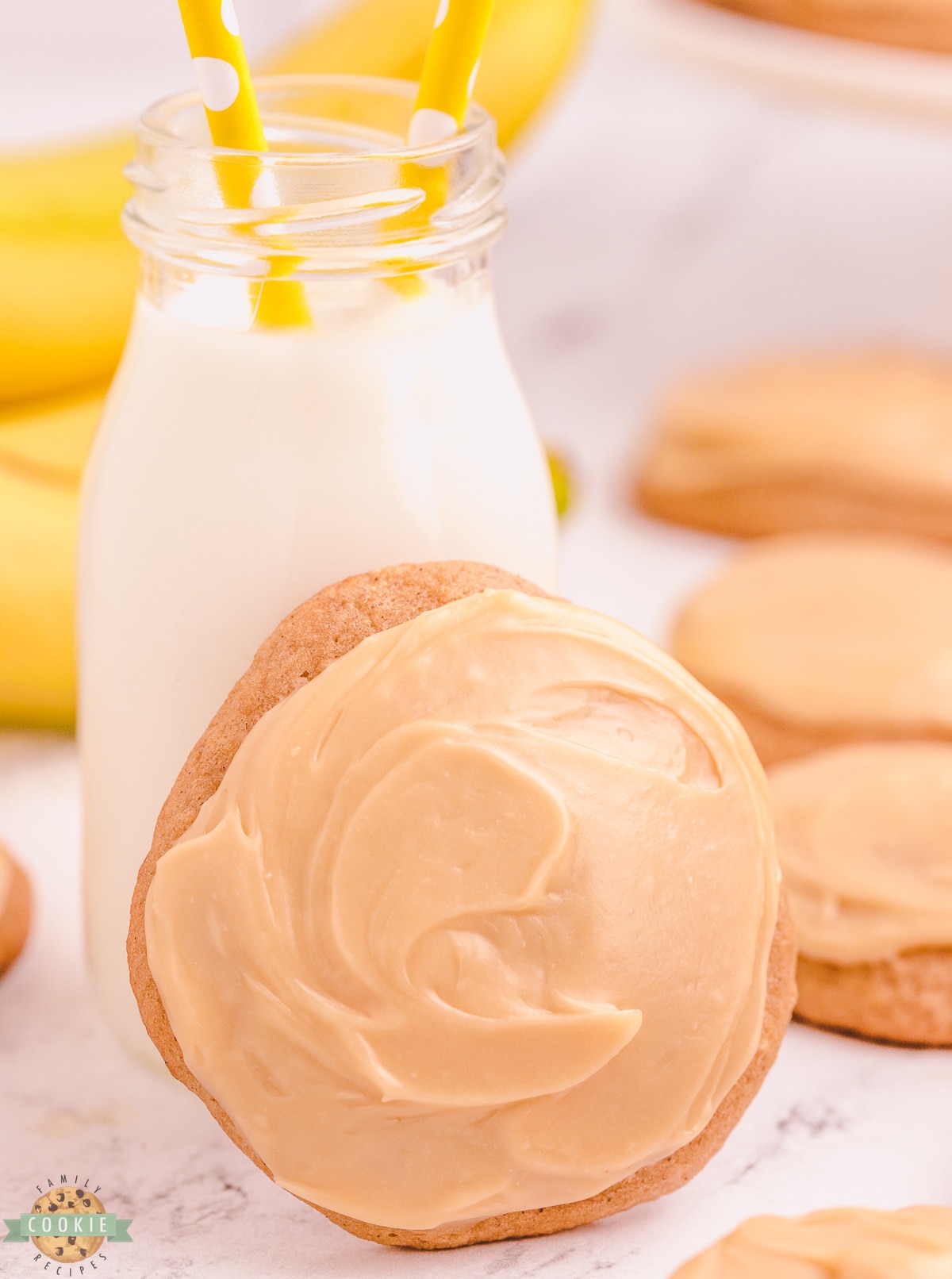 Why we think you will love this amazing cookie recipe
If you are not already gathering ingredients to try these cookies, here are some reasons to convince you.
Simple ingredients. To make this cookie recipe, you will need to use some very basic ingredients, and you may find most of them are already in your home. The icing is made using caramel ice cream topping for an even easier process too!
No chilling or rolling pins! We do not like to wait too long when it comes to cookies, so getting them in our tummies sooner is always a reason to celebrate. This recipe doesn't need any chilling, rolling, or shaping. Just mix, scoop and bake.
Real bananas! Ripe bananas are usually baked into banana bread or trashed, but sometimes you want to do something a little more unique. Why not make a batch of these ripe banana cookies for a new and tasty experience?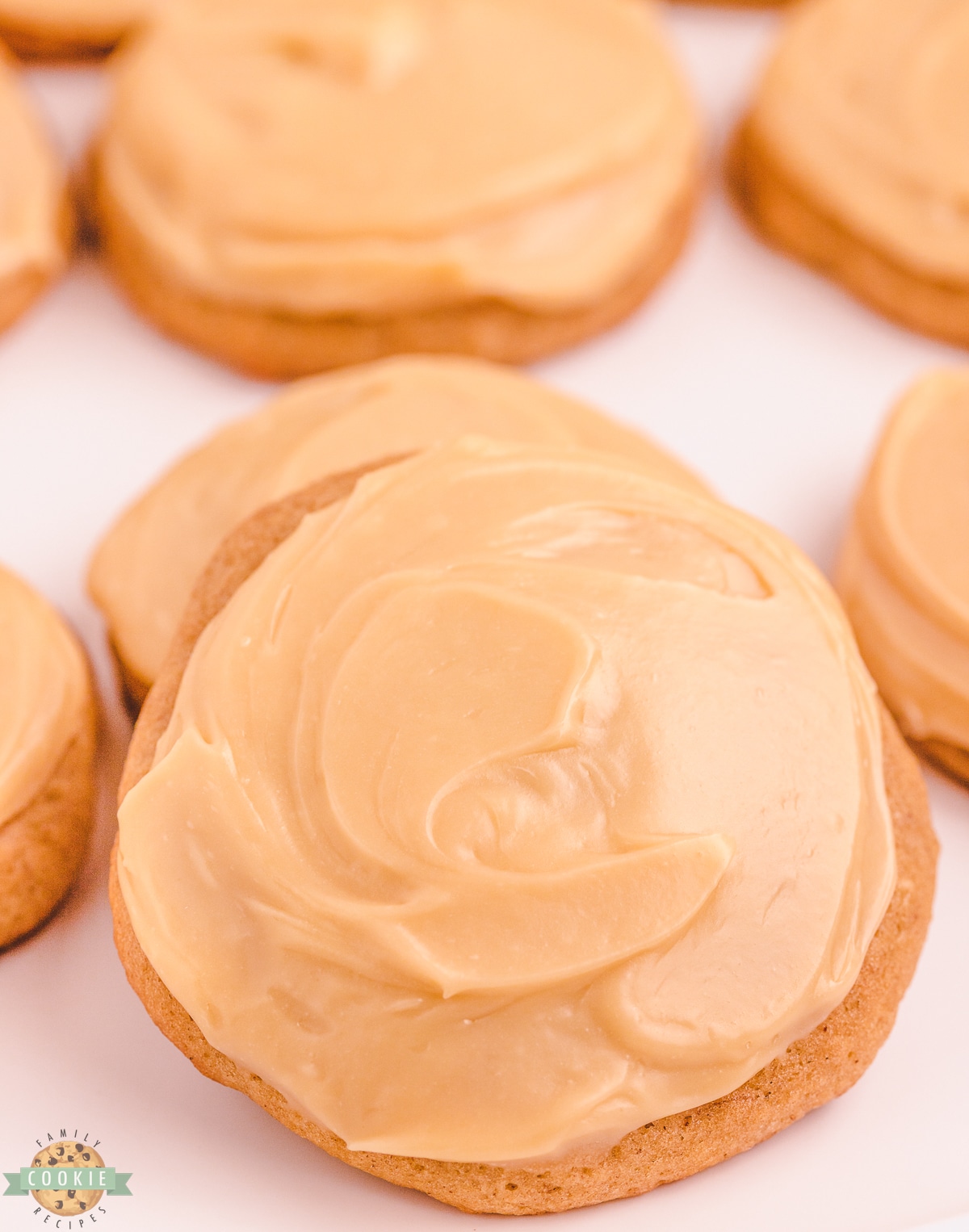 Frosted Banana Cookies Ingredients
Cookie Dough
Shortening: You will need ¾ cups of butter flavored shortening. This will give you fats for a tender cookie with delicious flavor too.
Brown sugar: Use 1 ½ cups of packed golden brown sugar. This means you measure the brown sugar and then press it down and continue until the top of the cup is leveled.
Eggs: Use 3 large eggs to bind the cookie dough together well.
Bananas: Adding in 4-5 ripe bananas will give you plenty of flavor in every bite. This is 2 cups of mashed bananas, so you may need more or fewer bananas, depending on their sizes.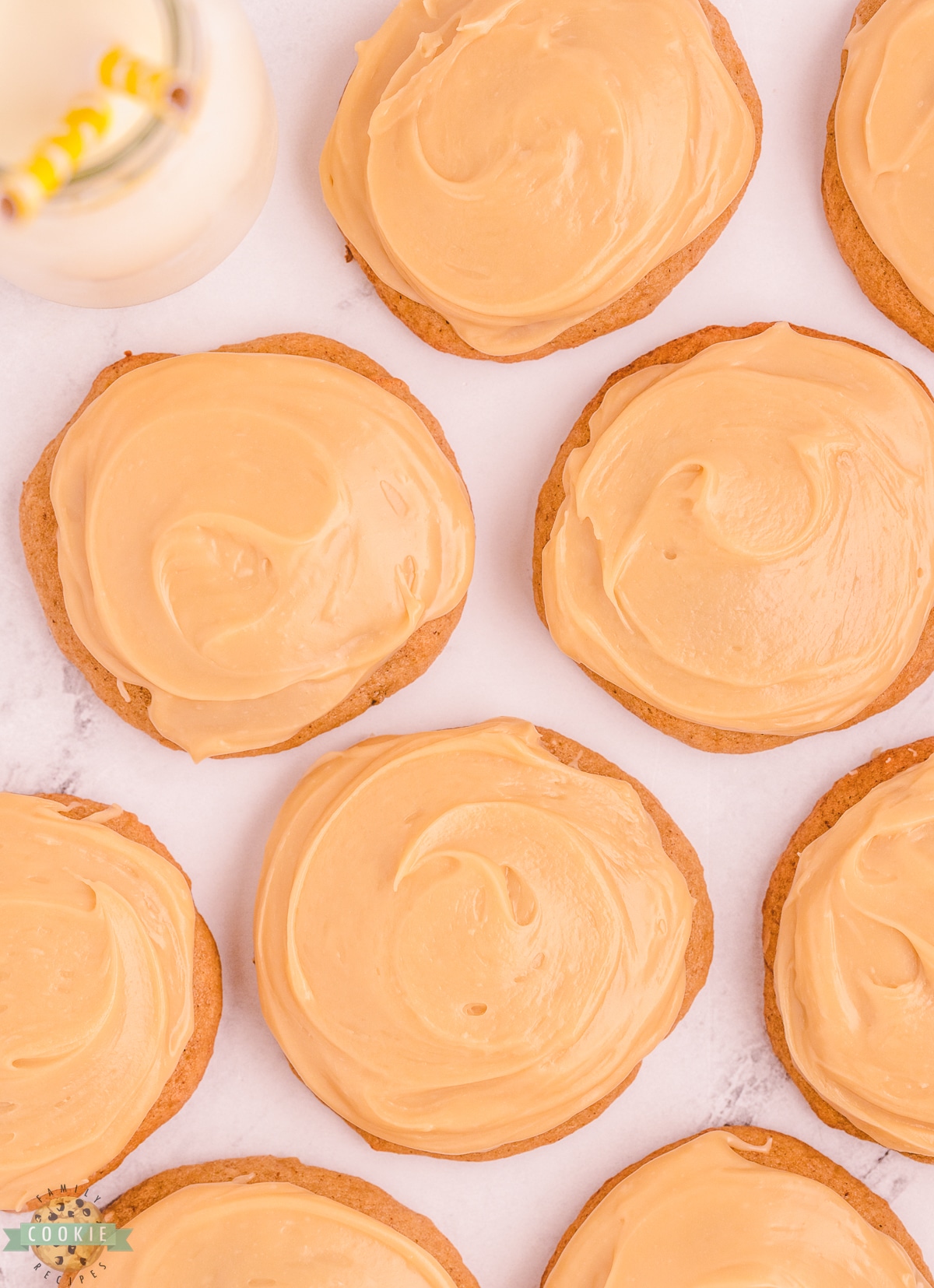 Flour: Use 3 cups of all purpose flour for the base of the cookie dough, as it will provide the necessary structure.
Leavening agents: You will want to use 1 tablespoon of baking powder and ½ teaspoon of baking soda to get the cookies to puff up and rise perfectly as they bake.
Spices: For added warmth in every bite, add in 1 teaspoon of ground cinnamon and ½ teaspoon of ground cloves.
Salt: For added flavor enhancement, stir in ½ teaspoon of salt.
Caramel Icing
Butter: For added richness, use 5 tablespoons of butter.
Caramel: You will need 3 tablespoons of caramel ice cream topping.
Powdered sugar: Use 1 ½ cups of powdered sugar for a smooth and sweet consistency.
Salt: Add in just a dash of salt to help bring out the natural flavors in the icing.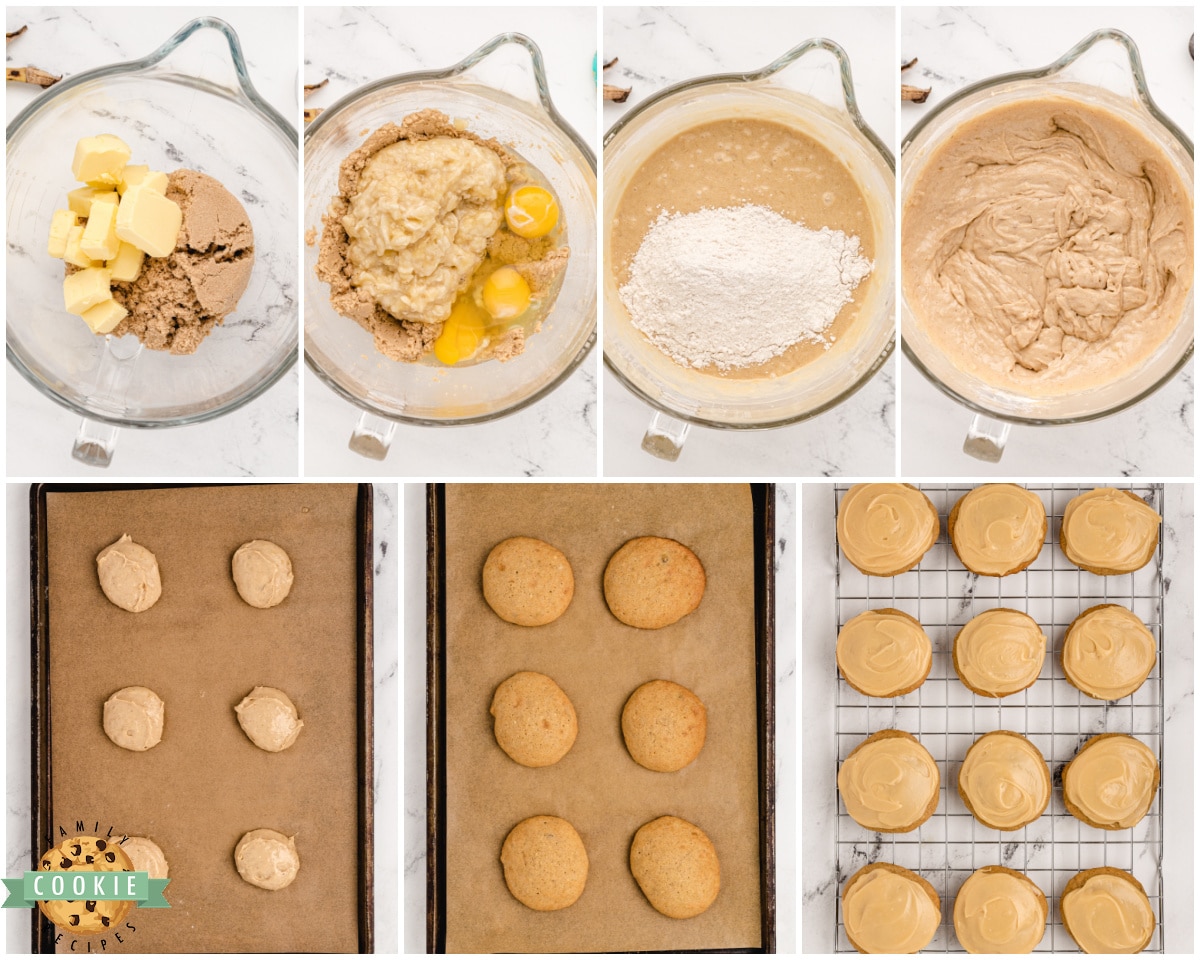 How to Make Caramel Banana Cookies
Prep
Preheat the oven to 375 degrees F. Then, line two cookie sheets with parchment paper or silicon mats and set them aside.
Also, mash the bananas in a measuring cup until you have the 2 cups required.
Make dough
In one mixing bowl, cream together the brown sugar and shortening until it is light and fluffy.
Next, add in the mashed bananas and eggs, and then mix again.
In a separate bowl, whisk together all of the dry ingredients, the flour, baking powder, baking soda, cinnamon, ground cloves, and salt.
Proceed to add 1/3 of the dry mixture to the banana mixture and stir to combine.
After that, add in the remaining flour, in two batches, stirring well between each. The dough will be very soft (like thick pancakes).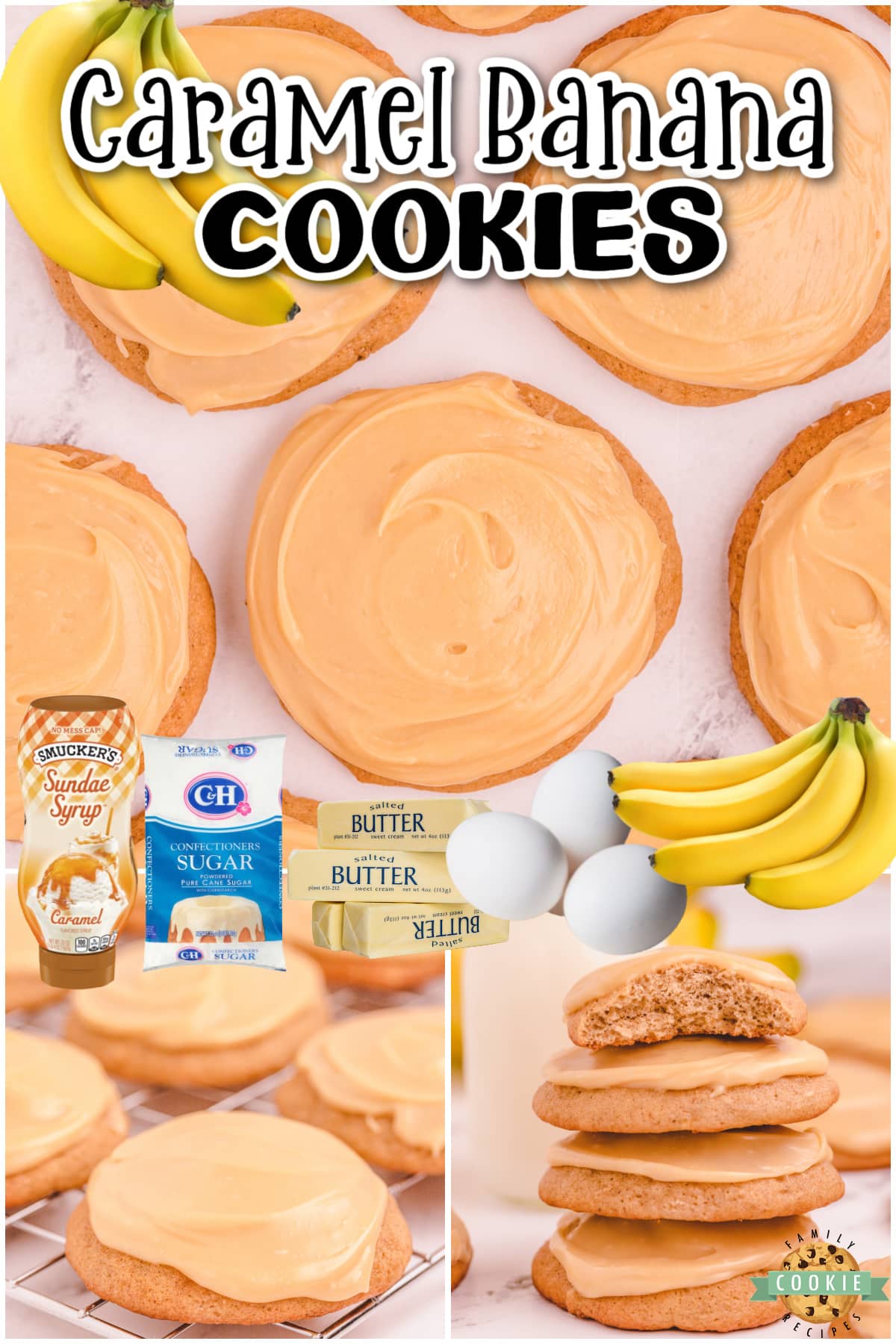 Bake
Scoop the dough into 1.5 tablespoon sized balls onto the prepared baking sheet. The cookies will spread as they bake, so only place 10 scoops of dough per baking sheet.
Place the baking sheets into the preheated oven and bake for 10-12 minutes.
Let cool for 5 minutes on the pan before transferring to a wire cooling rack, be careful the cookies will be soft.
Make caramel icing
In a small bowl, melt the butter in the microwave.
Next, whisk in the salt and caramel ice cream topping.
Then add in the powdered sugar, 1/2 cup at a time, whisking well between each. Once it has all been added, continue to whisk until smooth. If the glaze is too thick to drizzle over cookies, place it in the microwave for 20 seconds.
Spoon the icing over the top of the cookies, let cool to set.
Serve immediately and enjoy!
How long are banana cookies good for?
These cookies can be kept in an airtight container in the fridge or at room temperature for up to 3 or 4 days. I recommend eating them sooner rather than later for the best-tasting experience. Also, place a piece of parchment paper in between each layer of cookies to prevent them from sticking together.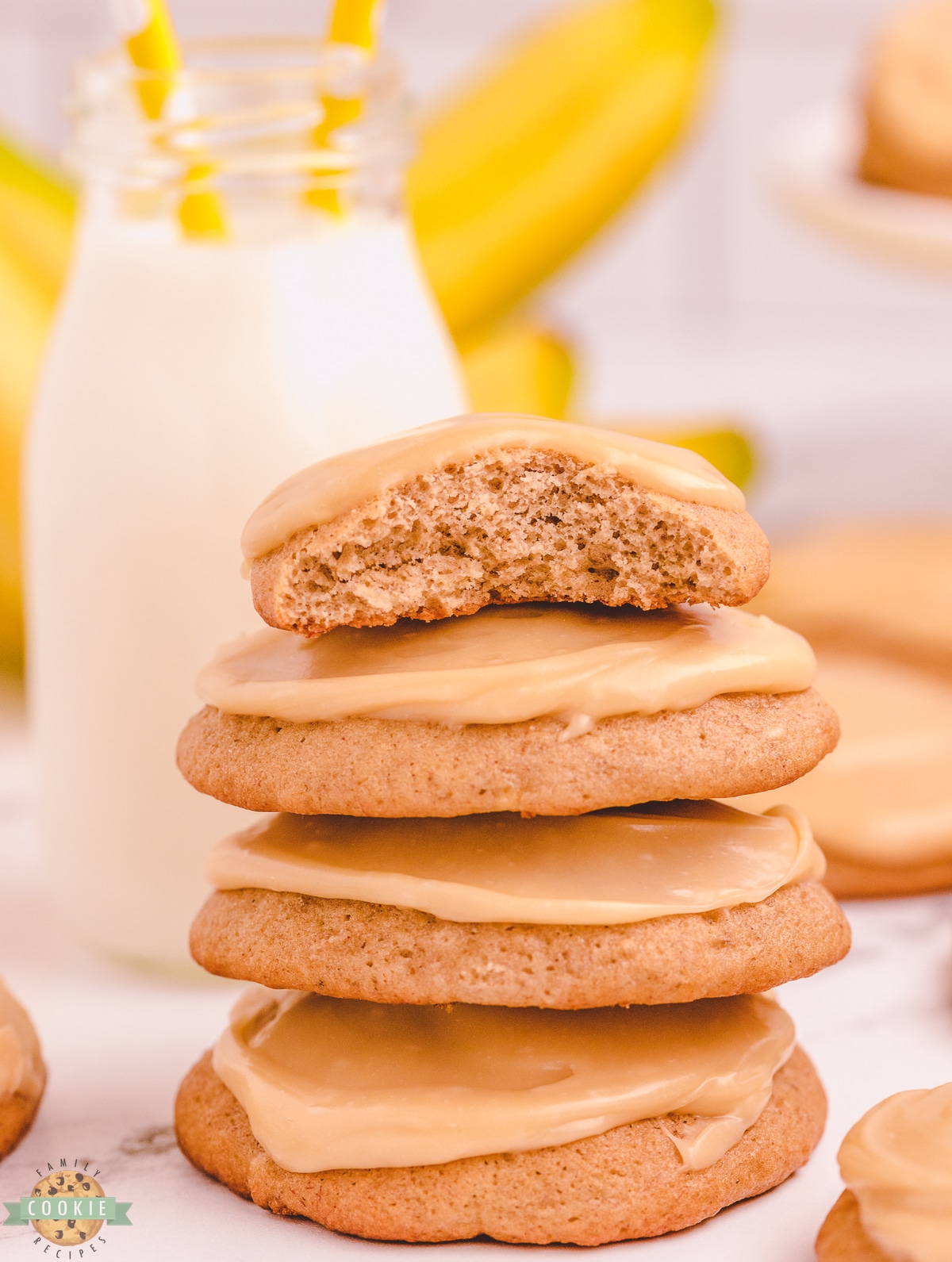 Can I freeze frosted banana cookies?
These cookies can be frozen flat on a baking sheet for a few hours until solid. After that, place them into an airtight container and lay a piece of parchment paper between the layers to prevent sticking. They can last in this airtight container for up to 3 months in the freezer. Simply thaw the cookies before eating so that they aren't too hard to chew.


We recently did a giant room swap amongst our 5 kids and these 2 boys ended up in the big room with the vaulted ceiling. So what does one do when we have a vaulted ceiling? We get a basketball hoop! It's been well loved to say the least… maybe even a huge distraction at times, but it's so fun!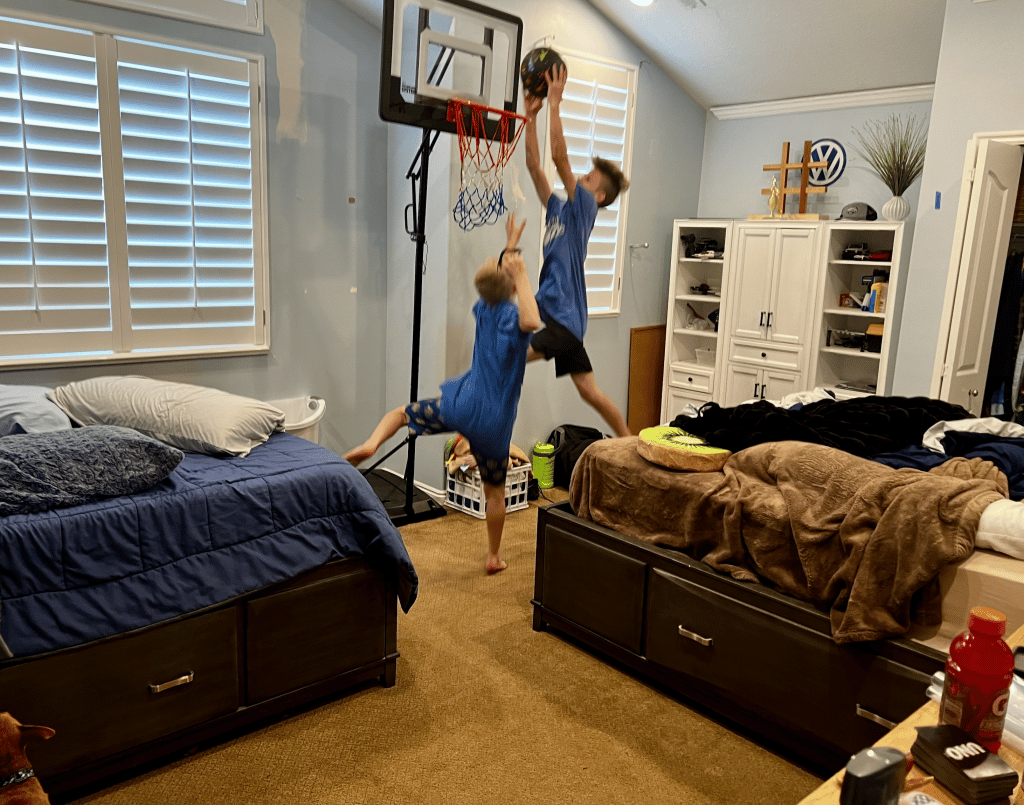 Caramel Banana cookies are delicate cookie topped with a caramel icing for a heavenly treat. Every bite of these amazing banana cookies with icing is a combination of soft textures, sweet flavors and rich taste.