Banana Cream Cookies made with banana pudding, Nilla wafers & buttercream frosting. Easy to make banana cookies recipe is a fun twist on the classic banana cream pie!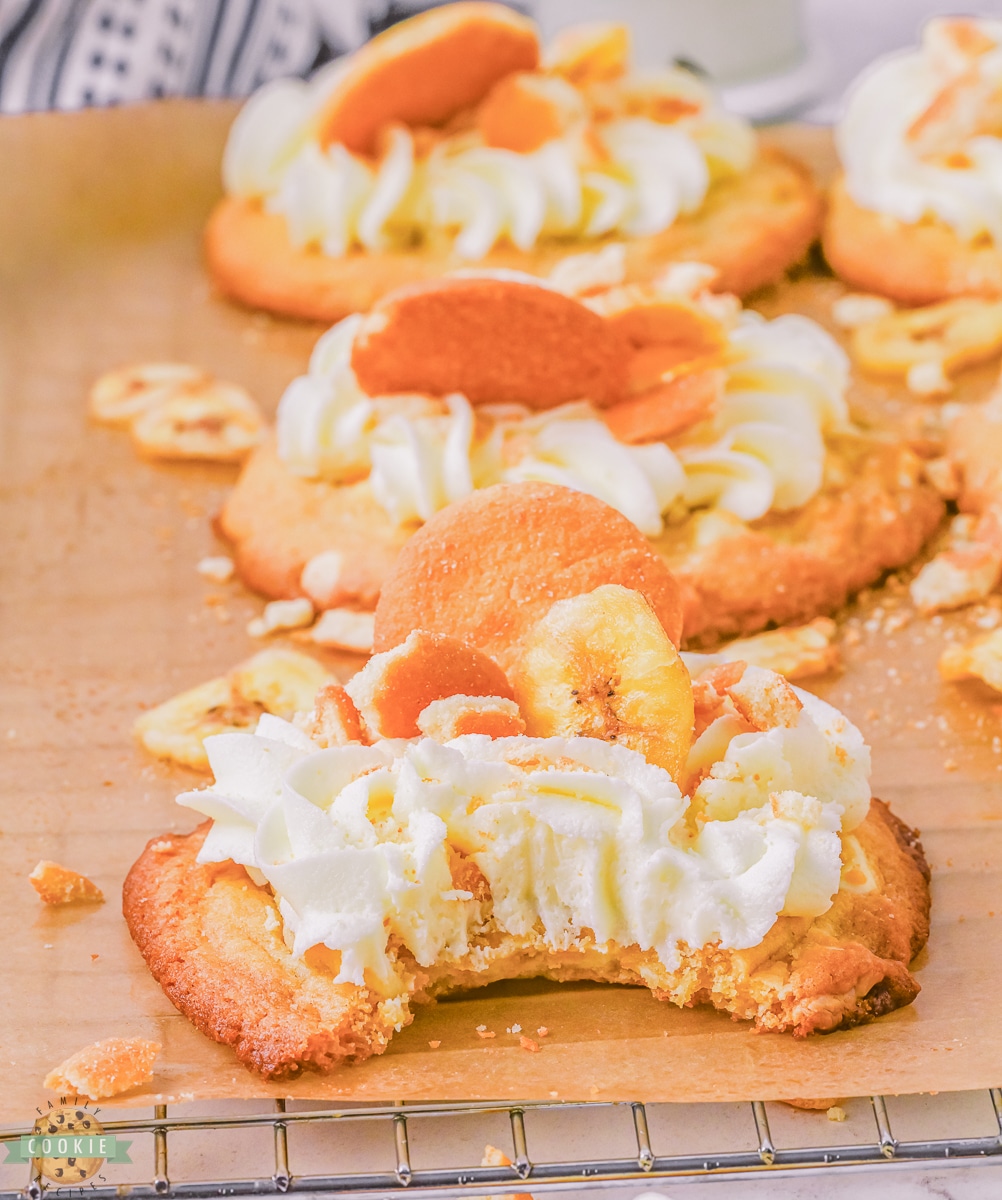 These banana chocolate chip cookies are delicious, tender, and packed with amazing flavor. I am sure this banana pudding cookies recipe will become a new go to favorite, the soft texture mixed with the chocolate chunks and nilla wafer crumbles creates an incredible treat.
Banana Cream Pudding Cookies
These simple, yet elegant cookies, make for a perfect sweet treat when you want something different from the norm. Serve them up for parties, family get togethers, holidays, or just because. There is never a wrong time for a cookie, and this banana cream cookie recipe is always a perfect solution to any sweet tooth craving. These banana cookies are super simple to make and everyone loves the end result. I used white chocolate chips but I've heard that semi sweet chocolate chips or even butterscotch chips taste amazing! So get creative and enjoy our banana cookies recipe!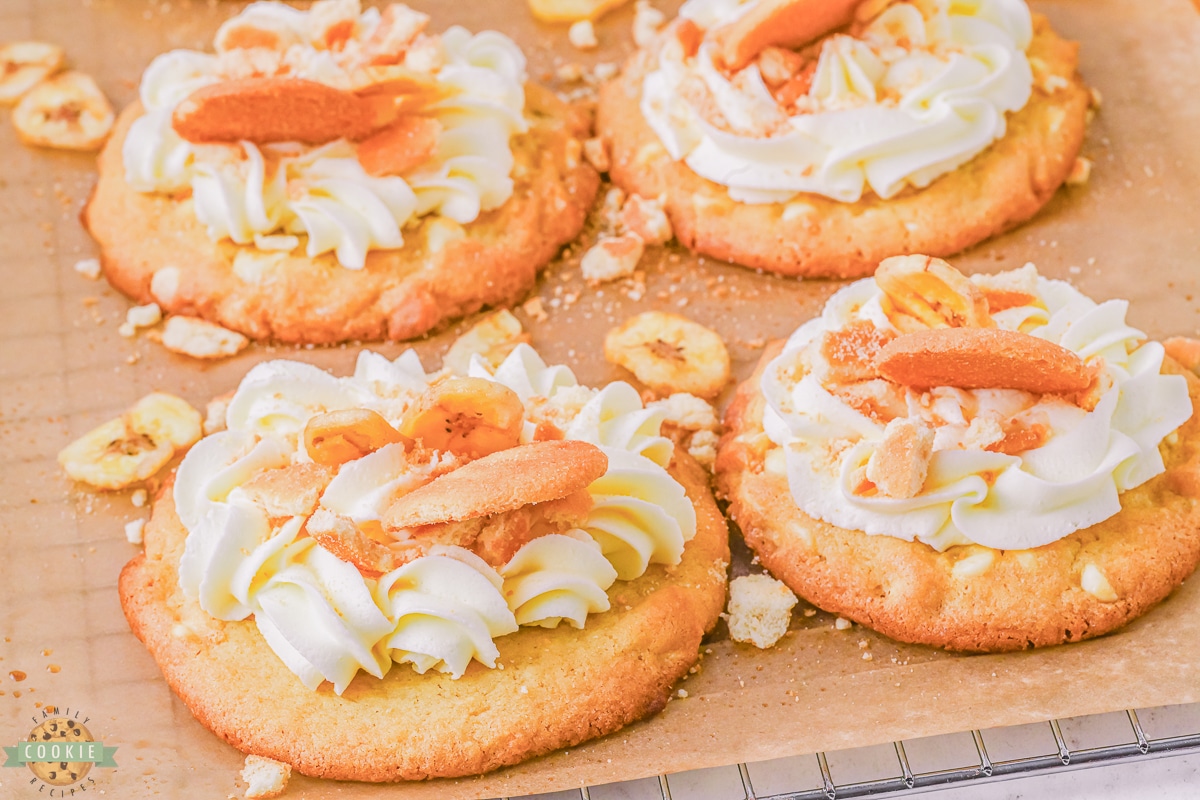 Why we think you will love this delicious cookie recipe
If you were not completely sold on trying this cookie recipe, here are a few reasons we think will convince you to give it a try.
Tastes like banana cream pie but in cookie form! Every bite of these banana cream pie cookies will remind you of this classic and popular dessert. All that is missing from these cookies is a little whipped cream, other than that you would think you are eating a bite of banana cream pie.
No chilling is needed. While chilling cookie dough can be a really important step, we have a special place in our hearts for recipes that don't call for it, like this one. This means we can have a cookie in our hand that much faster.
One batch makes enough to share. Not that you will want to share these cookies, but if you did, every batch makes over a dozen. So it is totally possible to offer a few up and still have plenty to enjoy yourself.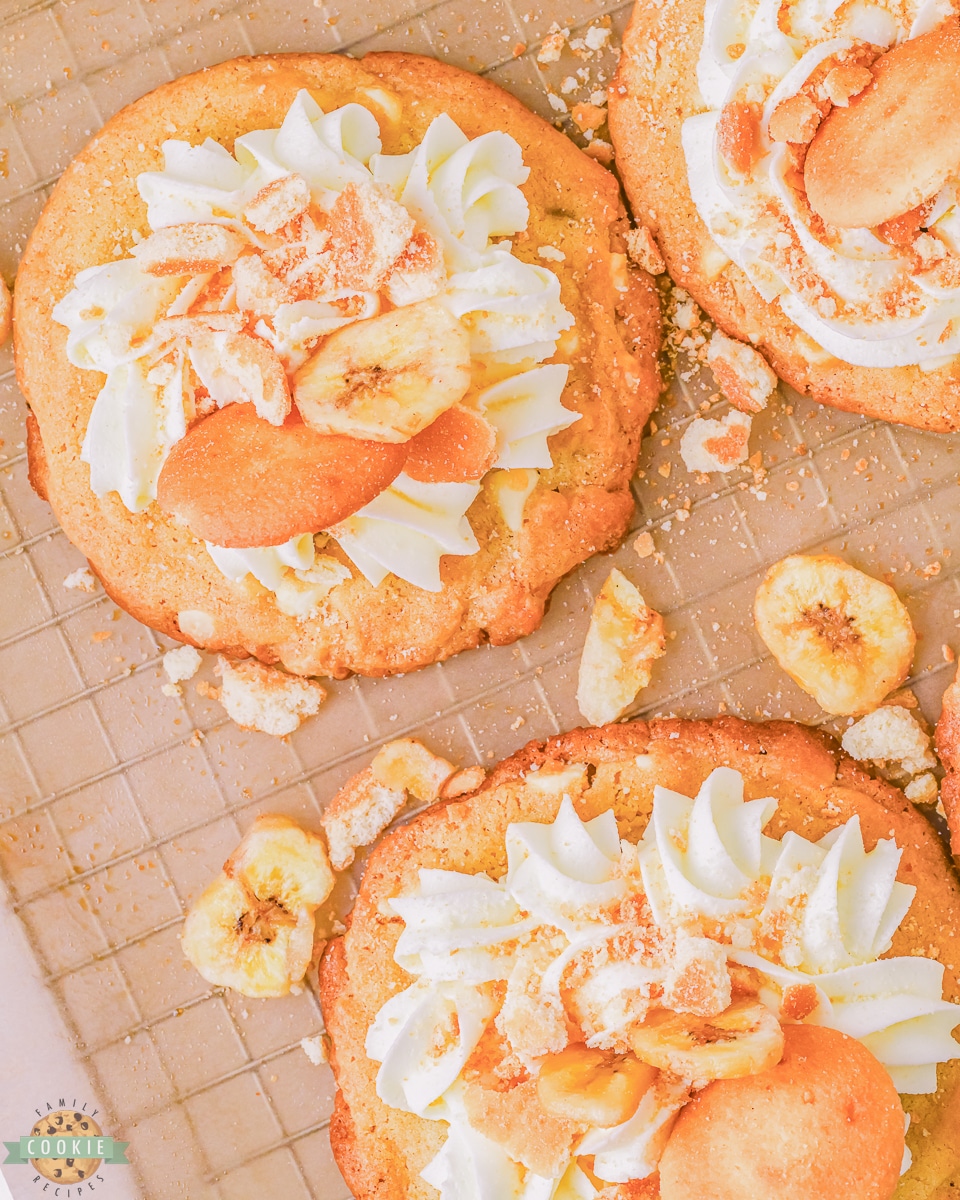 Banana Cream Pudding Cookies Ingredients
Cookie Dough
Butter– You will need 2 sticks of room temperature butter (1 cup) to make the dough rich and flavorful.
Sugars– Use 3/4 cups of brown sugar and 1/4 cup of powdered sugar to get a nice sweet and chewy cookie.
Pudding mix- You will need 1 5.1-ounce sized box of instant banana flavored pudding mix (just the dry mix). Make sure to reserve 3 tablespoons of the pudding mix for the frosting. If you can't find banana pie flavored pudding, you can use the vanilla flavored pudding and mix in 1/2 teaspoon of banana flavoring.
Eggs– Use 2 large eggs to bind the cookie dough together well.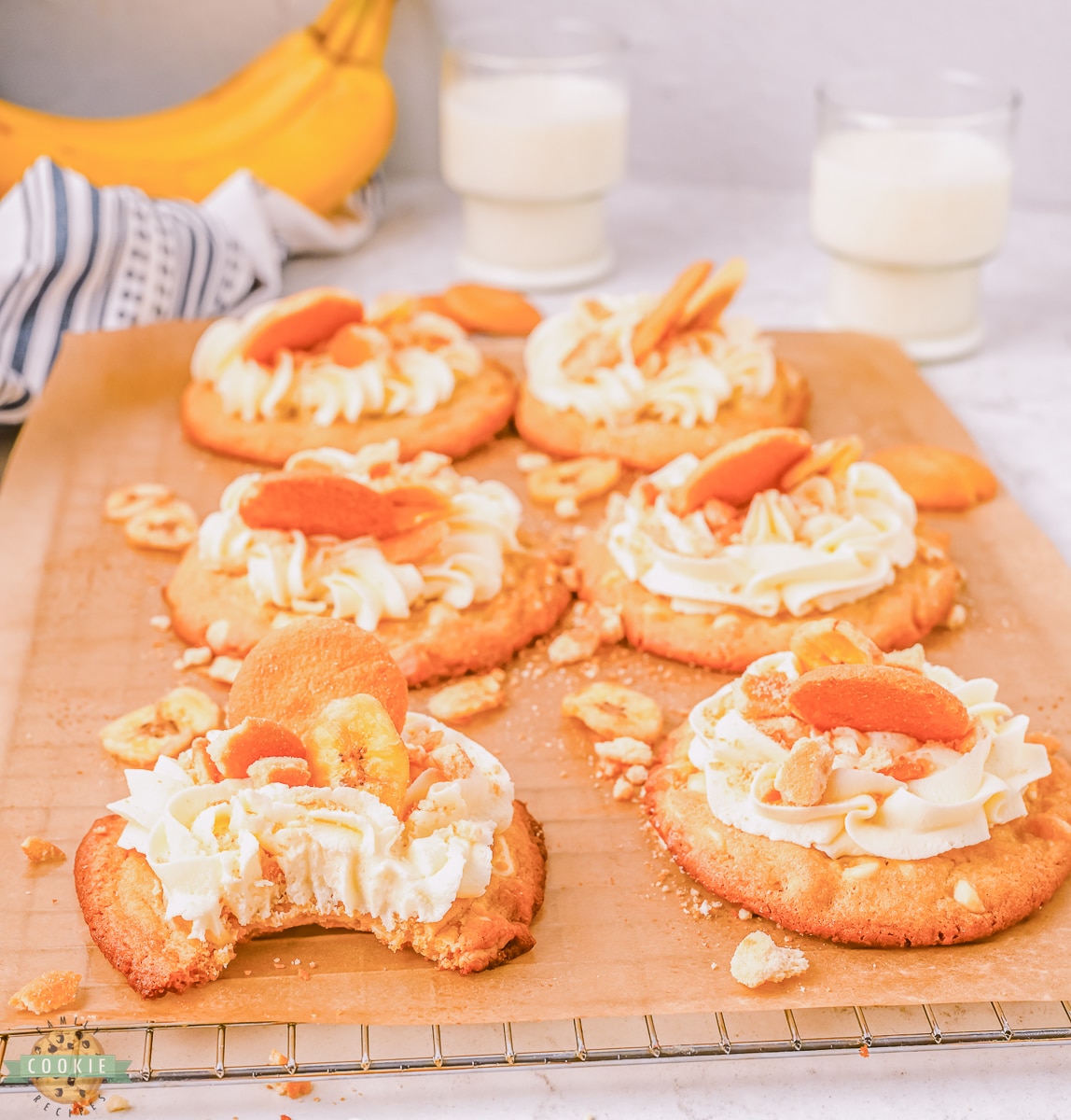 Vanilla extract– Add in 1 teaspoon of vanilla extract for a great flavor enhancement in this recipe.
Flour– The cookie base and structure is made using 2 1/4 cups of all-purpose flour.
Leavening agents- You will need 1 teaspoon each of baking powder and baking soda to help these cookies spread out and puff up as they bake.
Salt– Use 1/2 teaspoon of salt to enhance the flavors in these cookies well.
White chocolate- For an added creamy taste, mixing in 2 cups of white chocolate chips will do the trick.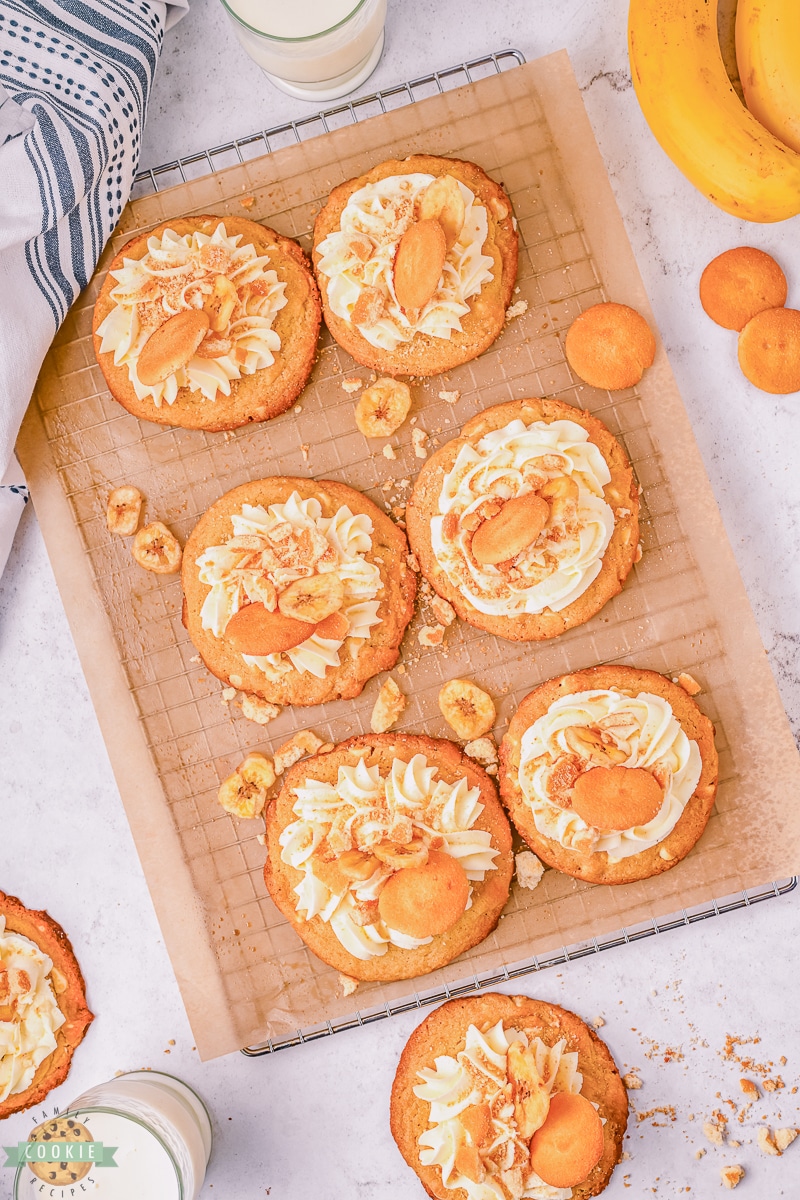 Icing and toppings
Butter– You'll want 1/2 cup (1 stick) of room temperature butter for the buttercream frosting.
Vanilla extract– Use 1/2 teaspoon of vanilla extract to make the frosting taste delicious.
Pudding mix– Use the 3 tablespoons of banana cream pudding mix that is reserved from the cookie dough, you only need 1 box of pudding mix for this recipe.
Powdered sugar– 4 cups of powdered sugar is needed for the base of the icing, to make it smooth and sweet.
Nilla Wafers- Use some crumbled Nilla wafers over the top of these cookies for garnish and great texture.
Banana slices– If desired, you can add a slice of dried or fresh banana slices over the tops of your cookies.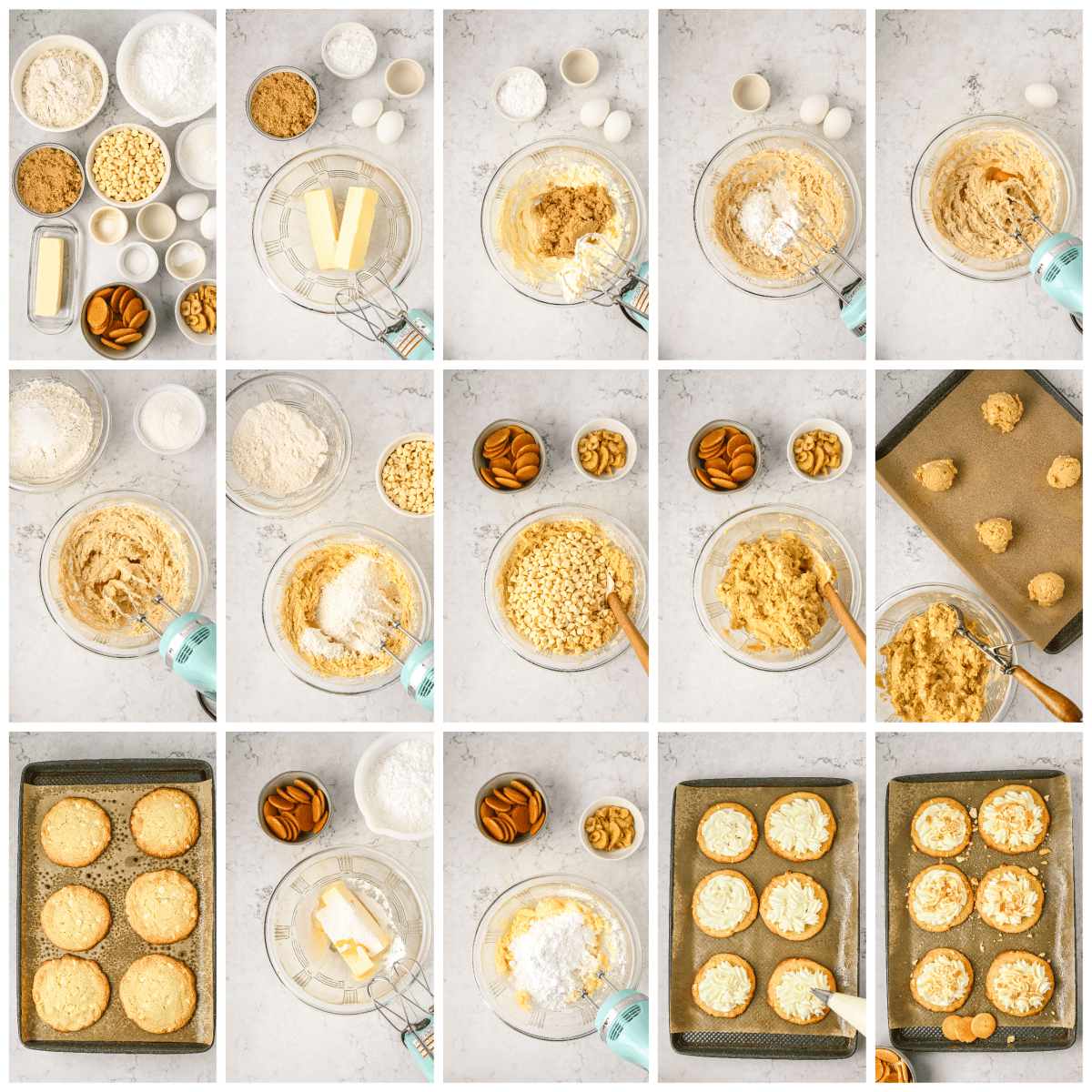 How to make Banana Cream Cookies
Prep
Begin by preheating the oven to 350 degrees F. Then, line a baking sheet with parchment paper and then spray it with cooking spray. Set it aside.
Cookie dough
In a large mixing bowl, start by creaming the butter until it is light and fluffy. You can do this with an electric mixer or by using a whisk.
Next, add in the brown sugar, powdered sugar, and dry mix of banana pudding (reserve 3 tablespoons of the mix before adding to the cookie dough). Beat all ingredients together until well combined.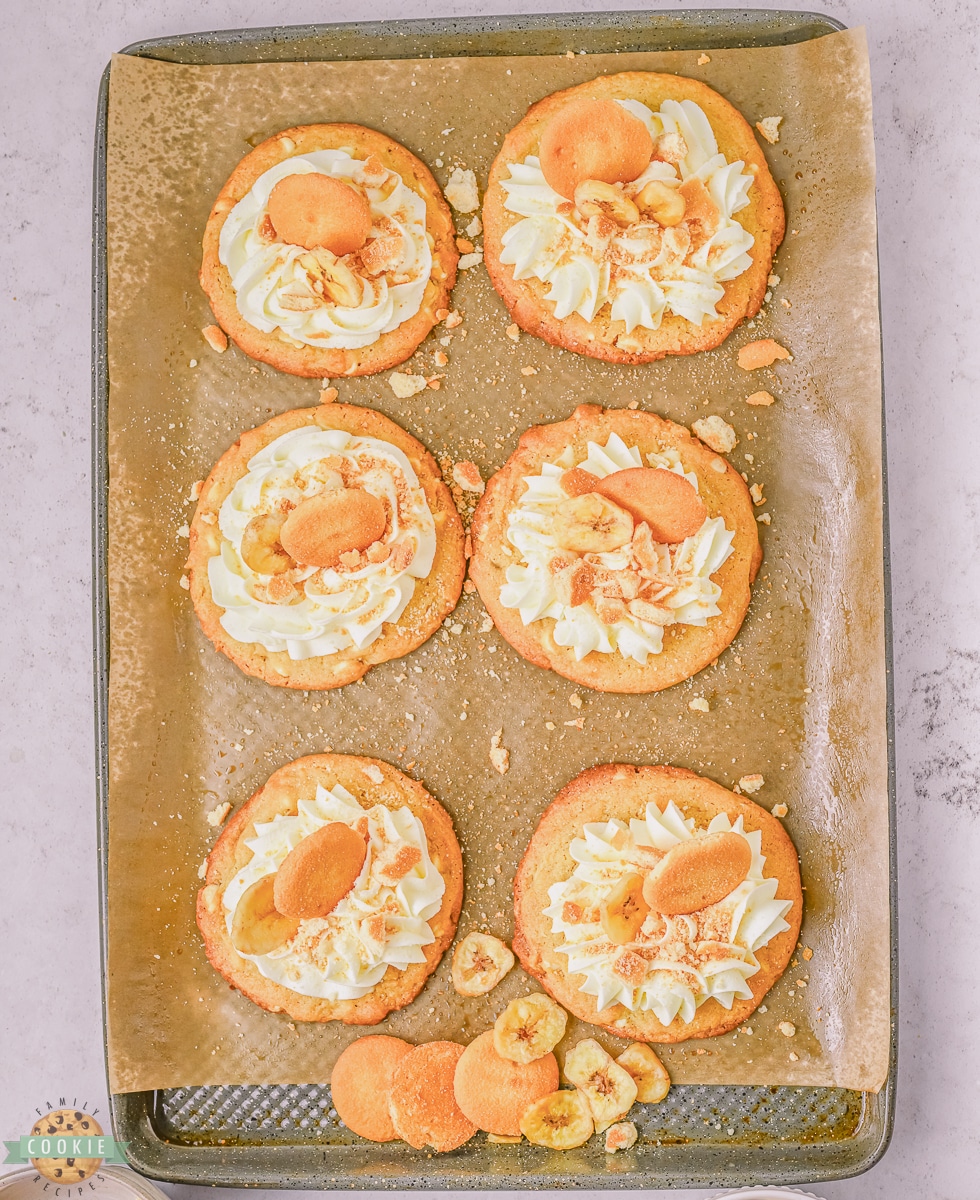 After that, mix in the eggs, one at a time, mixing well after each addition.
Then, add the vanilla extract and stir again to combine.
In a small bowl, combine the flour, baking soda, baking powder, and salt, stir together.
Proceed to add the dry ingredients to the bowl of wet ones and mix until a dough forms.
Lastly, stir in the white chocolate chips until just combined.
Bake
Scoop the dough into large tablespoon sized balls of dough and place them evenly on the prepared baking sheet. Allow enough space for the cookies to spread, 2″ between each ball will work great.
Place the cookies in the preheated oven and bake for 10 minutes.
Once baking is complete, remove from oven and allow them cool completely before adding the frosting.
Frosting
In a large bowl, beat the butter for 4 minutes using an electric handheld mixer.
Then, add the vanilla extract, the reserved pudding mix and 2 cups of powdered sugar. Beat ingredients until combined.
Continue adding more powdered sugar, 1 cup at a time until the 4 cups has been added. If your frosting gets too thick, add in 1-2 teaspoons of milk until a good consistency for piping has been achieved.
Assembly
Place the icing into a bag fitted with a star tip, and then pipe the icing in swirls over the tops of the cookies.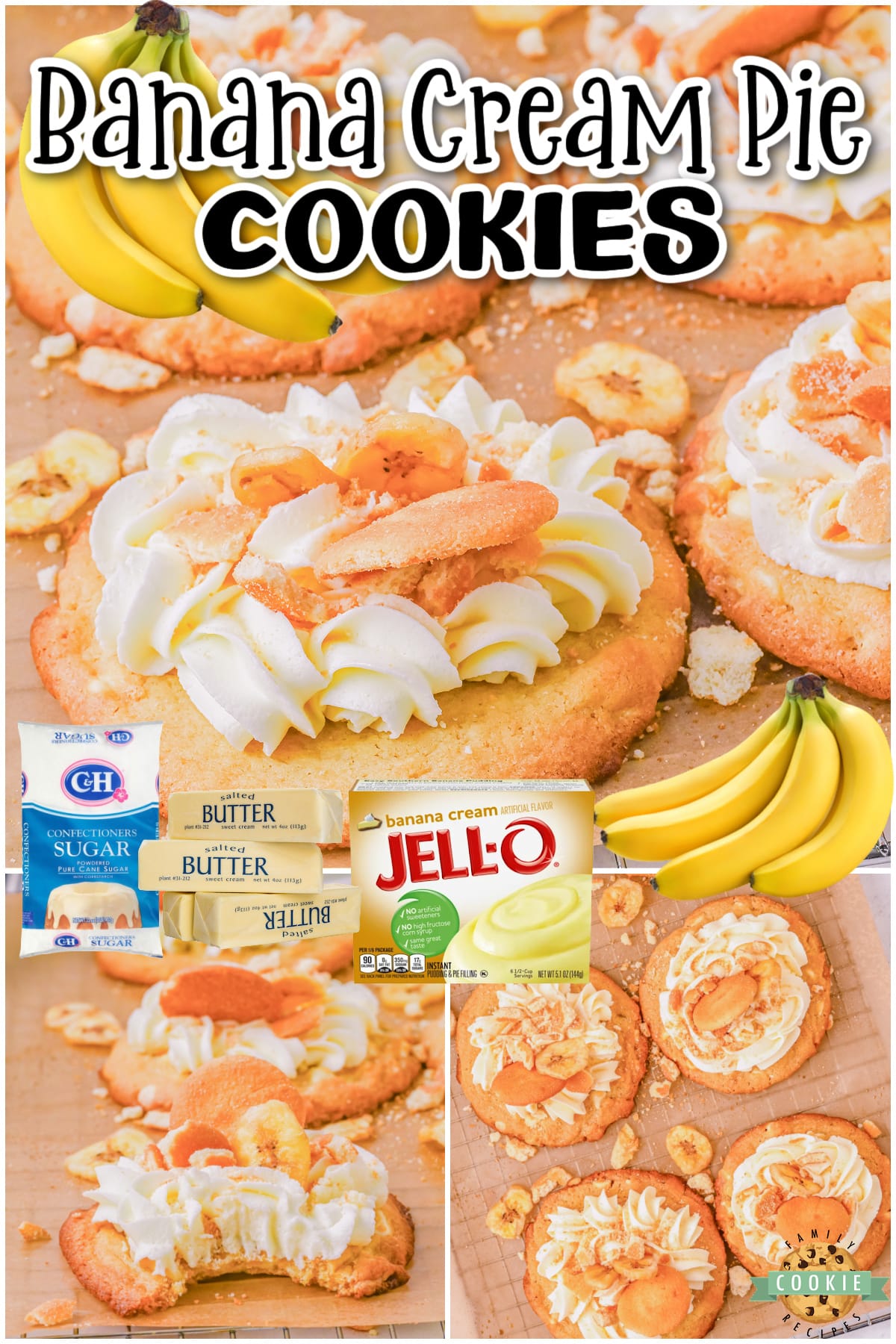 Adding some crumbled Nilla wafer cookies over the top of the frosting adds amazing flavor and texture to these amazing cookies.
Also, if desired, add a dried or fresh banana slice on top of the cookies.
Serve immediately and enjoy!
Friendly Baker's Tips
Due to the pudding mix in the frosting, it will be well flavored, but it could be thicker than the traditional buttercream frosting that you are already used to. This may mean that you'll need to add in a little more milk to thin it down as needed. Make sure to add in the milk a little at a time because a little will go a long way.
How long are banana cream cookies good for?
These cookies will be good for up to 5 days if kept stored in an airtight container in the fridge. I recommend keeping them in a single layer or storing them with parchment paper between the layers to prevent them from sticking together.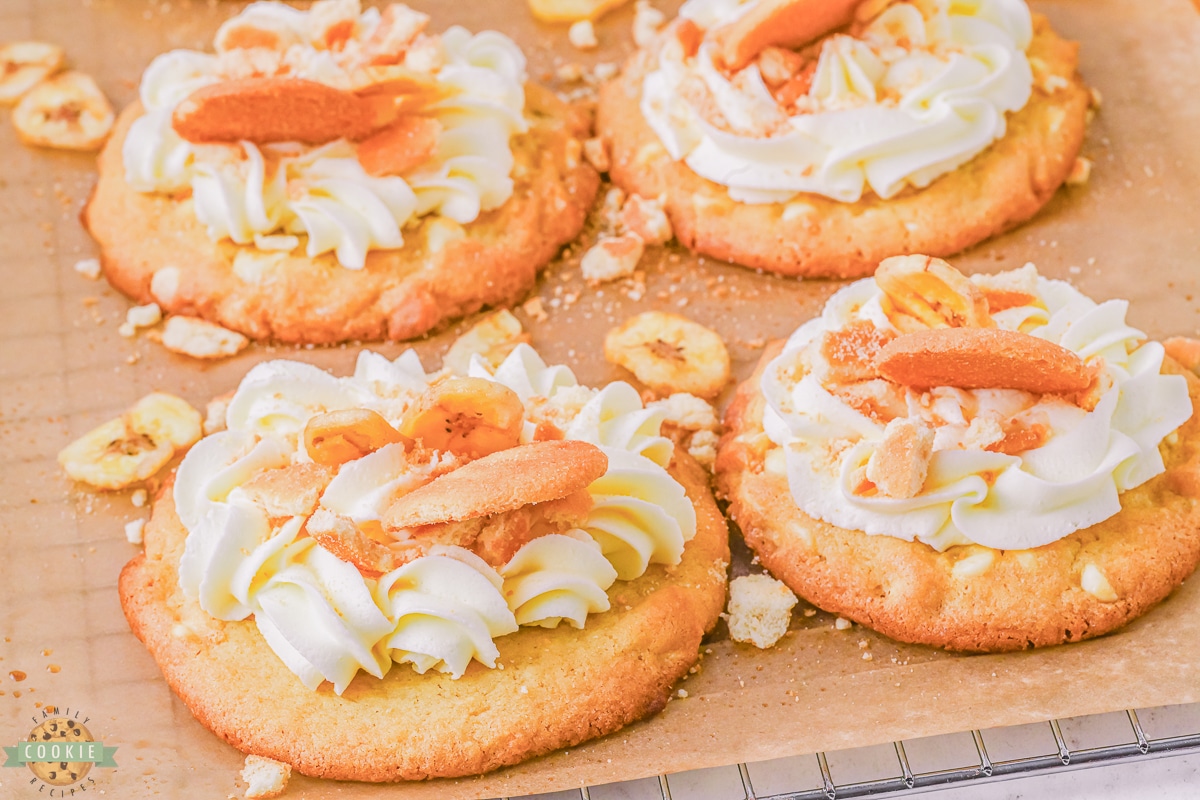 Why are my cookies not flat?
You can slightly flatten the cookies or leave them in round balls and allow them to flatten out some as they bake. If you allow them to flatten on their own, they may remain "puffy" as they bake. If you choose to flatten them, do not flatten them more than a disc, or else they may spread and become too thin.


These are our Covid pups… we actually brought them home early November 2019. It actually worked out really well because when we were all at home ALL THE TIME in spring 2020, we had these 2 energy filled, attention hoarding puppers who absolutely ADORED us all being home. It certainly made life better! And they just make us laugh. With how they go mad when I toss hot laundry on the bed. Here they are cuddling up to a pile of socks and rags. LOL!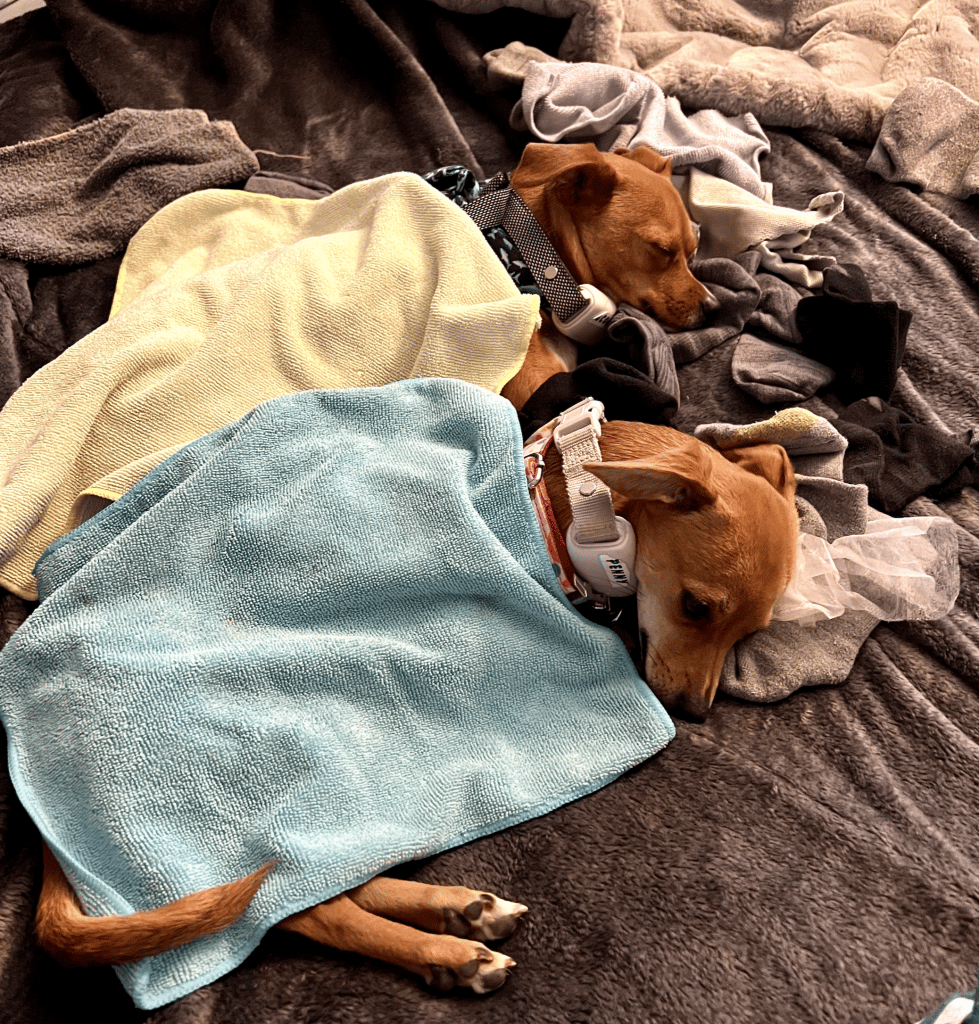 Banana Cream Cookies are made with crumbled Nilla wafers, a banana cream pudding mix, and topped with a buttercream frosting. This simple banana cookies recipe is a lovely twist on the classic banana cream pie that is well known and loved!