Chewy brown sugar cookies topped with a lovely homemade brown sugar icing. Fantastic slice & bake butter cookies made with brown sugar that everyone loves!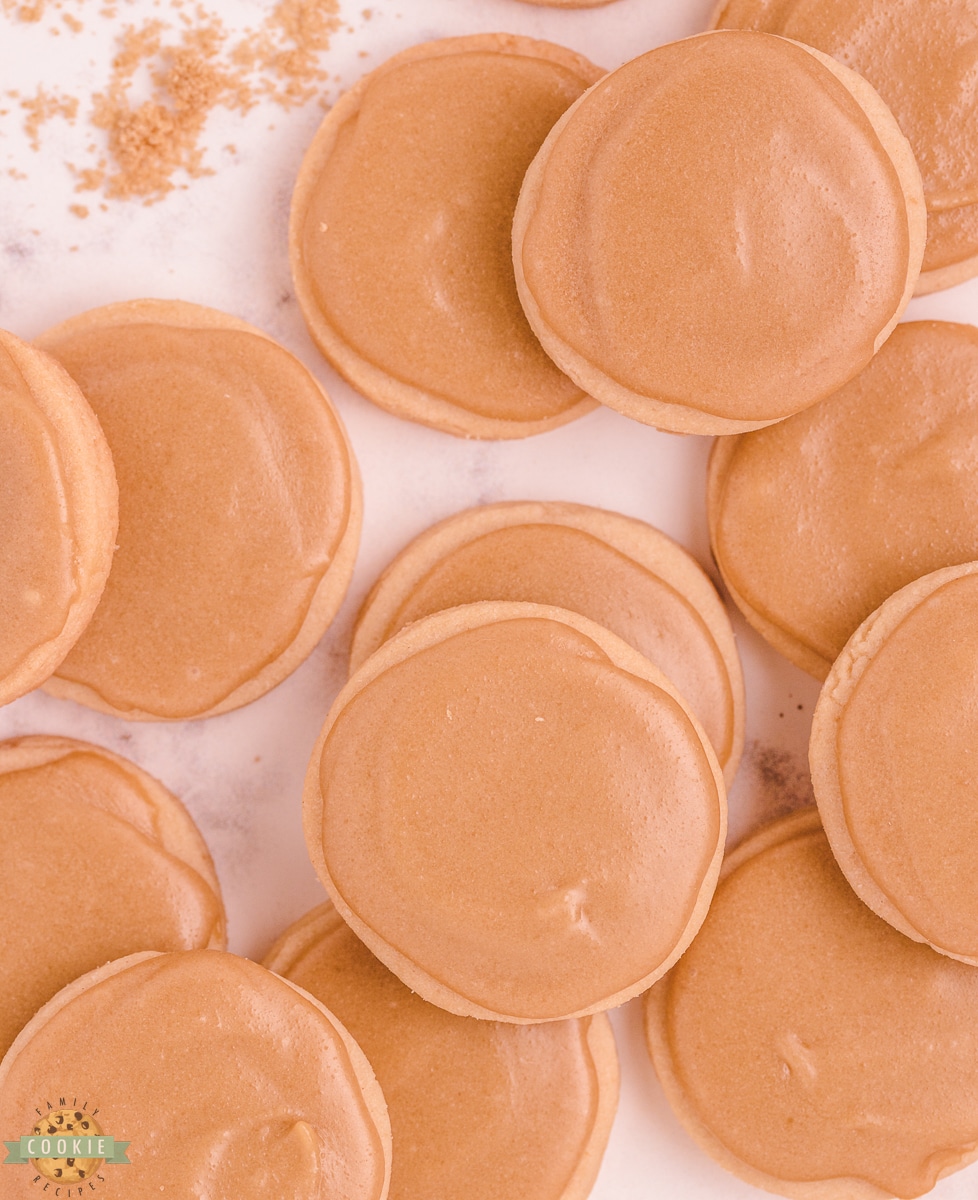 You'll love this brown sugar cookies recipe because it's simple and fabulous. Brown sugar adds such a wonderful depth of flavor and chewiness to every bite while keeping the cookie moist too. We even make these brown sugar cookies without baking soda or other leavening agents to keep them buttery like a traditional roll and cut cookie.
Easy Brown Sugar Cookies
Some of the more traditional sugar cookies come from the slice and bake variety, meaning that they are rolled into logs, chilled, and then sliced into rounds before baking. These cookies rarely contain leavening agents and usually consist of a base of butter, flour, and sugar. Our brown sugar butter cookies are very similar to these cookies, but with a few subtle twists to make them more unique.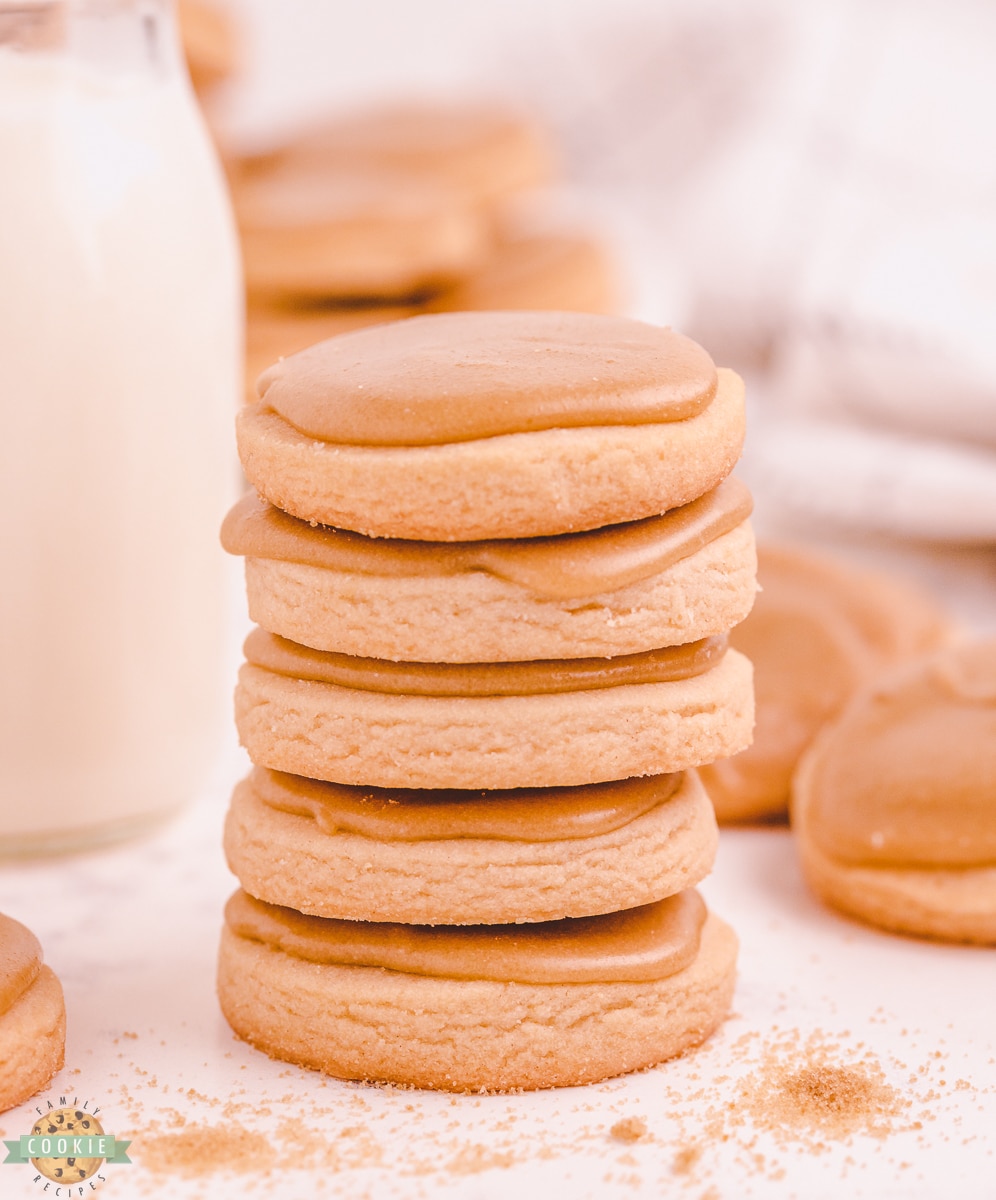 Why You'll Love This Recipe
There are many reasons to love these cookies, but here are a few of our favorites:
Minimal ingredients. From start to finish you'll only need 8 ingredients and you most likely have them on hand already.
No chilling is required. Unlike other slice and bake cookies, this dough does not need to be chilled before rolling and cutting.
One batch makes a lot of cookies. If you use a 2-inch cookie cutter as directed, you will get about 4 dozen cookies from one batch, meaning that these are perfect for parties, gatherings, cookie exchanges, and more because there is plenty to share.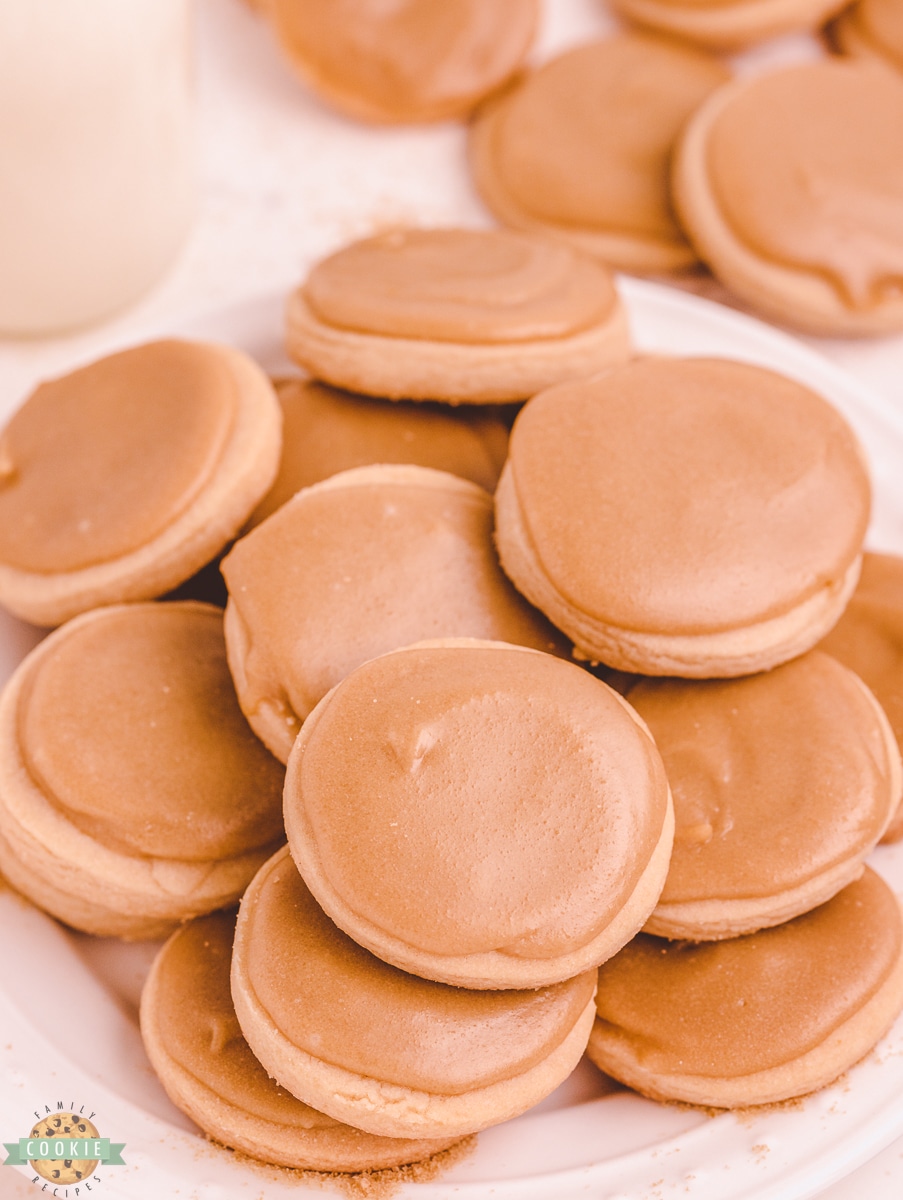 Brown Sugar Cookies Ingredients
For the Cookies, You Will Need:
Butter: You will need 1 cup of butter to make these cookies rich and buttery in taste. This is 2 sticks of butter.
Brown sugar: Use 1/2 cup of packed brown sugar to give these cookies their iconic flavor and texture.
White sugar: For added sweetness, add 1/4 cup of granulated sugar.
Vanilla: Adding in 1 teaspoon of vanilla extract will give us some added flavor.
Flour: Use 2 1/4 cups of all-purpose flour for the base of these cookies.
Salt: You will need 1/2 teaspoon of salt to help enhance the flavors in these cookies well.
For the Brown Sugar Icing, You Will Need:
Brown sugar: Use 3/4 cups of brown sugar for the icing to make it flavorful and sweet.
Butter: You will need 1/4 cup of butter. this is half of one stick.
Powdered sugar: Use 1 1/4 cups of powdered sugar to give the icing added thickness and sweetness.
Milk: You will need about 1-2 tablespoons of milk to get the icing to the right consistency for drizzling.
Vanilla extract: Use 1 teaspoon of vanilla extract to make the icing even tastier.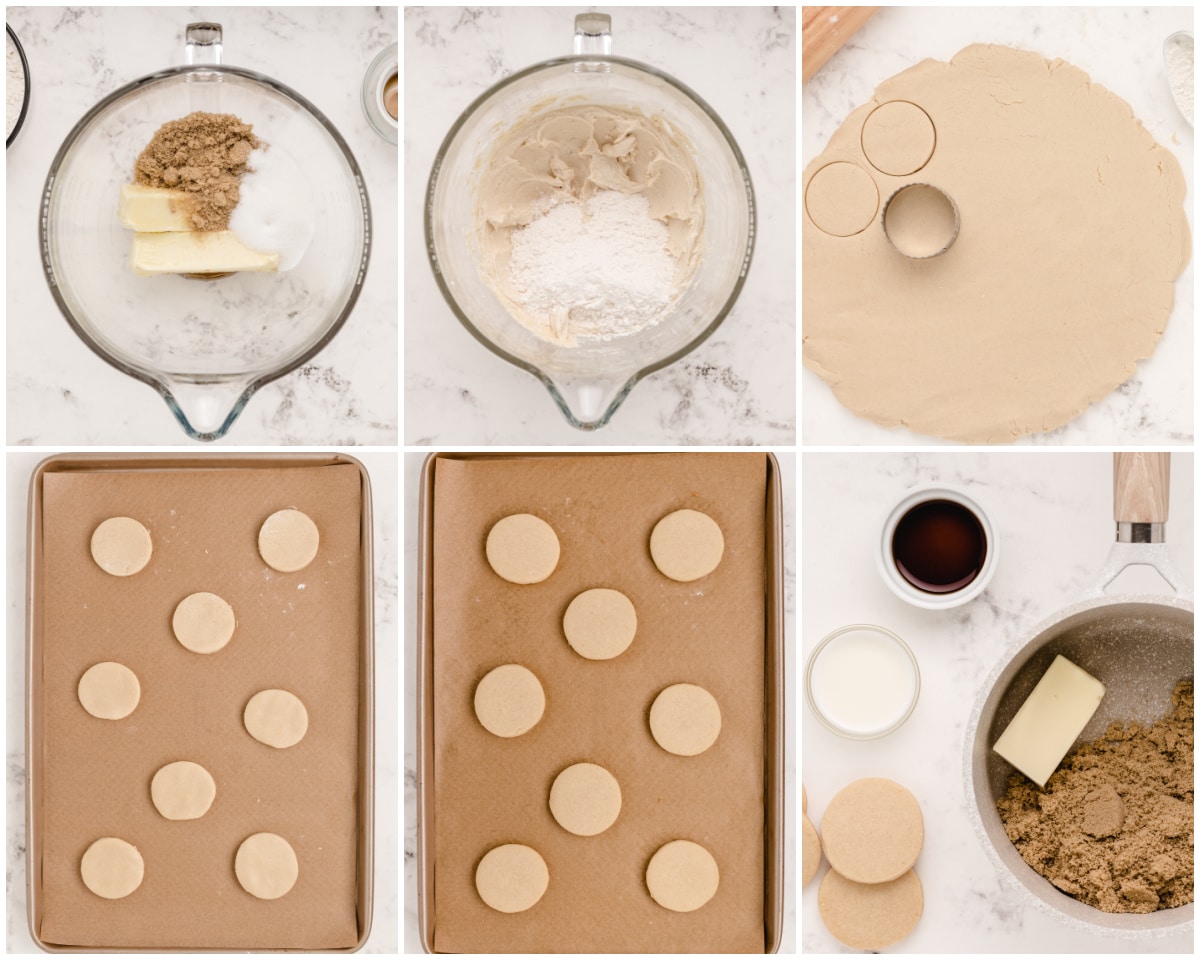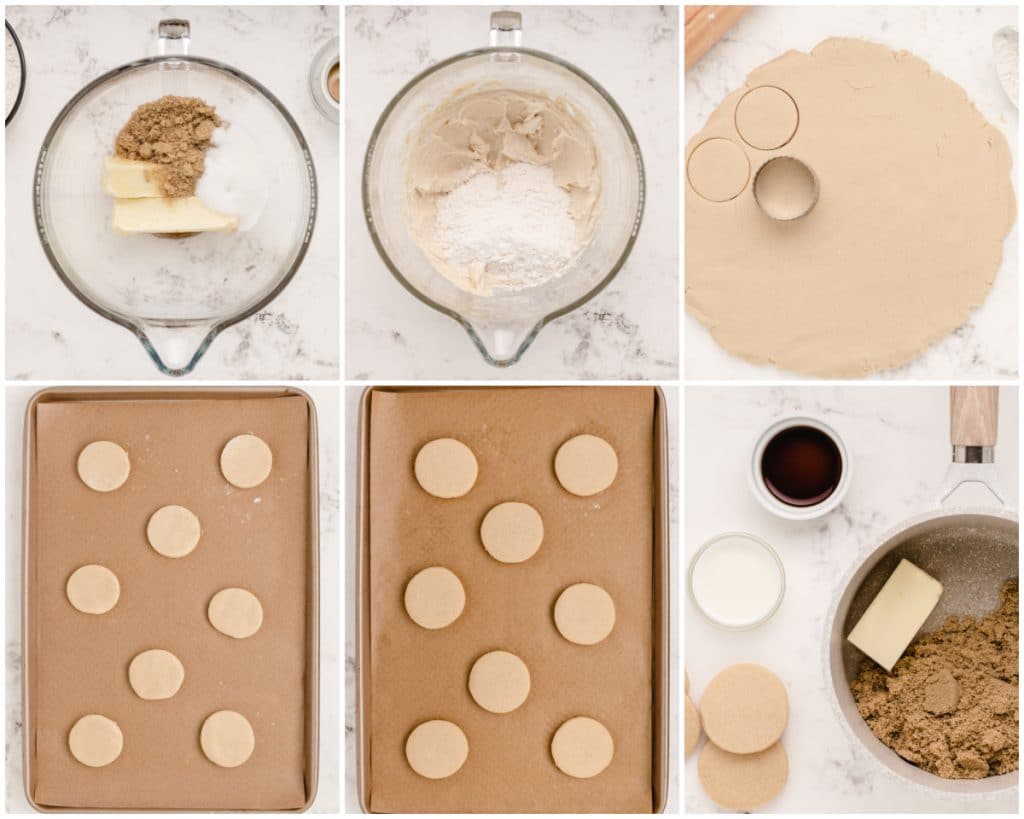 How to
Make Brown Sugar Cookies
Prep
Preheat your oven to 300 degrees F.
Line a baking sheet with parchment paper and then set it aside.
Make dough
Whisk together the butter, sugars, and vanilla in a large mixing bowl for 2 minutes.
Add in the flour and salt and then mix again.
Roll and Cut
Dust a countertop with flour and roll out your cookie dough so that it is between 1/2 inch to 1/5 inch thick.
Cut the dough out using 2-inch cookie rounds.
Place the cut cookies onto your prepared baking sheet.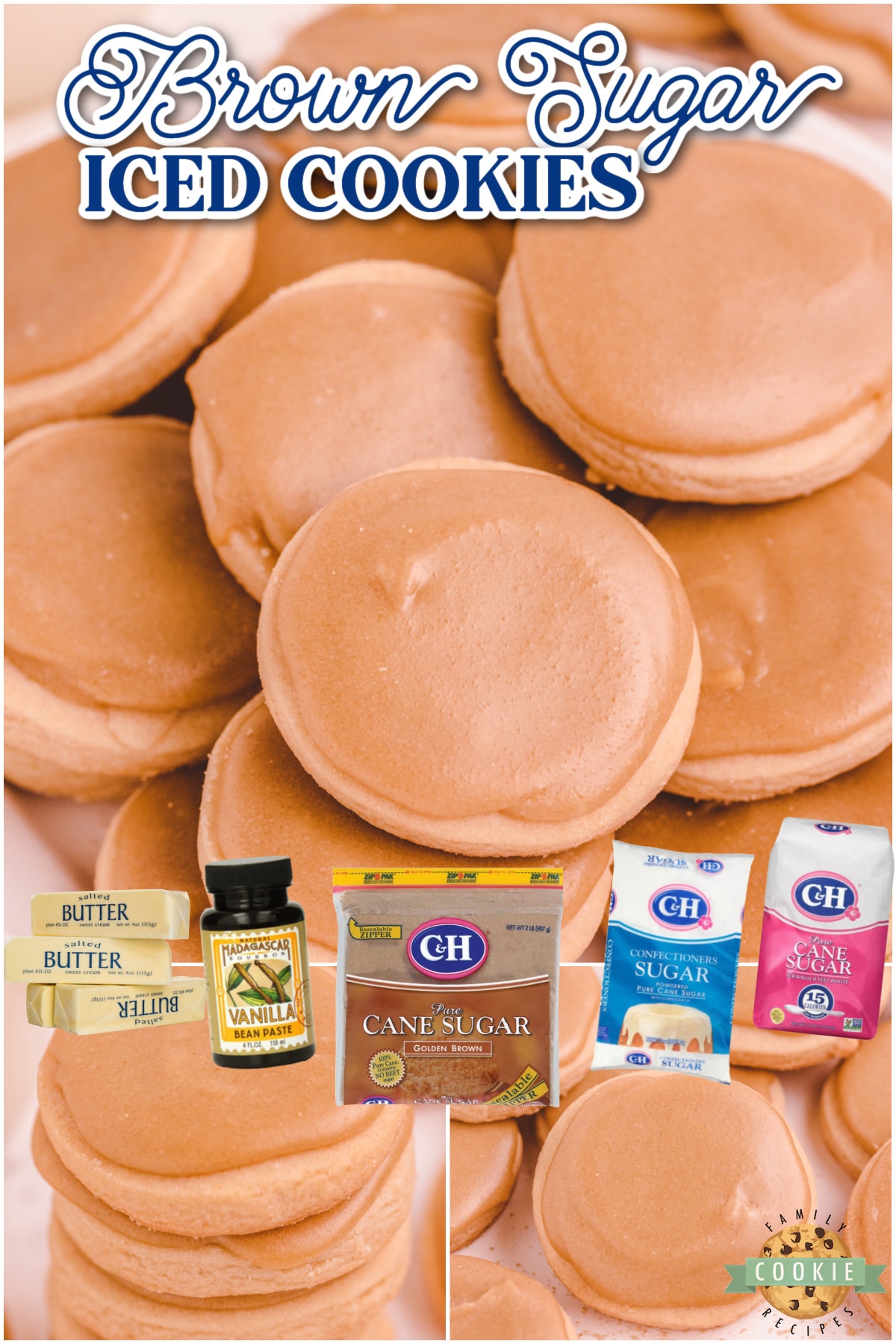 Bake and Cool
Bake in the oven for 20-22 minutes and allow the cookies to cool on the baking sheet for 3-5 minutes before transferring to a wire cooling rack.
Prepare the Icing
To do this, melt your butter in a saucepan over medium heat.
Add in the brown sugar and whisk again for another 2 minutes.
Reduce the heat and then add in the remaining ingredients.
Whisk together until smooth while keeping the pan on the stove for another 3-4 minutes.
Decorate Cookies
Remove from heat and then spoon over your cooled cookies.
Allow the icing to set before serving. Enjoy!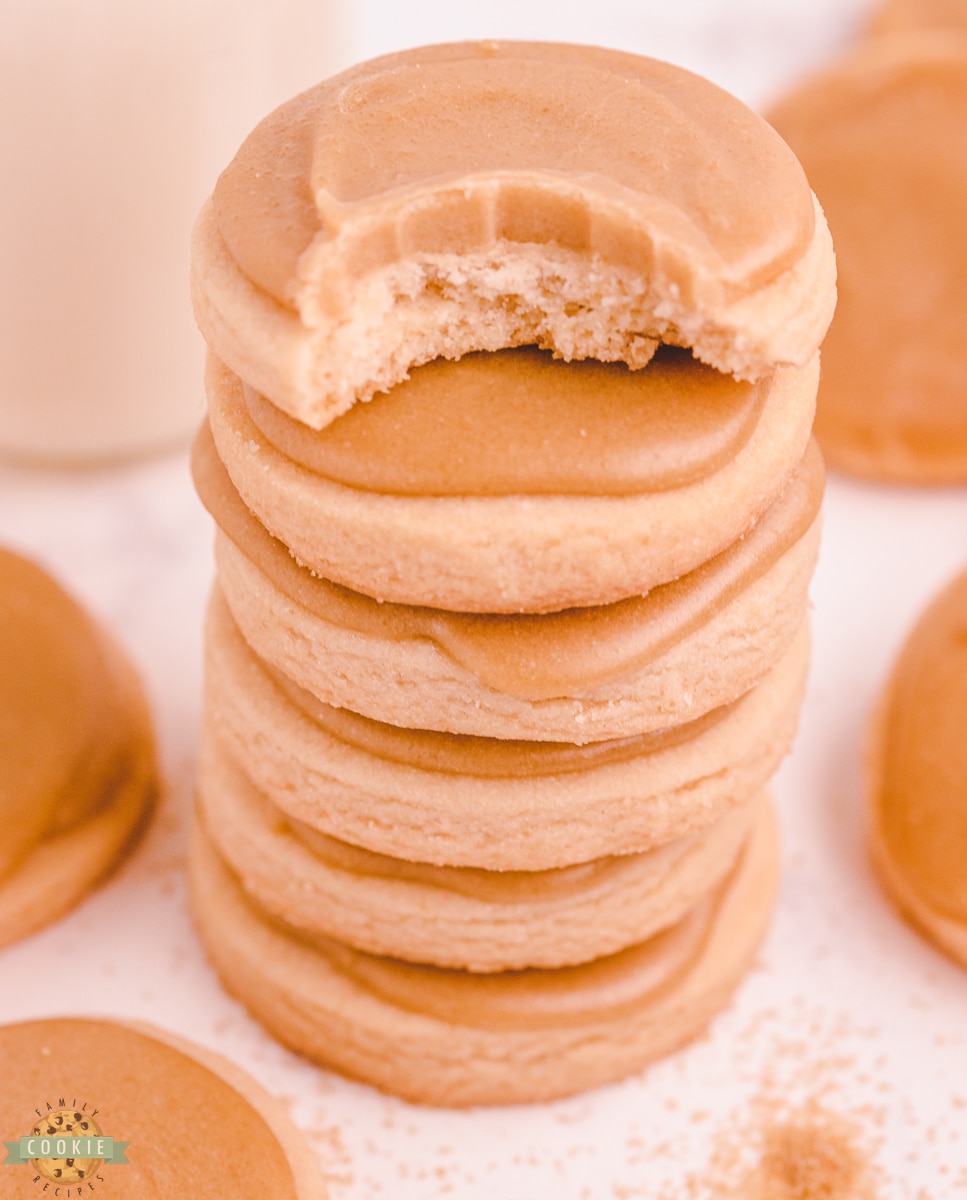 Brown Sugar vs White Sugar Cookies
While both white sugar and brown sugar are sweet and similar both do different things when it comes to baked goods. White sugar is more processed whereas brown sugar still has molasses which makes it more flavorful and gives it that brown color.
When it comes to cookies, the BEST CHOCOLATE CHIP COOKIES often contain brown sugar or high amounts of brown sugar because it gives them that chewy moist texture we love and enjoy. Brown sugar in sugar cookies has a similar effect and adds a much larger depth of flavor compared to using granulated sugar.
Baking Tips for Success
Do not overbake your cookies. When you pull your cookies from the oven, they may look soft and puffy, but they are finished cooking when the tops are no longer glossy. The cookies will set and finish cooking as they cool on the baking sheet.
Reheating the cookies. If you place your cookies on a plate in the microwave for about 10-15 seconds, you can recreate that fresh from oven taste the following day!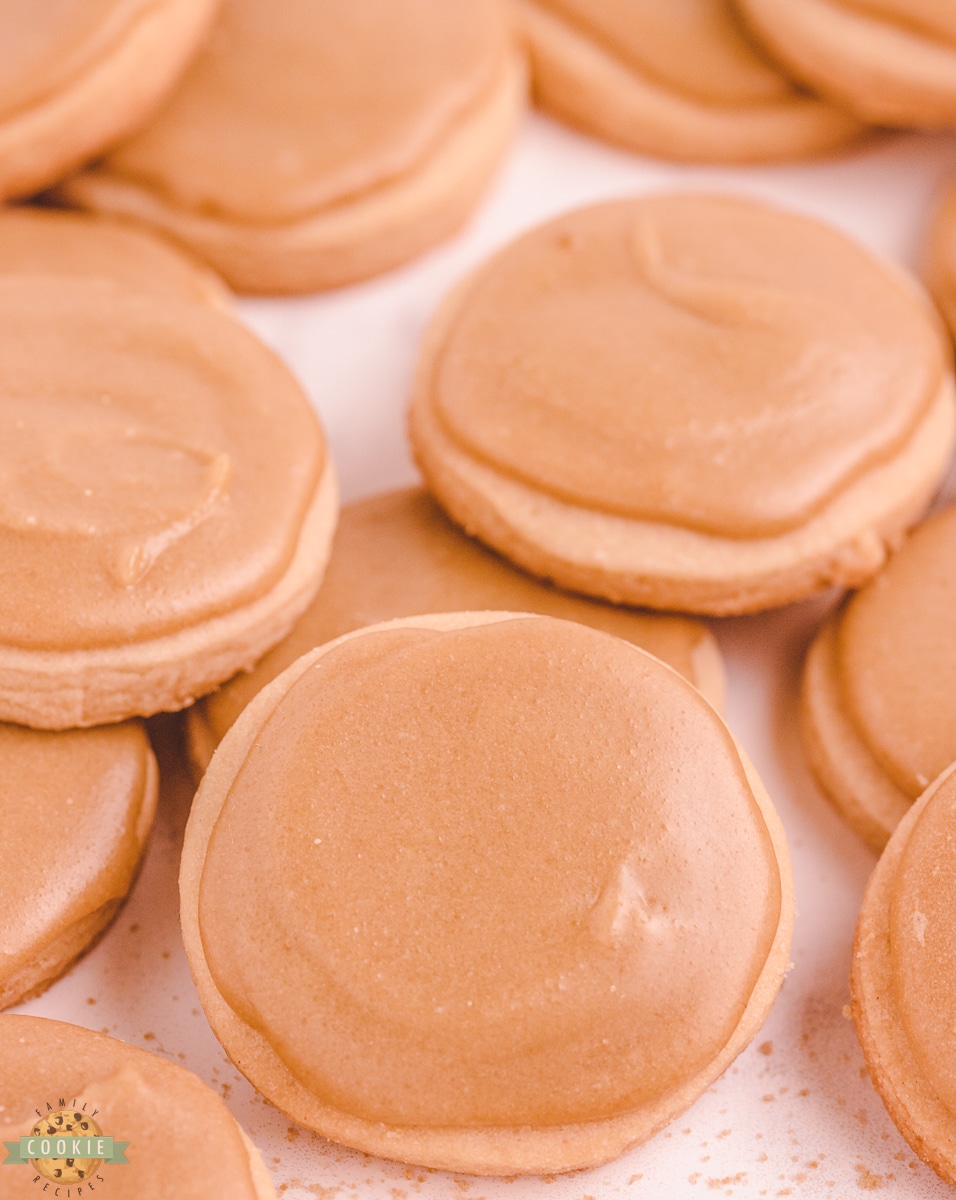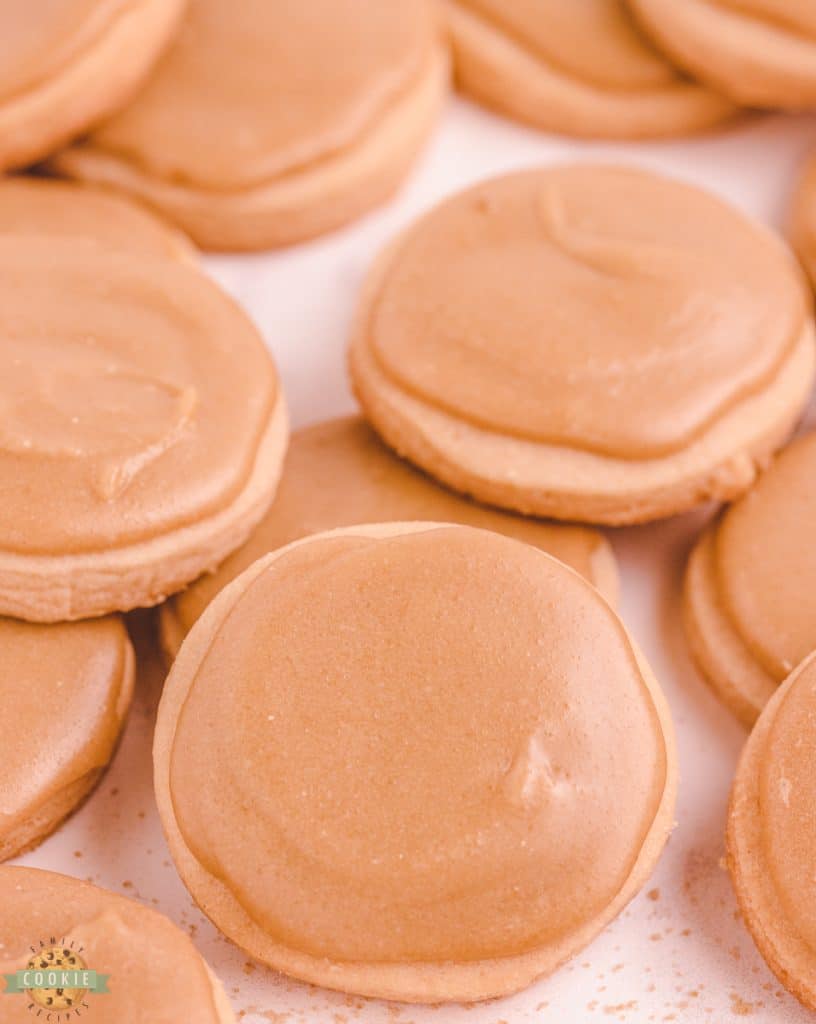 How long will these brown sugar cookies

last?

These cookies can last stored in an airtight container for up to one week. I recommend not placing them into a container until after the icing has fully set and if the cookies need to be stacked, it could e a good idea to place a piece of parchment paper or wax paper between the cookie layers.
Can I freeze chewy sugar cookies?
Yes, these cookies can be frozen for up to 3 months in an airtight container. I recommend freezing them flat on a baking sheet for about an hour or two before placing them in a container and freezing them. This can help to prevent the cookies from sticking together.


First lost tooth! She had been waiting forever. All her friends had already lost a tooth. She wanted it so bad… but it hurt! My mama heart just wanted to wrap her up and hug her for a solid hour or two.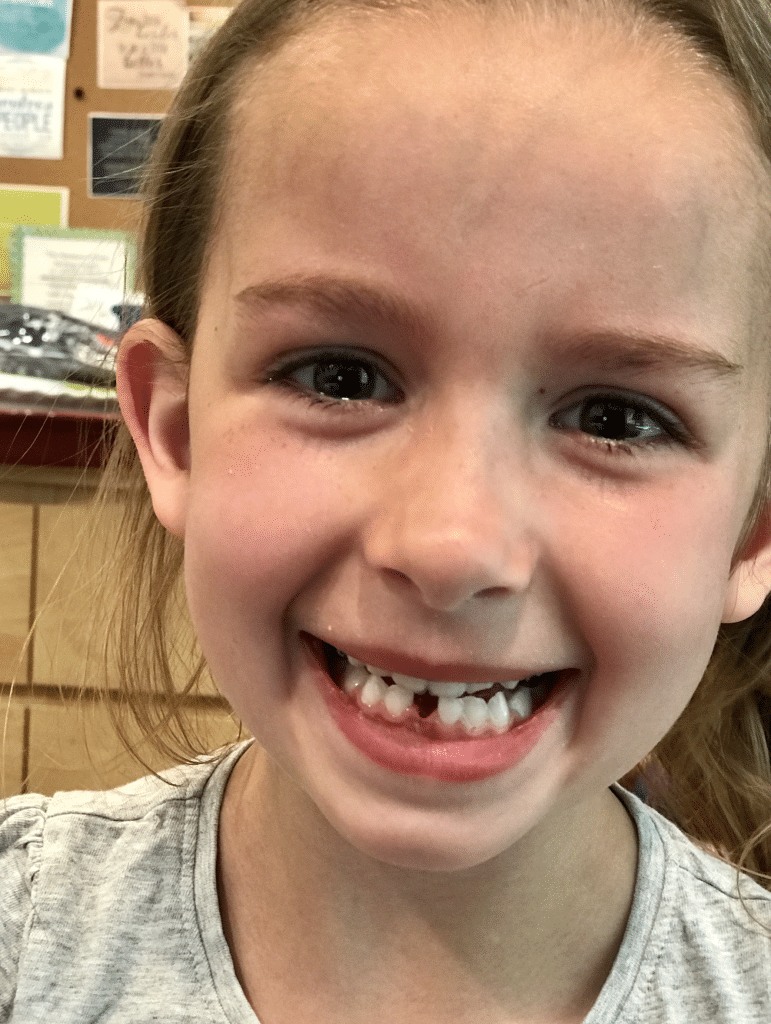 You're going to love these soft and buttery brown sugar cookies. Made without leavening agents and topped with homemade brown sugar icing, every bite is chewy, sweet, and ideal for the occasion.