Honey Bun Cookies look just like a honey bun and are topped with a delicious honey butter glaze. Honey bun Crumbl cookie recipe has an incredible warm buttery cinnamon flavor everyone loves!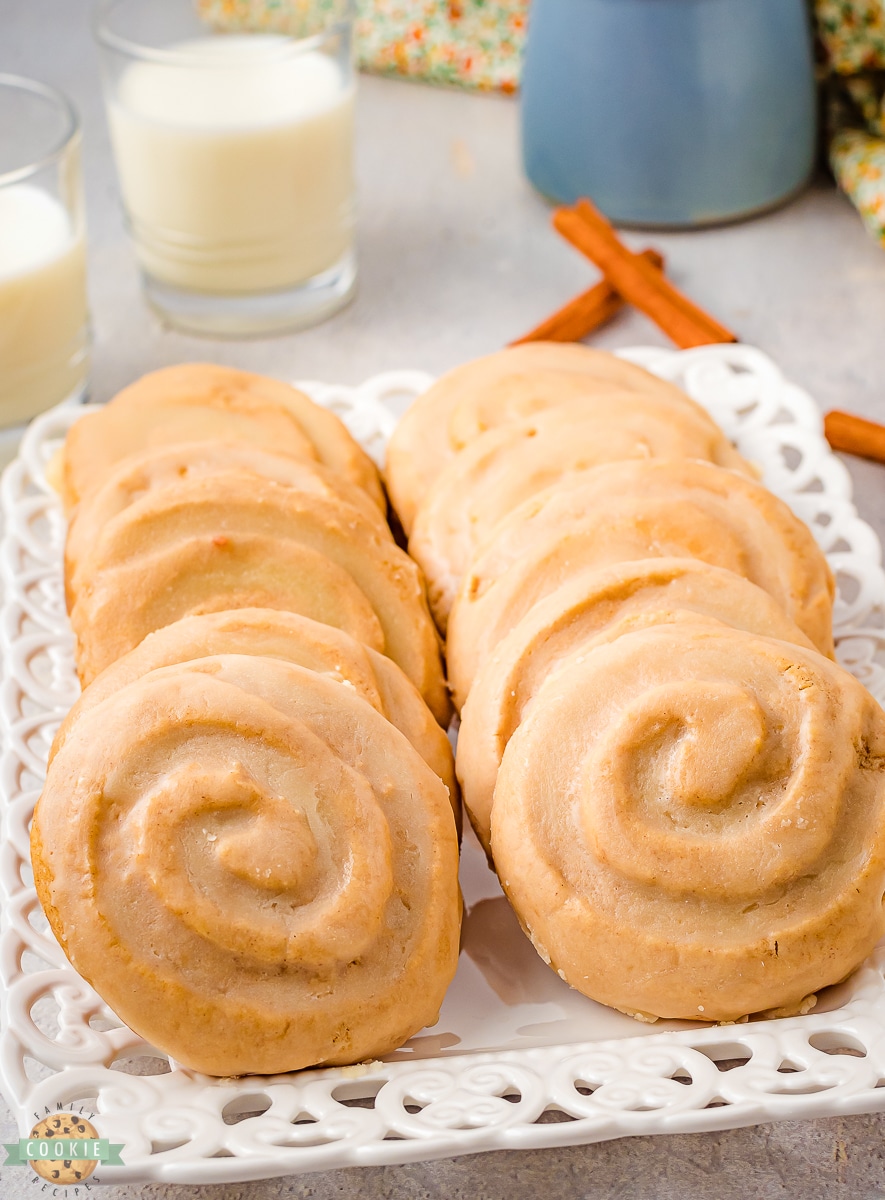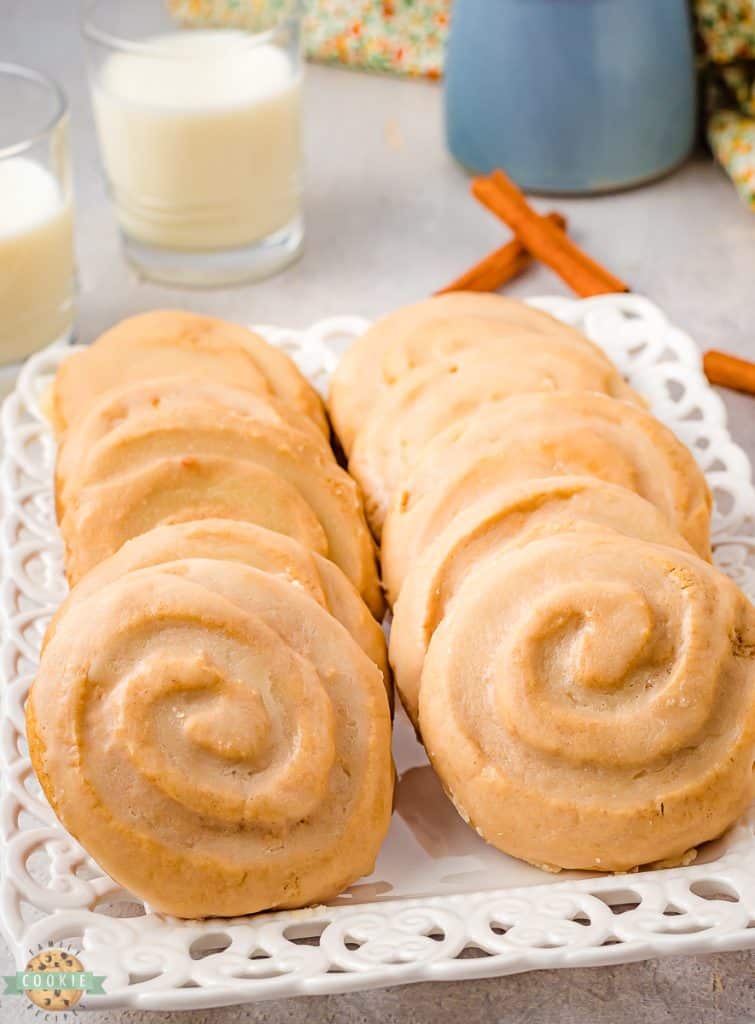 If you love Crumbl cookies, then you are going to love this honey bun copycat recipe! These cinnamon swirl cookies are a perfect recreation of those cookies, but best of all is they are 100% homemade.
Honey Glazed Cookies
If you love the taste of honey and warm butter, then you will no doubt have a special place in your heart for these sensational cookies. They are made from scratch and filled with love (and cinnamon), every bite is even better than the last. We have truly outdone ourselves with this recipe and we are so excited to share it with you!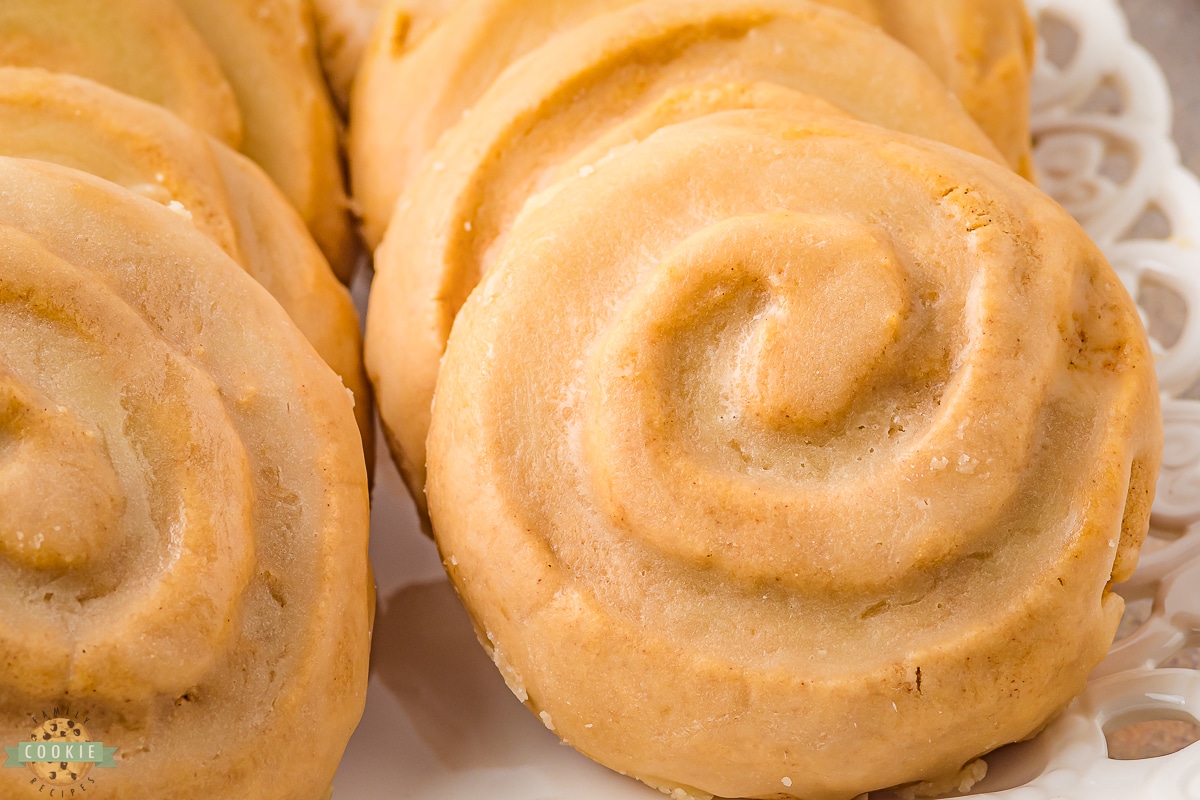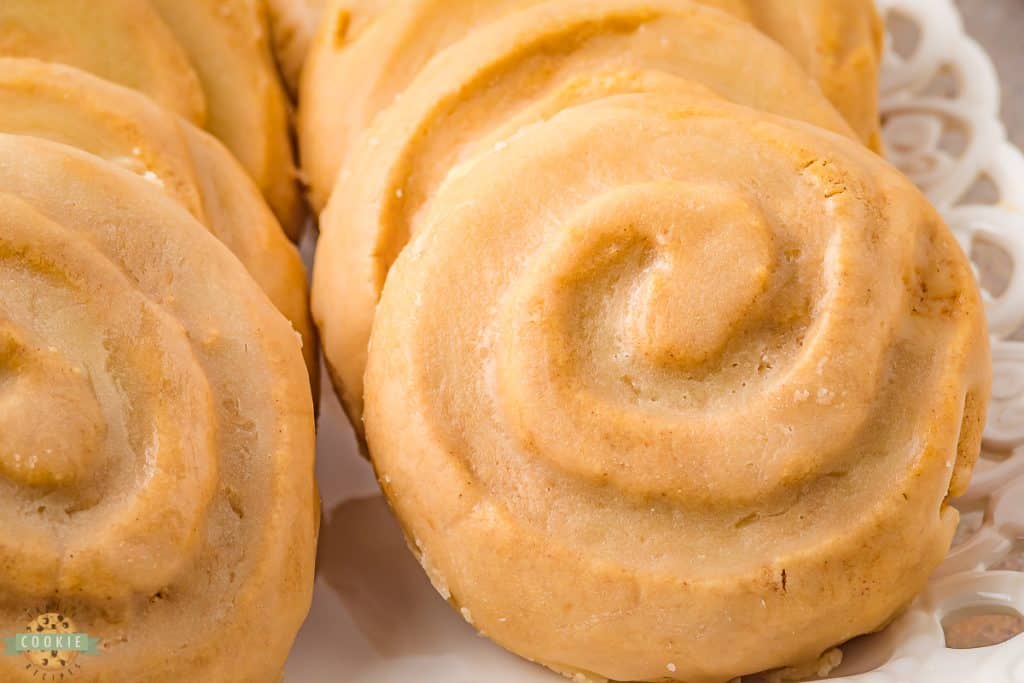 Why we think you will LOVE this cookie recipe
Just in case you have not already made up your mind to try this recipe today, here are a few more reasons to convince you.
They are a terrific copycat. Loving Crumbl cookies is difficult because they never last for long. Thankfully with copycat recipes like this one you can have your favorite cookies all the time, without the high costs.
Simple ingredients. This recipe uses very simple and easy to find ingredients like sugar, flour, eggs, honey, and cinnamon. You will be surprised at how many of the ingredients you may already have on hand.
Easy to follow steps. Follow along with the step by step instructions and see for yourself just how easy these cookies are to make. Whisk, mix, chill, scoop and bake. Easy peasy!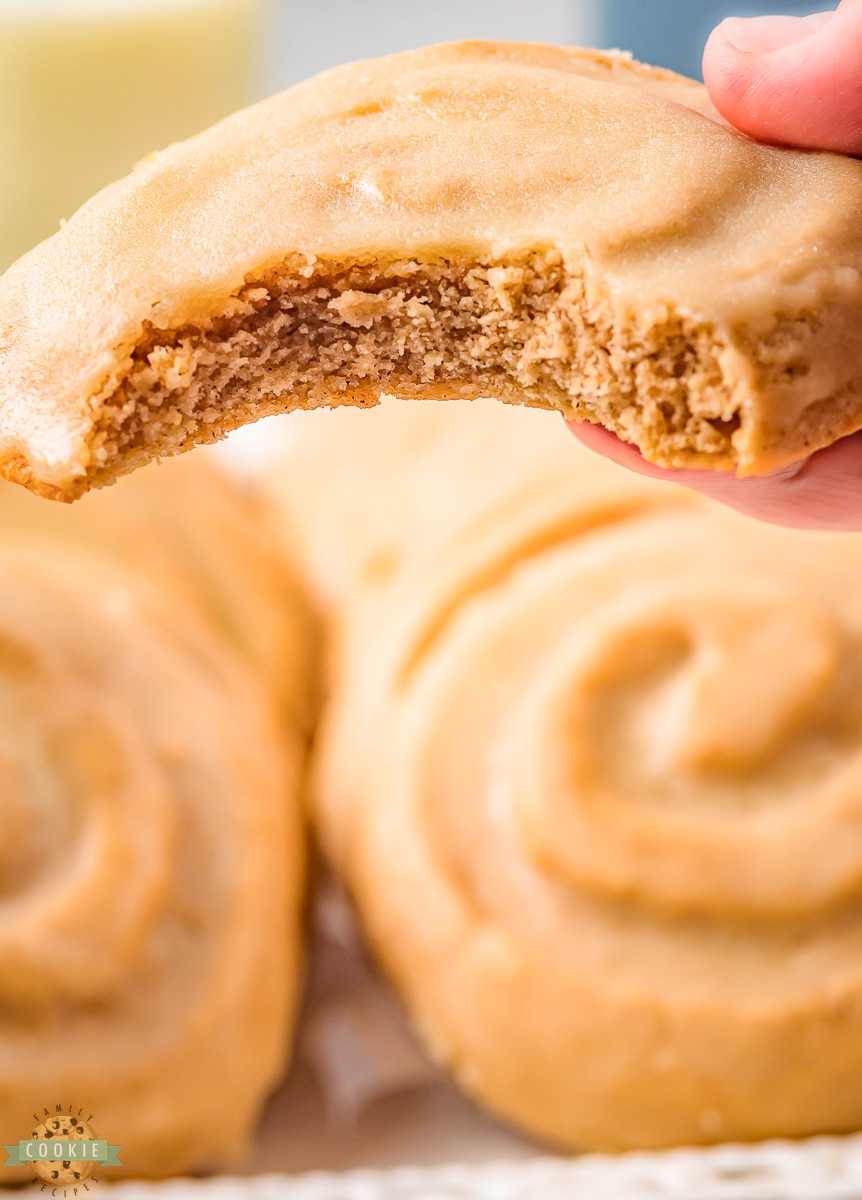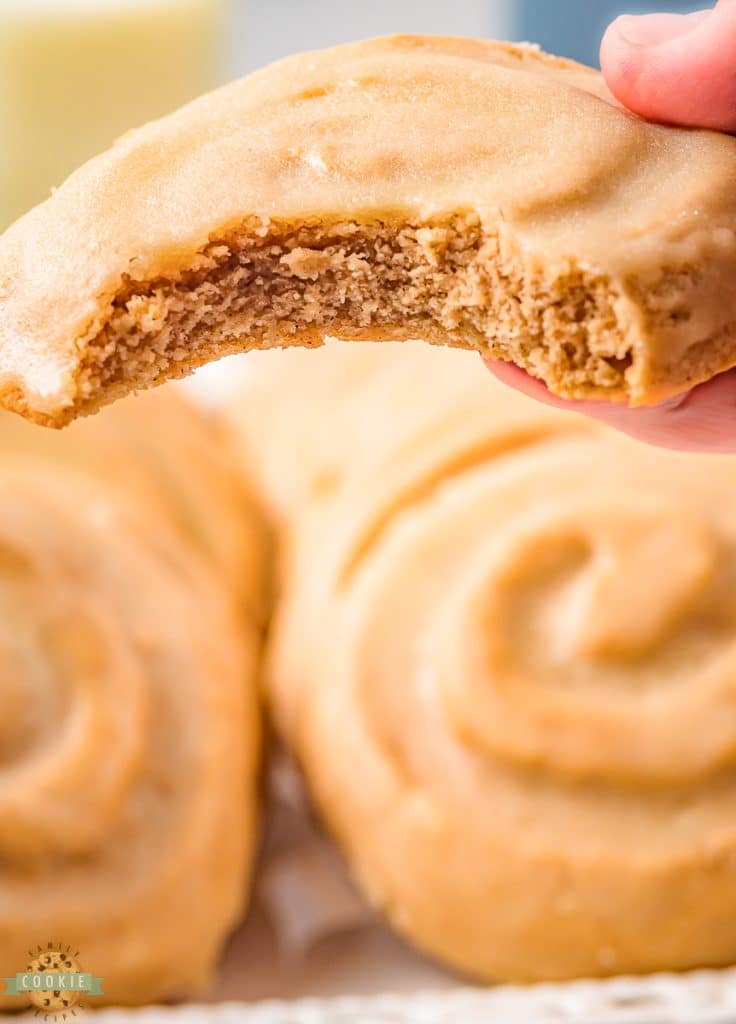 Honey Bun Cookie Ingredients
Cookie Dough
Butter: You will need 1 cup of softened unsalted butter for the cookie dough. This will add fats and make the cookies rich in taste and moist in every bite.
Sugars: Use ¾ cups of granulated sugar and ½ cup of packed brown sugar to give the cookie a depth of flavor and a nice sweet flavor.
Eggs: 2 large eggs are needed to bind the dough together. Make sure the eggs are at room temperature before using them for the best results.
Vanilla extract: You will need 1 tablespoon of vanilla extract for maximum flavor in these amazing cookies.
Flour: Use 2 ¾ cups of all-purpose flour for the base of the cookie dough.
Cornstarch: Adding in 2 teaspoons of cornstarch will make the dough have great texture and a lightness to it.
Leavening agents: To help the cookies puff up as they bake you will need 1 teaspoon of baking powder and ½ teaspoon of baking soda.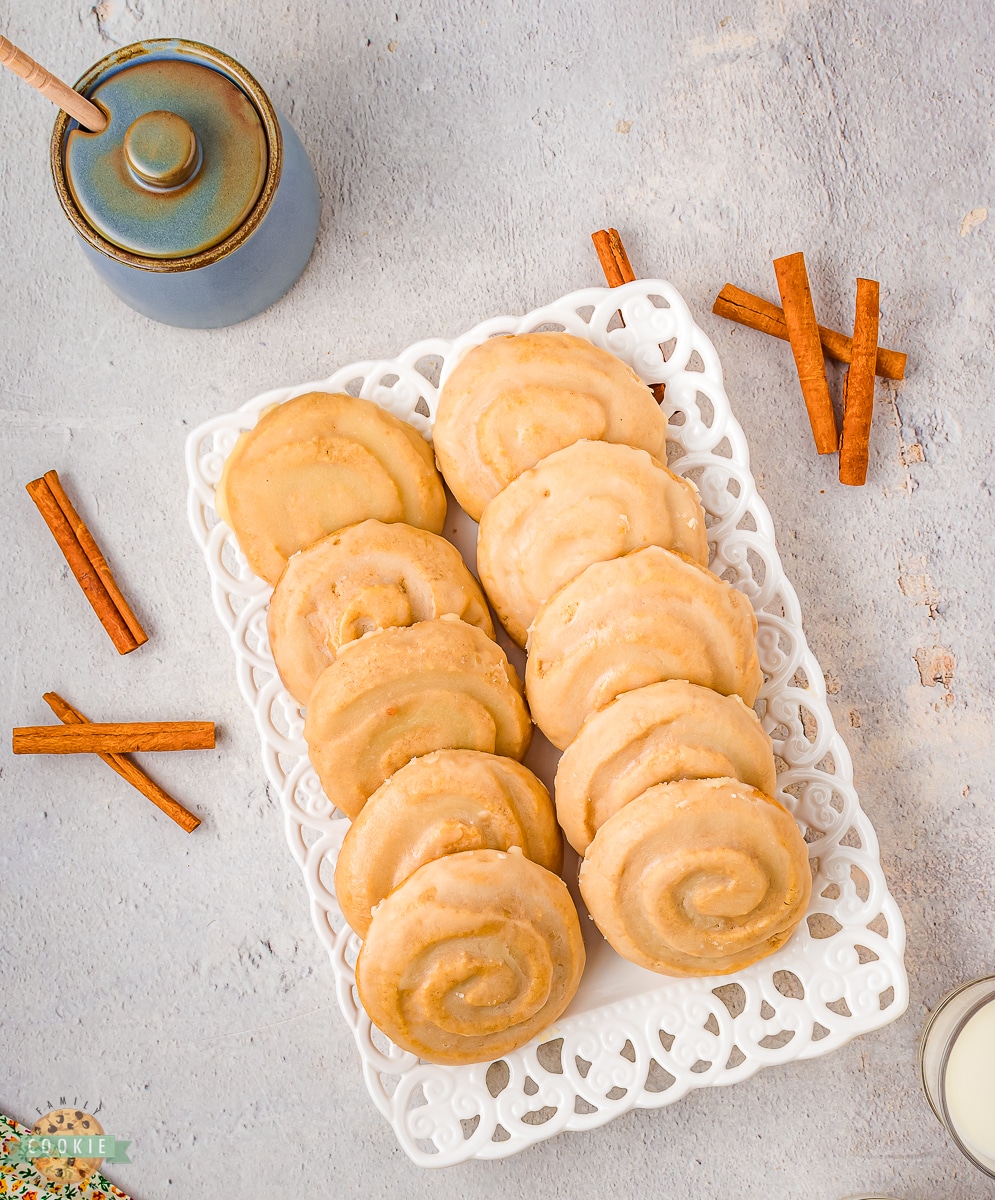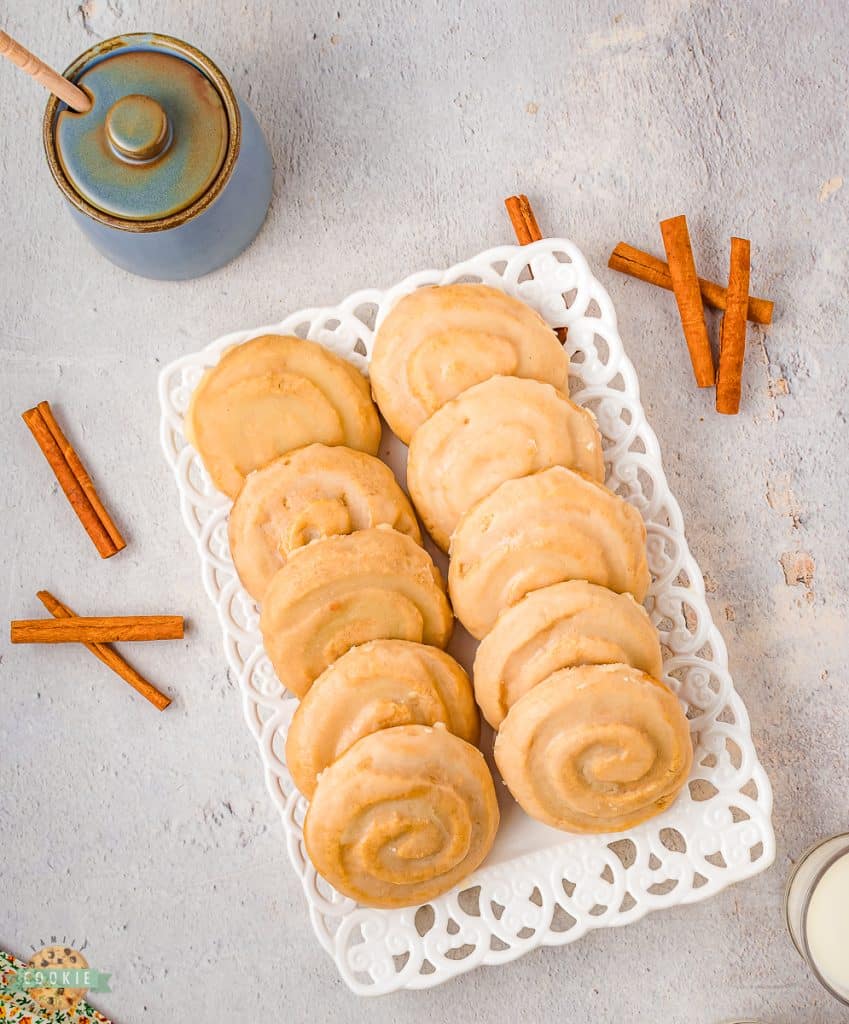 Cinnamon: You will need 2 teaspoons of ground cinnamon for a perfectly warm spiced cookie.
Salt: To highlight the flavors in these cookies use ½ teaspoon of kosher salt.
Honey Butter Glaze
Butter: For the glaze, you will need ¼ cup of softened unsalted butter.
Powdered sugar: Use 1 cup of powdered sugar to make the glaze smooth and sweet.
Honey: Adding in 2 tablespoons of honey will give you a delicious honey flavor in every bite.
Milk: Use 2 tablespoons of milk to get the glaze to the perfect consistency.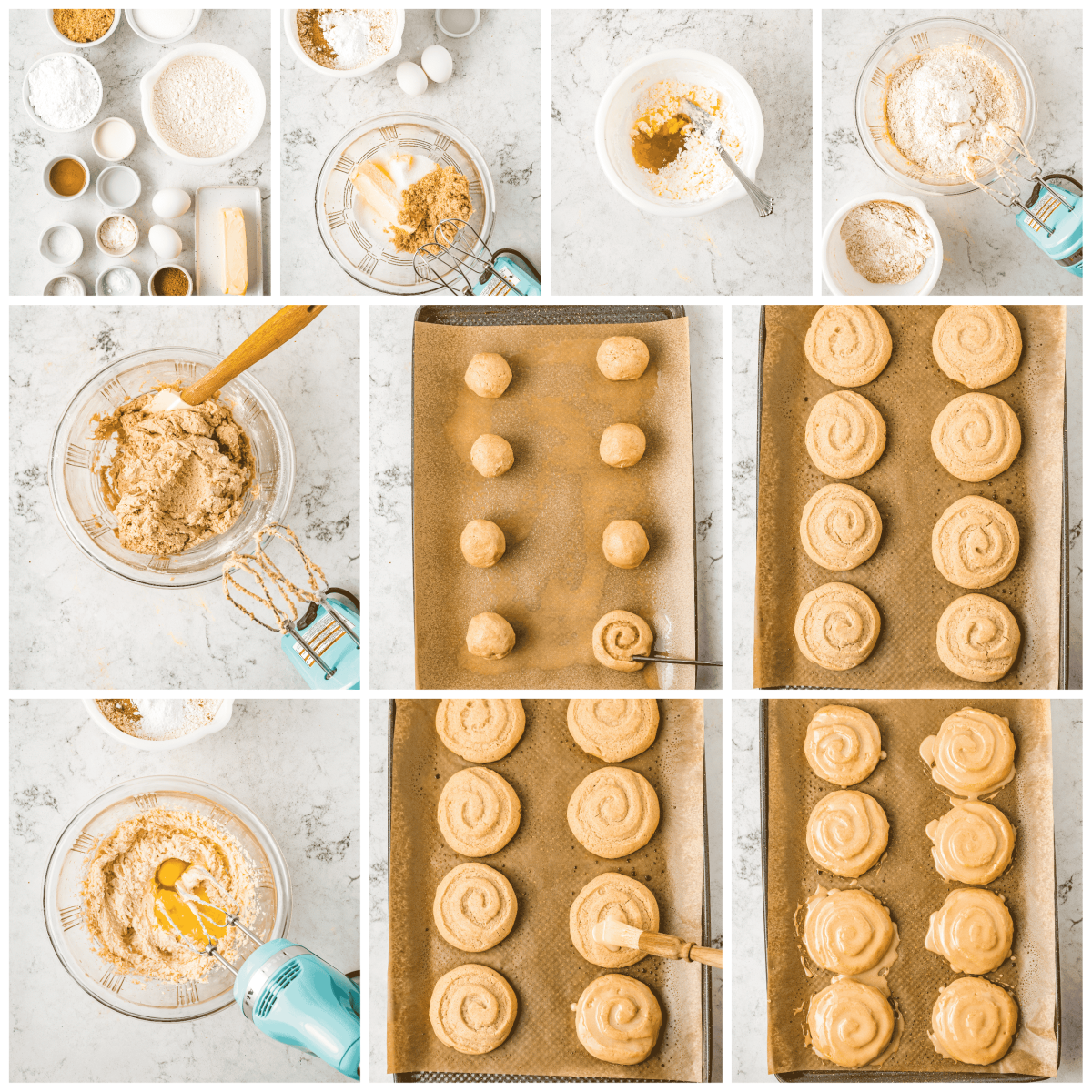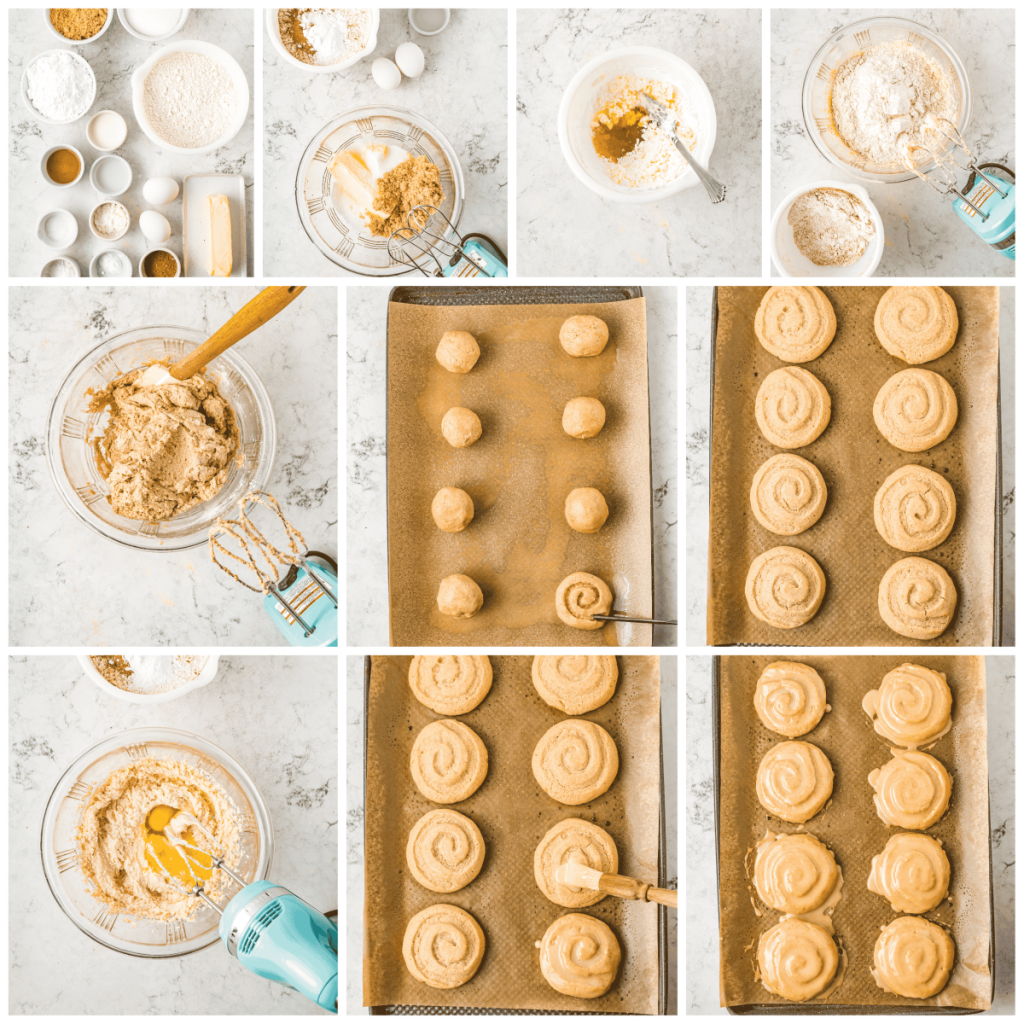 How to Make Crumbl Honey Bun Cookies
Make dough
In a large mixing bowl, cream the butter, granulated sugar, and brown sugar.
Next, add in the eggs and vanilla extract and beat to combine.
In a separate small bowl, combine the flour, cornstarch, baking powder, baking soda, cinnamon, and salt with a whisk.
Then, add the dry ingredients to the butter and sugar mixture and stir well to combine.
Scoop
After that, line a cookie sheet with parchment paper and spray it well with nonstick cooking spray.
Use a large sized cookie scoop to scoop out the dough and roll them into balls. Press the dough balls down into 1/4 inch sized discs.
Using a thick knife (like a butter knife) or a chopstick, make a spiral shape in the top of each cookie.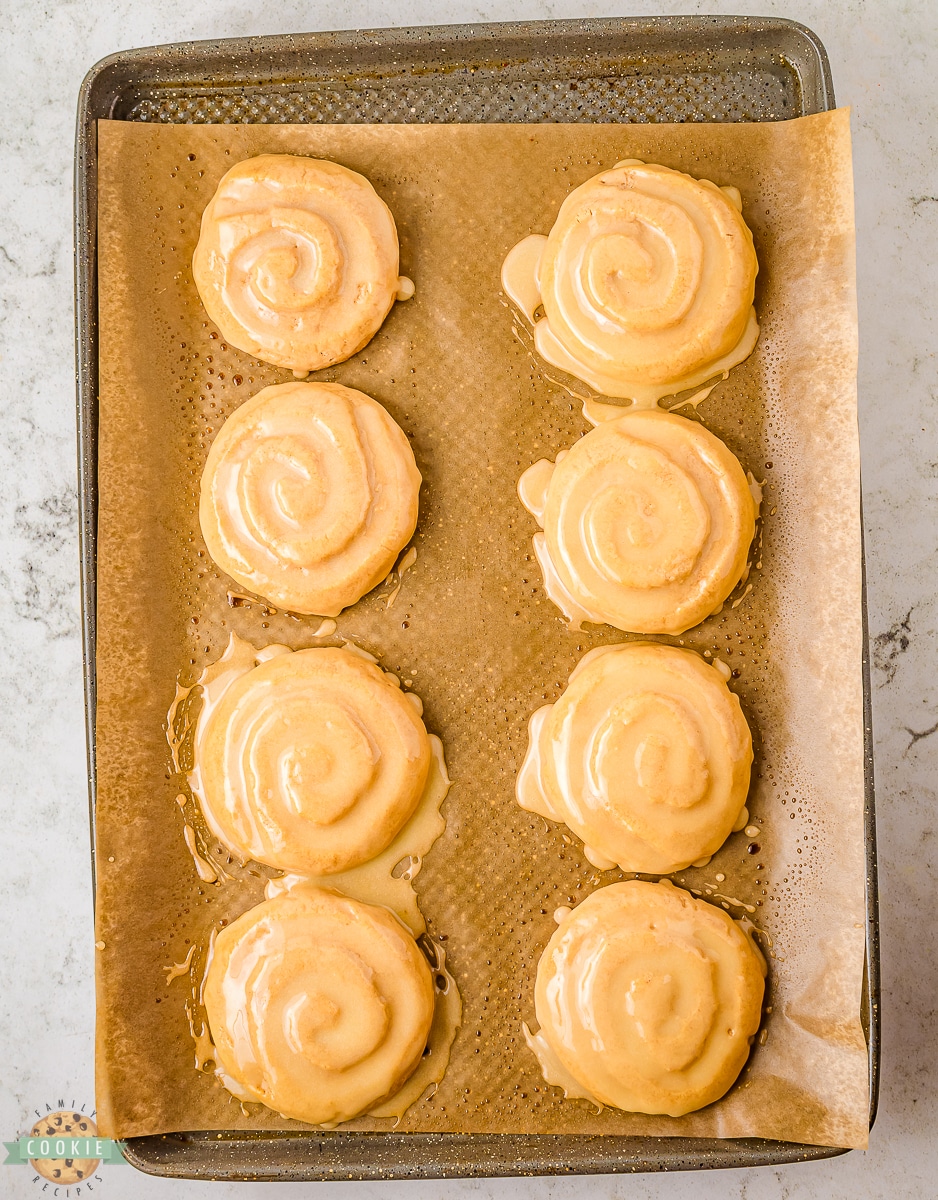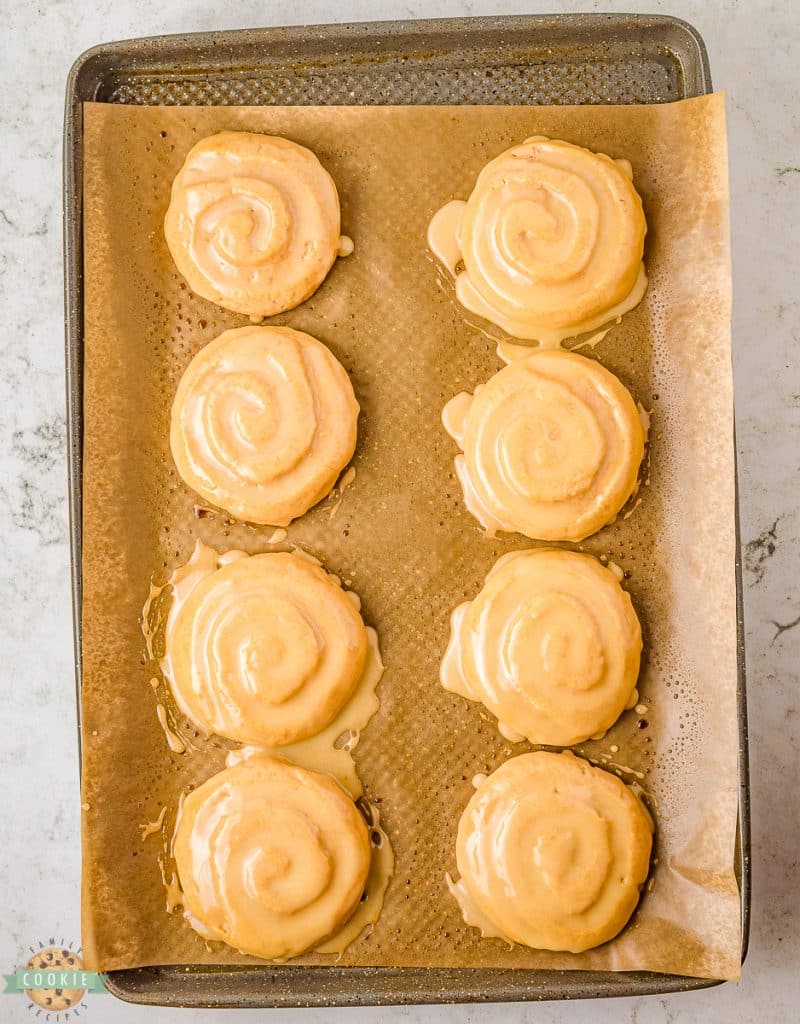 Chill and Bake
Proceed to place the sheet of cookies into the freezer for 10 minutes to chill.
Start preheating the oven to 350 degrees F while the cookies are chilling.
Then, remove the cookies from the freezer and place them into the oven.
Bake for 13-15 minutes or until the cookies are still soft and are just baked.
Glaze
While the cookies are baking, prepare the glaze for the topping.
In a medium size bowl, mix together the butter, sugar, honey, and milk with a whisk until fully blended and smooth.
Be sure to let the cookies cool completely before glazing the tops.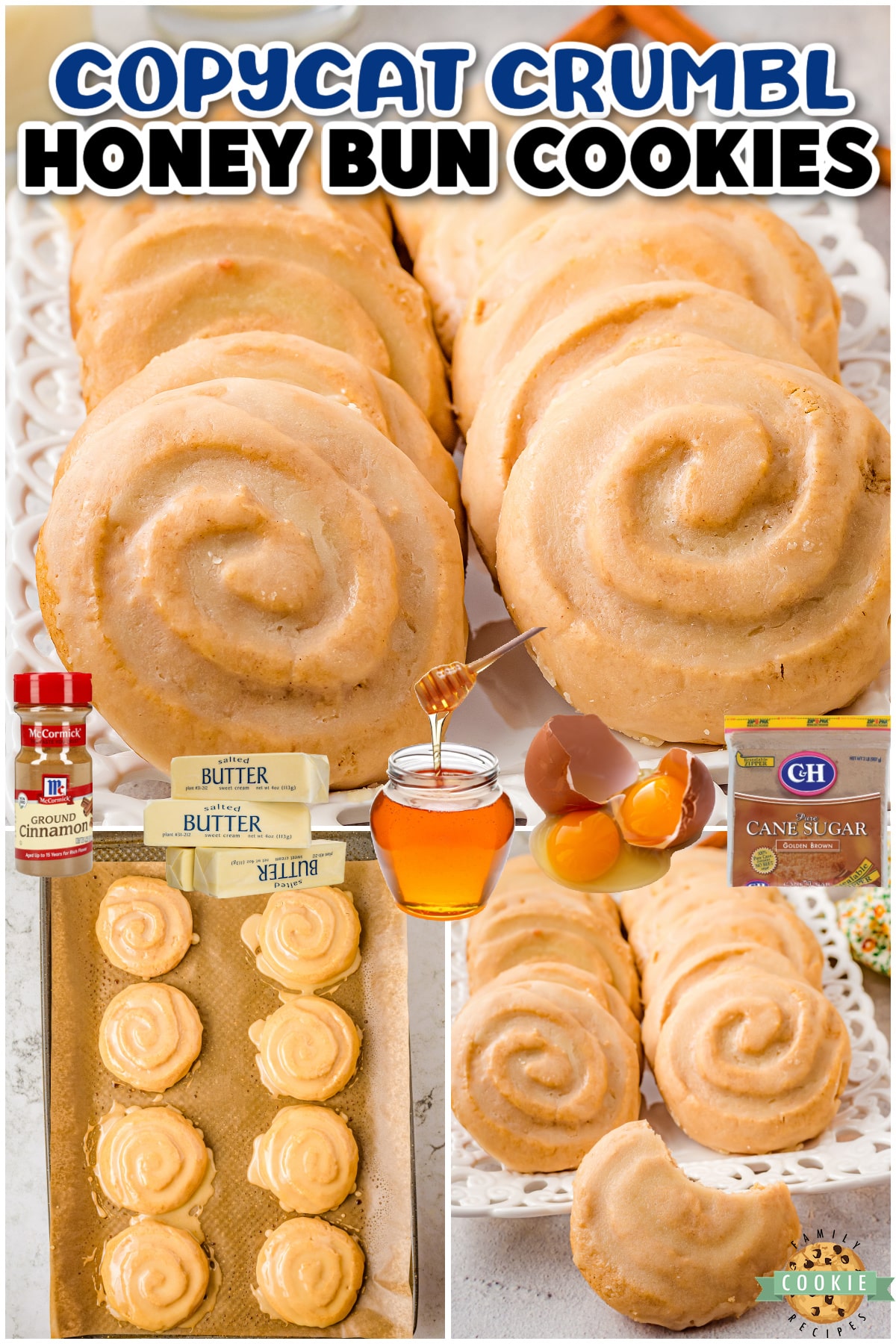 Once cooled, brush the icing over the entire tops and sides of each of the cookies.
Let the icing set and harden before eating the cookies.
Serve and enjoy!
Why Do I Need to Chill My Cookies?
These cookies need to be chilled before being baked because the dough will soften and spread if it isn't. We want our cookies to stay thick and hold their shape well as they bake so freezing them for a few minutes as the oven preheats works out well in our favor without taking up too much time either.
How long are honey bun cookies good for?
You can keep these cookies stored in an airtight container at room temperature for up to 7 days. For best results, enjoy the cookies within a few days as these cookies will taste best within 3 days or so.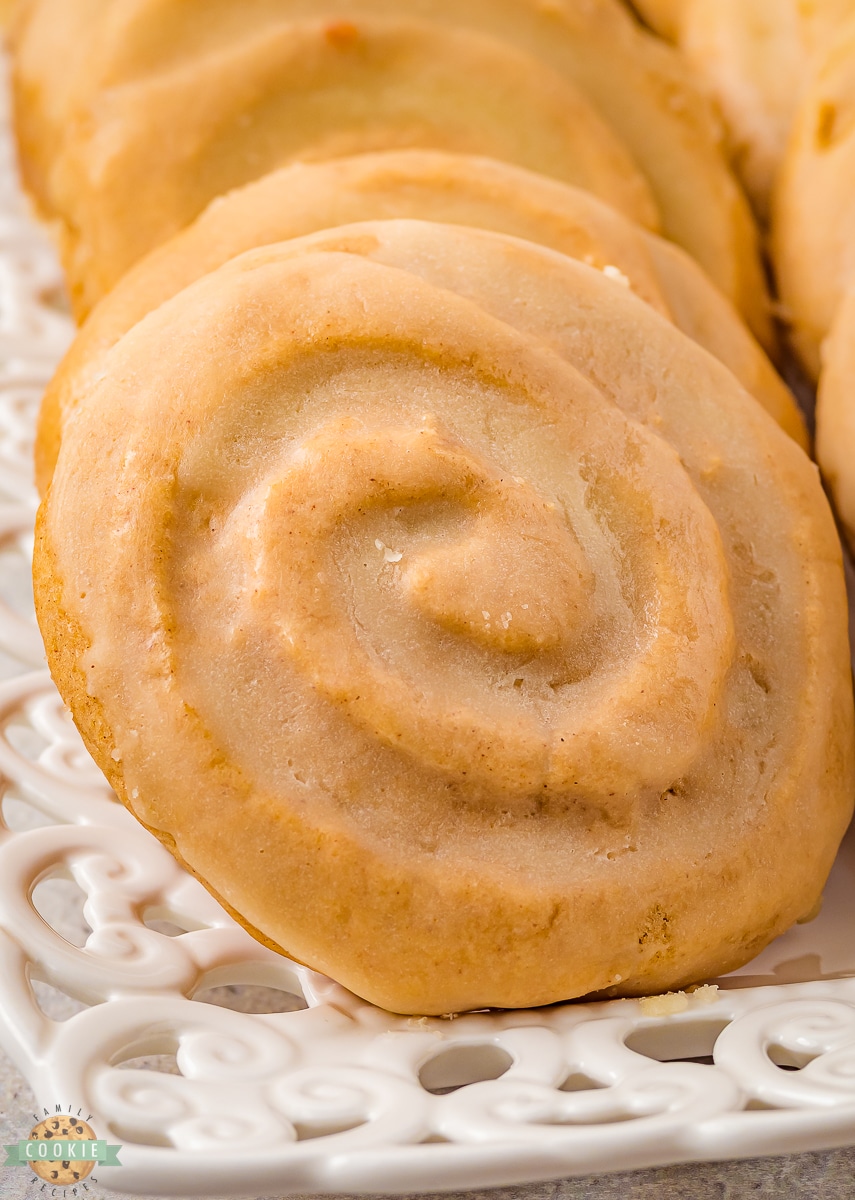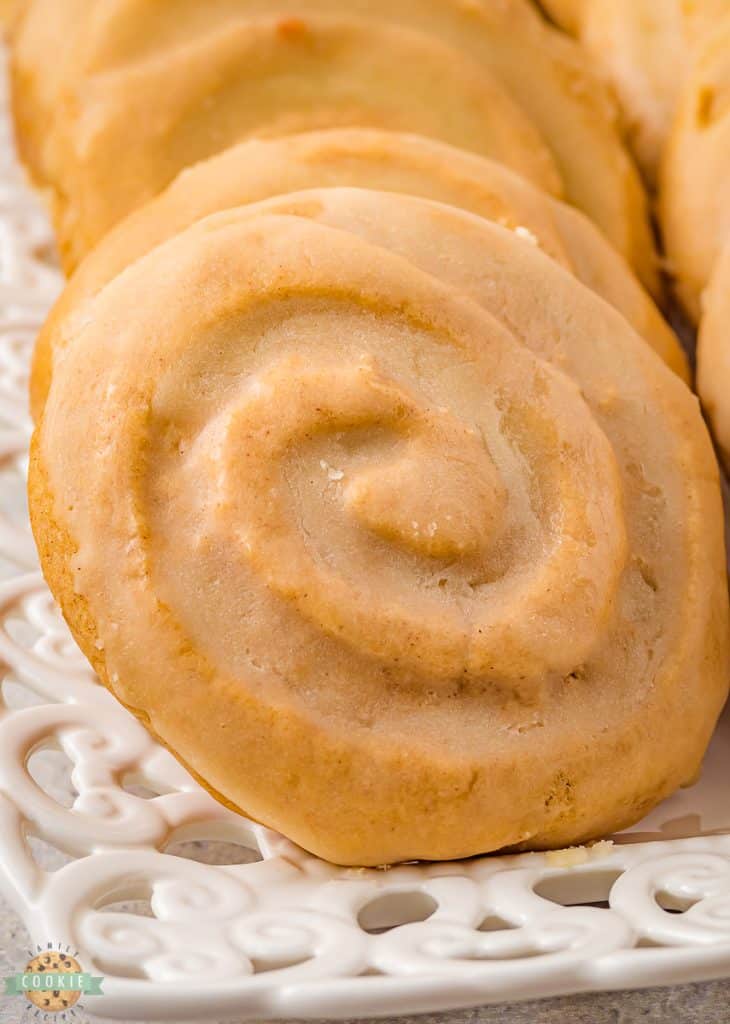 Can I freeze honey bun cookies?
Yes! These cookies do great in the freezer. Each batch makes over a dozen cookies so if you want some now and some for later, freezing the cookies is a great idea. Simply place the cookies in an airtight container for up to 3 months.
Can these cookies be made in advance?
You can freeze the cookie dough before baking and then when you are ready, you can bake and enjoy. To do this I recommend having the cookies already portioned before baking as it makes it much easier to go from the freezer to the oven. Keep frozen unbaked cookies stored in an airtight container for up to 3 months.


I love this picture! My Grandpa turned 90 and we had an incredible amount of family come out to celebrate! Here are my sisters and I posing with my Grandpa, Aunt and Uncle. What a crew!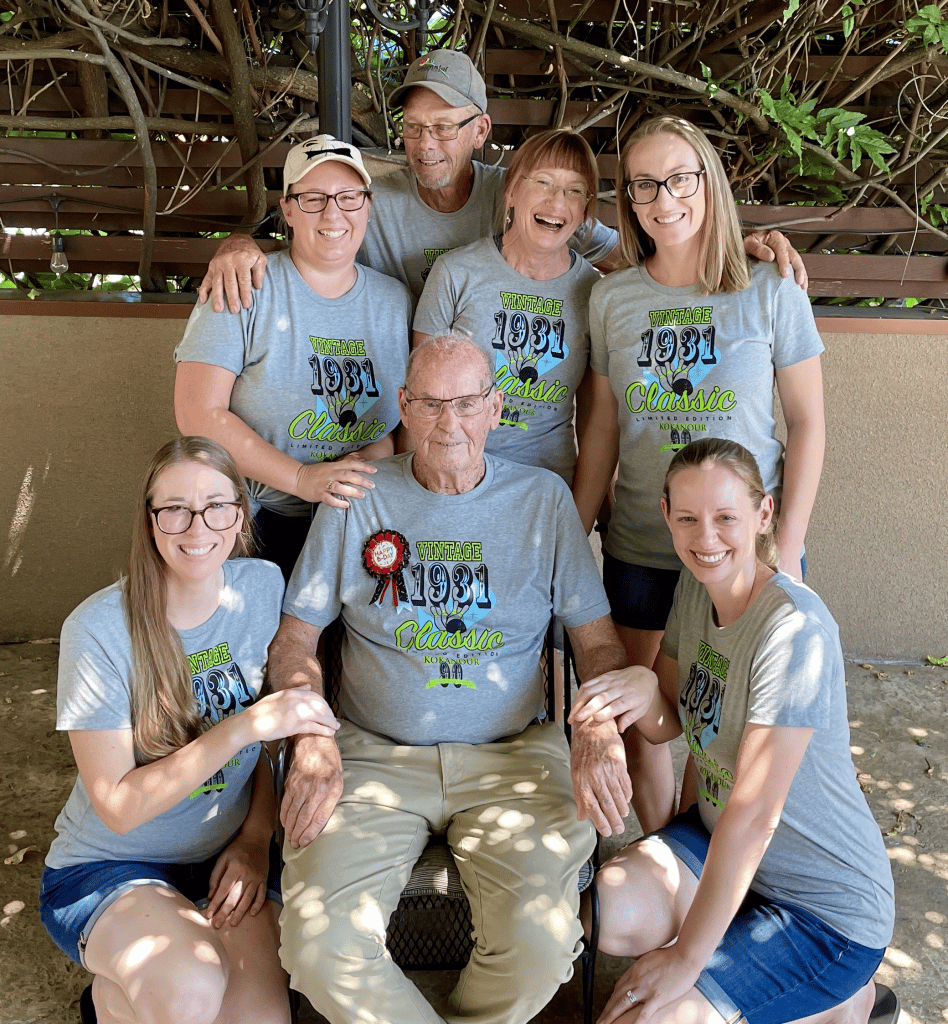 More Cookies Please! Check out these other great recipes soon!
Honey Bun Cookies are a soft and delicious cookie that look like a honey bun and is topped with a delicious honey butter glaze. This incredible honey bun cookie recipe has a warm cinnamon flavor and the fluffy texture is simply amazing.