Glazed Pomegranate Oatmeal Cookies are soft, chewy and packed with the flavor of maple syrup, cinnamon, pomegranate seeds and pecans. Delicious oatmeal cookies topped with a simple maple syrup glaze.
We love oatmeal cookies and have made many varieties of them over the years. This recipe is the first time that I've added pomegranate seeds and oh, my heavens. I didn't even think I really liked pomegranates, but I think this cookie recipe might be one of my all-time favorites! This oatmeal cookie recipe is absolutely amazing, and then the crunch and sweetness of the pomegranate seeds takes it up a whole other notch.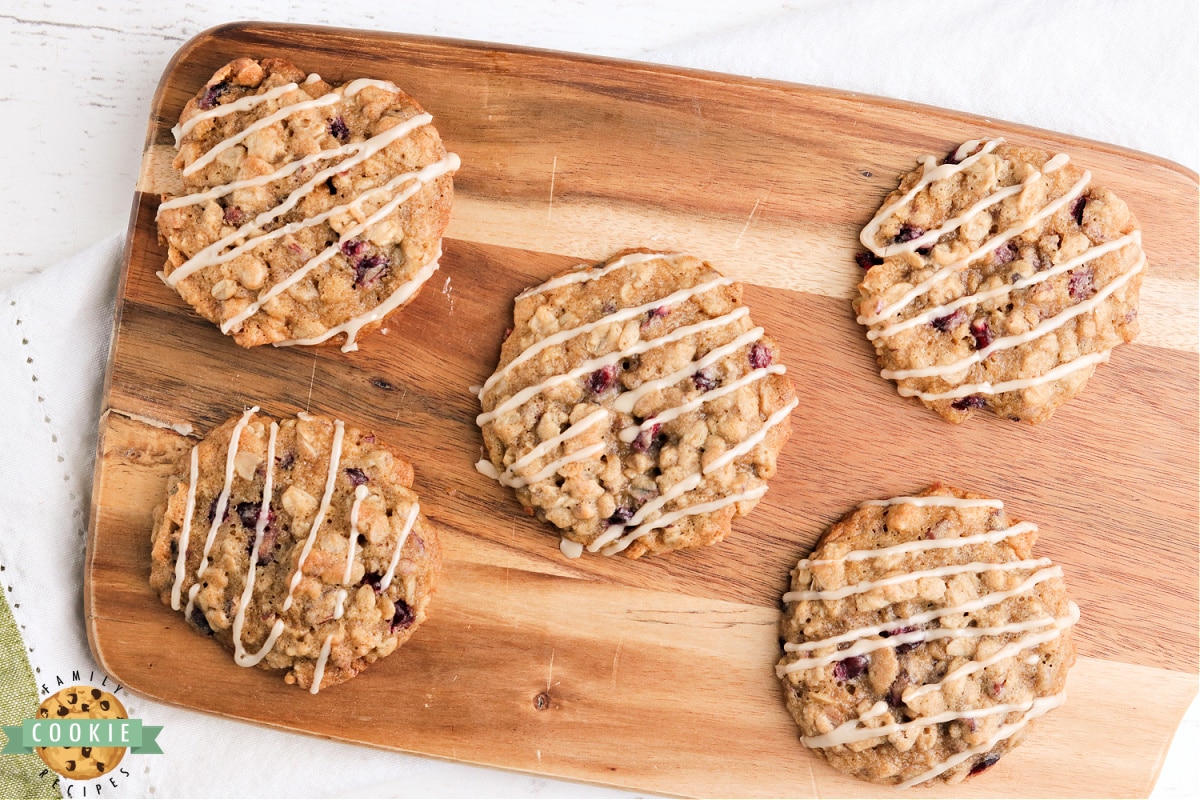 GLAZED POMEGRANATE OATMEAL COOKIES
Chewy oatmeal cookies that are made with maple syrup, oats, cinnamon, pomegranate seeds and chopped pecans. The cookies are drizzled with a simple maple glaze that is made with maple syrup and powdered sugar. Delicious oatmeal cookie recipe that is perfect for the holidays!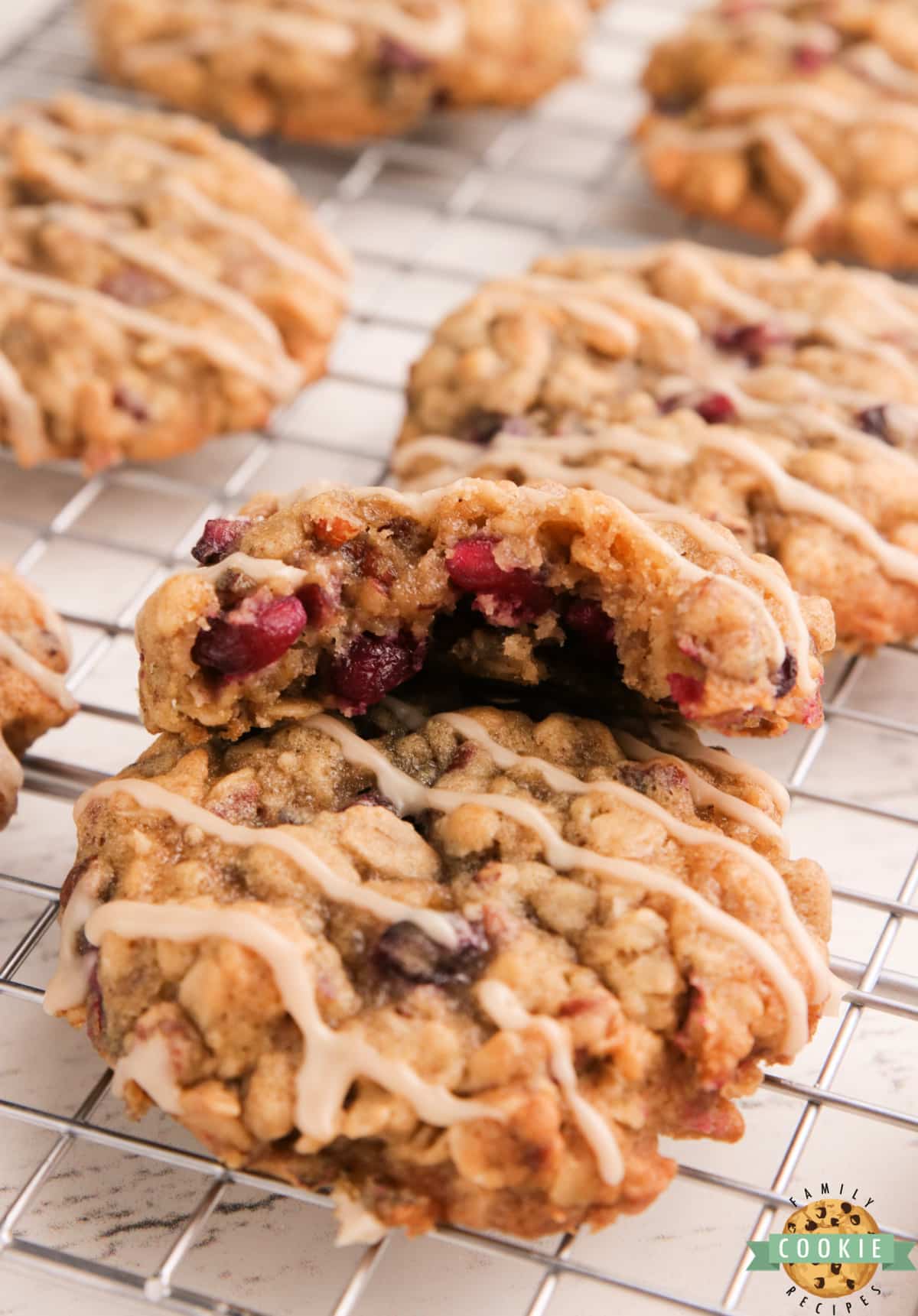 TIPS FOR MAKING THE BEST COOKIES
Three kitchen items really help you make the best cookies ever! I actually use these items in nearly every cookie recipe I make, as well as several other types of recipes, so they're quite versatile.
First, I line my cookie sheets with a piece of parchment paper or a silicone baking mat. They're sold in sizes that fit a 12×16 cookie sheet perfectly and enable to cookies to bake well without sticking- and no mess from spraying oil on the cookie sheets!
The second item is a KitchenAid mixer. I love mine! I have a Bosch as well but I find I use my KitchenAid for cookies. There is a cookie paddle that comes with every mixer that you attach to the top of the mixer. They're easy to use and help you mix the ingredients uniformly. Add this to your wish list because it's one of my all-time used small appliances ever!
The third item is a cookie scoop! Years and years ago I used to use 2 spoons to measure and scrape cookie dough onto the pans. It wasn't a perfect process and I often ended up with oblong cookies in various sizes. A friend of mine brought cookies to a party and I noticed each and every one of her cookies looked PERFECT. Her secret? A cookie scoop! They come in three sizes- 1/2 tablespoon, 1.5 tablespoon and 3 tablespoon scoops. I usually use the medium one for oatmeal cookies.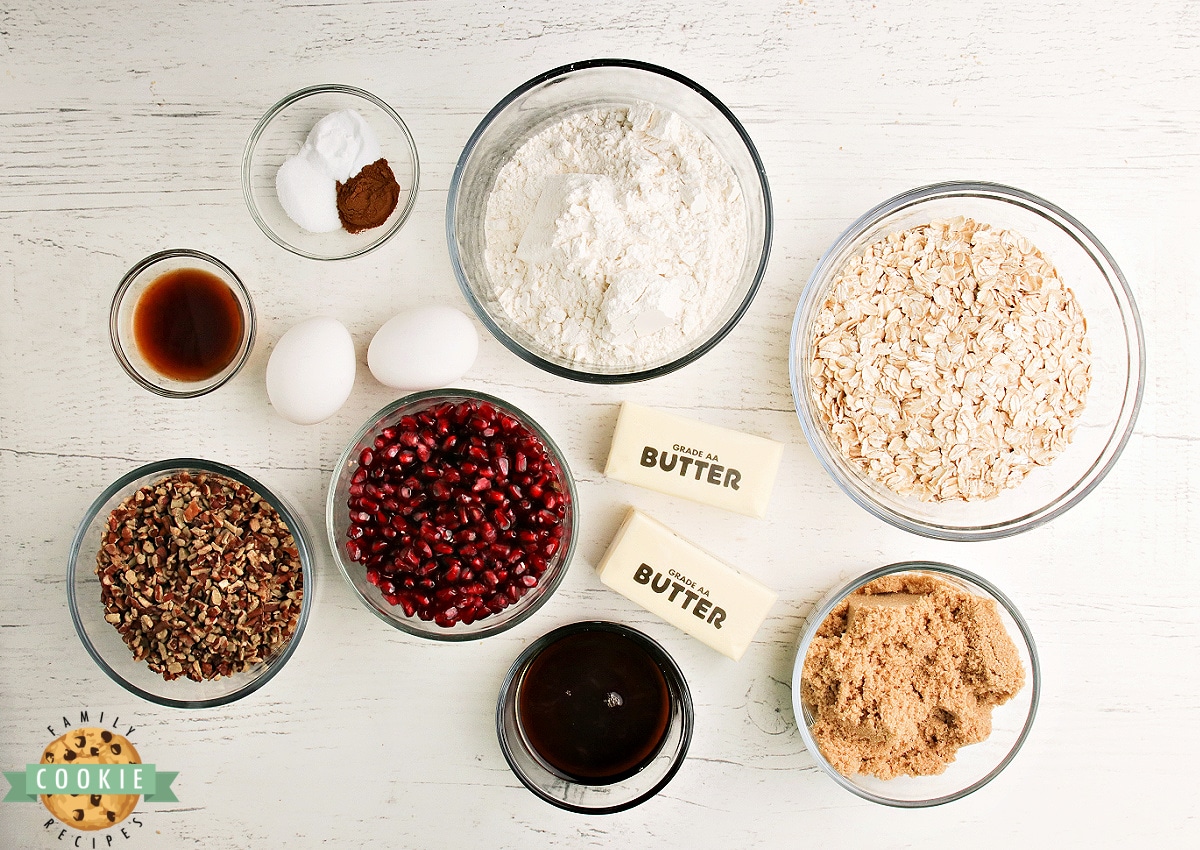 INGREDIENTS IN GLAZED POMEGRANATE OATMEAL COOKIES
Butter – You will need 1 cup (2 sticks) of butter. Make sure the butter is softened to room temperature before adding to the recipe.
Sugar – The recipe calls for 1 cup of light brown sugar. For best results, make sure the brown sugar is soft and fresh.
Maple syrup – The 1/3 cup of maple syrup in the recipe adds so much flavor and richness to the cookies. It goes so well with the oatmeal!
Eggs – The recipe calls for 2 large eggs to bind everything together.
Vanilla extract – The higher the quality of the vanilla, the better!
Flour – All purpose flour works best in these cookies. Cake flour also works well.
Salt – Just a half teaspoon of salt helps to bring out the other flavors in the cookies.
Cinnamon – A teaspoon of cinnamon adds the perfect amount of spice to the cookies.
Baking soda – This is the leavening agent in the cookies so make sure your baking soda isn't old or expired.
Oats – Old-fashioned oats are definitely the best option for these cookies, but you can use quick oats if that's all you have on hand.
Pecans – You can leave these out if you don't love nuts, but the pecans go so well with the pomegranate seeds in the oatmeal cookies.
Pomegranate seeds – You will need a cup of pomegranate seeds. I was able to get that amount from about 2 medium sized pomegranates, but you can totally cheat and buy the cup of seeds from the store. And feel free to add a few more if you'd like!
MAPLE GLAZE INGREDIENTS
Maple syrup – Provides the liquid for the glaze and the flavor is absolutely incredible. 1/3 cup maple syrup
Powdered sugar – The powdered sugar adds some more sweetness and provides the creaminess for the glaze.
Vanilla – Just a little bit of vanilla extract will add a little extra flavor to the glaze.
Milk – You may need to add a little bit of milk to thin out the glaze. Just add a tablespoon at a time to get to the glaze to the consistency that you prefer.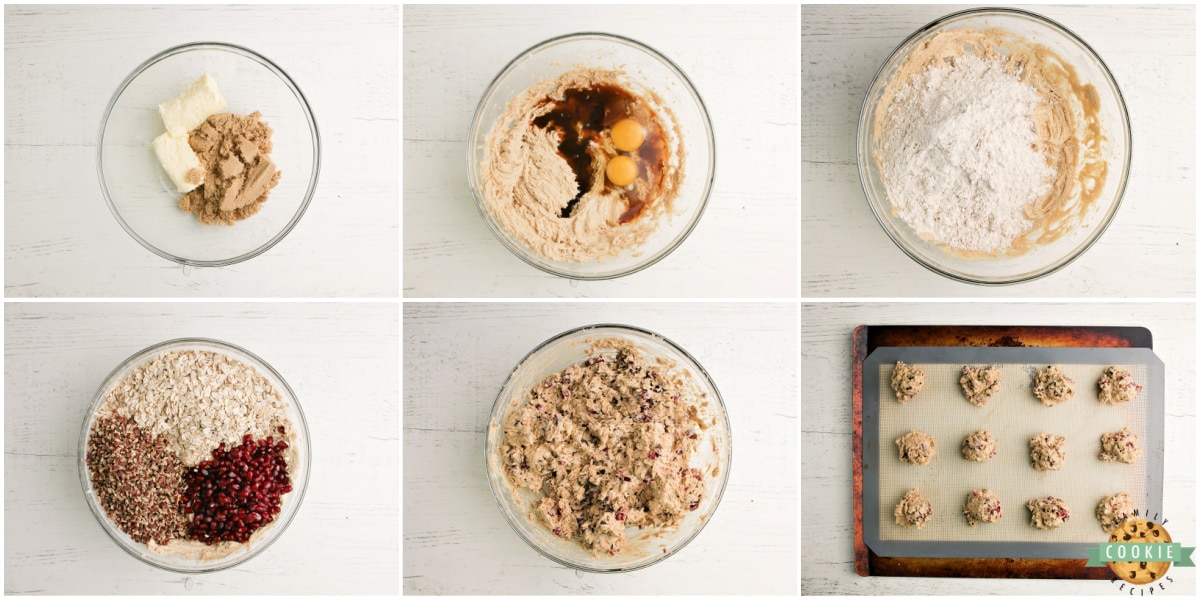 How to make Glazed Pomegranate Oatmeal Cookies
Preheat oven to 350°.
In a large mixing bowl, use a mixer to beat the brown sugar and butter together for 2-3 minutes. Add the maple syrup, eggs and vanilla and beat for 2-3 more minutes.
In a smaller bowl, combine the flour, salt, cinnamon and baking soda.
Add the flour mixture to the butter mixture and mix just until combined. Use a wooden spoon or spatula to stir in the oats, pecans and pomegranate seeds.
Scoop the dough onto cookie sheets lined with parchment paper or silicone baking mats. Make sure to leave about 2 inches between each cookie dough ball.
Bake for about 13 minutes or until the cookies are a light golden brown and completely cooked in the centers. Let the cookies cool on the pan for about 5 minutes before transferring to a wire rack to cool completely.
Once the cookies have cooled, mix the glaze ingredients together in a small bowl. Use a spoon to drizzle over the cookies. Allow the glaze to dry for about 30-60 minutes before storing the cookies in an airtight container.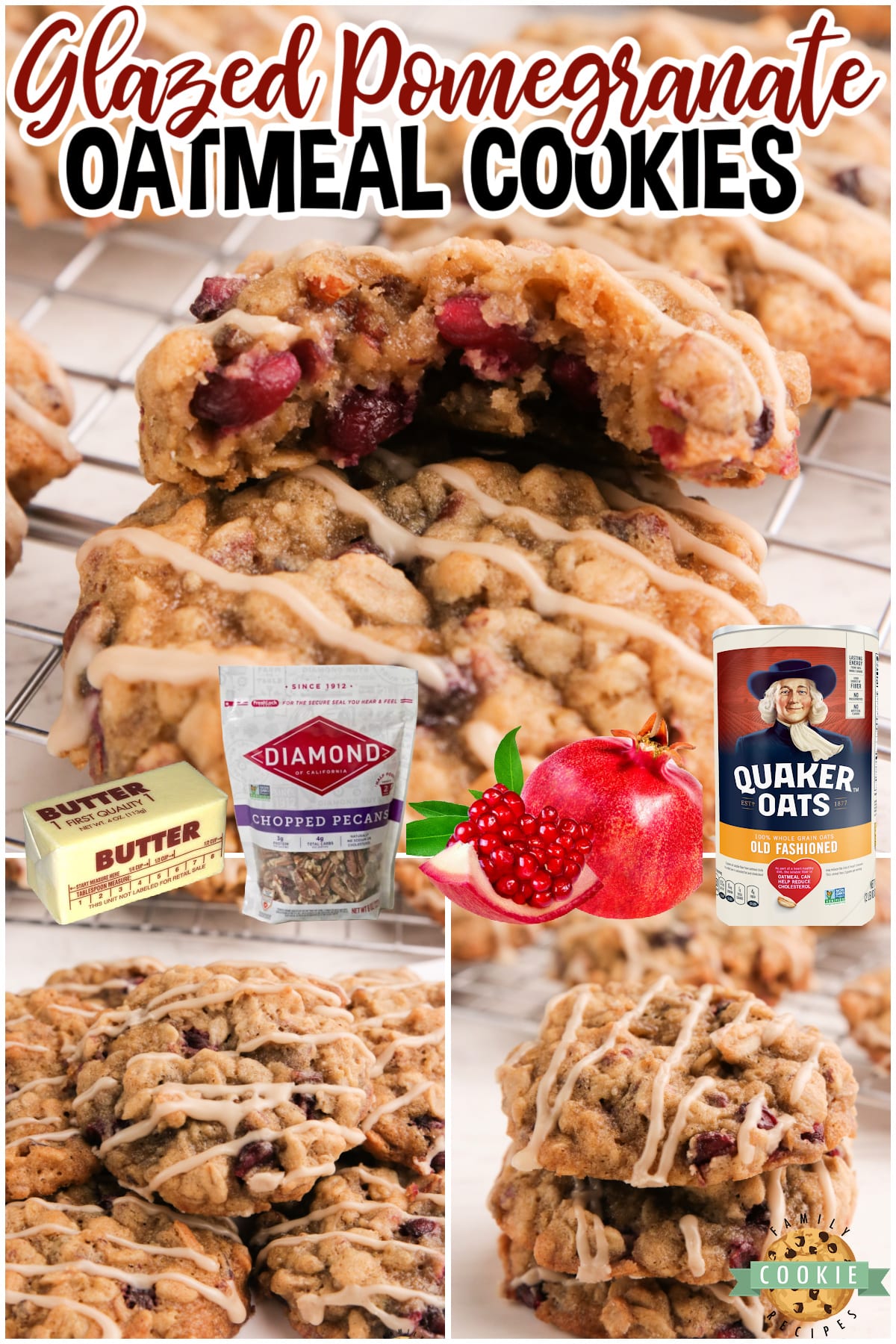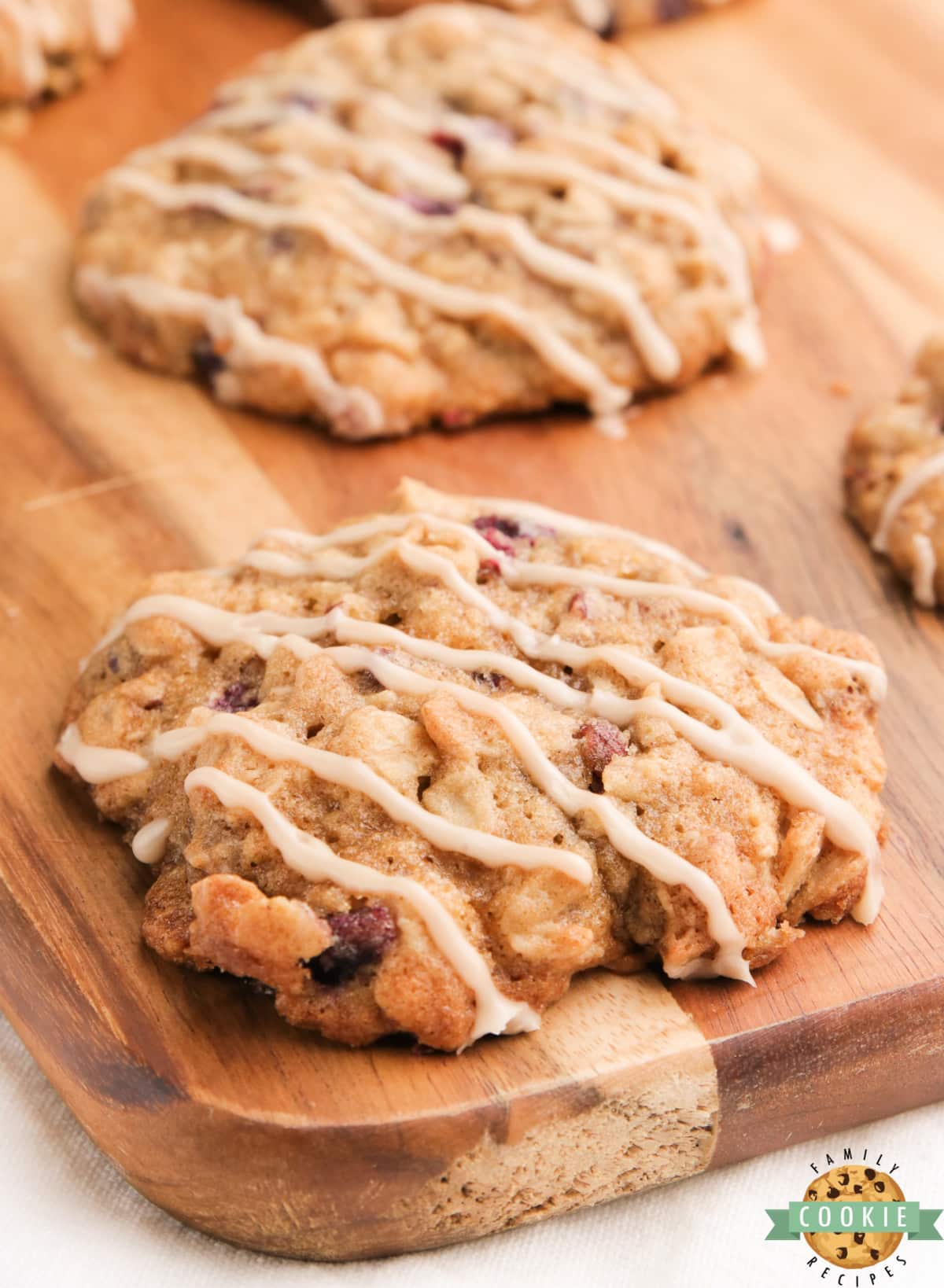 HOW TO MAKE THE BEST OATMEAL COOKIES:
After trying out multiple oatmeal cookie recipes over many years, I have picked up several important tips for making the absolute BEST Oatmeal Cookies!
Make sure that you have enough flour in the dough. If the dough is too sticky, you may need to add a little bit of flour. Keep in mind though that oatmeal cookie dough is a bit stickier than other cookie dough and that's ok!
Use old-fashioned oats. You can use quick oats, but the cookies won't be the same and I think old-fashioned oats make for much better oatmeal cookies.
Spend a little extra time when you mix the butter, shortening and sugars. Creaming them together for 2-3 minutes will improve the consistency of your cookies.
Preheat the oven. This will help your cookies turn out right every time!
Don't over bake the cookies – when I take mine out of the oven, they still look slightly under baked but they will continue to bake on the cookie sheet for a couple more minutes so that's ok!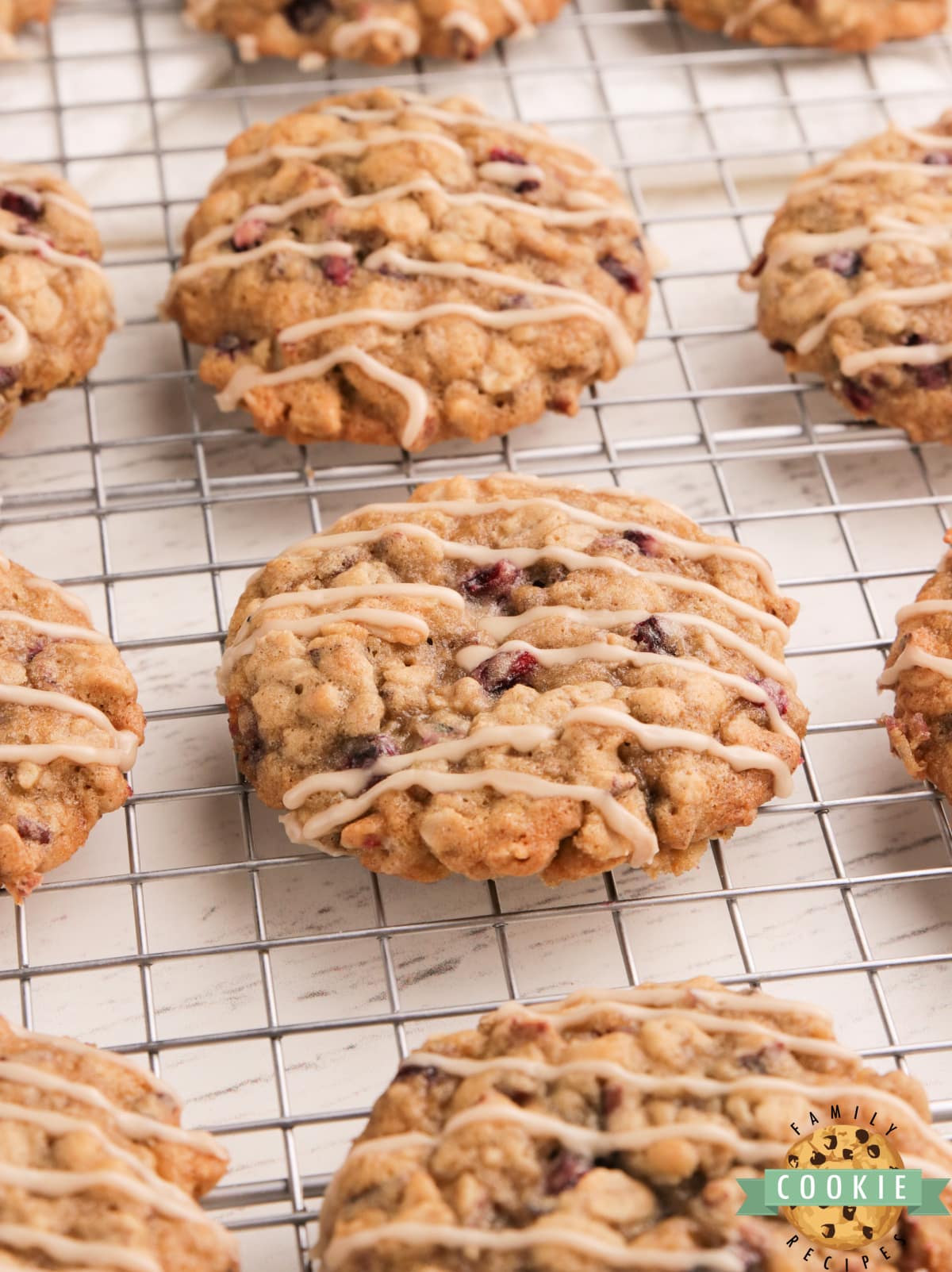 HOW DO YOU SOFTEN BUTTER?
I like to soften butter by using the defrost function on my microwave. If you need the full 1/2 cup cube of butter, you can leave it in the paper wrapper, otherwise, place the amount of butter you need in a glass or porcelain bowl. I use the lowest defrost setting on my microwave and just let it run for 20 seconds. Check the butter and see how soft it is by pressing it with a rubber scraper. If it is still not soft to the touch, meaning it doesn't indent when you press into it, let it warm for another 5-10 seconds. Watch it closely! Butter softens very quickly.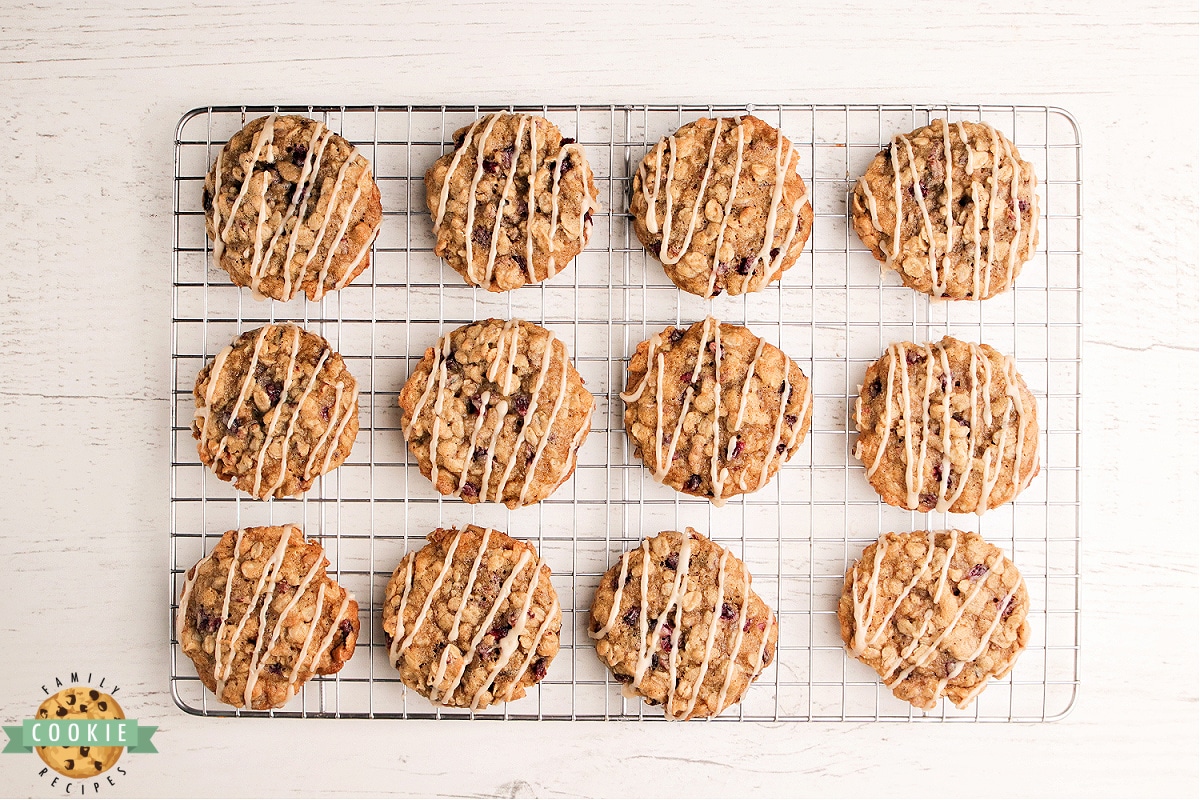 WHY DO MY OATMEAL COOKIES BURN ON THE BOTTOM BUT AREN'T DONE IN THE MIDDLE?
If your cookies are always burning on the bottom, it is probably a cookie sheet issue! If you are using really dark cookie sheets, the bottoms of your baked goods will tend to burn before they are actually cooked all the way through. If you use a lot of cooking spray, the same result can happen. I prefer to use lighter colored non-stick pans so that I don't have to use cooking spray at all. As mentioned above, I have been converted to silicone baking mats over the last couple of years and I love how easy it is for cookies to come off the tray – no sticking ever!


My little girl was a little bit nervous to sit by herself on Santa's lap, so I got to sit on Santa's lap this year (for the first time in over 30 years)! Even though she was nervous, she was brave enough to tell him that what she really wants this year is a "Rapunzel dress." Holidays are just so much more fun with little kids!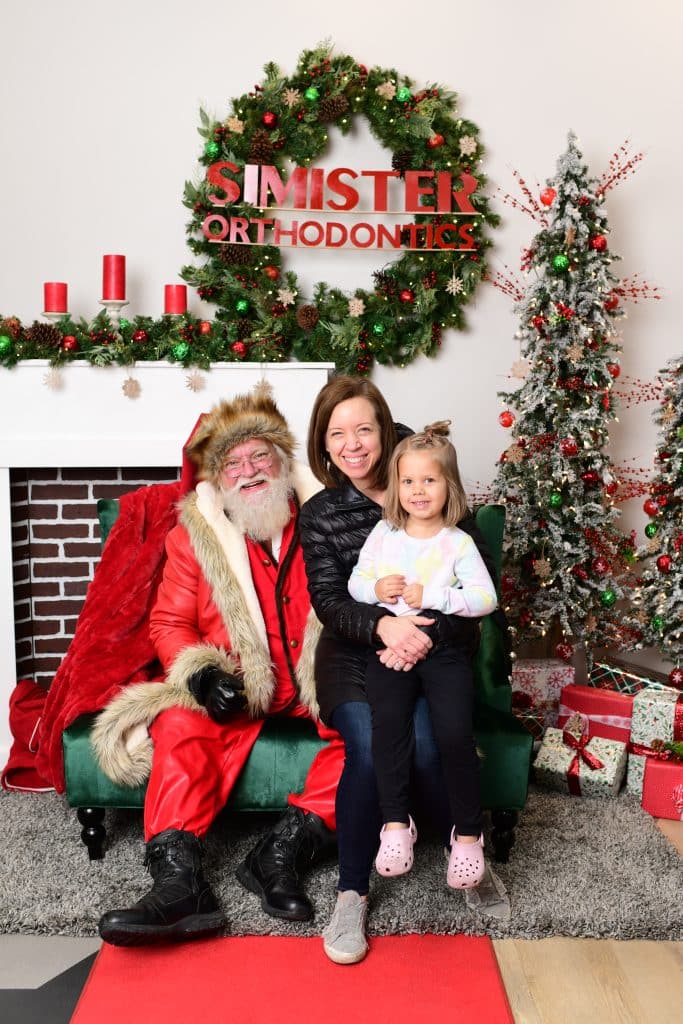 SOME OF OUR FAVORITE OATMEAL COOKIE RECIPES TOO!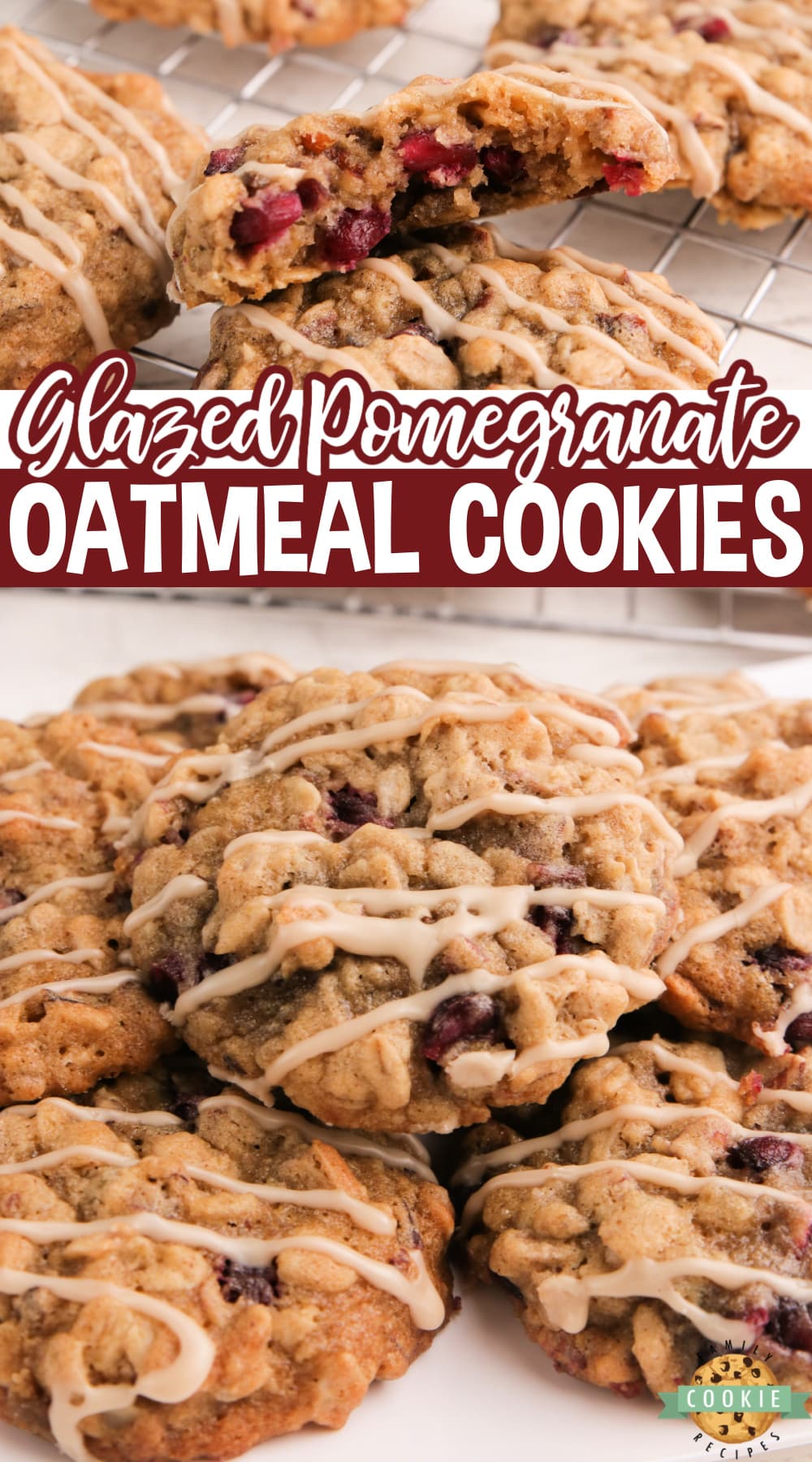 Glazed Pomegranate Oatmeal Cookies are soft, chewy and packed with the flavor of maple syrup, cinnamon, pomegranate seeds and pecans. Delicious oatmeal cookies topped with a simple maple syrup glaze.