Apples are delicious when they are baked into cookie recipes! Over the years, we have created some absolutely amazing apple cookie recipes. Each cookie is a little bit different, but all of these cookie recipes are made with apple and are absolutely mouthwatering.
Caramel Apple Cake Mix Cookies are easily made with a cake mix, chopped apples and Rolo candies. Cake mix cookies are so simple to make and these ones taste like caramel apples!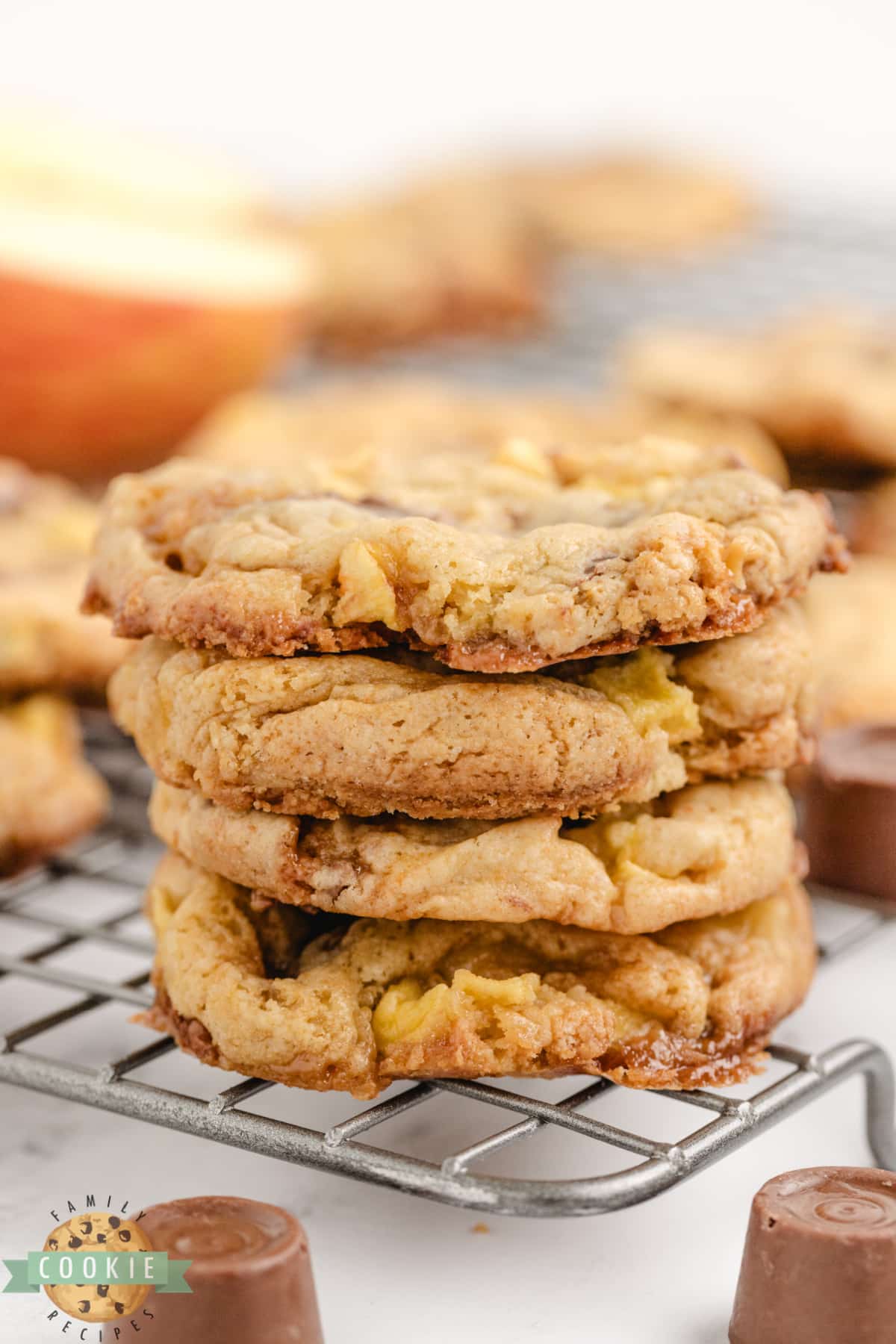 Caramel Apple Cake Mix Cookies are so easy to make! Add butter, brown sugar, an egg, and vanilla extract to a yellow cake mix and then add some chopped apples and Rolo candies. The original recipe that I found called for dried apples, but I prefer to use a fresh apple – the choice is totally up to you!
Caramel Apple Oatmeal Cookies are soft, chewy and full of fresh apples and caramel baking chips. Perfect cookie recipe for fall!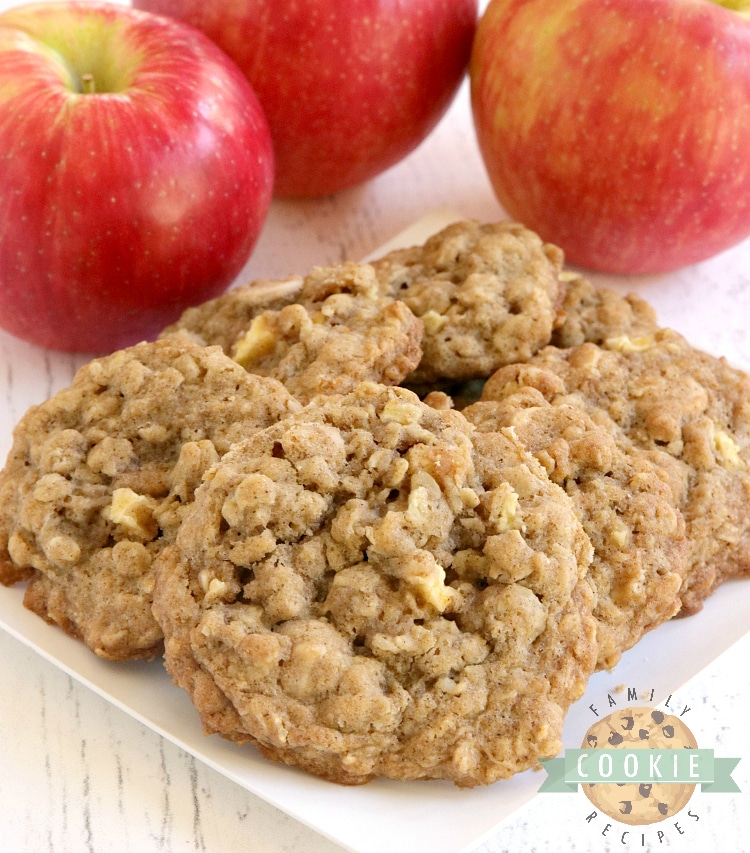 This oatmeal cookie recipe is absolutely amazing. Full of cinnamon and they have the most amazing texture and consistency. Add some caramel baking chips and chopped apples and this recipe is completely off the charts!
Snickerdoodle Apple Pie Bites are the perfect dessert to take to all of those holiday parties. These mini apple pies are easily made with a snickerdoodle cookie mix and a can of apple pie filling.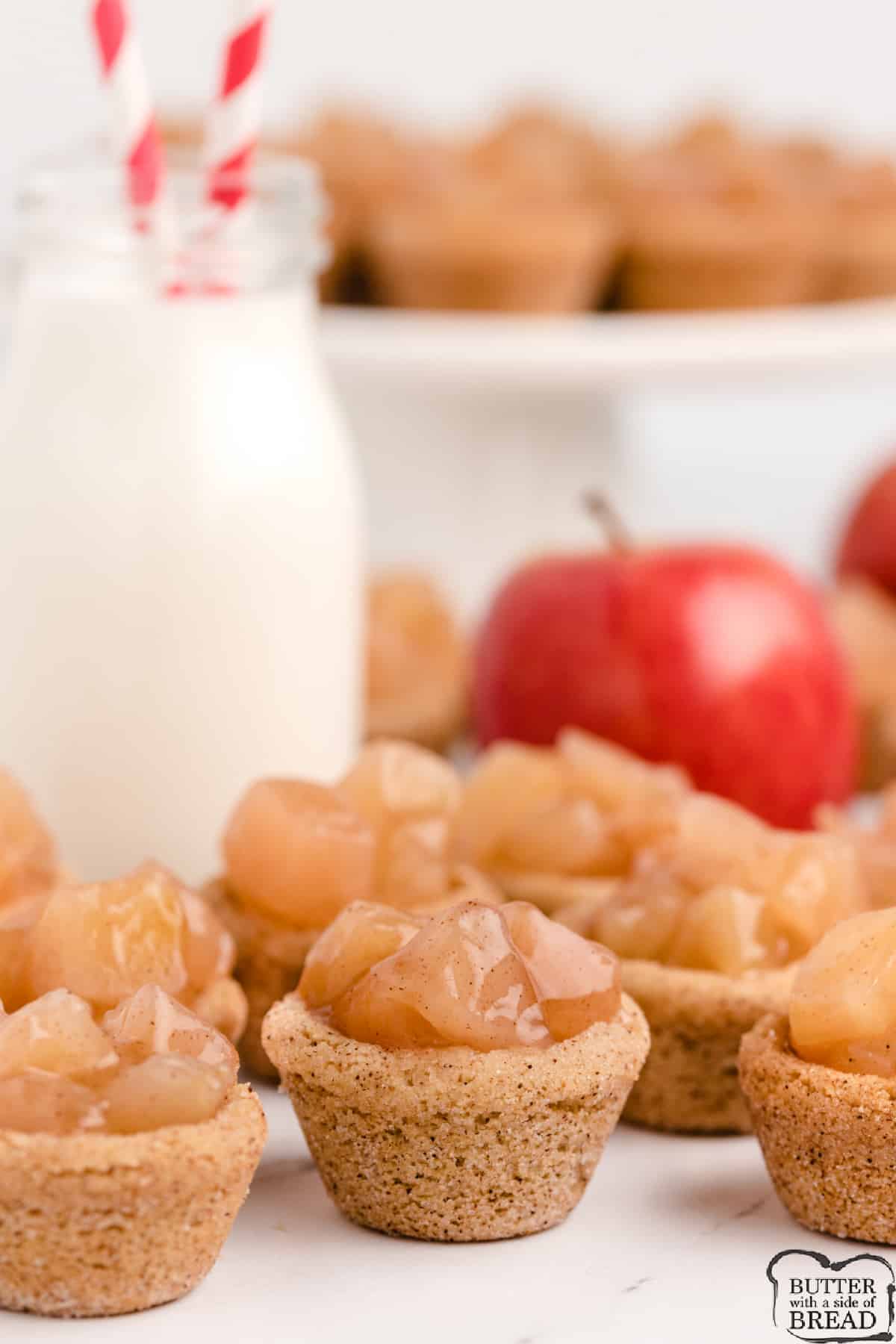 Snickerdoodle Apple Pie Bites are made with a snickerdoodle cookie cup made with a mix. Once the cookie cups are baked, they are filled with apple pie filling. You can even drizzle a little bit of caramel on top if you're feeling fancy!
Caramel Apple Snickerdoodles add fresh apples and a gooey caramel filling to your favorite snickerdoodle cookie recipe. Soft and chewy cinnamon sugar cookies that are perfect for fall!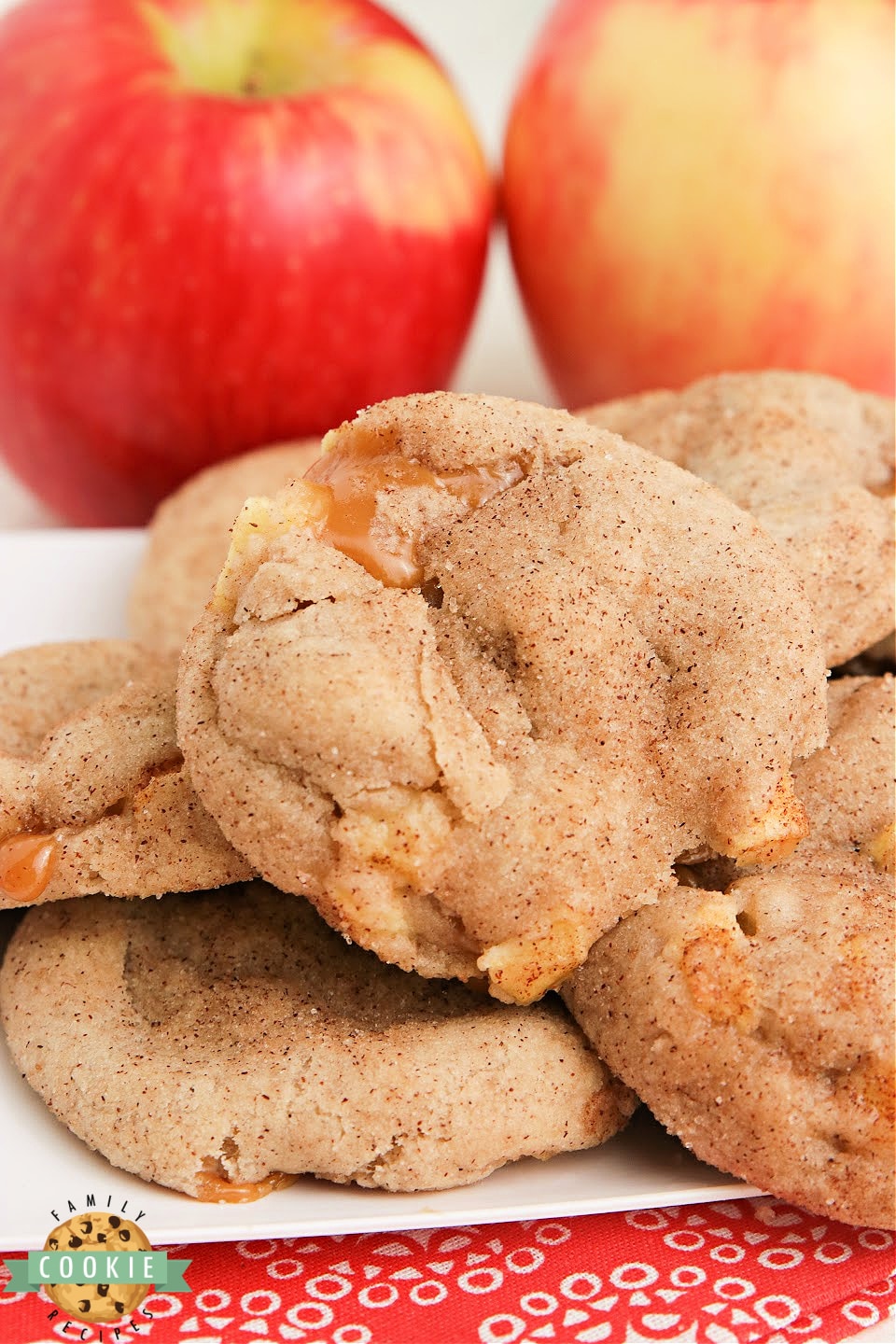 Snickerdoodles are soft cookies that are rolled in cinnamon and sugar. Caramel apple snickerdoodles take these cookies up a notch or two. Place a soft caramel in the middle of the cookie and mix some chopped apples into the cookie dough. Nothing says fall better than cinnamon, apples and caramel…in one delicious cookie recipe!
Apple Pumpkin Oatmeal Cookies are thick, soft, chewy and full of pumpkin flavor and fresh apples. The perfect cookie recipe for fall!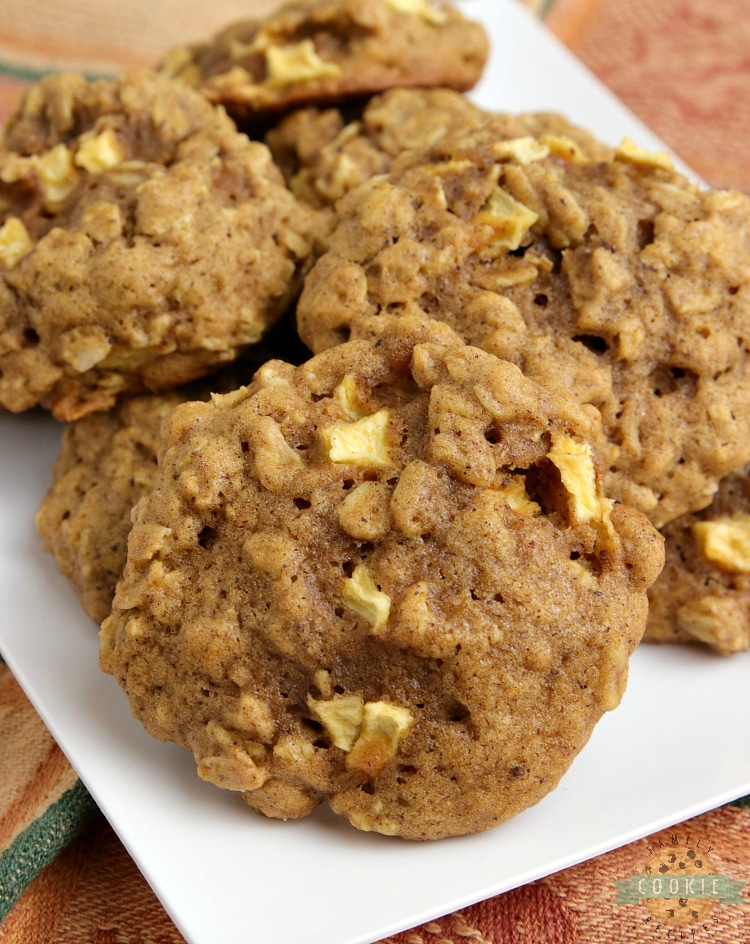 I love fall. Cozy sweaters, cooler temperatures, soup, everything pumpkin and apple flavored. These Apple Pumpkin Oatmeal cookies have become a new favorite in my house. The consistency is so soft and chewy and the spiced pumpkin flavor paired with diced fresh apples is just incredible.
I absolutely love the chopped apples in the recipe, but if you don't want the apples to be so prominent, you can grate them instead. I also love adding a lot of pumpkin pie spice to these cookies, but you can reduce or increase the amount as desired.
Apple Snickerdoodle Cookies are soft, chewy and full of apple flavor. Made with apple butter and rolled in cinnamon sugar for an irresistible cookie!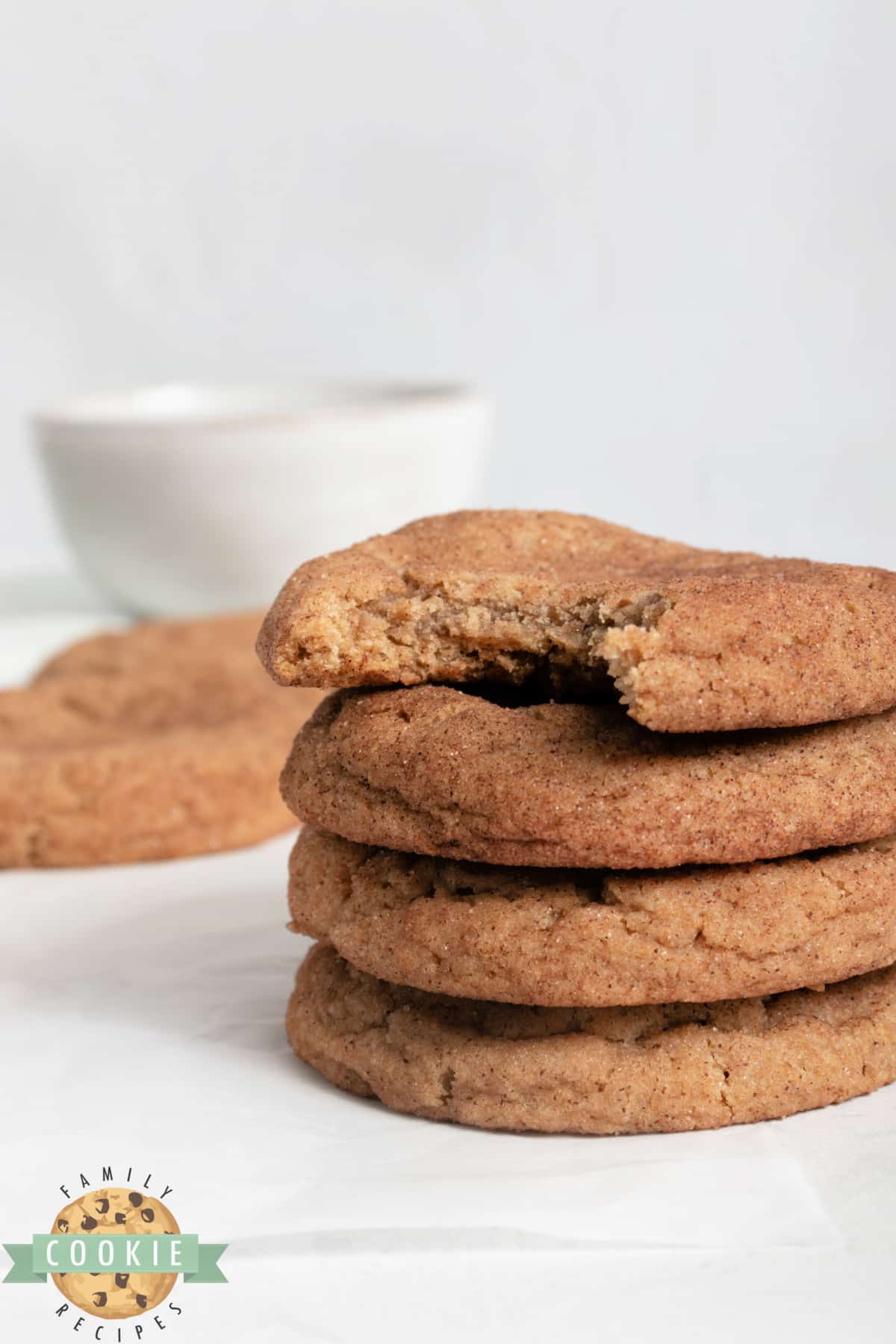 Snickerdoodles are soft, chewy cookies that are rolled in cinnamon and sugar. This recipe has apple butter in it and the apple flavor pairs so well with the cinnamon. This is the perfect variation on a classic snickerdoodle cookie recipe! This Apple Snickerdoodle recipe is simple, but does require a couple of hours of chilling. This helps to make sure that the cookies don't spread too much when baking. All of the ingredients are very basic, but a little bit of apple butter or apple puree take these cookies to the next level.
Apple Spice Cookies are soft & chewy cookies packed with fresh apples & fall spices! With chopped apples, walnuts, and a simple powdered sugar glaze on top, these cookies are hard to resist!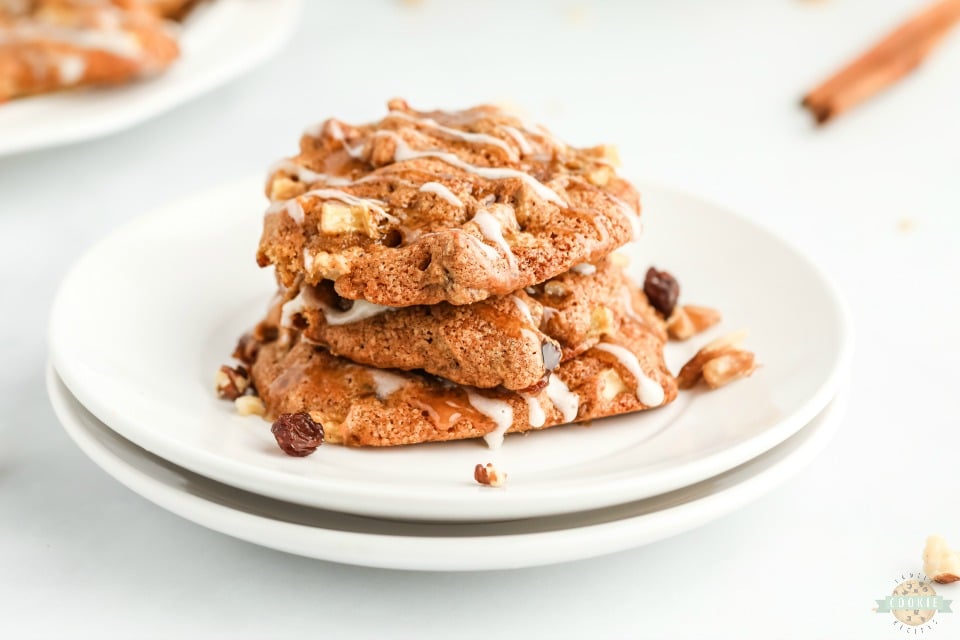 With simple ingredients and a little effort you can have some delicious spiced apple cookies. Making these cookies is as simple as any other cookie dough, the hardest part is chopping up the apple. But another great thing about this dough is that there is no chilling required!
Apple Peanut Butter Cookies that are soft, chewy and packed with freshly grated apple. Delicious peanut butter cookie recipe that is even better with apples in it!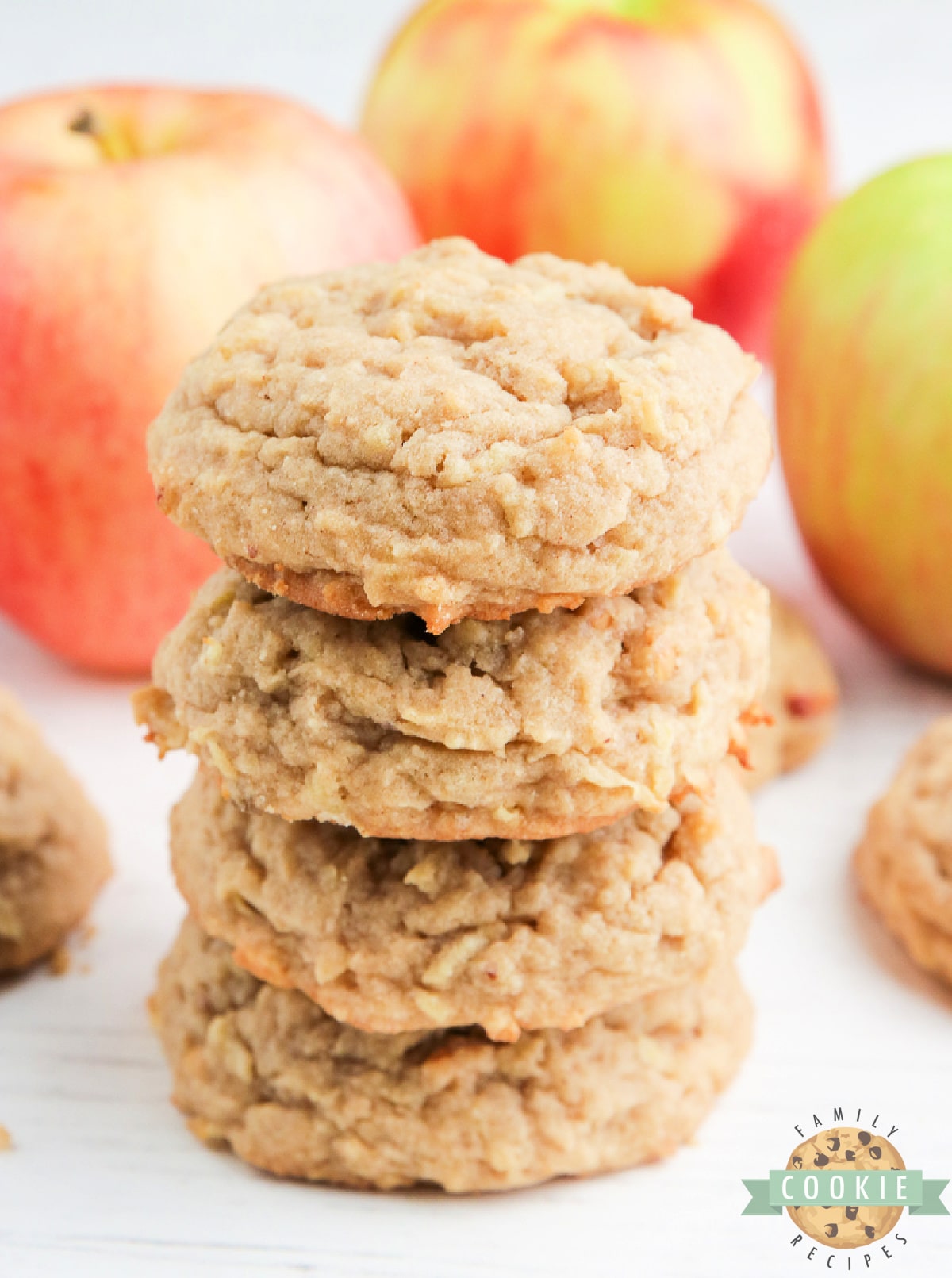 Apple Peanut Butter cookies are exactly what they sound like…peanut butter cookies with grated apple in them! Add a little bit of cinnamon and these cookies are absolutely delicious!
Apple Cider Snickerdoodles are everything you love about Snickerdoodles, with fresh & tangy apple cider! Fabulous Fall flavors in this apple cinnamon spiced snickerdoodle recipe.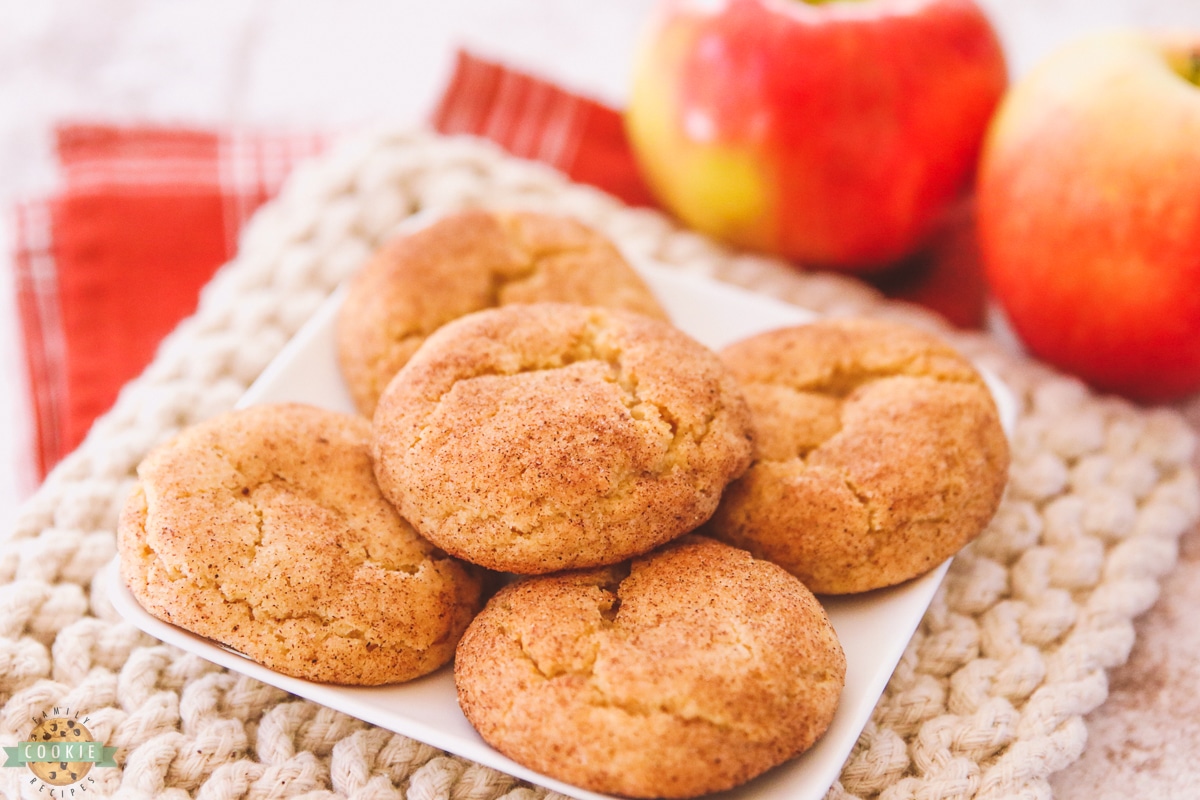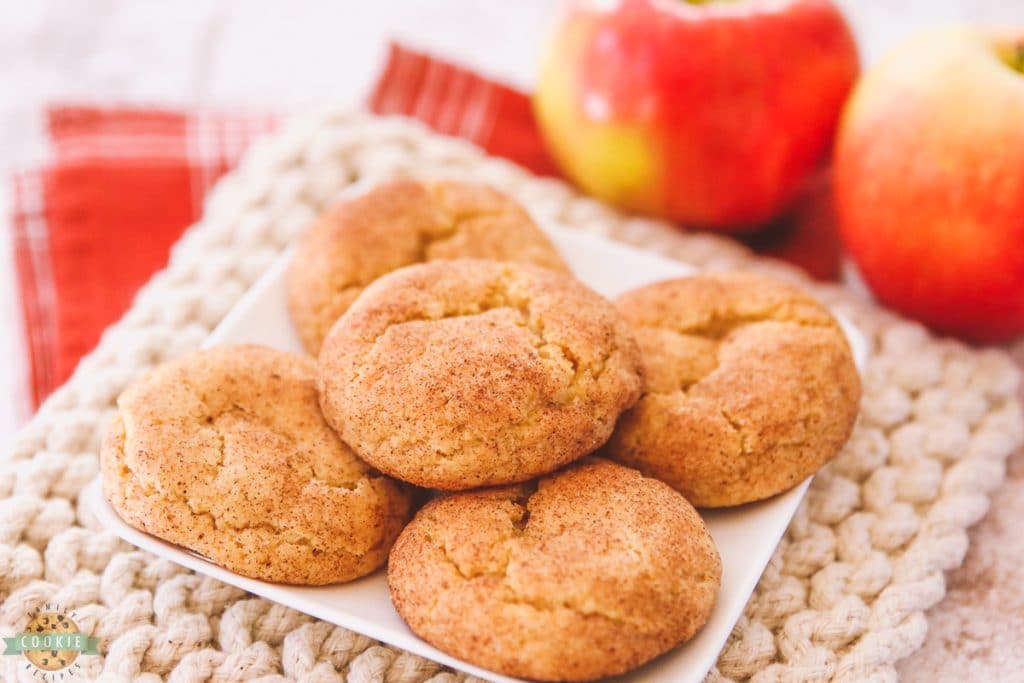 This recipe is everything that you already know and love about snickerdoodle cookies but with a fun fall twist. Given the addition of a homemade apple cider syrup and then rolled in a cinnamon and nutmeg sugar combo these cookies are perfectly flavored and spiced. The steps are simple and easy and these cookies are pretty low maintenance too making them ideal for any occasion.
Butterscotch apple cookies are soft & chewy frosted cookies made with apples, brown sugar, butterscotch chips & cinnamon! Perfect apple cookie recipe.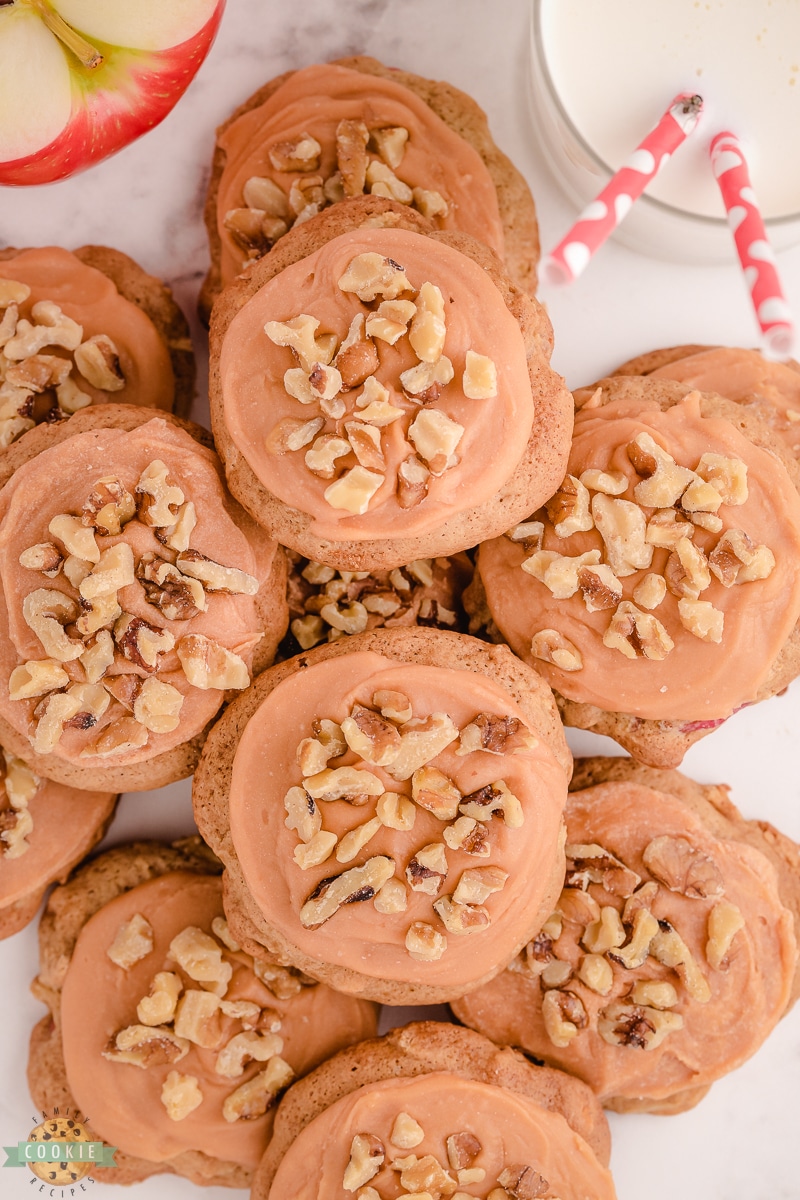 These cinnamon-spiced cookies are made with grated apple, apple juice, and chopped nuts like pecans or walnuts. Topped off with a simple glaze, these cookies are perfect treats. Every bite is a perfect blend of autumn flavors. These chewy soft cookies are a perfect taste of warmth, comfort, and sweetness.
Apple Cinnamon Oatmeal Cookies made with a cake mix, fresh apples, applesauce and a few other basic ingredients. Delicious cake mix cookie recipe that tastes like apple pie!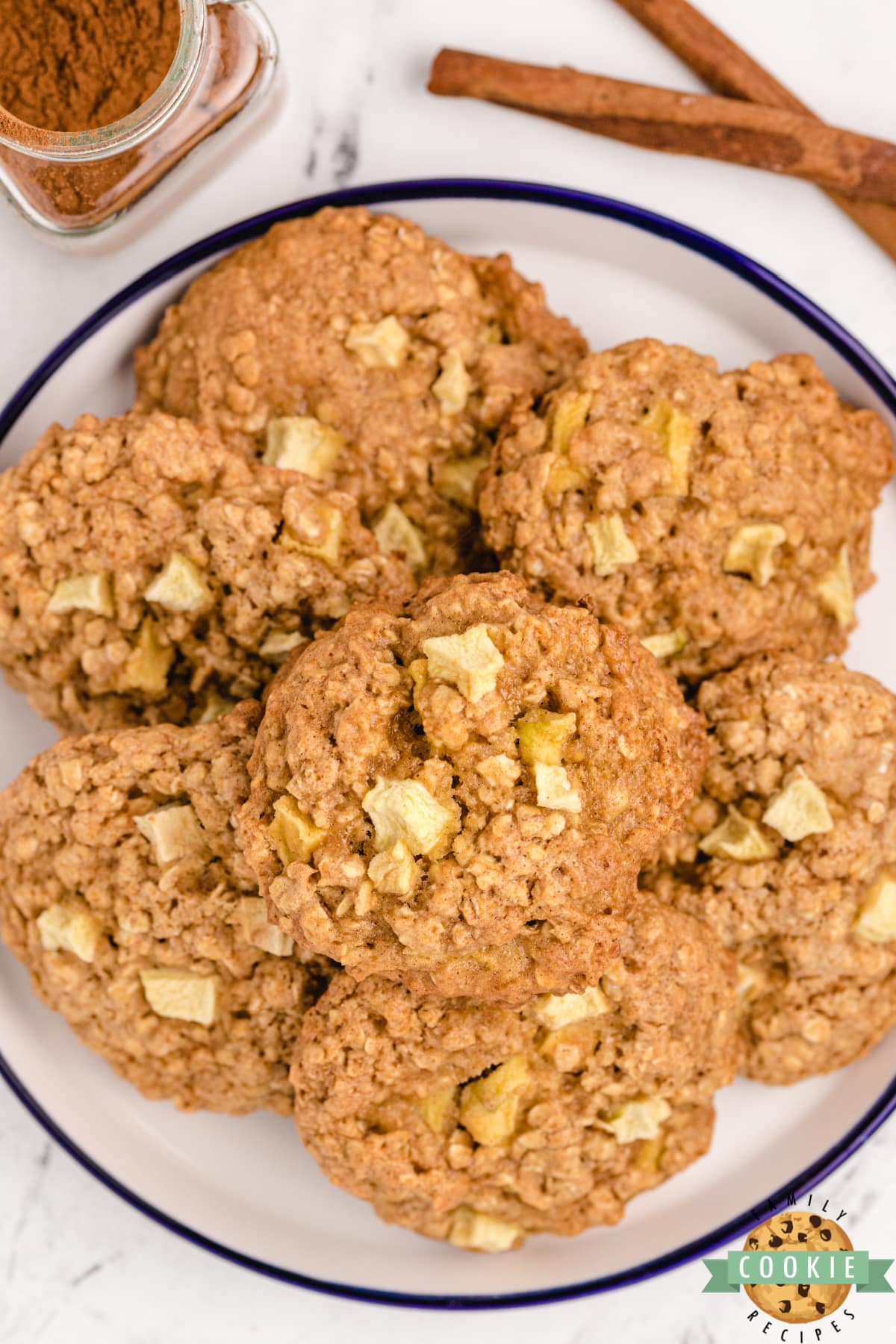 Add oats, brown sugar, cinnamon, applesauce, diced apple and an egg to a yellow cake mix to make these delicious cookies. You can leave the apples out if you'd like, but they add the most delicious flavors and texture. You can add some raisins if you'd like, or even some butterscotch chips for some extra flavor. Cake mix cookies are so easy to change up a little bit!
Caramel apple pie cookies are a delicious treat made with a sugar cookie crust and then filled with a fresh apple pie filling. Fabulous apple pie flavors, only in cookie form for every home baker to enjoy!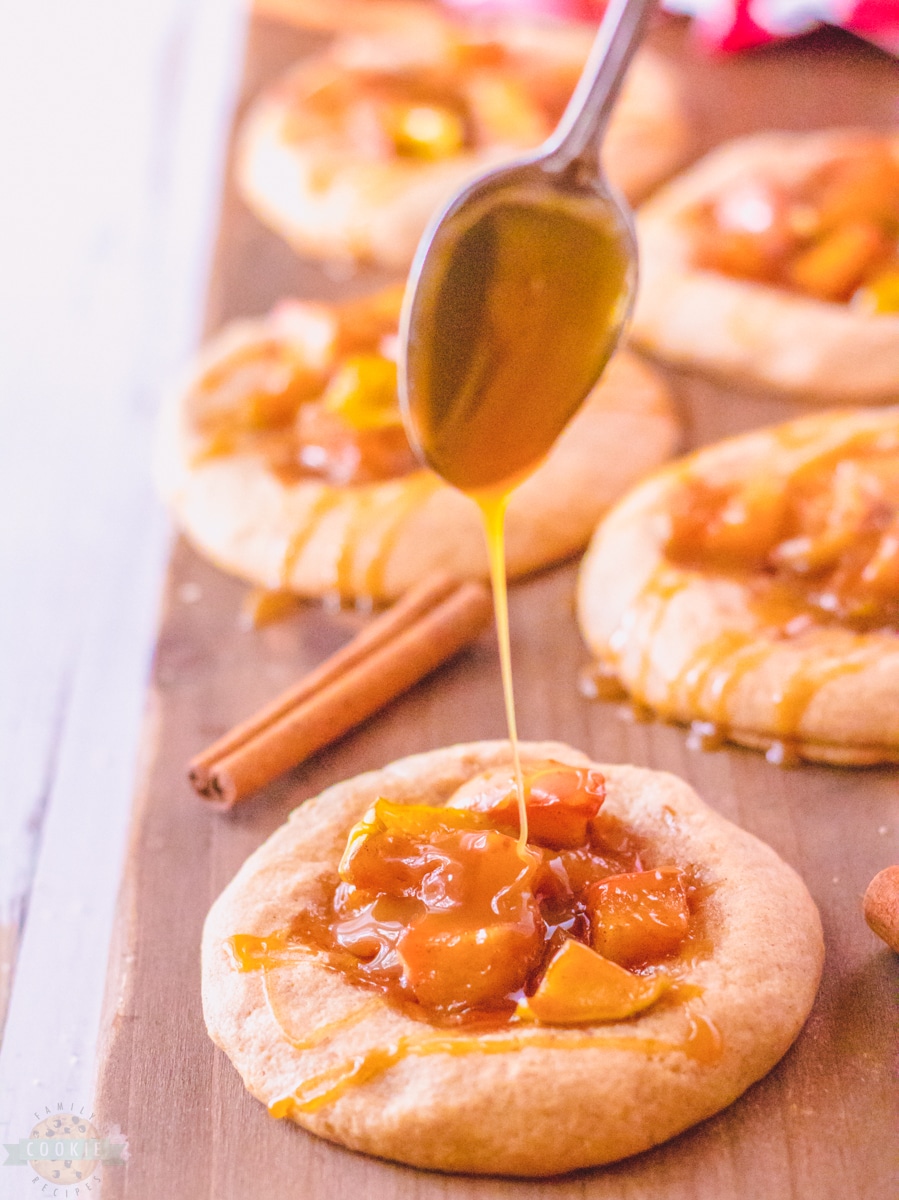 Apple pie cookies are a flavorful combination of a sugar cookie and then filled with a simple homemade apple pie filling. While we don't use actual pie crust, the flavors in every apple pie stuffed cookie do not disappoint. Every bite is a wonderful experience and one you will definitely enjoy.
Apple Cinnamon Scookies are a wonderful combination of a scone and cookie, two amazing treats in one! With this cinnamon scone recipe, it is cookie meets scone in a delightful blend of buttery dough and warm spices!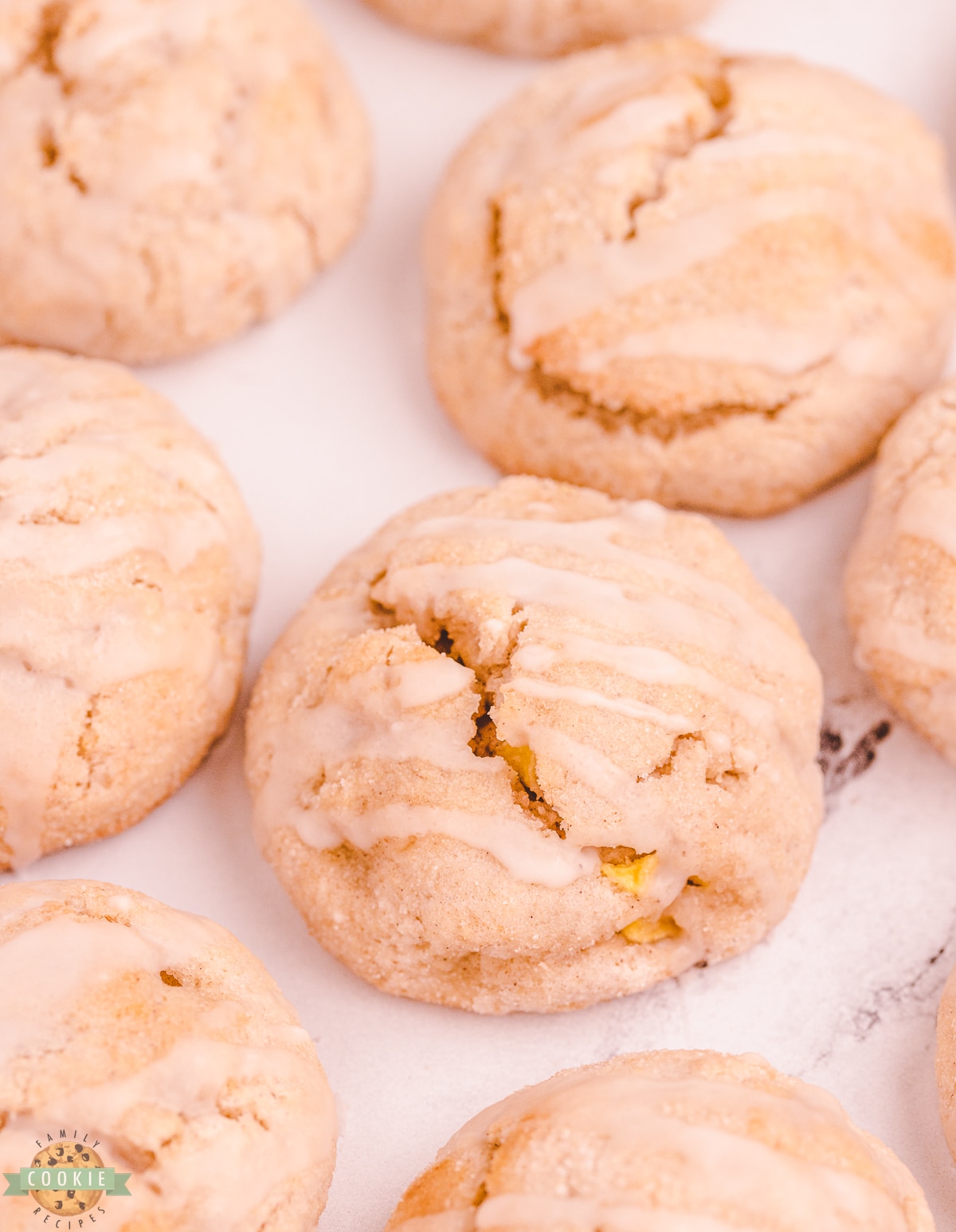 You are in for a treat with this delicious recipe! You probably have never heard of a scookie, that is because we just made it up. If a scone and a cookie had a baby, they would create this scookie. We could not decide if we loved a cookie or scone more, so we created this incredible combination of the two. Both treats are great on their own, but together they are absolutely sensational. These scookies are soft, chewy and the way the house smells while they are baking is simply heavenly too. Give them a try today and see just how amazing they taste!
Vanilla Glazed Spiced Apple Cookies made with lots of spices, fresh apples and walnuts. Soft and chewy cookie recipe that is topped with a simple vanilla glaze.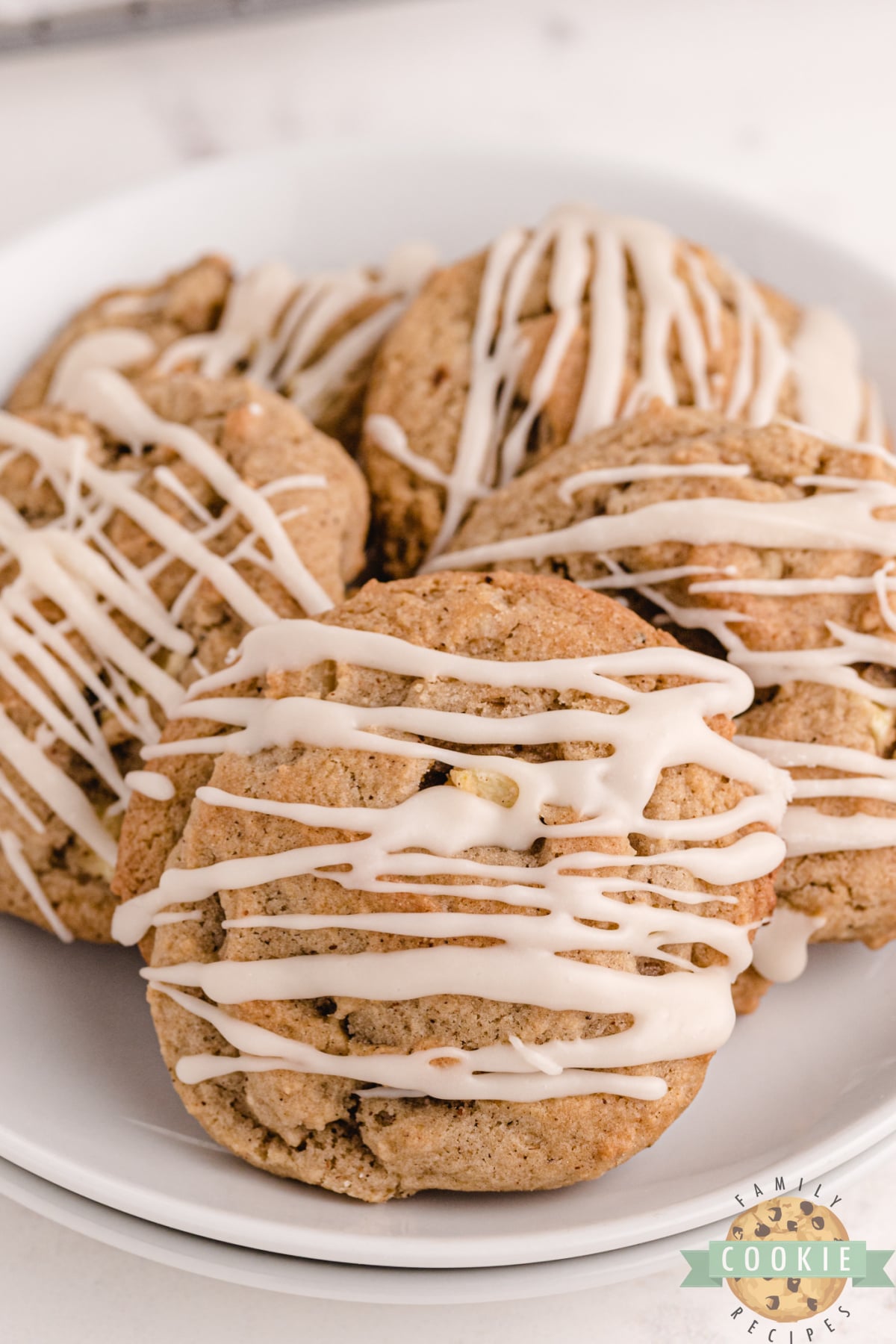 This cookie recipe is absolutely incredible. The flavors of nutmeg, cinnamon and cloves are amazing, especially when paired with the diced apple and chopped walnuts. The vanilla glaze drizzled on top adds even more flavor and sweetness!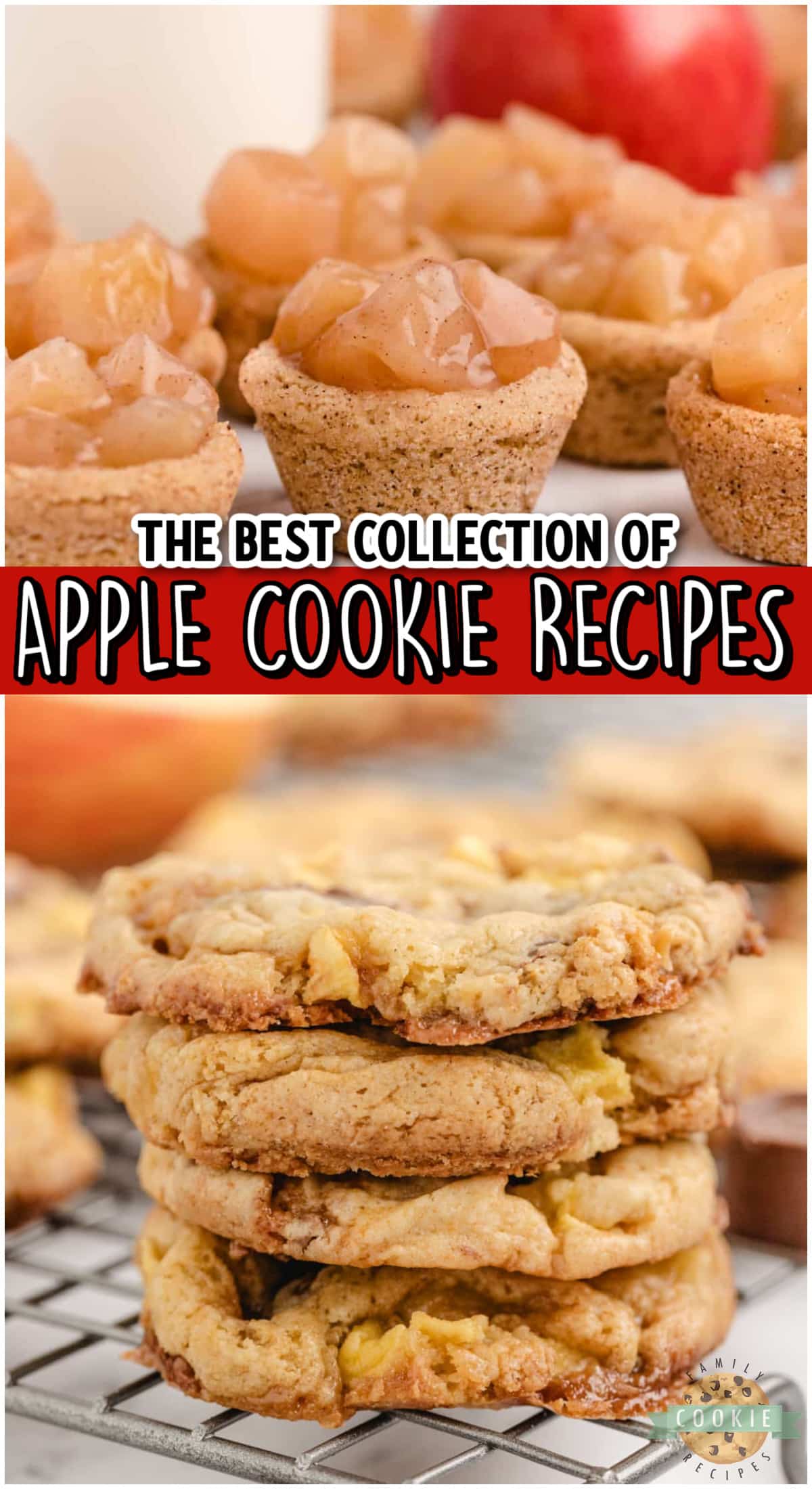 Amazing collection of apple cookie recipes! Deliciously soft and chewy cookies that are all so different, but all made with apples!