Chocolate Mint cookies are absolutely delicious and are perfect for the holidays! Over the years, we have created some absolutely amazing chocolate mint cookie recipes. Each cookie is a little bit different, but all of these cookie recipes are made with chocolate and mint and are absolutely delicious.
Simple recipe for Easy Homemade Mint Oreo Cookies made with a chocolate cake mix! Soft, perfectly sweet, mint chocolate sandwich cookies that everyone is sure to go crazy over!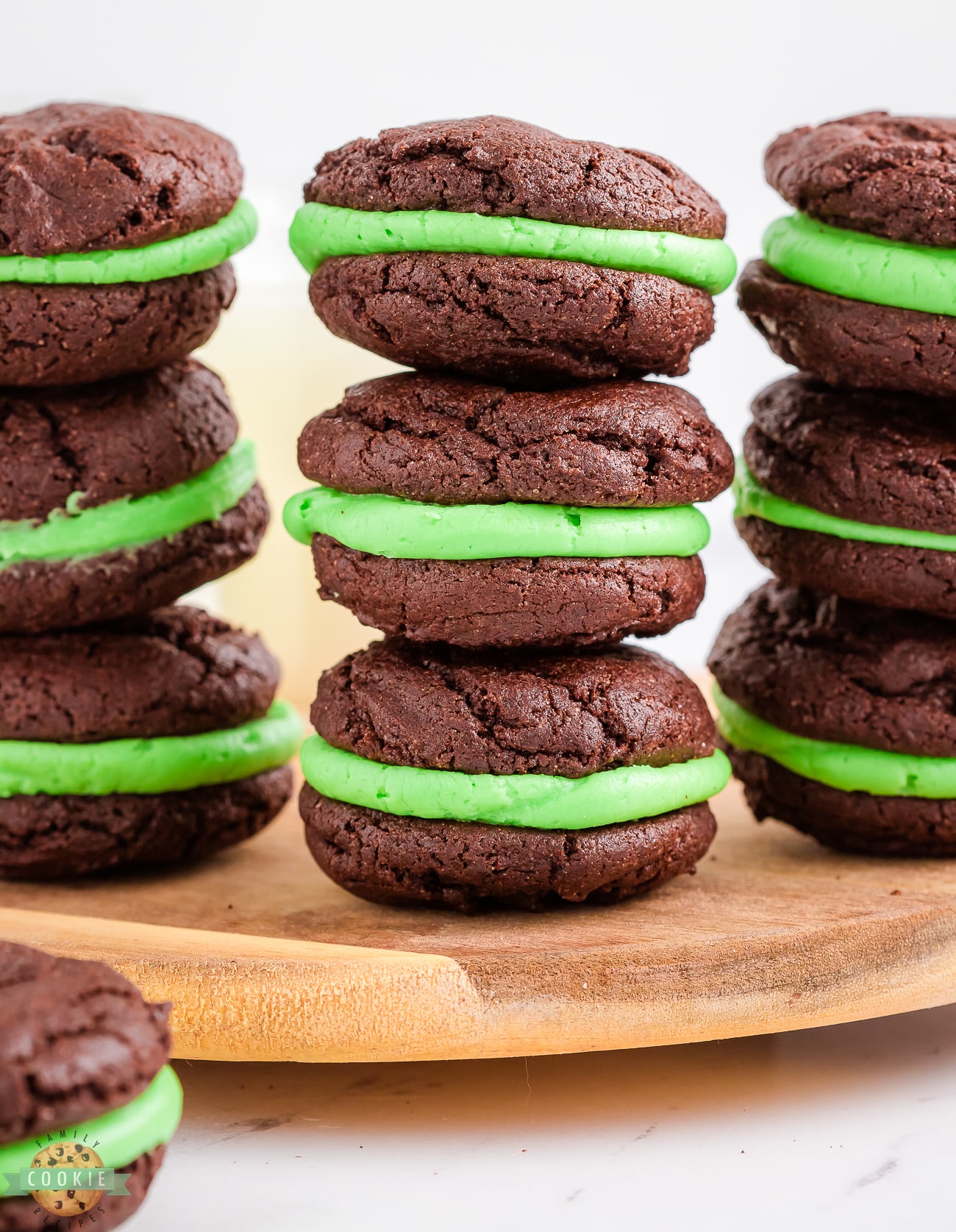 Making this Oreo cookie recipe is so simple thanks to the boxed cake mix and easy cream cheese frosting! Whip up a batch and enjoy these tasty Oreos homemade anytime you'd like!
Mint Chocolate Chip Cookies are a scrumptious dessert made with pudding mix, mint extract and chocolate chips. This lovely mint cookie recipe is perfect for those who love mint chip ice cream!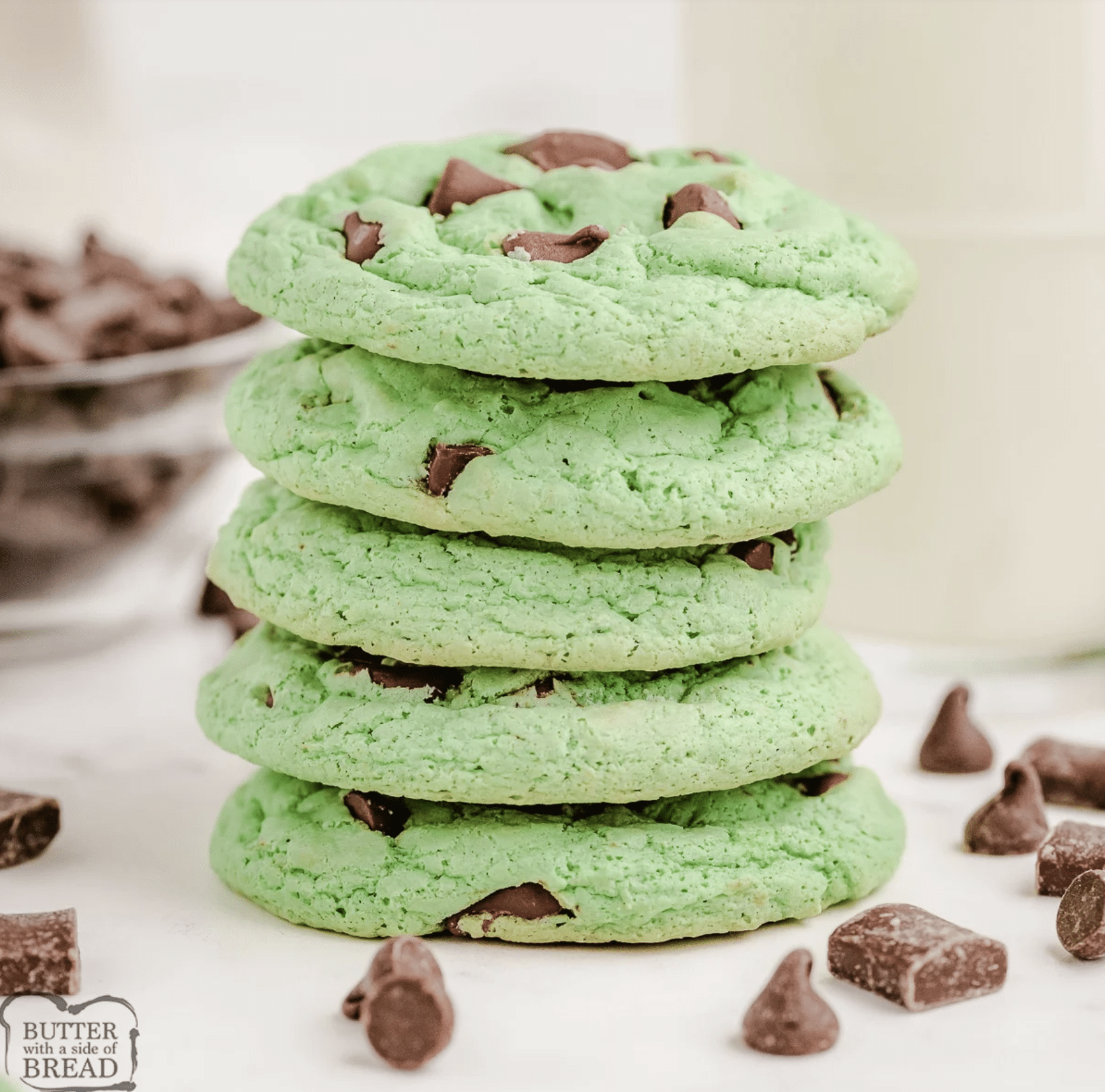 Making this mint chocolate chip cookie recipe is so simple and is great for anyone who love the mint-chocolate combination. The addition of pudding in these mint choco cookies creates a soft, moist cookie with wonderful texture.
Copycat Thin Mints Cookies made with homemade chocolate cookies, dipped in a mint fudge glaze. This simple chocolate mint cookies recipe tastes just as amazing, (dare I say?) better than the original!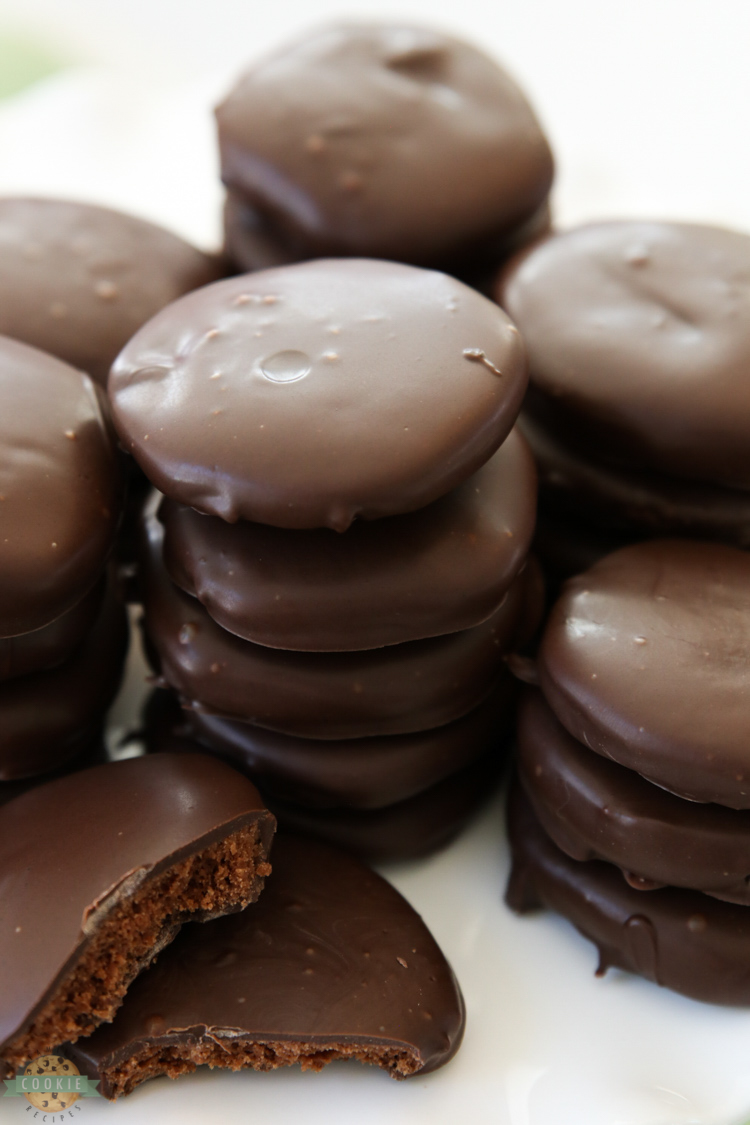 These homemade mint chocolate cookies taste so much like the one's you buy from the Girl Scouts, you will be pleasantly surprised! You no longer have to wait all year to enjoy these tasty cookies, you can enjoy them year round. The crunchy cookie center with the mint chocolate glaze, they are so delicious. My kids don't normally like peppermint very much, but they were devouring these cookies with the rest of us. Give these copycat cookies a try and see for yourself how amazing they are!
Mint Chocolate Cookies made from a buttery shortbread cookie dipped in chocolate & topped with chocolate sprinkles.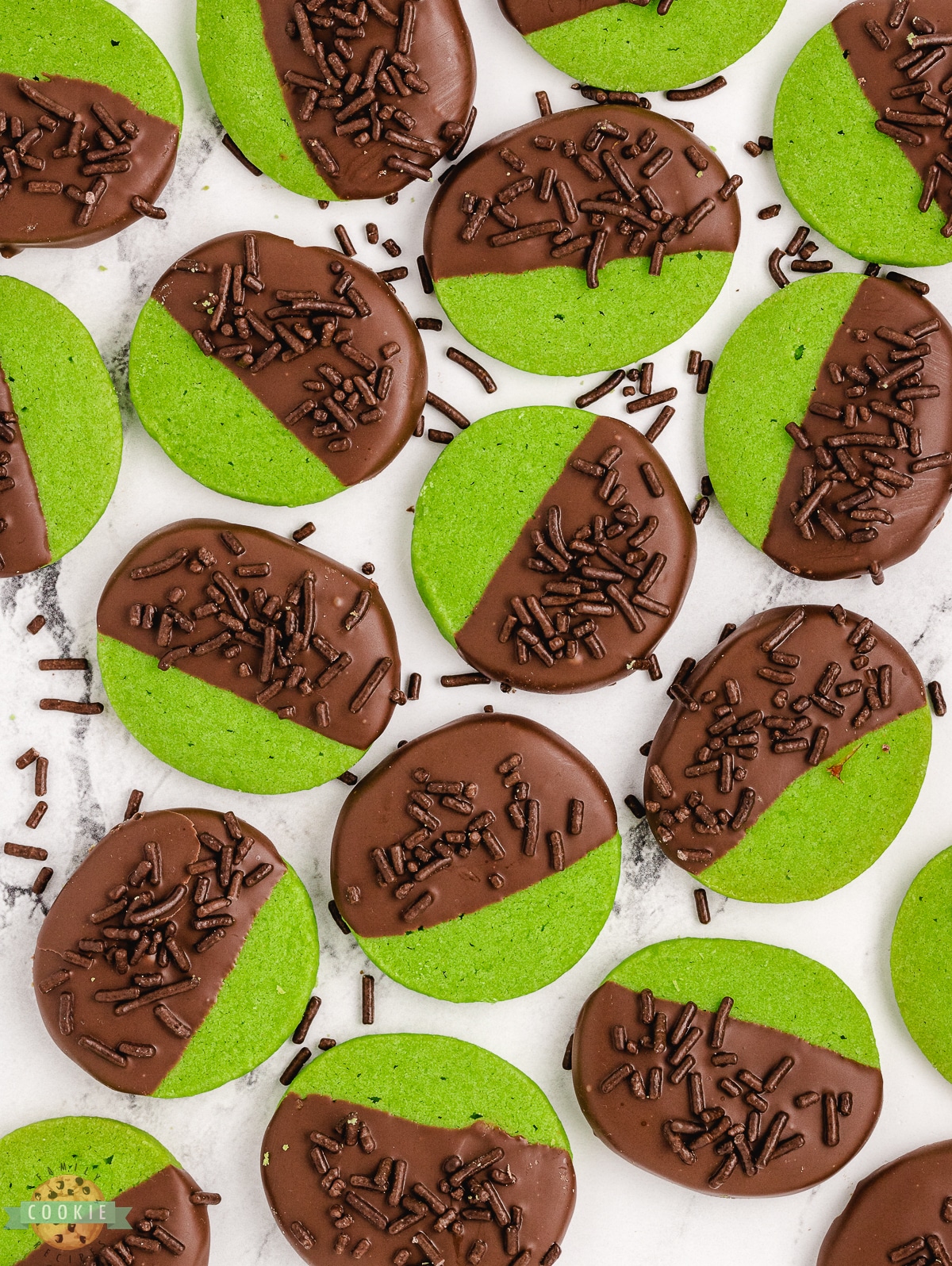 One of my favorite things about this shortbread cookie recipe is that you can make them in advance! Use a hand mixer or stand mixer to mix the cookie dough and then shape the dough into logs and wrap in plastic wrap or wax paper. Store the cookie dough logs in the fridge for at least 2 hours. You can even make this cookie dough and put it in the fridge days in advance! Slice the cookies while chilled, then bake, cool and dip in chocolate. Sprinkle with chocolate Jimmy sprinkles and let cool to set.
Double Chocolate Junior Mint Cookies are chewy chocolate cookies topped with Junior Mints! Perfect fudge cookie recipe for mint chocolate lovers.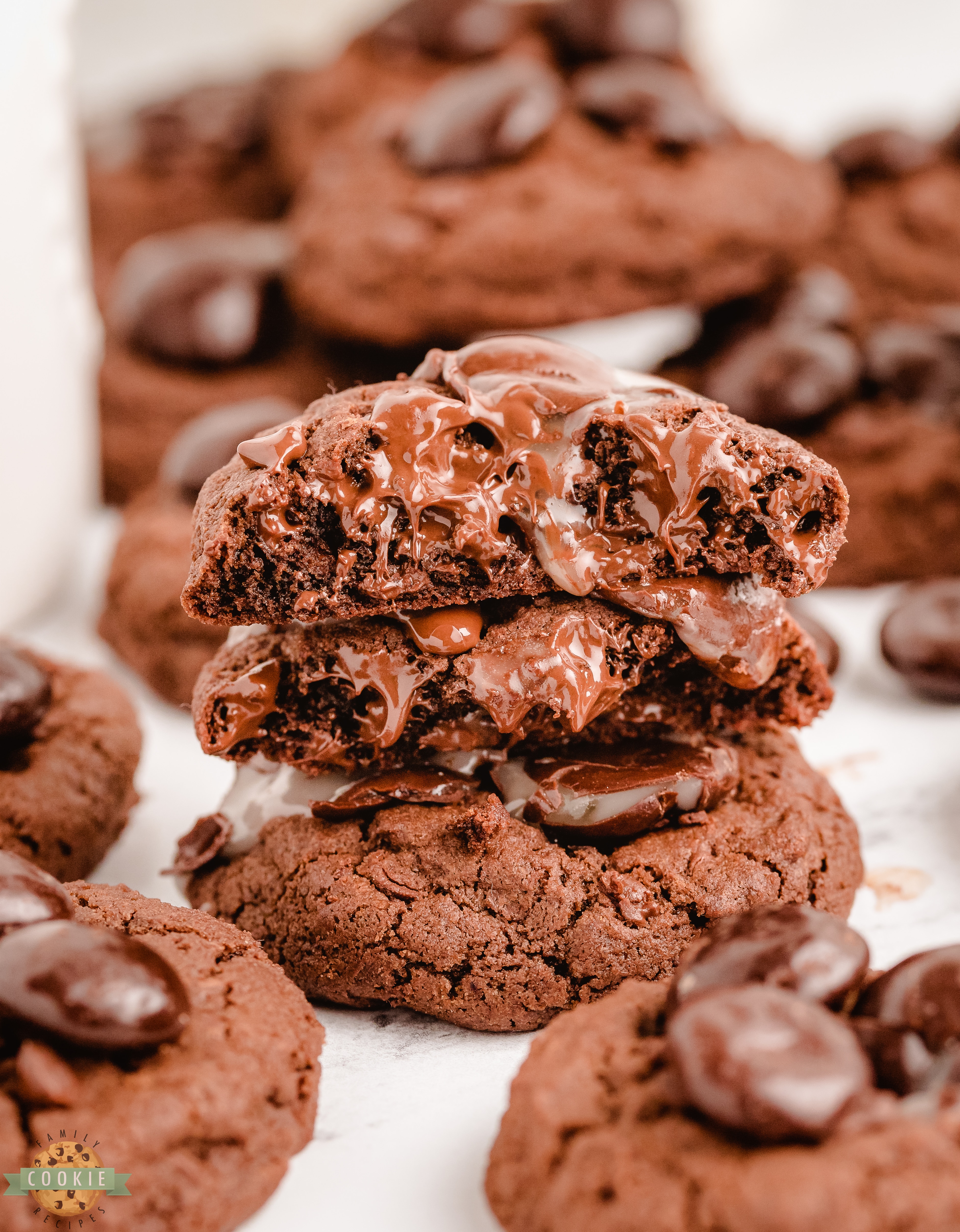 The best part about these cookies is that they are easy to make, just like a regular chocolate chip cookie recipe. They taste fancy, but honestly there is no extra work aside from topping the cookies with the candies!
You'll need a couple boxes of the movie theater size Junior Mints. Be on the lookout for the seasonal boxes of Christmas Junior Mints! They're flecked with red and green candy and add a really festive look to these cookies!
Andes Mint Chocolate Cookies are chewy, chocolate and frosted with a melted Andes mint! These cookies are the perfect combination of chocolate and mint.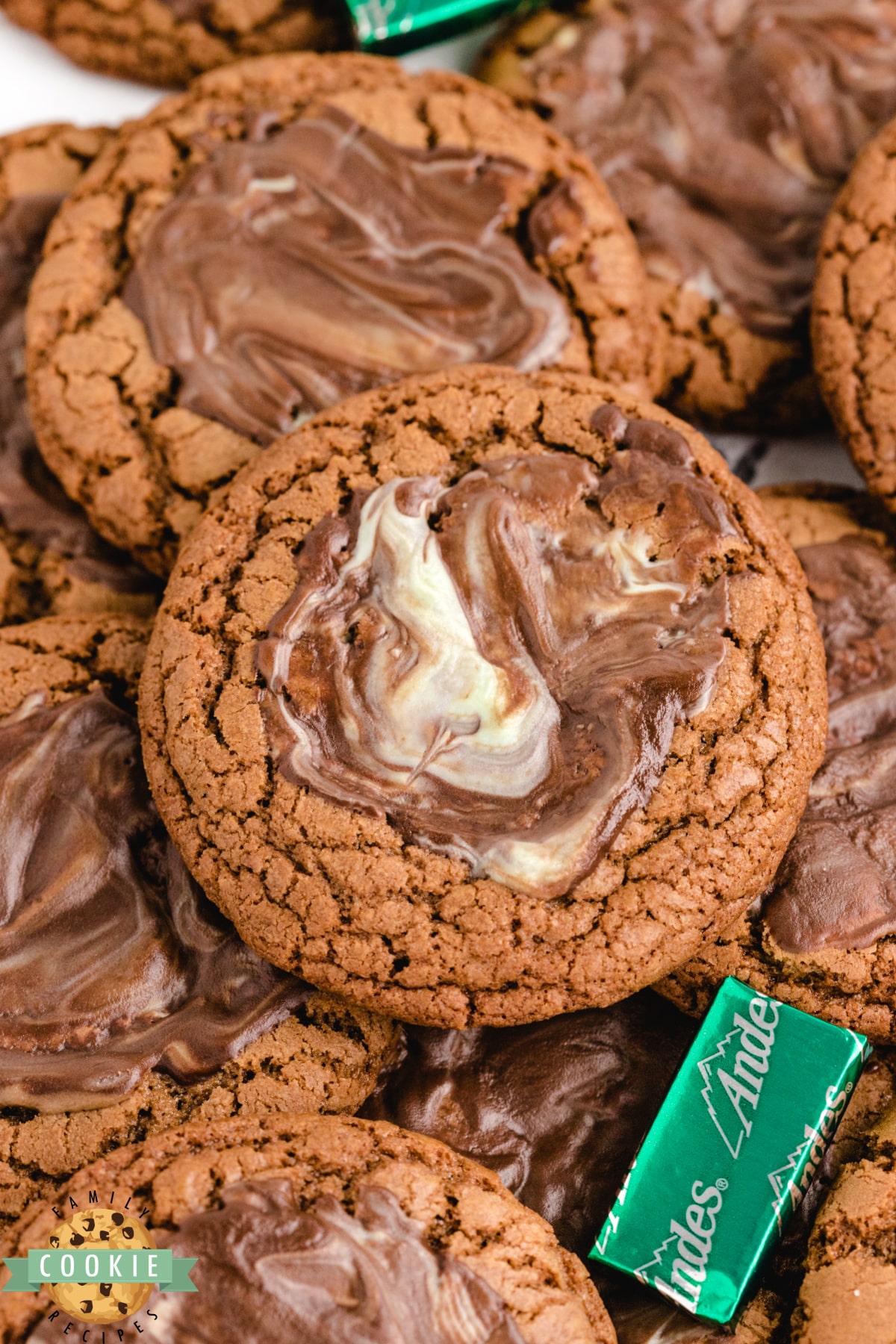 This chocolate cookie recipe is made with melted chocolate chips in the batter and the mint flavor comes from the Andes mint that is melted and spread on top. These cookies are very easy to make and they taste incredible!
Mint Oreo Pudding Cookies are soft, chewy and full of mint flavor, Oreo pudding mix and crumbled Oreo cookies! The mint and chocolate flavor combination is a winner in these amazing cookies!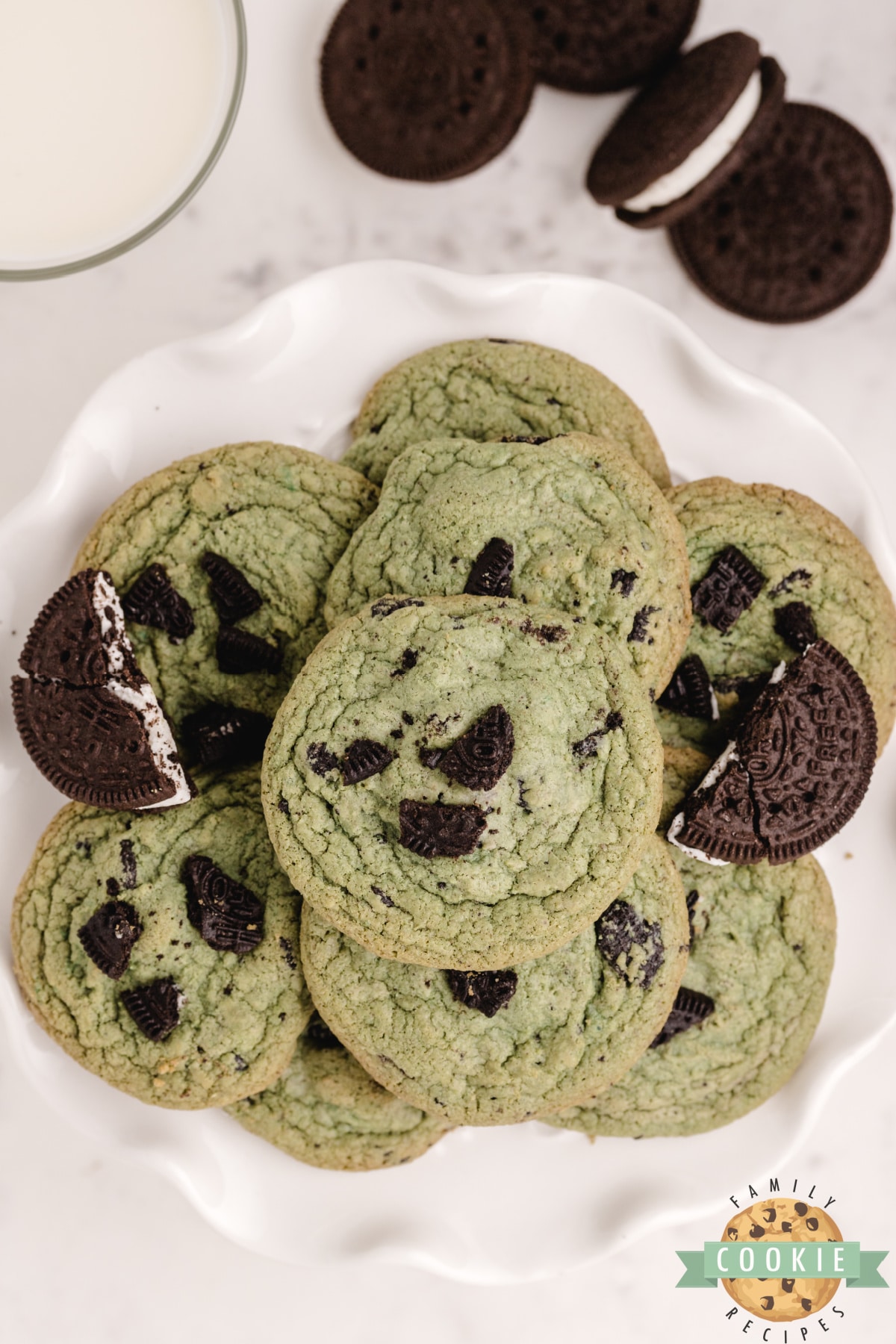 Mint Oreo Pudding Cookies are absolutely amazing! Several years ago, I began making these Cookies and Cream Cookies that have Oreo Pudding in the recipe and they have been one of my favorite cookies ever since. I was ready to make them a few days ago and decided to make a mint version since I had some Mint Oreos in the cupboard. I just added a little bit of mint and food coloring to my original recipe and the results did not disappoint at all.
Chocolate Mint Brownie Cookies are your favorite brownies in cookie form! Loaded with chocolate mint flavor, these over-the-top cookies are the perfect treat!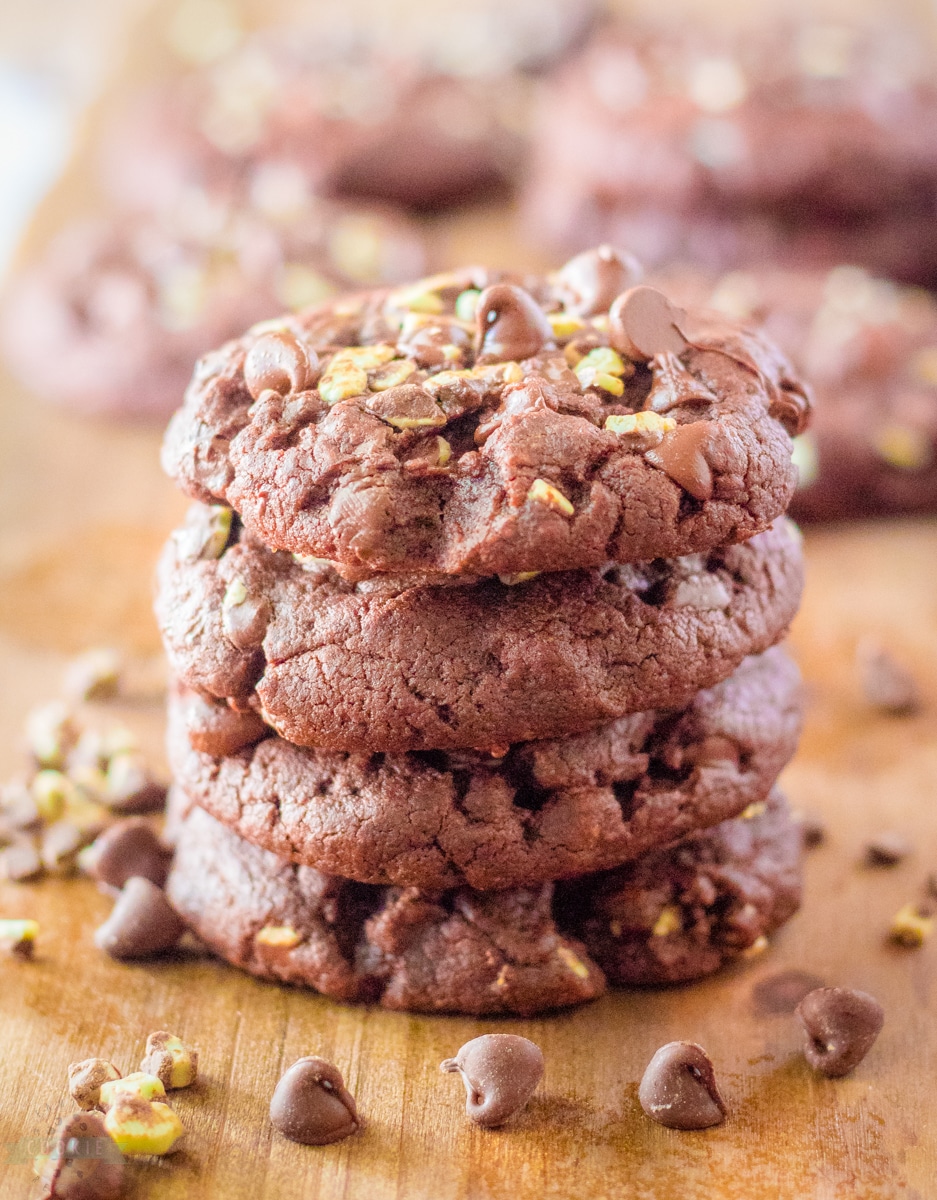 These are homemade brownie cookies made from scratch. They're a simple and easy one-bowl cookie dough recipe that uses mint chocolate chips and semi-sweet chocolate chips for a rich and minty taste. The cookies have a nice chewy edge and a soft fudgy center that pulls you in and makes you fall in love with every bite.
Mint Chocolate Cake Mix cookies are soft, chewy and made with only 4 ingredients! So easy to make these deliciously mint and chocolate flavored cake mix cookies.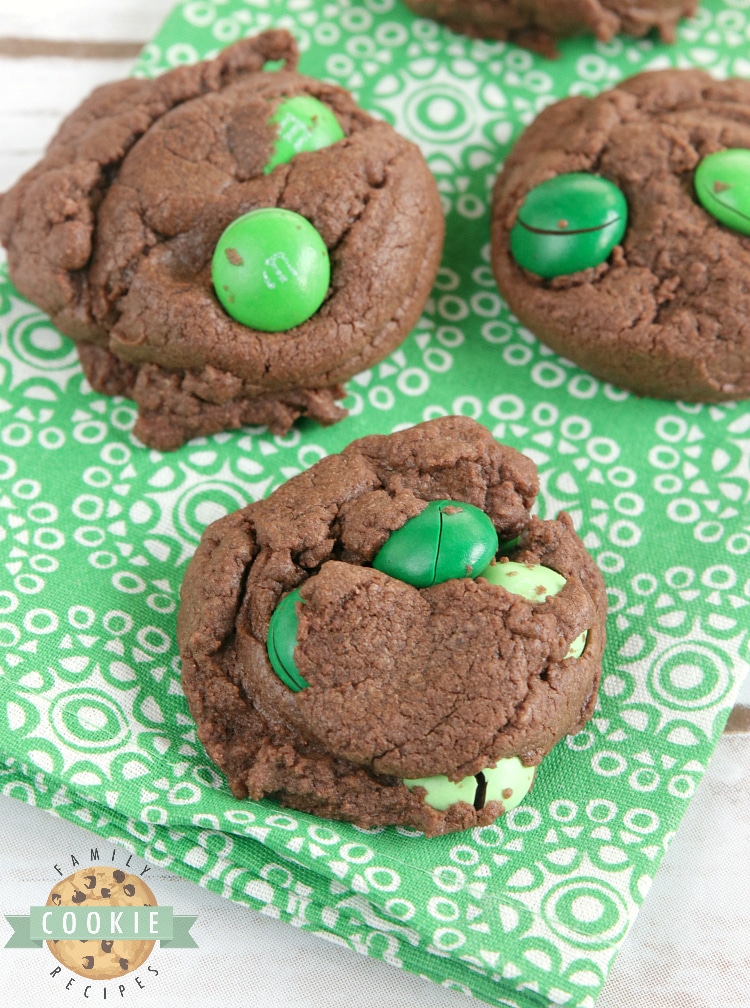 Mint Chocolate Cake Mix cookies are yummy any time of the year, but they are perfect for St. Patrick's Day! The Dark Chocolate Mint M&Ms in the cookies are available all year, they aren't just seasonal, so you can make these cookies any time you want!
Double Chocolate Mint Cookies with a brownie cookie base, topped with mint icing and a decadent chocolate drizzle. Fantastic mint chocolate cookies that everyone is sure to go crazy over!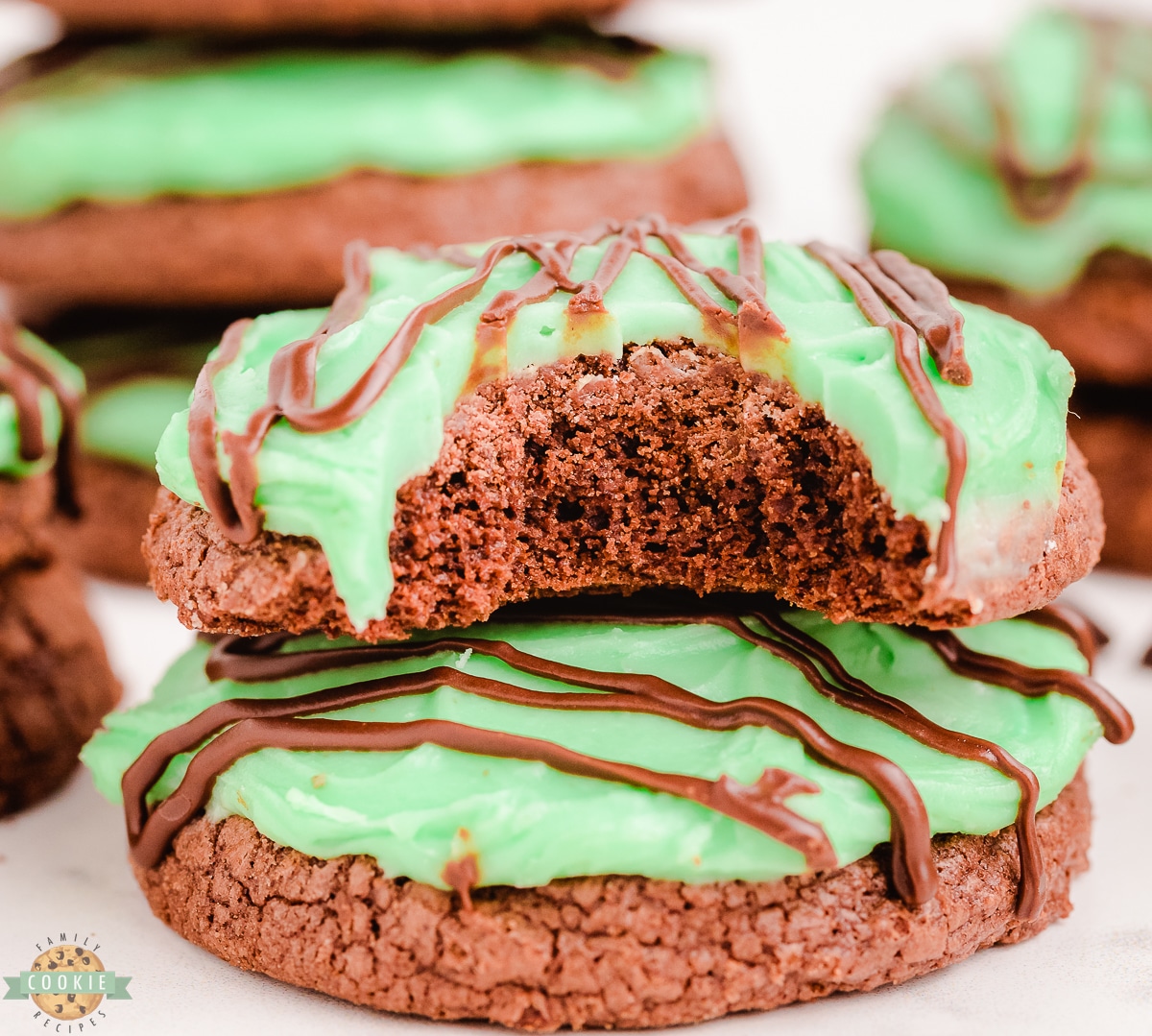 While these little grasshopper cookies might remind you of a Thin Mint cookie, they're so much better and completely homemade too! Made with simple pantry ingredients, this chocolate mint cookie recipe is pretty basic but totally fabulous.
Andes Mint Stuffed Chocolate Cookies are rich chocolate mint cookies that are filled with chocolate ganache and a grasshopper cookie in the middle. Tons of mint flavor in this amazing chocolate cookie recipe!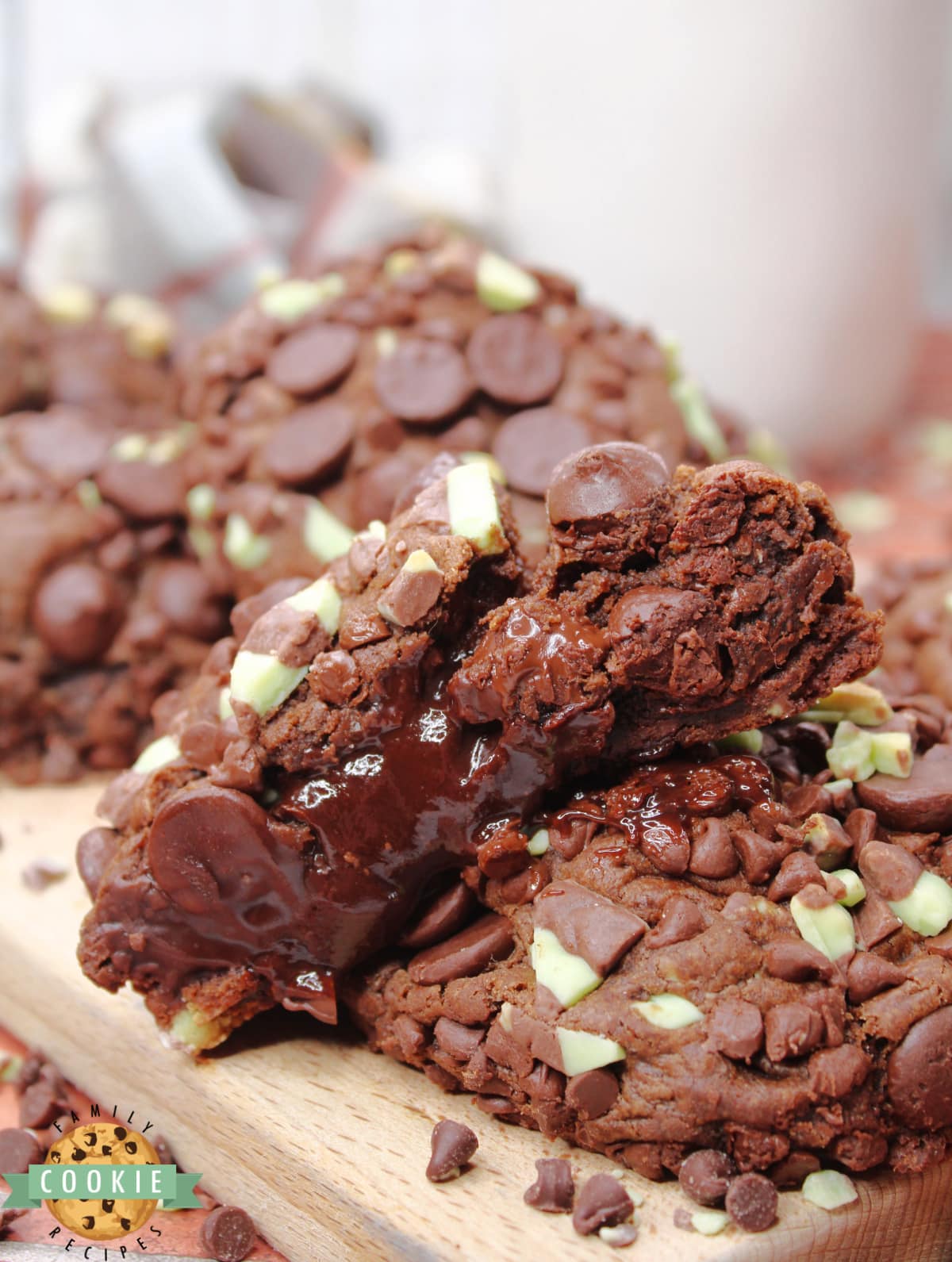 These cookies are rich chocolate cookies flavored with mint extract and mixed with Andes mint chips and chocolate chips. Make up a simple ganache and put a grasshopper cookie along with a scoop of ganache in the middle of each ball of dough. The cookie dough balls are then rolled in more Andes mint chips and chocolate chips and then baked. Delicious stuffed mint chocolate cookies with a gooey chocolate filling. These cookies are impressively decadent!
Big, Fat Mint Chocolate Chip Cookies are an indulgent blend of chocolate mint in an oversized cookie! Over the top cookies with mint chips, chocolate chips & a mint patty inside!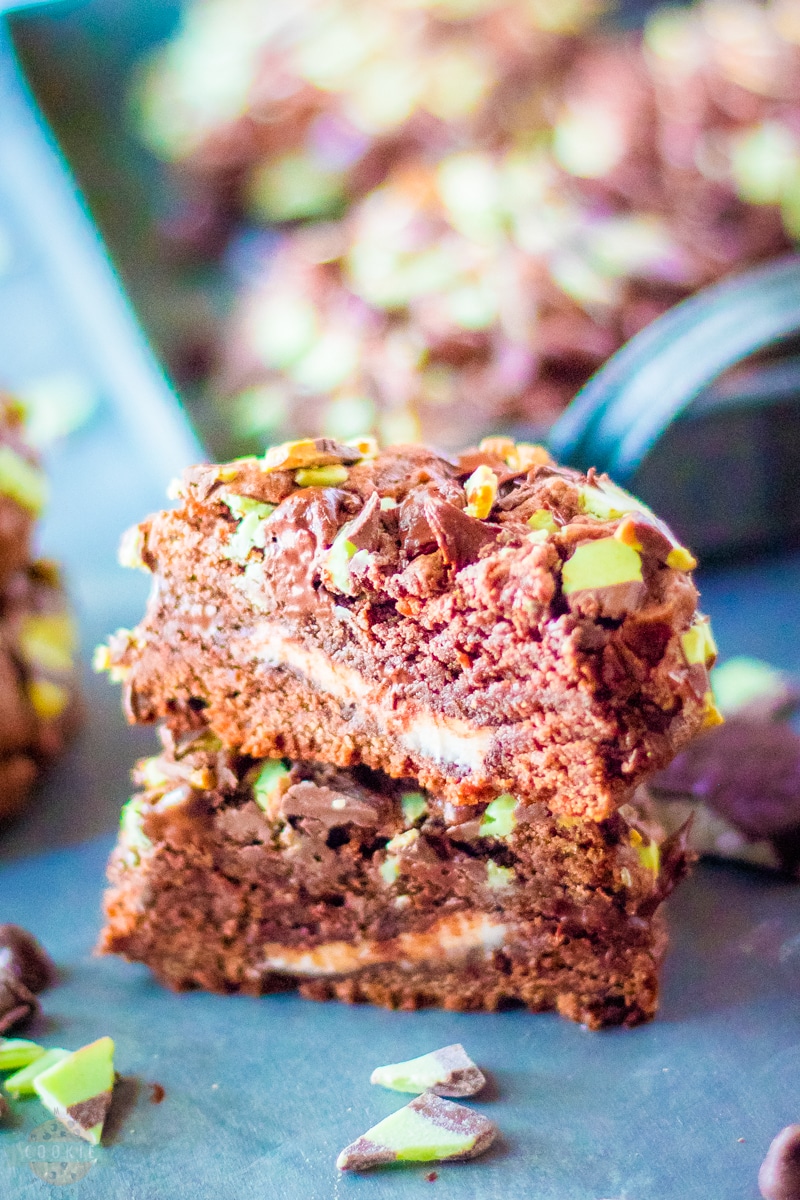 They are a simple and basic chocolate chip cookie dough recipe made with mint chocolate chips. Instead of regular-sized cookies though, we take it up a notch and make them BIGGER. Big cookies are great and always a welcomed sight but with the hidden peppermint patty candy in the middle of every round mint chip cookie, these cookies become downright irresistible.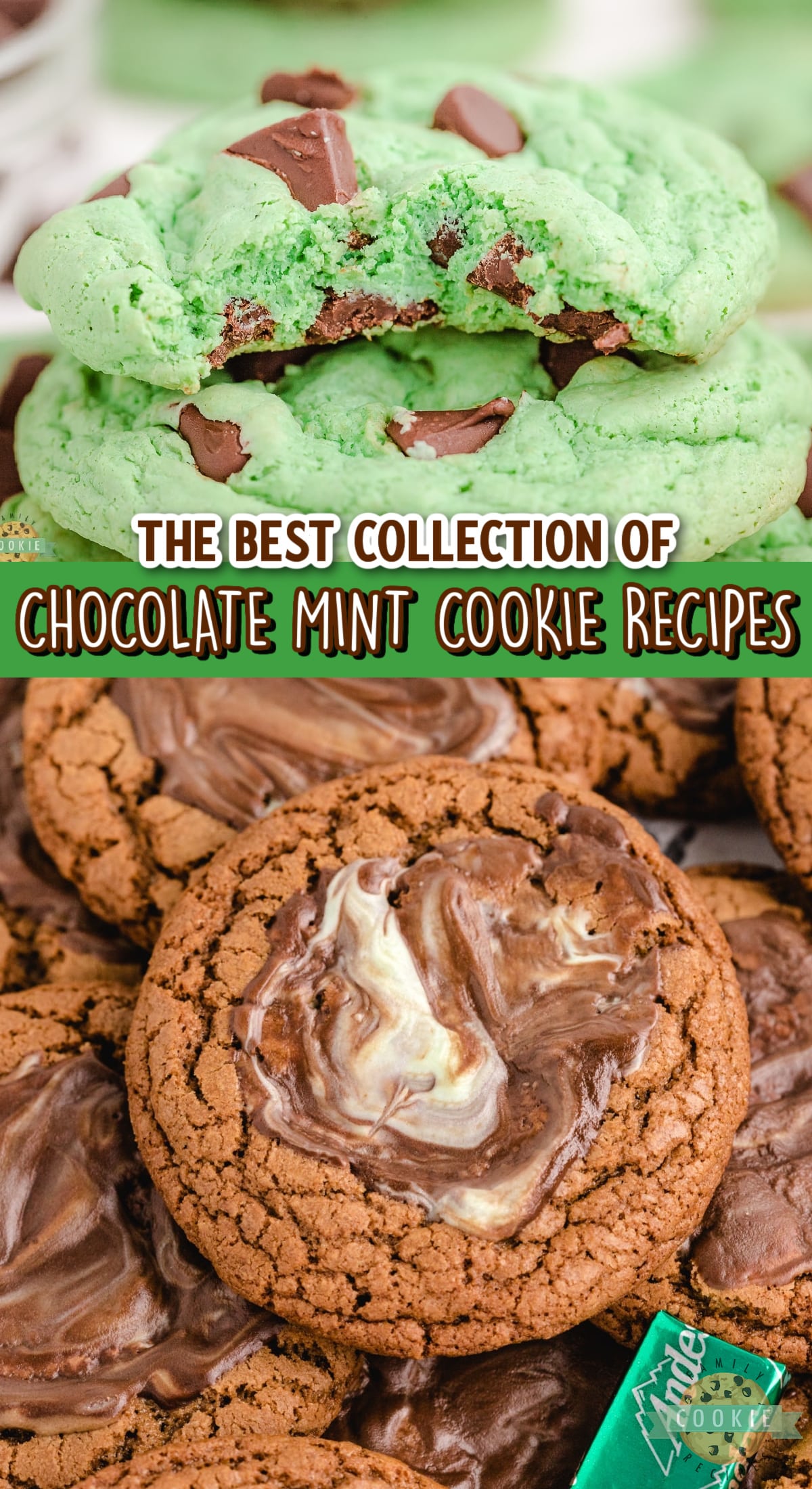 Amazing collection of chocolate mint cookie recipes! Deliciously soft and chewy cookies that are all so different, but all made with mint and chocolate!