Gingerbread cookies are absolutely delicious during the holiday season! Over the years, we have created some absolutely amazing gingerbread cookie recipes. Each gingerbread cookie is a little bit different, but all of these cookie recipes are perfect for the holidays!
I've searched for years- THESE are the best gingerbread cut out cookies! The dough holds shape & bakes up perfectly every time & has a fantastic spiced gingerbread flavor. Favorite gingerbread men recipe ever!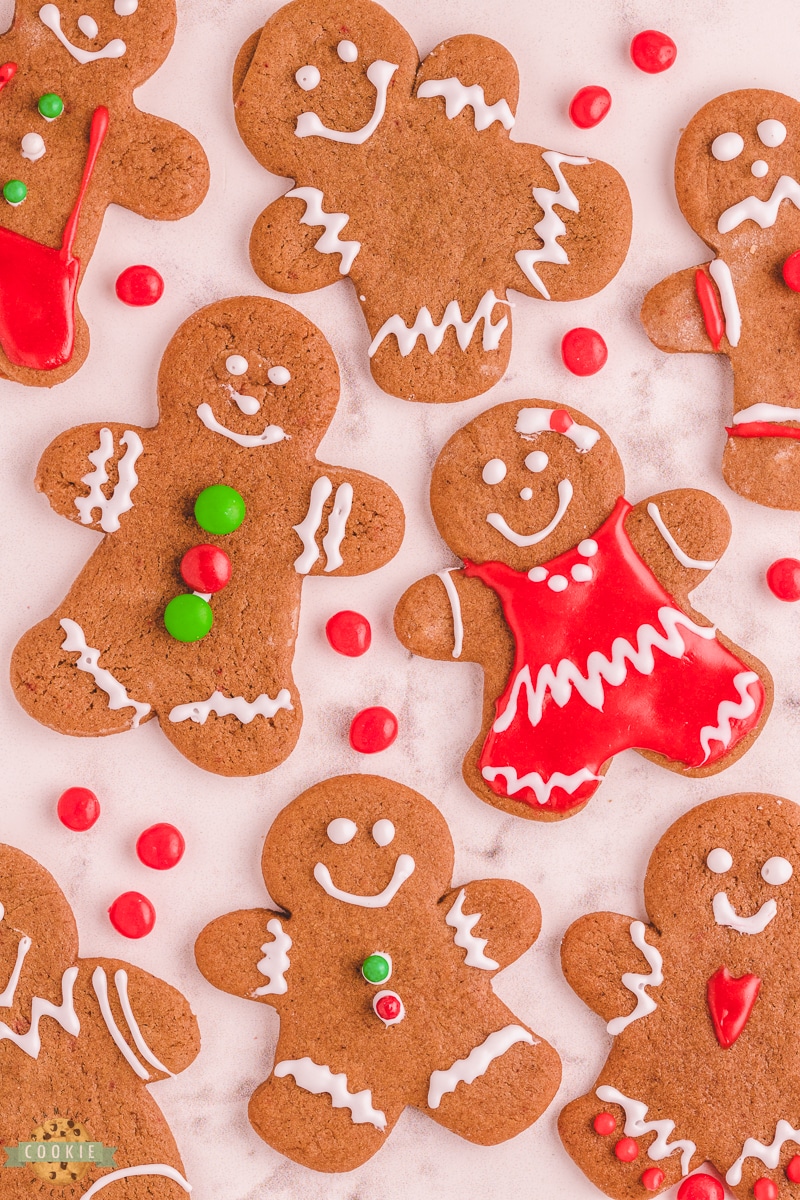 We enjoy these easy gingerbread cookies because they're packed with flavor, the texture is incredible and it's practically fail-proof. We make these almost every year and they're always a favorite go-to recipe of mine when I want gingerbread cookies. You really can't beat well-spiced gingerbread!
Frosted Gingerbread Sugar Cookies are soft, chewy and packed with spice and flavor. These delicious gingerbread cookies don't require any chilling, rolling out or cutting and they are frosted with a simple buttercream frosting.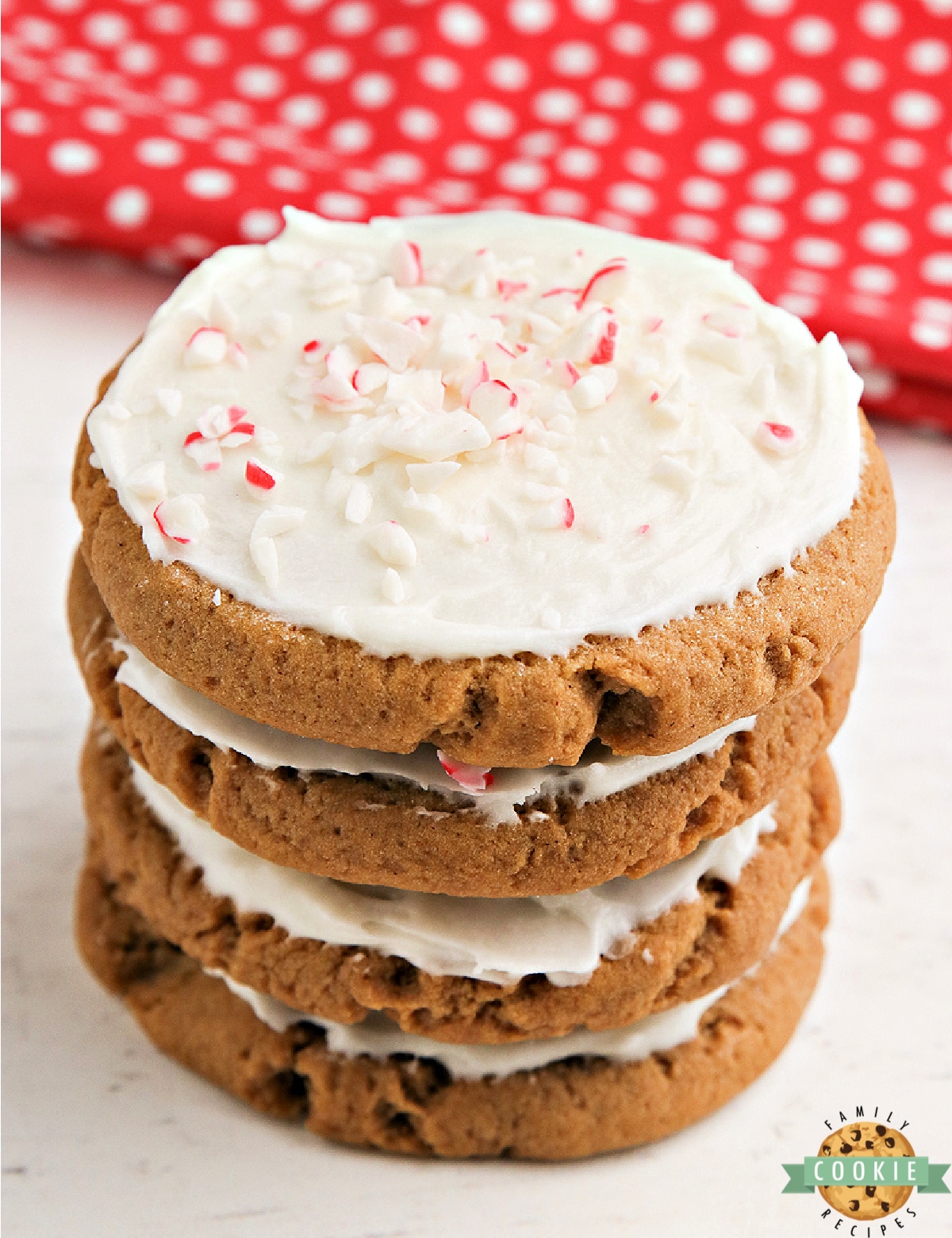 These gingerbread cookies are made with the same method used for my Copycat Swig Cookies that happens to be one of my absolutely favorite cookie recipes. No need for a rolling pin or cookie cutters! Use a sugar coated cup to lightly press your cookie balls down to make perfectly shaped cookies in a fraction of the time!
Soft Gingerbread Cookies are chewy, delicious and the perfect cookie for the holidays! This Gingerbread Cookie recipe is full of the flavors of cinnamon, cloves, ginger and molasses and the best part about these cookies is that they stay soft for several days!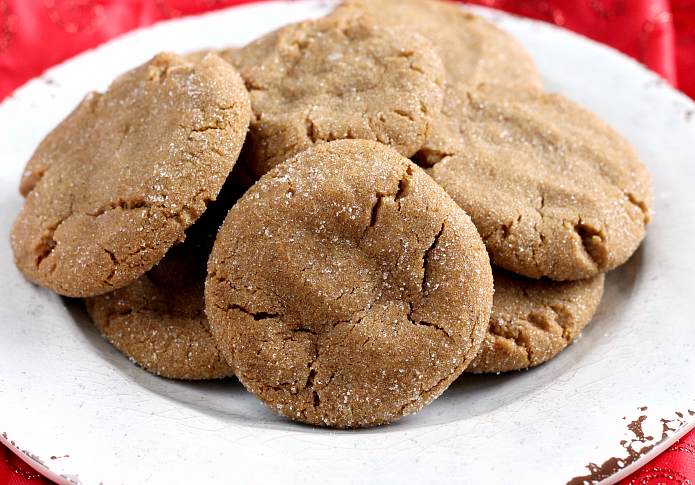 The consistency and texture is perfectly soft and chewy and the flavor is absolutely incredible! My husband tried them and then kept eating another one. And another one. Then a few more. Every time he ate another one, he would say, "These are SOOOO good!" They really are that good! The cookies are so soft and chewy, I decided they were more of a gingerbread cookie than a gingersnap – I'm pretty sure the 'snap' part of the word refers to the hard and crispy consistency of a traditional gingersnap cookie!
Caramel apple gingerbread cookies are made with apple filling inside a gingerbread cookie, topped with caramel cream cheese frosting & drizzled with caramel! This mashup of two classic desserts is a show stopper!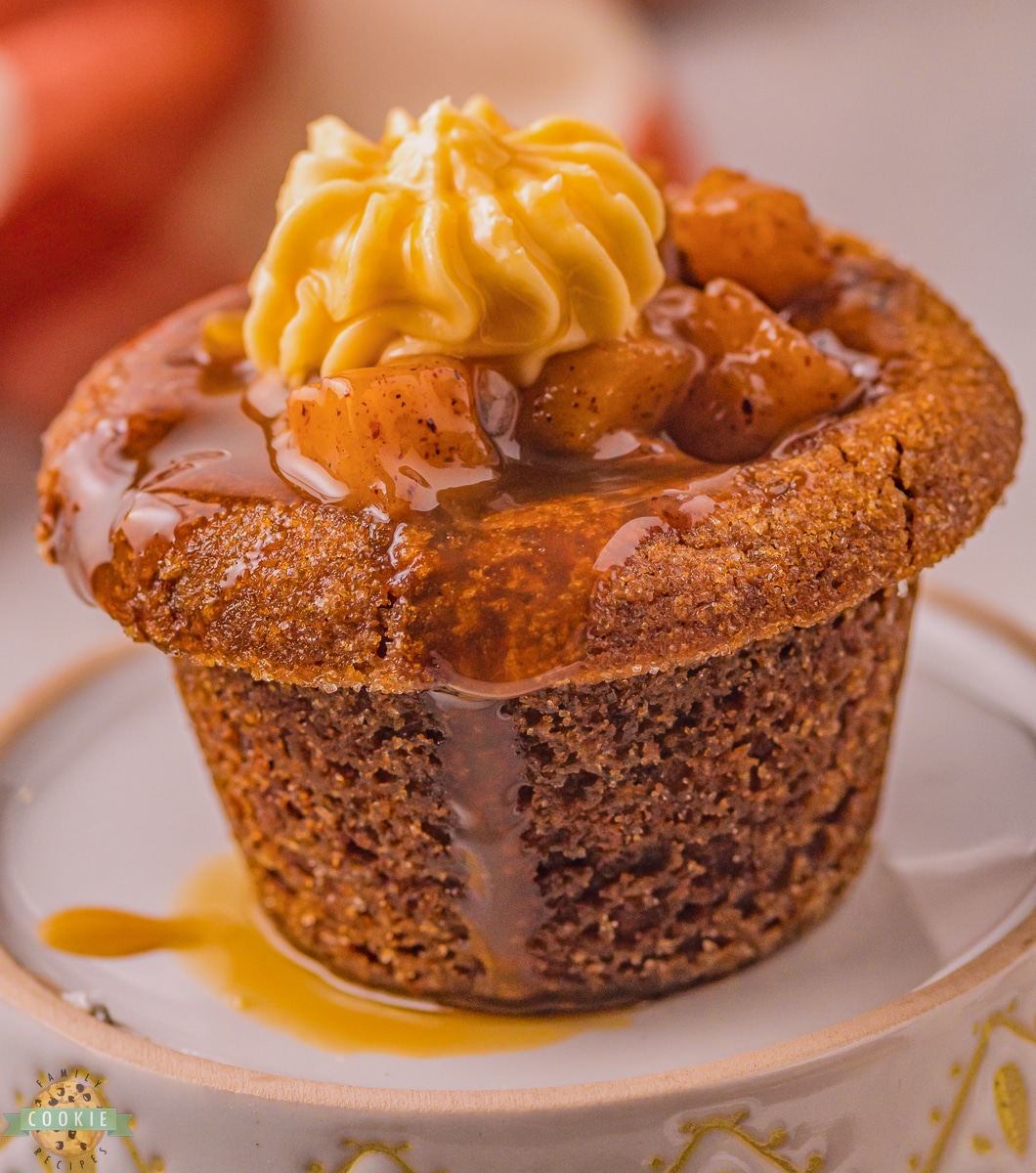 Holiday cookie baking isn't really a competition, but if it was, these little cookie bites would win. Apple gingerbread cookies are a combination of flavors and textures that can't help but sing to your soul. Made to taste like your spiced holiday favorites these cookies are a first-place dessert.
No Bake Gingerbread Cookies made easy with pudding mix, molasses, oats & a blend of warm spices to give these cookies the perfect gingerbread flavor!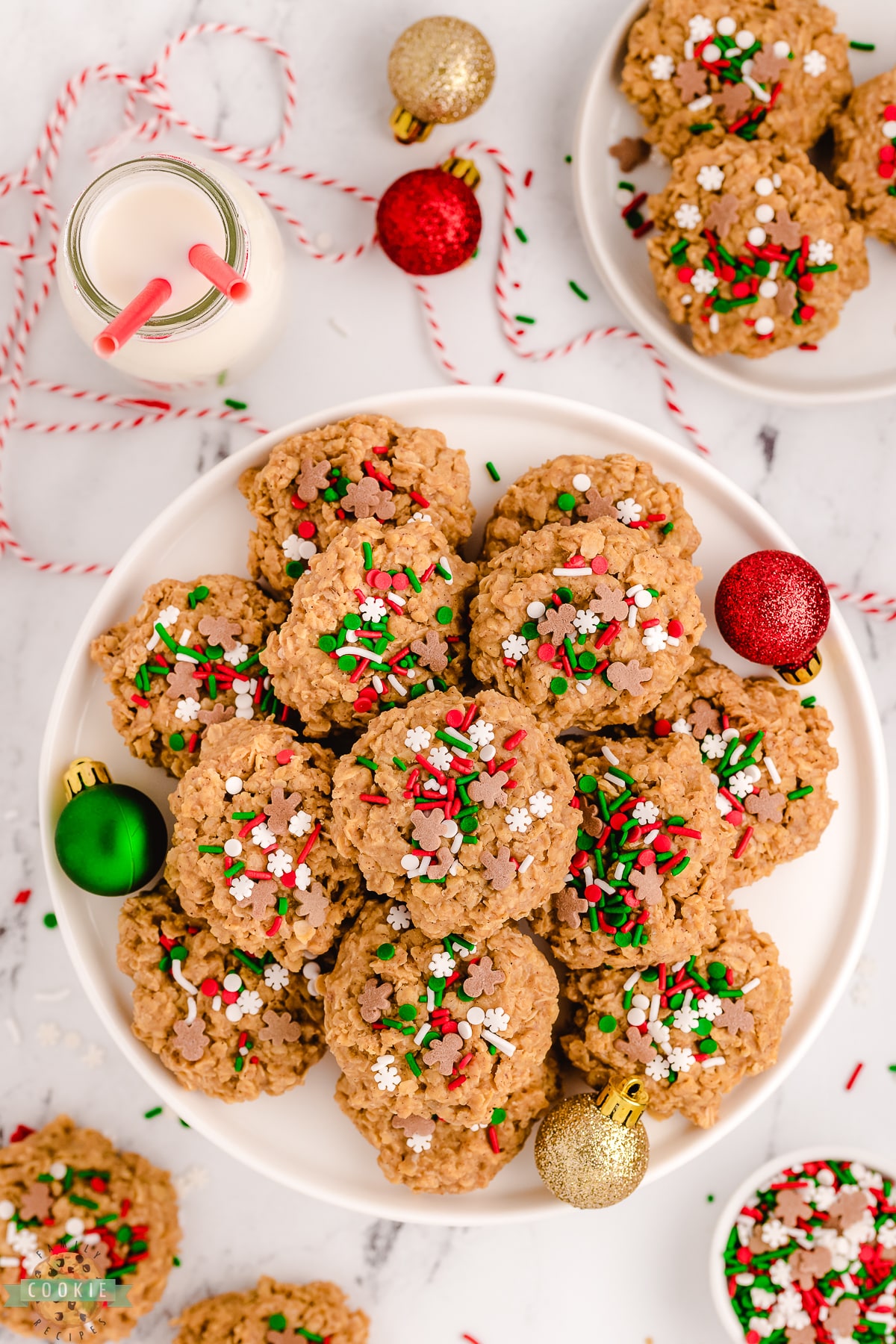 Gingerbread cookies are a favorite during the holidays, but with all the baking, holiday events and present wrapping, sometimes no bake cookies are exactly what you need. With this soft gingerbread cookie recipe, you will get all the amazing taste, but without all the effort, there is no dough chilling, rolling, or cutting needed to make this tasty treat!
Mini gingerbread cookies made from scratch & ready for your Christmas party! Perfect 2-bite cookies made easy without scooping any cookie dough. Easy method yields over 6 dozen cookies baked in record time!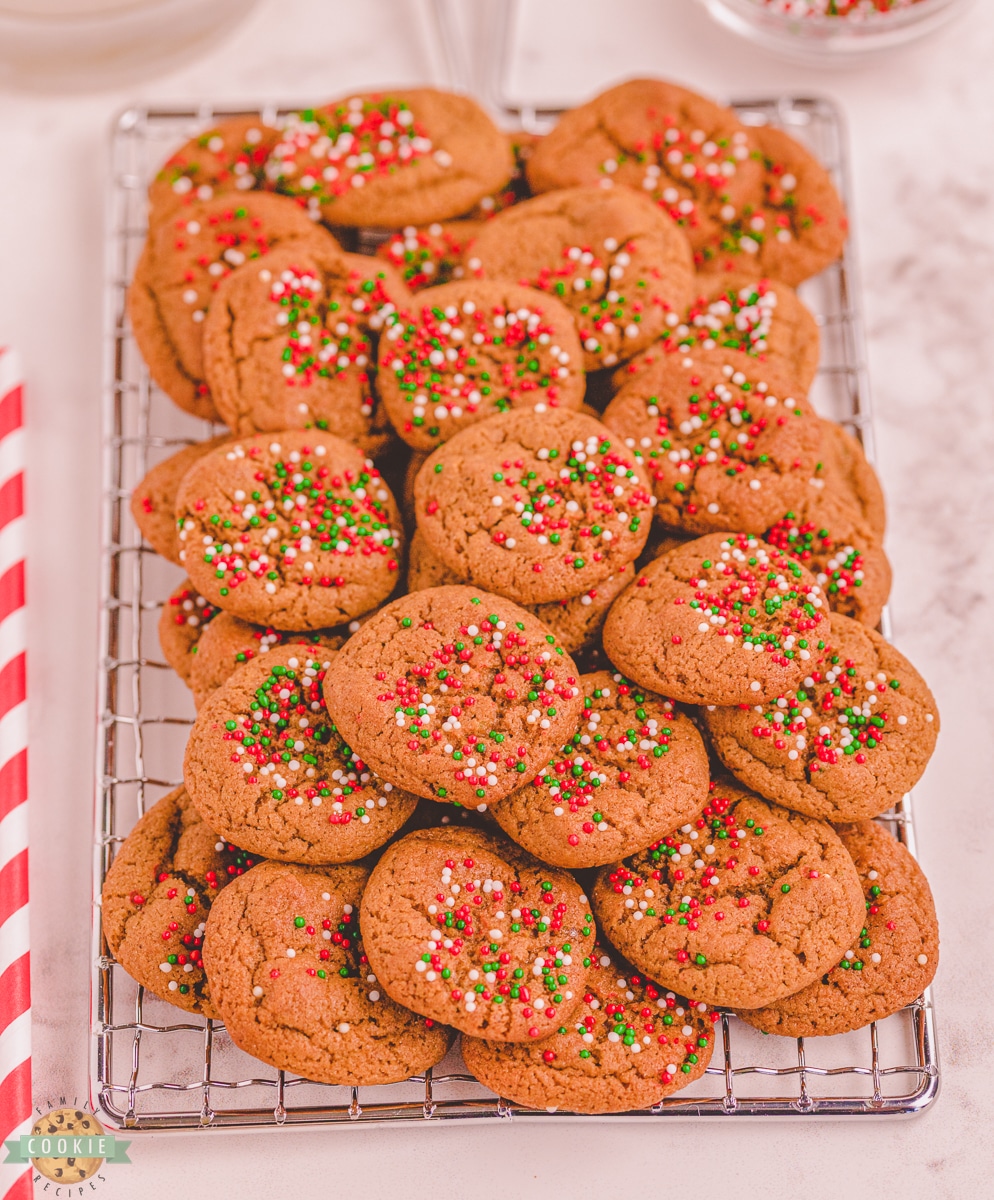 This mini gingerbread cookies recipe was created as a spin-off of my Christmas gingerbread bites. Truth be told, this mini gingerbread recipe started out as an accident when making the cookie bites. I used the wrong size pan and the rest was history. These cookies go onto the baking sheet as cubes but bake into small 2 inch round cookies. Each batch makes about 80 of these small cookies, so there's always plenty to share!
Gingerbread Cookie Bars are soft, thick, perfectly spiced and easy to make when you don't have time to scoop out individual cookies. Topped with cream cheese frosting, these gingerbread cookie bars are a big hit during the holiday season!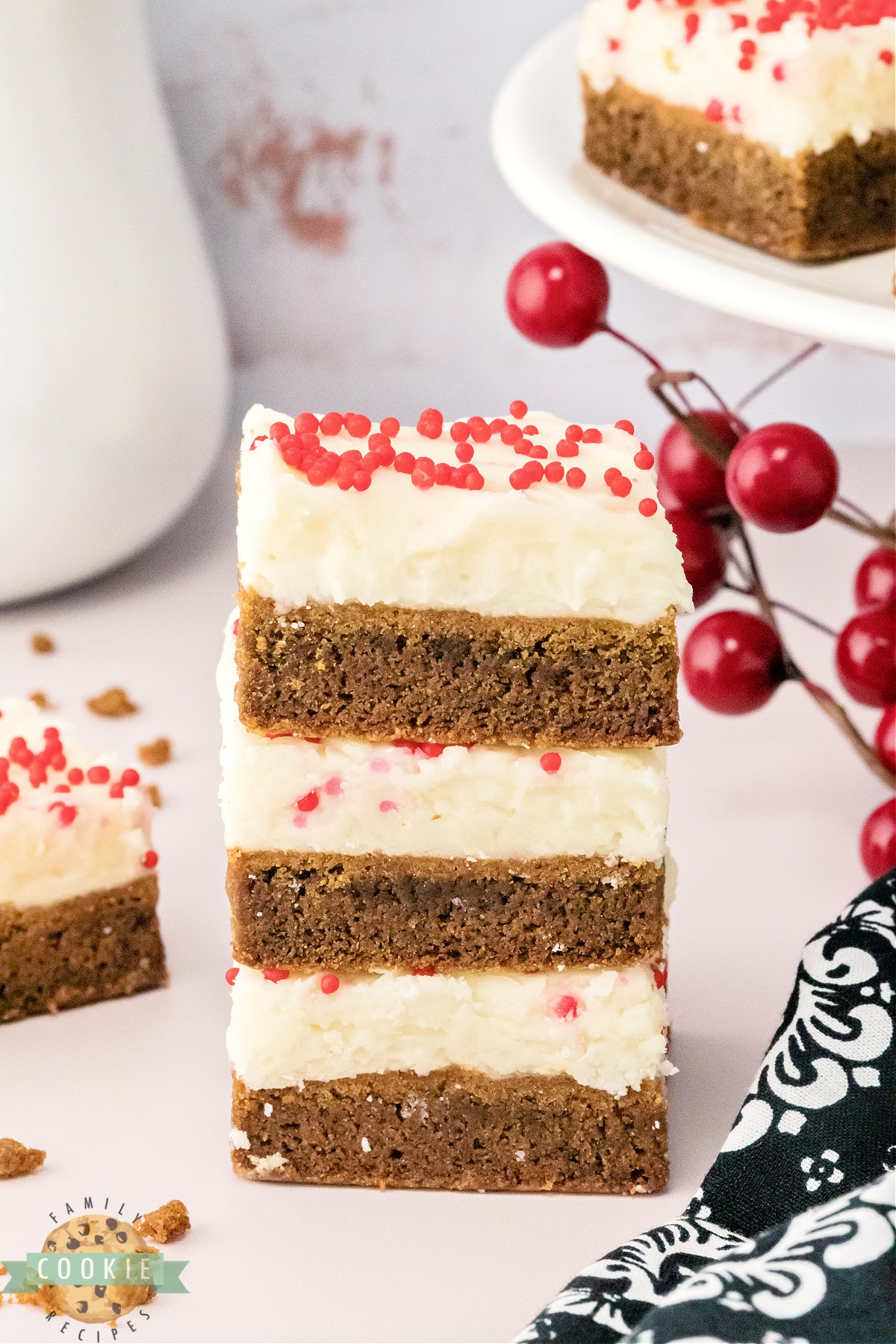 Gingerbread cookies are a favorite during the holidays…not only are they delicious, but they make your house smell amazing too! With all of the craziness of the holiday season, sometimes it's hard to find the time to make individual cookies, especially if you have to roll out the dough, cut out shapes, bake and frost them. Cookie bars are the perfect solution…you get the delicious taste of gingerbread cookies, but in a lot less time!
Soft Gingerbread Sandwich Cookies made with classic ingredients like molasses & cinnamon, then filled with a vanilla cream cheese buttercream! Fantastic holiday cookies!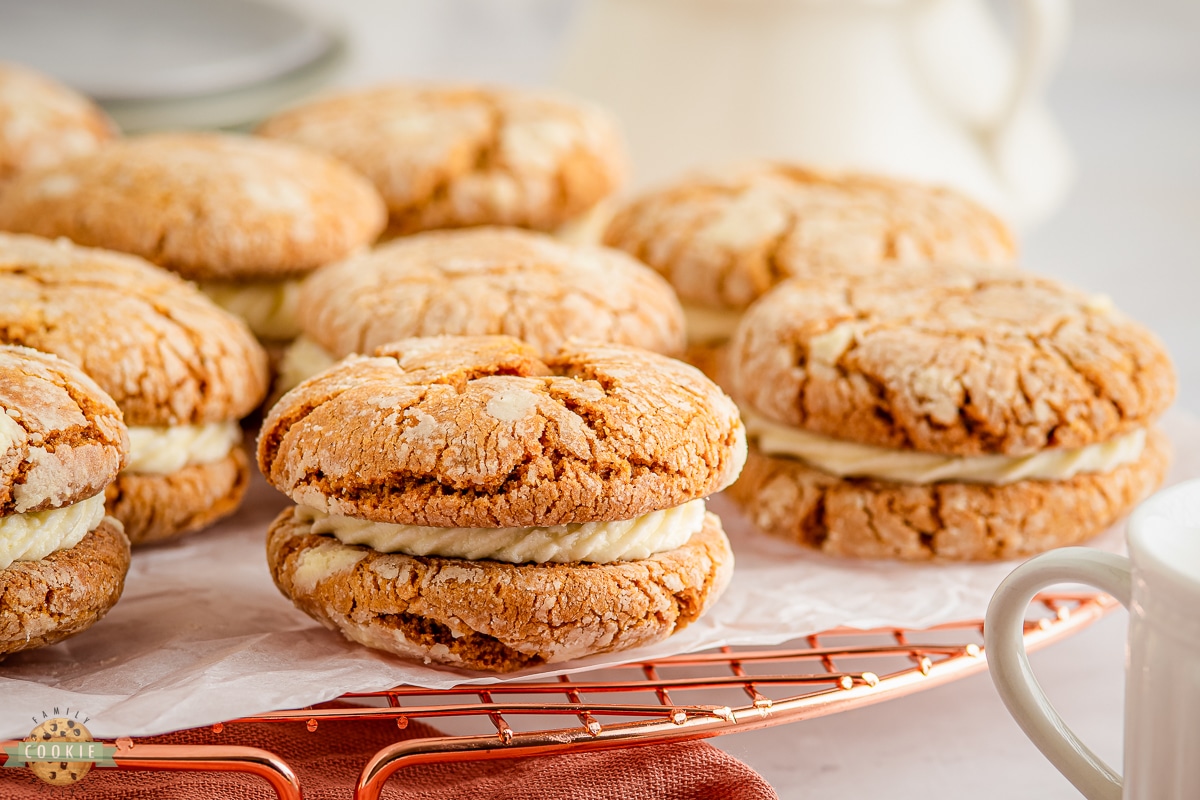 Santa will make a special stop at your house this year for a taste of these great cookies. Made with a chewy gingerbread crinkle cookie and then filled with a sweet cream cheese frosting, every bite is worthy of the nice list. Enjoy these ginger sandwich cookies with cream cheese filling all season long to stay in the holiday spirit.
Gingerbread House Cookies made with gingerbread cookies, gum drops, and peppermint candies. If you can use it to decorate a gingerbread house with, you can put it in these cookies!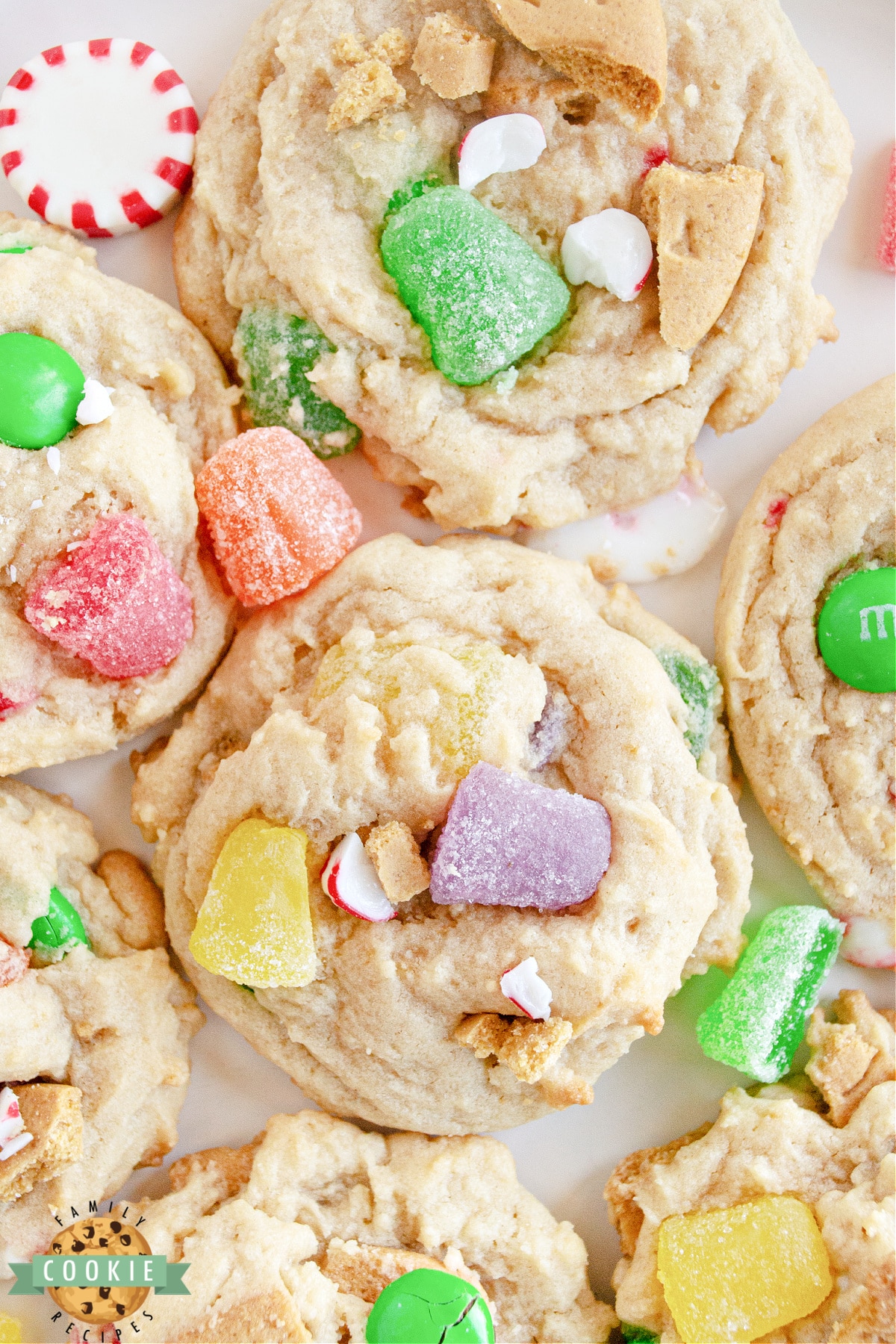 These Gingerbread House cookies are perfect for using up all the leftover candy when your gingerbread houses and the kids are easily convinced to eat these cookies instead of their masterpieces. Enjoy all of your favorite gingerbread house toppings baked into this unique and fun Christmas Cookie!  
Gumdrop Gingerbread Cookies are a classic Christmas treat that everyone enjoys! These cookies with gumdrops are an simple way to serve up something sweet and delicious during the holidays.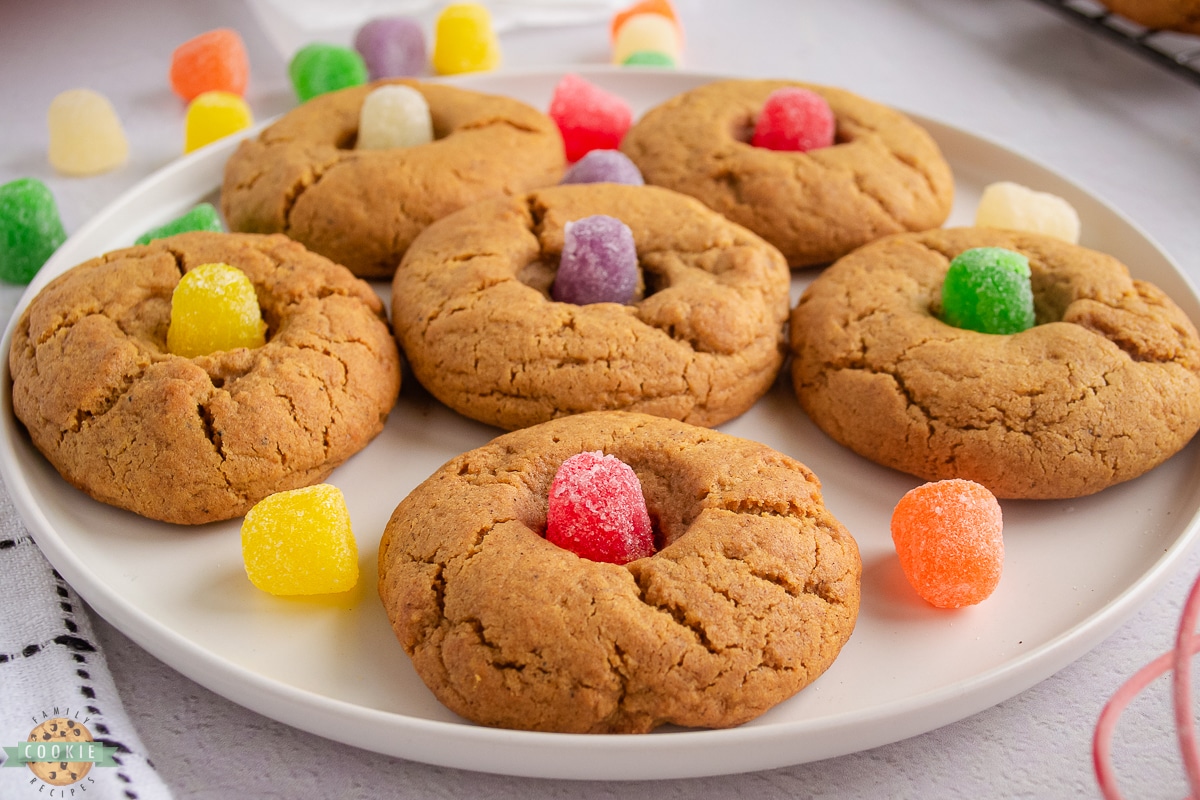 When you think of Christmas, you think of cookies and festive candies, and this recipe for gingerbread cookies is a wonderful combination of the two. These easy gingerbread cookies are so good, you are going to want to leave them out for Santa or make them for your holiday cookie exchanges.
Gingerbread Cookie Bites are the simplest gingerbread recipe ever! Chewy, bite-sized gingerbread cookies that take a fraction of the time to make & perfect for holiday parties!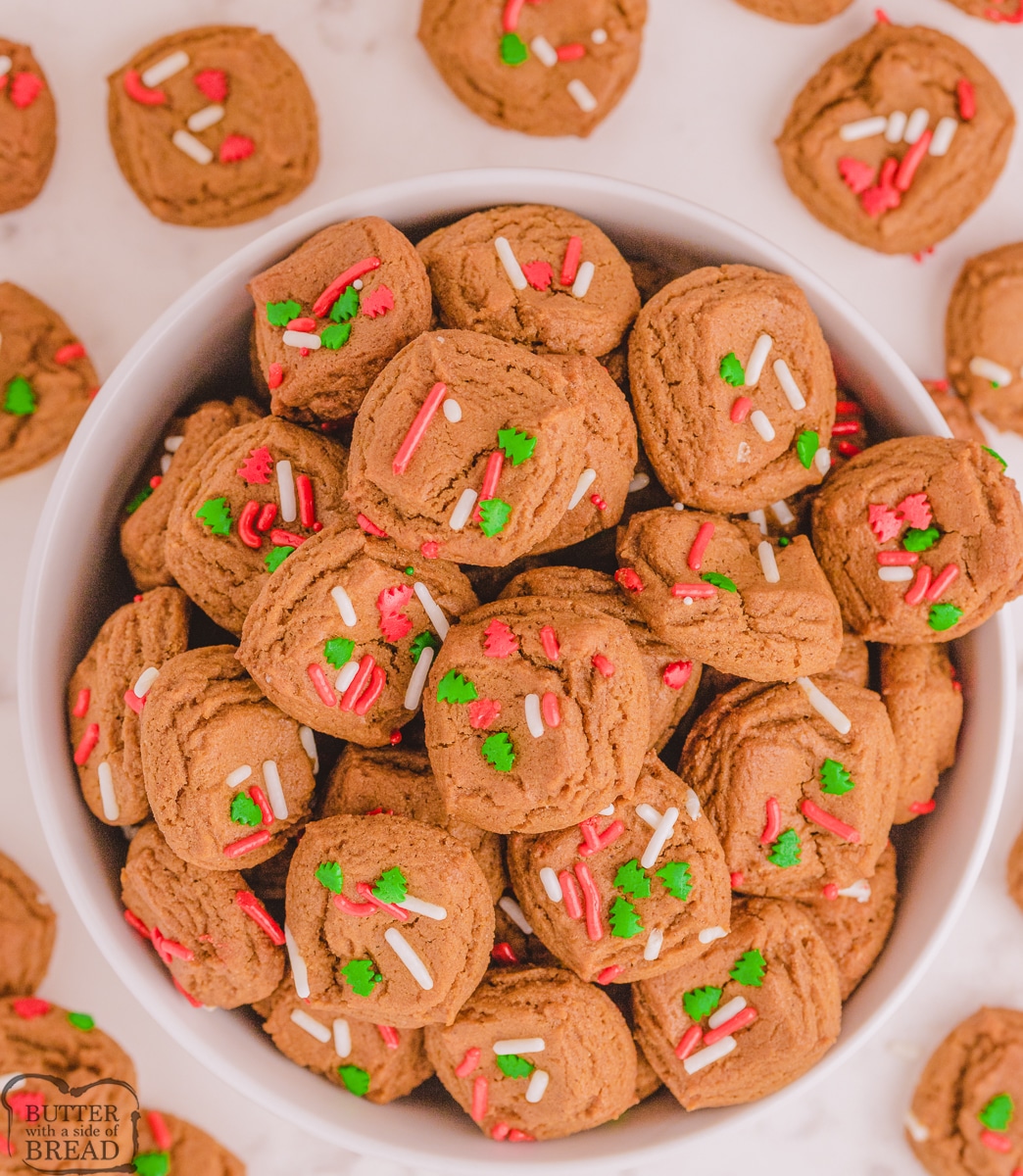 The simplest gingerbread cookie recipe ever! Chewy, bite-sized gingerbread cookies that take a fraction of the time to make! They're perfect for holiday parties and get-togethers! You're going to love this cookie recipe because every batch makes upwards of 100 cookies so they're perfect for sharing with friends and family
Gingerbread whoopie pies are soft, spiced gingerbread cookies with a lovely cream cheese filling. Perfect gingerbread treat for the holidays!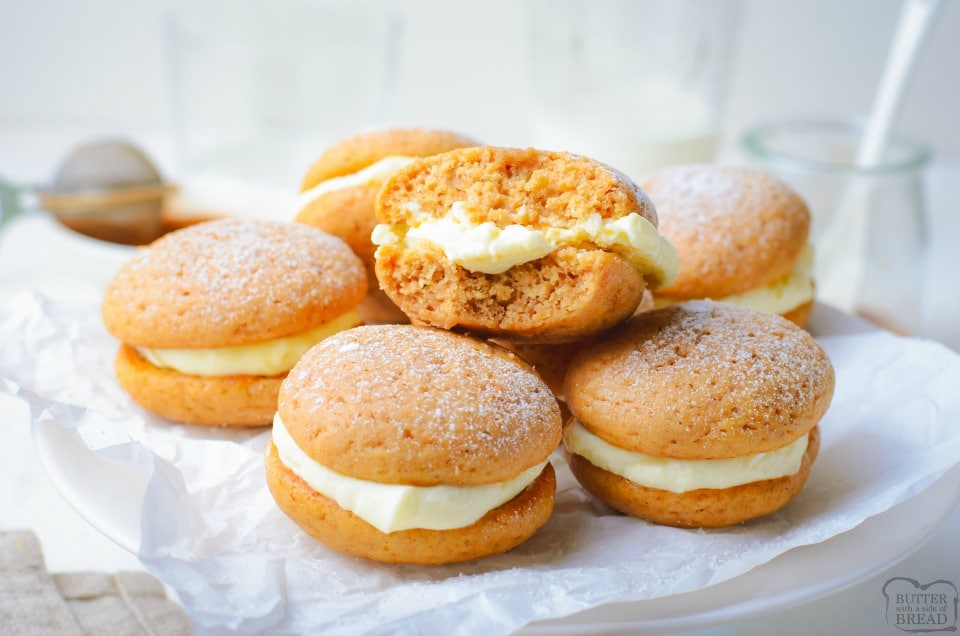 Whoopie pies are pillowy soft dome shaped cookies that are given a nice frosting-like filling. While traditional whoopie pie recipes are chocolate this one is gingerbread flavored! Even better, the filling is a nice, rich, and creamy cream cheese filling that pairs great with that gingerbread flavor we love and expect in every bite.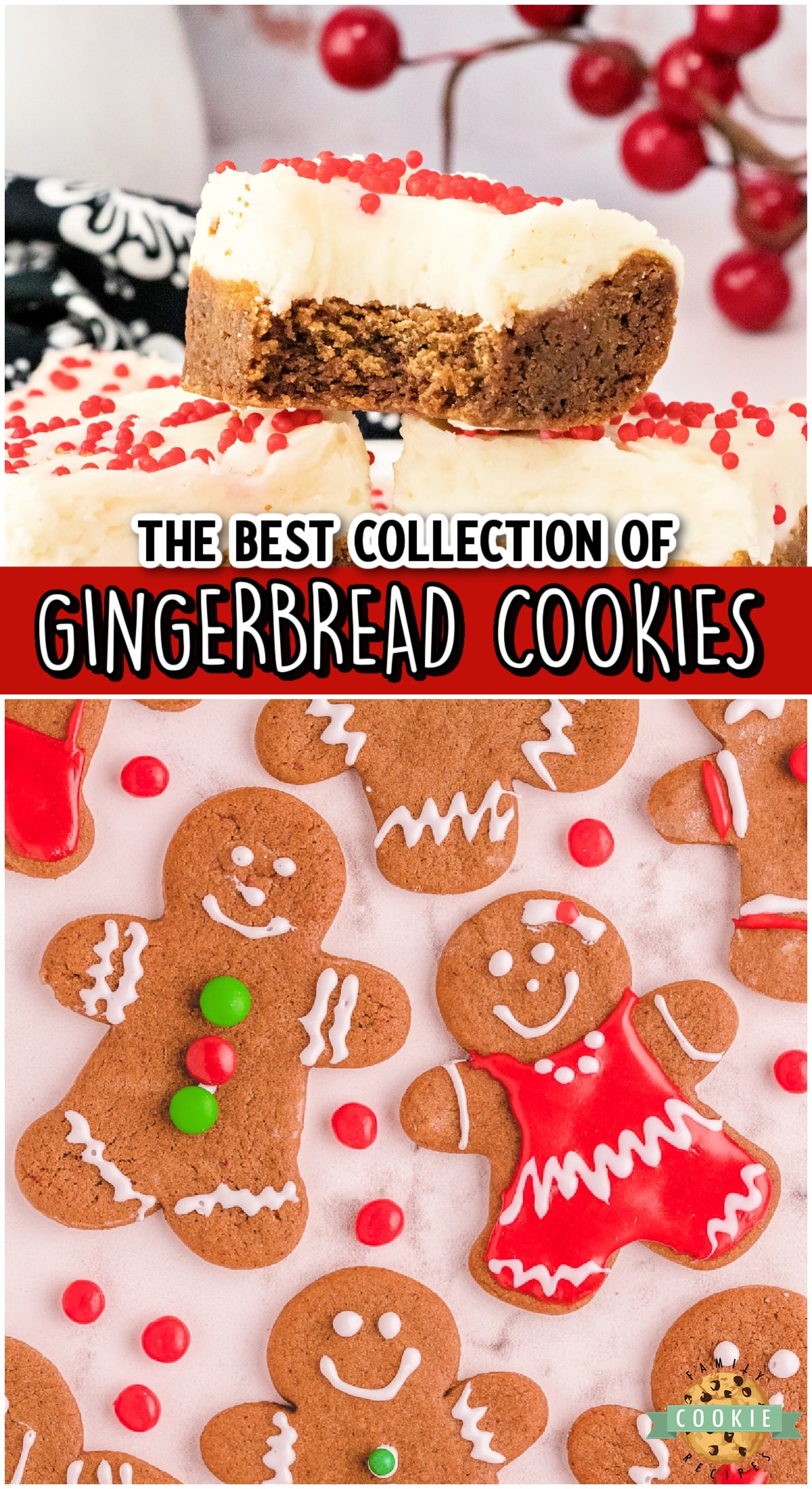 Amazing collection of gingerbread cookie recipes that are all perfect for the holidays! Delicious gingerbread cookies to eat and share with family and friends.