Cake Mix Cookies are some of the easiest cookies to make. Start with a box of cake mix and simply add a few more ingredients to make delicious cookies. Over the years, we have created many different kinds of cake mix cookies and we've gathered our favorites right here!
Apple Cinnamon Oatmeal Cookies made with a cake mix, fresh apples, applesauce and a few other basic ingredients. Delicious cake mix cookie recipe that tastes like apple pie!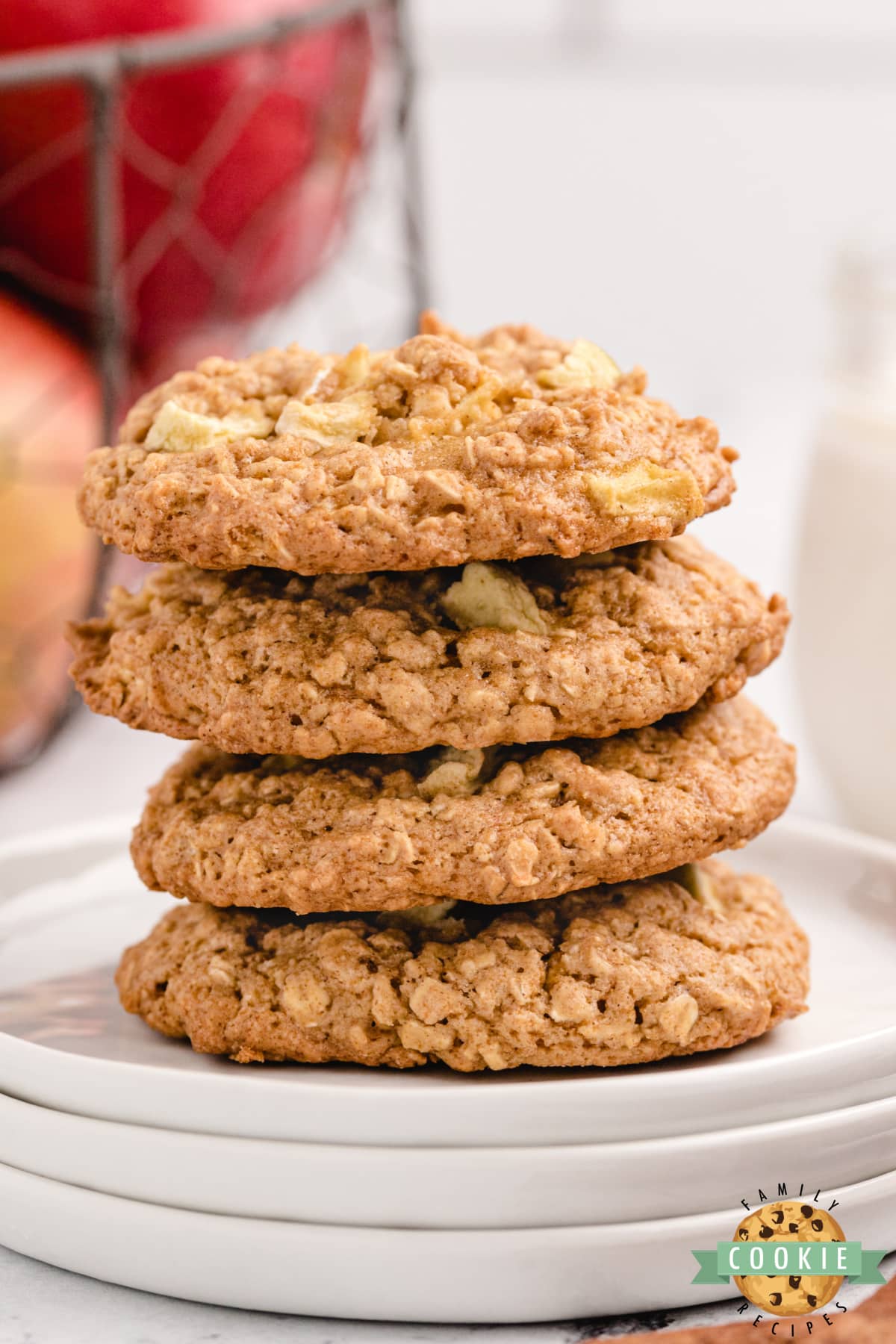 Add oats, brown sugar, cinnamon, applesauce, diced apple and an egg to a yellow cake mix to make these delicious cookies. You can leave the apples out if you'd like, but they add the most delicious flavors and texture. You can add some raisins if you'd like, or even some butterscotch chips for some extra flavor. Cake mix cookies are so easy to change up a little bit!
Lemon Poppyseed Cookies are easily made with a lemon cake mix, lemon zest, poppy seeds, eggs and butter. The lemon glaze on top is simple and delicious too!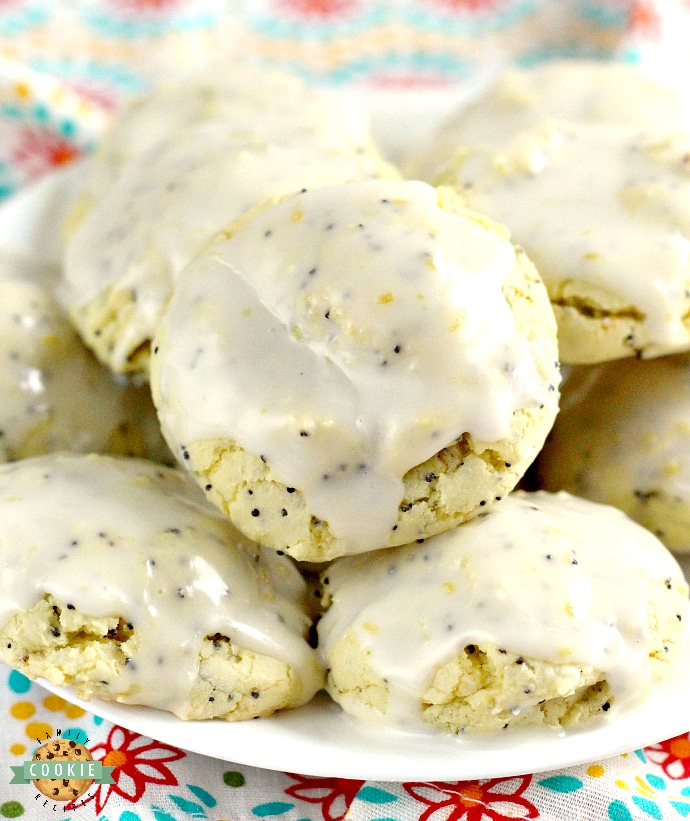 Spring is the time for all things lemon and these Lemon Poppyseed Cookies are absolutely perfect. Adding lemon zest to the cookies and the lemon glaze adds just the right amount of lemon flavor. I've never even thought about adding poppy seeds to cookies before, but I love lemon poppyseed bread and muffins, so why not?! The poppy seeds add a little bit of flavor and a wonderful texture to the cookies.
White Chocolate Strawberry Cake Mix Cookies are soft & chewy cookies that need just 4 ingredients! Lovely pink Strawberry Cake Mix cookie recipe that needs a cake mix, 2 eggs, oil and white chocolate chips!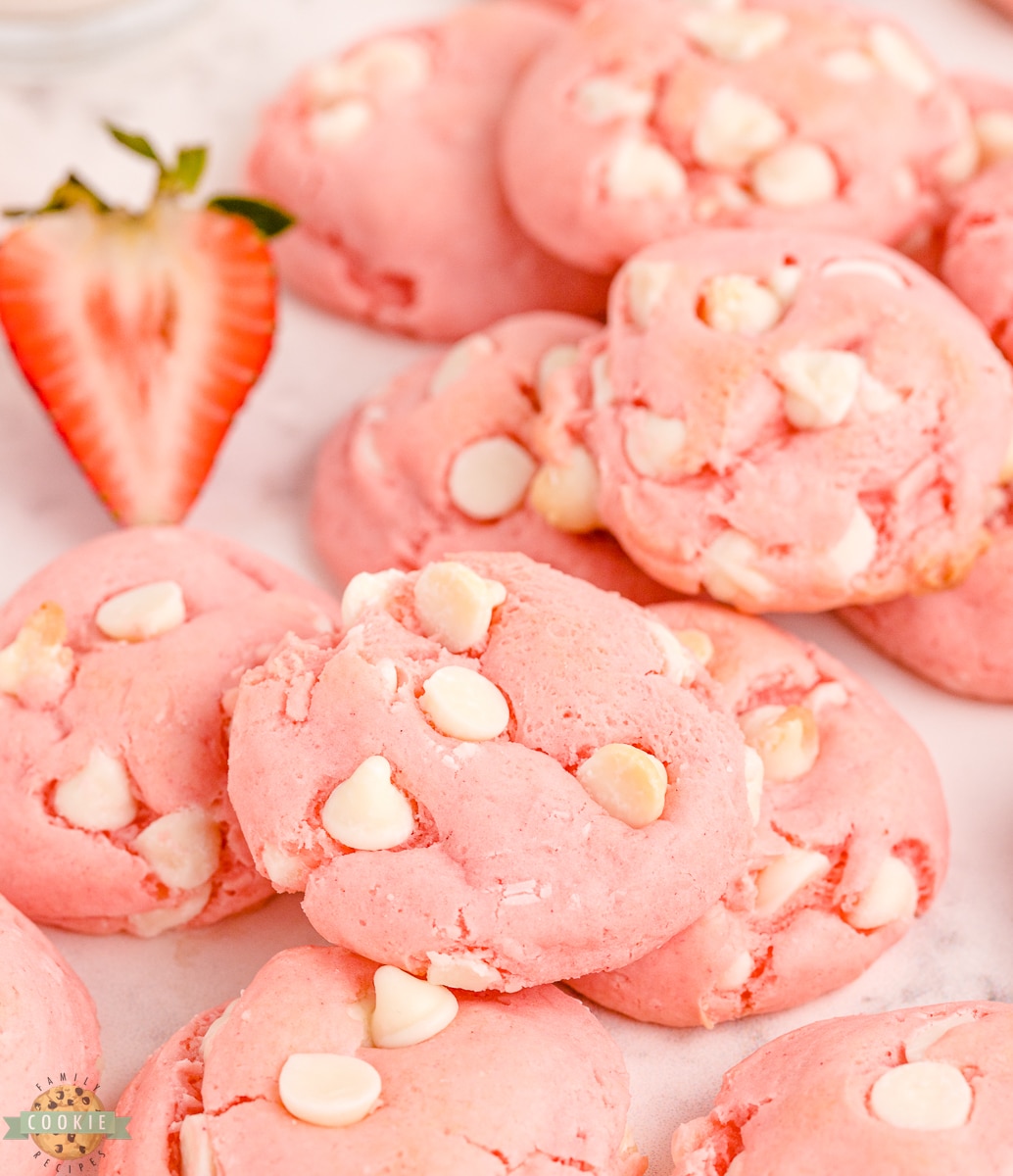 You are going to love these strawberry cake mix cookies with white chocolate chips almost as much as we do. They are packed with flavor, super easy to make, and only take about 5 minutes of actual prep to become the best cookies you have ever eaten. This cake mix cookie recipe is great for many occasions, a fun Valentine's Day treat for your kids, or a baby shower, really there is no wrong occasion for these sweet strawberry cookies. You do not need an excuse to whip up a tasty batch of deliciousness to enjoy these cookies. Happy Baking!
Cake Mix Jello Cookies made with just 4 ingredients & perfectly festive & flavorful! Use your favorite Jello flavors to create fun, fruity cake mix cookies that everyone loves!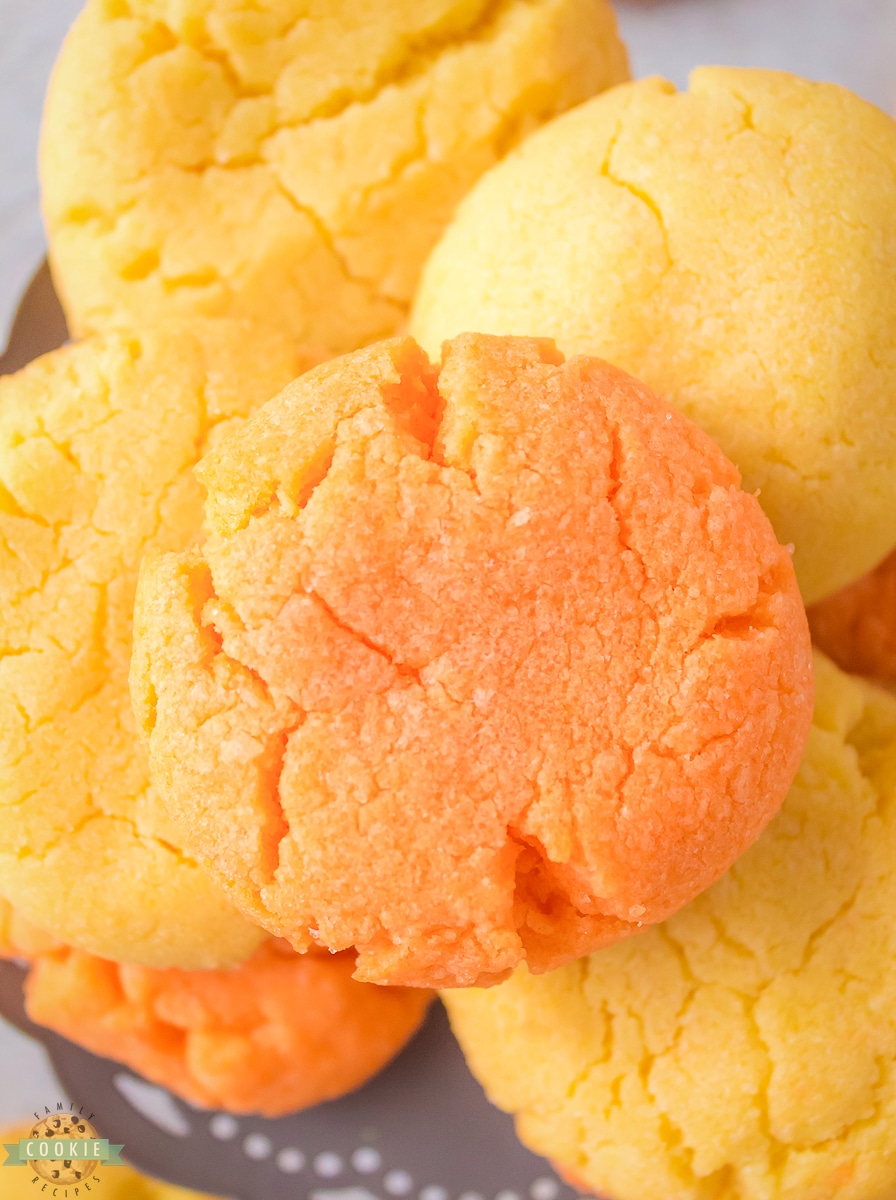 Making cookies with Jello mix not only helps to create a perfectly flavored cookie in every sweet bite but it also gives it a perfectly soft texture that you want to sink your teeth into. Plus we make it even easier to make by using a cake mix too, the combination of Jello and cake mix create a wonderful fluffy and soft cookie.
The best part is this dough comes together so easily that you can have a batch of cookies prepped, baked, and in your hand ready to eat within just a few minutes. Match the colors of these Jello cookies to fit in with seasonal events, parties, or occasions and your cookies are sure to be a huge hit. This easy Jello cookie recipe is sure to become an instant favorite in your home as it has in mine.
Caramel Spice Cake Mix Cookies made with just 5 ingredients! Soft & chewy spiced cookies with crunchy pecans and sweet caramel baking chips. Perfect Fall cookie recipe!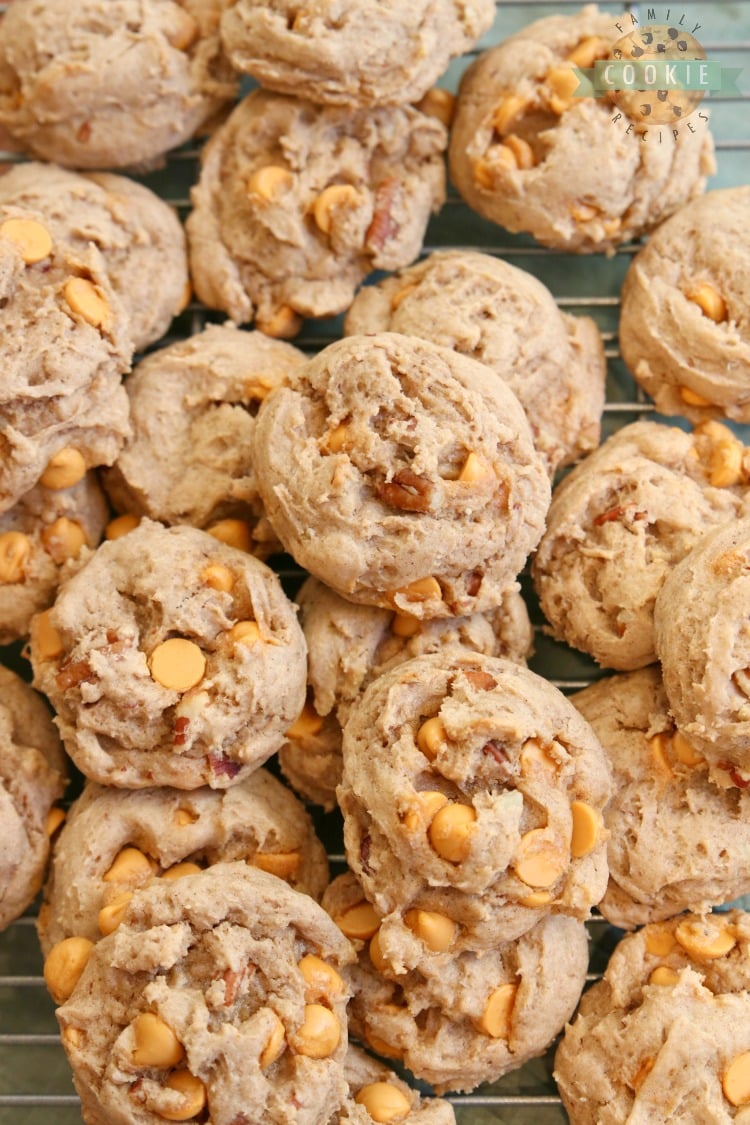 This sweet, chewy and crunchy cookie is easy to make. In fact, cake mix cookies with butter are probably one of the easiest types of cookies to make because there are minimal ingredients and steps!
Strawberry Cool Whip Cookies made with a strawberry cake mix, Cool Whip and an egg. A lighter cookie recipe that is easy to make and with less calories than traditional cake mix cookies!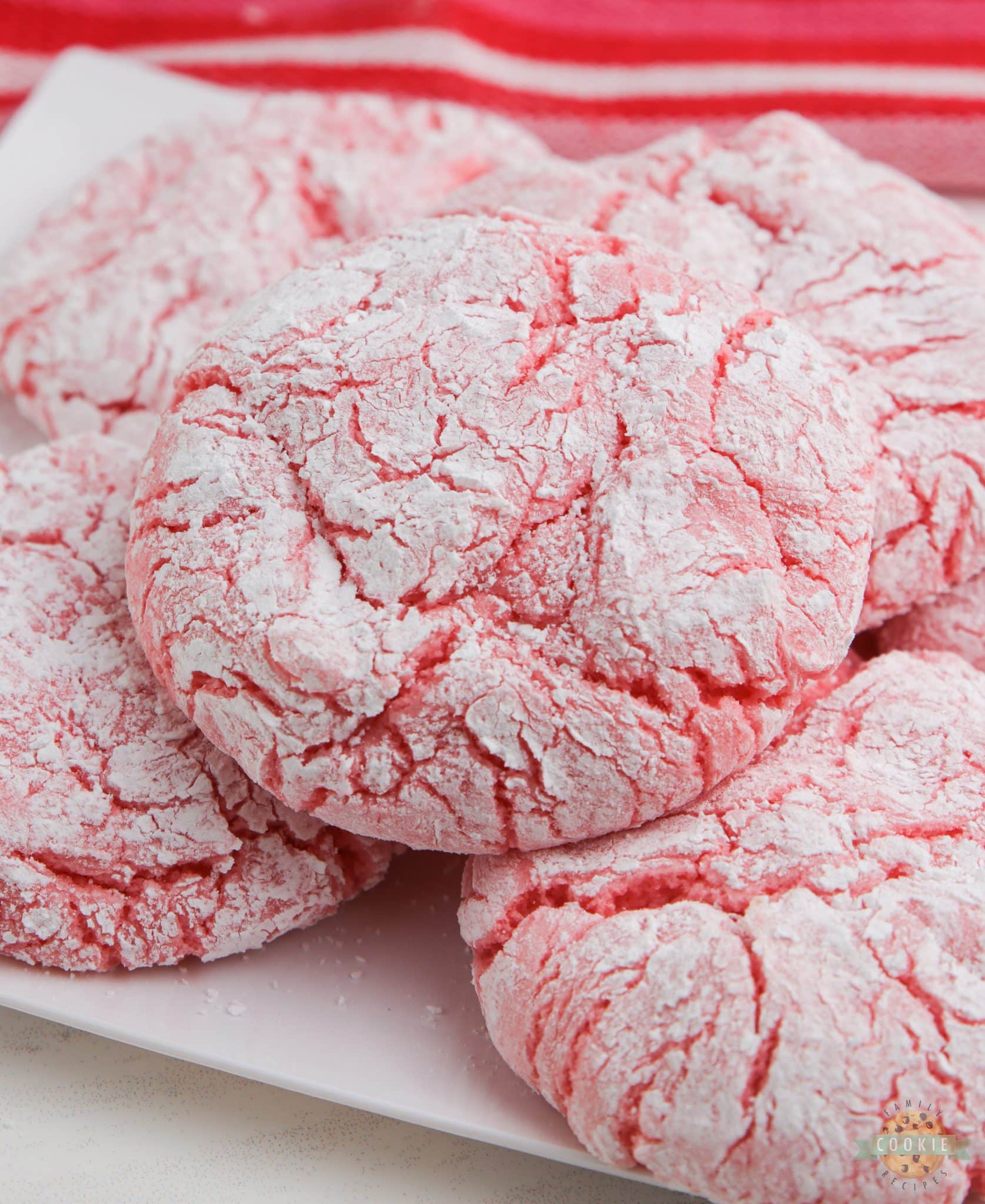 Traditional cake mix cookies are made with a cake mix, butter and eggs. When making Cool Whip cookies, you swap out the butter with Cool Whip to save on calories. The result is a softer cookie with a slightly different consistency, but all of the flavor and sweetness! The Cool Whip makes the cookie dough a bit more sticky than normal, so I like to roll the cookie dough balls in powdered sugar, but you can skip that step if you prefer.
One of the best parts about cake mix cookies is how versatile they are! You can use any cake mix you want! This recipe is wonderful with lemon cake mix, but I also like chocolate. You can add chocolate chips or M&Ms…add any type of mix-in you'd like!
Chocolate Cake Mix Cookies made with 5 ingredients in minutes! Soft, fudgy chocolate cookies made from cake mix loaded with chocolate chips and pecans. Perfect easy chocolate cake mix cookie recipe!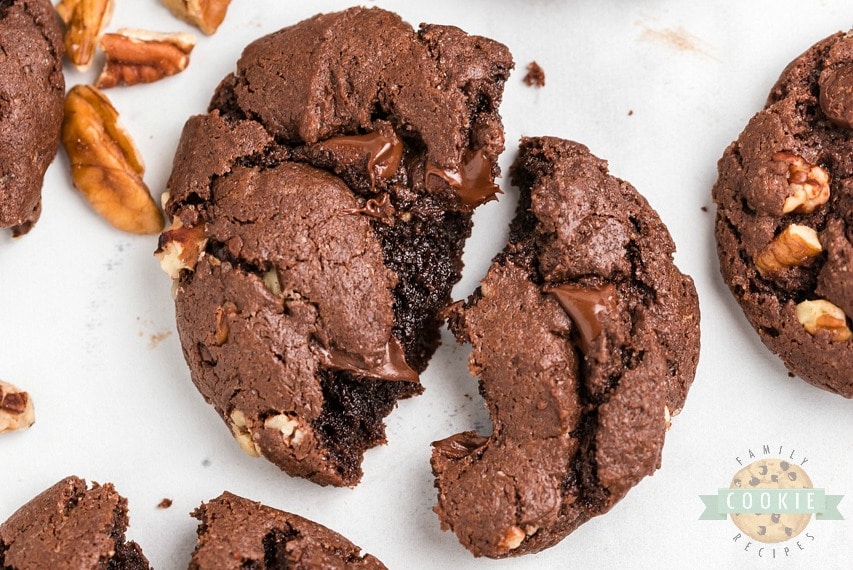 These chocolate cake mix cookie with chocolate chips are delicious! But what makes them even better is that there are just a few super easy steps to follow along with! Fast cookies that turn out perfectly every time is something I think we can all agree is awesome.
These chocolate cake mix cookies with butter are amazing. They taste as awesome as they look and the nutty crunch from the chopped pecans just add to it all. While the nuts are optional, they add a special something so be sure to add them!
Strawberry Lemonade Cake Mix Cookies made with a lemon cake mix and freeze dried strawberries. Only 5 ingredients to make these soft crinkle cookies that are the perfect balance of tart and sweet.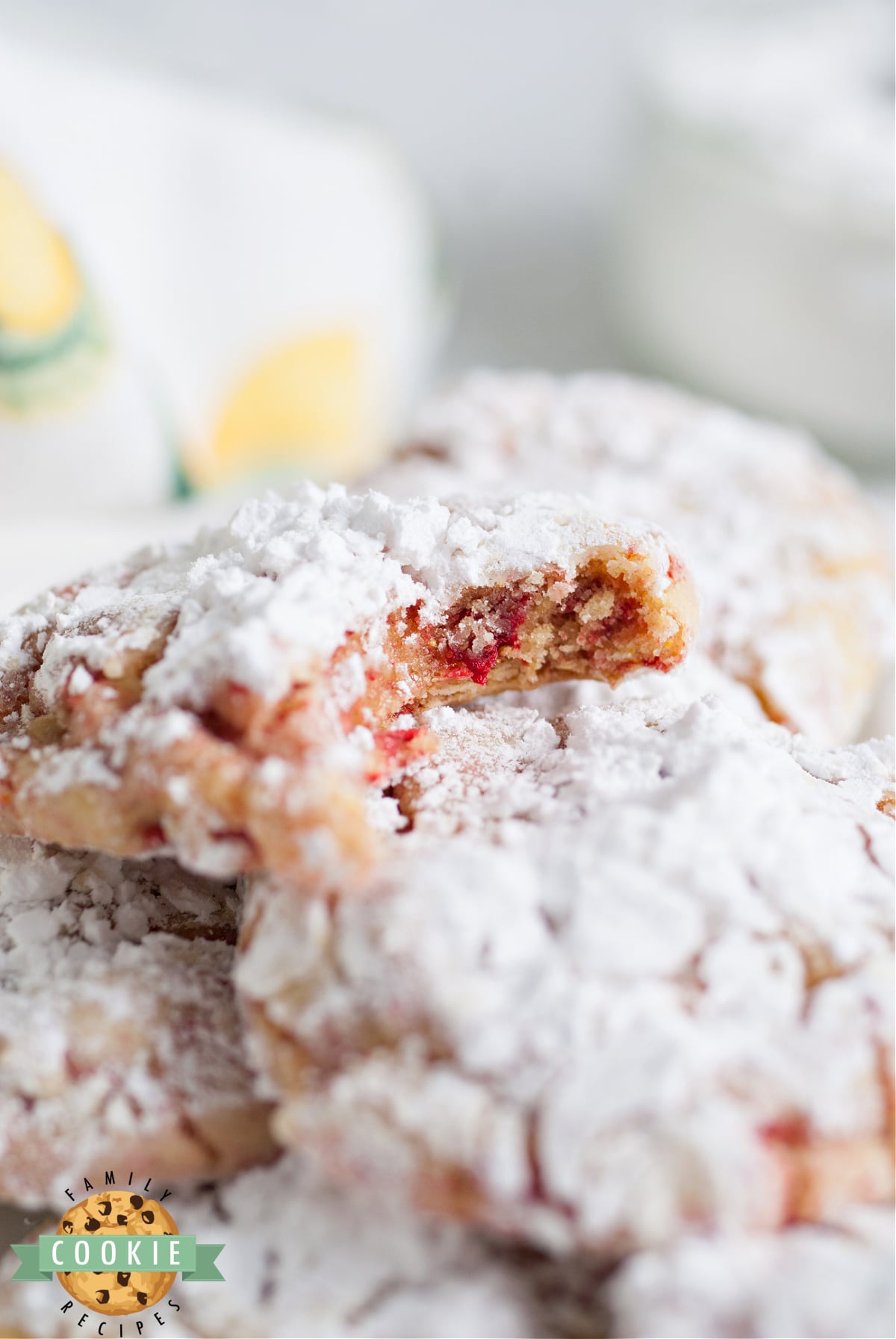 These crinkle cookies are made with a lemon cake mix and crushed, freeze-dried strawberries. Add some eggs and oil and shape the cookies into balls. Coat the balls in powdered sugar and bake. That's it! You can swap out the strawberries with raspberries or blueberries if you want – those flavors are delicious as well!
Chocolate Peanut Butter Cake Mix Cookies are soft, chewy and taste a little bit like peanut butter cups! Made with a chocolate cake mix, peanut butter, eggs and butter for a quick and easy cookie recipe.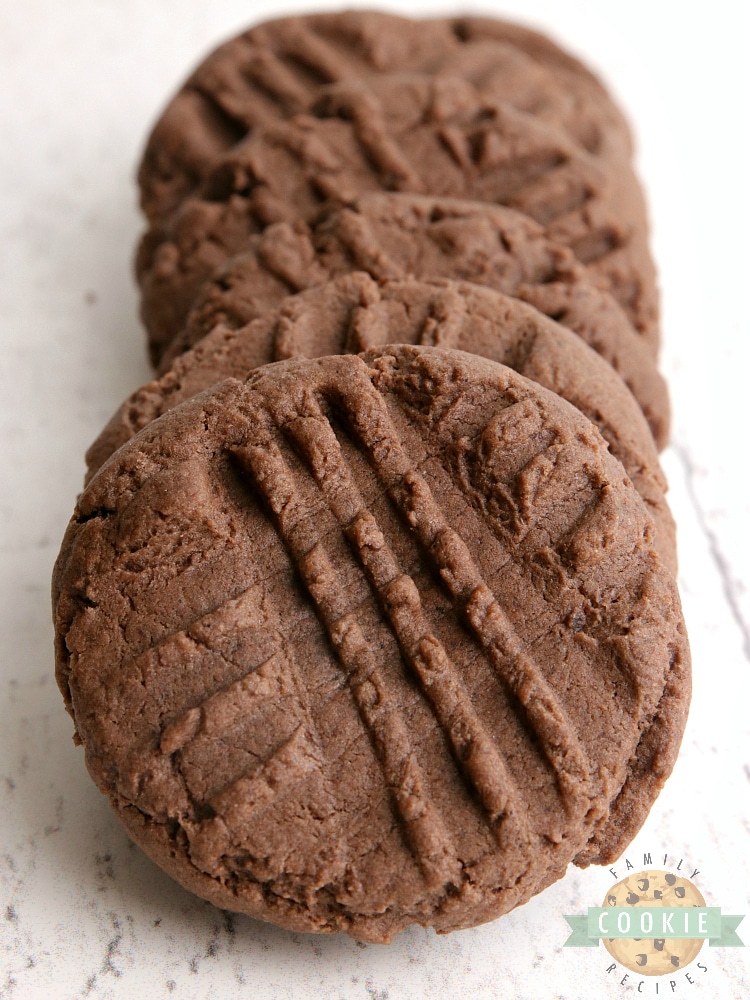 I love peanut butter cookies, but there is just nothing better than peanut butter and chocolate together. I decided to add peanut butter to a basic chocolate cake mix cookie and the results taste a little bit like a Reese's peanut butter cup.
Lemon Cake Mix Cool Whip Cookies are a fun & tasty 3 ingredient soft lemony cookie recipe that everyone loves! Cake mix, Cool Whip and an egg combine for a super simple lemon cookie that tastes delicious.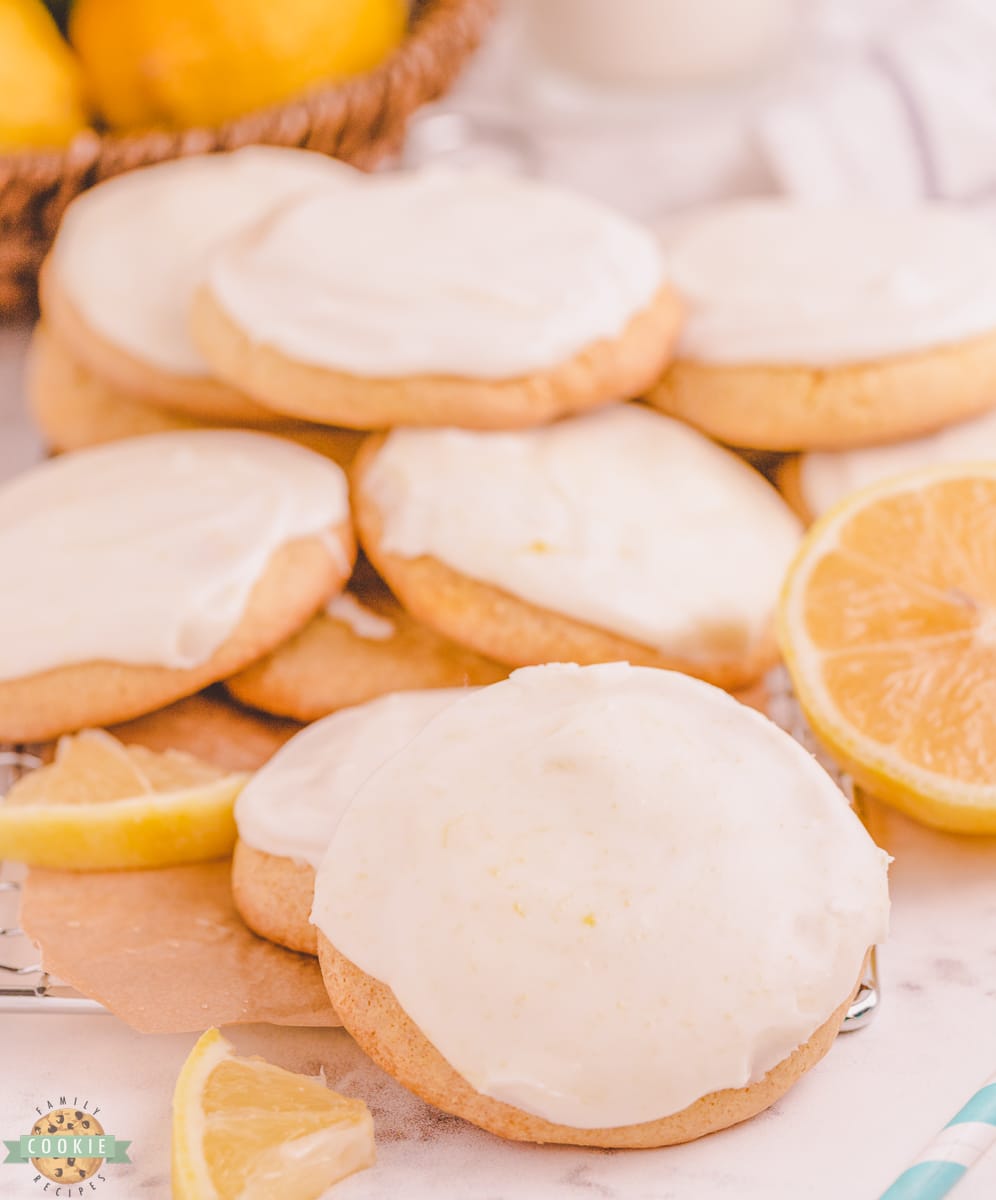 Cool whip cookies are a super simple and easy one bowl cookie recipe that uses whipped topping, cake mix, and an egg to give you a wonderful flavored cookie dough that is perfectly sweet. Most recipes featuring cool whip have the cookies rolled in powdered sugar for crinkle-like appearance.
We have modified the recipe and are making these easy cake mix and cool whip cookies with a simple lemon glaze on top. The results are cookies packed with tangy, sweet flavors you are going to love!
Chocolate Caramel Cake Mix Cookies are made with only 4 ingredients – one of which is the Rolo tucked in the middle! So easy to make and they are absolutely delicious with the gooey caramel centers!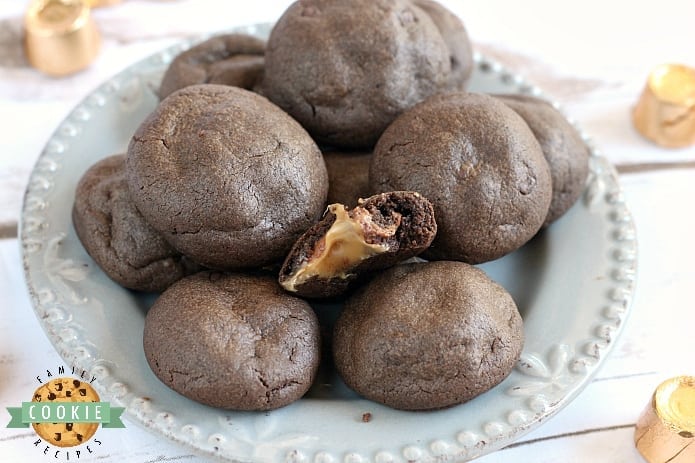 I absolutely love making cookies from scratch and I usually do, but sometimes I just don't have the time and I need a bit of a short-cut. Especially when my kids are all wanting to help out! I discovered this recipe recently and it's become a family favorite- the kids love to help make the cookies with the Rolos inside and they are absolutely delicious. I dare you to try to stop at just eating one, especially when they are warm and fresh out of the oven!
Mint Chocolate Cake Mix cookies are soft, chewy and made with only 4 ingredients! So easy to make these deliciously mint and chocolate flavored cake mix cookies.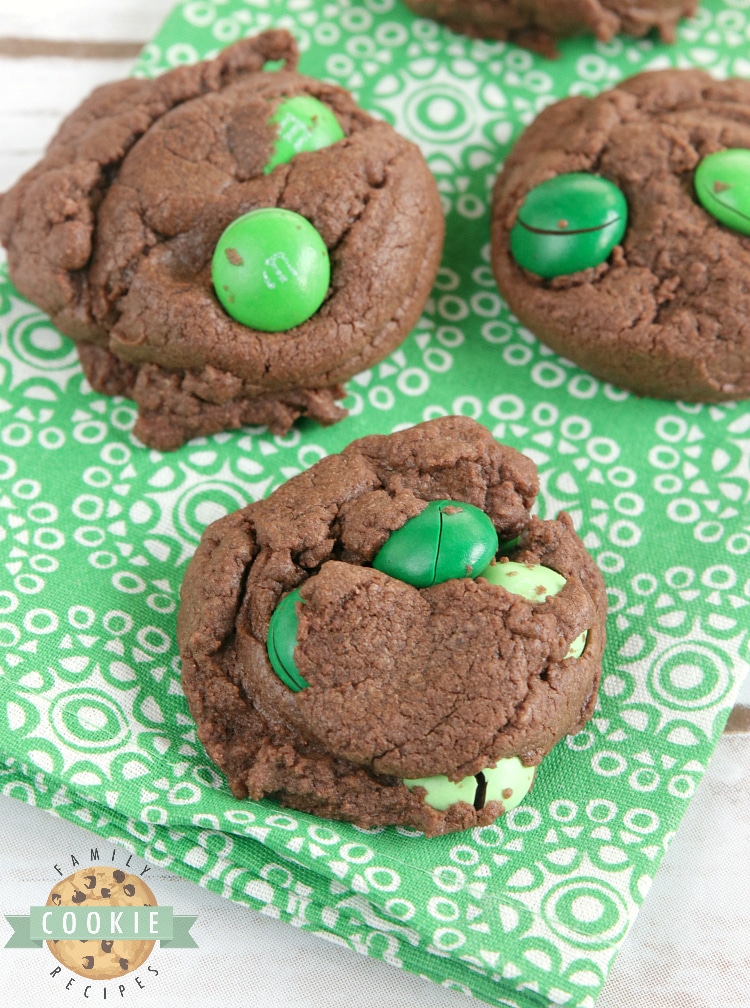 Mint Chocolate Cake Mix cookies are yummy any time of the year, but they are perfect for St. Patrick's Day! The Dark Chocolate Mint M&Ms in the cookies are available all year, they aren't just seasonal, so you can make these cookies any time you want!
If you haven't tried the Dark Chocolate Mint M&Ms, go get some now! I normally don't like dark chocolate, but these are amazing. They actually kind of taste like Andes mints, but in M&M form. There is also a crispy mint M&M that you can use, but I personally think the Dark Chocolate ones are soooo much better!
CARAMEL APPLE CAKE MIX COOKIES
Caramel Apple Cake Mix Cookies are easily made with a cake mix, chopped apples and Rolo candies for a delicious flavor combination that comes together in just a few minutes. Cake mix cookies are so simple to make and these ones have the delicious taste of caramel apples!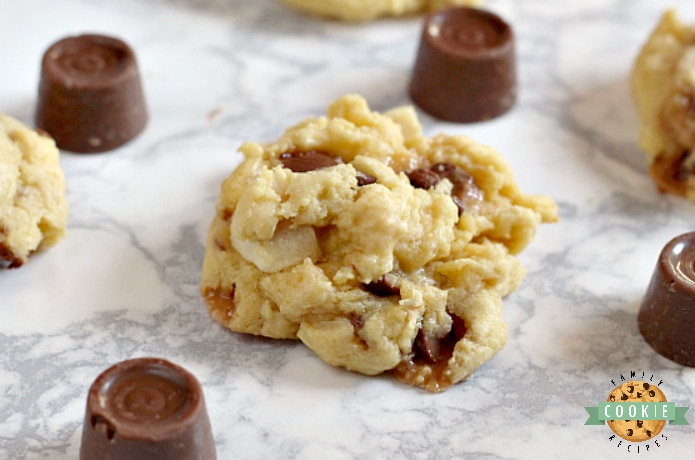 Cake Mix Cookies are so easy to make because all of the basic ingredients (sugar, flour, etc.) are already in the cake mix so you only need to add a couple of ingredients to make the cookies. These particular cookies do have some brown sugar added to them which adds the perfect flavor to make the cookies taste as though you made them from scratch! And who doesn't love Rolos? The original recipe that I found called for dried apples, but I prefer to use a fresh apple – the choice is totally up to you!
Strawberry Cake Mix Sandwich Cookies are made with freeze dried strawberries and a simple cream cheese filling. Easy cookie sandwiches that are packed with strawberry flavor!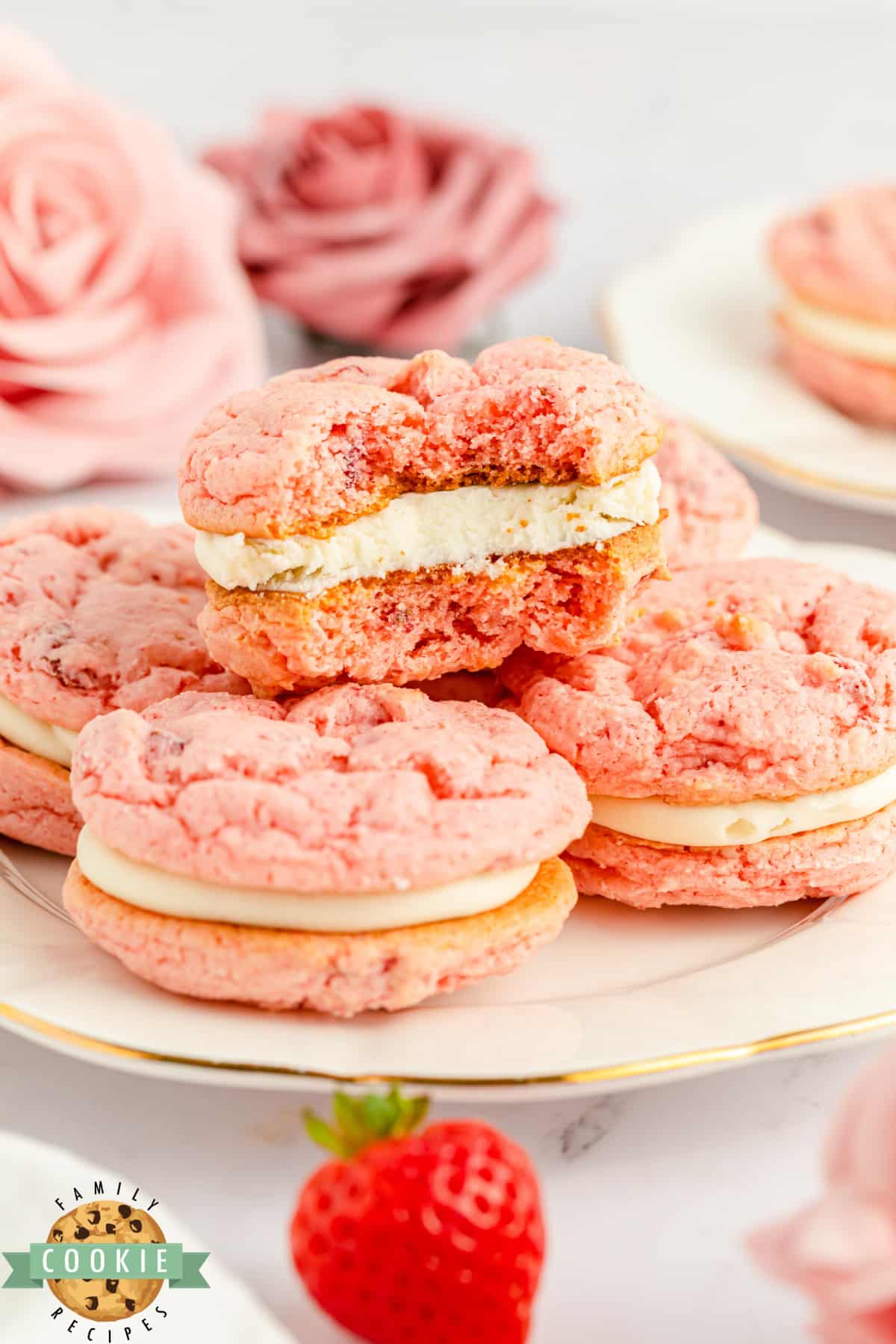 Sandwich Cookies are so fun for several reasons. They provide a great excuse to eat two cookies in one sitting, the frosting filling kinda makes you feel like you're getting cake and a cookie in one dessert, and it's fun for kids to help assemble them too!
These sandwich cookies begin by making cookies with a strawberry cake mix that is mixed with baking powder, eggs, butter, strawberry extract and chopped freeze dried strawberries. The cookies are so soft, chewy and have TONS of strawberry flavor. A simple cream cheese frosting is made and placed in between two cooled cookies to make a deliciously sweet cookie sandwich. Cream cheese and strawberries taste so good together!
Making this melt-in-your-mouth frosted cake mix cookies recipe with a white cake mix is easy! It makes perfect sense to use a cake mix to create that signature "Lofthouse-sytle" sugar cookie texture – light, airy, tender – like cake!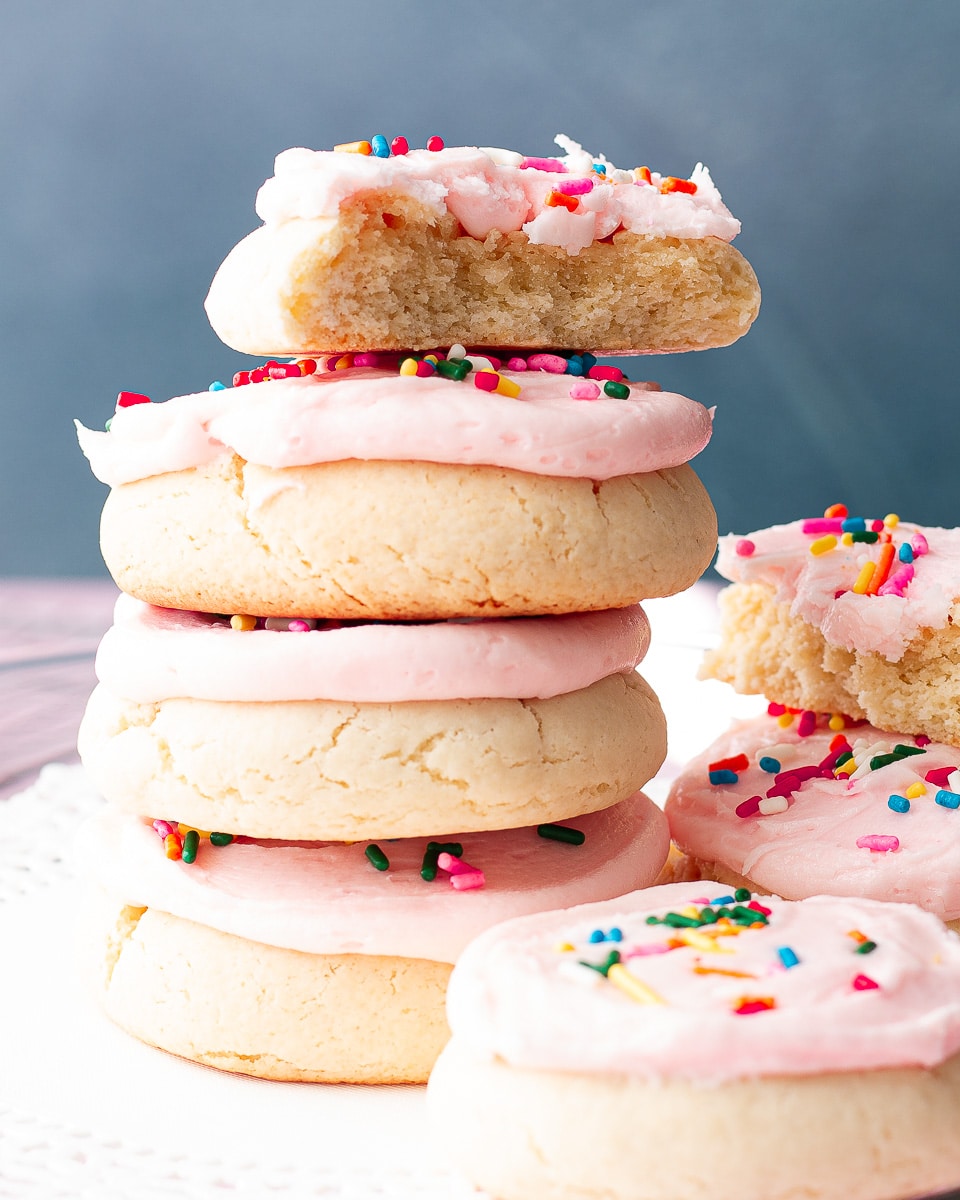 These cookies are just like those pink and white sugar cookies that you pass by in the grocery store's bakery section. The ones with the colorful Sprinkles. I have to admit they're tempting to pick up – mostly because I love a great sugar cookie, and I like the simplicity of the colors. They perfect for birthdays, work functions, family barbeques, and parties. They're cheerful!
Four simple ingredients is all you need to make these Easy Peanut Butter Cake Mix Cookies. With a soft texture and rich peanut butter flavor, it is a recipe that you will find yourself making over and over again.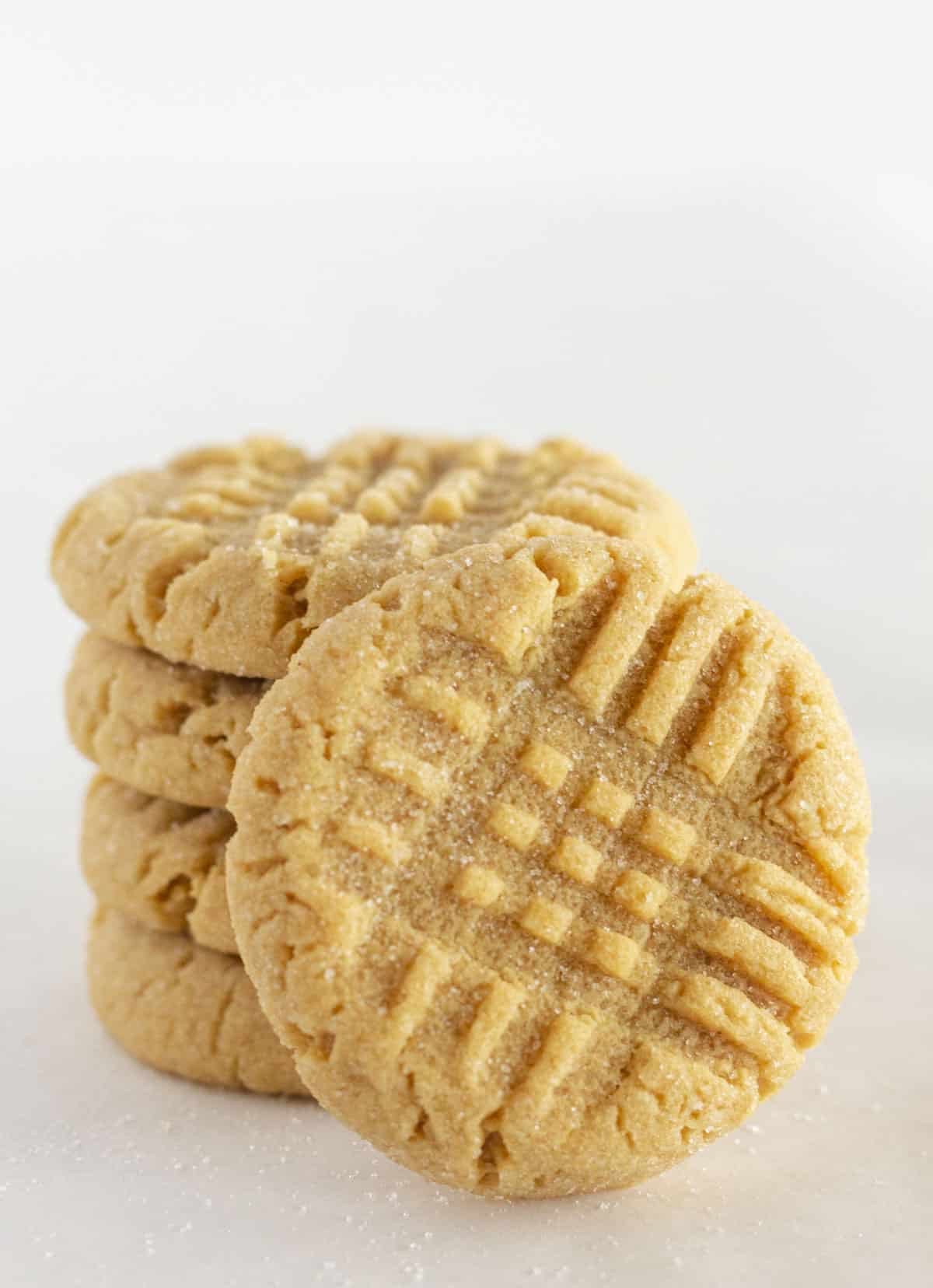 There are other 4 ingredient peanut butter cookie recipes out there but nothing quite like this one because it starts with a cake mix. Using a yellow cake mix for the base of this delicious cookie keeps the ingredient list down and the flavor outrageous.
Adding a good quality peanut butter, along with melted butter and eggs gives the body of the cookie exactly what it needs to bake up perfectly every single time.
It also gives the finished product a luxurious texture and taste that you expect from a high quality dessert.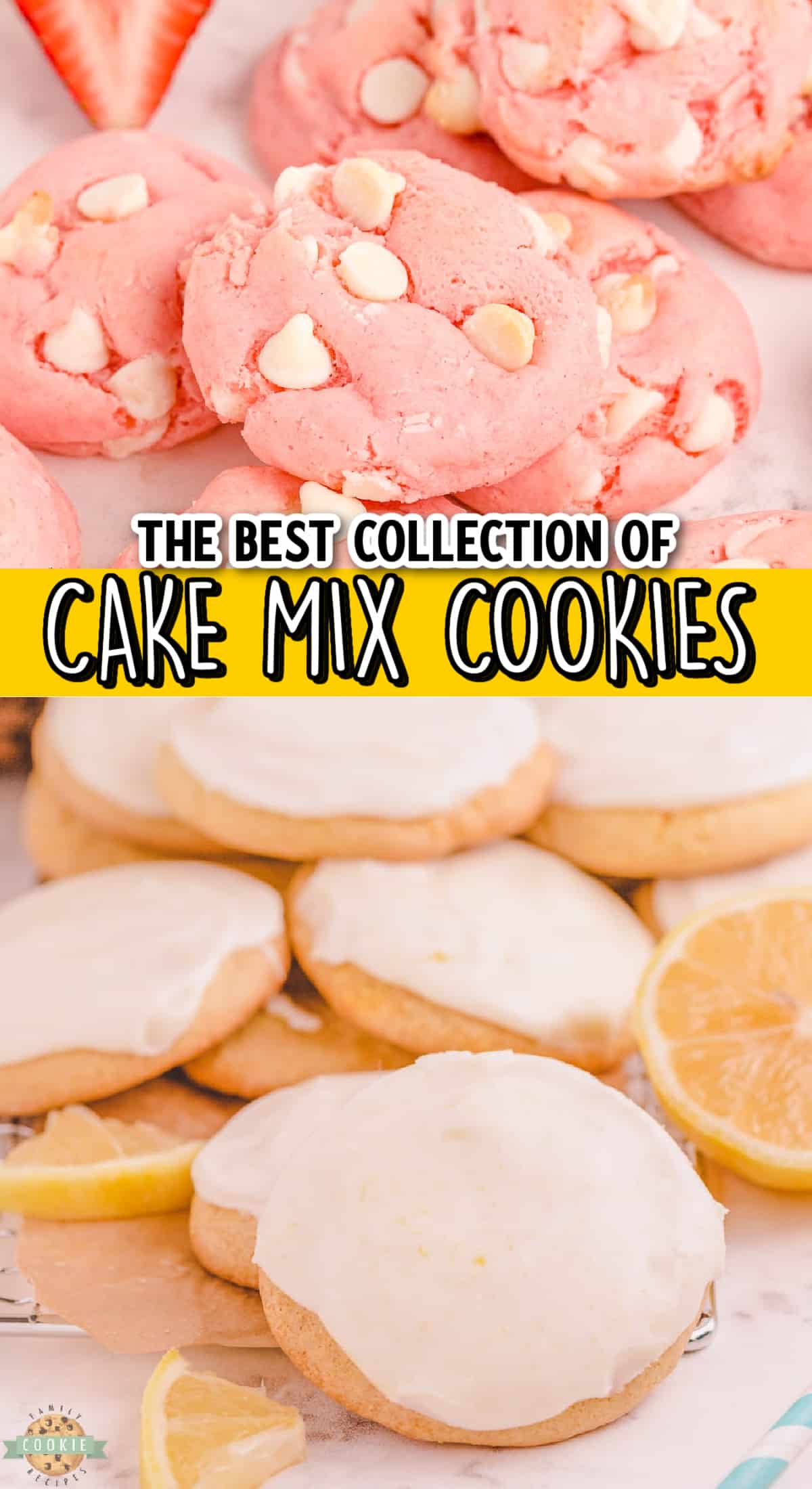 Cake Mix Cookies are some of the easiest cookies to make. Start with a box of cake mix and simply add a few more ingredients to make delicious cookies. Over the years, we have created many different kinds of cake mix cookies and we've gathered our favorites right here!