Fruit Shaped Linzer Cookies are traditional Linzer cookies with cherry and strawberry shaped cut-outs! Super cute, beautifully spiced Linzer cookies with jam filling make for a delightful treat!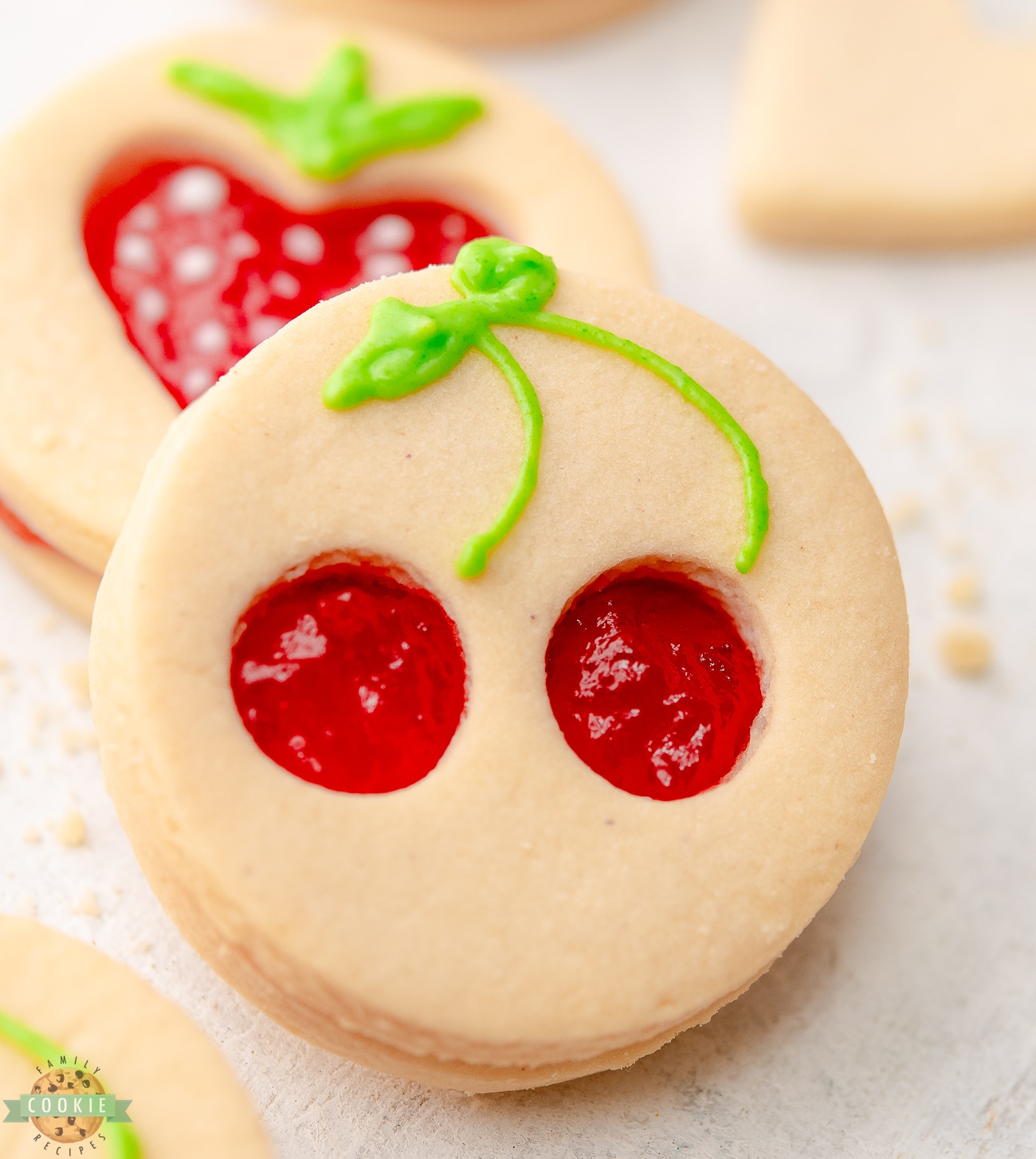 These fruity cut out cookies are a delightful treat that will bring a burst of flavor to your taste buds. This Linzer cookie recipe creates buttery, tender cookies that are perfect for any occasion.
What are Fruit Linzer Cookies?
Fruit-shaped Linzer cookies are a delightful twist on the classic Linzer cookie. These cookies have a buttery, almond-flavored base and are filled with a sweet jam. What sets them apart is their unique shape, which is often that of a fruit such as an apple, strawberry, or peach. They are sure to impress guests with their unique and playful appearance. Fruit-shaped Linzer cookies are also a fun activity to do with kids, as they can help shape the dough into their favorite fruit and fill it with their favorite jam.
Why You Will Love This Recipe
Delicious Taste: The combination of buttery shortbread and sweet fruit jam creates a mouth-watering flavor that is sure to satisfy your sweet tooth.
Great for Parties: These cookies are perfect for parties or gatherings because they are easy to transport and serve. The fruit shapes make them a fun and festive addition to any dessert table.
Customizable: You can use any flavor of fruit jam that you like, allowing you to customize the cookies to your taste preferences. You can also experiment with different fruit shapes and sizes to create a unique presentation.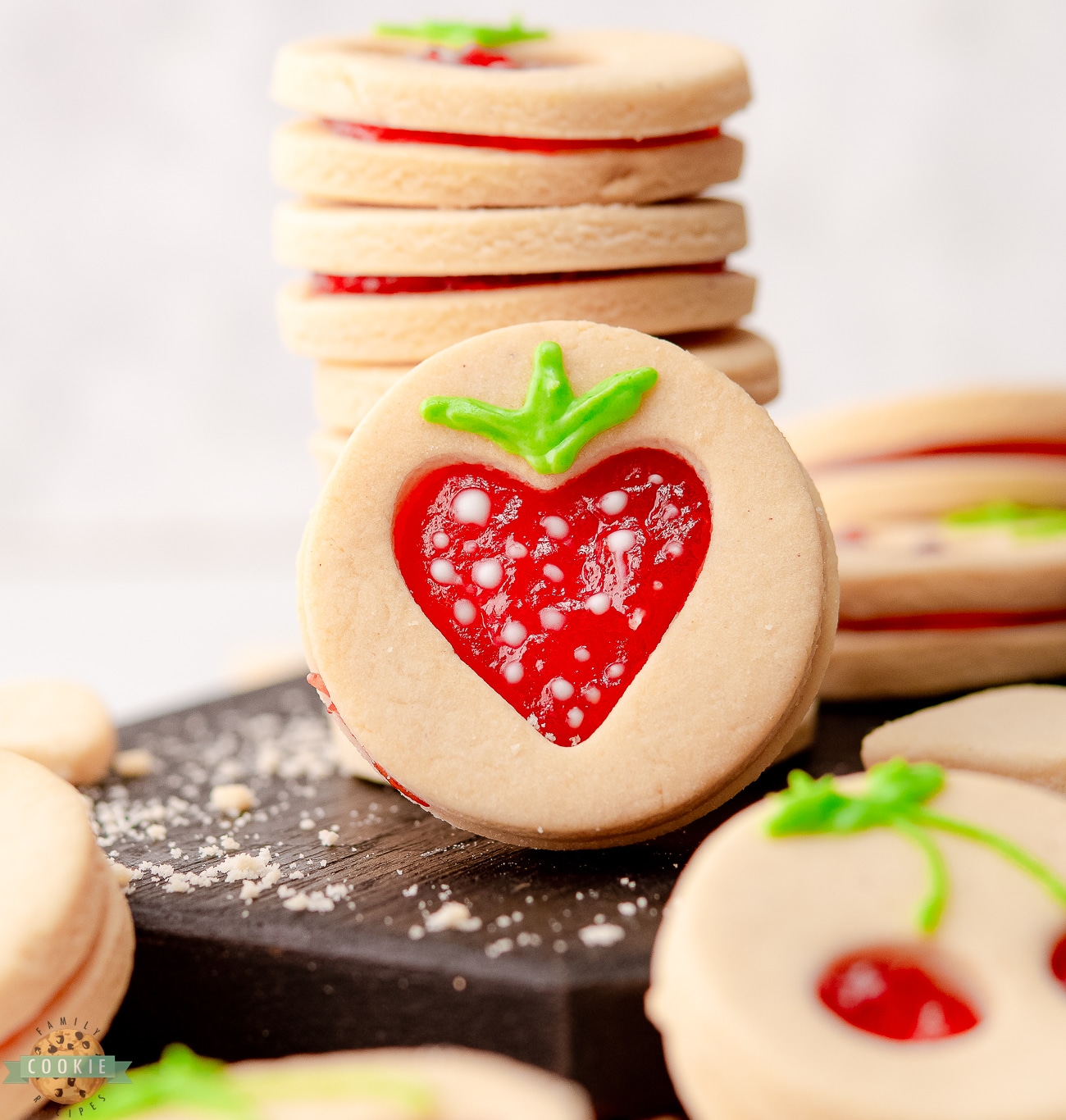 Ingredients for Linzer Fruit Cookies
Flour: You will need 4 cups of all-purpose flour for the structural base of this cookie recipe.
Salt: Add in ¼ tsp of salt to balance all the amazing flavors in this cookie dough.
Butter: Using 1 cup of butter, softened, will make the cookies wonderfully rich in taste.
Sugar: For perfectly sweet cookies, use 1 cup of granulated sugar.
Almond extract: Enhance the flavors by adding in 2 tsp of almond extract.
Eggs: To help bind all the ingredients together well, use 2 eggs in this cookie dough.
Cinnamon: Adding in 1 tsp of ground cinnamon will give the cookies a well balanced flavor.
Toppings
Jam: Use ½ cup of fruit jam, it can be any type of red jam- strawberry, raspberry, or cherry.
Chocolate: You will need ½ cup of white chocolate chips, melted, for an amazing topping for these cookies.
Food coloring: Add some green gel food coloring (2-3 drops) to the remaining melted chocolate to create leaves on the cherries.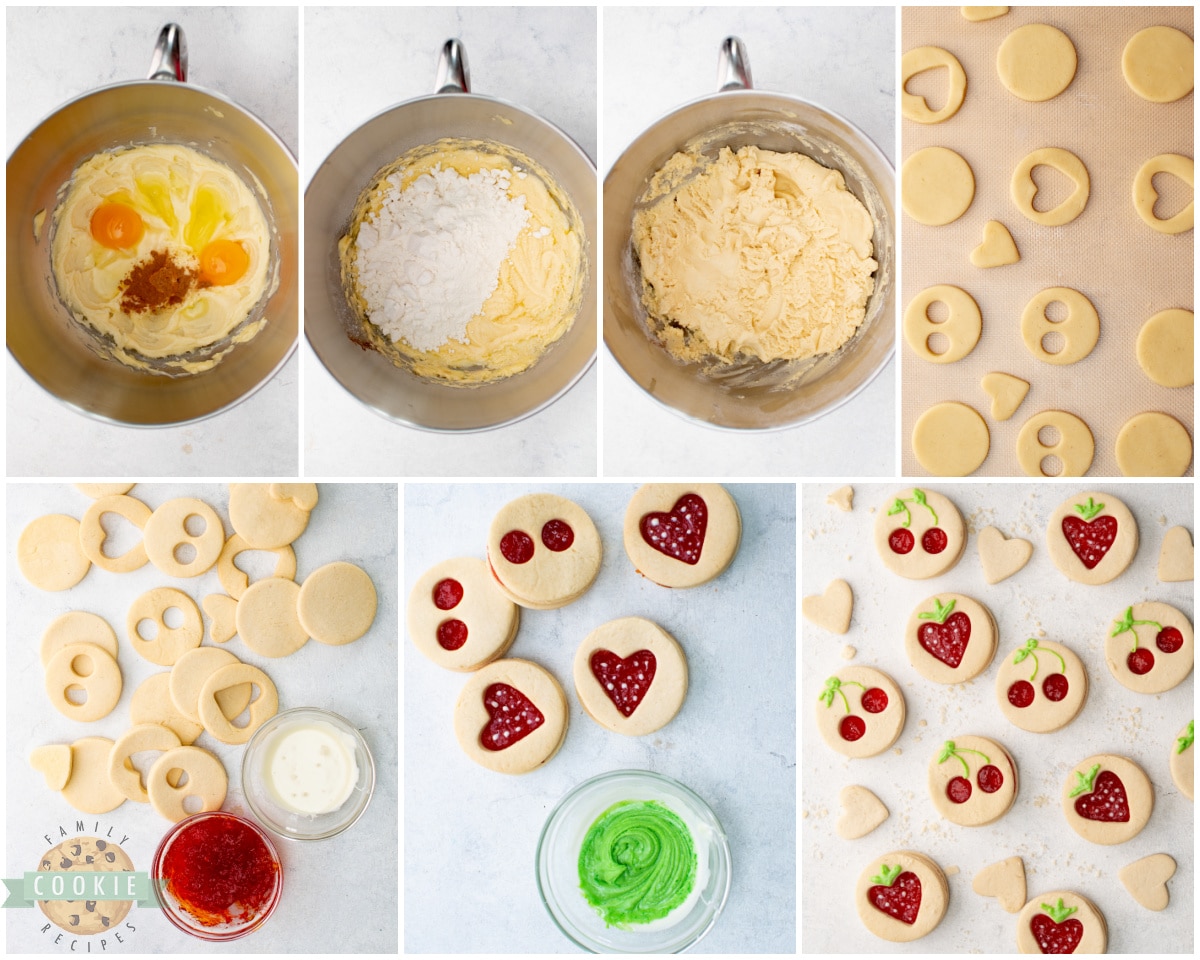 How to make Fruit Shaped Linzer Cookies
Cookie dough
In a large bowl, whisk together the flour and salt, and set it aside.
Next, in the bowl of stand mixer, combine the butter, sugar, and almond extract and beat them together on medium-high speed until the mixture turns creamy, this should be about 2-3 min. You can also use an electric hand mixer for this if that is what you have available.
Then add in the eggs, along with the ground cinnamon, to the wet mixture and beat until everything is well incorporated.
Proceed to add the dry ingredients to the wet mixture, in batches, and continue to mix as it forms a dough.
Chill
Now, transfer the dough to a piece of wax paper or plastic wrap, enclose the dough and refrigerate for at least an hour.
Prep
Get started by preheating the oven to 350°F/180 C and then line two baking trays with parchment paper. Set them aside.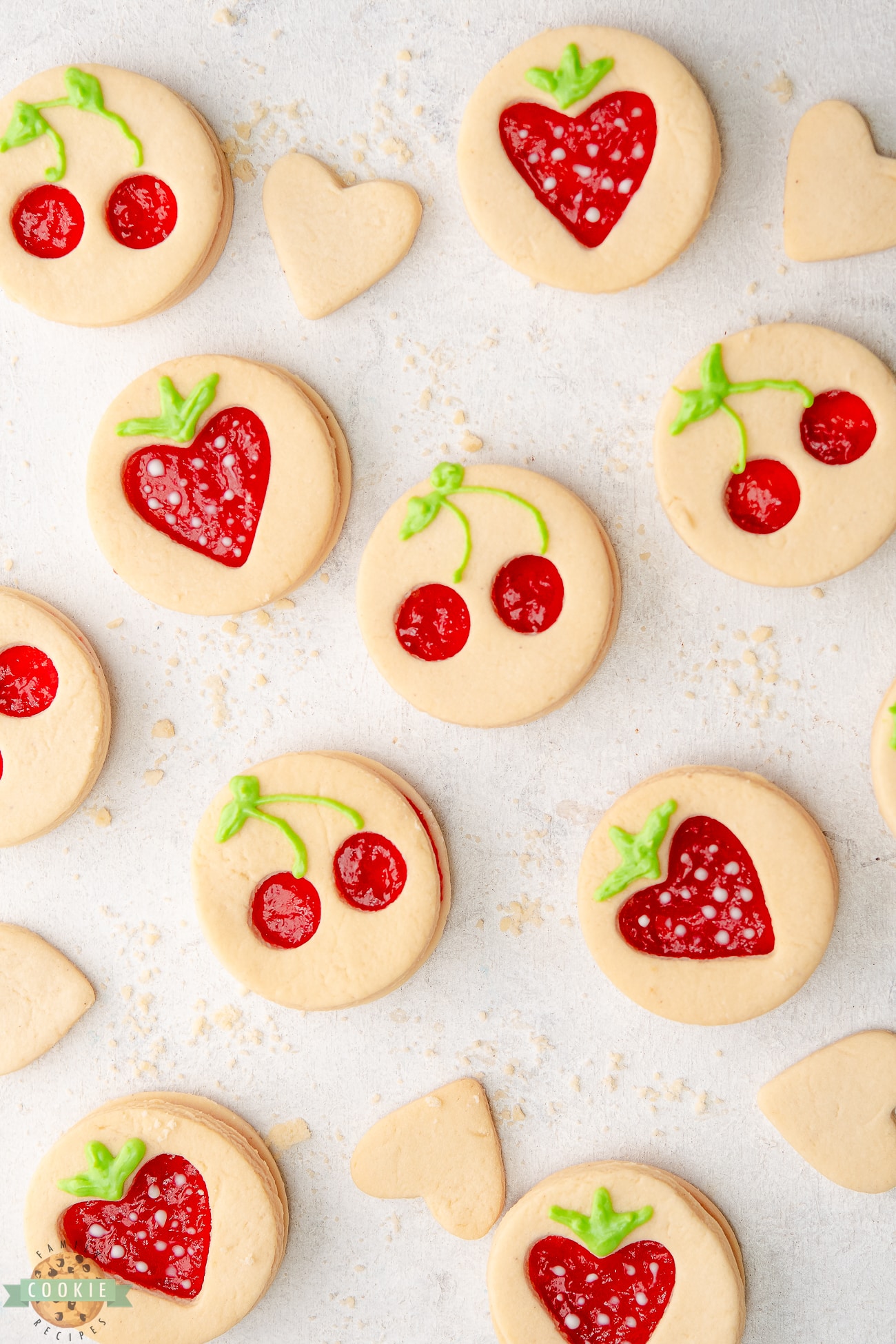 Shape
Once chilled, take the dough out and let it rest for 5 minutes at room temperature. Then roll out the dough on a lightly floured surface to ¼-inch thickness and cut out cookies using a 3-inch round cookie cutter. (You will need 2 cookies to make a sandwich cookie.)
Now, cut out cherries and strawberries in the middle of half of the cookies for the fruit jam to beautifully show. You can use the back of a small sized piping tip to cut out cherry shapes and smaller heart shape cookie cutter for strawberries.
Bake
Carefully place the cutouts on the prepared baking trays and bake for 12-15 min in the preheated oven.
Let the cookies cool for 5 minutes on the baking tray before transferring them to a wire rack to cool completely.
Apply a generous amount of fruit jam on the cookie without the cut-out and then place the cut-out cookie on top. Press gently to make a sandwich.
Cookie toppings
In a small bowl, melt the white chocolate chips with (about) 1 tsp of oil (coconut or canola) in the microwave for 1 minute, then 20-second intervals; stirring gently after each interval and reheating as necessary. Be careful not to scorch it!
Then transfer about 2 TBSP of melted white chocolate to a baggie. Snip a very small corner of the bag and pipe small dots on the jam for the strawberry-shaped cookie to mimic the seeds.
To the rest of the melted white chocolate, add the green gel food color and mix well. Transfer this mixture to another baggie (or piping bag) and cut off a tiny corner. Use this to make the leaves and stems on the cherry cookies.
Serve and enjoy!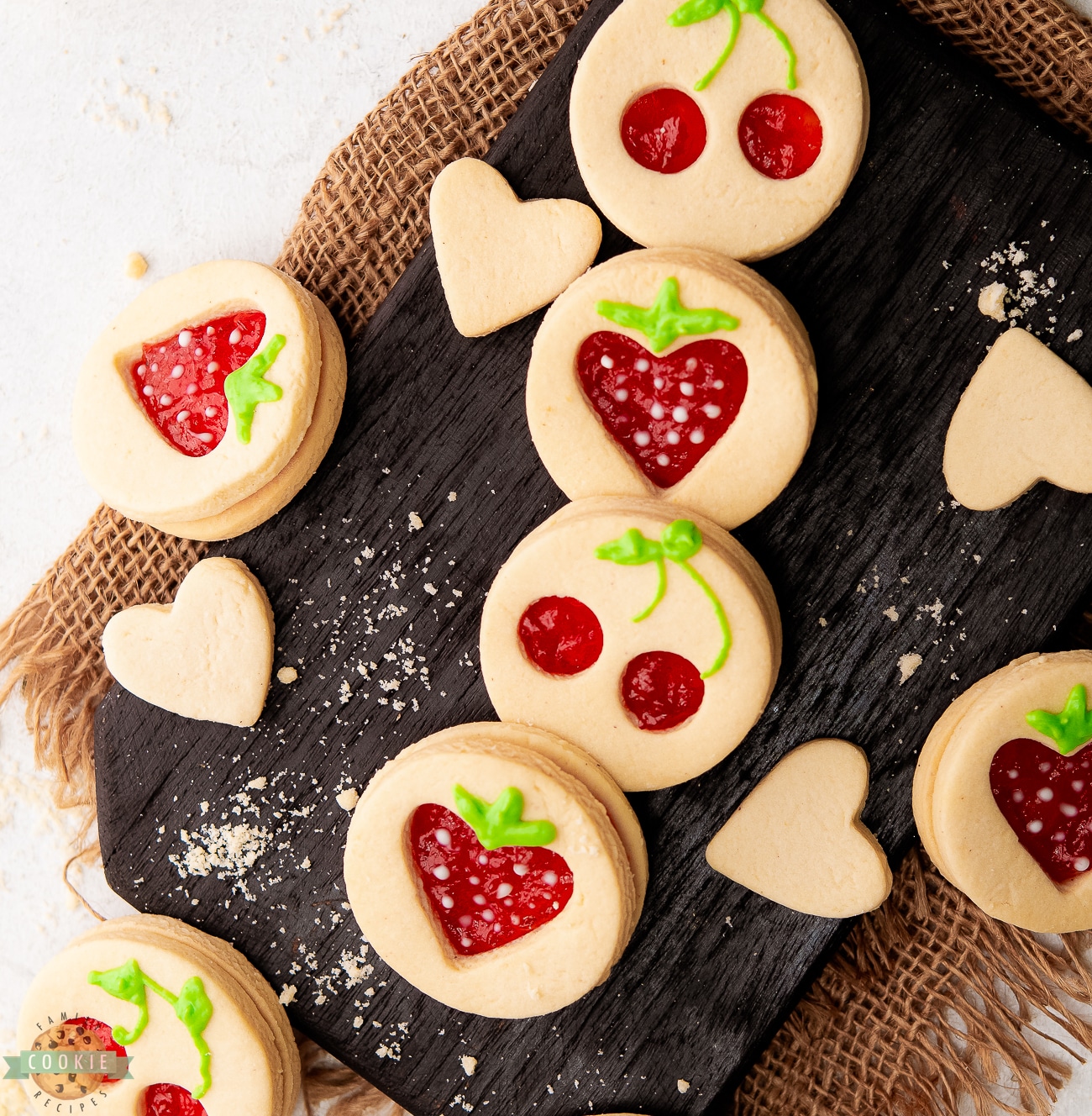 Tips & Tricks for making amazing Linzer Fruit Cookies!
Bake the cookies in a preheated oven at the recommended temperature and time. Keep an eye on them as they bake, as oven temperatures may vary slightly. The cookies should be slight golden around the edges when done.
Apply a generous amount of fruit jam on the solid cookies, leaving a small border around the edges. This will prevent the jam from spilling out when the cookies are pressed together.
Melt the white chocolate with a small amount of oil to achieve a smooth consistency. Take care not to overheat it to avoid burning. Use a wooden skewer to create small dots on the jam of the strawberry-shaped cookies, imitating the seeds. Pipe leaves and stems onto the cherry-shaped cookies using green-tinted white chocolate for an added touch of whimsy.
Feel free to experiment with different fruit jam flavors and cookie cutter shapes. Get creative with your decorations and add your own personal touch to these delightful fruity cut out cookies.
Serve and enjoy: Once assembled and decorated, these fruity cut out cookies are ready to be savored. Serve them at parties, enjoy them with a cup of tea, or share them as homemade gifts. They're sure to be a hit with family and friends!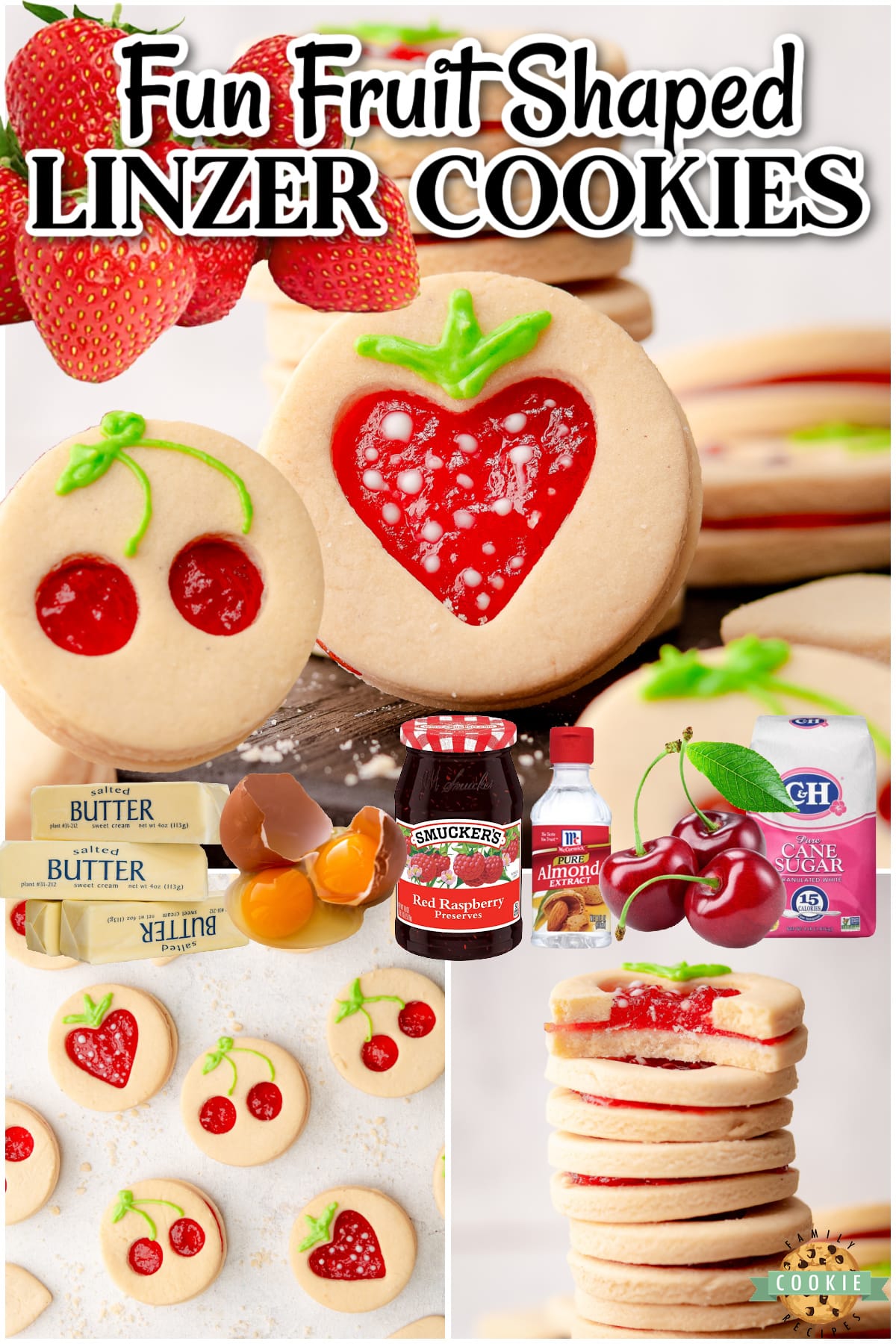 Storing and Serving Fruit Shaped Linzer Cookies
When it comes to storing fruit-shaped Linzer cookies, it is important to keep them in an airtight container at room temperature. They will stay fresh for up to 5 days if stored properly. These cookies are delicate and can easily break, so it is recommended to layer them between sheets of parchment paper or wax paper to prevent sticking and damage.
For longer storage, the cookies can be frozen in an airtight container for up to three months. Before serving, allow them to come to room temperature for 10-15 minutes.
Fruit-shaped Linzer cookies are a perfect addition to any dessert table or as a sweet treat with tea or coffee. They can be served as is or paired with a variety of toppings such as whipped cream, fresh fruit, or a drizzle of chocolate. For a festive touch, dust them with powdered sugar before serving.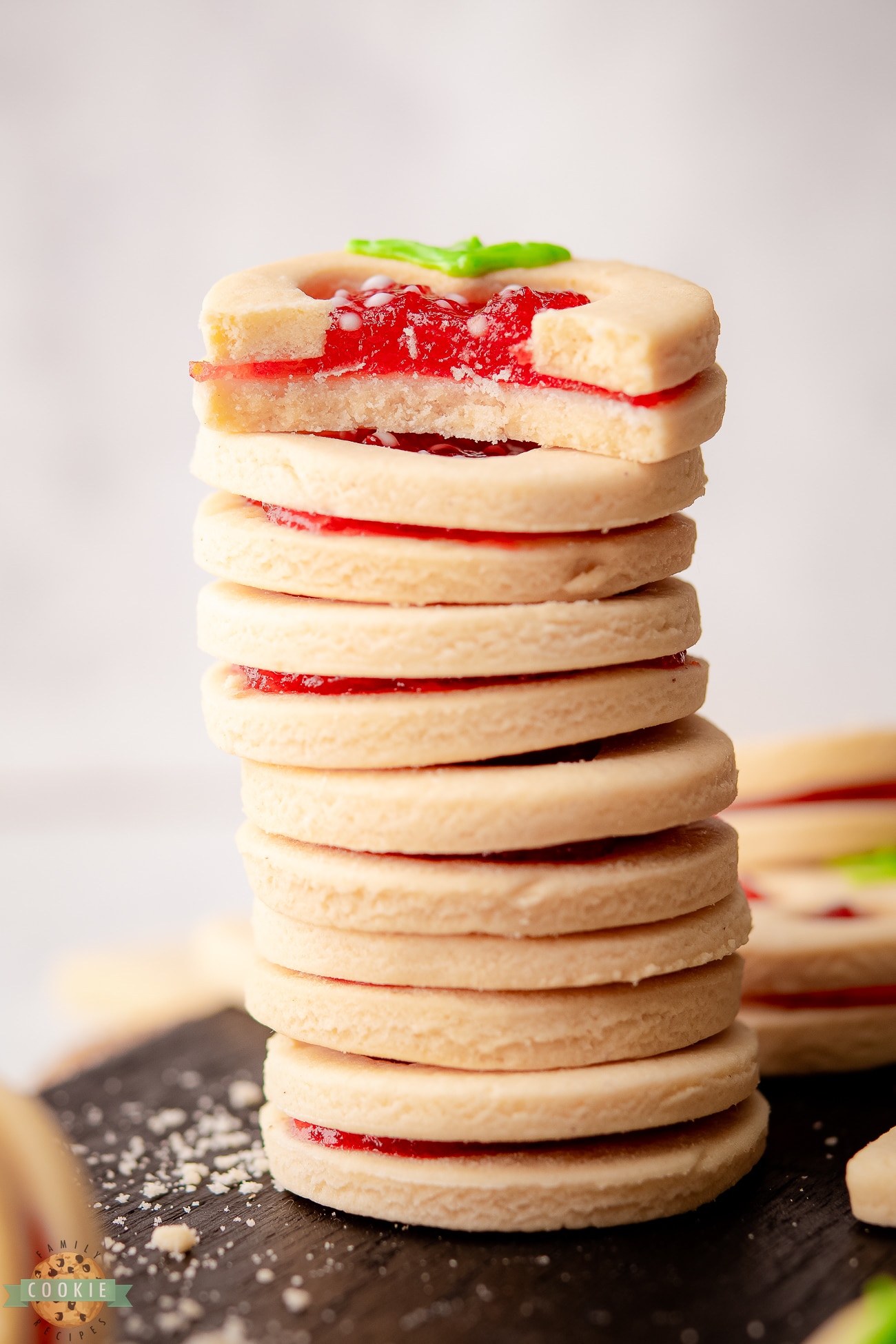 DO I HAVE TO CHILL THE COOKIE DOUGH?
When recipes request that you chill your cookie dough it is usually for a good reason. That reason is that the flavor gets a bit more time to develop and the cookies taste even more incredible. But the biggest reason is because of the butter/fats in the dough. By chilling the dough we allow the fats to solidify which means your cookies will not spread out as much while baking, so the texture turns out perfectly. This is especially important on warmer days or when your butter is warm or softened.
Try more delicious sugar cookie recipes here:
Fruit Shaped Linzer Cookies are the traditional Linzer cookies you know and love, but with cherry and strawberry shaped cut-outs! Super fun and cute, these Linzer cookies with jam and chocolate drizzle make a lovely treat.