Orange shortbread cookies are a citrus-flavored buttery crisp cookies perfect for afternoon tea. Enjoy these cookies any time of day, as they're sure to brighten it up!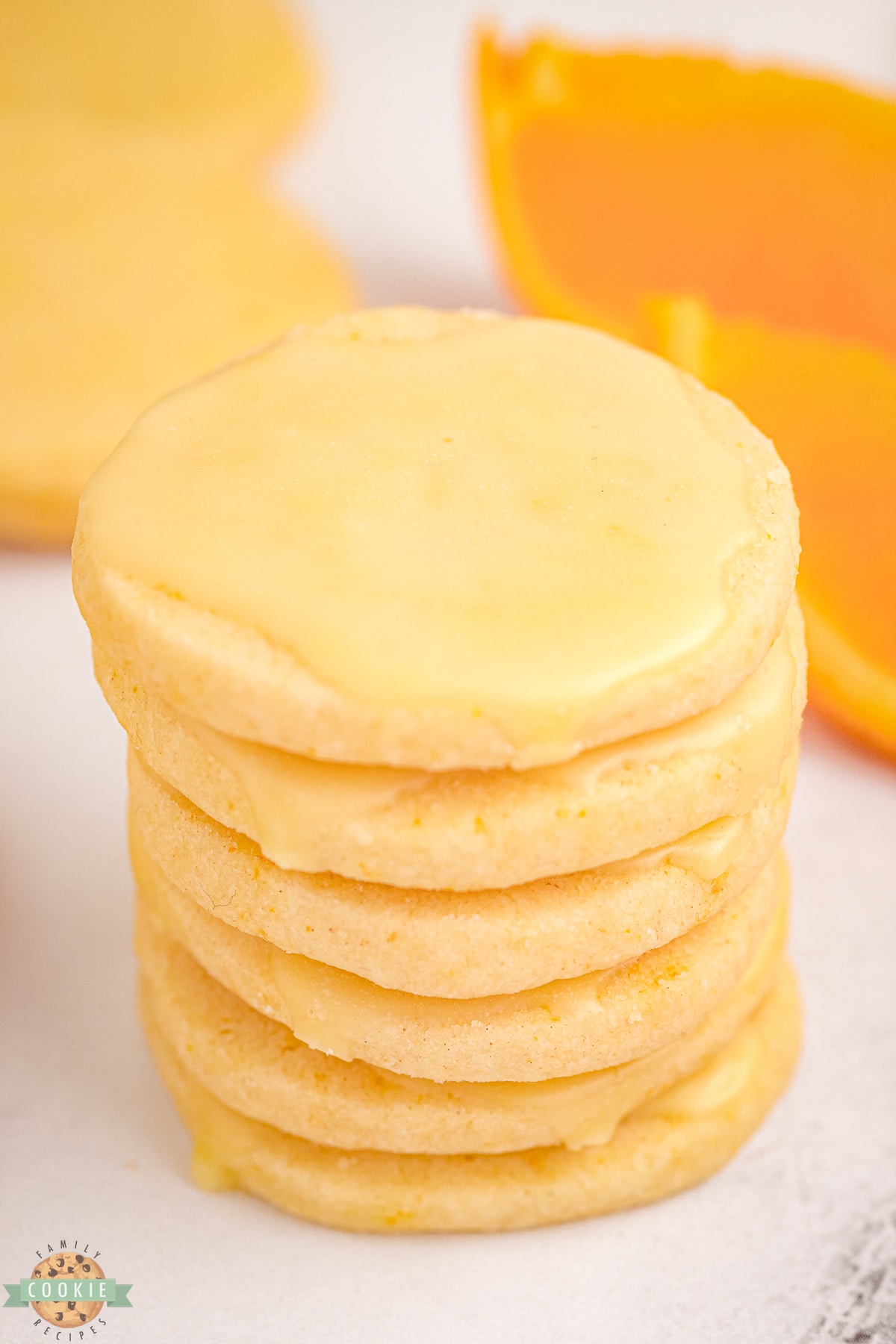 With little flecks of orange zest in every cookie, these are beautiful little cookies to make. They're perfect year round too! Serve them up during the holidays as a nice change of pace, or serve them up in Spring and Summer to show off the vibrant flavors.
Citrus Shortbread Cookies
This recipe doesn't need any extracts to get a wonderful citrus flavor. We were able to give this orange shortbread recipe so much flavor, thanks to the orange zest and orange juice. Real oranges mean real flavor in every cookie, and we're pretty proud of that.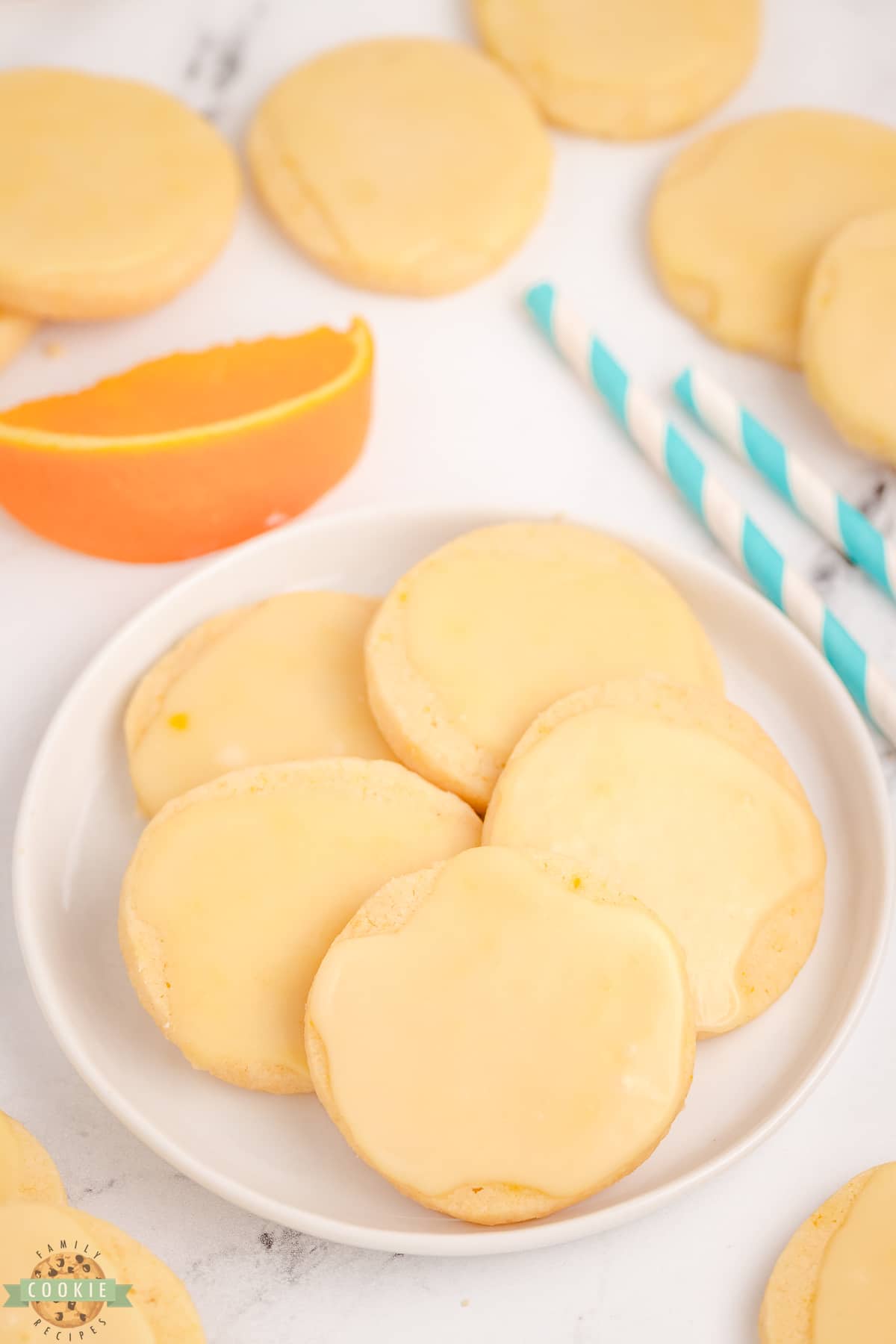 Why You'll Love This Recipe
Simple ingredients. We just need a few basic pantry staple ingredients to pull this recipe together. The icing is made with just 2 ingredients, and the cookies only need a small handful of ingredients too.
Basic steps to follow. You won't need very much in terms of kitchen appliances and equipment and you won't need to do much beyond mixing, slicing, and baking either. This is a great recipe for any baker and is very beginner-friendly too!
You can make in advance. Make the dough for the cookies and keep it in the fridge overnight or up to 2 days in advance. You can even freeze the dough logs for a few weeks if you really want to get a jump start on your holiday baking.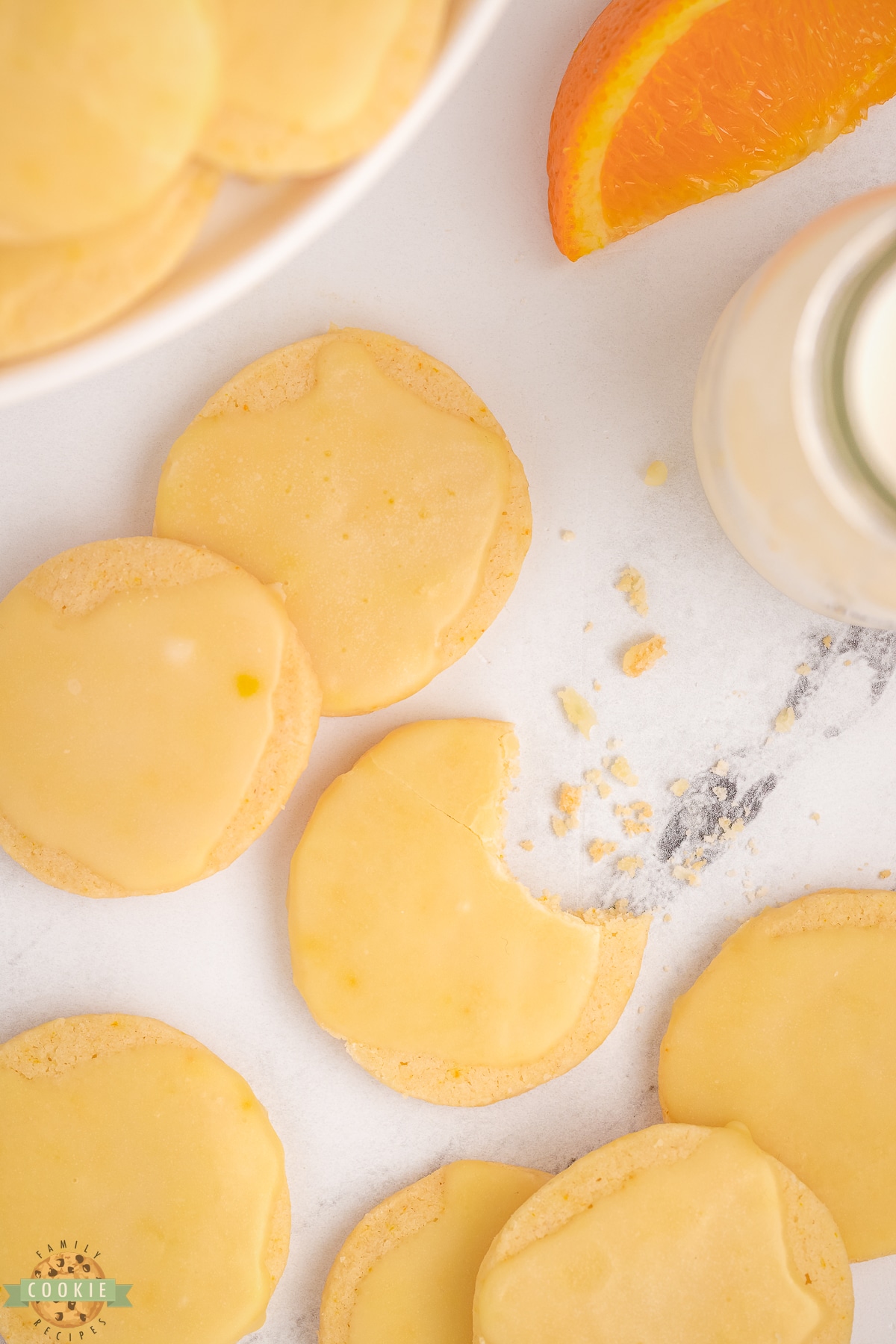 Orange Cookies Ingredients
For the cookies, you will need:
Butter– You will need 2 sticks (one cup) of softened butter for this cookie recipe.
Sugar– Use 1/2 cup of granulated sugar to make the cookies nice and sweet.
Zest– Adding in 2 tablespoons of orange zest (about what you'd get from one large orange) will give us the nice color and fresh orange flavor.
Flour– Use 2 cups of all-purpose flour for the base of this cookie recipe.
Baking powder– Stir in 1 teaspoon of baking powder to help the cookies puff up nicely as they bake.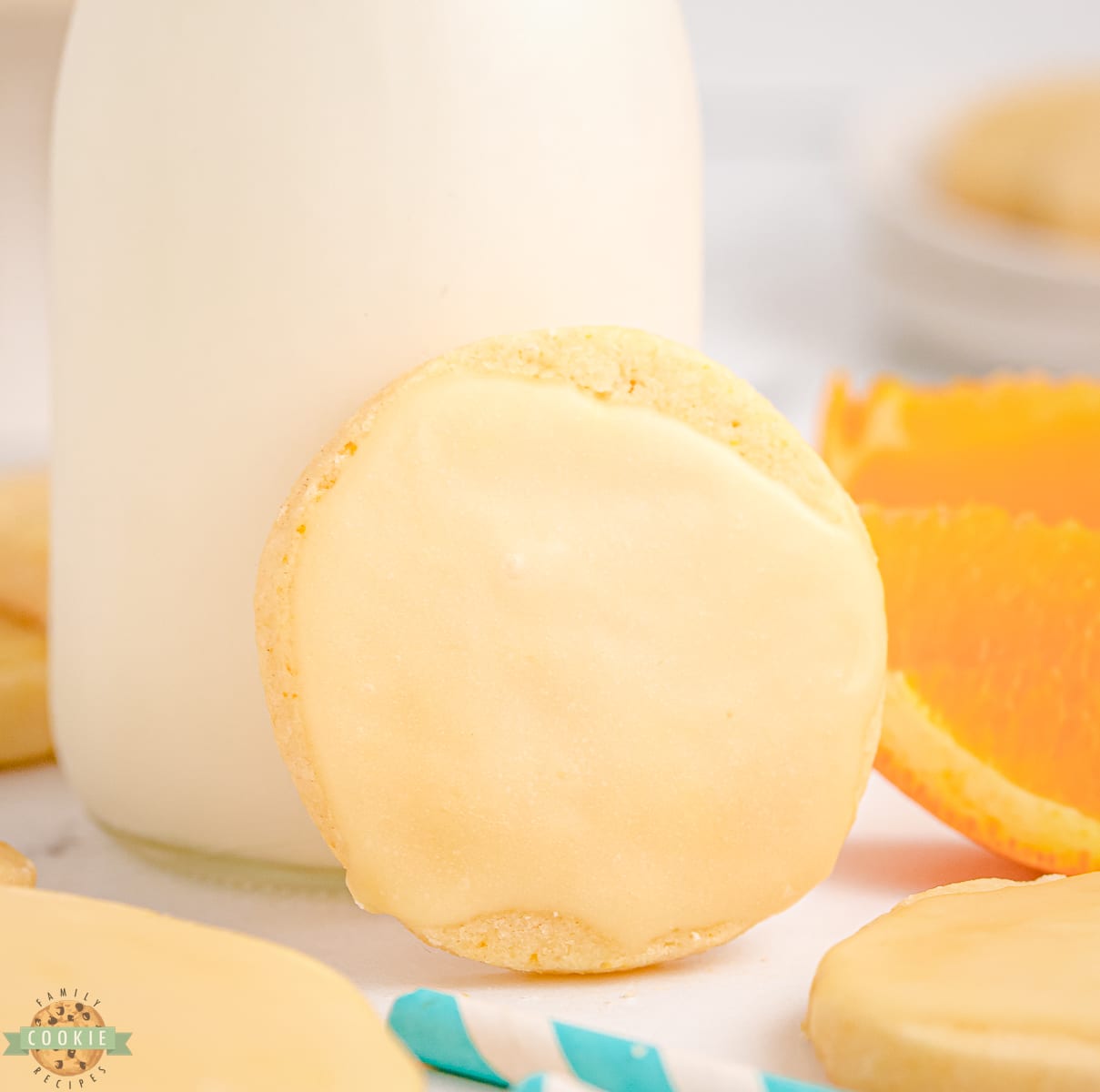 Salt– Adding in 1/4 teaspoon of salt will give us a nice enhanced flavor.
For the icing, you will need:
Powdered sugar– Use 1 1/2 cups of powdered sugar for the smooth sweet icing.
Orange juice- You will need 2-3 tablespoons of orange juice to get the icing to the right consistency while adding a lovely citrus flavor.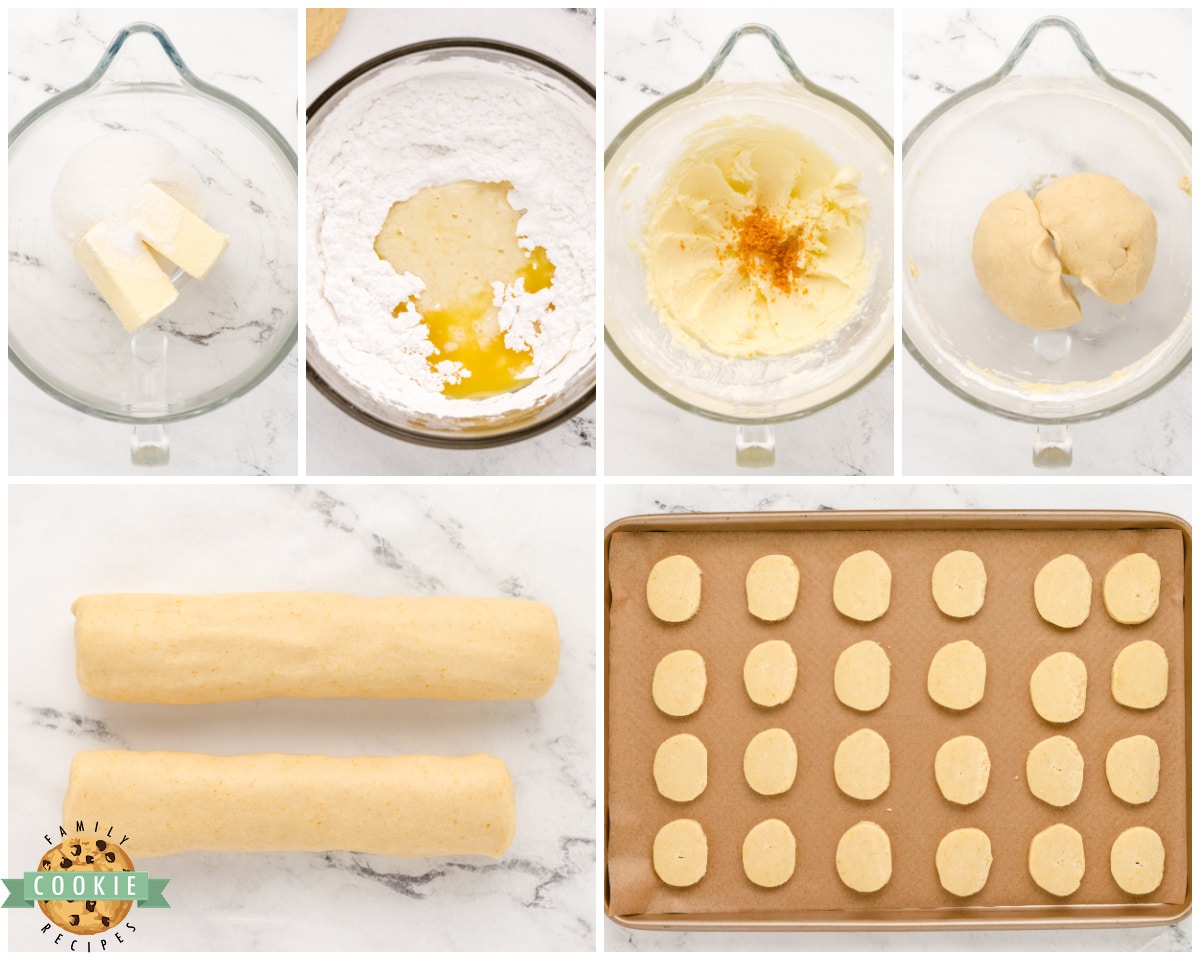 How to Make Orange Shortbread Cookies
Make dough
Cream the butter with the sugar with an electric mixer until the mixture is light and fluffy.
Add in orange zest.
Add in the flour, baking powder, and salt. Mix together until dough forms.
Chill
divide the dough in half and lay each half on their own piece of wax paper.
Form each half of the dough into an 8 inch log and wrap in wax paper.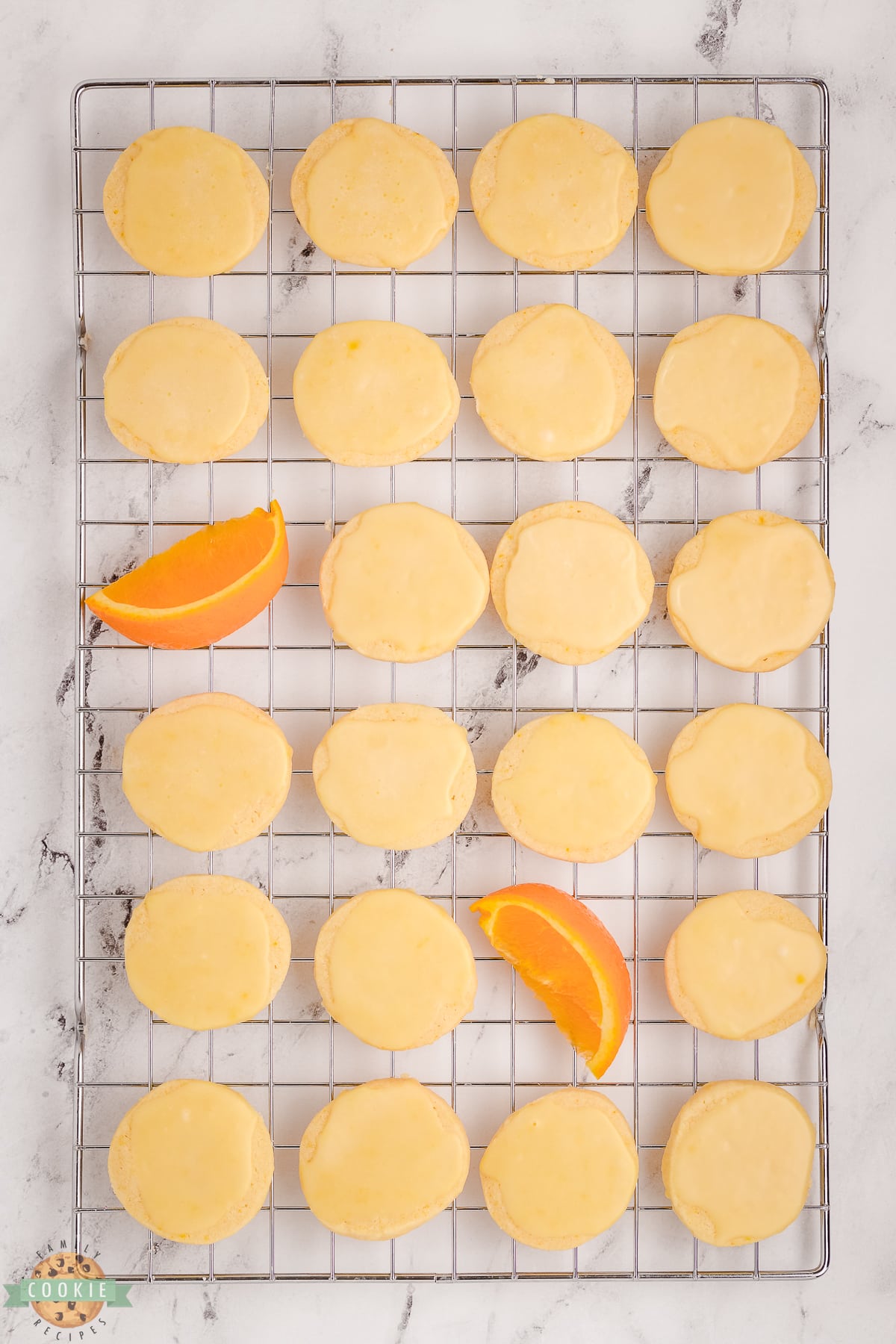 Chill
Chill the dough in the fridge for 2 hours or overnight.
If desired, you can chill the dough for 30 minutes in the freezer for a speedier option.
Prep
Preheat the oven to 300 degrees F.
Line baking sheets with parchment paper.
Slice your dough logs into 1/4 inch thick slices using a sharp knife.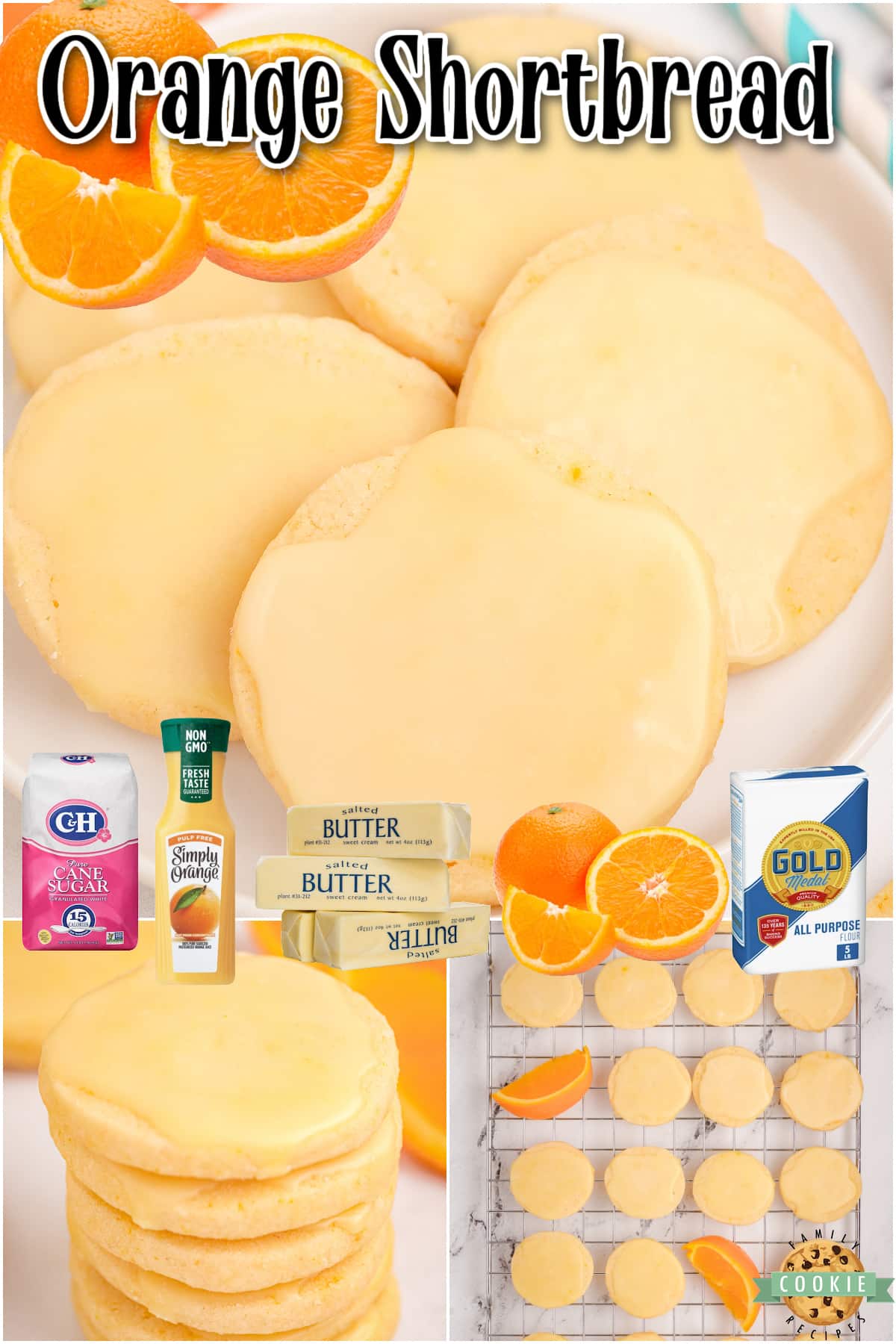 Bake
Arrange the cookie slices on your prepared baking sheets, at least 2 inches apart.
Bake in the oven, on the top rack, for about 22-26 minutes.
Transfer the cookies to a wire rack to cool completely.
Add icing
Whisk together the powdered sugar and orange juice in a small bowl until a drizzling consistency.
Spoon the icing over the top of the cooled cookies.
Let the cookies lay flat until the icing has set.
Serve and enjoy!
How long are iced orange shortbread cookies good for?
These cookies can be kept stored in an airtight container at room temperature for up to 5 days. If desired, you can freeze the cookies for up to 3 months in an airtight container but I would recommend waiting to add icing until after the cookies have thawed so that it doesn't become a sticky mess, as icings usually dissolve as the cookies thaw.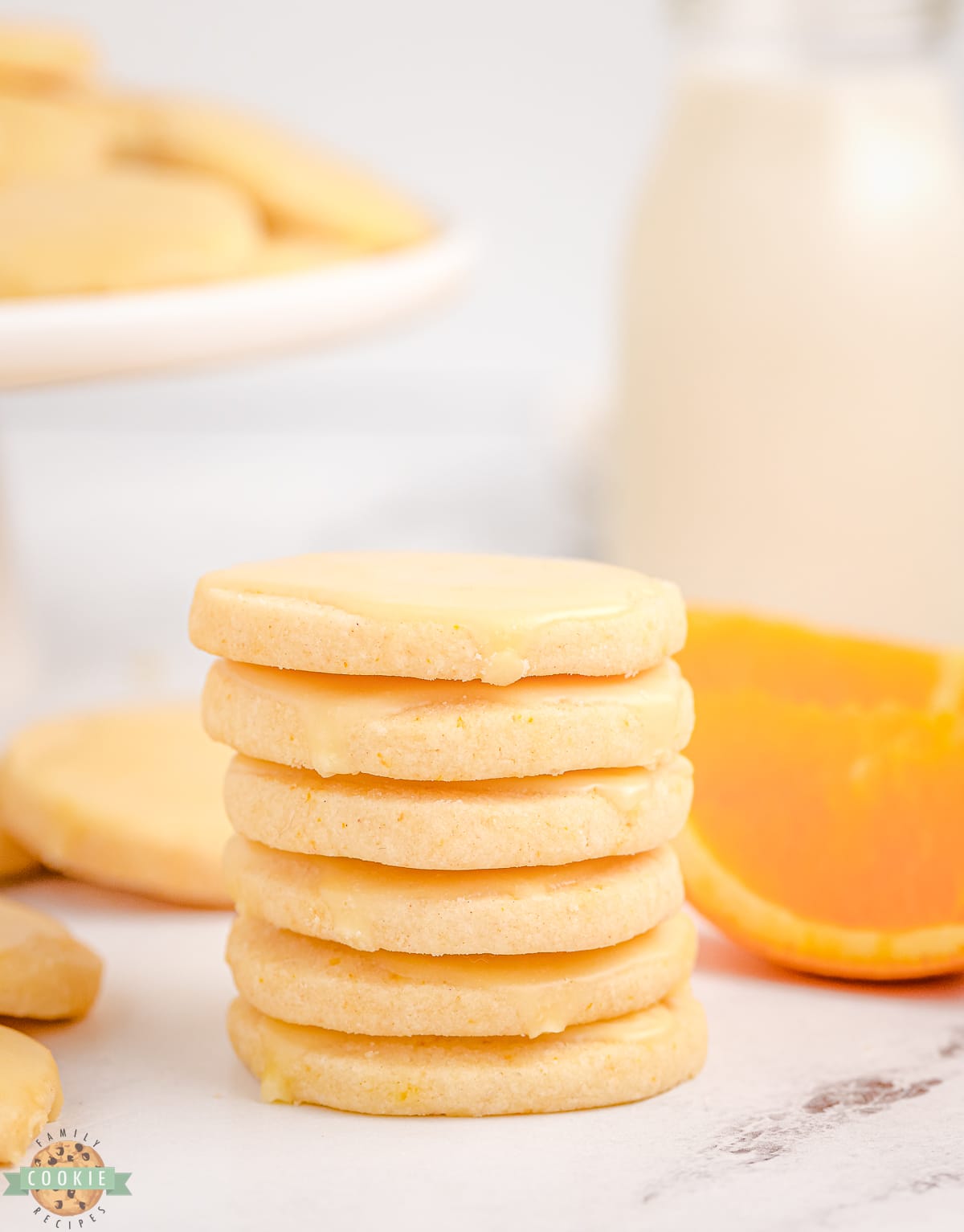 Do I have to chill the cookie dough?
When recipes request that you chill your cookie dough it is usually for a good reason. That reason is that the flavor gets a bit more time to develop and the cookies taste even more incredible. But the biggest reason is because of the butter/fats in the dough. By chilling the dough we allow the fats to solidify which means your cookies will not spread out as much while baking, so the texture turns out perfectly. This is especially important on warmer days or when your butter is warm or softened.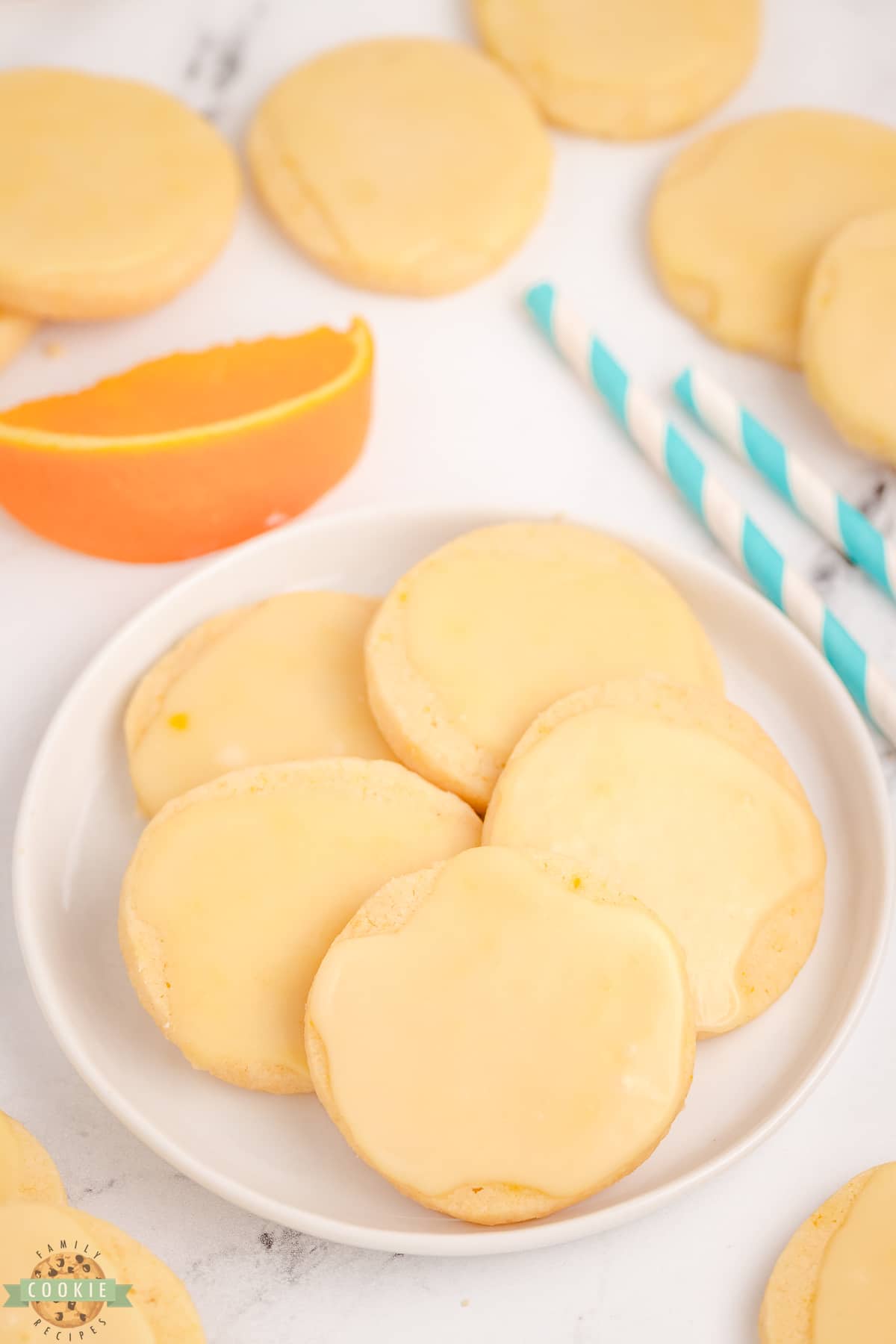 What is the best way to soften butter?
When you want softened or room temperature butter (65 degrees F) and don't have any on hand, follow these simple tips for warming it up quickly without overheating and melting the butter. Softened butter is needed to incorporate with the dough for a seamless smooth consistency so getting your butter to the proper temp is important.
Here are some ways to warm up your cold stick of butter:
Let it sit on the counter for 1 hour prior to making your cookie recipe.
Slice the butter into tablespoon sized pieces and place into a warmed glass for 10-15 minutes. A glass right out of the dishwasher or a measuring glass warmed with water in the microwave (before disposing of the water) are both great options.
Warm a small clean kitchen towel and wrap your sticks of butter (in the wrappers) for a few minutes.
I like to use a warmed tall drinking glass and place the wrapped sticks of butter in the cup before turning it over on the counter for several minutes.


We were out taking baptism pictures for this handsome boy when we found this awesome bullfrog! So we said hello, picked him up and included him in a few of the pictures. They're my favorite!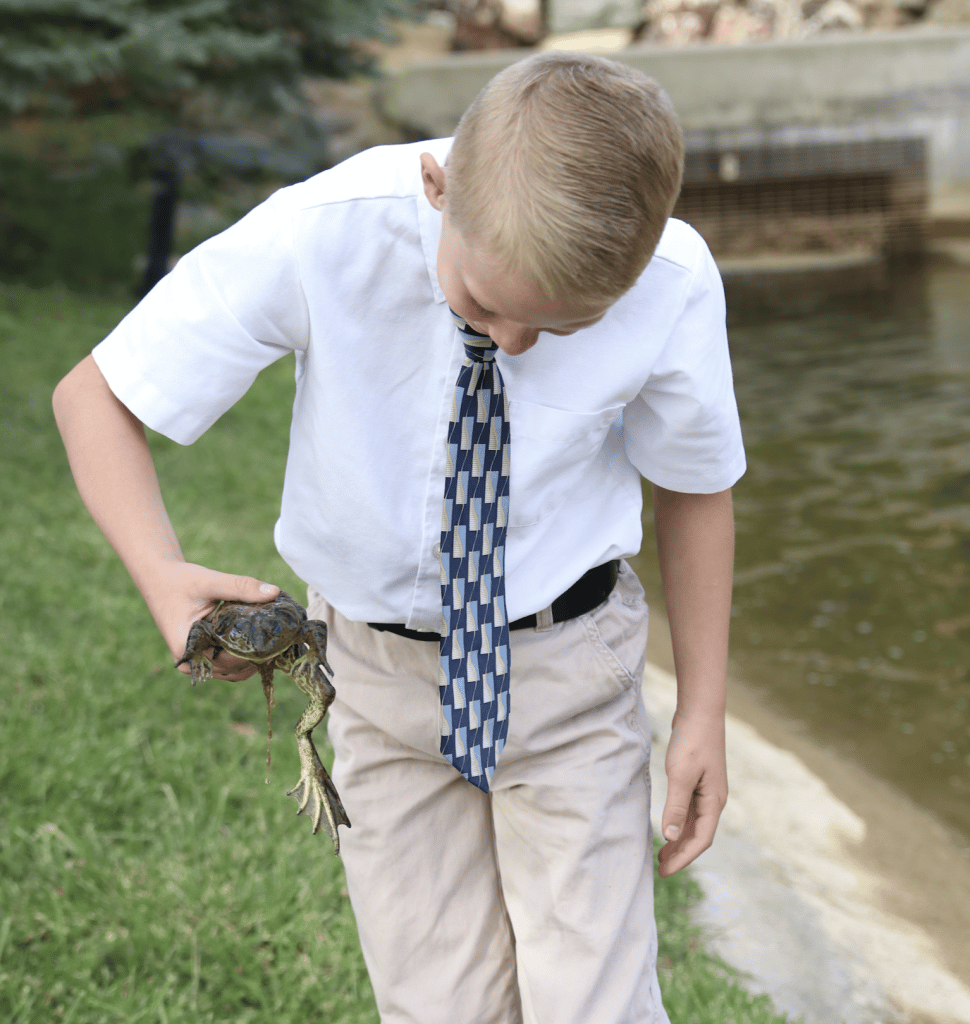 Orange shortbread cookies are a citrus-flavored buttery crisp cookies perfect for afternoon tea. Enjoy these cookies any time of day!