White Chocolate Macadamia Cookie Bars are thick, soft and absolutely delicious. Simple cookie bar recipe packed with white chocolate chips and macadamia nuts.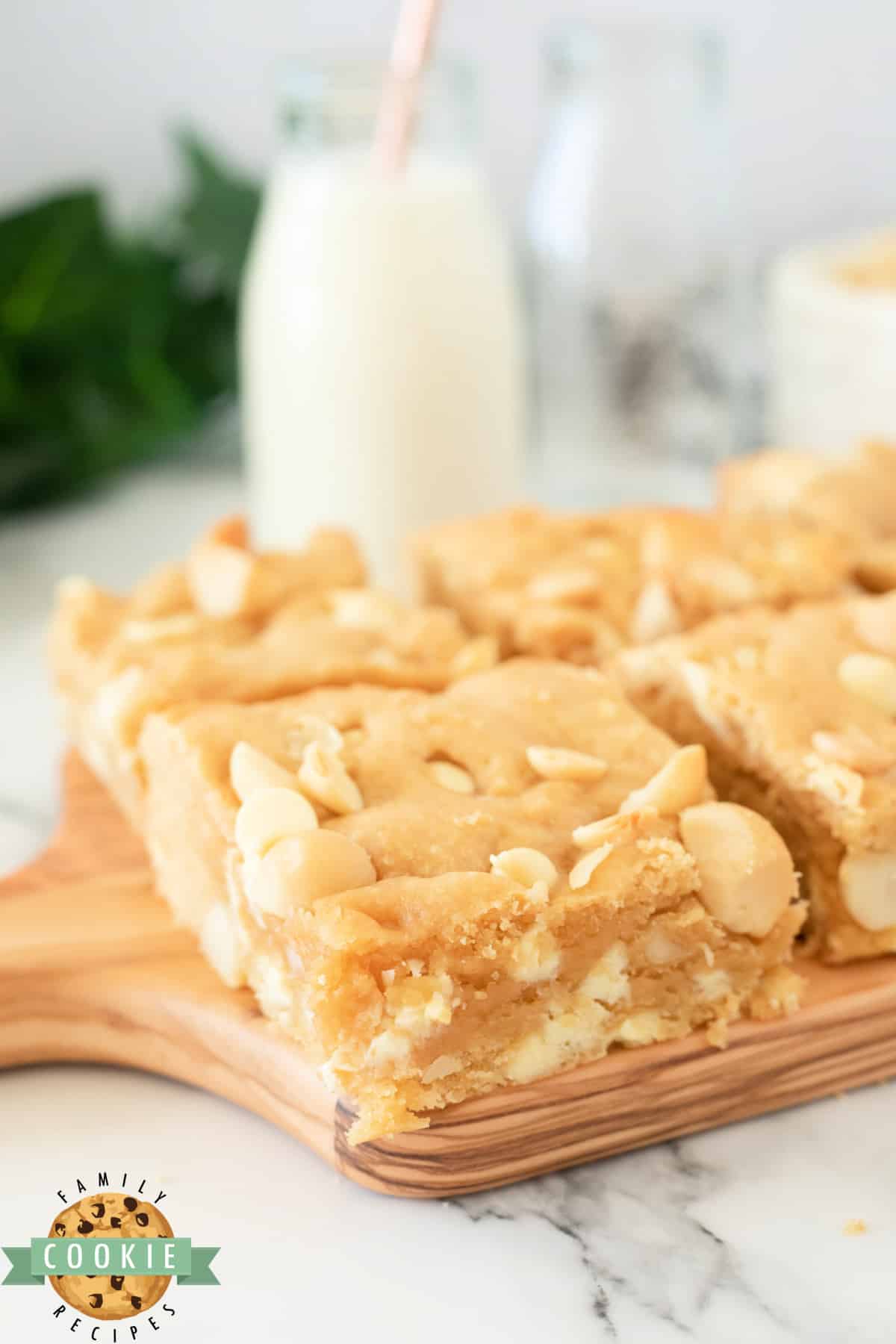 There is something about the combination of white chocolate and macadamia nuts, and that combination tastes amazing in these cookie bars. These cookie bars are perfectly crisp on the outside, and soft and slightly gooey on the inside.
WHY WE THINK YOU WILL ENJOY THIS AMAZING RECIPE!
Here are just a few reasons why you should try this delicious recipe today.
No scooping individual cookies! I love making cookies, but scooping out each cookie and baking a few different trays can take some time. Cookie bars are so fast – just put all the dough in the pan and bake at one time.
Basic ingredients. You do not need anything too fancy to make this recipe and you may even be surprised at how many of the ingredients are already in your home. Just a minimal shopping trip (if any) is needed.
No chilling is required! This recipe does not require any dough chilling or high levels of patience. Just make the dough and pop in the oven immediately to bake to perfection.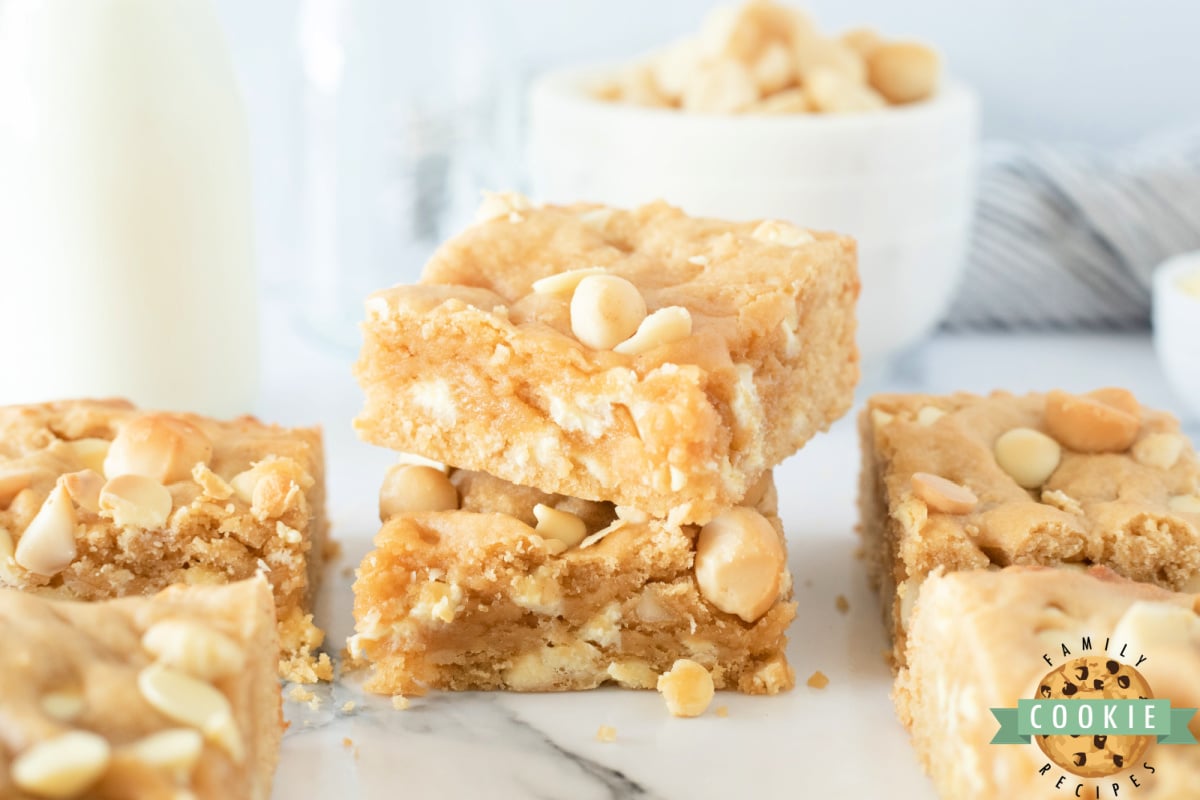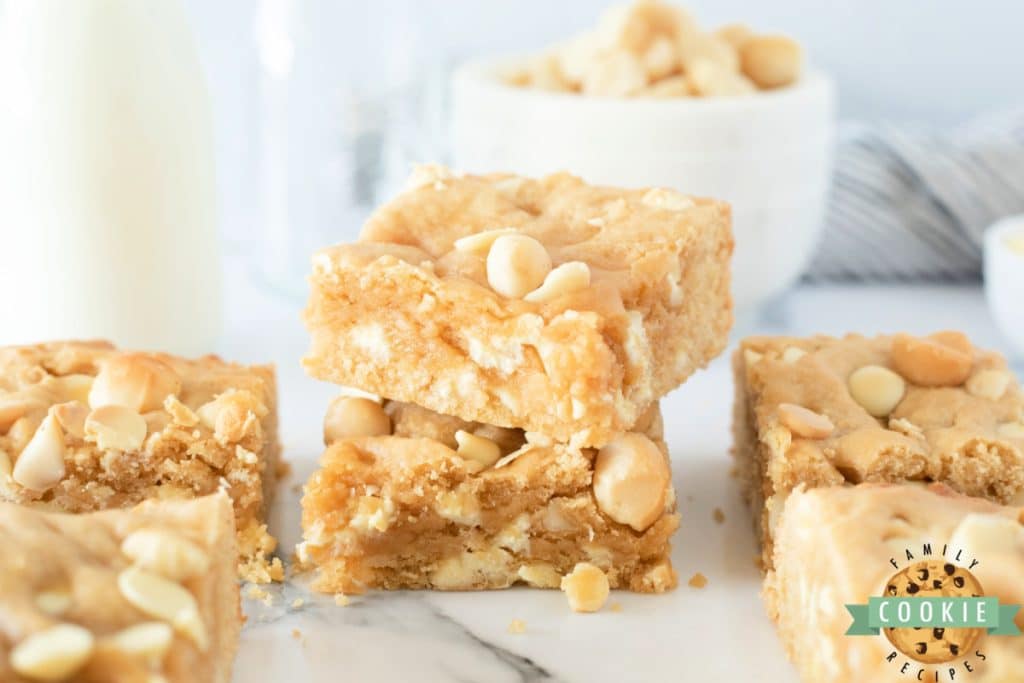 TIPS FOR MAKING THE BEST COOKIE BARS
Spend a little extra time when you mix the wet ingredients together. Adding a few extra minutes (as the recipe states), will make a huge difference in the texture and consistency of the cookie bars.
Don't over mix when you combine the wet and dry ingredients. You'll want to mix just long enough for everything to be combined.
Preheat the oven. This will help your cookies turn out right every time!
Use parchment paper. Doing this will make it really easy to remove the cookies from your 9X13 pan.
Make sure not to over bake your cookie bars. Once the edges begin to turn even the lightest golden brown, take them out of the oven! I prefer to err on the side of being slightly undercooked for cookies because if they cook even a little bit too long, they can get hard and I really like soft cookies!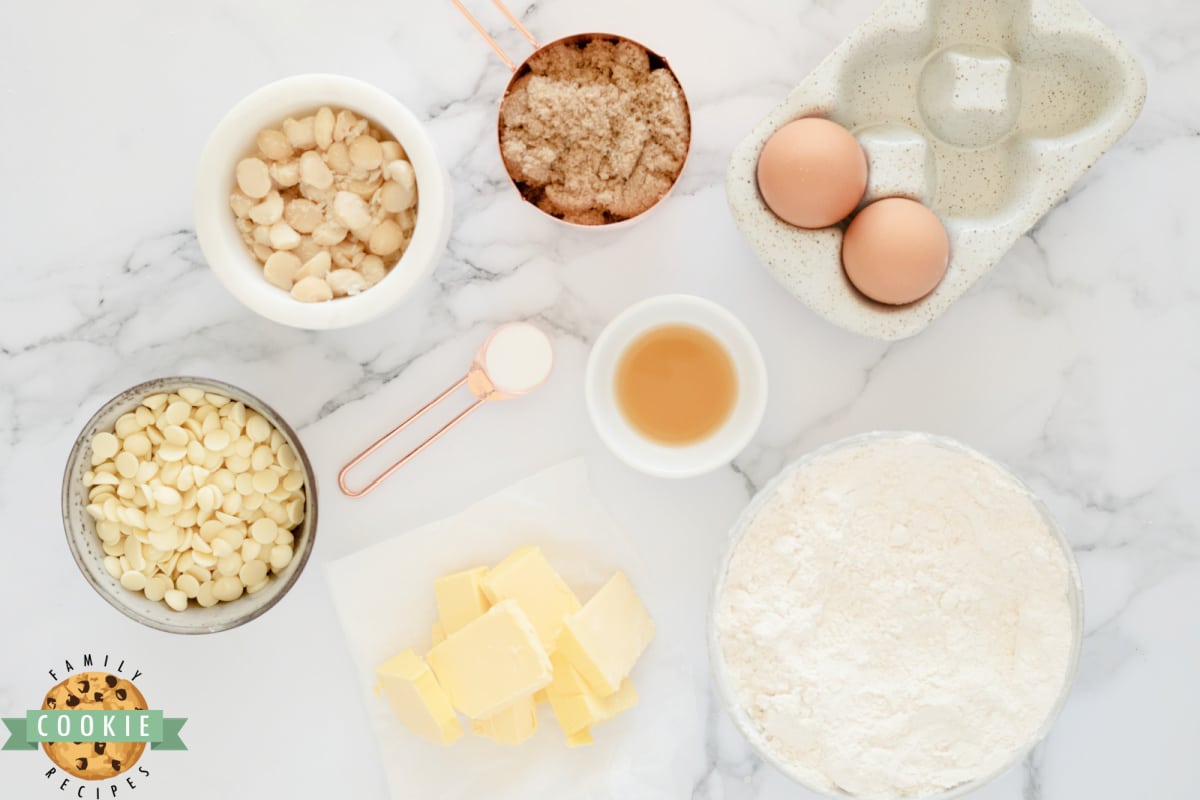 Ingredients in White Chocolate Macadamia Cookie Bars
Flour – All-purpose flour works best in this recipe.
Baking powder – Acts as the leavening agent in the cookies. Make sure your baking powder isn't expired!
Brown sugar – For best results, make sure that your brown sugar is fresh. Brown sugar that is dried out will not yield cookie bars that are quite as soft!
Butter – Use real butter for best results. Melt the butter before adding to the dough.
Eggs – You will need 2 eggs to bind everything together.
Vanilla extract – The higher the quality of the vanilla, the better!
White chocolate chips – Use about a cup of white chocolate chips. You probably won't get any complaints if you add a few extra!
Macadamia nuts – You will need 1/2 cup of roughly chopped macadamia nuts.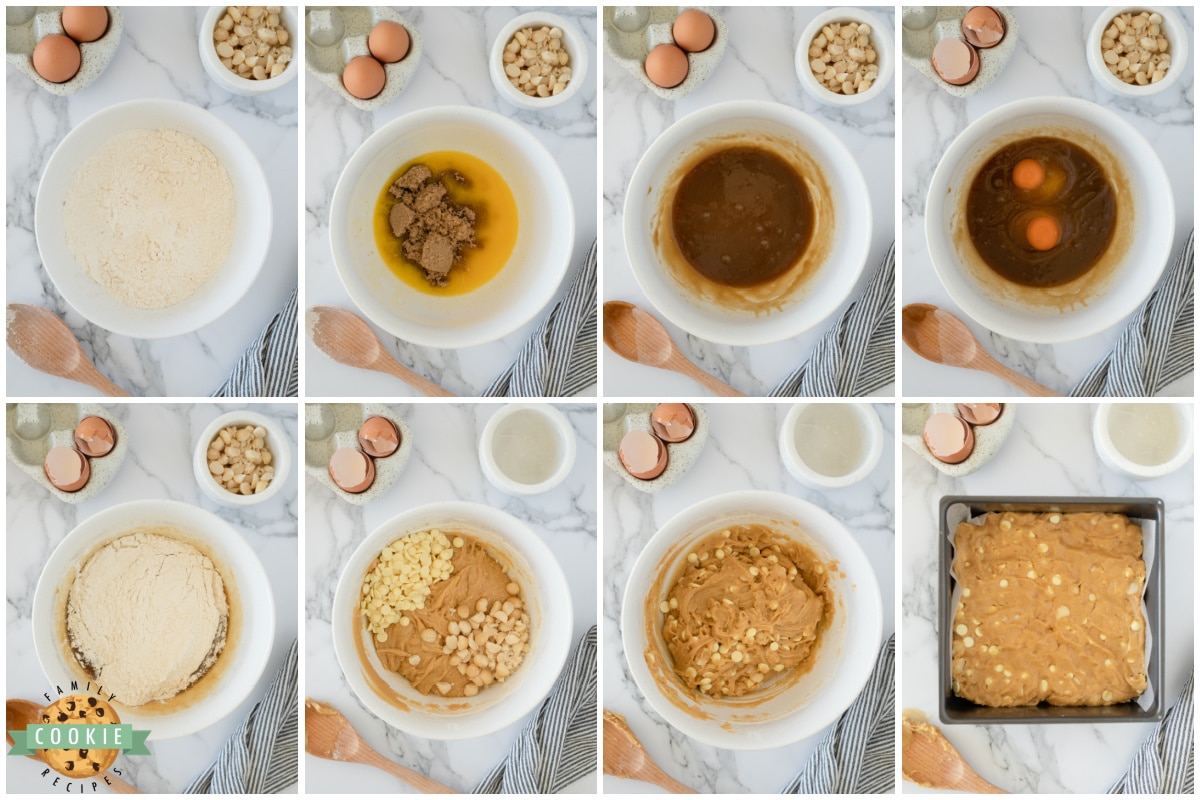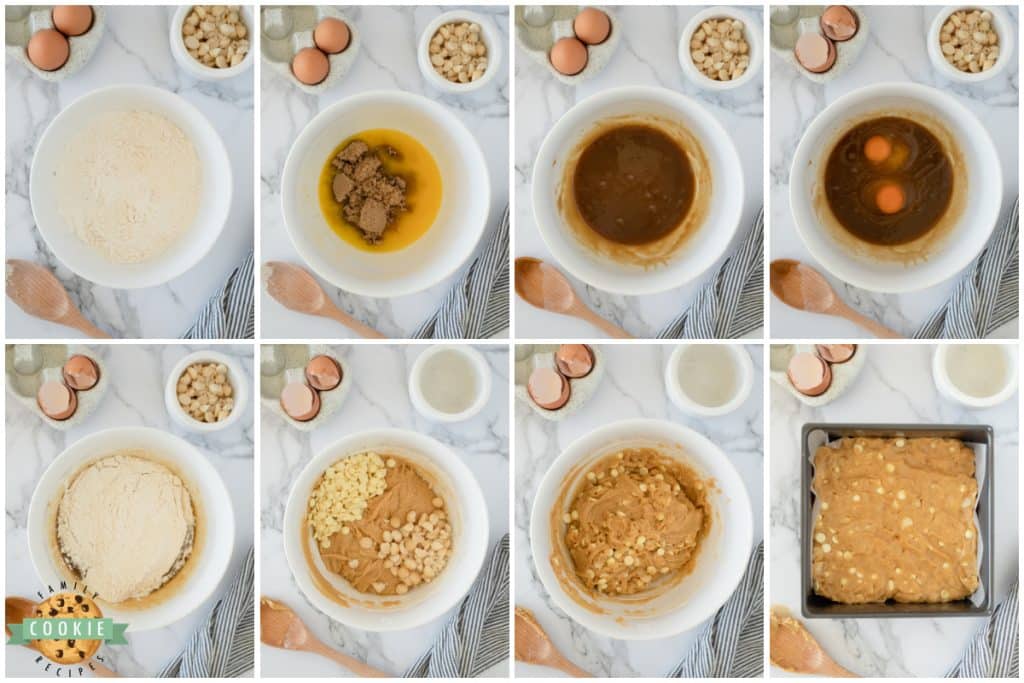 How to make White Chocolate Macadamia Cookie Bars
Preheat the oven to 350°F. Grease or line with parchment paper an 8 X 8 inch square tin. Set aside.
Add the flour and baking powder to a mixing bowl and mix until well combined. Set aside.
Add the brown sugar and melted butter to a large mixing bowl. Mix for at least 1-2 minutes, until well combined. Add the eggs and vanilla extract and mix for 2-3 minutes until all the ingredients are well combined.
Pour the flour mixture into the bowl with the wet ingredients. Stir until just combined. Fold through the white chocolate chips and chopped macadamia nuts.
Spoon the dough into the prepared baking pan and smooth the surface gently with the back of a spoon. Bake for 20 minutes, or until beginning to turn golden.
Allow to cool in pan completely before removing and slicing.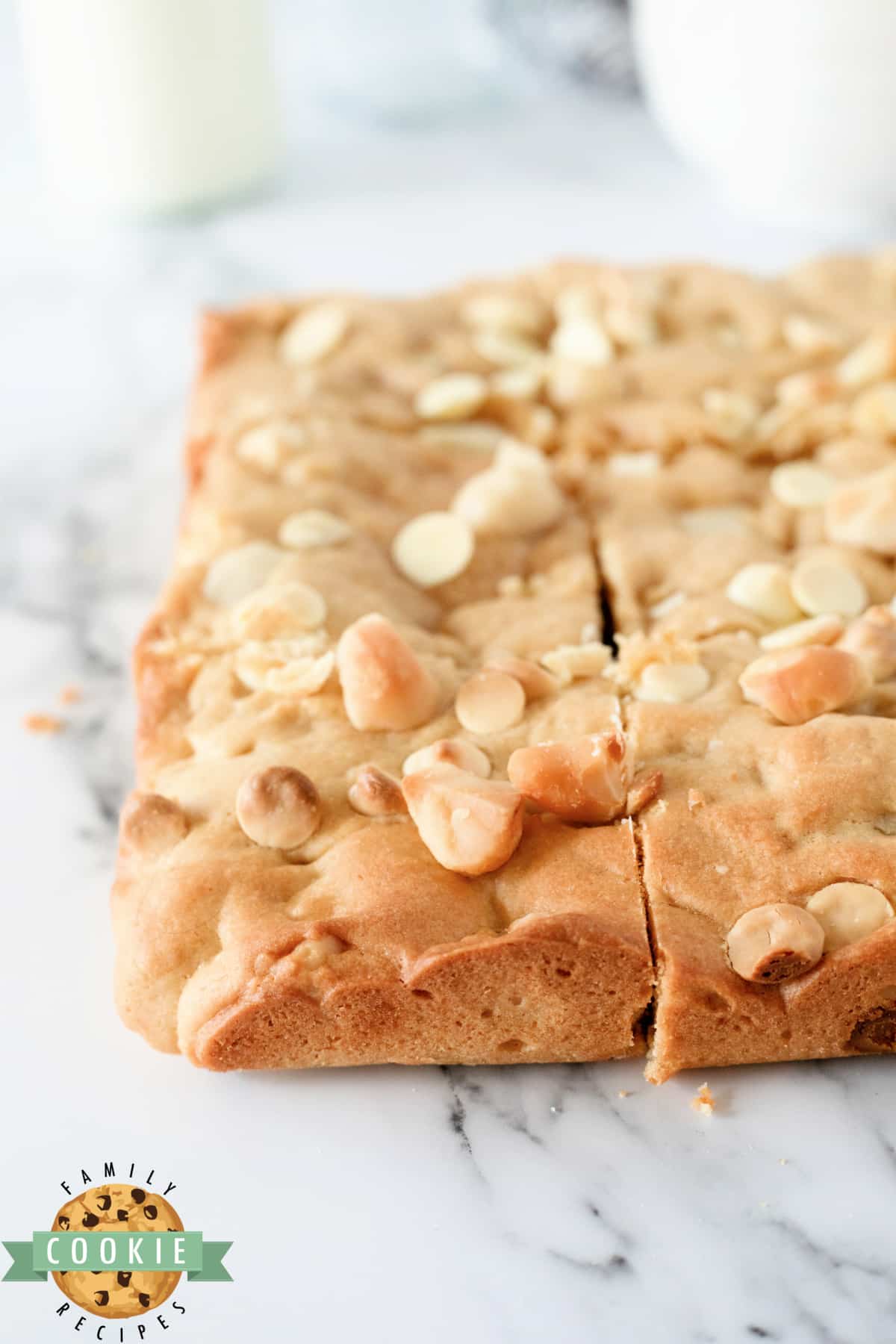 Tips and Tricks for making White Chocolate Macadamia Cookie Bars
1 cup of white sugar can be used in place of the brown sugar. Alternatively, the 1 cup of brown sugar can be substituted with a mixture of 1/2 cup brown sugar and 1/2 cup white sugar. Using different sugars may alter the texture slightly.
Substitute the white chocolate chips with your favorite flavor of chocolate chips.
1 cup of roughly chopped white chocolate bar can be used in place of the white chocolate chips for a chunkier chocolate cookie bar.
Substitute the macadamia nuts for your favorite nut variety.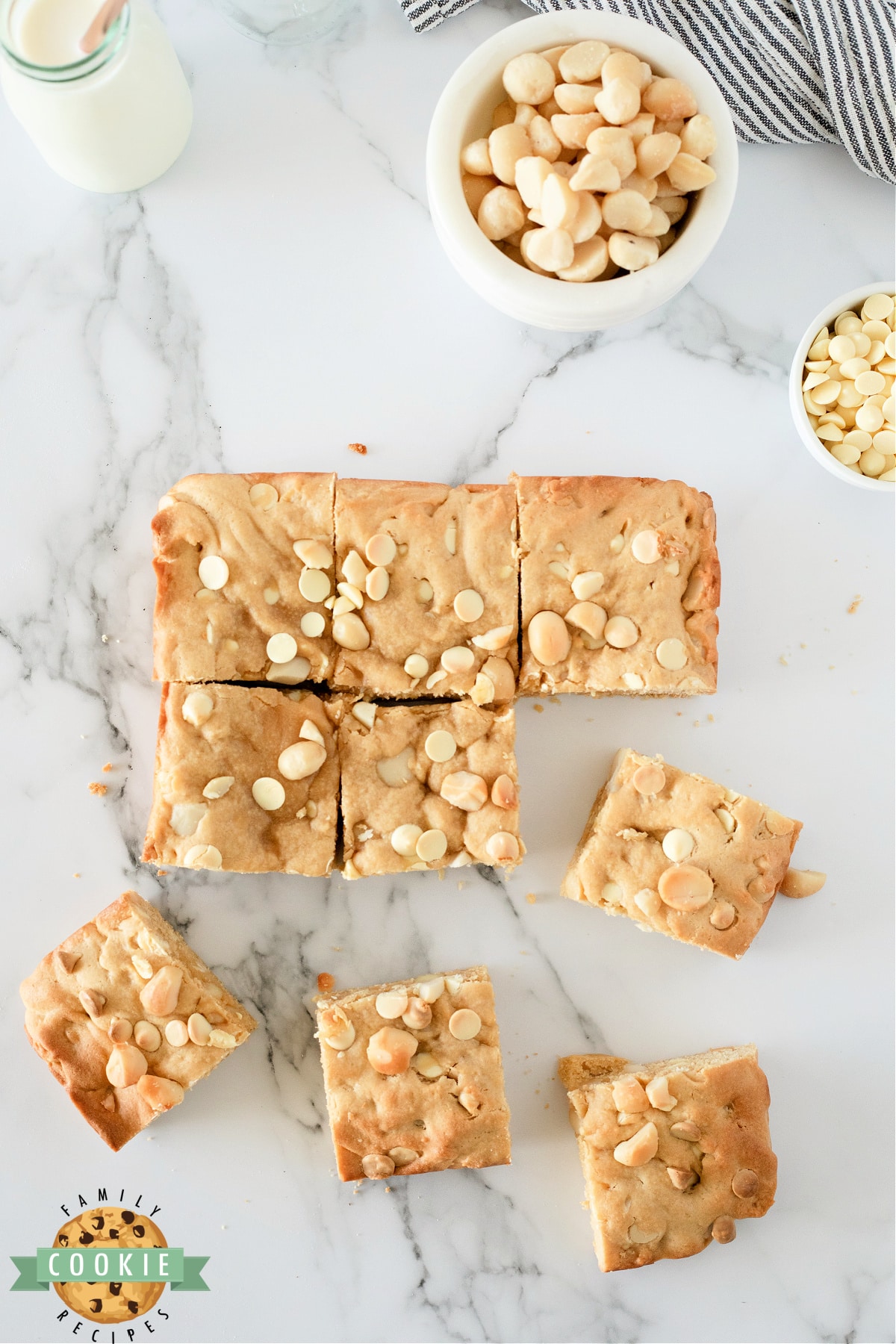 HOW TO CUT PERFECT COOKIE BARS
The answer to getting every single cookie bar cut and looking perfect is parchment paper! I used to always get frustrated with desserts that are made in a 9X13 or 8X8 pan because I felt like I was always destroying the entire first row trying to get them out of the pan! Then I discovered that if you use parchment paper, you can remove all the cookie bars from the pan and slice them perfectly.
If you don't have parchment paper, you can just grease your pan like you usually do but your first row may just not be quite as pretty! This cookie bar recipe is one of the easiest to cut into squares – they stay intact much better than many other desserts!
HOW LONG ARE COOKIE BARS GOOD FOR?
You can keep these cookie bars stored in an airtight container at room temperature for up to 1 week. This should give you plenty of time to savor a sweet little treat every night.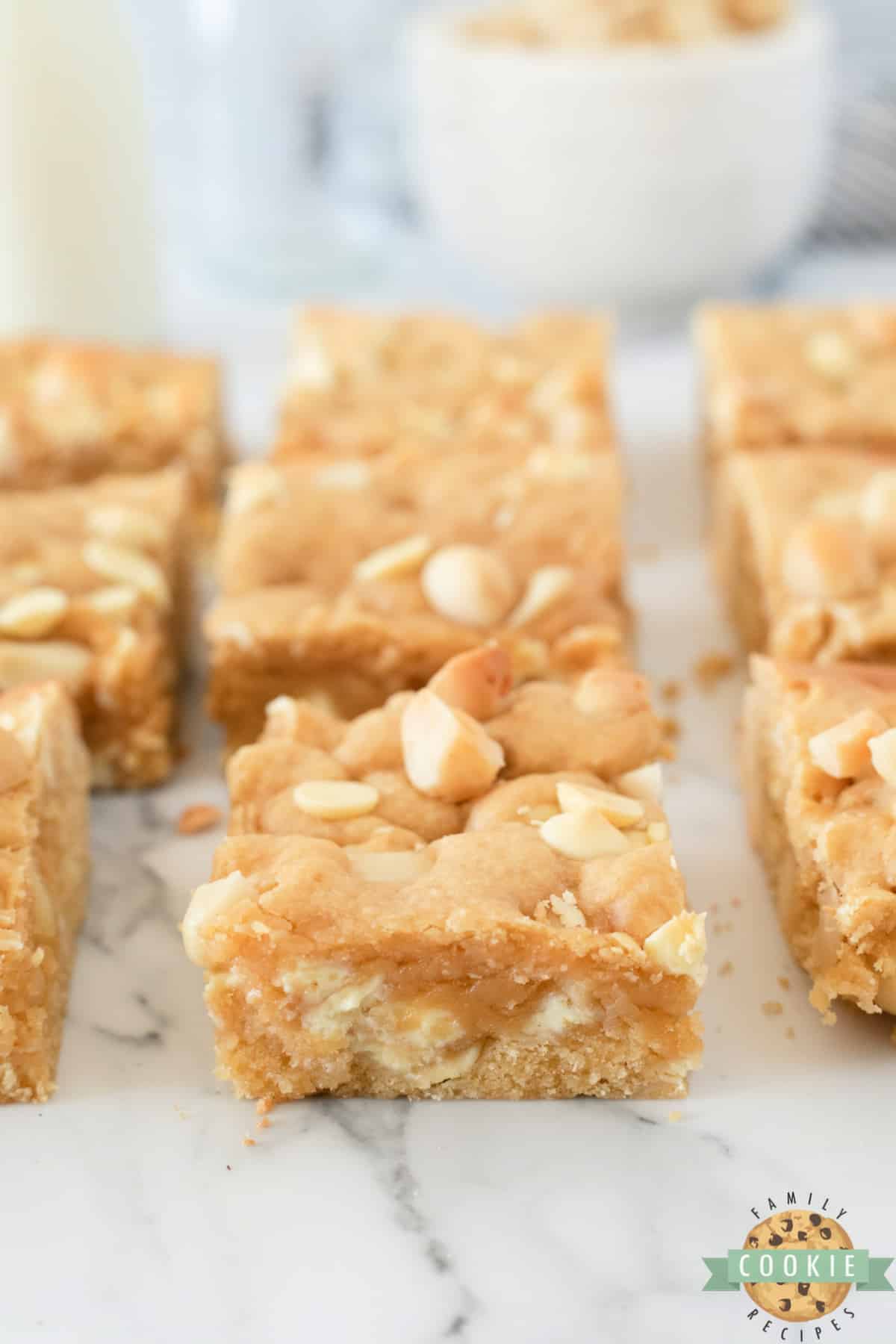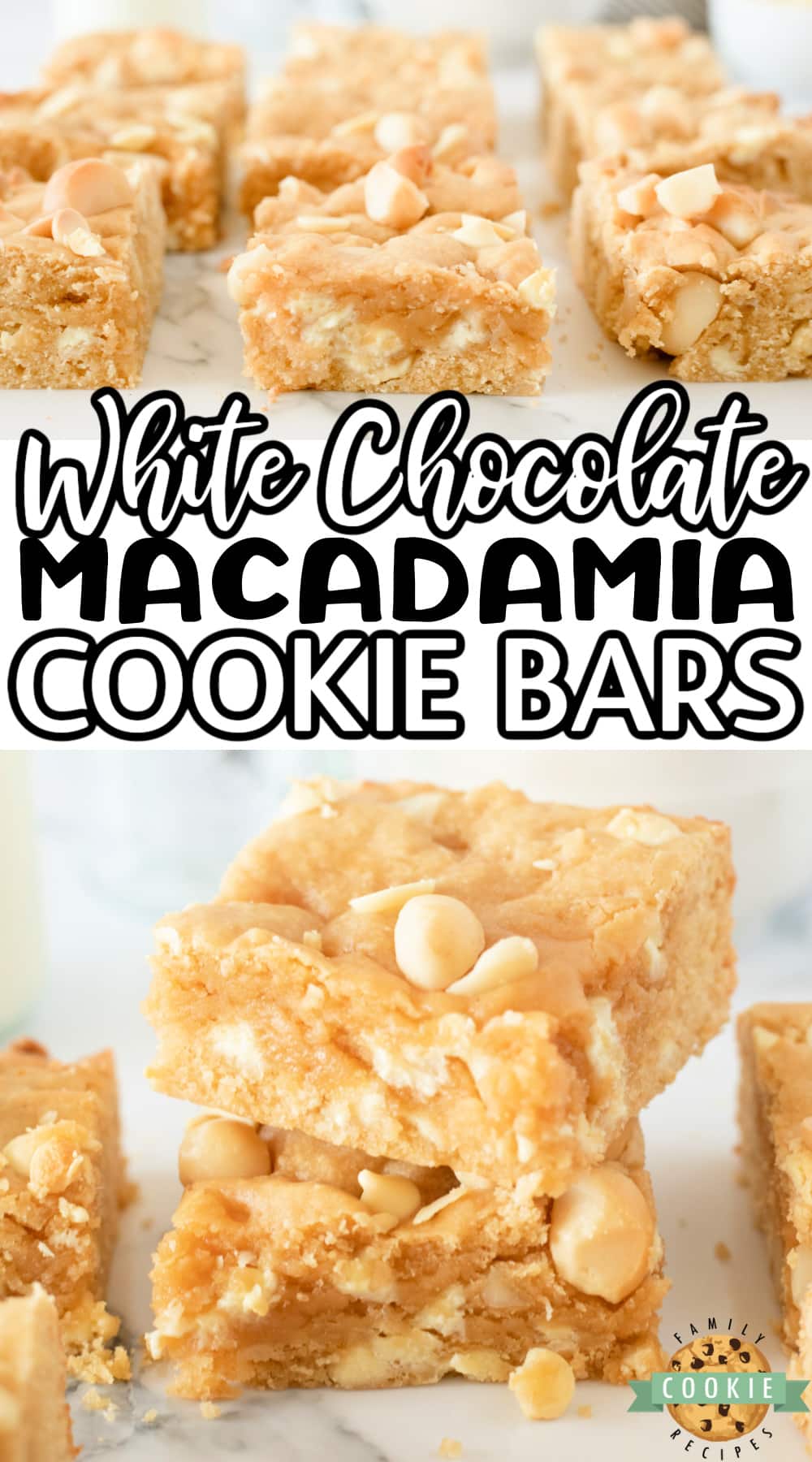 White Chocolate Macadamia Cookie Bars are thick, soft and absolutely delicious. This cookie bar recipe is quick and easy to make.



This girl decided to donate her hair last week and got 10″ cut off! She's had long hair for forever, so this is a pretty big change, but she loves it and I think it is so awesome that she was willing to donate it to someone else. I'm just a little bit sad, because I think the shorter hair makes her look like 5 years older! She's excited to start another school year next week with her new look.