Cherry Biscotti made with dried fruit, slivered almonds and feels fancy and decadent. These biscotti cookies are a fantastic treat that pair perfectly with your morning coffee or tea.
These almond biscotti cookies are such a pretty treat, they look amazing on a dessert table and taste as good as they look. Making this almond biscotti recipe is actually very easy, the dough comes together quick and the ingredients are basic one's too.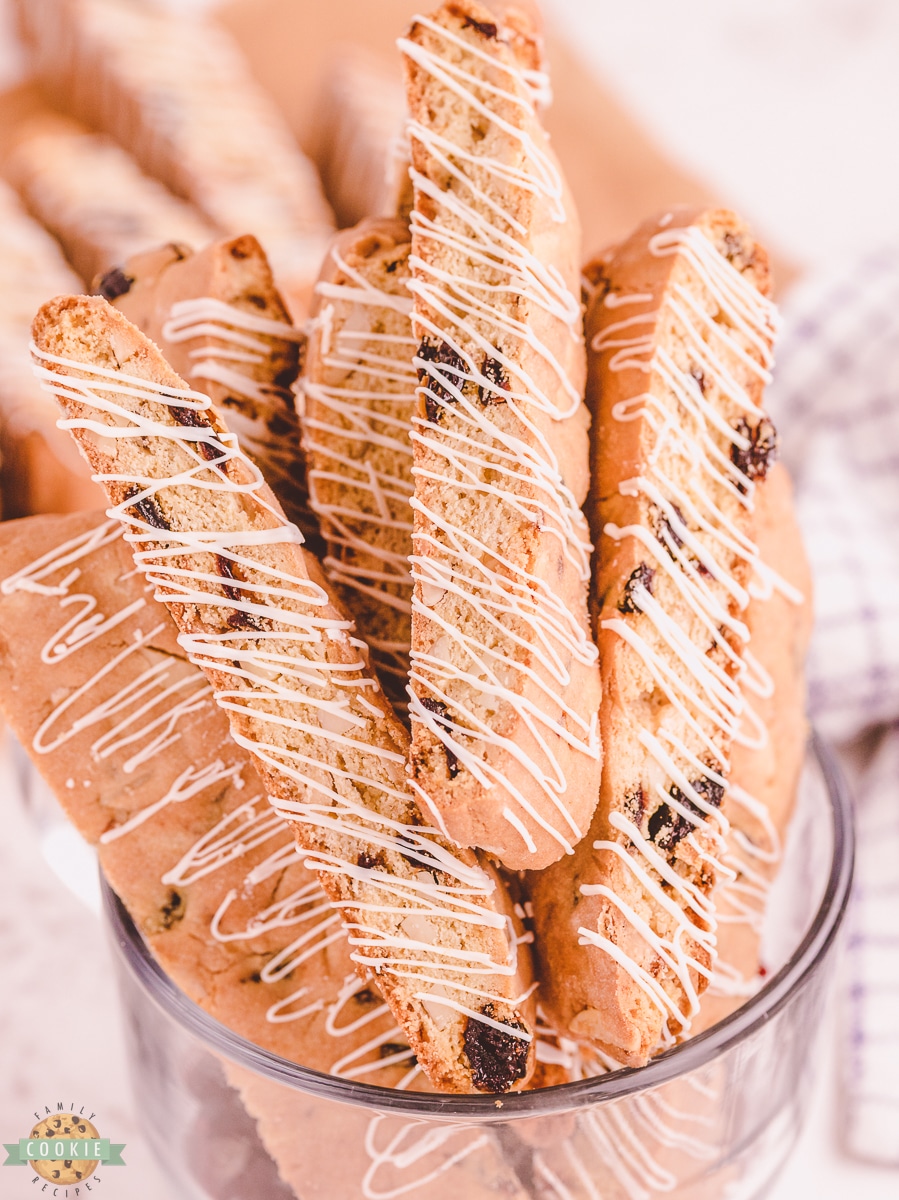 Biscotti cookies
If you didn't know, biscotti is actually classified as an Italian cookie. This makes sense, considering how similar the ingredients are to the cookies you already know and love. Fun fact: The word "biscotti" actually means "baked twice," which is what we do to give our cherry almond biscotti the perfect texture. In Italy, they use the word "biscotti" to refer to different types of cookies, while here in America, we see biscotti as cookies like these. In Italy, they actually refer to these biscotti as an entirely different name!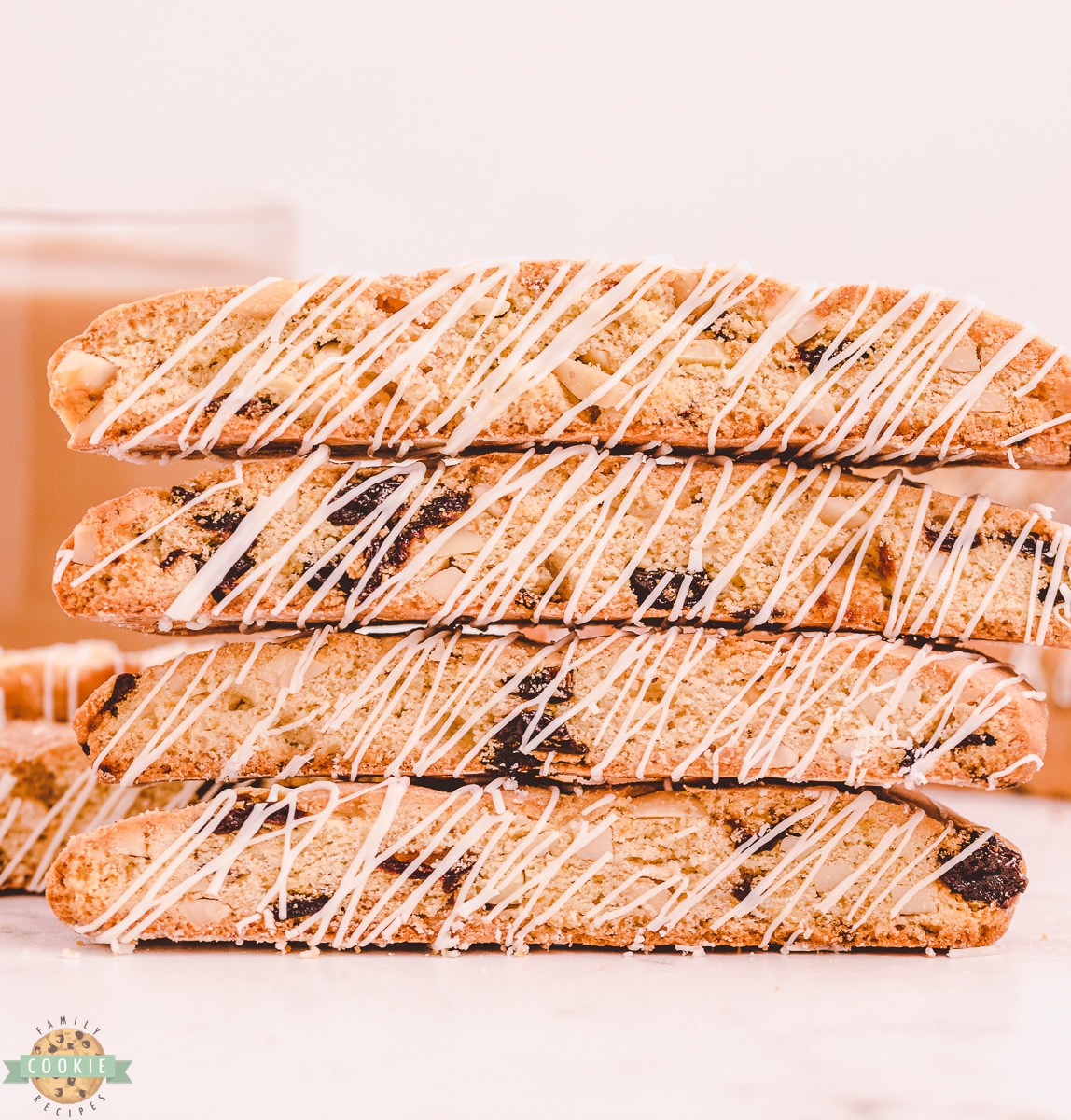 Why we think you will love this easy cookie recipe
If you need more reasons to give this recipe a try, read on for why we think you will fall in love with these cookies.
Great for fancy occasions. Valentine's day, romantic dates, any holiday, or just Sunday brunch, are all perfect occasions for serving up some chocolate cherry almond biscotti. There is never a bad time for a cookie!
Basic ingredients. If you have ever made cookies from scratch, then you've already got a good idea of the ingredients needed. The basics like flour, sugar, butter, baking powder, etc. This cherry almond biscotti recipe uses very simple pantry staples, making it very convenient to make at home.
They look great! Your chocolate cherry biscotti will not only look professional when you are finished with them, but they'll taste great too! Serve them with your favorite warm drinks and

enjoy them whenever the mood strikes.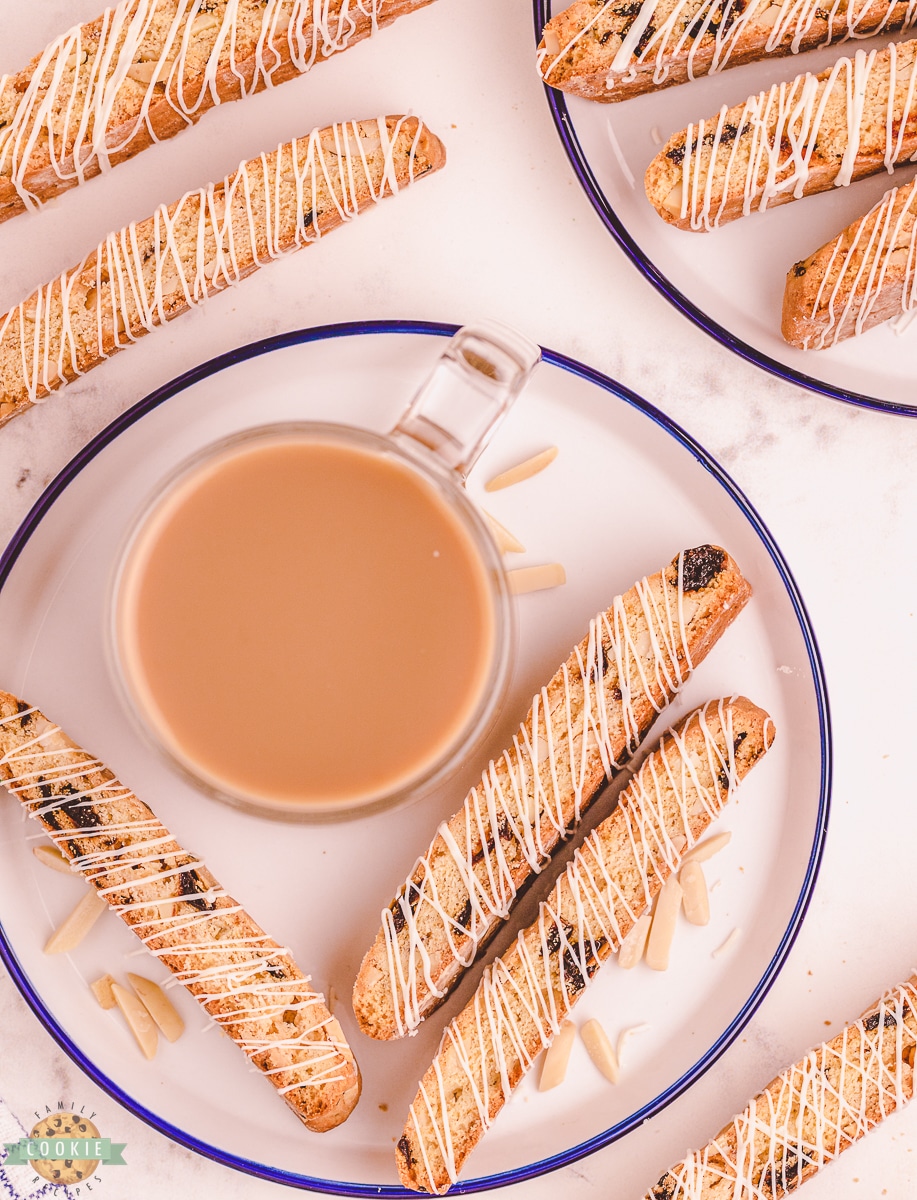 Dried Cherry Biscotti Ingredients
Flour: For the structure and base, you will need 2 cups of all purpose flour for this recipe.
Baking powder: Use 1 ½ teaspoons of baking powder so that the biscotti can leaven properly.
Butter: You will want ½ cup (one stick) of softened butter to give the biscotti wonderful rich flavor.
Sugar: For a little added sweetness, add in ½ cup of granulated sugar.
Eggs: You need 2 large eggs to bind the dough together well.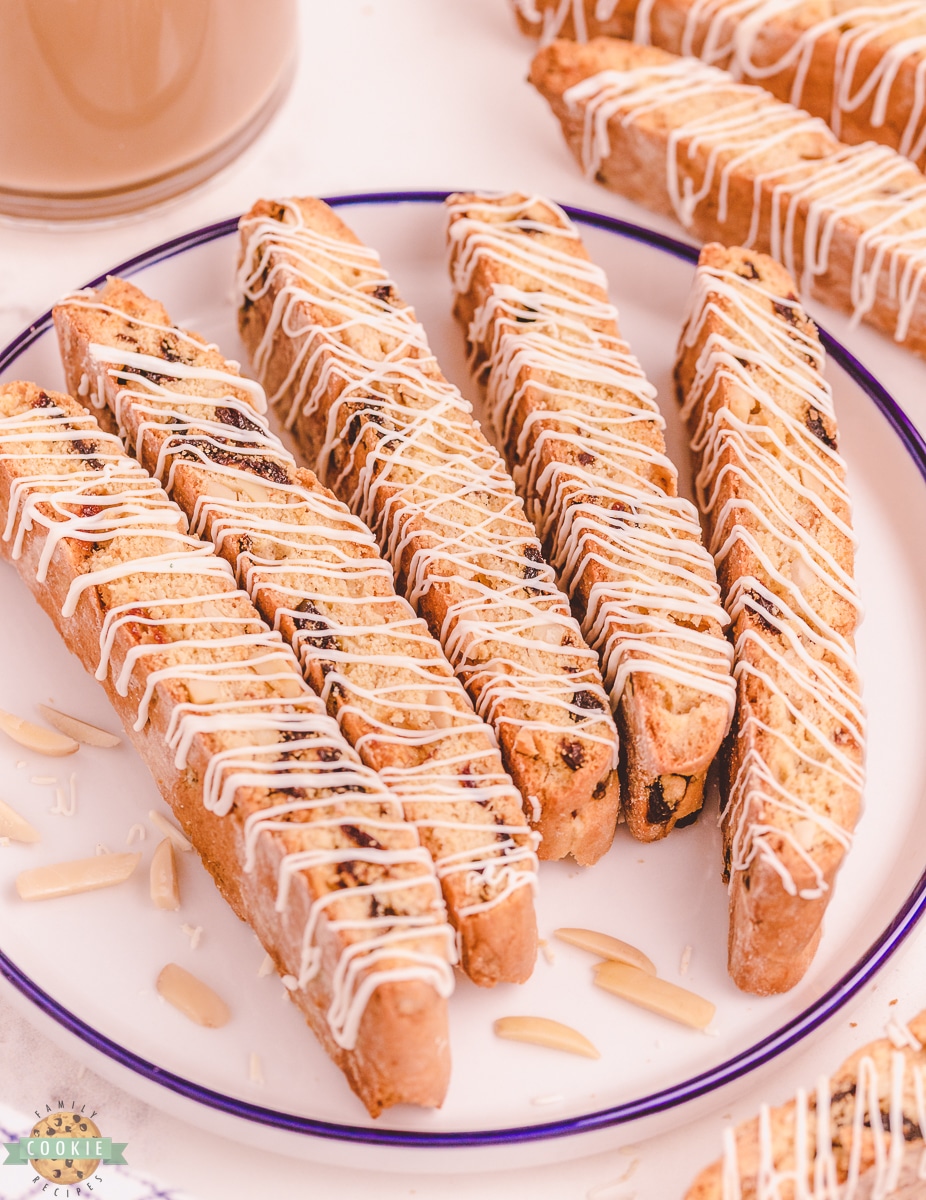 Vanilla extract: Add in 1 teaspoon of vanilla extract for flavor enhancement.
White chocolate: Use 1 bag (about 12 ounces in size) of white chocolate chips. This will be used in the biscotti and as a decorative drizzle on top too.
Dried cherries: You only need ½ cup of dried cherries, but this is plenty for every slice.
Almonds: Adding ½ cup of slivered almonds will give us a subtle flavor note as well as a little crunch.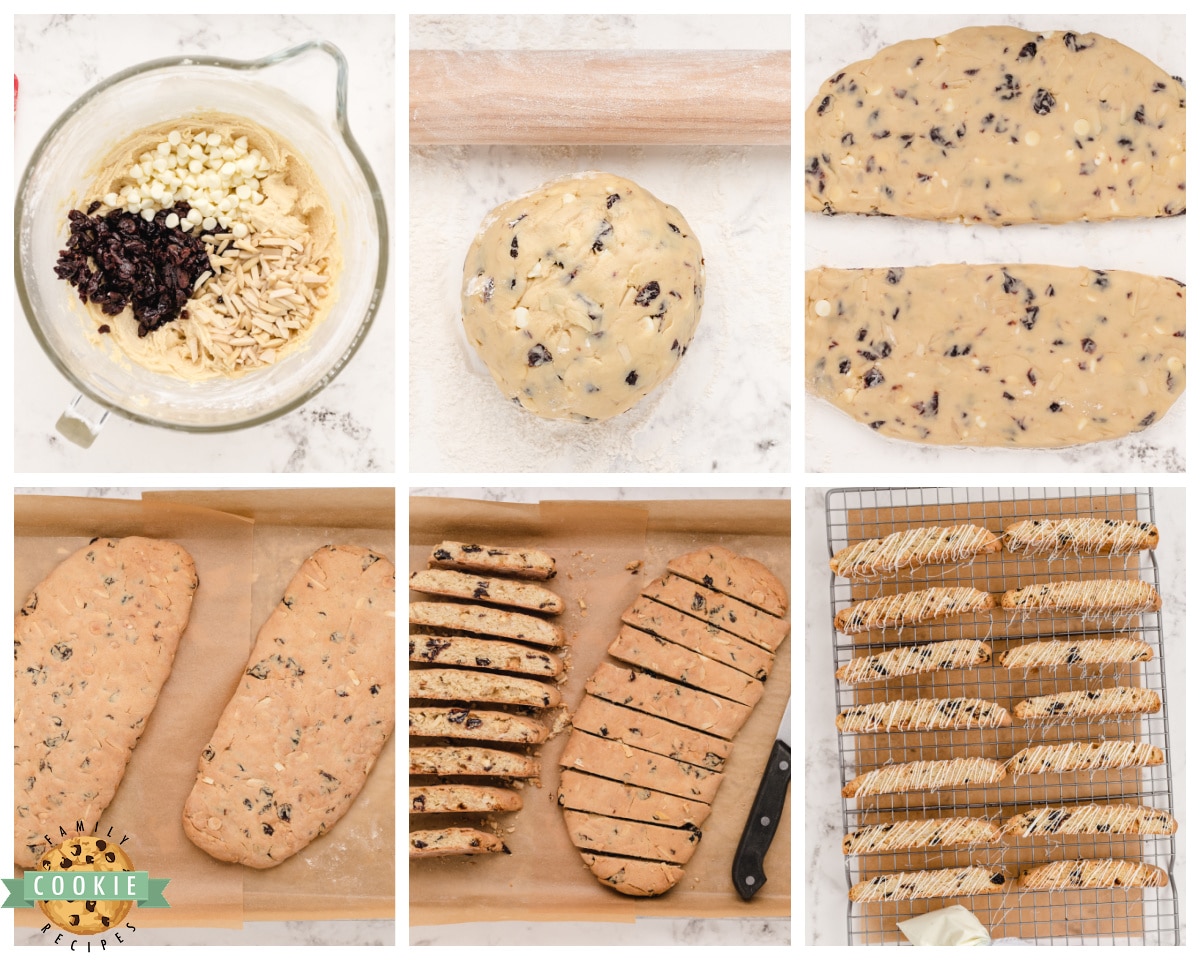 How to Make Cherry Biscotti
Prep
Start by getting the oven preheating to 325 F. Then, lightly grease a large baking sheet with non-stick cooking spray or line with parchment paper, set aside.
Make dough
In a small bowl, mix the flour and baking powder and set aside.
In a separate bowl, combine the softened butter and sugar, beat with an electric handheld mixer or a stand mixer, on medium speed until the mixture is light and fluffy.
Next, add in the eggs and vanilla extract, mix well again.
Proceed to gradually add the flour mixture to the butter mixture, beating until well blended after each addition.
Then gently fold in only 1 ½ cups of chocolate chips, all the cherries, and almonds.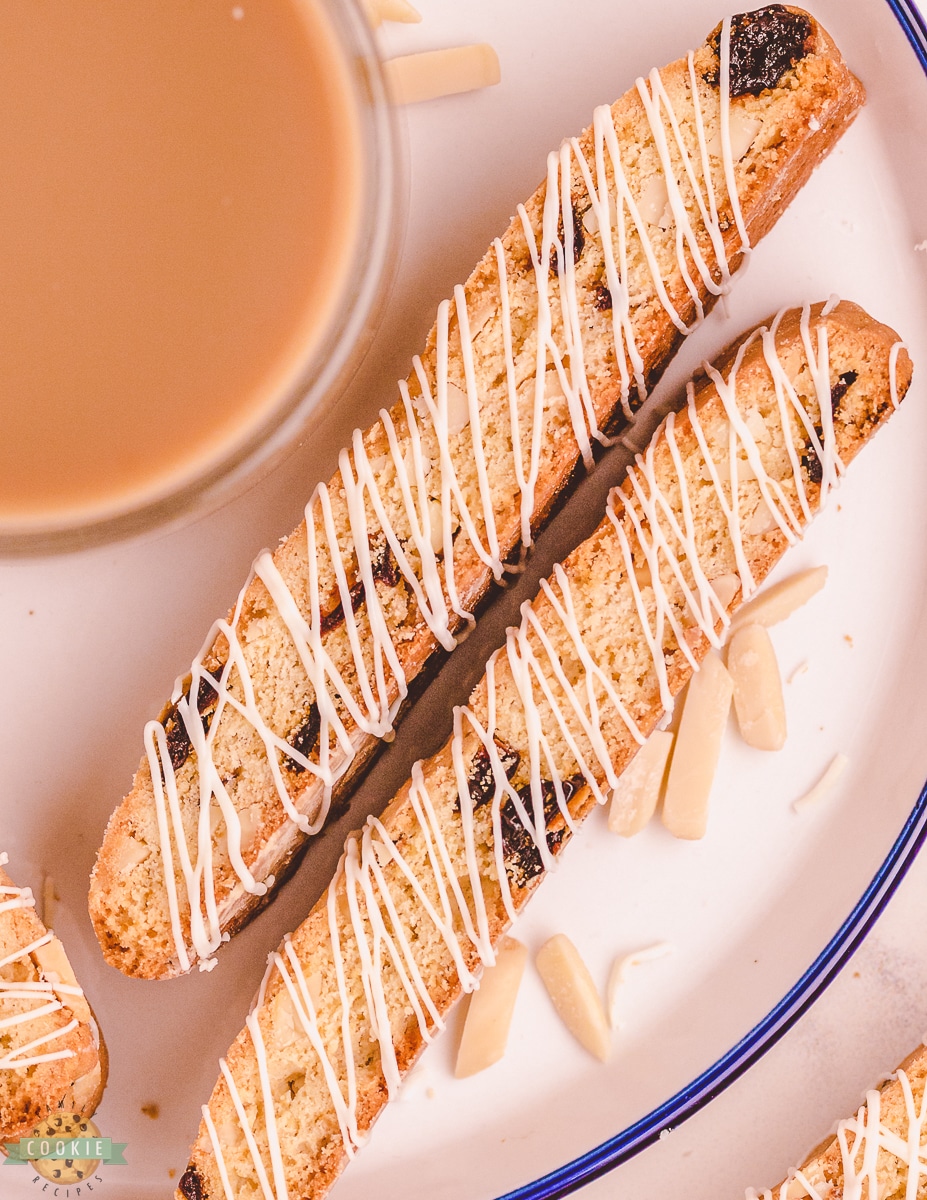 Shape
Once the dough it ready, continue to roll it out to ¼ inch thick on a floured surface. If the dough is too sticky, gently knead in some flour to toughen it up a little bit.
Then cut the dough into strips, like regular biscotti, and place them 2-inches apart on the greased baking sheet.
Knead the leftover dough together, roll it out, and cut again until all the dough has been used.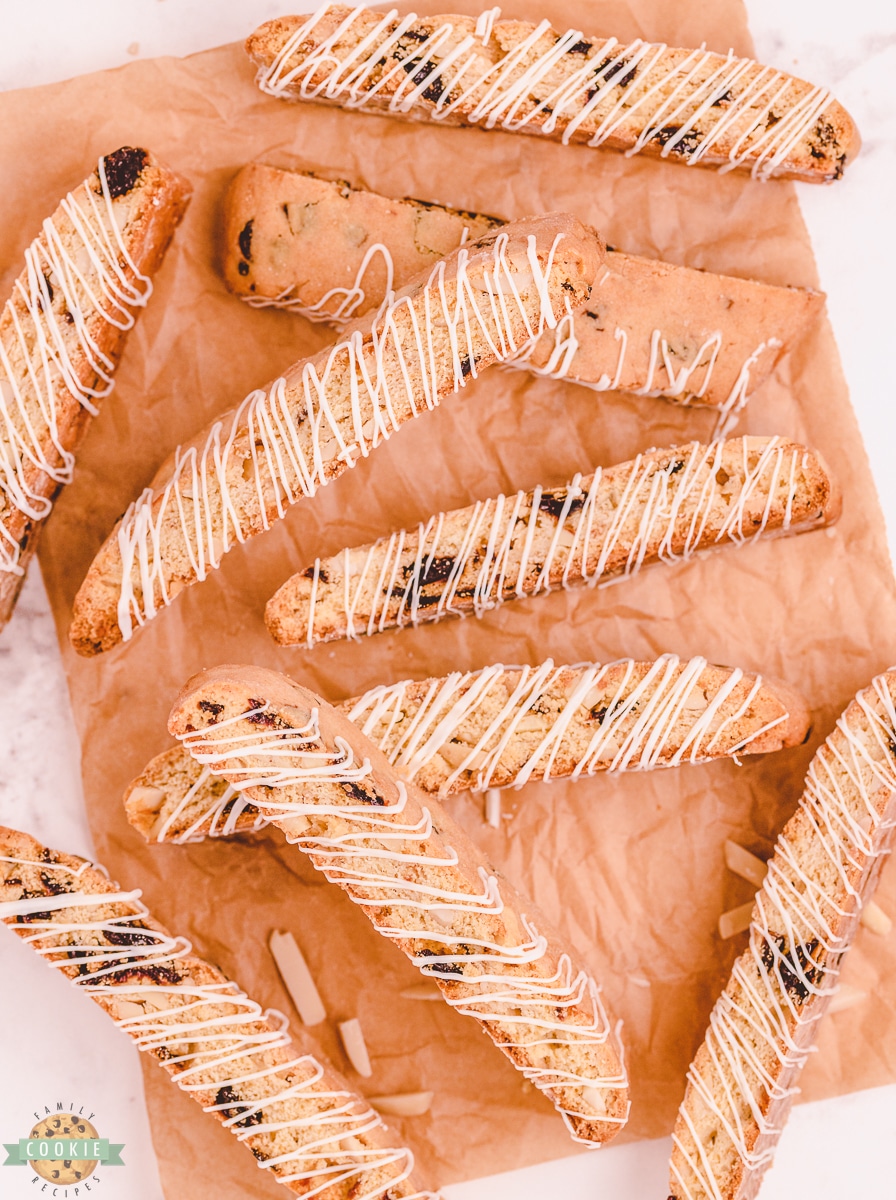 Bake
Place the cookies in the preheated oven and bake for 10-12 minutes or until lightly browned.
After that, turn the cookies over on the baking sheet and bake again for another 10-12 minutes or until golden brown.
Once the baking is done, remove the cookies from oven and place on wire racks to completely cool.
Decorate
In a microwave safe dish, melt the remaining chocolate and drizzle it over the biscotti. You can also use colored candy melts if desired.
Let the cookies set until the chocolate/candy melts are firm, serve and enjoy!
How long will homemade biscotti stay fresh?
If properly stored in an airtight container, you can expect your biscotti to last up to 1 to 2 weeks at room temperature. This biscotti will not last quite as long as traditional methods because of the added fats (in this case, the butter), but the shelf life is still longer than a traditional cookie.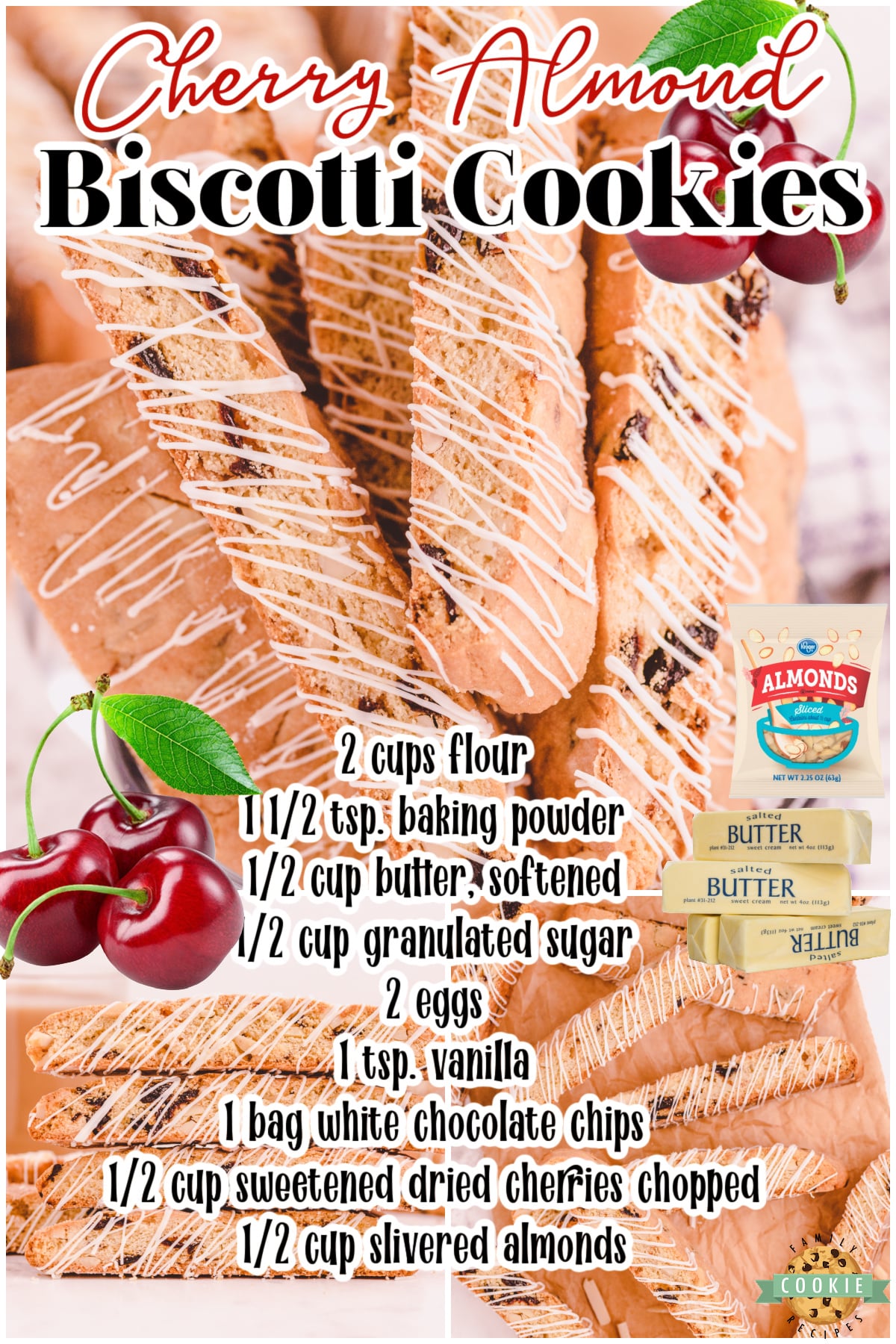 Can I freeze homemade biscotti?
Yes! Biscotti freezes very well! Feel free to place your cooled and set biscotti pieces on a baking sheet and freeze them solid for 2 hours before transferring them to an airtight container and freezing for up to 3 months. They won't take long to thaw, so you can allow them a few minutes to sit at room temperature while you prepare your drinks, and they should be ready within 15-20 minutes.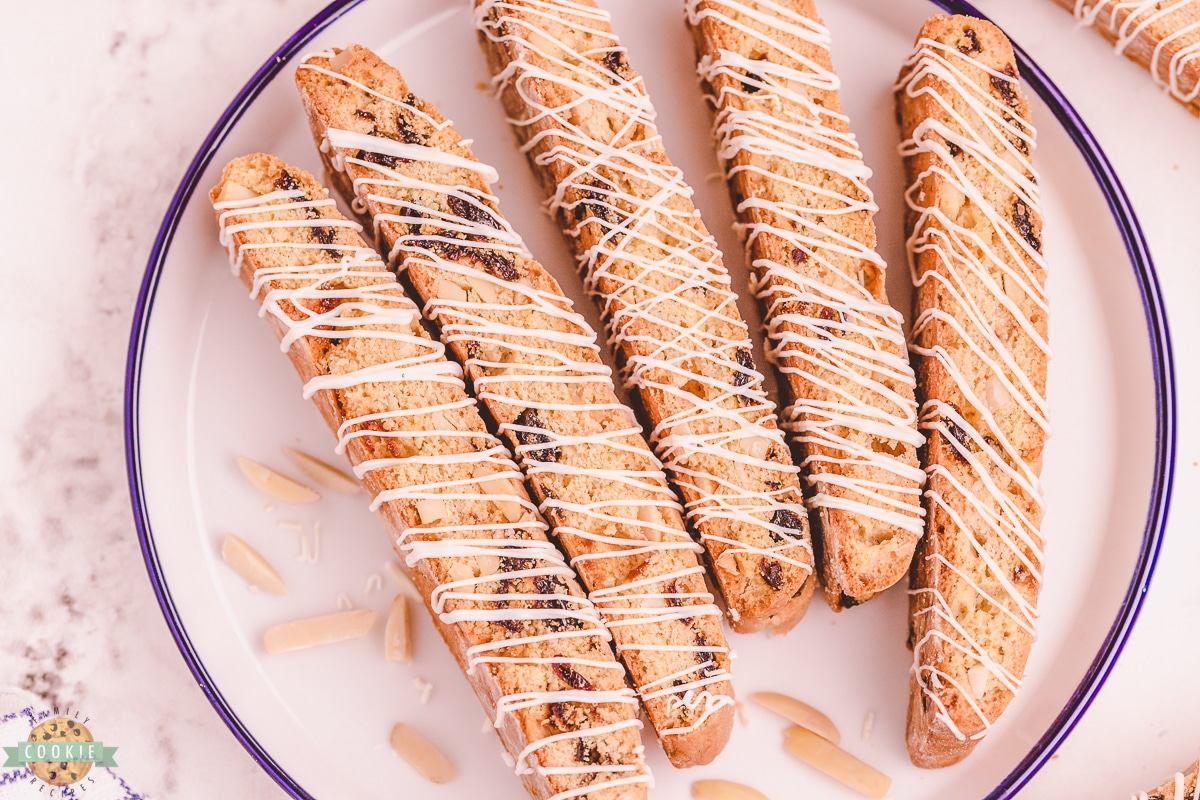 Do you knead biscotti dough?
Yes. We use the word "knead" because we do knead it like bread, but not exactly like that either. In reality, we only want to knead the dough a few times to make it no longer sticky, whereas with bread, you knead for several minutes to make it smooth and elastic. Overmixing and over kneading your biscotti dough CAN happen, so make sure to only knead until the dough has had enough flour incorporated to no longer feel sticky.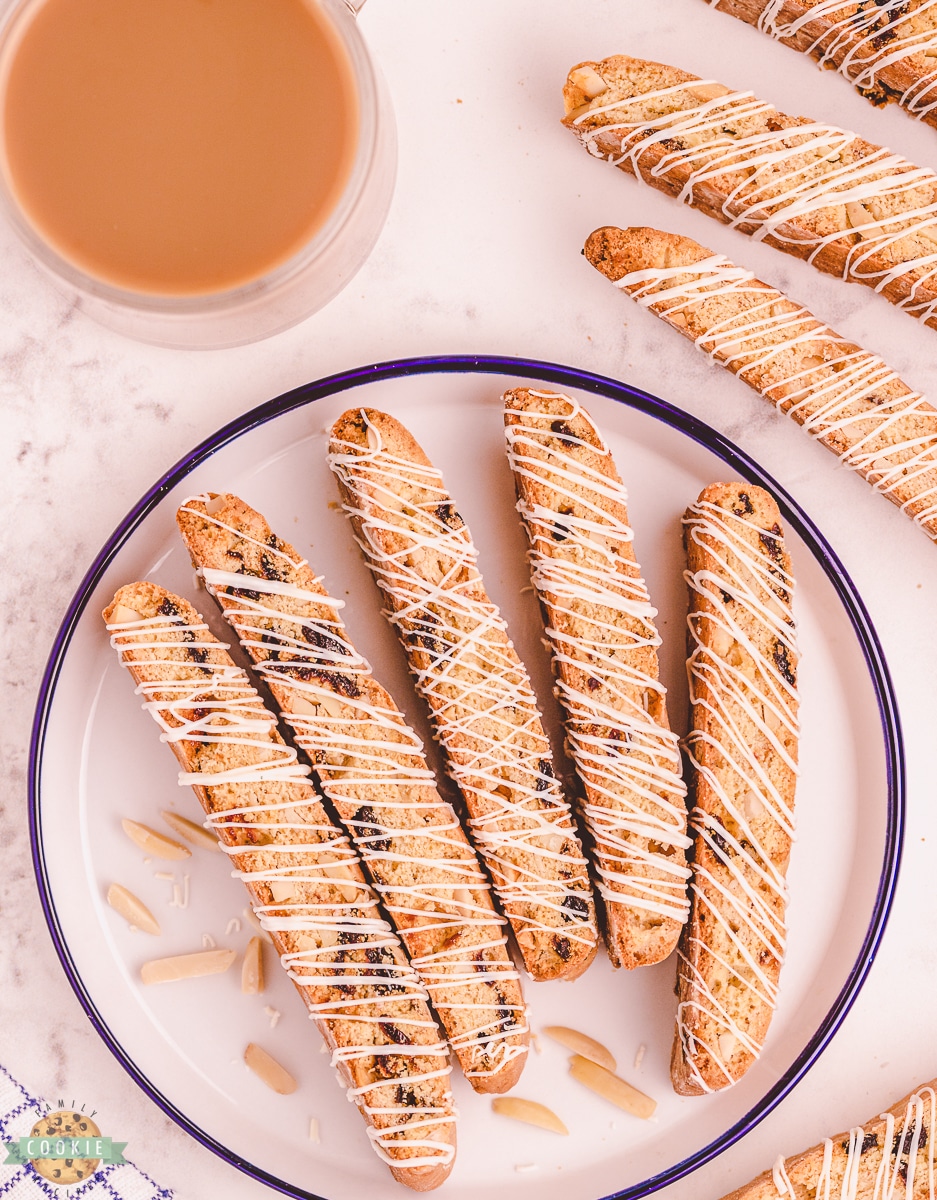 How thick should I cut biscotti?
Biscotti is usually cut to where it is 1/2 an inch thick. You can cut them thicker or thinner, but that will change the end results and could change the baking time.


Our youngest daughter does competitive gymnastics. I was talking about this to another mom the other day and it helped me see ALL the ways being on a gymnastics team has helped my daughter. It's actually pretty amazing! She's in great shape and has developed incredible abilities, yes. But she's also learned how to work hard, how to persevere, how amazing her body is and how much it's capable of, how much it means to cheer on teammates, how to apply a coach's teachings, etc, etc, etc! SO MANY THINGS. We have kids in other sports, but there's something to the long-term nature of gymnastics that is just incredible.
Here she is posing for professional pictures. SO CUTE.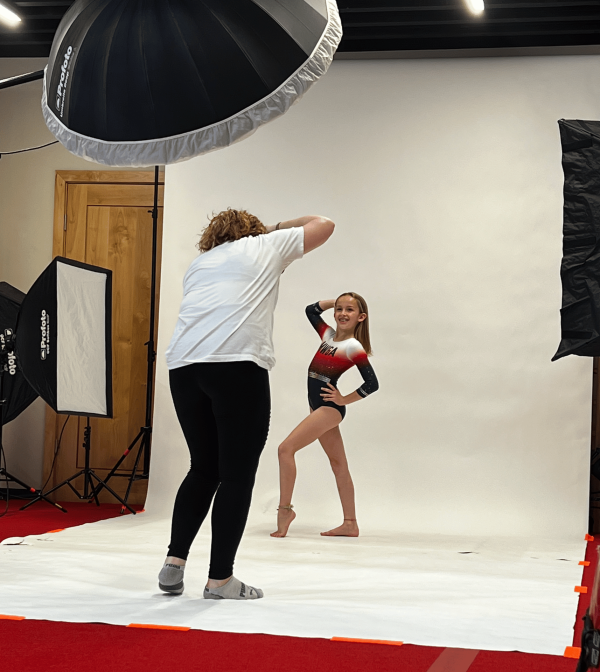 For some more Pretty Cookie Recipes, check out these suggestions!
Cherry Biscotti is made with slivered almonds, dried fruit, and feels so fancy when eating it. These biscotti cookies are a wonderful treat that is perfect with your morning coffee or tea.