Christmas Tree Twix Cookies are made with a simple sugar cookie topped with caramel, chocolate, and festive sprinkles. Delicious holiday cookies that taste just like your favorite candy bar!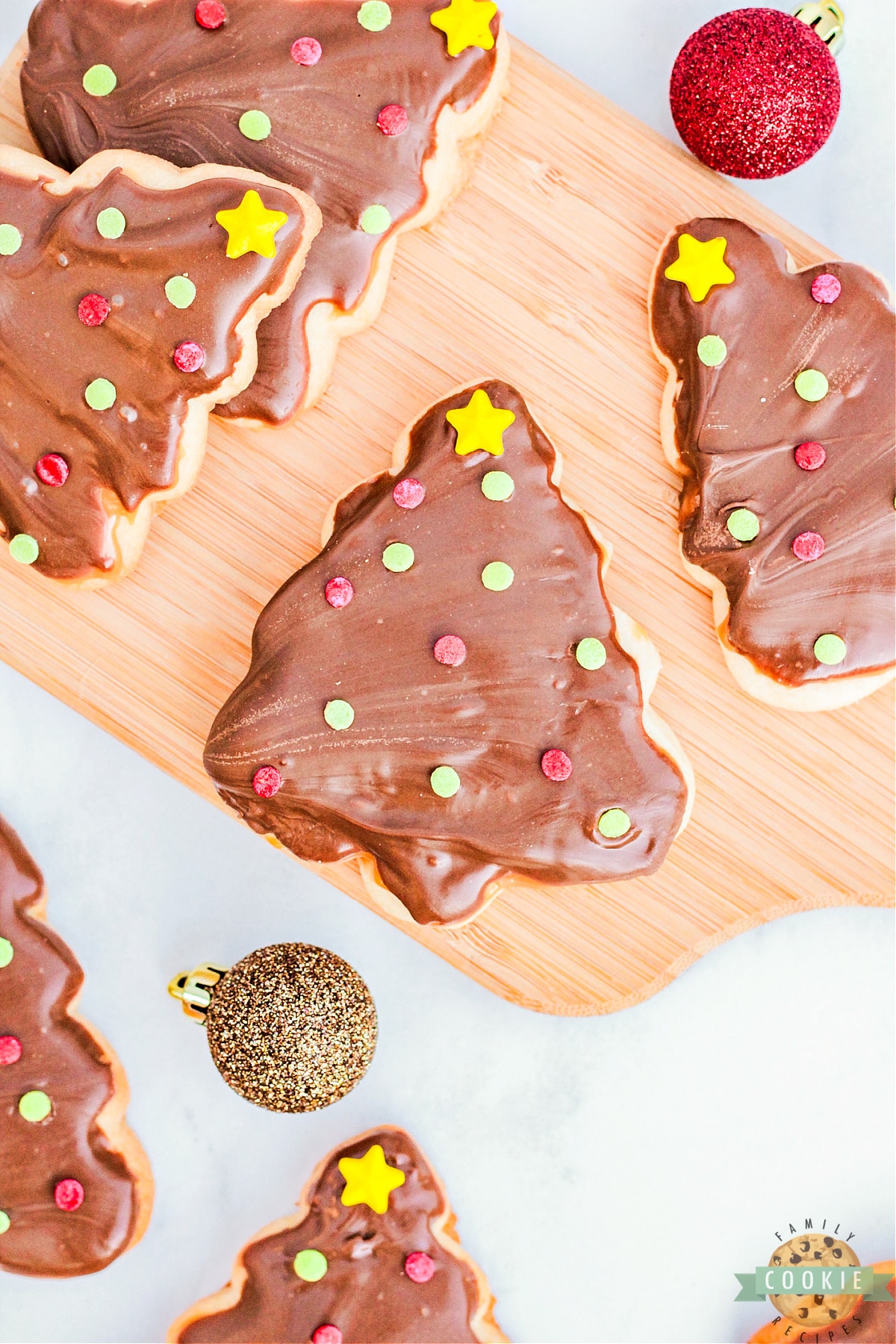 I love making cookies for the holidays, and these ones might just be some of the yummiest ones I've ever made. I absolutely love Twix candy bars and these delicious cookies taste just like the candy bar. But in the form of a festive Christmas tree, so they are absolutely perfect for the holiday season. You can just make them in the shape of circles or whatever shape you'd like so that you can enjoy these cookies all year long!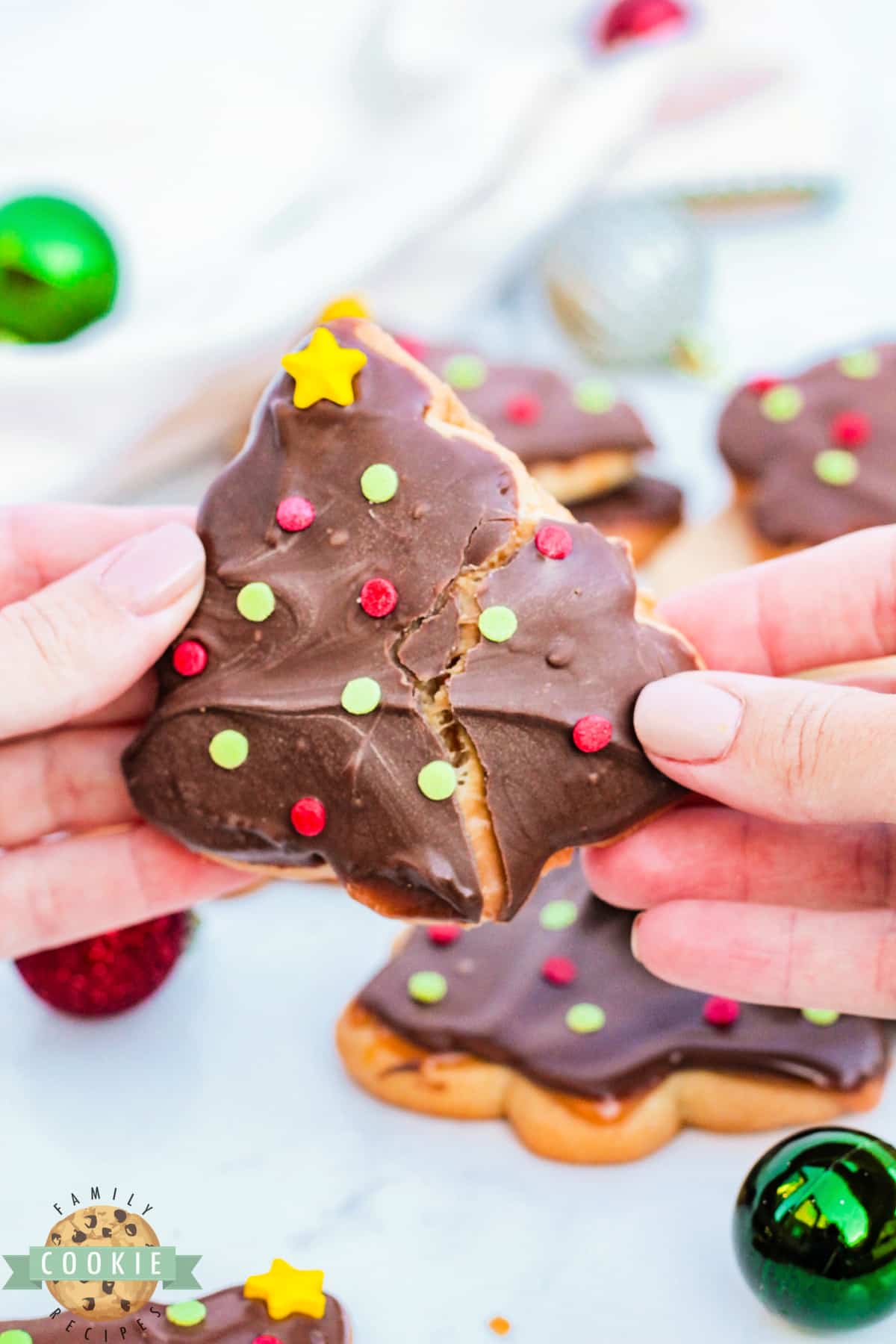 CHRISTMAS TREE TWIX COOKIES
The base of the cookies is made with a simple sugar cookie dough. Once the dough has chilled for 30 minutes, roll the dough out and cut into shapes. Bake the cookies and cool before spreading melted caramel on top and then dipping into melted chocolate. Add some sprinkles if you'd like and enjoy the cookies as soon as the chocolate sets up.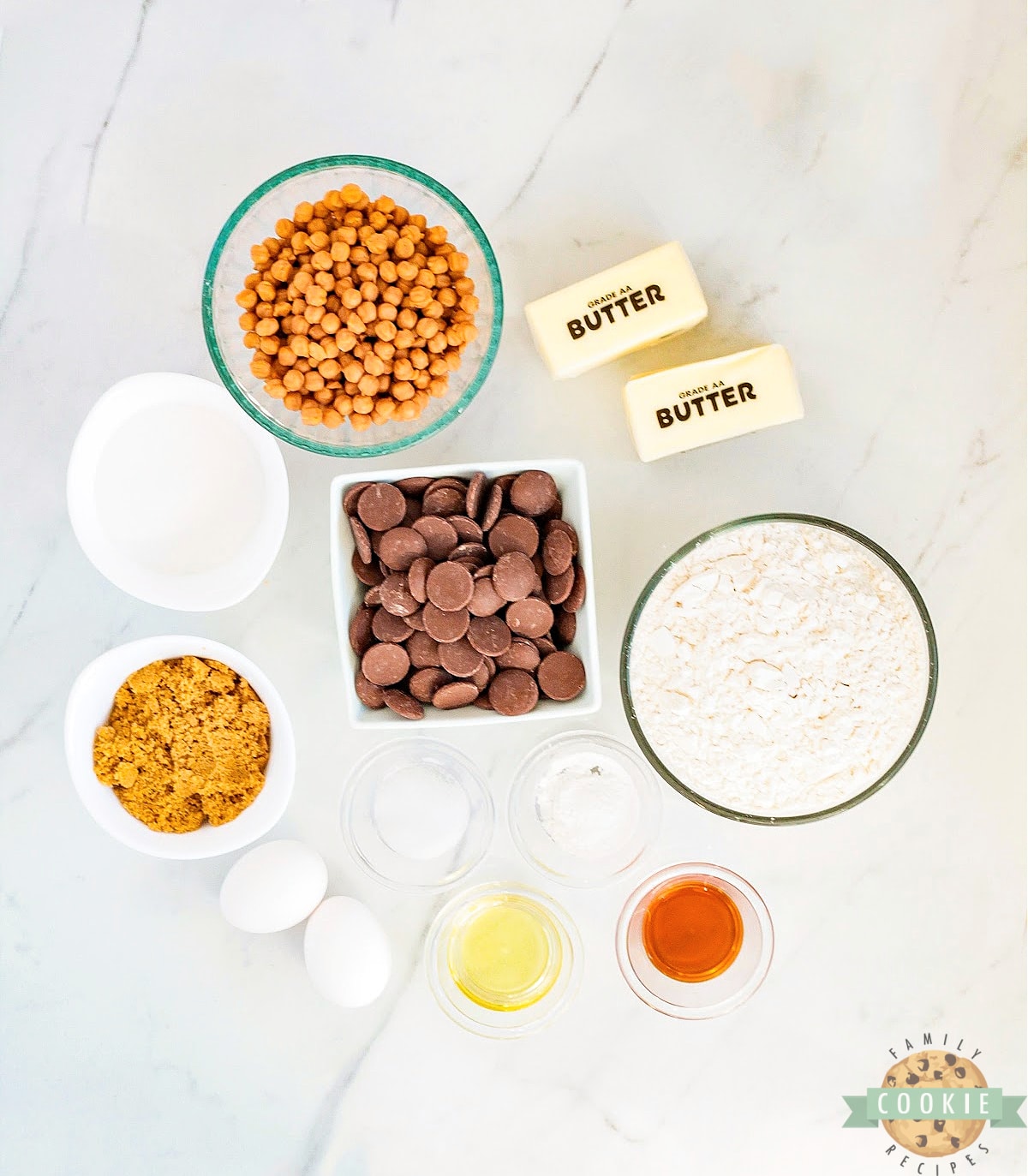 Ingredients in Christmas Tree Twix Cookies
COOKIE DOUGH
Butter: I use salted butter, but you can use unsalted if you prefer. No margarine! Make sure the butter is softened, but not melted before adding to the recipe.
Sugars: Can't leave these out when you're making cookies! For best results, make sure the brown sugar is fresh and soft.
Eggs: You will need 2 eggs to bind the dough together so that the cookies cook properly and don't crumble.
Vanilla extract: I suggest using a good quality vanilla extract or a Vanilla Bean Paste.
Flour: I usually use all purpose flour, but you can use bread flour, or even pastry flour in this recipe.
Baking powder: This acts as the leavening agent in the cookies. Make sure your baking powder isn't old or expired for best results.
Salt: Just a little bit of salt helps all the other flavors to pop!
TOPPING INGREDIENTS
Chocolate: I use a 10 ounce bag of Ghirardelli milk chocolate melting wafers, but you can use any type of milk chocolate.
Caramel: I like to use caramel bits because you don't have to unwrap them, but you could use regular caramels as well.
Sprinkles: These are completely optional, but are fun for adding a little bit of color!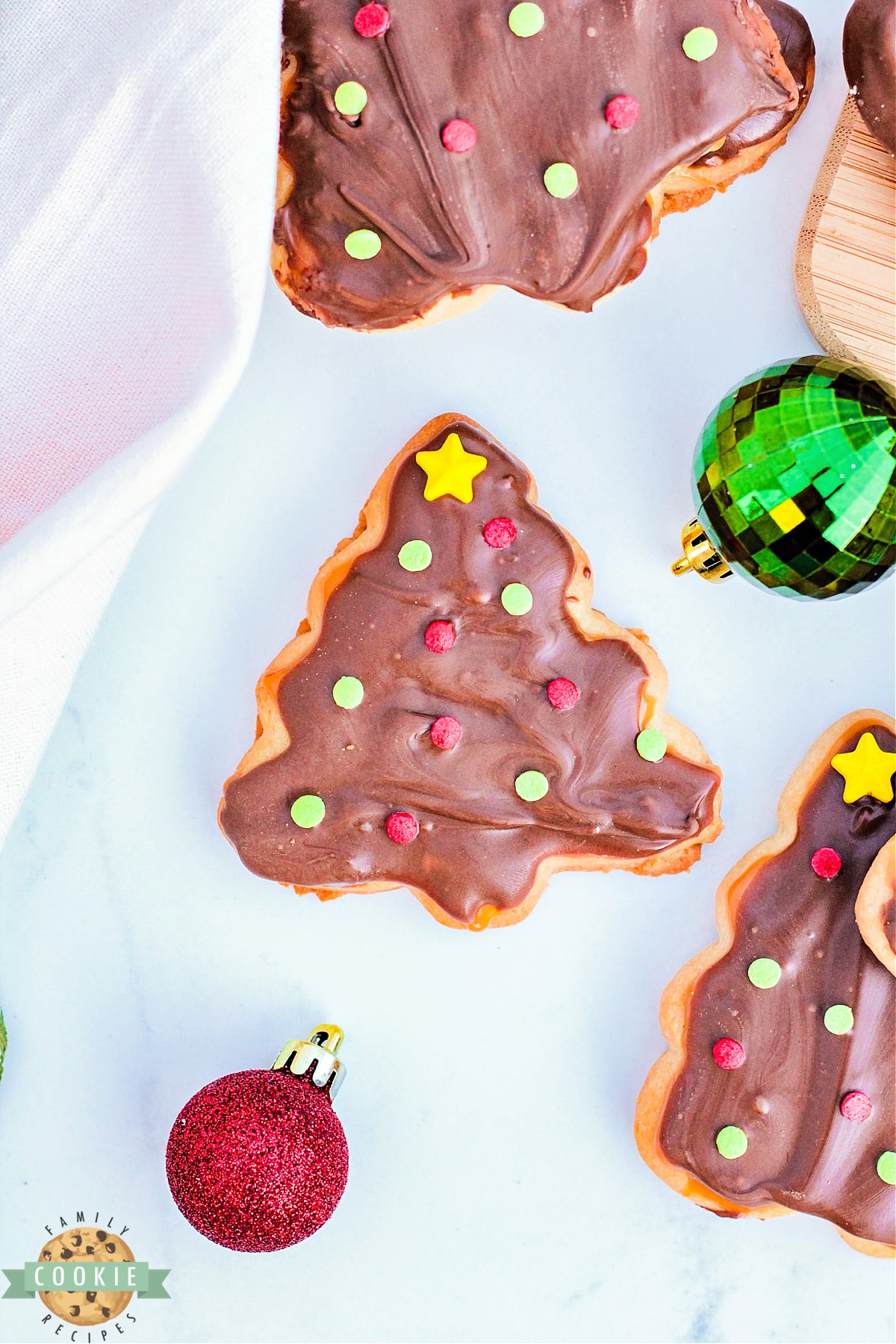 How to make Christmas Tree Twix Cookies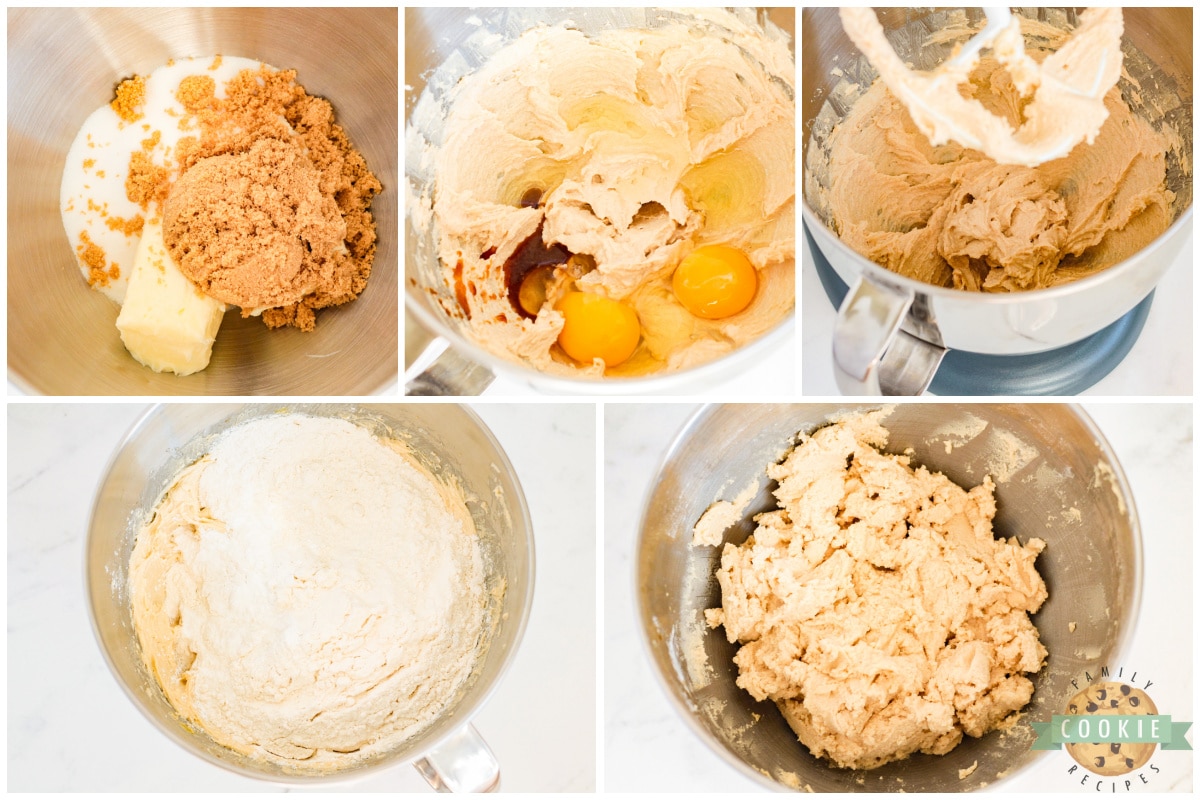 MAKE THE COOKIE DOUGH
In a stand mixer or hand held mixer, combine the butter, sugars, eggs, and vanilla and mix for about 2-3 minutes or until fluffy.
Add in the flour, baking powder, and salt and mix until a dough forms. If the dough seems too wet, resist the urge to add more flour! When you let it chill in the fridge, it should firm up to make rolling out and cutting easier.
Cover the cookie dough and let it chill in the fridge for 30 minutes.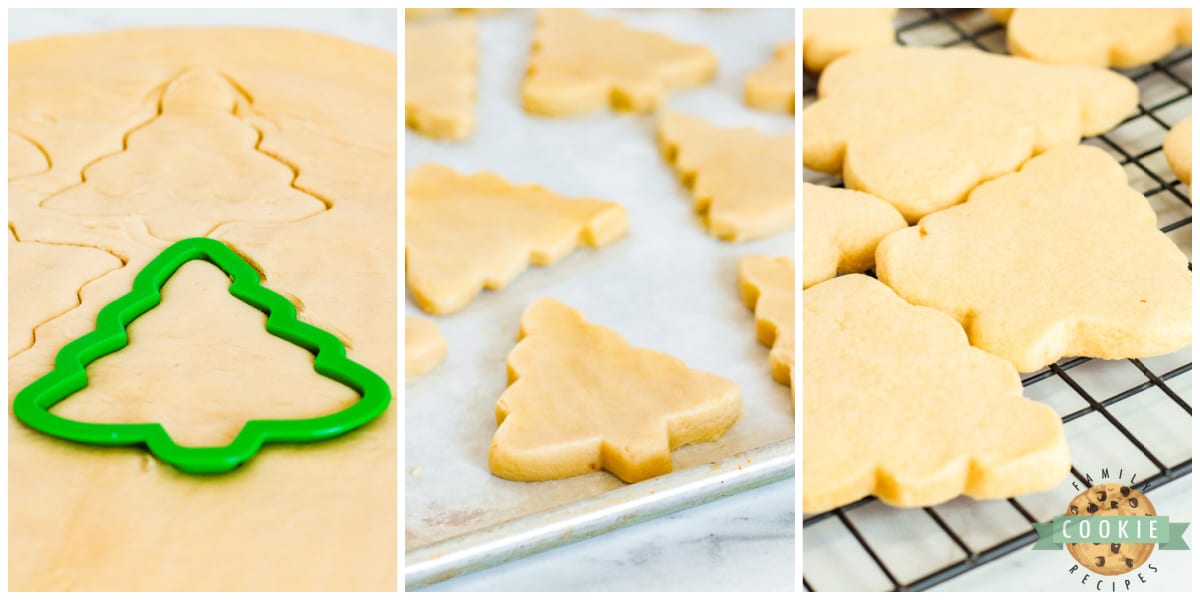 CUT OUT AND BAKE THE COOKIES
Preheat the oven to 350°. Line two baking sheets with parchment paper.
Remove the dough from the fridge and divide the dough onto the two baking sheets. Roll the dough out onto the parchment lined baking sheets and use a christmas tree cookie cutter to cut out cookies, evenly spaced on the pans. Remove the excess dough from around the tree cookies and set aside for later.
Place the cookies in the oven and bake for 11 minutes. Repeat the processes of cutting out the tree shapes until all the dough is used.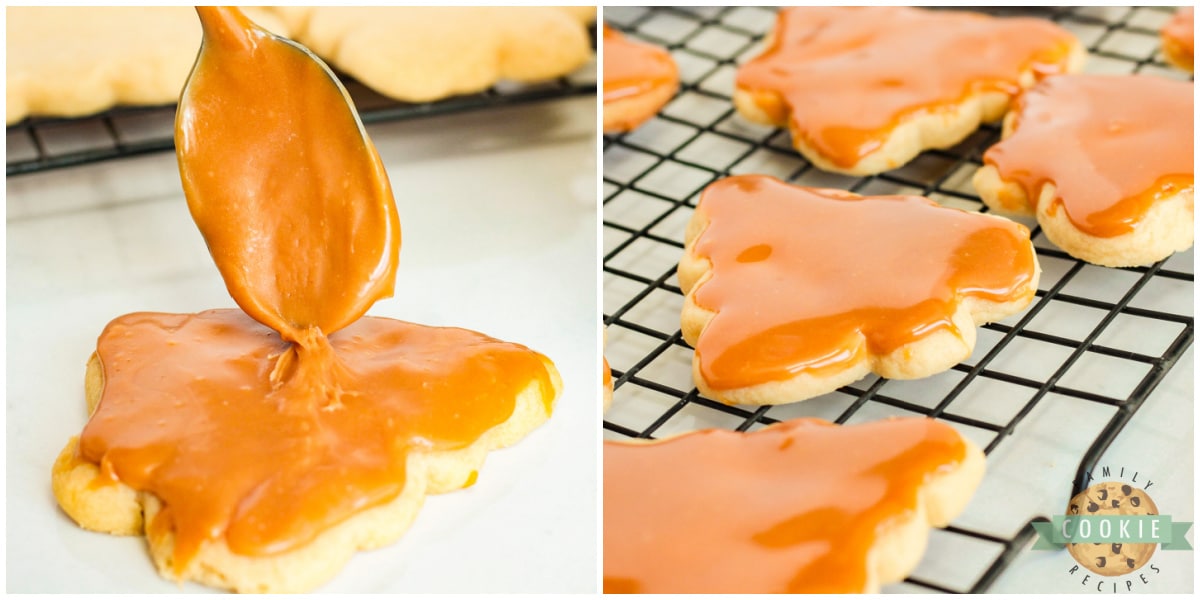 CARAMEL LAYER
While the cookies cool, melt the caramel bits in the microwave or in a double boiler (you can use a bowl over a saucepan of boiling water). If using the microwave, microwave in 30 second intervals, stirring in between each one until caramel is completely smooth and melted. If the caramel seems too thick, add a splash or two of milk to make it easier to spread.
Spread caramel over each cookie using a knife or spoon.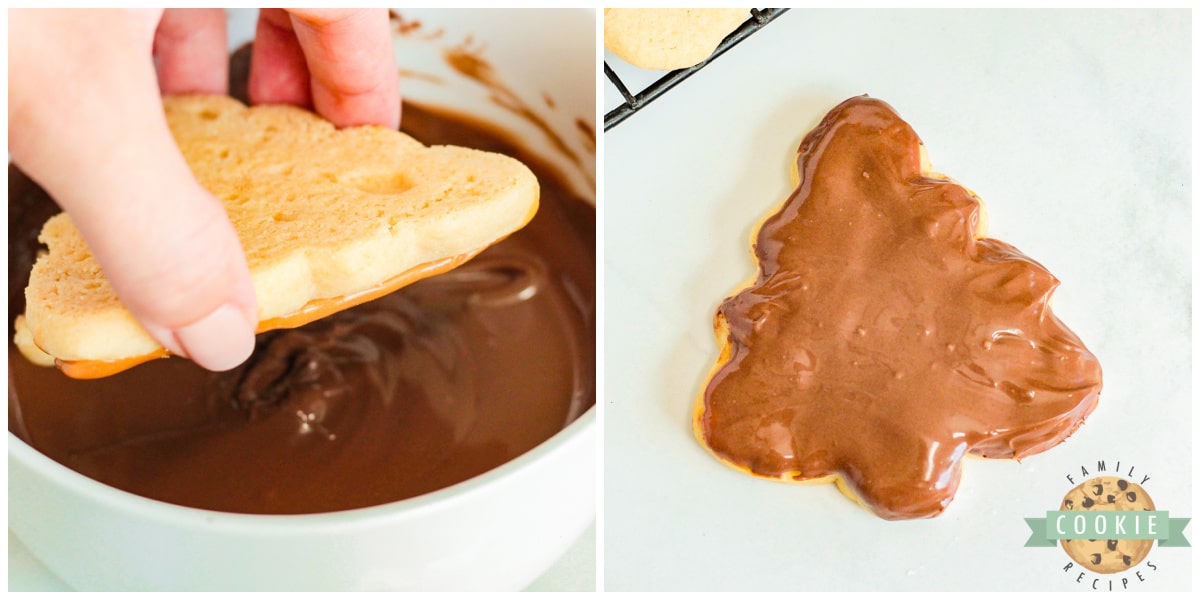 CHOCOLATE LAYER
Place the chocolate wafers into a microwave-safe bowl and melt them in the microwave at 30 second intervals, stirring between each interval until the chocolate is smooth. Dip each cookie into the chocolate, just barely covering the caramel layer.
Decorate with sprinkles if you'd like, making sure to place them before the chocolate sets.
Allow chocolate to fully set and enjoy!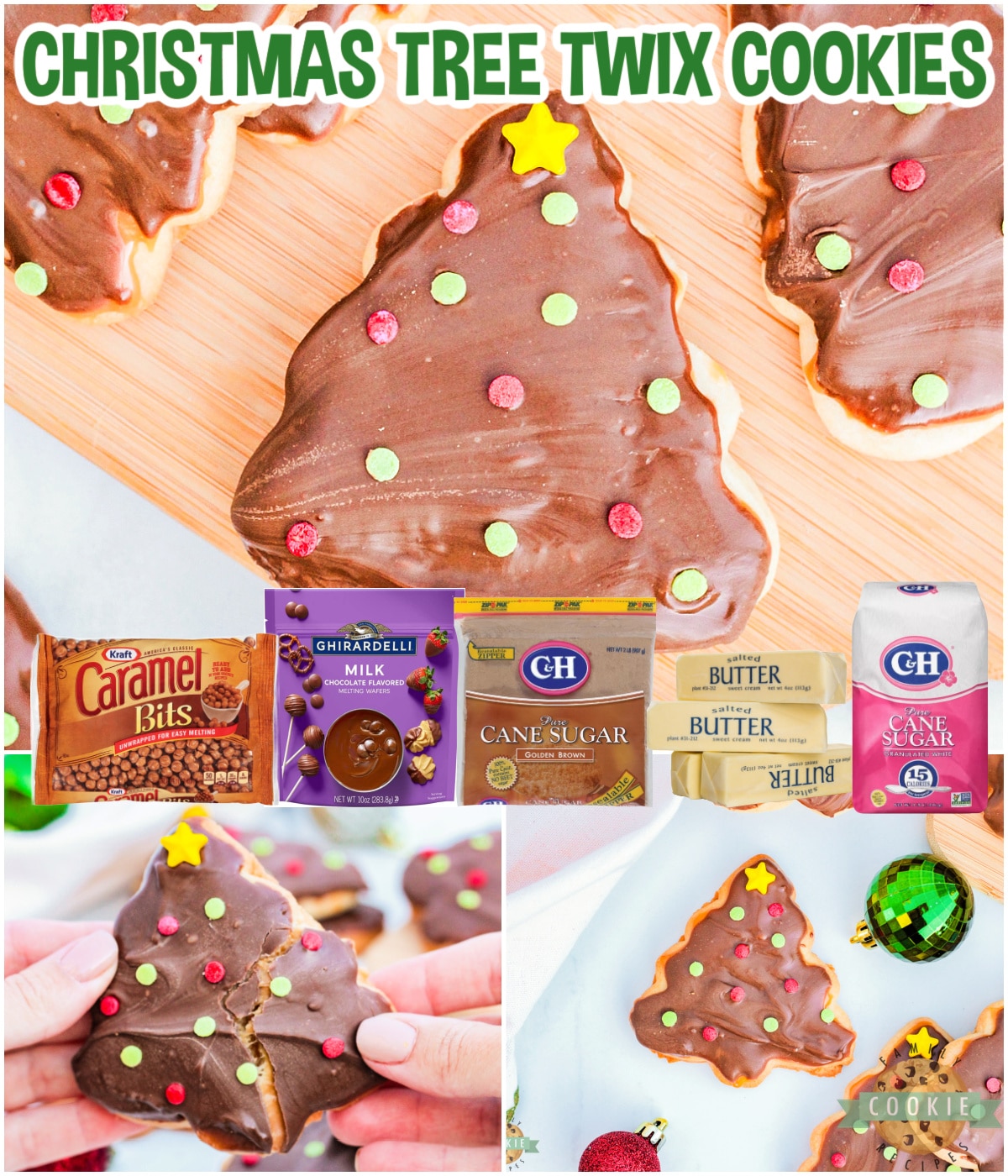 TIPS FOR MAKING THE BEST COOKIES
Sugar cookie dough is sticky, but once it's sufficiently chilled, it's much more workable. Resist the urge to add more flour to the dough before chilling! If you add too much flour, the ratio of wet to dry ingredients is off and the cookies end up drier and more crumbly.
Do not melt the butter! The butter needs to be softened (at room temperature). Using melted butter will ruin the cookies.
Spend a little extra time when you mix the butter and sugars. Creaming them together for 2-3 minutes will improve the consistency of your cookies.
Preheat the oven. This will help your cookies turn out right every time!
Use parchment paper or a silicone baking mat. Doing this will make it really easy to remove the cookies from your cookie sheet so that you don't have to scrape them off the pan. They will just slide right off in perfect shape!
Make sure that you don't roll out the dough too thin before cutting your sugar cookies out. You want the dough to be about 1/4″ thick. If the dough is too thin, your cookies will be crispy and hard and easily breakable. But if the dough is too thick, the cookies may not bake all the way through the middle.
Make sure not to over bake your cookies. They may not even look totally done on the tops, but if the bottoms start to brown, I take mine out and they are perfect!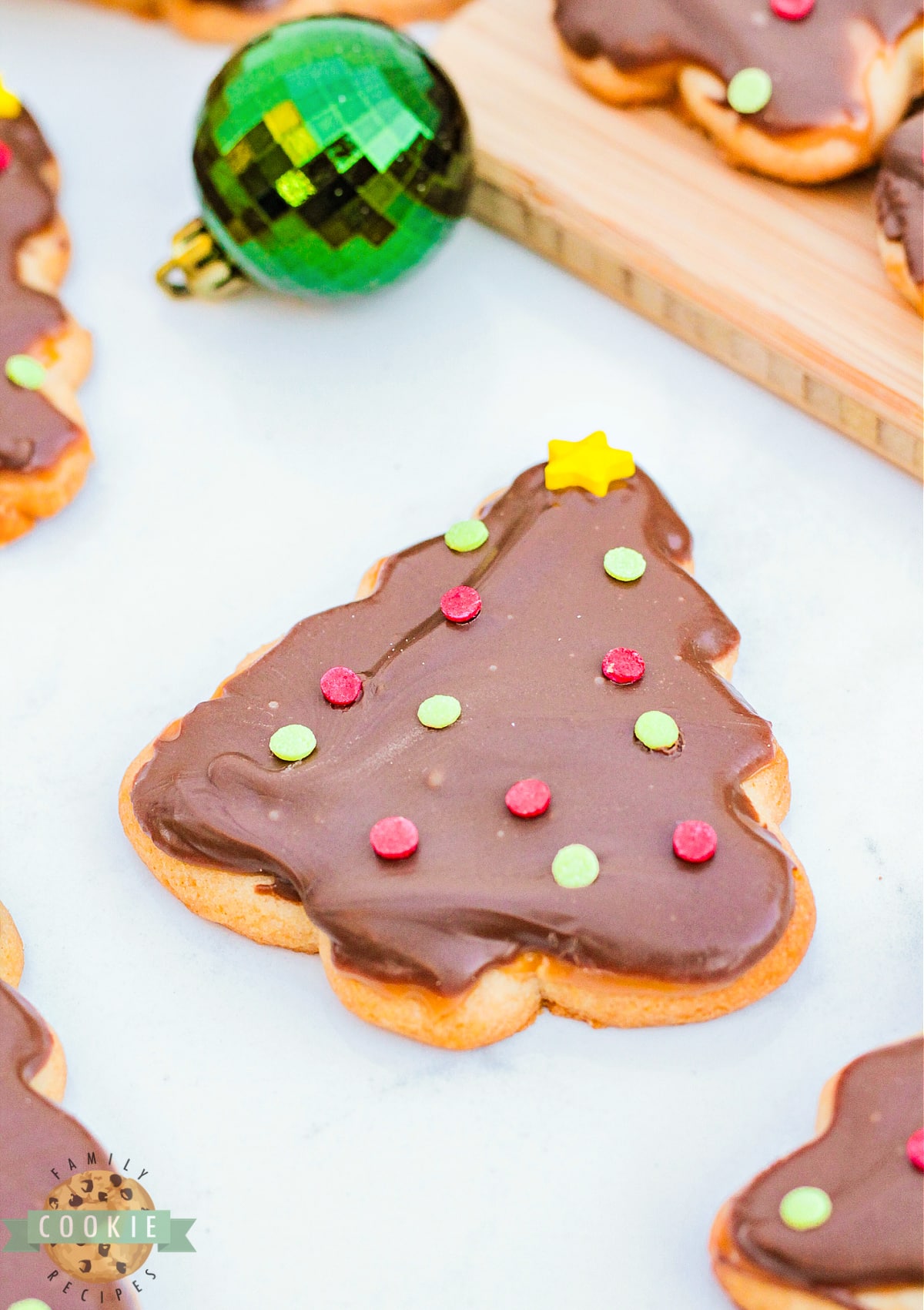 HOW DO YOU KEEP COOKIES SOFT?
After the chocolate layer on the cookies has set, simply place the cookies in an airtight container to keep them fresh for as long as possible. It also helps to make sure that when you roll out the cookie dough that you do it to the right thickness so that they don't become brittle when baking.
HOW LONG WILL TWIX COOKIES LAST?
If you keep your cookies properly stored you can expect them to last up to a week at room temperature.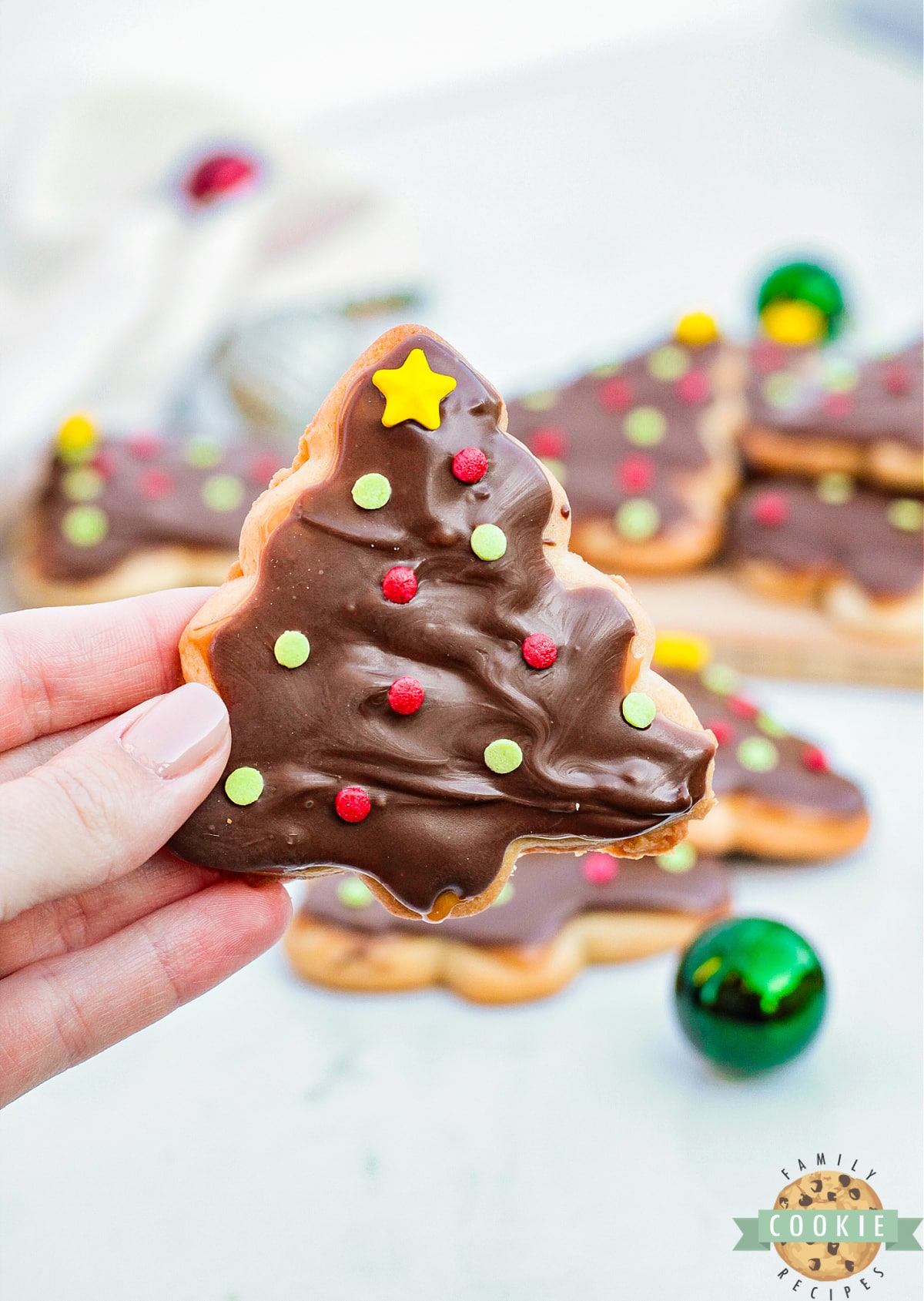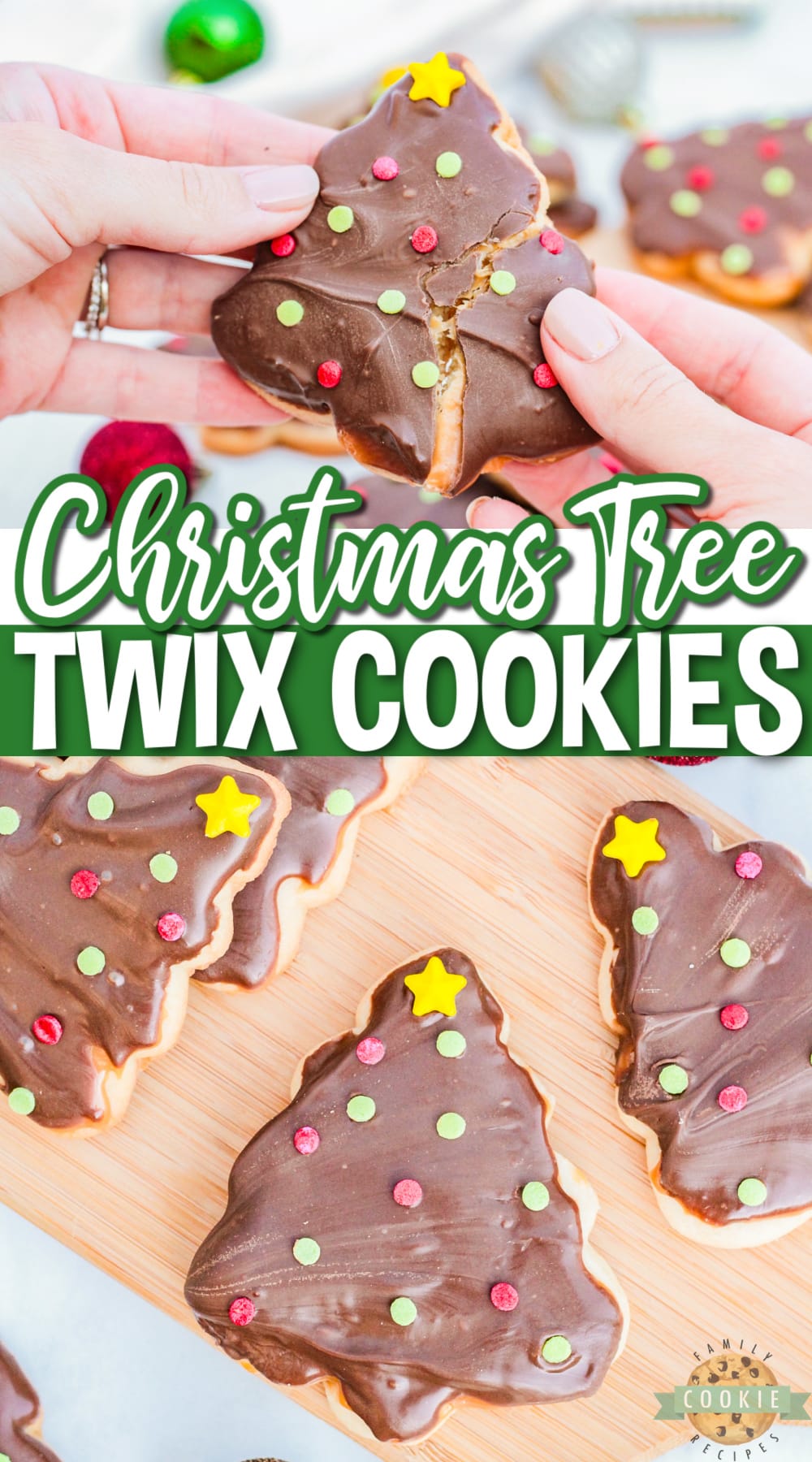 Christmas Tree Twix Cookies are made with a simple sugar cookie topped with caramel, chocolate, and festive sprinkles. Delicious holiday cookies that taste just like your favorite candy bar!