Oreo Stuffed Brownie Cookies are decadent chocolate cookies with Oreos baked in the center! These stuffed cookies are an incredible take on brownie cookies!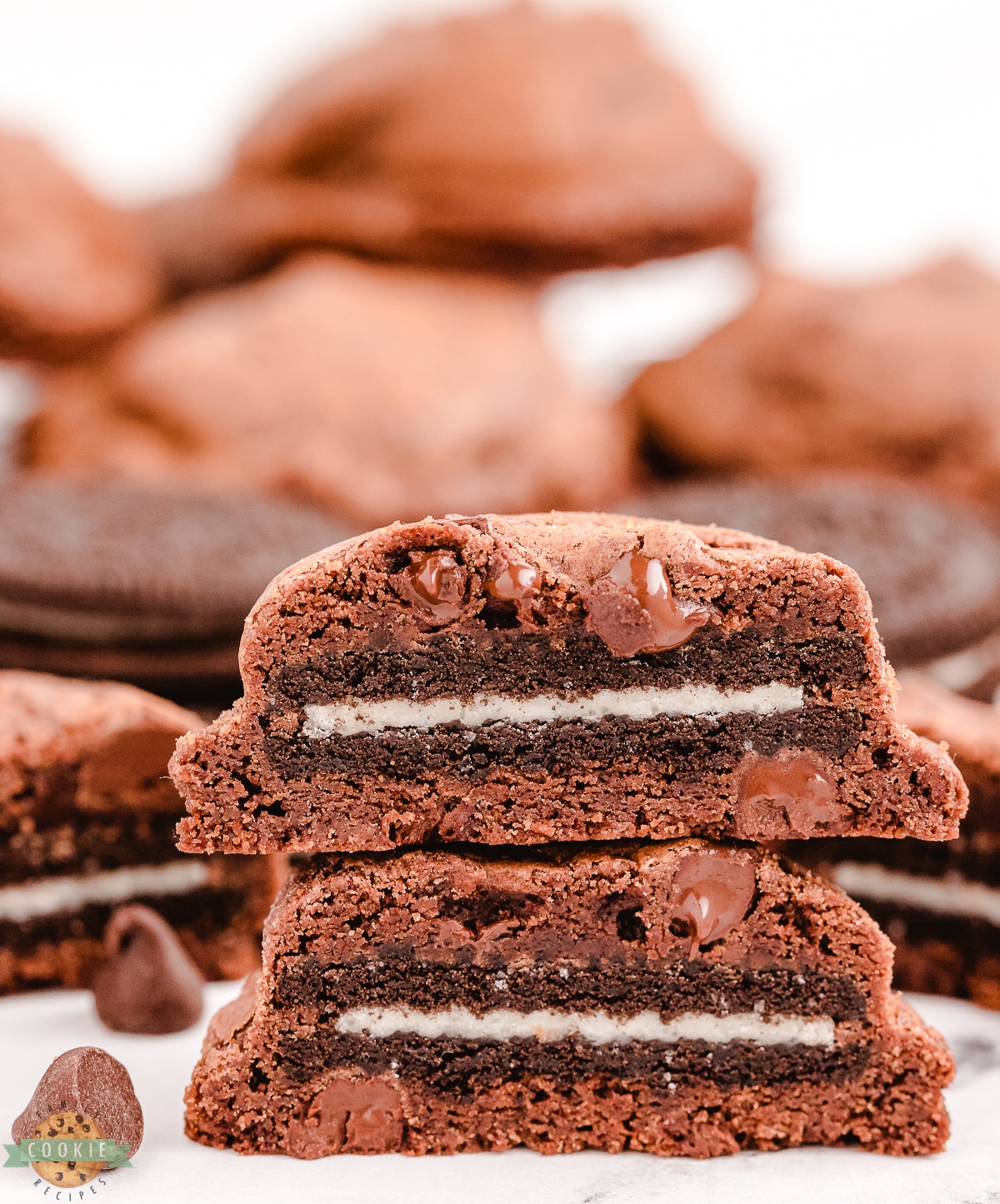 With a chewy cookie on the outside and a cream filled cookie on the inside, every bite of these double chocolate brownie cookies is sure to delight your senses. These brownie cookies are sure to become your next go-to cookie recipe.
Oreo Stuffed Chocolate Cookies
Oreo brownies aren't anything new, but Oreo brownie cookies are! These cookies are perfect for many occasions, bring them to your next family get together or sign up for the dessert at your office potluck. There is never a wrong time for chocolate, these incredibly delicious cookies are a huge hit wherever you serve them. With the combination of flavors and textures, you are sure to enjoy every last crumb. Serve these cookies with a nice cold glass of milk and enjoy!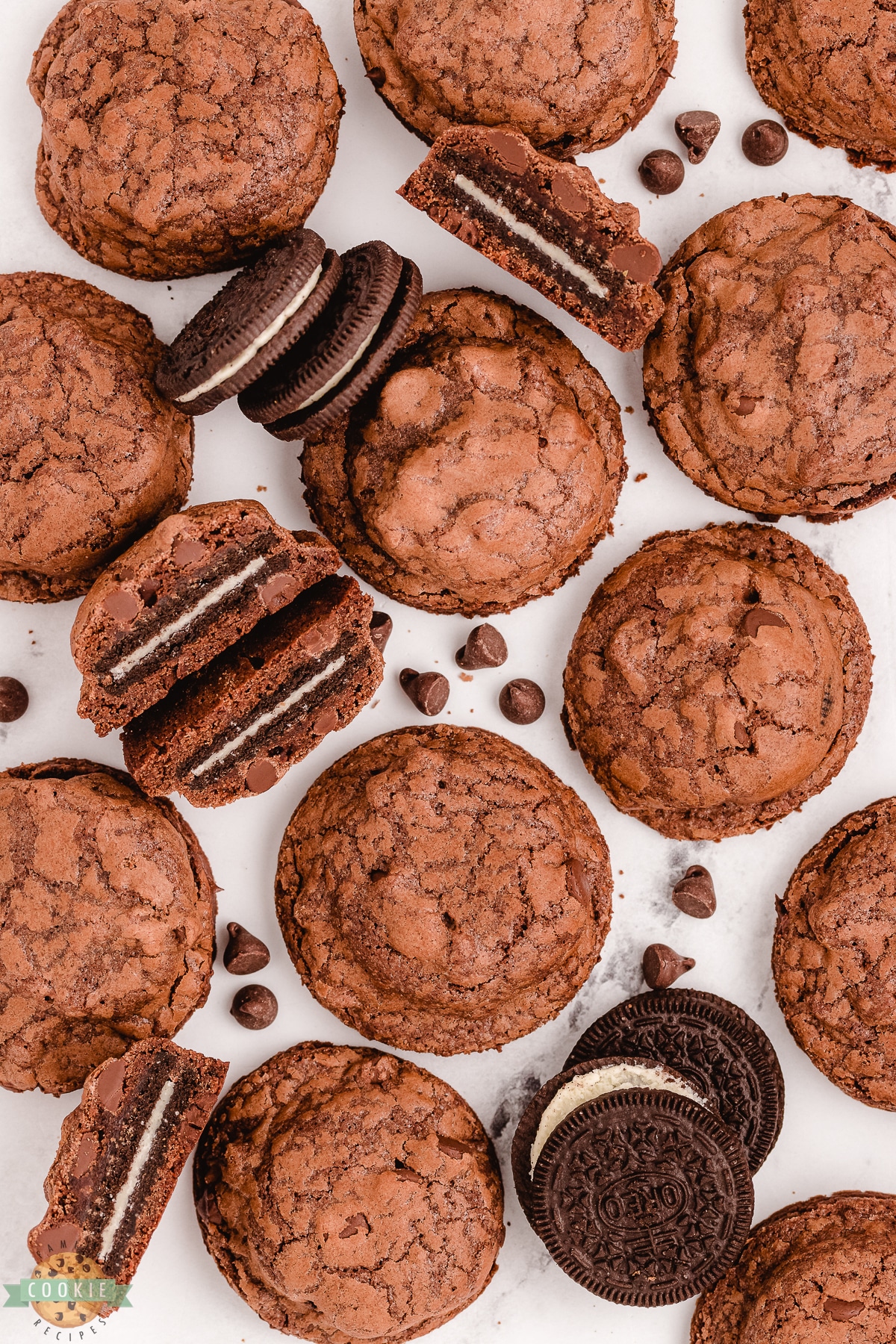 Why you will love this chocolate cookie recipe
Easy to make! These cookies are made from scratch and are so simple to make that you will have no reasons not to make them more often. From start to finish, this recipe takes less than an hour. The hardest part? Deciding where to hide the cookies so you won't have to share.
Simple ingredients. Most of the ingredients in this cookie recipe are basic kitchen staples like cocoa powder, butter, sugar, and flour. You will find that most (if not everything) that you need for this recipe may already be on hand.
Oreo. Brownie. Cookies. This is a perfect trifecta of flavor and texture experiences in every bite. Soft, chewy, chocolatey, and so much more!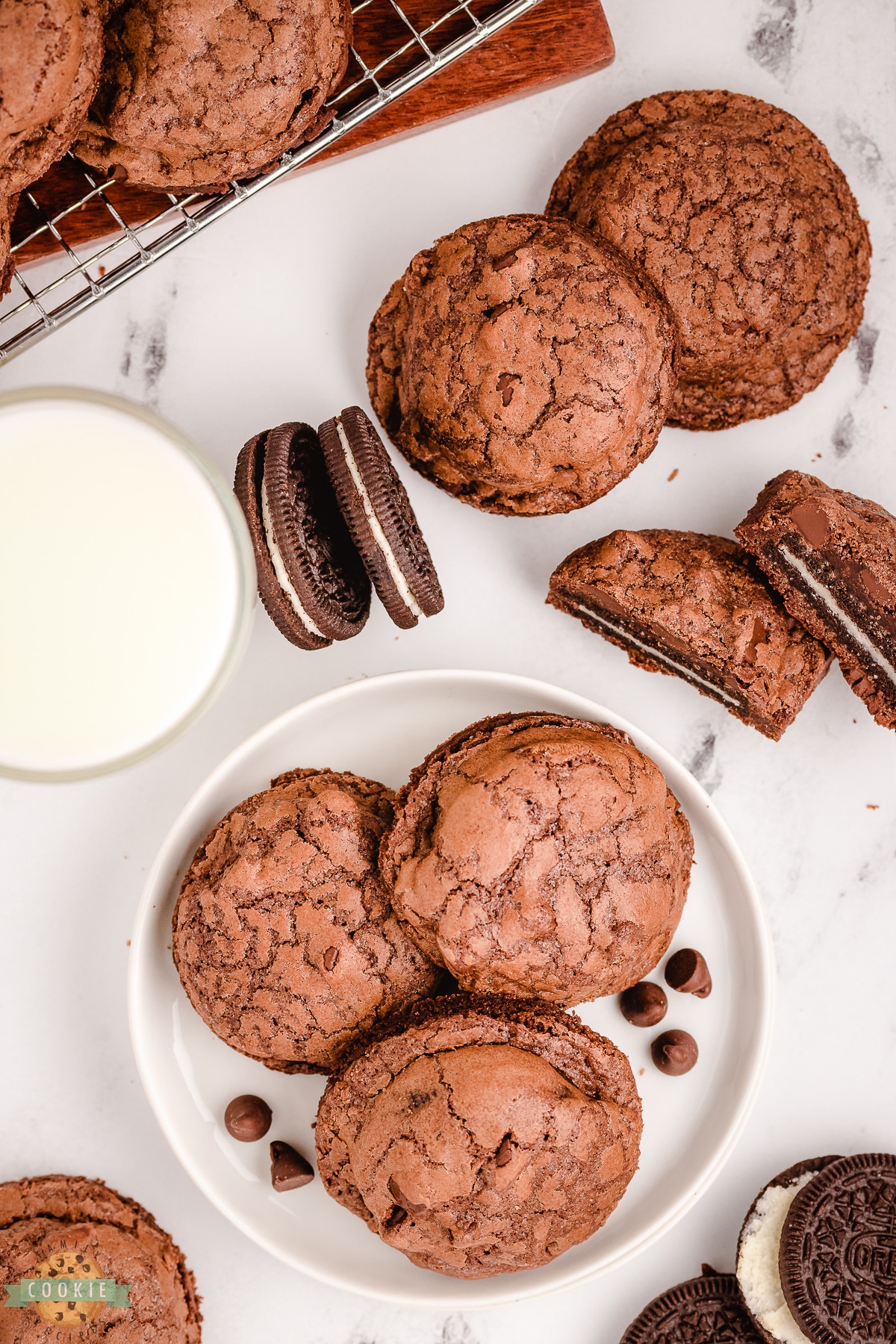 Stuffed Brownie Cookies Ingredients
Cocoa: You will need ¾ cup of cocoa powder to make the cookie portion of the recipe rich in taste.
Butter: Adding in ½ cup of butter (one stick) will give the cookie great moisture and flavor.
Shortening: Use ¼ cup of shortening to give the cookie some more fats needed to keep them moist.
Sugar: You will need 2 cups of granulated sugar to make the cookies sweet and chewy.
Eggs: 3 eggs will work together to bind the dough so that it doesn't crumble apart.
Vanilla extract: To enhance all the flavors well, add in 1 teaspoon of vanilla extract.
Flour: The structural base of this recipe is 1 2/3 cups of all-purpose flour.
Salt: Use ¾ teaspoons of salt to balance the flavors naturally.
Chocolate chips: For added chocolatey goodness, use 1 cup of chocolate chips in the brownie cookie dough.
Oreos: To fill the center of every cookie, you will need an Oreo cookie. In total, you will need about 24 Oreos. Remember to have extra for snacking on as you wait.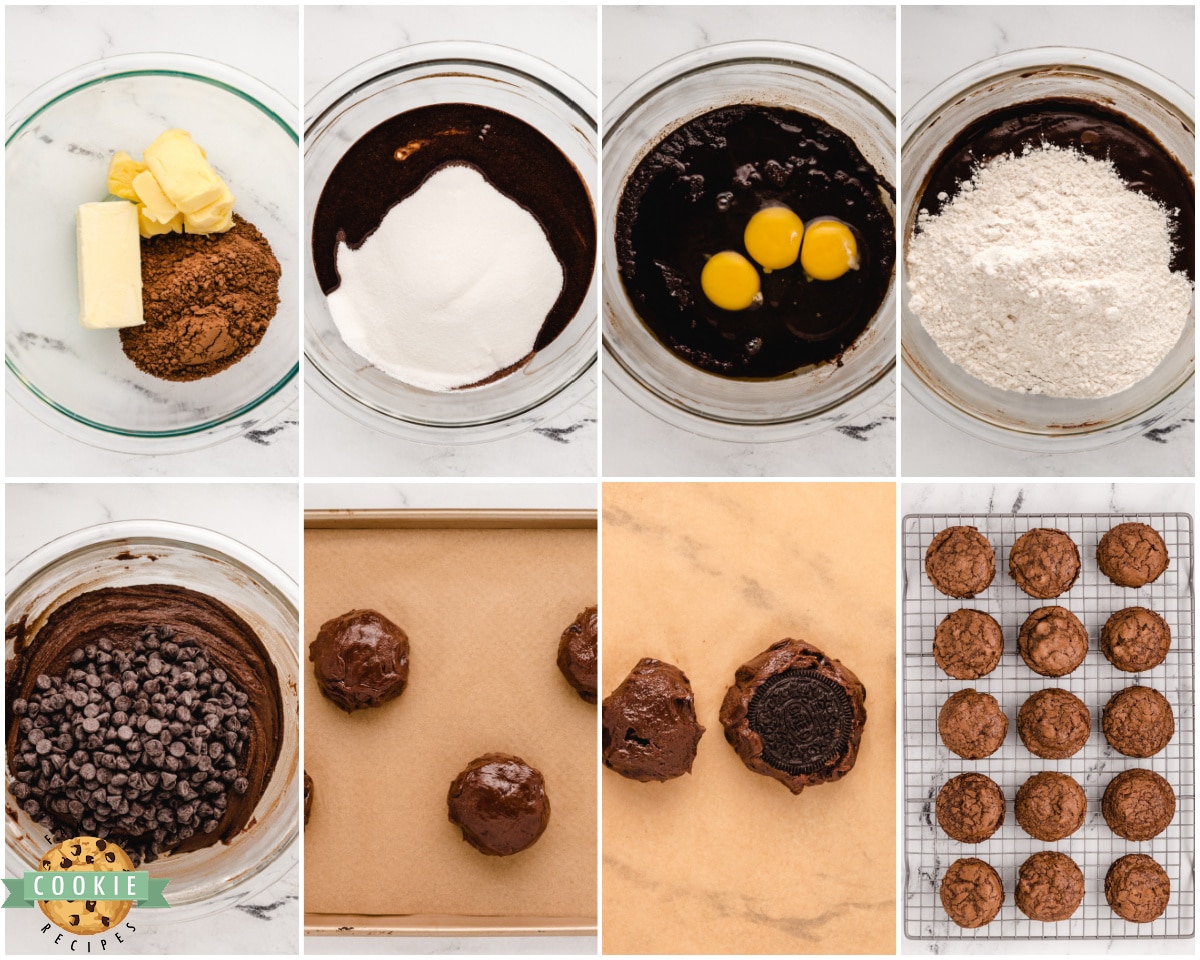 How to make Oreo Stuffed Brownie Cookies
Prep
Start by preheating the oven to 325 degrees F. Then, line a baking sheet with parchment paper or a silicon mat, set aside.
Cookie batter
In a medium size microwave safe bowl, combine the cocoa powder, butter, and shortening. Proceed to microwave for 1.5-2 minutes, and then stir together until the cocoa fully dissolves.
Next, stir in the sugar and then mix again until well blended. After that, stir in the eggs and vanilla extract. Mix to combine all ingredients.
Then add in the dry ingredients, the flour and salt. Mix well and then fold in the chocolate chips.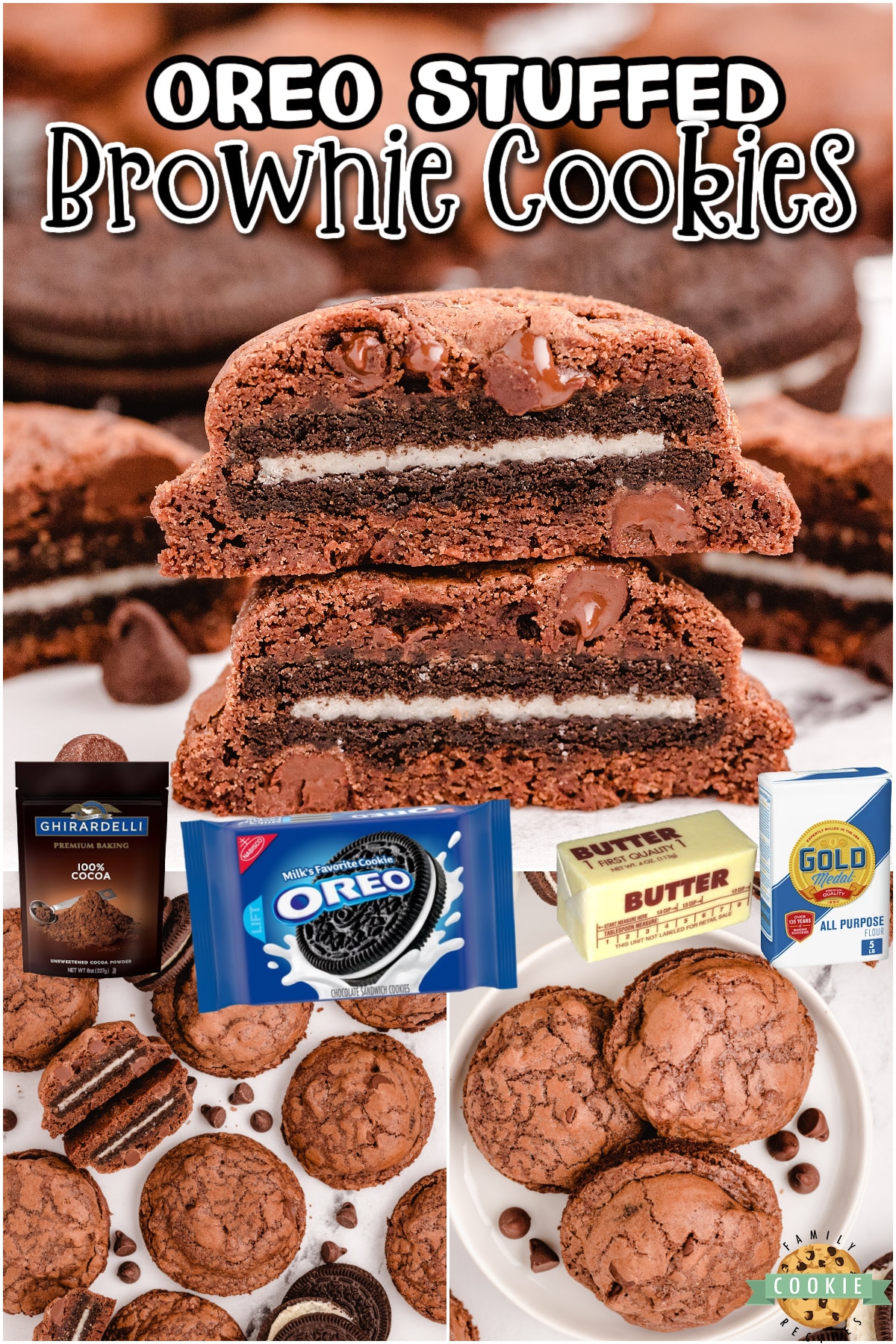 Assemble
Continue to scoop the dough into heaping tablespoons-sized portions of dough. Then use your hands to divide the dough in half, proceed to place an Oreo cookie between the two parts, and then bring the dough up and over to fully enclose the cookie inside.
Bake
Place the cookies in the preheated oven and bake for 18-20 minutes. You should be able to see the tops of the cookies crack just slightly.
Be sure to allow the cookies to cool for about 10 minutes before removing them from the baking sheets. Transfer them to a wire rack and let them cool completely. If the brownie part of the cookie has spread a bit, you can opt to trim it with a knife or cookie cutter.
Serve and enjoy!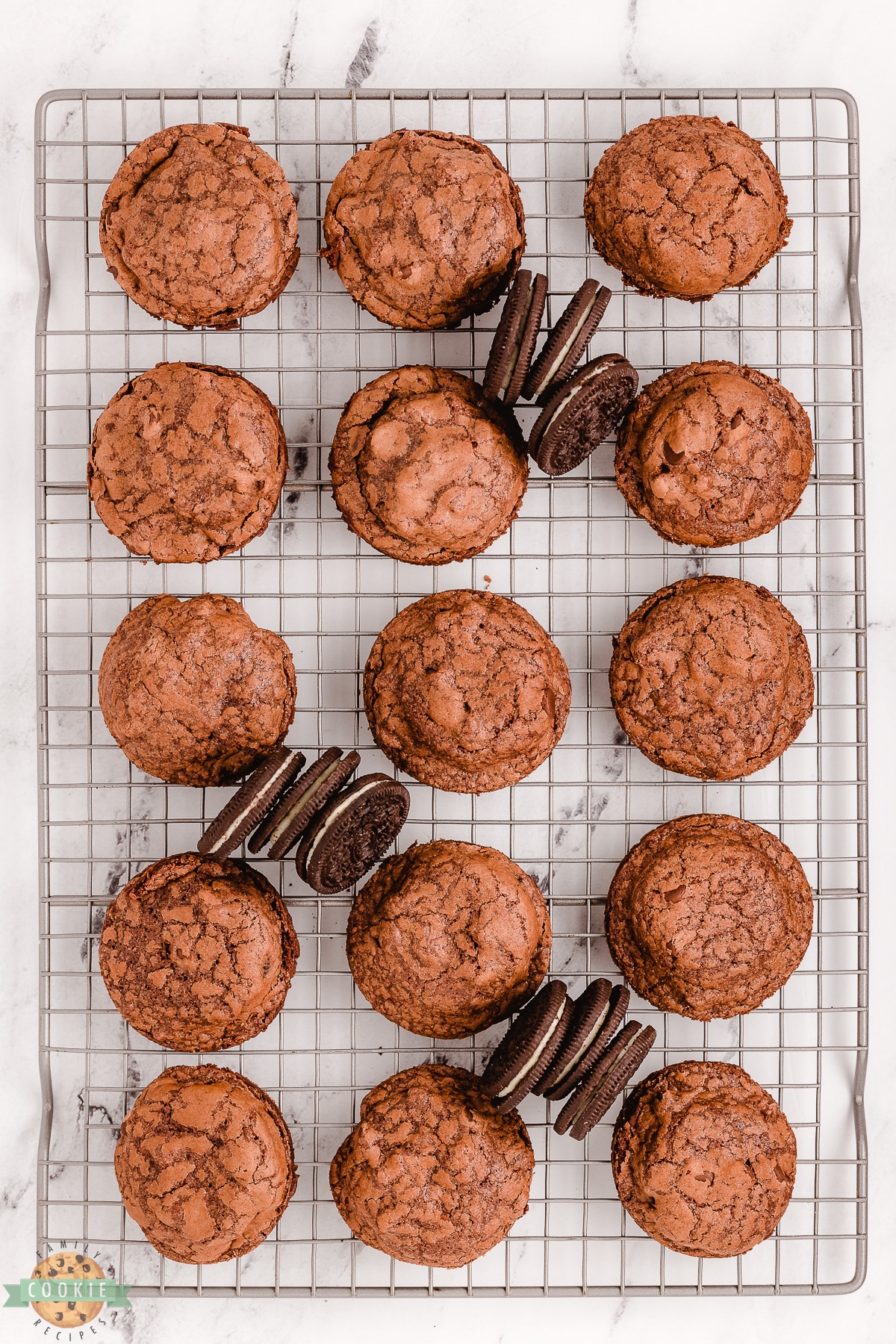 Fun variations
For fun and tasty variations, consider changing out the Oreo cookies for differently flavored Oreo cookies. Instead of the original cookies and cream option, you can select the mint Oreos, Golden Oreos, Peanut Butter Pie flavor, or any other option that suits your fancy. There are so many different variations of Oreos that you can possibly never run out of combinations!
How long are Oreo brownie cookies good for?
These cookies can be stored in an airtight container for up to 3-5 days at room temperature. Storing them in the fridge won't extend their shelf life more than an extra day or two, but it will make the cookies firmer and chewier.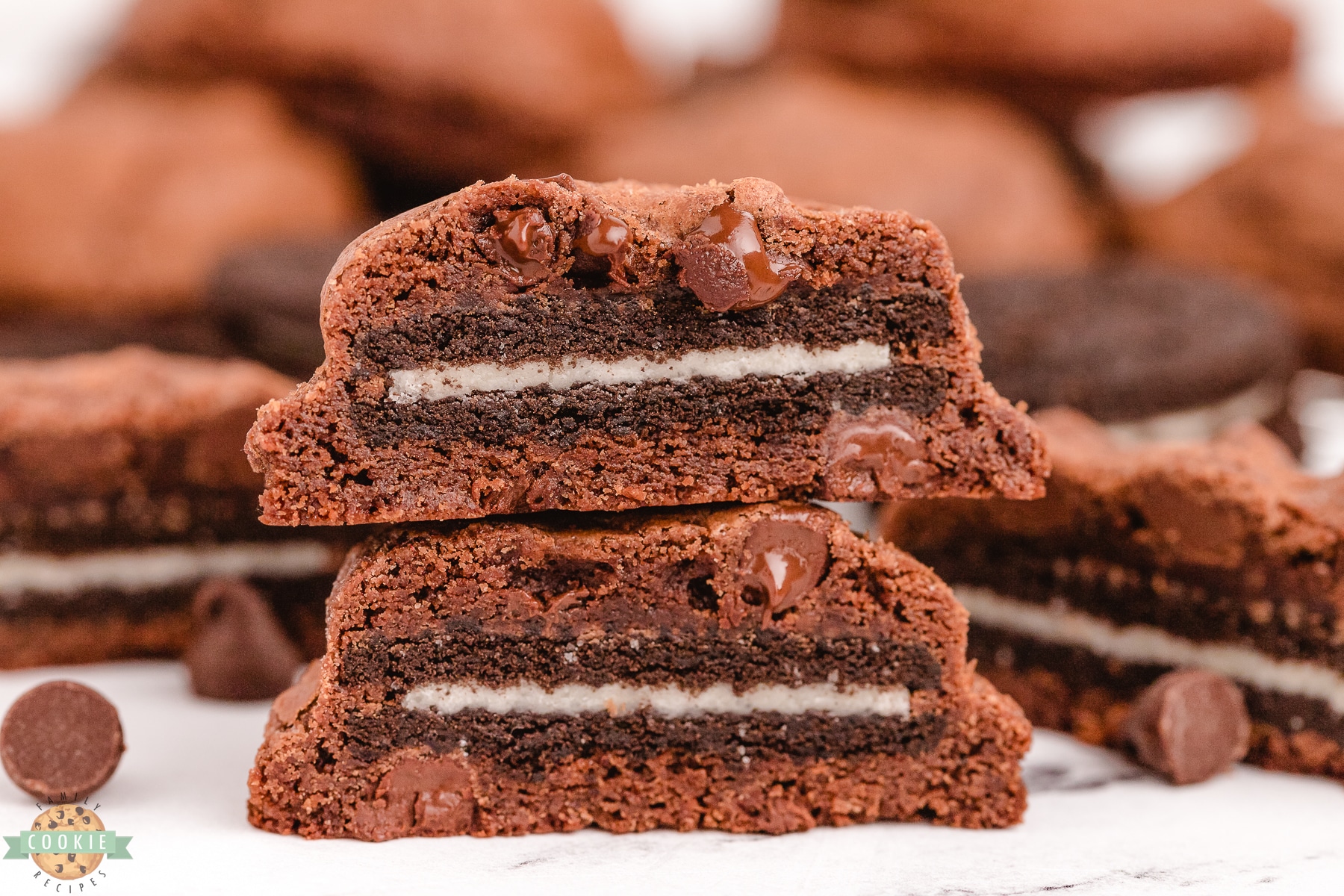 Can I freeze Oreo stuffed brownie cookies?
Yes, after these cookies have cooled and set completely, they are great for freezing for later! Go ahead and place them into an airtight container with wax paper or parchment paper between the layers of cookies so that they don't stick together. Freeze for up to 3 months and allow the cookies to thaw on the counter at room temperature for several hours (if thawing many) or a few minutes (if only thawing one or a small few).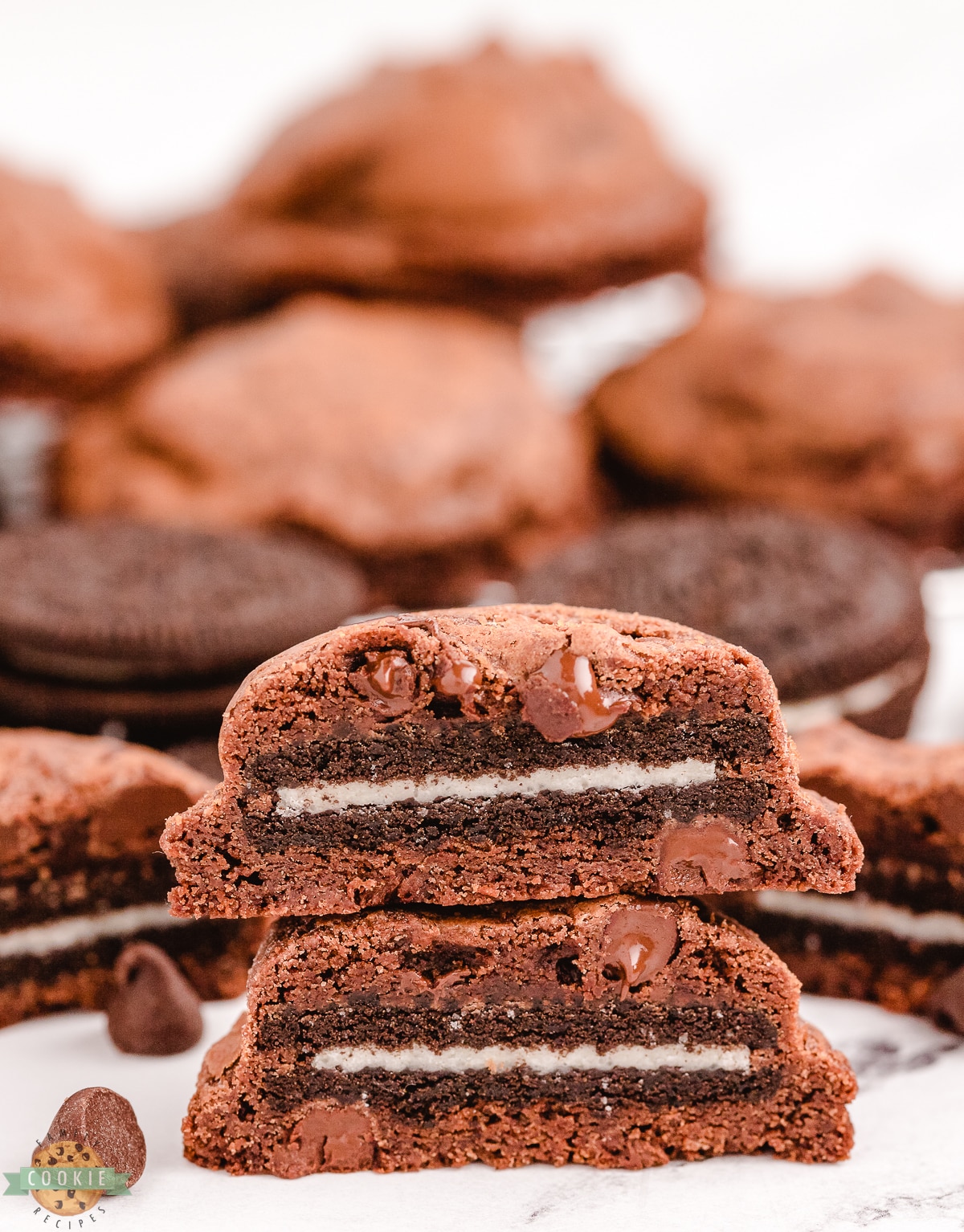 Can I make the cookie dough in advance?
Yes, you can make the dough and keep it in a well-covered bowl in the fridge for up to a day in advance. So make the dough one day and bake it the next. Perfect for parties and occasions where you want fresh cookies but without being in the kitchen for too long.


These two cute puppers are likely the most spoiled dogs on the planet. Here they are sunbathing on the deck, enjoying the heat they don't get often enough where we live! It's as if we got those couches just for them. Ha!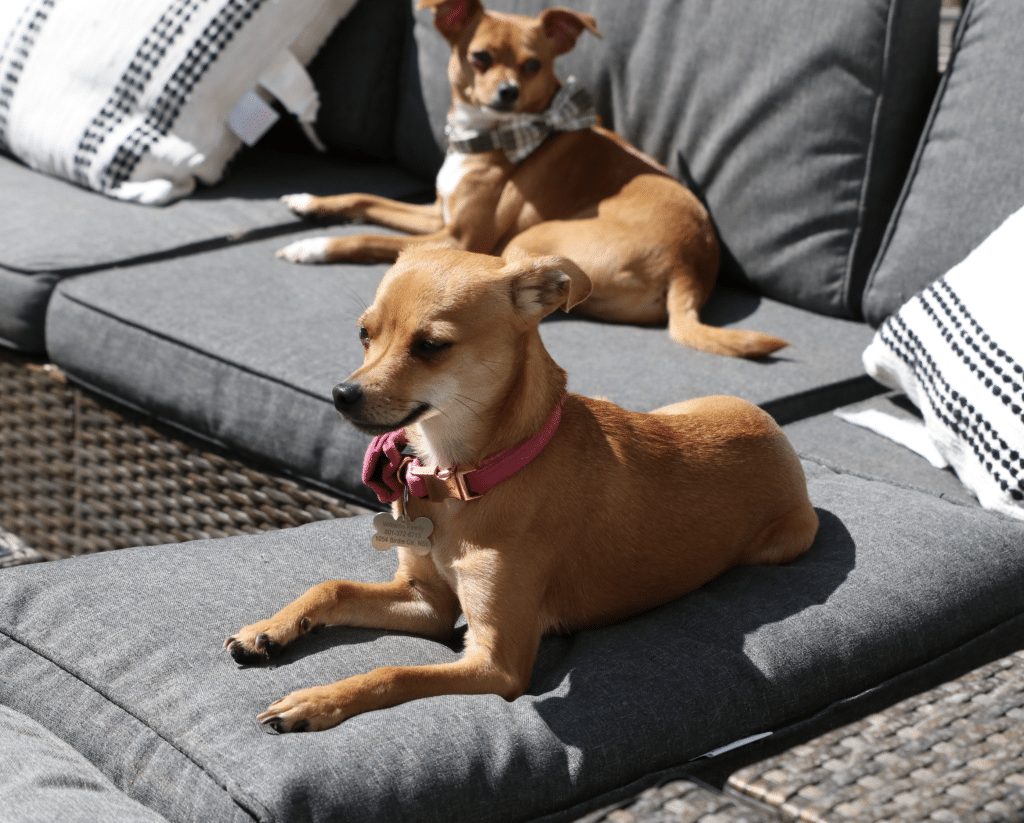 Oreo Stuffed Brownie Cookies are amazing chocolate cookies with another delightful cookie baked in the center! These stuffed cookies are a delicious and fun way to get 2 incredible cookies in one sensational treat.