Patriotic Swirled Sugar Cookies are fun, festive and perfect for the Fourth of July, Memorial Day, or Labor Day. A delicious sugar cookie recipe that is perfect for the holidays!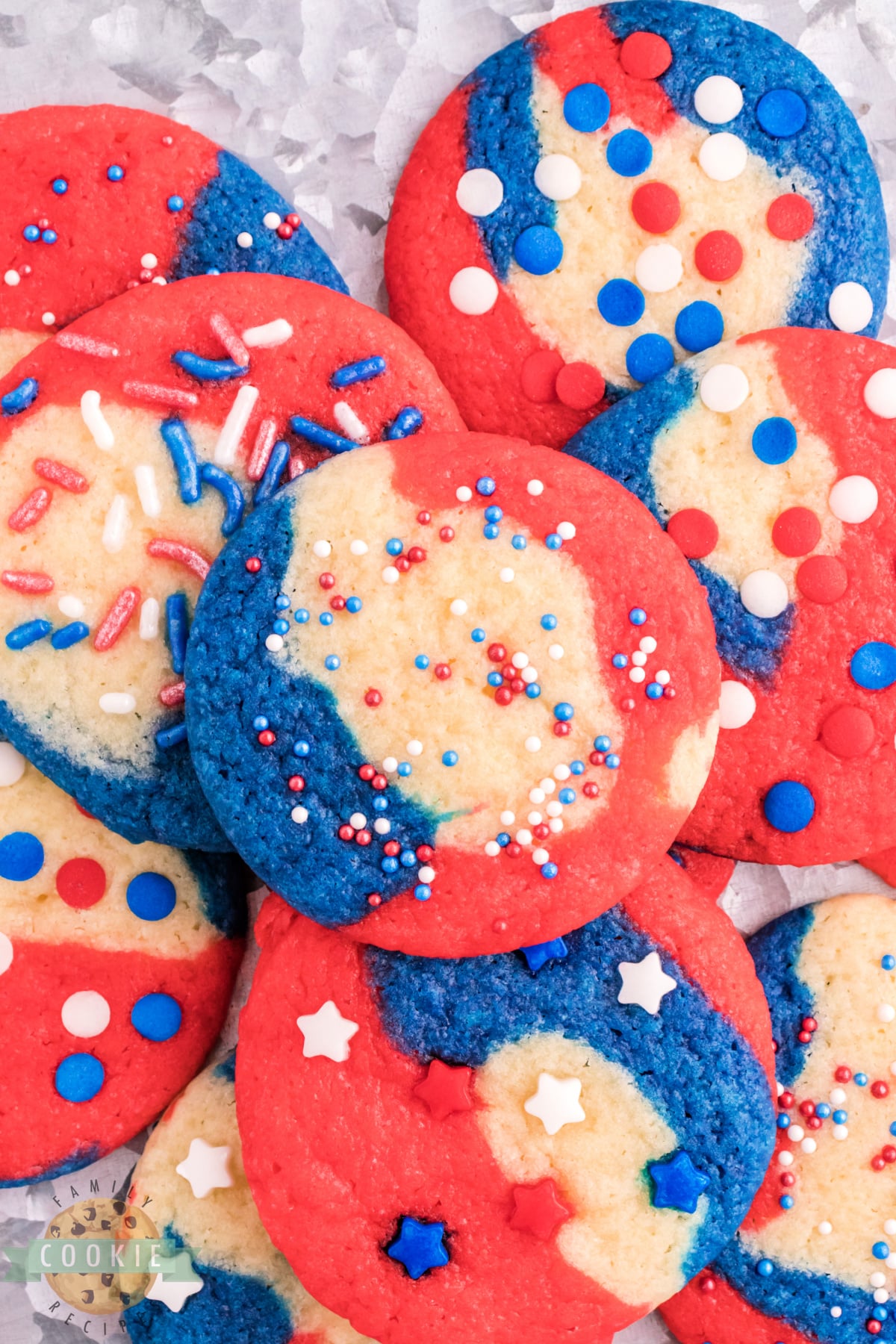 I really love making sugar cookies (and eating them!), but I don't always love the time and effort involved in frosting them. These sugar cookies are absolutely beautiful (and delicious!) without any frosting at all! Using red and blue food coloring makes the cookies patriotic, but you can use different colors to fit any occasion or holiday.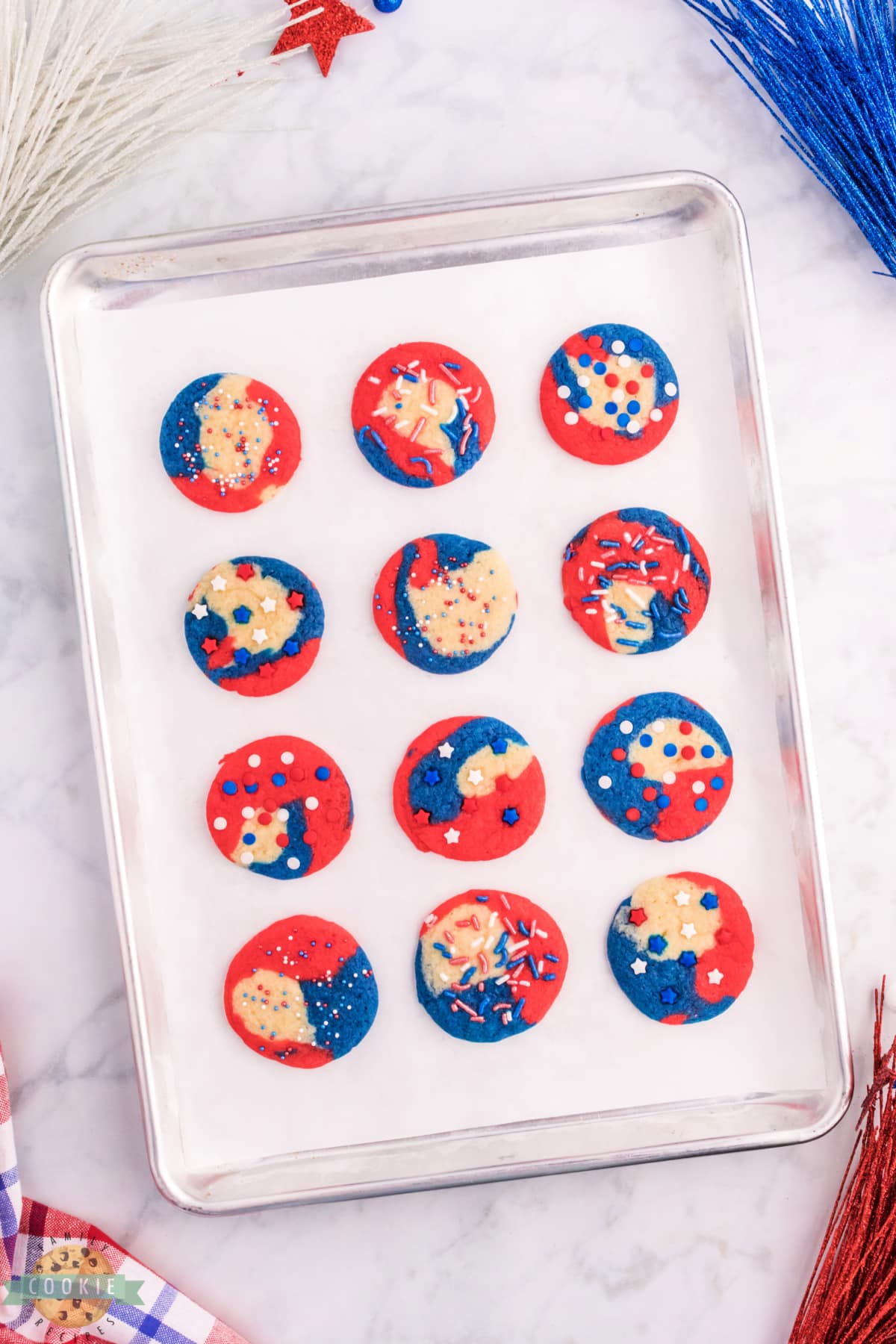 PATRIOTIC SWIRLED SUGAR COOKIES
These patriotic cookies are made by dividing sugar cookie dough into 3 equal portions. Add red coloring to one portion and blue to another, leaving the last one plain. Press and twist the three colors together to create a swirled dough that can be chilled and sliced before baking. No need to roll out the dough or cut out shapes, and no frosting is necessary either!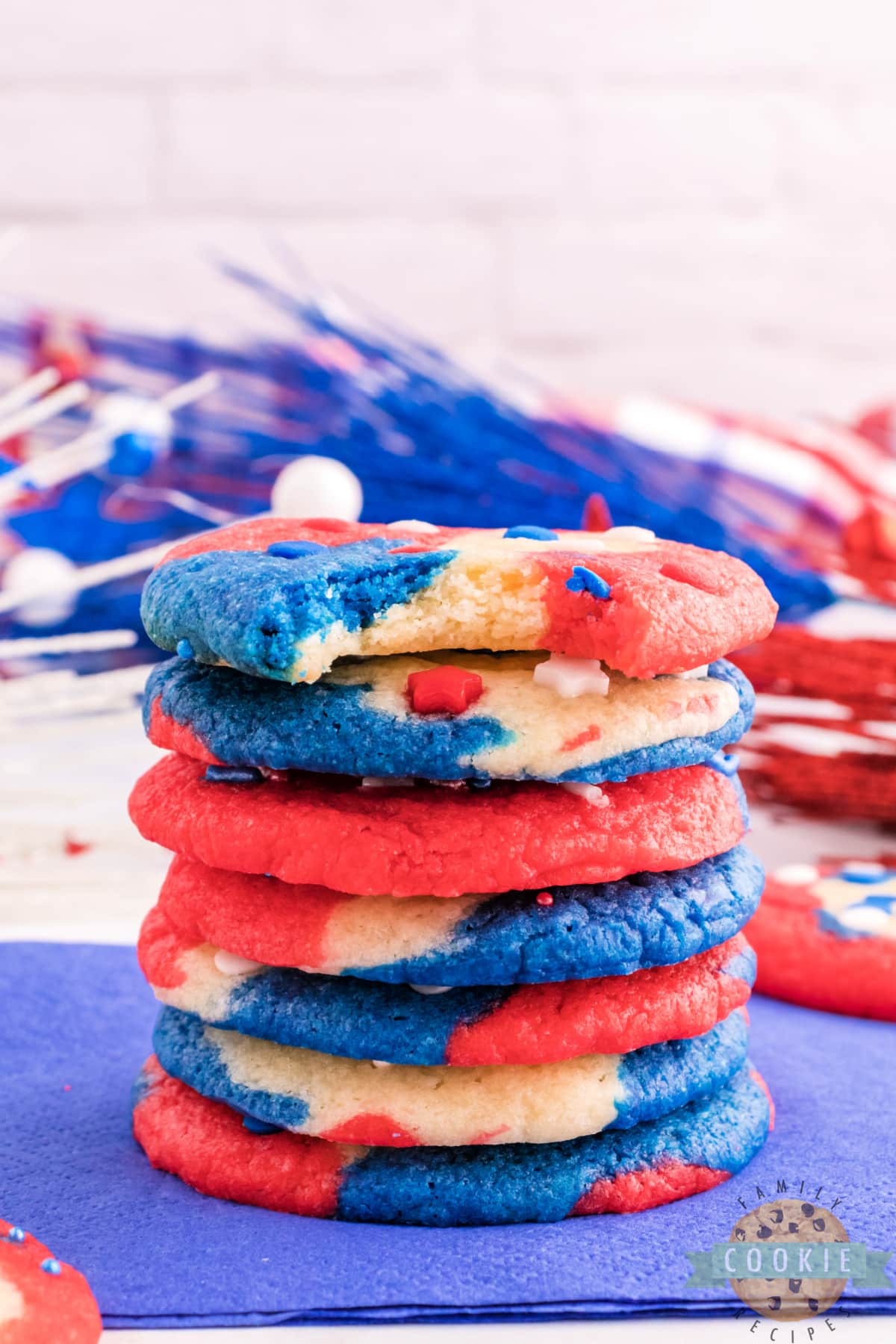 WHY MAKE PATRIOTIC SUGAR COOKIES?
Fun and colorful! You can use any colors of food coloring that you want. You can use red and green for Christmas, orange and green for Halloween, pink and purple for a princess party, etc.
No frosting needed. Don't have to time to frost a bunch of sugar cookies? These ones are so pretty and tasty, you don't even need frosting. Of course, you can always add frosting if you'd like.
Easy! Besides the gel food coloring, you only need a few other basic ingredients. The cookies look fancy, but the swirled effect is actually very simple to achieve. Once the colors are swirled together, you can just slice and bake the cookies!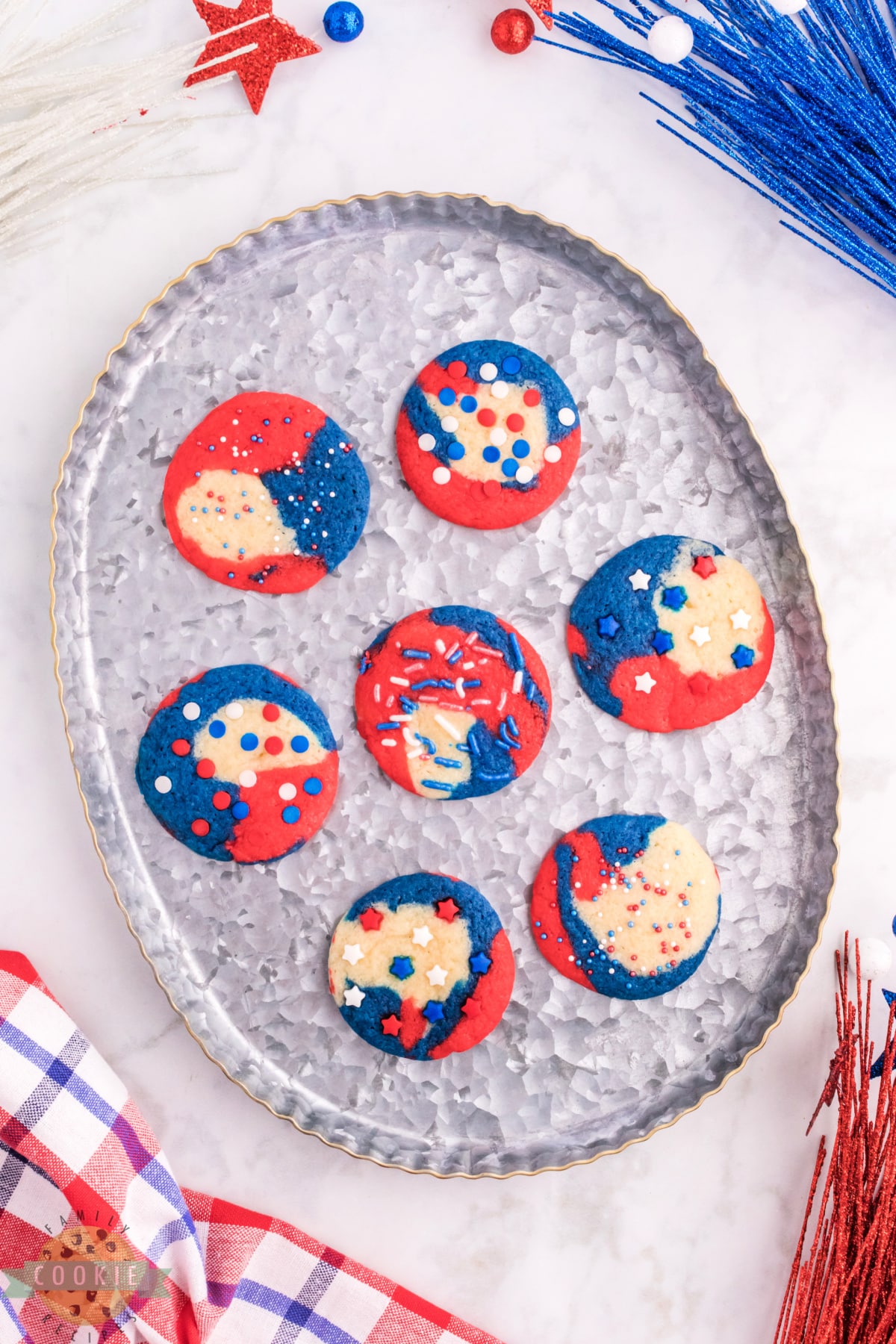 TIPS FOR MAKING THE BEST SUGAR COOKIES
Sugar cookie dough is sticky, but once it's sufficiently chilled, it'll be perfect. Resist the urge to add more flour to the dough before chilling! If you add too much flour, the ratio of wet to dry ingredients is off and the cookies end up drier and more crumbly.
Do not melt the butter! The butter needs to be softened (at room temperature). Using melted butter will ruin the cookies.
Spend a little extra time when you mix the butter and sugars. Creaming them together for 2-3 minutes will improve the consistency of your cookies.
Preheat the oven. This will help your cookies turn out right every time!
Use parchment paper or a silicone baking mat. Doing this will make it really easy to remove the cookies from your cookie sheet so that you don't have to scrape them off the pan. They will just slide right off in perfect shape!
Make sure that you don't slice the dough too thin. You want the dough to be about 1/4″ thick. If the dough is too thin, your cookies will be crispy and hard and easily breakable. But if the dough is too thick, the cookies may not bake all the way through the middle.
Make sure not to over bake your cookies. They may not even look totally done on the tops, but if the bottoms start to brown, I take mine out and they are perfect!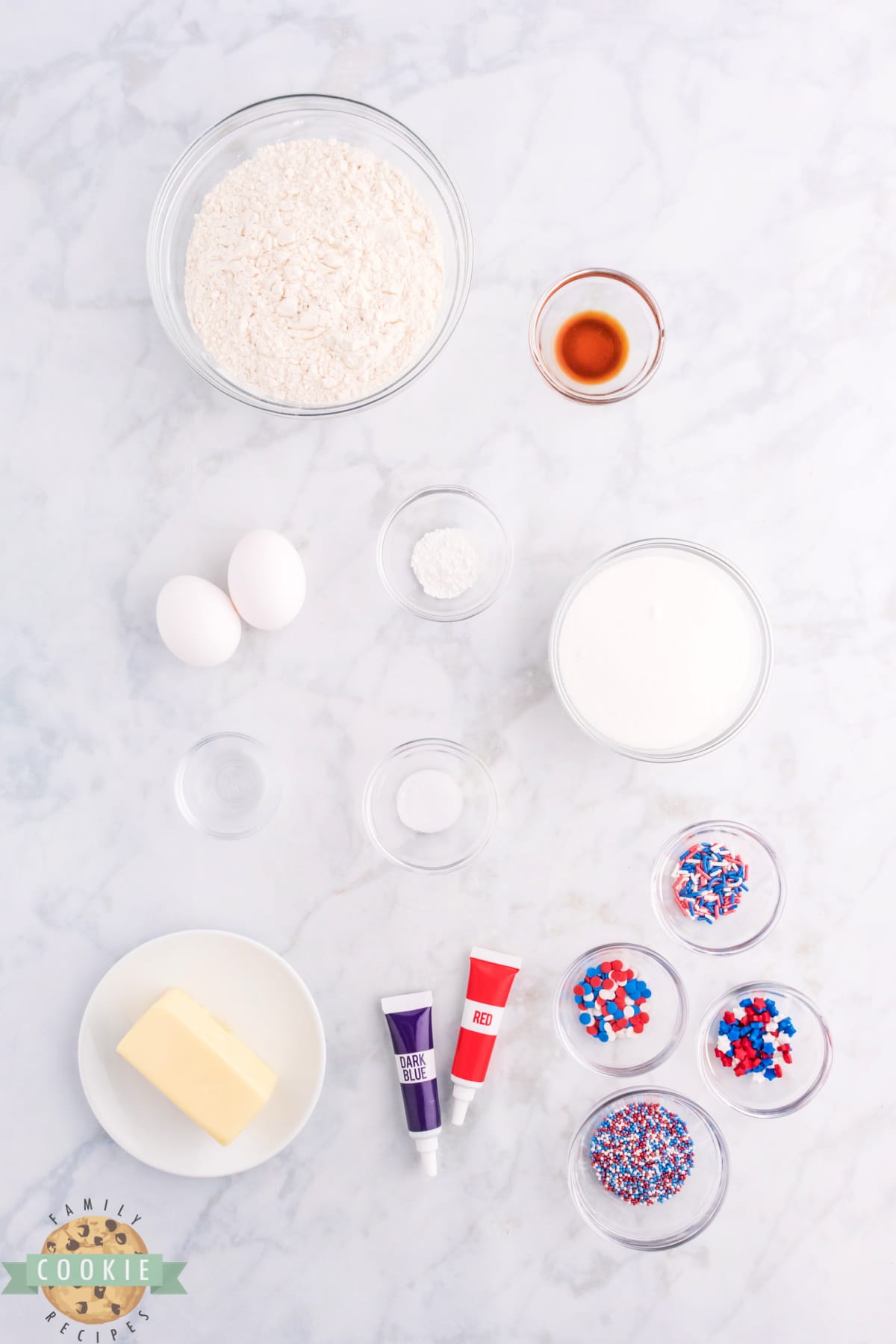 Ingredients in Patriotic Swirled Sugar Cookies
Flour – You will need two cups of all-purpose flour to make the sugar cookies.
Baking powder – Baking powder is the leavening agent in the cookies. For best results, make sure that your baking powder isn't old or expired.
Salt – Just a little bit of salt will help to bring out all of the other flavors in the cookies.
Butter – For best results, use real butter. Make sure the butter is softened to room temperature before adding to the sugar.
Sugar – You will need a cup of sugar to give the sugar cookies the traditional sweetness and consistency.
Eggs – Two eggs will help to bind everything together.
Vanilla extract – The higher the quality of the vanilla, the better.
Almond extract – This is optional, but I love the flavor of almond extract. Remember that a tiny bit goes a long way!
Gel food coloring – Gel food coloring produces much more vibrant colors than regular food coloring. Use any colors you'd like!
Sprinkles – Another optional ingredient, but who doesn't love sprinkles?! Add them on top before baking.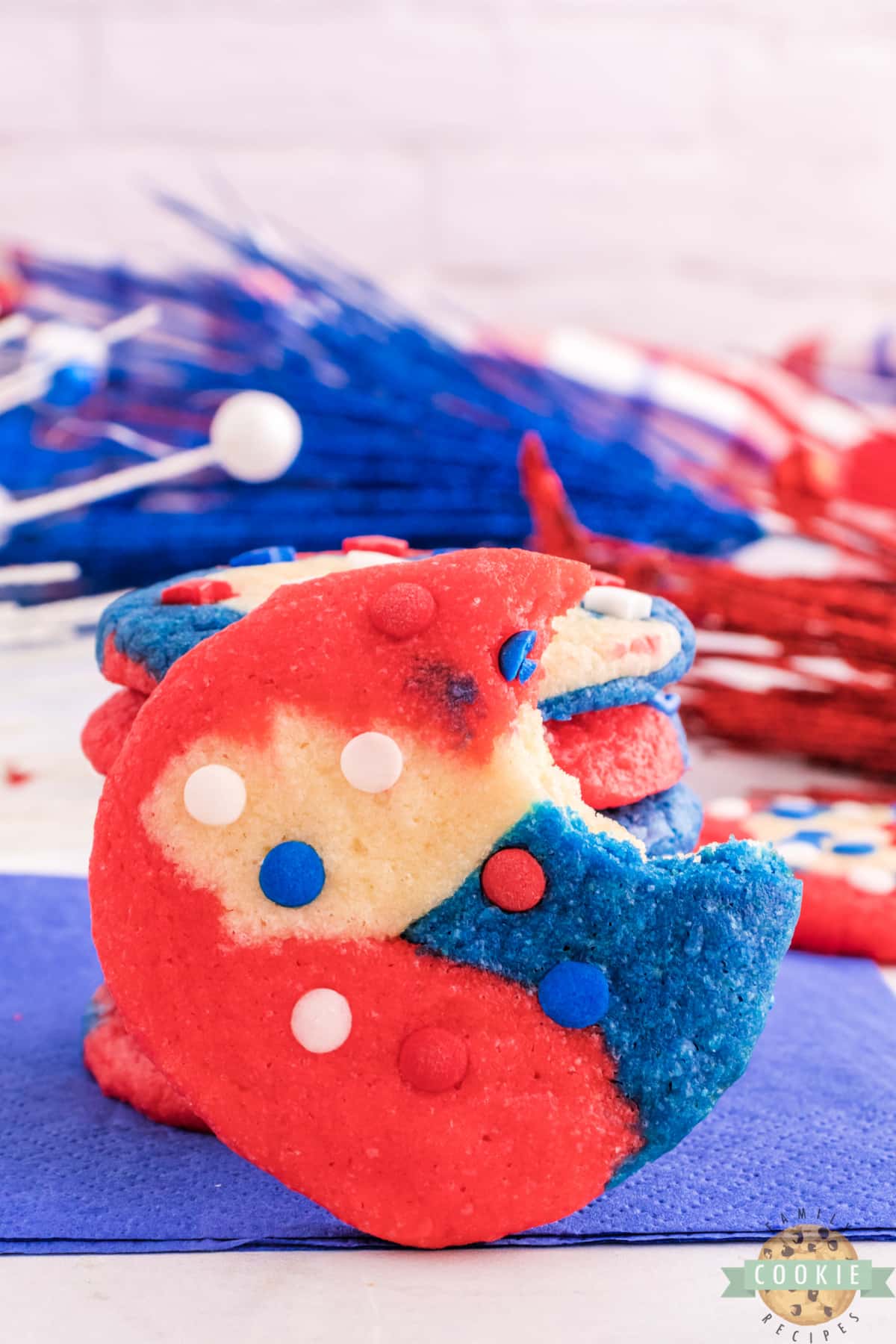 How to make Patriotic Swirled Sugar Cookies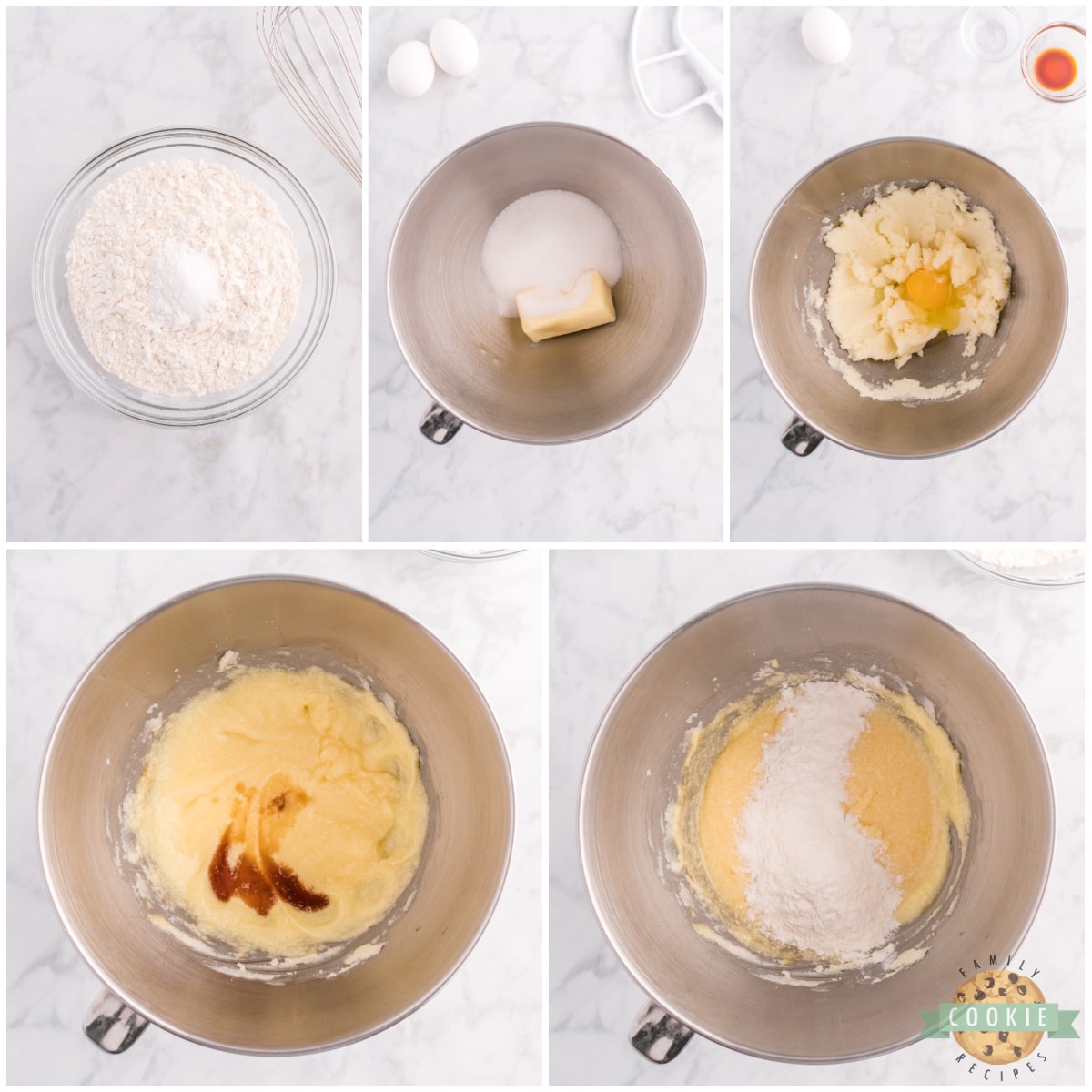 Prepare the cookie dough
To begin, gather all the ingredients needed for the recipe, including all-purpose flour, baking powder, salt, butter, granulated sugar, eggs, vanilla extract, almond extract, red and blue gel food coloring, and an assortment of red, white, and blue sprinkles.
In a medium bowl, whisk together the flour, baking powder, and salt. This step ensures that the dry ingredients are well combined and evenly distributed throughout the dough.
In a large mixing bowl, cream the butter and sugar together until light and fluffy, which should take about 2-3 minutes. Then, add the eggs one at a time, beating until fully incorporated. Mix in the vanilla and almond extract and beat for another 2-3 minutes.
Slowly add the flour mixture to the wet ingredients and mix until well combined. Be careful not to overmix the dough, as this can result in tough cookies.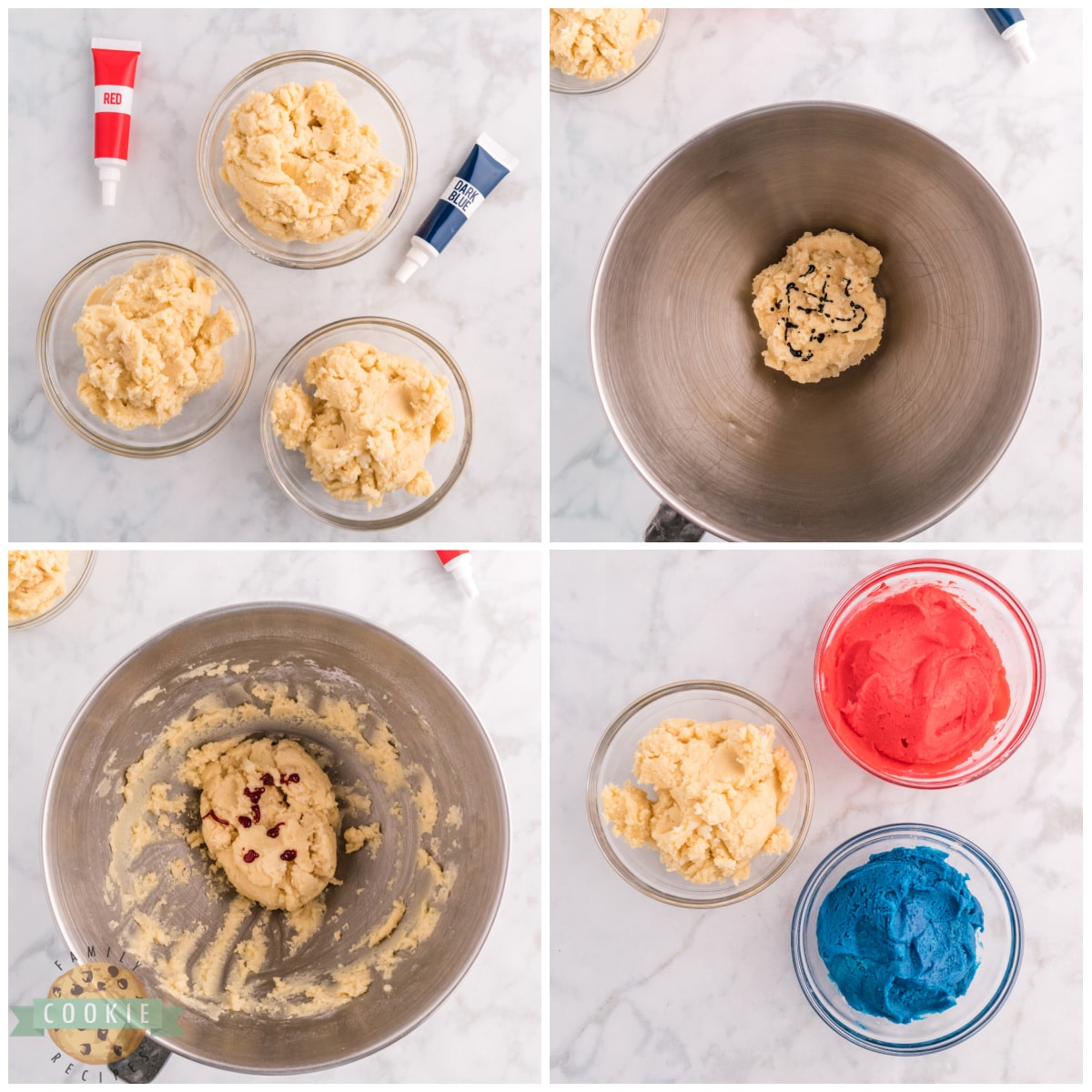 Coloring the Dough
Divide the dough into three equal parts, each about ¾ cup. Add red gel food coloring to one part and blue gel food coloring to another part, leaving the third part plain. This can be done in your mixer or kneaded with your hands or a spoon.
Add food coloring gradually, mixing the dough until you reach the desired color intensity. Keep in mind that the dough will lighten slightly as it bakes, so don't worry if the colors seem too dark.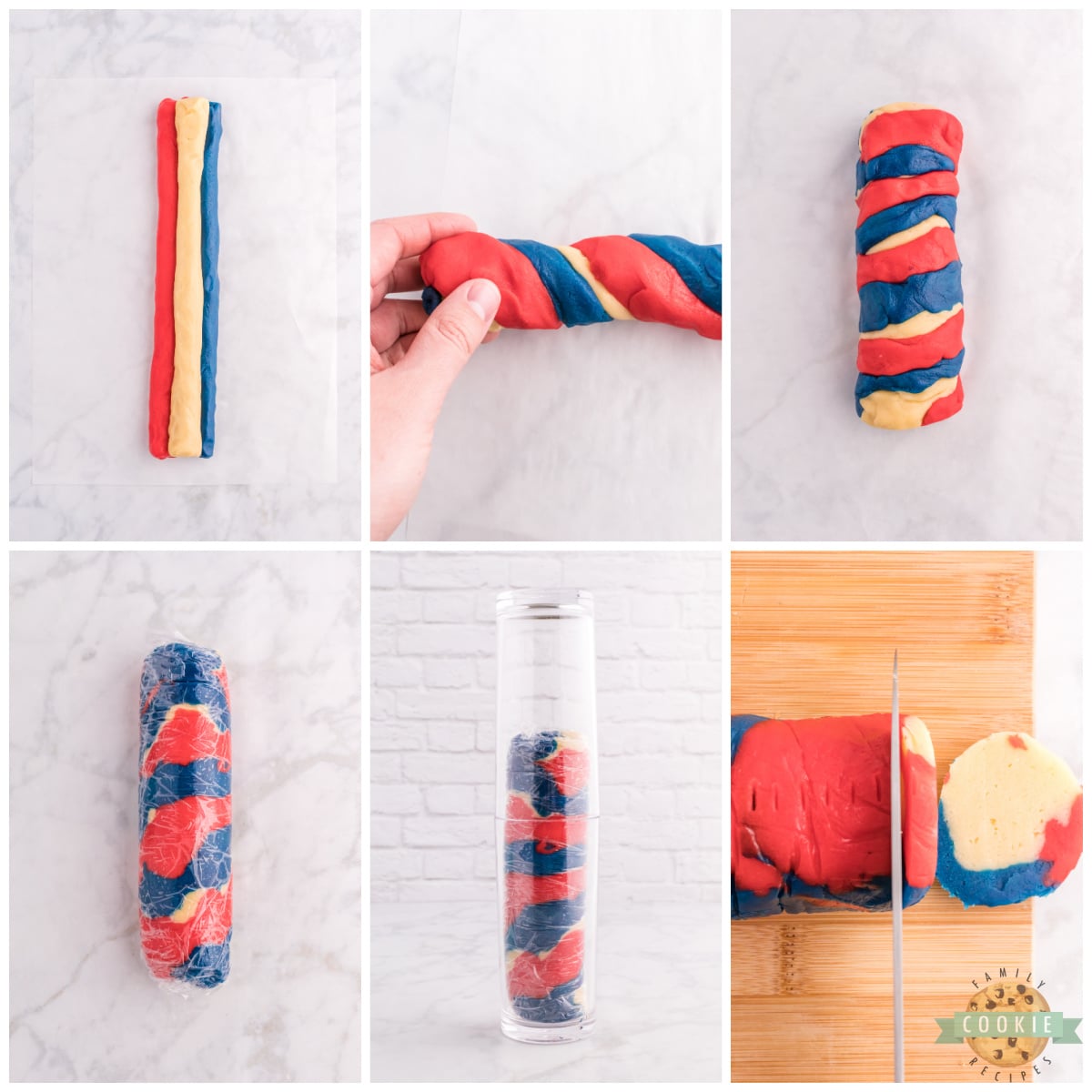 Forming and Chilling the Dough
Roll each dough ball into a log, each about 12 inches long, and place them together (2 logs on the bottom and 1 log on top in the middle). Gently press the logs together and twist to create a swirled effect. Once twisted together, compress the log until it's 8-9 inches in length and about 2½-3 inches in diameter. Tightly wrap in plastic.
Chill the dough log in the refrigerator for at least 1 hour or until firm. To prevent one side from being flat, chill the dough vertically in a tall cup.
Once chilled, slice the dough into 1/4-inch thick rounds and place them on a prepared baking sheet, spacing at least 2 inches apart. Top with sprinkles.
Bake the cookies
Bake for 10-12 minutes or until the cookies are firm. Allow the cookies to cool on the baking sheet for 5 minutes before transferring them to a wire rack to cool completely.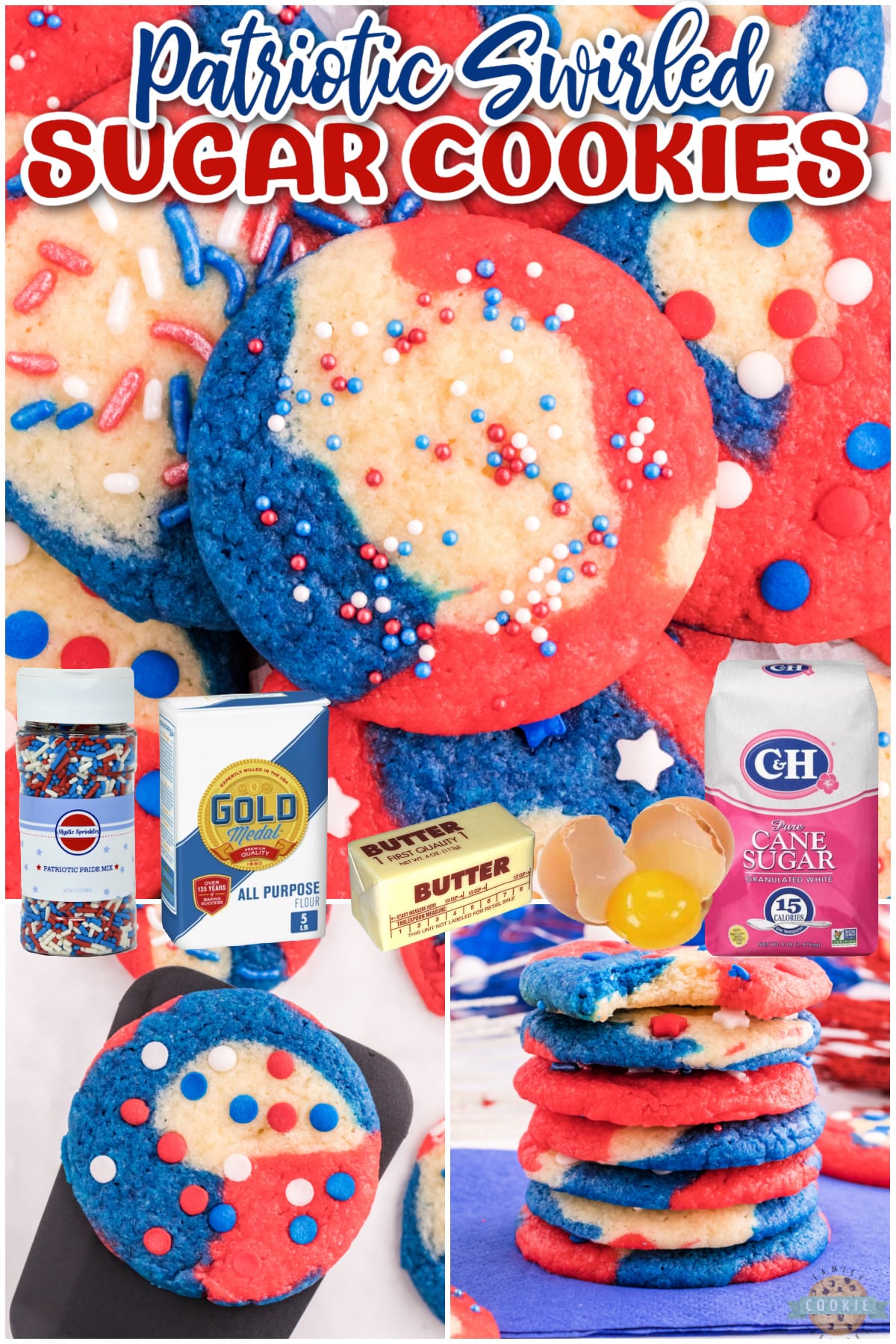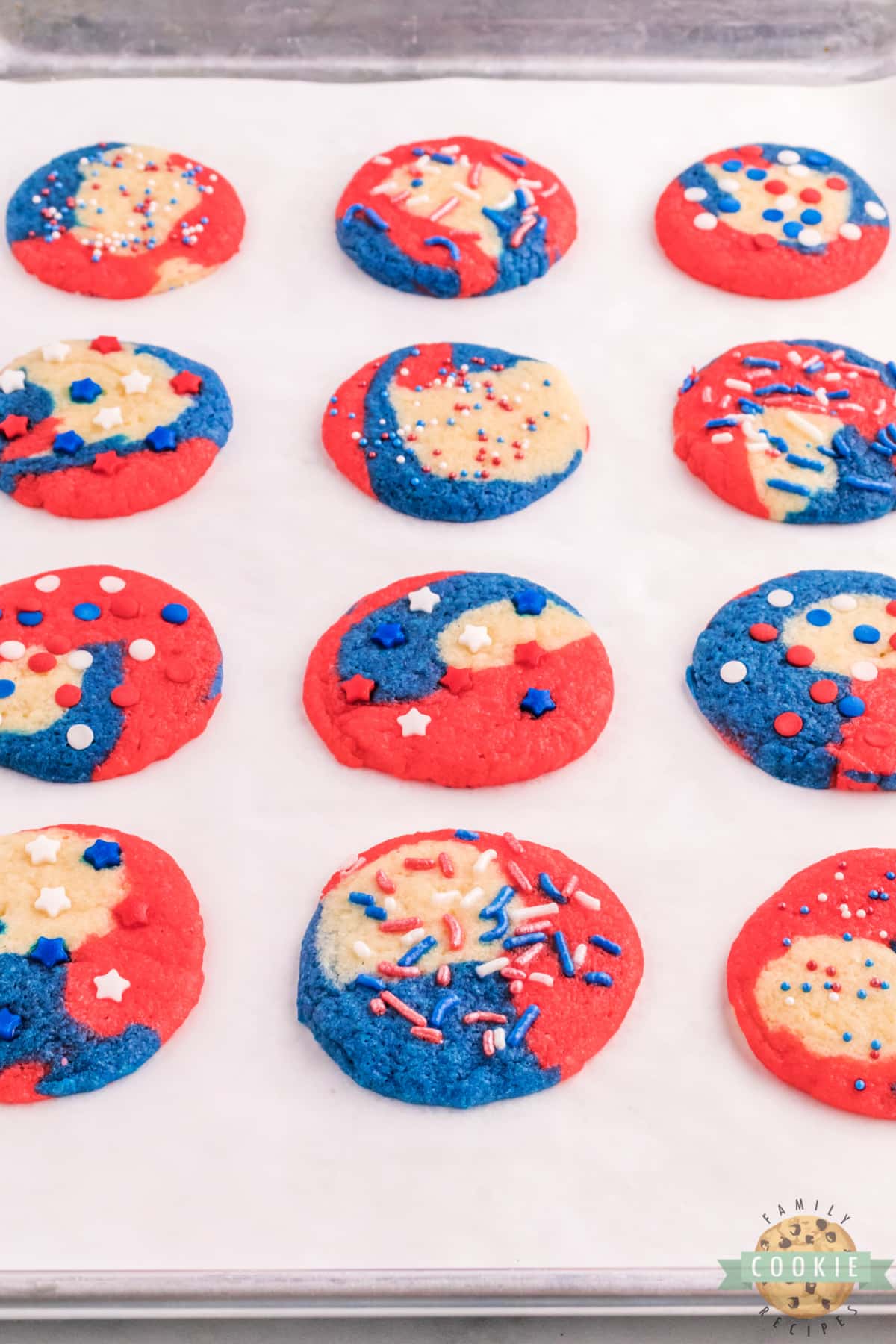 Tips for making sliced sugar cookies
Be sure the dough is completely chilled before slicing. This will ensure the dough is easier to slice, prevents the cookies from overspreading when baked, and improves the overall flavor and texture.
Use gel food coloring rather than liquid, as it produces brighter and more vibrant colors.
After the dough is removed from the fridge, it quickly starts warming back up and can become harder to work with. So work quickly! To ensure the cookies stay round as you cut them, you can either cut them as is and try to re-round them using your fingers, or re-roll the dough a bit after each couple of slices.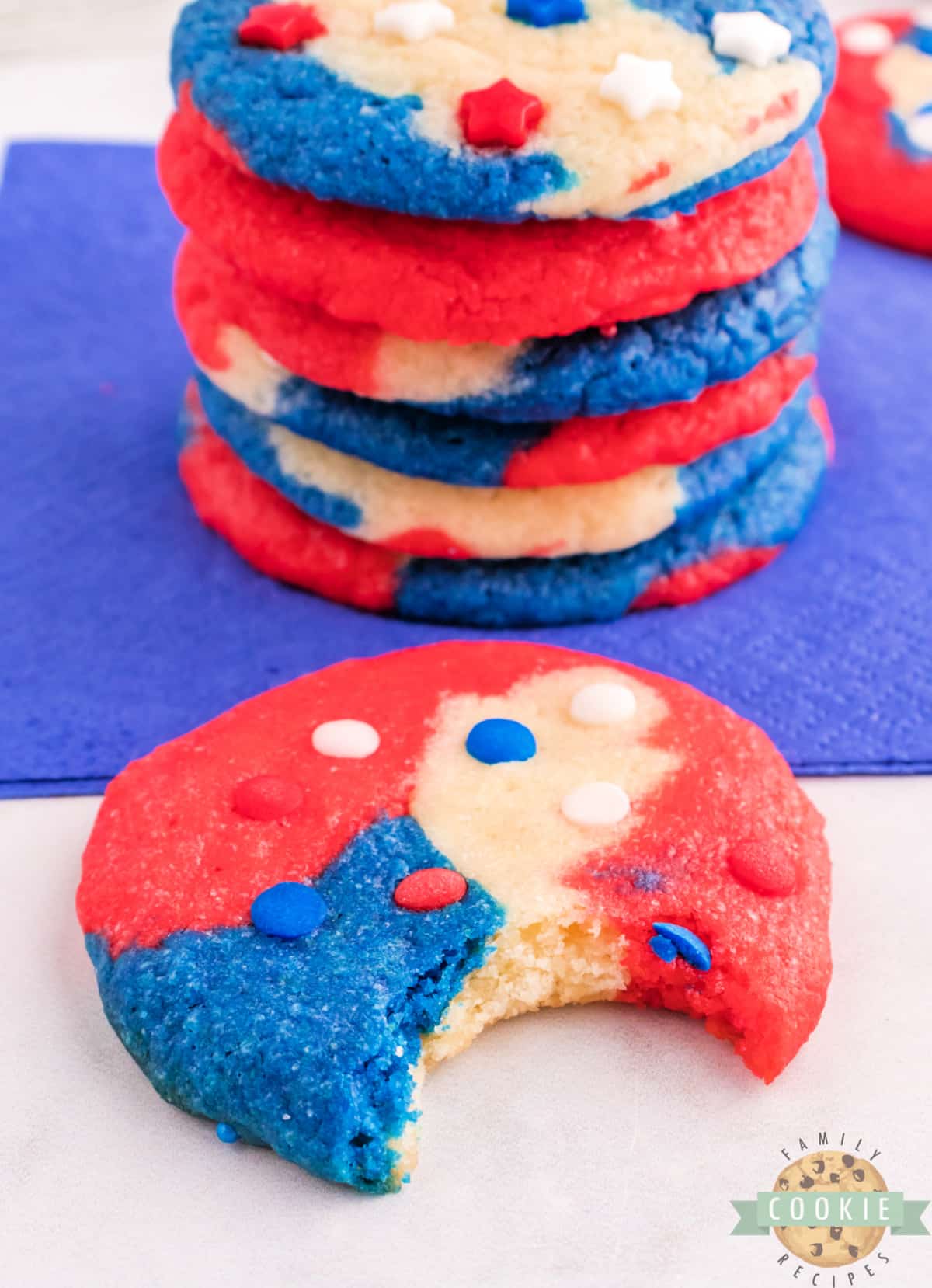 HOW DO YOU SOFTEN BUTTER?
I like to soften butter by using the defrost function on my microwave. If you need the full 1/2 cup cube of butter, you can leave it in the paper wrapper, otherwise, place the amount of butter you need in a glass or porcelain bowl. I use the lowest defrost setting on my microwave and just let it run for 20 seconds. Check the butter and see how soft it is by pressing it with a rubber scraper. If it is still not soft to the touch, meaning it doesn't indent when you press into it, let it warm for another 5-10 seconds. Watch it closely! Butter softens very quickly.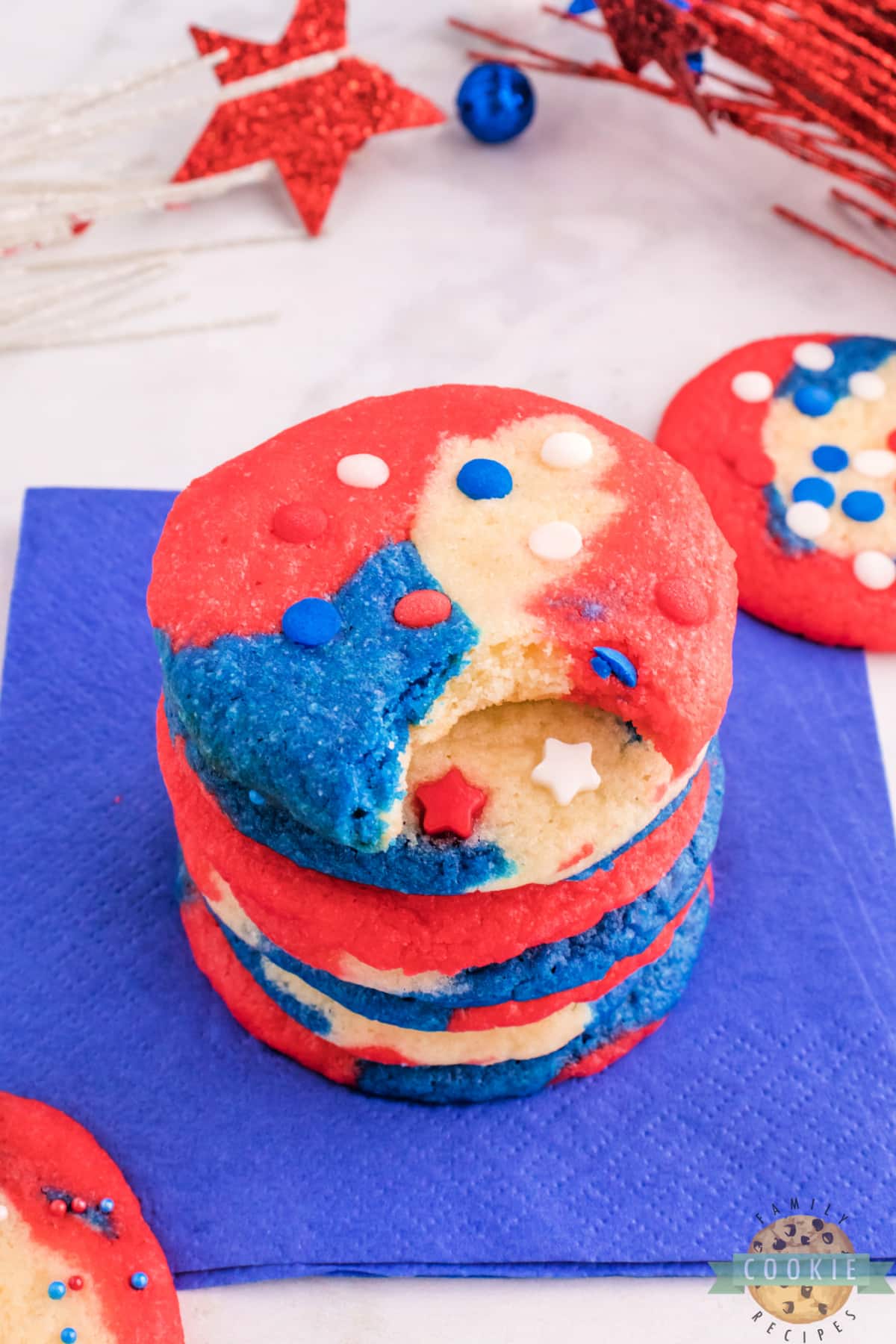 How should I store the leftover cookies?
Store the cooled cookies in an airtight container at room temperature for up to a week. You can also freeze the baked cookies for up to a month.
Can I omit the almond extract?
Yes, you can leave out the almond extract or substitute it with another flavoring, such as lemon or peppermint.
What is another variation I can make?
These cookies and their colors can be made and changed for any holiday! Such as red and green for Christmas, green and orange for Halloween, etc.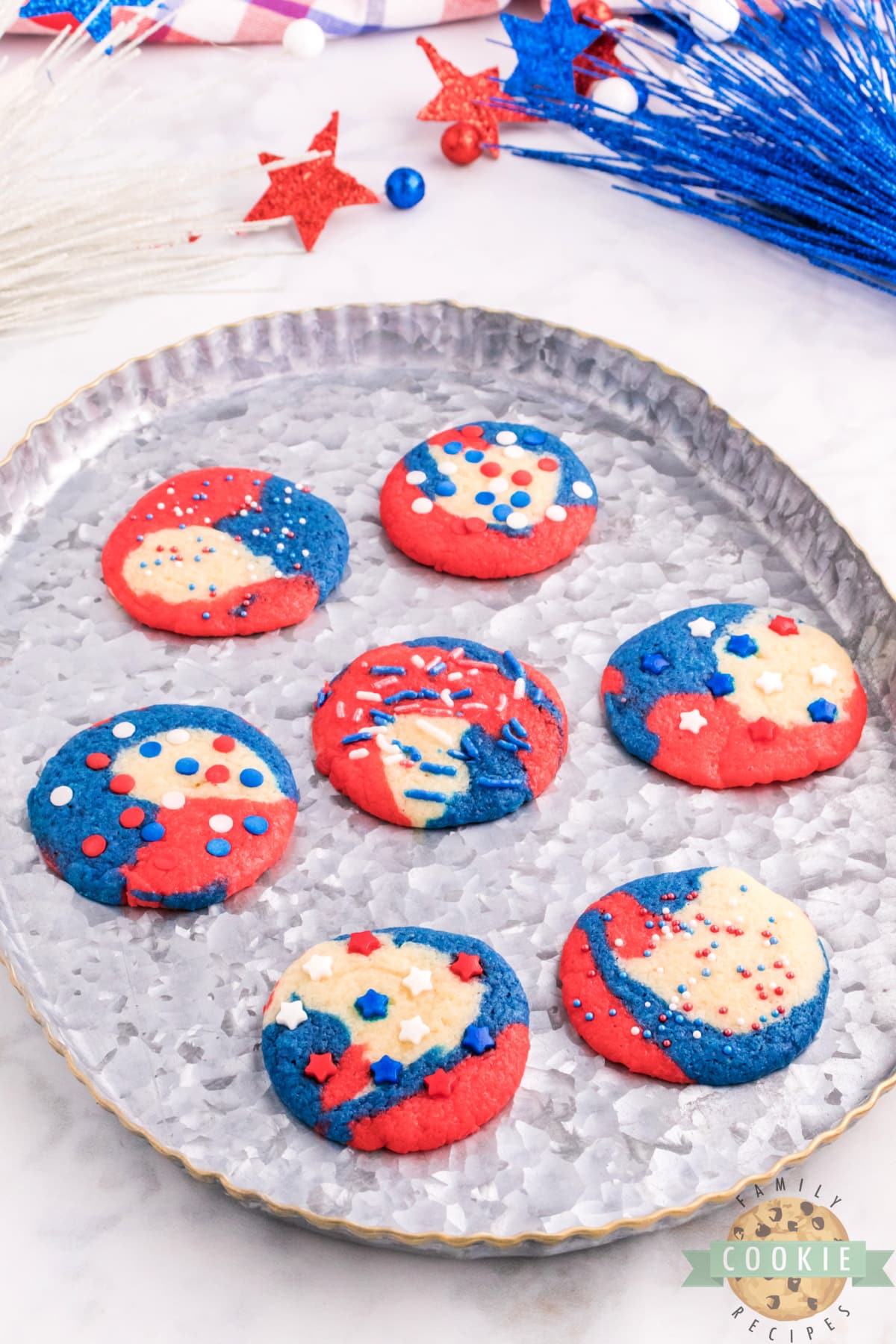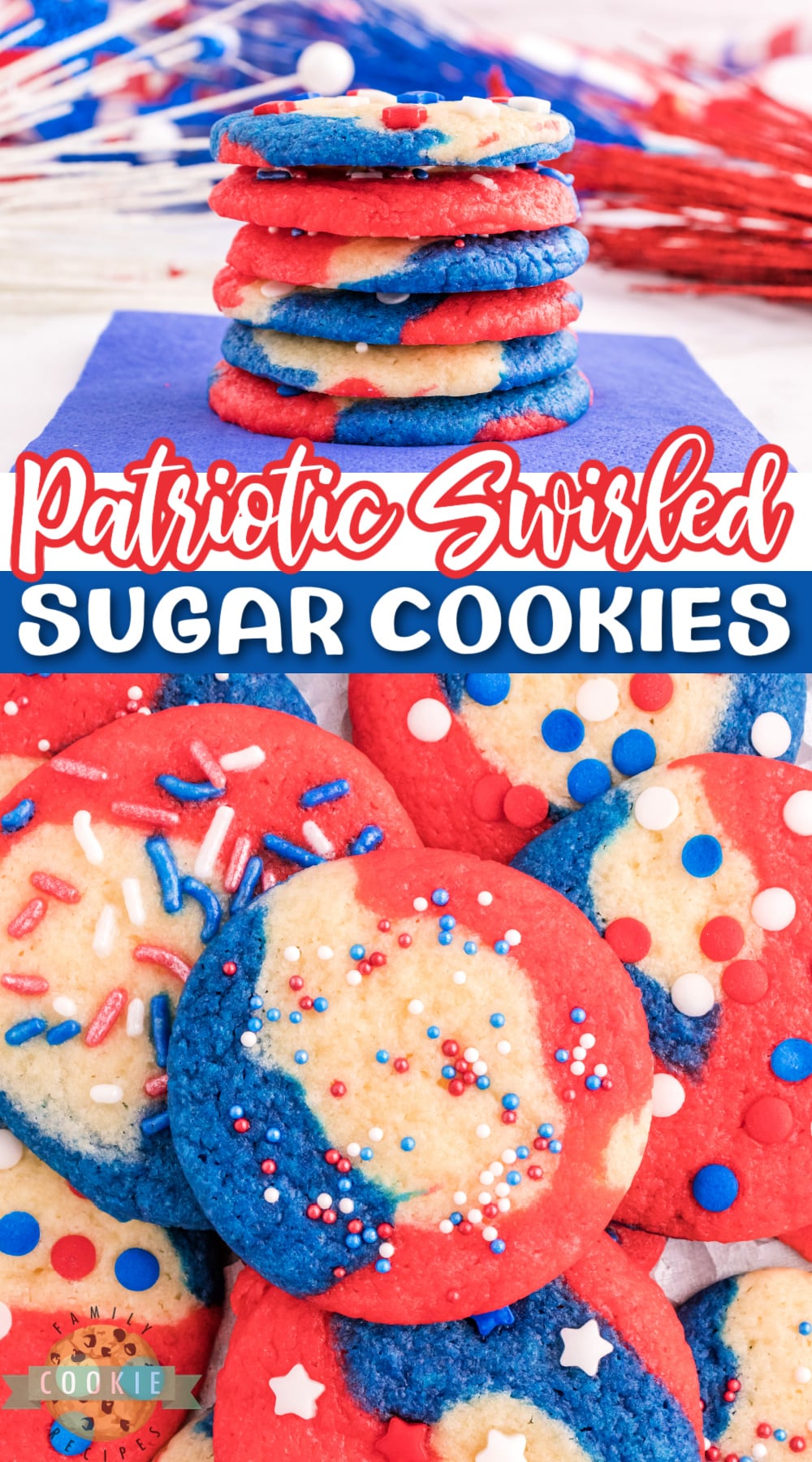 Patriotic Swirled Sugar Cookies are fun, festive and perfect for the Fourth of July, Memorial Day, or Labor Day. A delicious sugar cookie recipe that is perfect for the holidays!