White Chocolate Cherry Cookies are sweet & chewy homemade cookies bursting with bright cherry flavor! Cherry cookies made with white chocolate chips perfect for any time!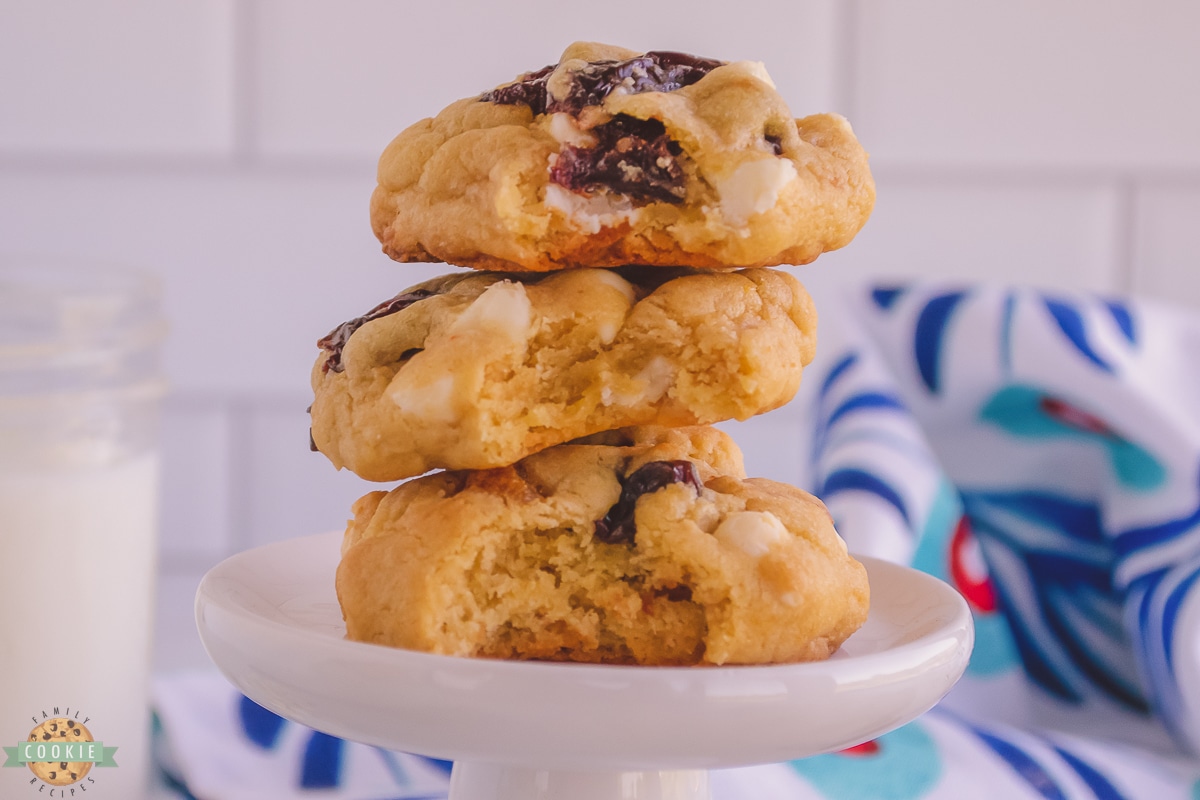 These cherry white chocolate cookies are packed with so much flavor in every bite, the white chocolate and cherry combination is simply delicious. Making these cherry cookies with white chocolate is so easy, you most likely already have the ingredients in your kitchen too!
White Chocolate Chip Cherry Cookies
In a tasty twist to a chocolate chip cookie, we have white chocolate and tart-dried cherries scattered throughout every cookie. The flavorful combination of sweet chocolate, chewy cookie, and tart berries makes this cookie unique and wonderful. Serve this amazing cookie treat up for parties, weeknight dessert, or simply because you feel like baking! These cookies will disappear quickly no matter the occasion!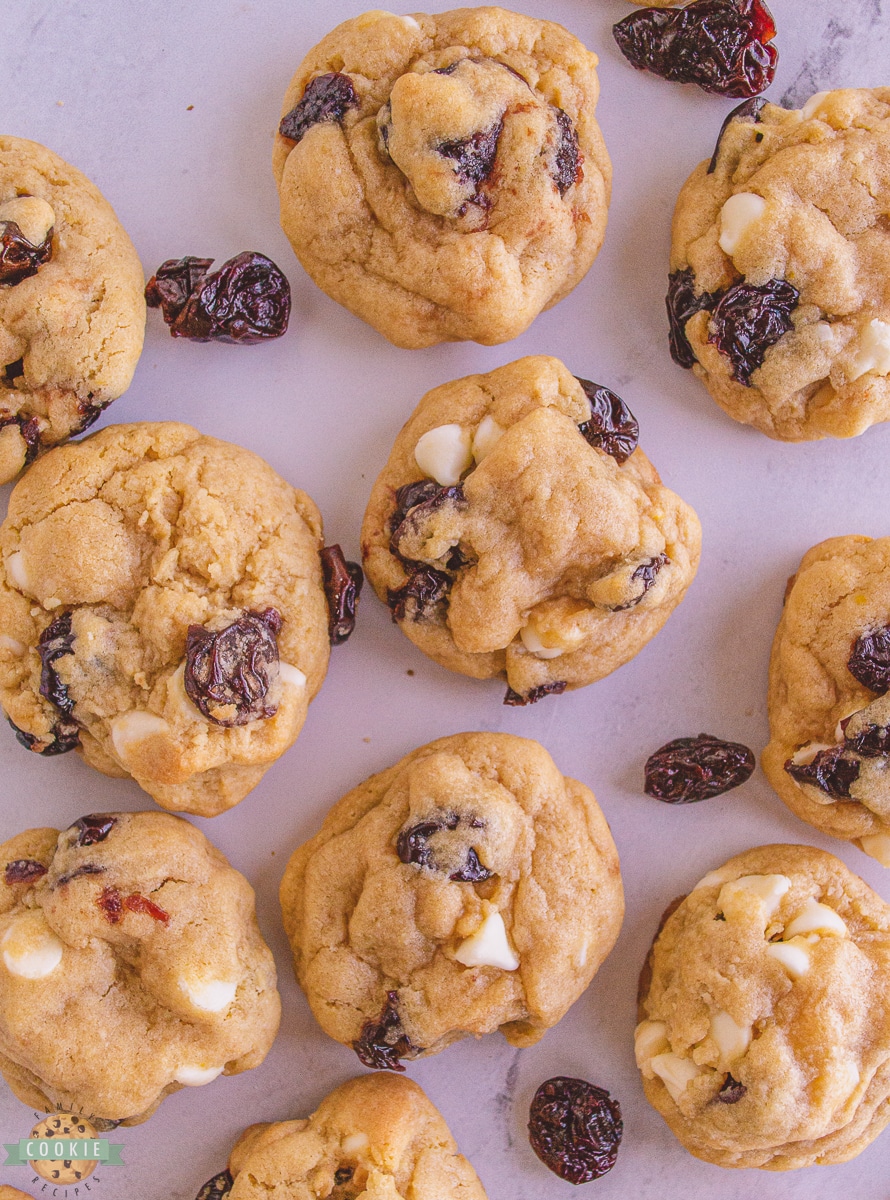 Why you'll love these
White Chocolate Cherry Cookies
In case you were not convinced yet to give this recipe a try, here are a few more reasons to do so.
Minimal ingredients. We need less than 10 ingredients from start to finish, and the ingredients needed for this recipe are super basic, like flour, butter, baking powder, etc. All things you most likely already have in your kitchen.
Simple steps. The steps to make this cookie recipe are very easy to follow. Creaming butter and sugars, whisking dry ingredients, and scooping into balls is so simple and worth the effort. The hardest part of this recipe is having patience as the dough chills, but chilling the dough is very important for getting great results.
Dried cherries instead of fresh. By using dried cherries, you do not have to worry about prepping fresh cherries or color bleeding throughout the dough, so every cookie will look picture perfect with less effort and still taste great.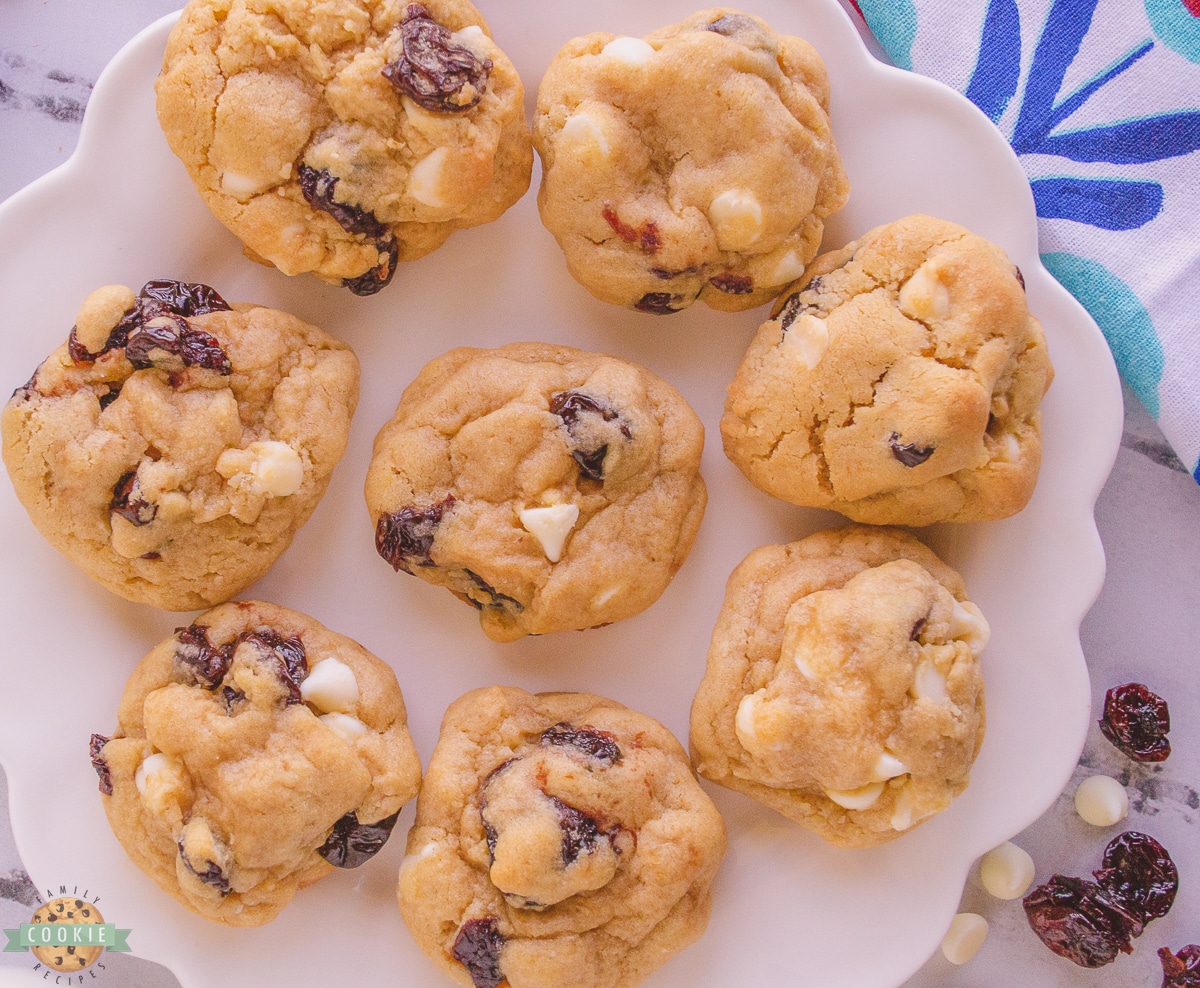 White Chocolate Cherry Cookie Ingredients
Butter: You will need ½ cup of softened butter to make the dough rich and tasty.
Brown sugar: Adding in 1 cup of brown sugar will give you a depth of flavor and chewy goodness in every bite.
Vanilla extract: Add in 1 teaspoon of vanilla extract to enhance all the wonderful flavors in this recipe.
Eggs: To bind the dough together, add in 1 whole egg and 1 egg yolk only.
Flour: The base of the cookie dough, use 2 cups of all-purpose flour.
Baking powder: 1 teaspoon of baking powder is needed to make these cookies puff up as they bake.
Salt: Use ½ teaspoon of salt to make the flavors in this cookie dough taste incredible.
White chocolate chips: You will need ½ cup of white chocolate chips so that there is plenty for every cookie.
Cherries: Add in ½ cup of dried cherries for that great burst of color and flavor.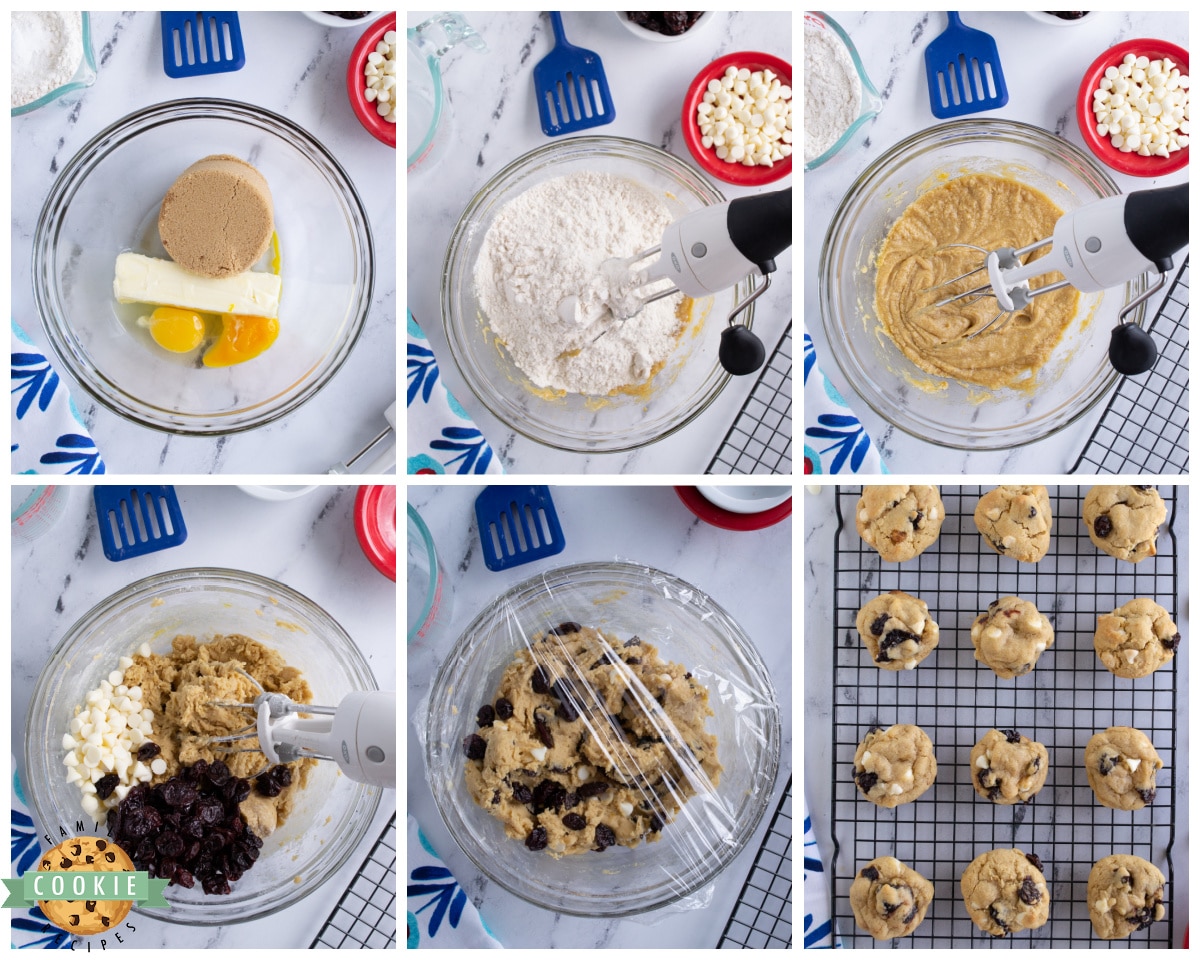 How to Make White Chocolate Cherry Cookies
Dough
Begin by creaming together the butter, sugar, vanilla extract, egg, and egg yolk in a mixing bowl with an electric mixer.
In a separate bowl, combine the dry ingredients, the flour, baking powder, and salt, mix with a whisk until combined.
Then slowly add the dry ingredients to the bowl of wet ingredients while mixing until incorporated.
Next, fold in the dried cherries and white chocolate chips until just combined.
Proceed to cover the mixing bowl with plastic wrap and place it into the fridge to chill for at least 1 hour.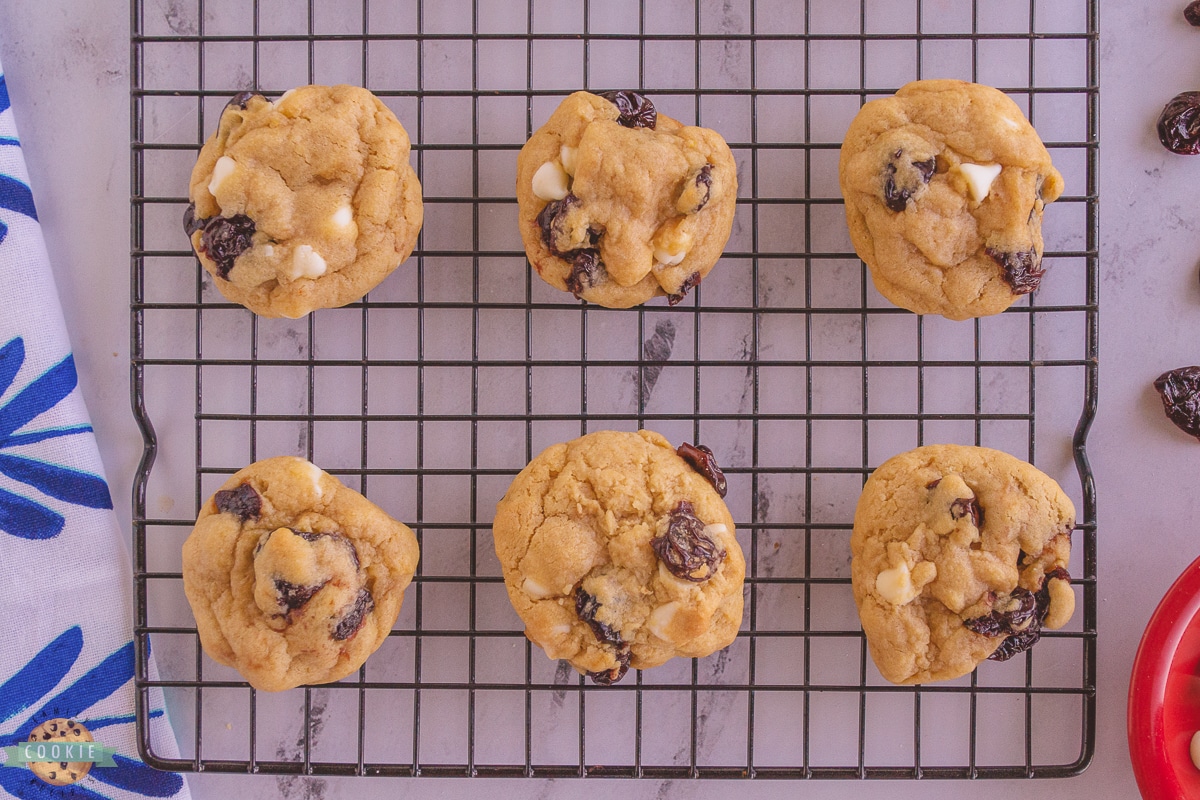 Prep and Bake
Start preheating the oven to 350 degrees F and line a baking sheet with parchment paper.
Then, scoop the cookie dough into 1-inch-sized balls and place them evenly onto the baking sheet.
Continue to place the cookies into the preheated oven and for 10 minutes.
Once baking is complete, remove the baking sheet from the oven and let cool for about 5-10 minutes.
Serve immediately and enjoy!
Do I have to chill the cookie dough?
When recipes request that you chill your cookie dough it is usually for a good reason. That reason is that the flavor gets a bit more time to develop and the cookies taste even more incredible. But the biggest reason is because of the butter/fats in the dough. By chilling the dough we allow the fats to solidify which means your cookies will not spread out as much while baking, so the texture turns out perfectly. This is especially important on warmer days or when your butter is warm or softened.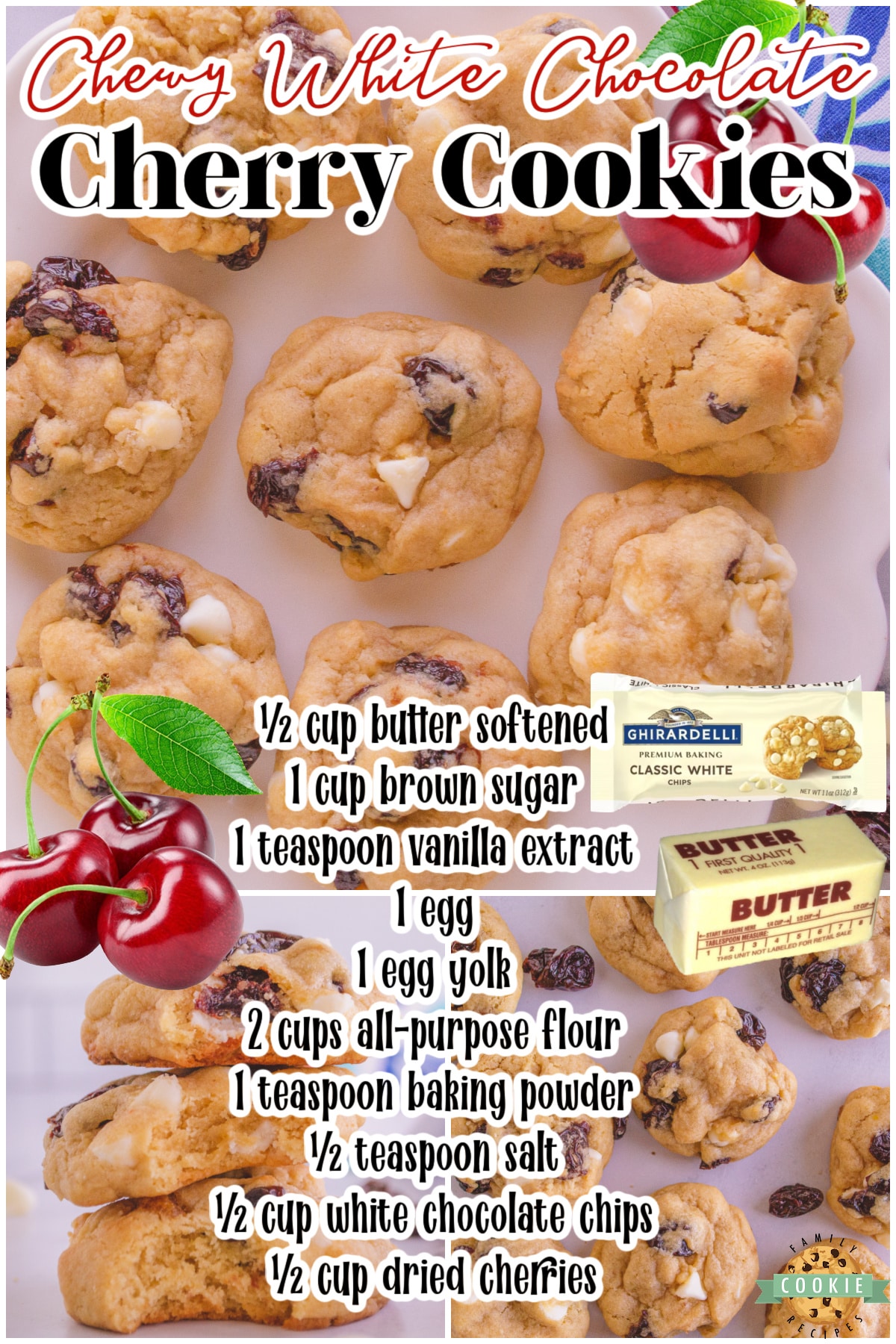 How long should I let these cookies cool?
Cookies are best left to cool on the baking sheet they're cooked on for 3-4 minutes, then you can transfer them to a cooling rack to cool further. This way, they don't fall apart as cookies are pretty soft still when they're pulled out of the oven. After a couple minutes on a cooling rack, cooking are usually cool enough to eat! Warm cookies are the best!
How long are white chocolate cherry cookies good for?
These cookies can be kept stored in an airtight container at room temperature for 3-5 days. If desired, you can freeze them for a longer storage solution. In the freezer container, these cookies can last up to 3 months! Just thaw them on the counter for several minutes to soften before eating.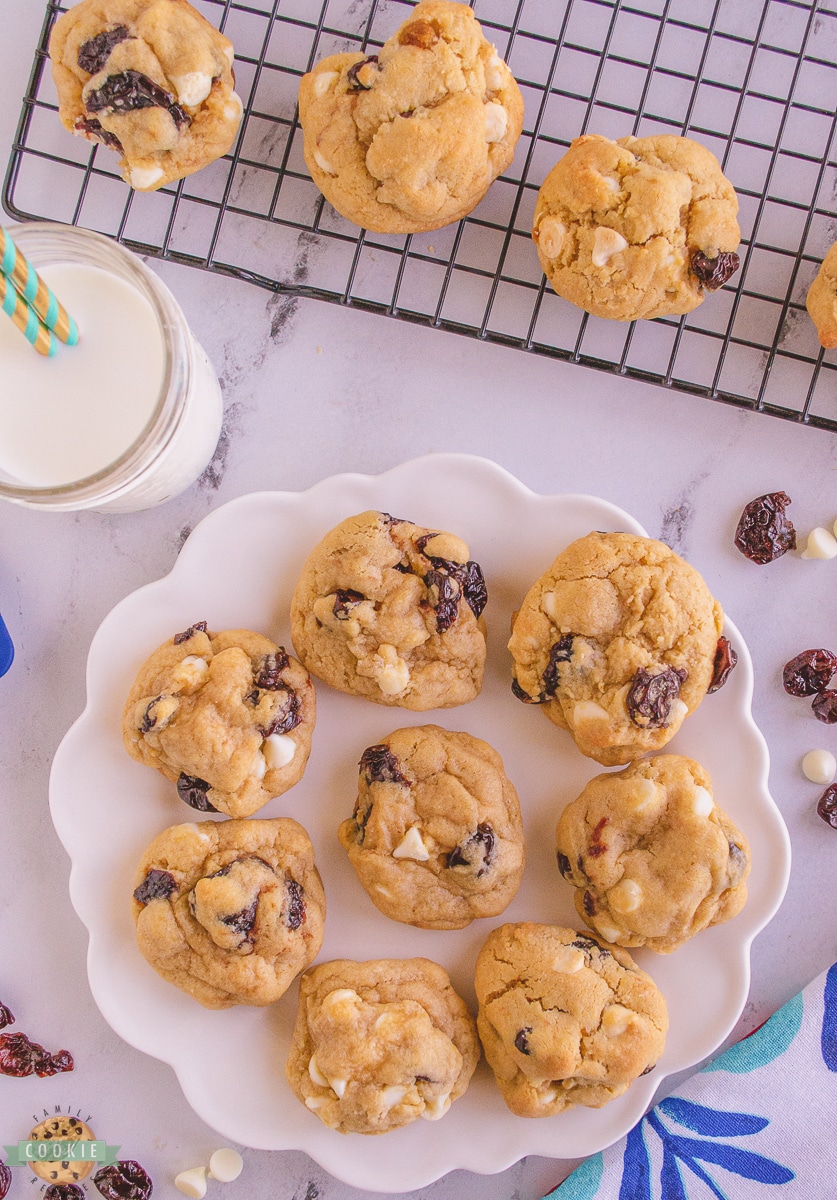 How to Get a Perfectly Round Cookie Shape
Want to know a neat little trick? After your cookies have been baked, while they are still hot and cooling on the pan, take a medium-sized round cookie cutter or a round glass/drinking mug and place it over the top of the cookie. The round shape should be slightly bigger than the cookie for this trick to work.
Swirl the round cutter/object around the cookie, knocking it into the sides a bit as you go. The more you swirl, the smaller and thicker the cookie will become. Then let the cookies cool. This is how you can get homemade cookies to look perfectly rounded. This trick won't work with cutout cookies, but it works fine with drop cookies and rolled cookies.

Family road trip! They're always an adventure, aren't they?! I'm grateful that we took the time and effort to go on roadtrips like this because as the kids get older & move out, I imagine they'll be few and far between. All the chaos is worth it!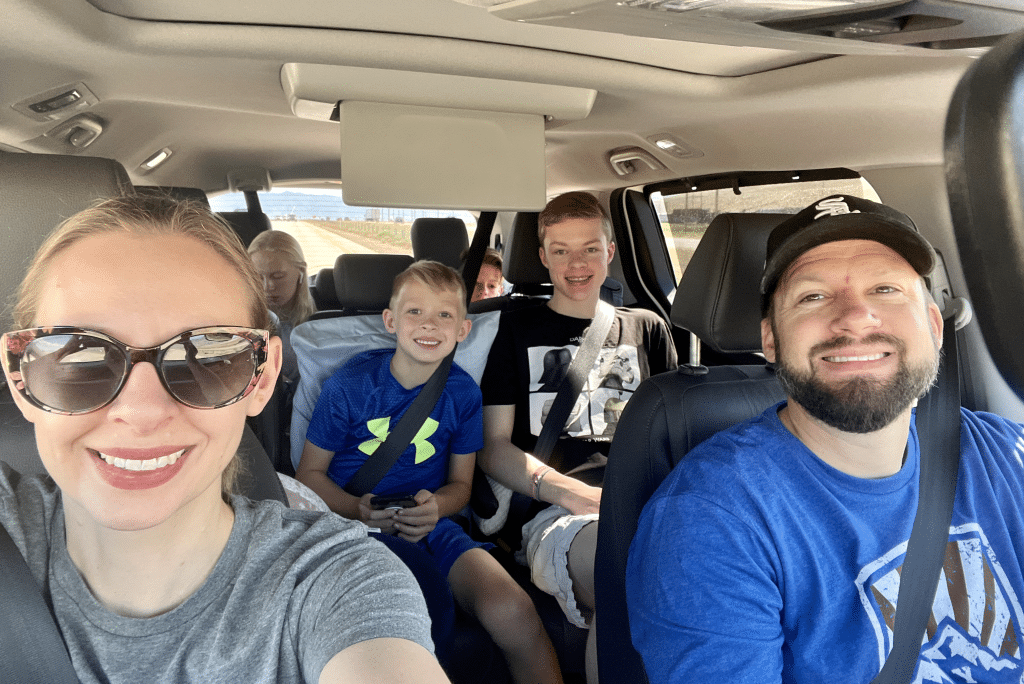 White Chocolate Cherry Cookies are an incredible rich treat with bursts of color and sweetness in every bite. These dried cherry cookies are great any time of the year and the basic ingredients make them so easy to whip up a batch.