Grasshopper cookies are fudgy brownie cookies stuffed with a Mint Oreo and topped with the ultimate mint chocolate frosting! Indulgent mint chocolate cookies perfect for the holidays.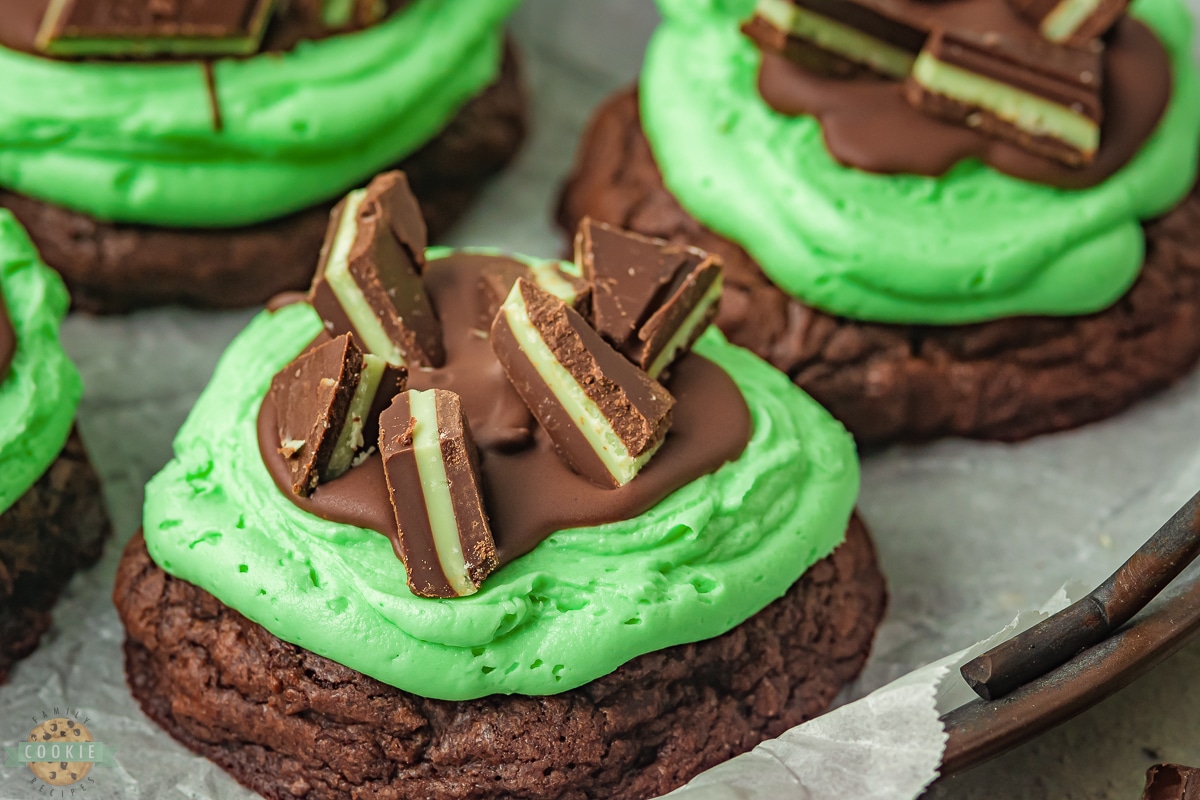 Made with boxed brownie mix, mint Oreos, and Andes mints you know these cookies are going to taste fabulous. Chewy, chocolate and minty goodness in every bite will have you reaching for another.
What are grasshopper cookies?
These cookies are a brownie mix turned cookie and then stuffed with a mint-flavored oreo cookie. A nice minty frosting and garnish of chopped Andes mints await us at the top of every cookie as well. Every bite of these Andes mint cookies is a burst of chocolate and refreshing mint.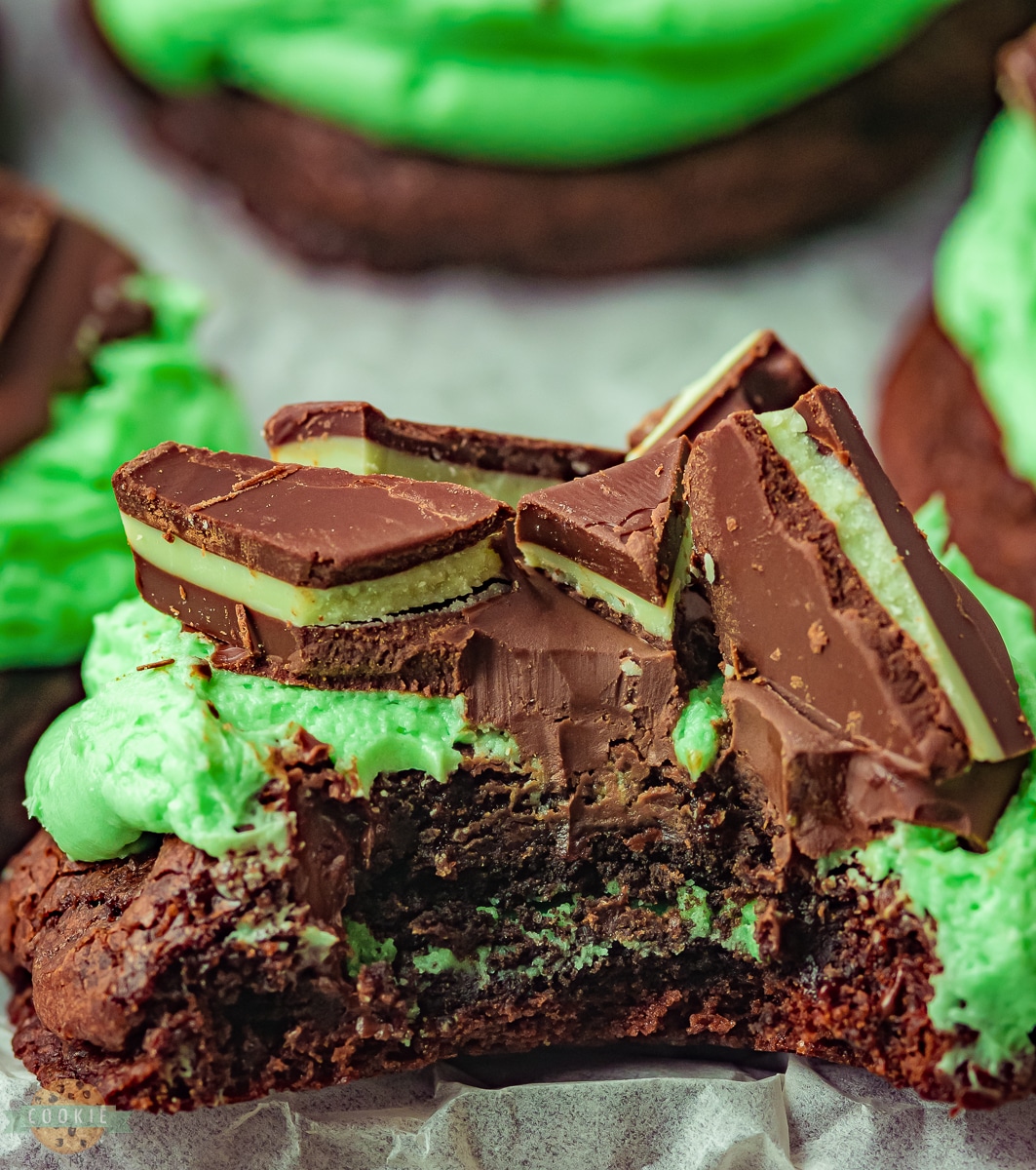 Mint cookies ingredients
For the Cookies:
-Brownie mix: You will need one 18.3 oz box of your favorite chocolate brownie mix.
-Eggs: Use 2 eggs to help get the great chewy brownie texture we want.
-Oil: Adding in ¼ cup of oil will make the brownie cookies moist.
-Flour: Use ⅛ cup of all-purpose flour (2 tablespoons) to make the batter the right consistency.
-Water: Add in 1 tablespoon of water to moisten the dough.
-Oreos: To stuff your cookies, use 12 mint-flavored oreo. This is optional, you do not need to stuff them.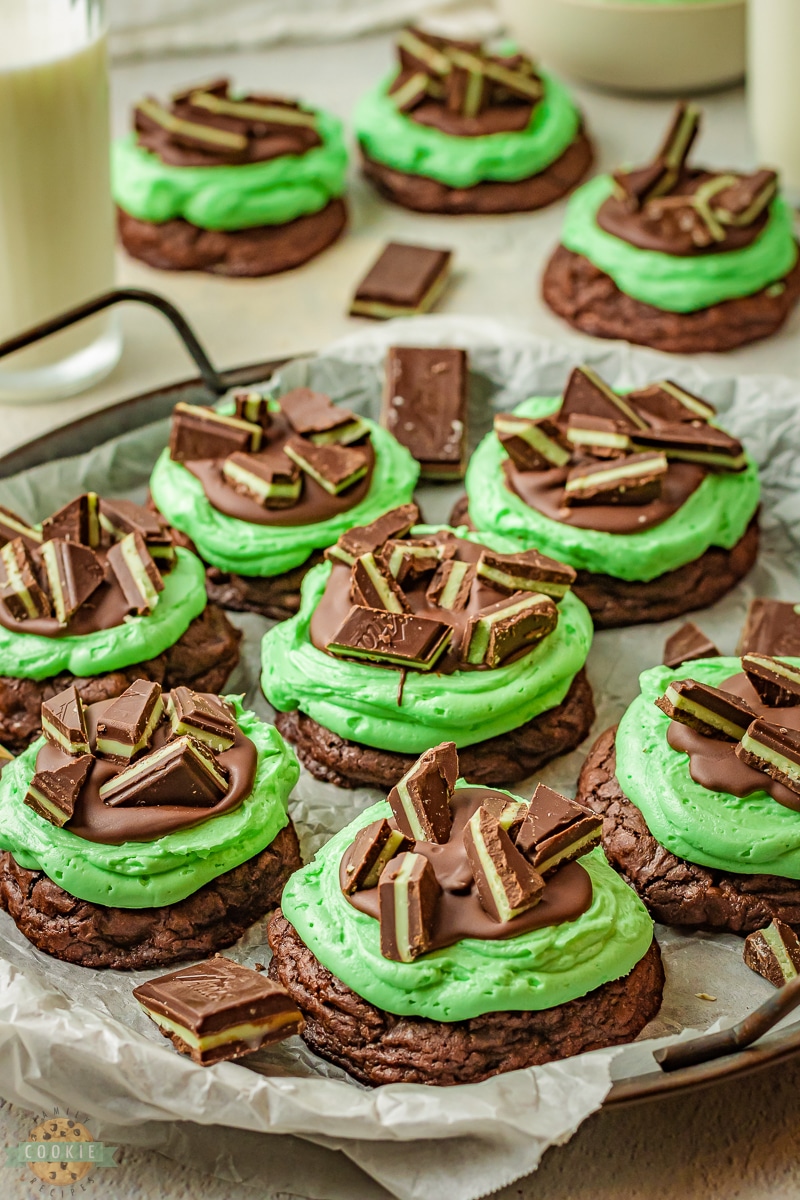 For the Mint Frosting:
-Butter: Use 1 cup (2 sticks) of room temperature butter for creamy rich results.
-Powdered sugar: You will need 4 cups of powdered sugar for a sweet and smooth frosting.
-Heavy cream: Add in 2 tablespoons of heavy cream for a creamy frosting.
-Peppermint extract: To help add more mint flavor to the cookies add ½ teaspoon of peppermint extract to the frosting.
-Food coloring: Green food coloring will work great for these cookies because it ties in nicely with the name and other colors from our mints.
For the Chocolate Glaze:
-Chocolate melts: Use 1 ½ cups of Ghiradelli milk chocolate melts or use 1 ½ cups chocolate chips and 4 tablespoons of butter for similar results.
For the Topping:
-Andes mints: You will need 6 ounces of Andes creme de menthe candy that has been chopped into large pieces.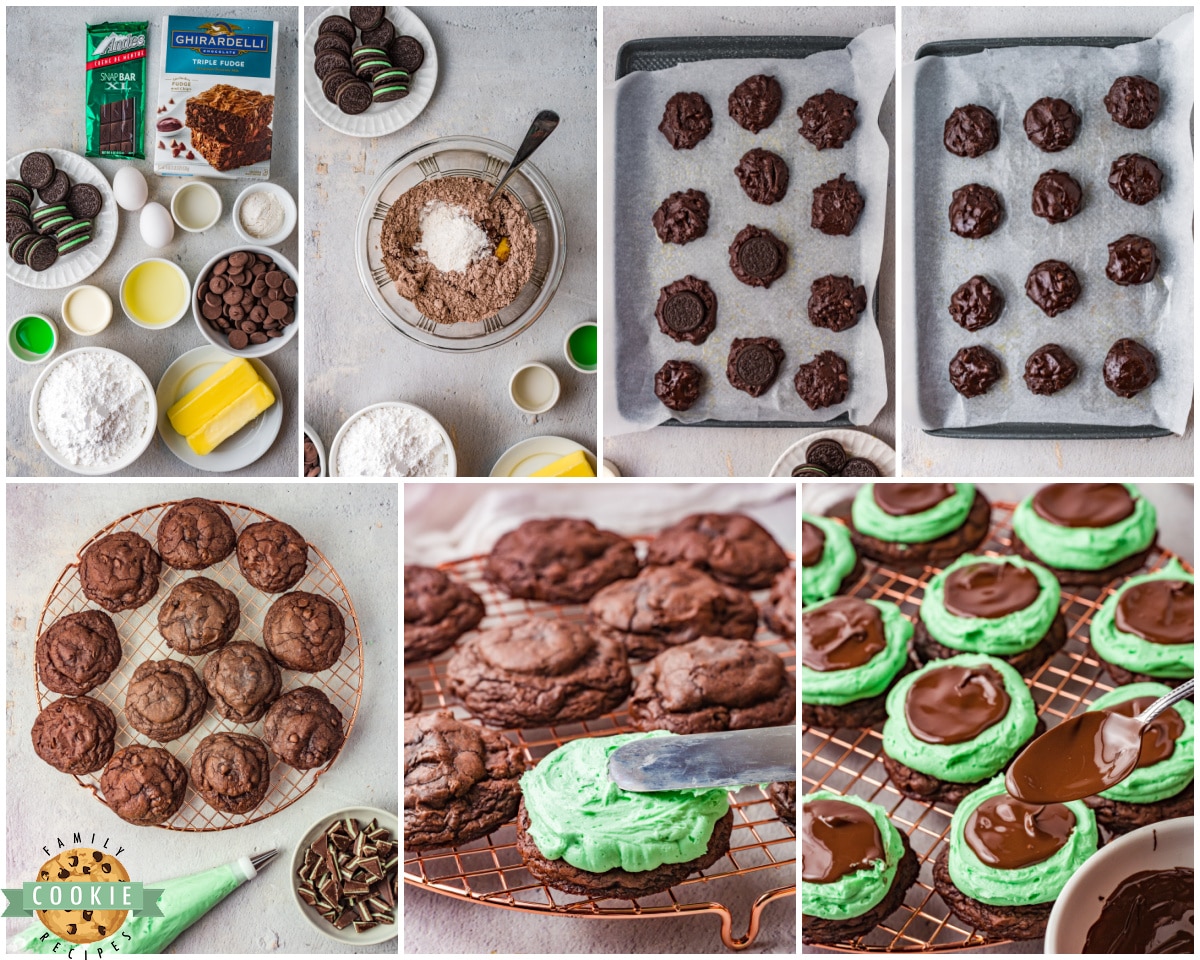 How to make grasshopper cookies
Cookies:
Preheat your oven to 350 degrees F and spray a cookie sheet with cooking spray.
In a mixing bowl, combine the brownie mix, eggs, oil, water, and flour until well mixed.
Divide the dough into 12 balls and place an oreo cookie in each one and form the dough up and around the cookie until it is well hidden.
Place the cookie dough onto the baking sheet and repeat with all 12 cookies.
Bake in the oven for 8-9 minutes.
Remove from the oven and cool completely.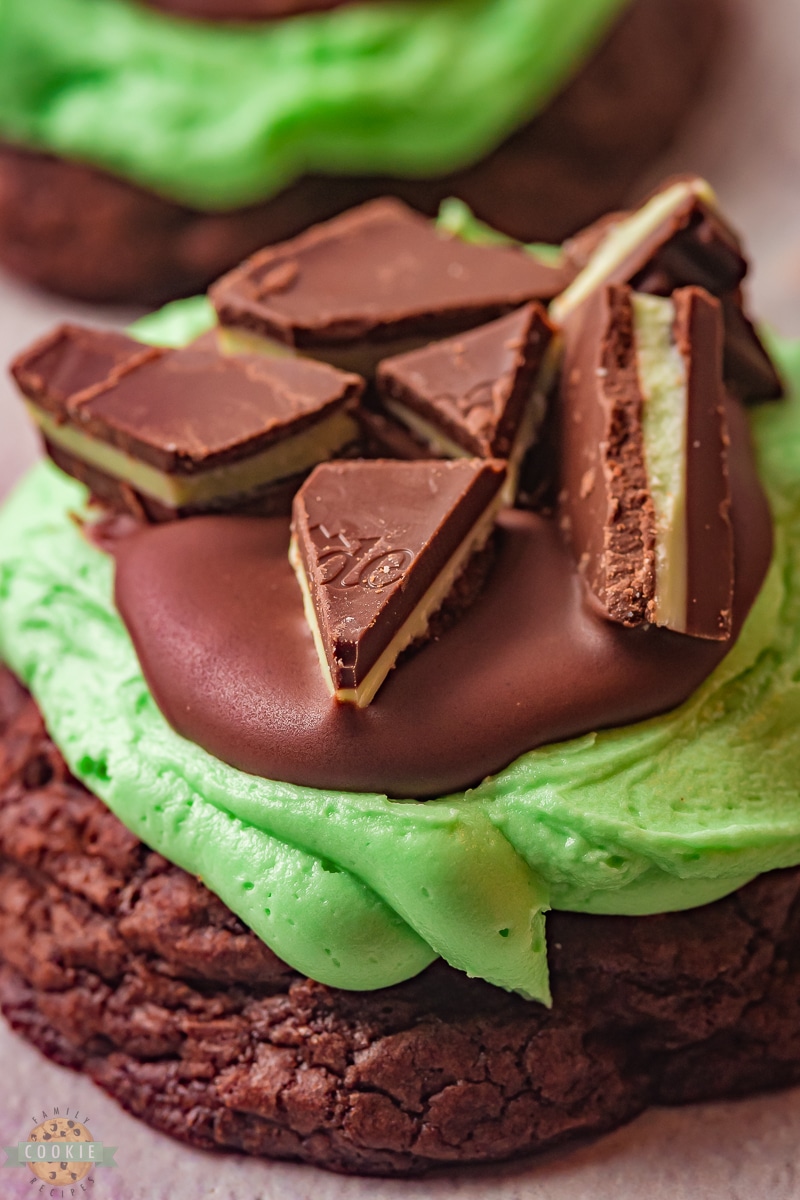 Mint Frosting:
Whip the butter until nice and soft in a large mixing bowl or in the bowl of a stand mixer. Gradually add in the powdered sugar.
Pour in the heavy cream and peppermint extract until well mixed.
Add in 4 drops of green food coloring and mix again until evenly distributed. Add in more green if needed for the desired look.
Once the cookies have cooled completely, you can pip the frosting onto them and spread it around into a thick layer.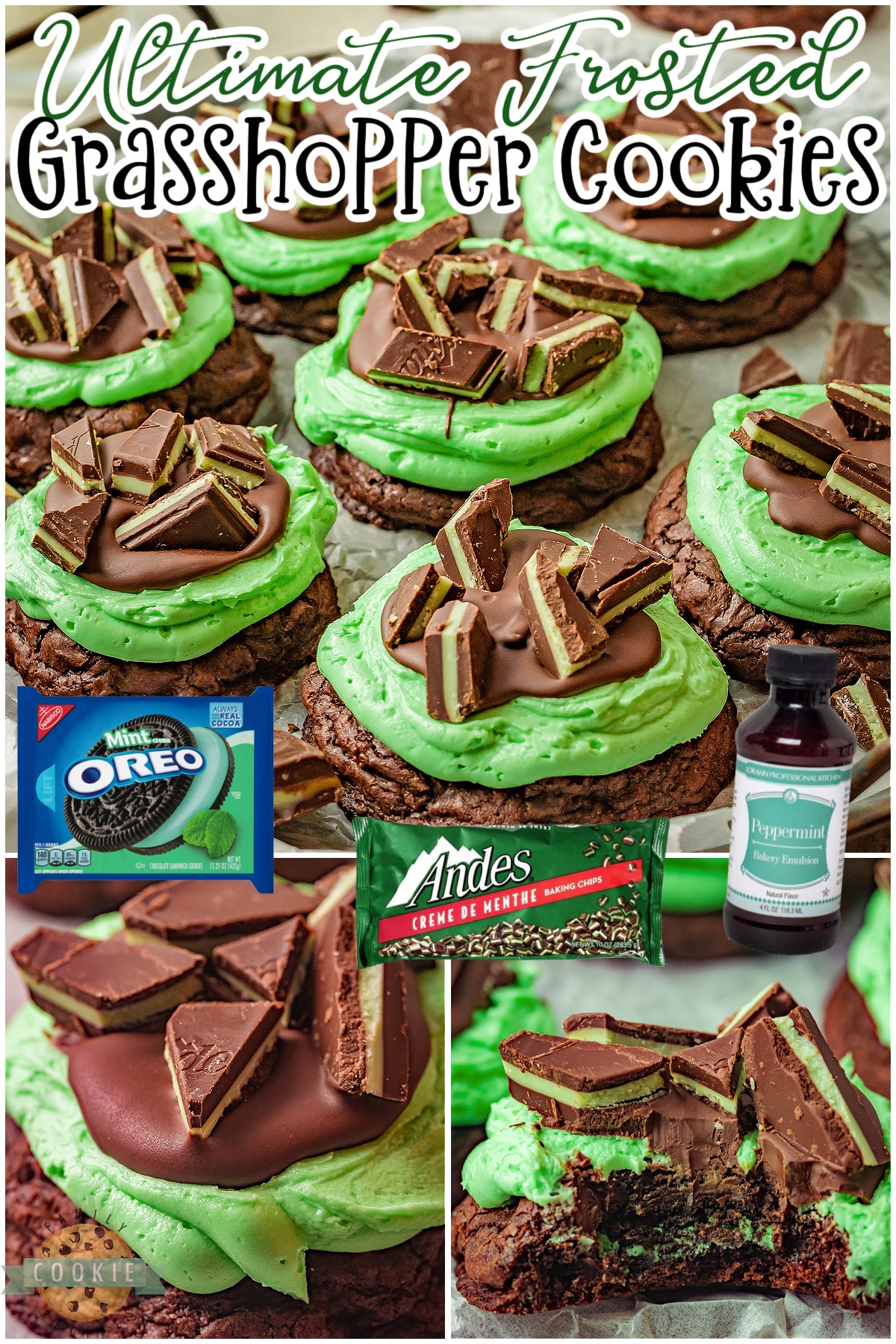 Chocolate Ganache:
Place the melting chips of chocolate chips and butter into a microwave safe dish and heat for 30 seconds in the microwave. Remove and stir.]place the bowl back into the microwave and heat for another 30 seconds and stir again. Once the chocolate has melted completely and there are no more lumps, the chocolate is ready to be used.
Pour a spoonful of the ganache in the center of the green icing and make sure to smooth it out until it's a ¼ inch away from the cookie edges.
Sprinkle the top with your chopped mints. Enjoy!
How can I omit the Oreos?
You can leave the Oreos out and divide the dough into 24 cookies instead of 12. You won't need the cookies to be as large anymore because there is no cookie inside to hide.
Why are they called grasshopper cookies?
A grasshopper is a sweet green-colored mint drink named back in the 1918's. Cookies, cakes, and pies that have followed the green color and mint flavor combination have been using the term "grasshopper" ever since because it's become recognized as being green and minty.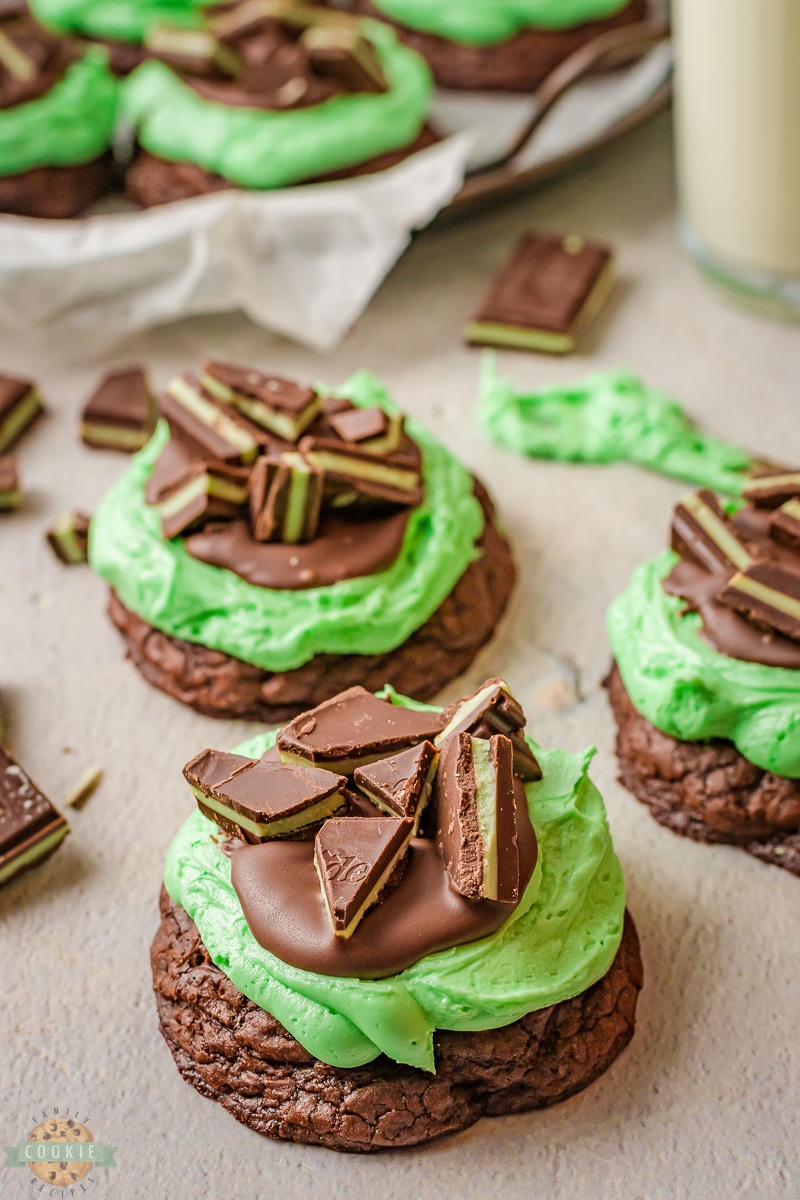 Check out these other refreshing mint cookie recipes


Puppies are family too! One of my dog's favorite things is WARM LAUNDRY. Literally, they jump in excitement when someone walks into the laundry room. Penny has been known to attempt to jump IN the dryer. Ha! She burrows herself in the warmest spot once the laundry makes it to our bed, then I just have to attempt to fold it around her. Funny dog!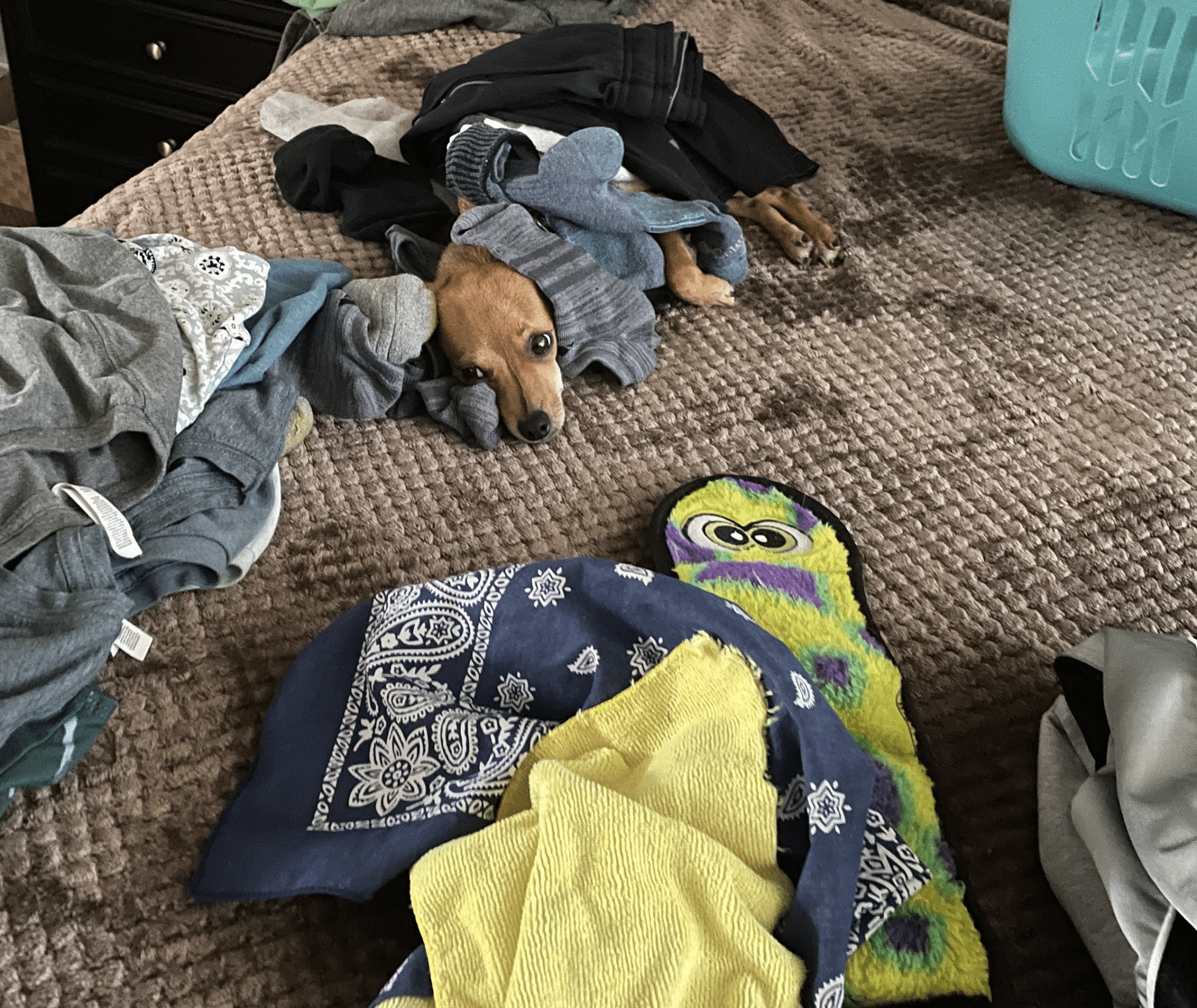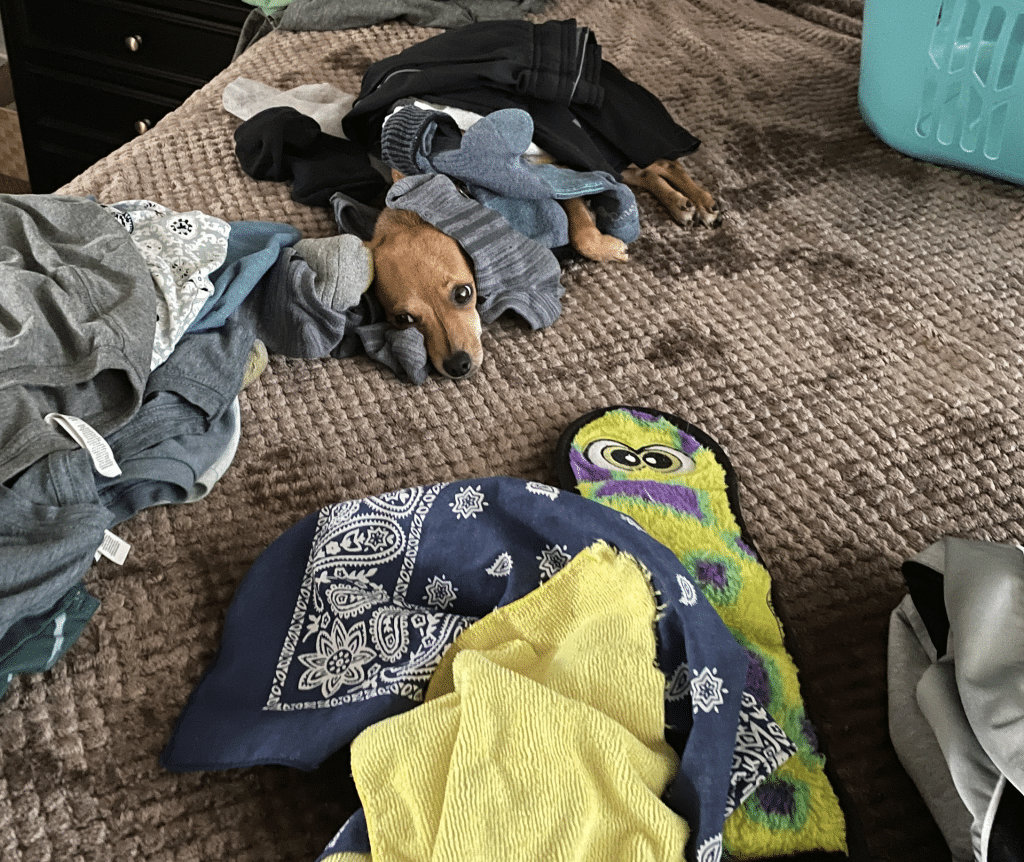 You're going to love eating a grasshopper cookie. Packed with minty green colors, flavors, and chewy chocolate goodness, every bite is an explosion you can't seem to get enough of. Try them soon and see why they aren't just for the holidays.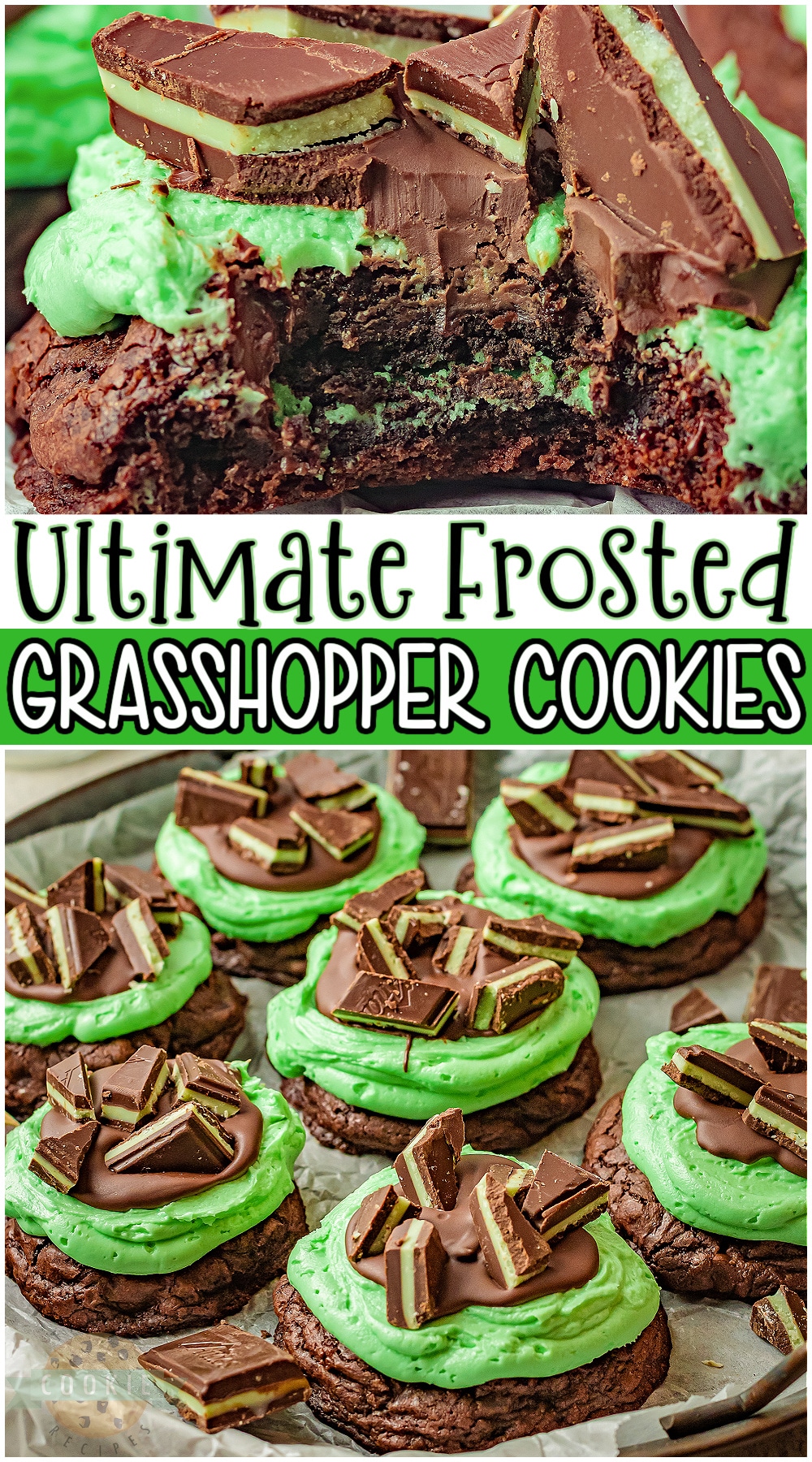 Grasshopper cookies are fudgy brownie cookies stuffed with a Mint Oreo and topped with the ultimate mint chocolate frosting! Indulgent mint chocolate cookies perfect for the holidays.