Soft & chewy St. Patrick's Day Sprinkle Cookies made fun & festive with plenty of green! Vanilla pudding cookies rolled in colorful sprinkles, perfect for parties!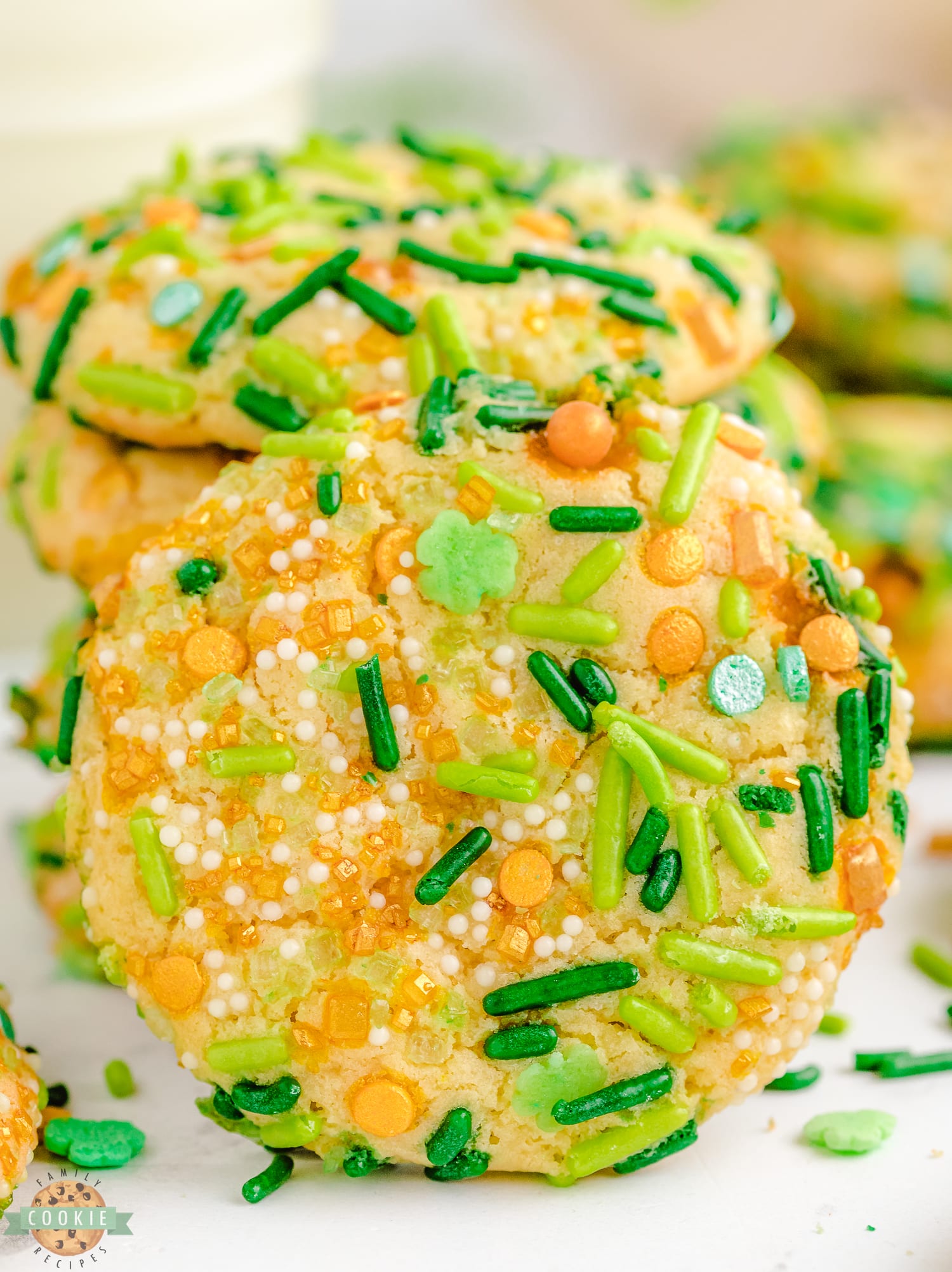 These sprinkle cookies have fantastic flavor and are so simple to make, you will be on your way to enjoying a delicious treat in no time! Make these St. Patrick's Day Cookies for family gatherings, school parties or just to surprise your family with.
Festive St. Patrick's Day Cookies
This super simple recipe calls for under 10 ingredients, some of which are most likely already in your kitchen and pantry. These sprinkle cookies are extra soft and fluffy thanks for the pudding mix added to the dough. Once the dough comes together, adding a festive flare is so easy, just roll it in some green colored sprinkles and bake! Make these cookies for St. Patty's Day and you are sure to put a smile on everyone's faces!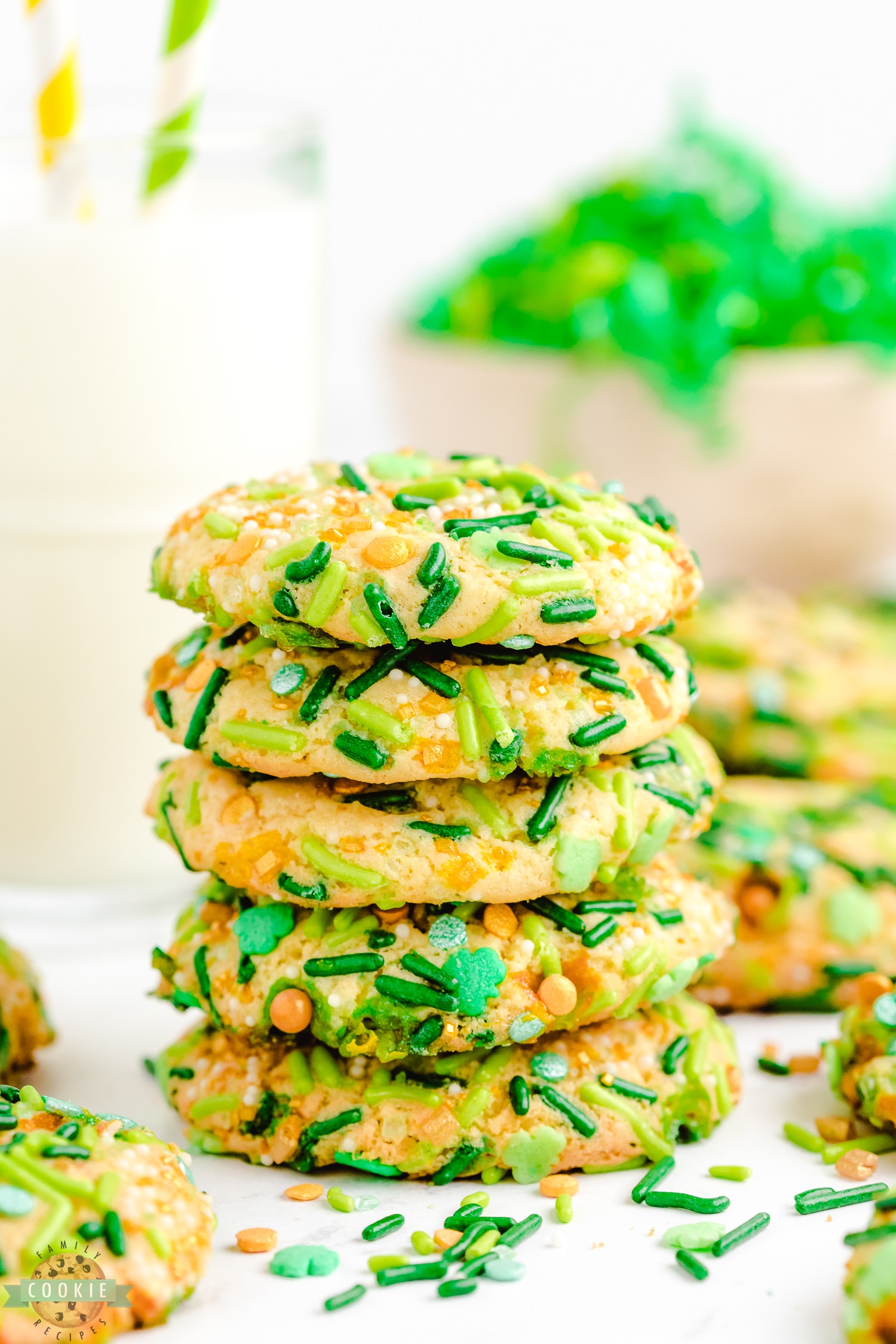 TIPS FOR THE PERFECT COOKIES EVERYTIME
Three kitchen items make these cookies come together really fast. I actually use these items in nearly every cookie recipe I make, so they're quite versatile.
First, I line my cookie sheets with a piece of parchment paper. They're sold in sizes that fit a 12×16 cookie sheet perfectly and enable to cookies to bake well without sticking- and no mess from spraying oil on the cookie sheets!
The second item is a KitchenAid mixer. I love mine! I have a Bosch as well but I find I use my KitchenAid for cookies. There is a cookie paddle that comes with every mixer that you attach to the top of the mixer. They're easy to use and help you mix the ingredients uniformly. I also use the metal whisk attachment in this recipe to make the frosting. It whips it up super fast! Add this to your wish list because it's one of my all-time used small appliances ever!
The third item is a cookie scoop! Years and years ago I used to use 2 spoons to measure and scrape cookie dough onto the pans. It wasn't a perfect process and I often ended up with oblong cookies in various sizes. A friend of mine brought cookies to a party and I noticed each and every one of her cookies looked PERFECT. Her secret? A cookie scoop! They come in three sizes- 1/2 tablespoon, 1.5 tablespoon and 3 tablespoon scoops. I used the large and middle size- 3 tablespoon and 1.5 tablespoon for these cookies. Although when I'm serving a large crowd, I use the small cookie scoop. People love having a smaller cookie, especially at an event with several other desserts.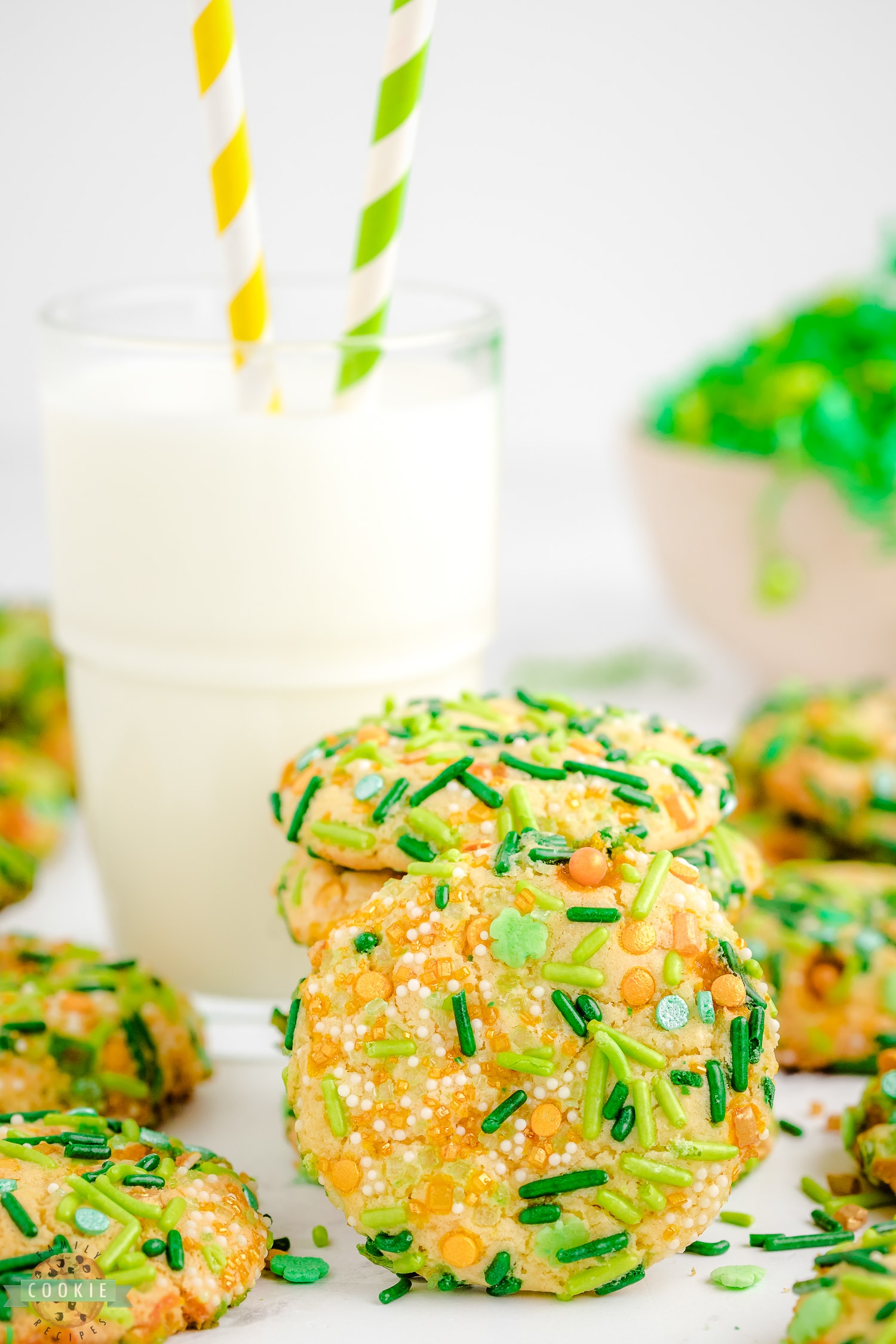 Ingredients for St. Patrick's Day Cookies
Sugar: You need 1 cup of sugar to make these cookies chewy and sweet.
Butter: Adding in ½ cup of butter, softened, will create wonderfully rich flavored cookies.
Egg: To help bind the dough together, use 1 egg.
Milk: For the perfect dough consistency, add in ⅓ cup of milk.
Salt: Using ½ tsp. of salt will help balance all the great flavors in this cookie recipe.
Pudding: You will need one 3.4-ounce box of vanilla pudding (do not make the pudding, only use the dry mixture).
Baking soda: To help the cookies rise as they bake, add in ½ tsp. of baking soda.
Flour: The structure of this cookie dough is 2 cups of flour.
Sprinkles: You will want to use St. Patrick's Day Sprinkles to make these cookies extra festive and fun!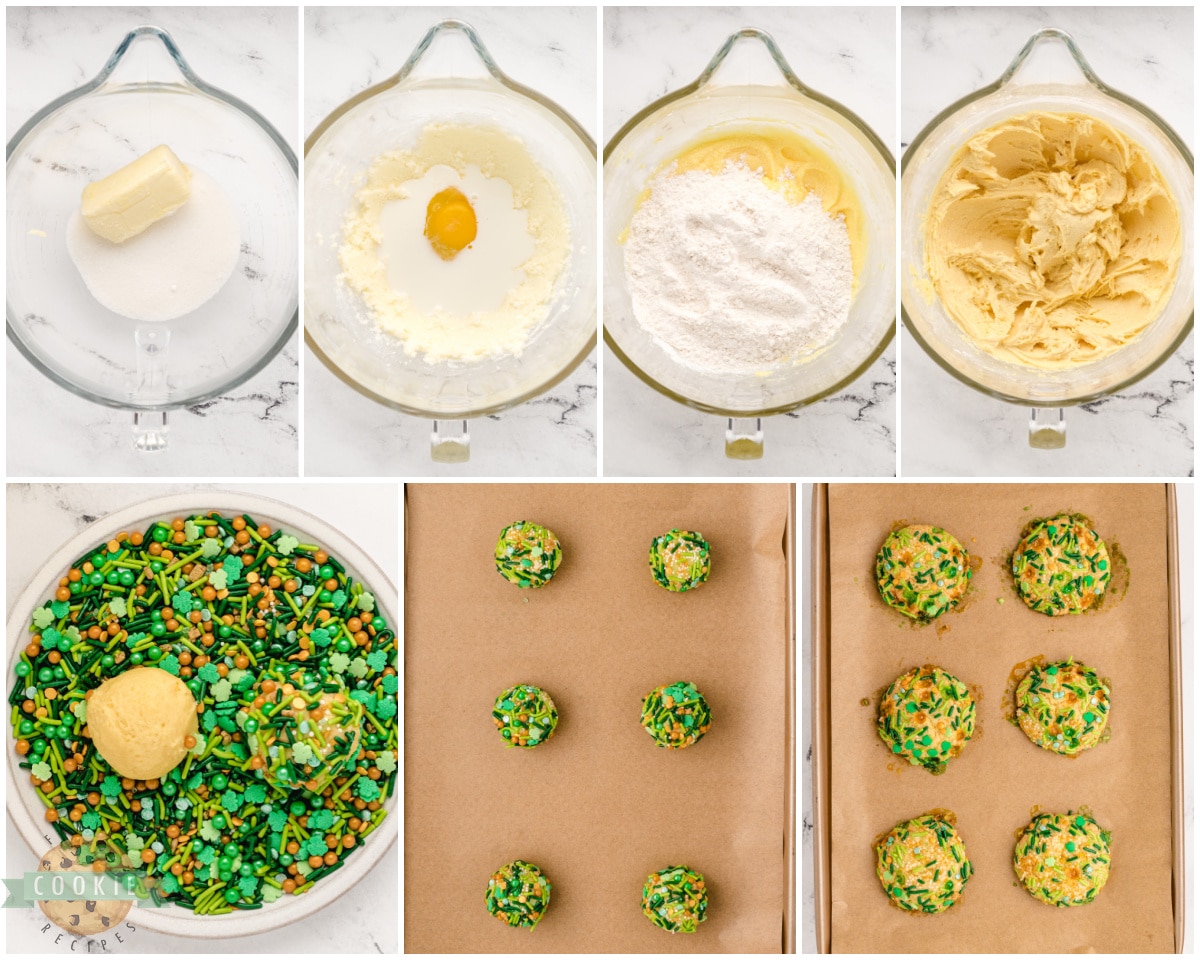 How to make Sprinkle Cookies for St. Patty's Day
Prep
Start by preheating the oven to 375°F. Then, line a baking sheet with parchment and set aside.
Also, pour the sprinkles into a small bowl and set aside for future use.
Batter
Next, in a large bowl, cream together the sugar and softened butter. Then, add in the egg and milk, stir to combine well.
After that, add in the salt, dry pudding mix, and baking soda. Mix ingredients until smooth.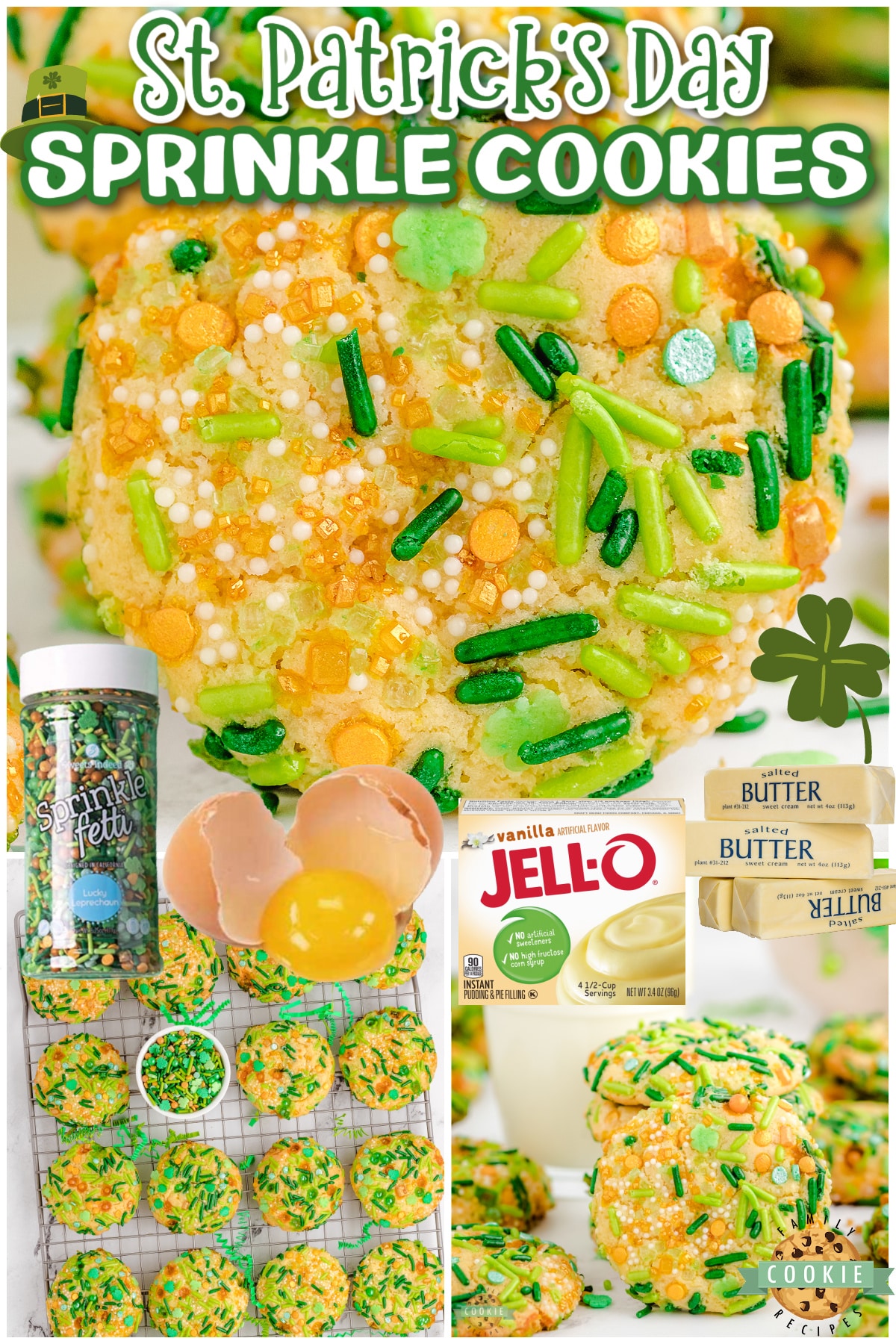 Lastly, add in the flour and mix until all the ingredients are well incorporated.
Bake
Proceed to scoop about 1 TBSP of dough and roll it into a ball. Then, roll the dough in the bowl of sprinkles, pressing down so they stick well, and set onto the prepared cookie sheet. Repeat with the remaining cookie dough.
Then place the cookies in the preheated oven and bake for 8-10 minutes. Once baked, transfer to a cooling rack and let cool for 10 minutes.
Serve and enjoy!
HOW LONG ARE THESE COOKIES GOOD FOR?
These cookies should be stored in an airtight container and will be good for up to 3-5 days. To keep the cookies nice and chewy, try adding a piece of bread to the container and it prolongs the freshness of the cookies. If you've never tried this trick, see for yourself how amazing it is!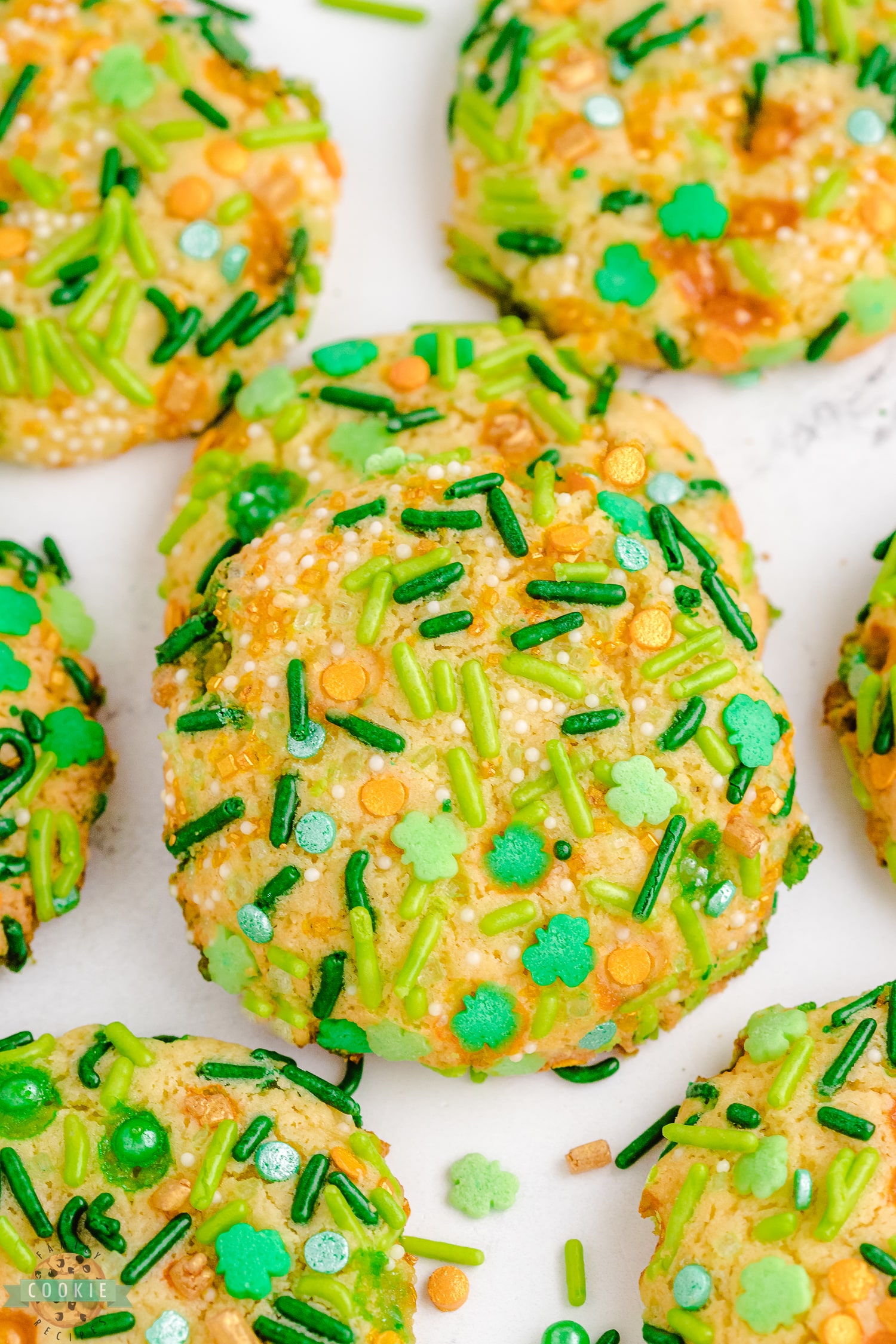 HOW DO YOU SOFTEN BUTTER?
I like to soften butter by using the defrost function on my microwave. If you need the full ½ cup cube of butter, you can leave it in the paper wrapper, otherwise, place the amount of butter you need in a glass or porcelain bowl. I use the lowest defrost setting on my microwave and just let it run for 20 seconds. Check the butter and see how soft it is by pressing it with a rubber scraper. If it is still not soft to the touch, meaning it doesn't indent when you press into it, let it warm for another 5-10 seconds. Watch it closely! Butter softens very quickly.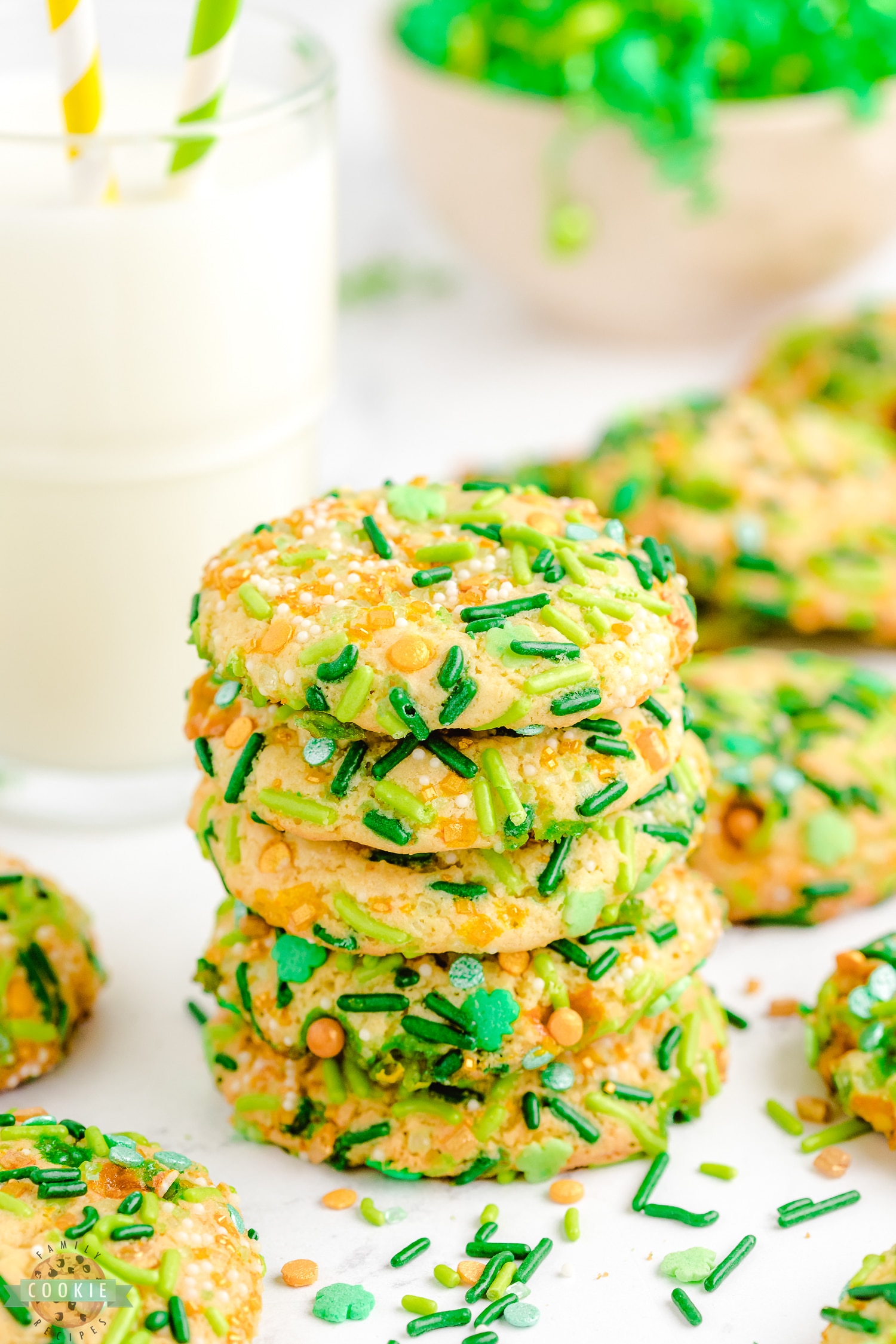 HOW LONG SHOULD I LET THE COOKIES COOL?
Cookies are best left to cool on the baking sheet they're cooked on for 3-4 minutes, then you can transfer them to a cooling rack to cool further. This way, they don't fall apart as cookies are pretty soft still when they're pulled out of the oven. After a couple minutes on a cooling rack, cooking are usually cool enough to eat! Warm cookies are the best!


It's SO fun to watch this kid play basketball! He's so athletic and I have to watch myself because I get so invested in the game, ha!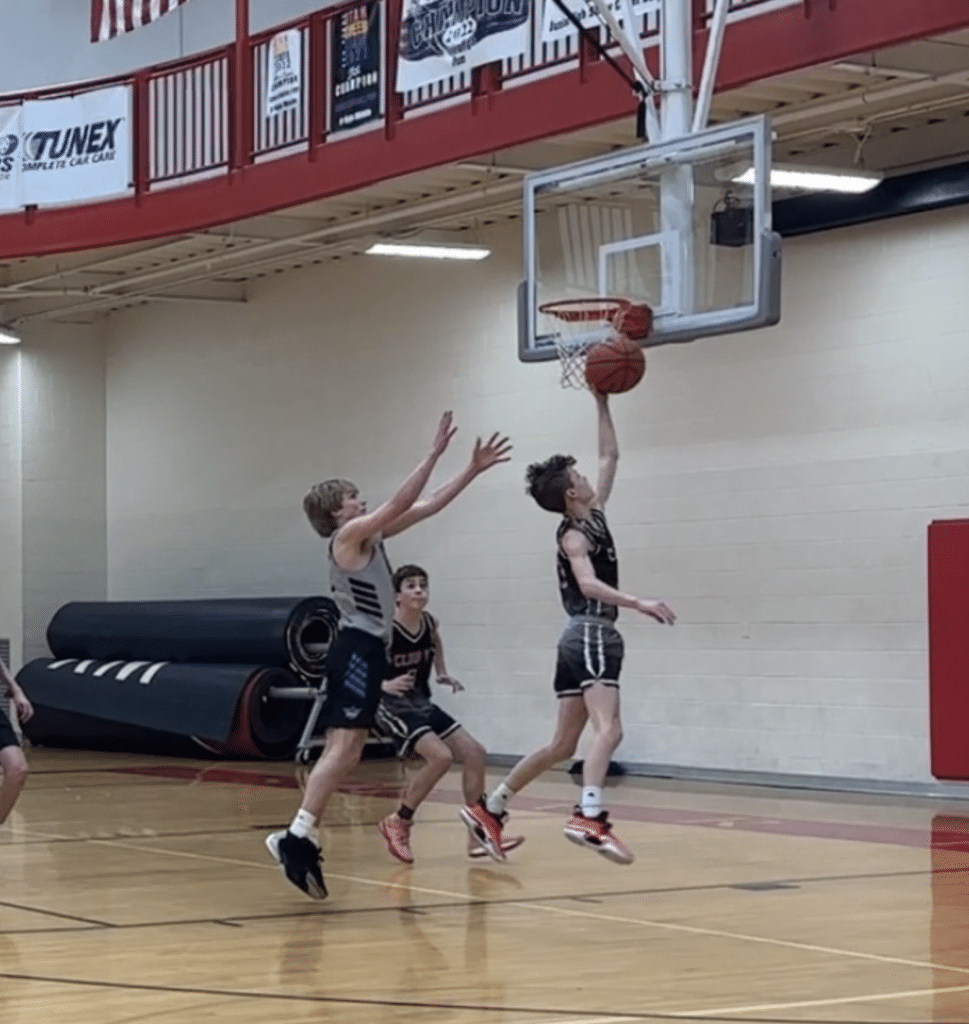 For more amazing cookie recipes, give some of these a try:
Chewy, sweet and fluffy St. Patrick's Day Sprinkle Cookies are made to be fun & festive with plenty of green! Vanilla pudding cookies are rolled in colorful sprinkles, perfect for parties or events.