Apple Cinnamon Cookies are made with chunks of fresh apples, warm spices & white chocolate chips for the perfect Fall cookie! This apple cookies recipe is an incredibly delicious treat that is so simple to make, it comes together quickly and disappears just as fast.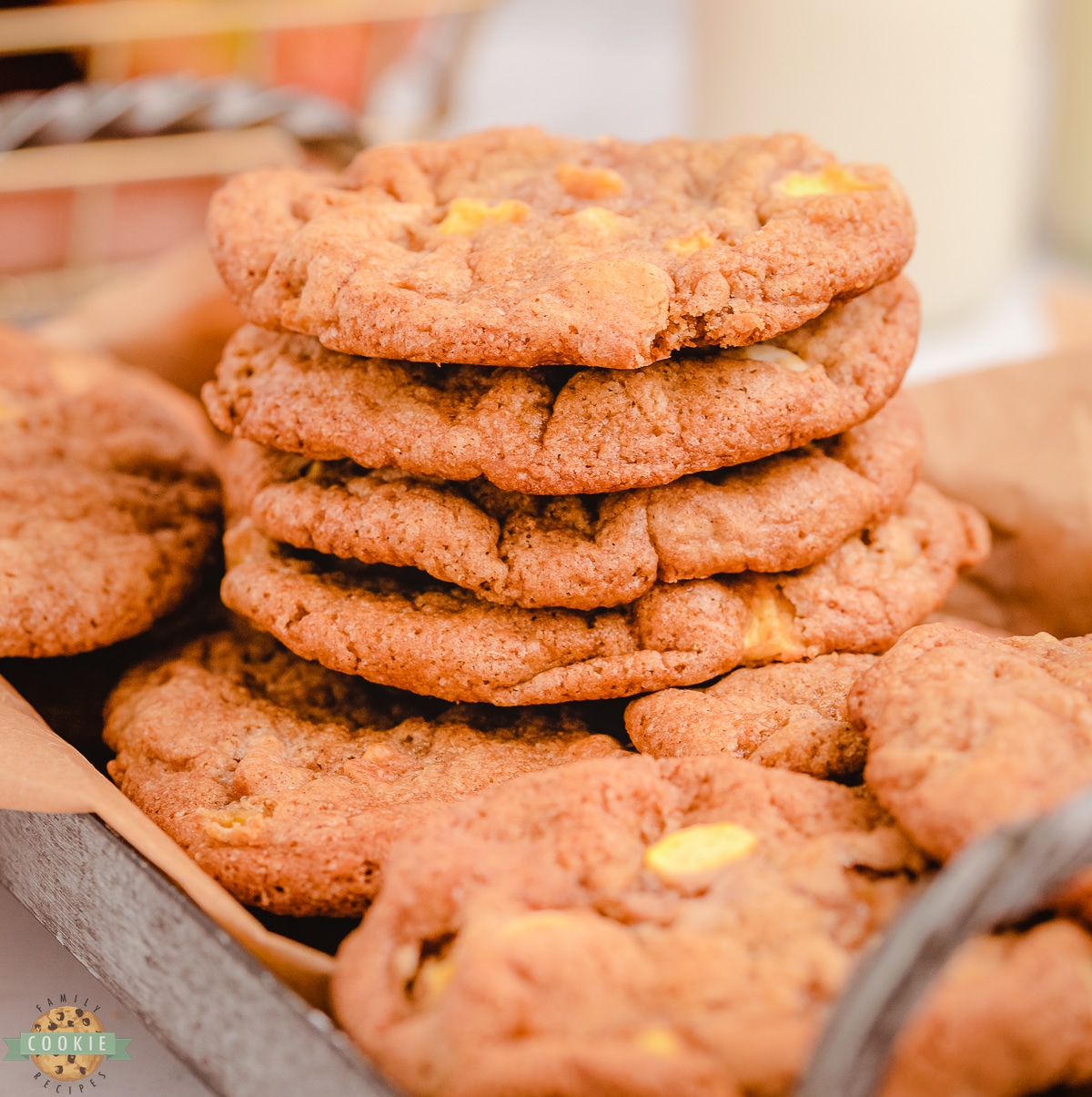 Apples and cinnamon are two flavors that are made for each other and this apple cookie is proof! Add in white chocolate chips or butterscotch chips to these cinnamon apple cookies and you have a wonderful treat filled with all your favorite flavors.
Apple and Cinnamon Cookies
We love the fall and it is not just because of the chill in the air and falling leaves outside. The yummy treats and baked goods we create in the kitchen really make this season one of our favorites. When you have an apple cinnamon cookie recipe like this one, you will never want to leave the kitchen again. I find this recipe so simple to make, the ingredients are ones that you most likely already have in your kitchen. When the season changes and the air gets crisp, there is nothing better than whipping up a batch of fresh cookies to enjoy on a cool Fall evening.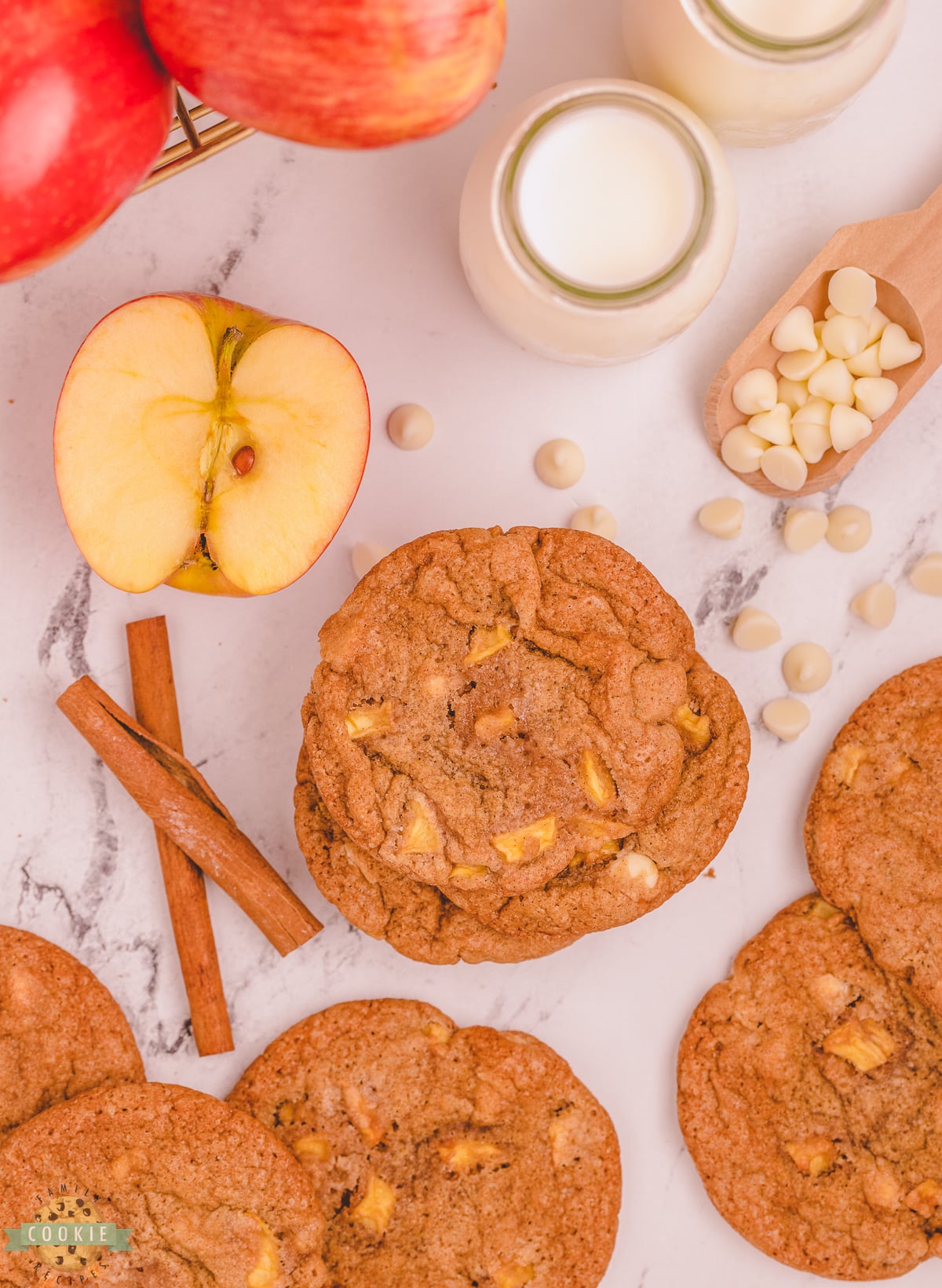 Why we think you will love this Apple Cookie recipe
Here are just a few more reasons to give this tasty cookie a try!
Simple ingredients. This recipe uses very simple to find ingredients, making it perfect for anyone that doesn't wish to have a large shopping list. You most likely already have half or most of the ingredients in your kitchen already.
Fresh apples! We get our delicious apple flavor from fresh apples! Use any of your favorite baking apples like Granny Smith, Pink Lady, or Honeycrisp, and enjoy a sweet or tart cookie based on what you like.
No chilling required. You do not need to have a lot of patience for this recipe because it is as simple as mixing everything together, scooping, and baking until ready. There is no chilling or long wait times needed, meaning you are only a few minutes away from a bite of heavenly goodness!
Apple Cinnamon Cookie Ingredients
Butter: You will need ½ cup of softened butter to make these cookies rich in taste.
Shortening: Adding in ½ cup of shortening will make the cookies softer without changing the consistency.
Sugars: Add in 1 cup each of granulated sugar and brown sugar to make sure that the cookies are chewy, flavorful, and tender.
Eggs: You will need 2 large eggs to bind the dough together well.
Flour: Add 3 cups of all purpose flour for the base of the cookies.
Cinnamon: Use 2 teaspoons of cinnamon for a warm spiced flavor.
Nutmeg: Adding in 1 teaspoon of nutmeg will give the cookies more spice and warmth in every bite.
Salt: You will need 1 teaspoon of salt to balance all the amazing flavors in these cookies.
Baking soda: To get the cookies to puff up nicely as they bake you will want to use 1 teaspoon of baking soda.
Apple: You will need 2 cups of peeled and chopped apples (about 2 apples) so that there is plenty in every bite.
Chips: You can use 1 cup of white chocolate chips or butterscotch chips for these cookies. Use one or the other, or a combination of the two to create new cookie experiences every time.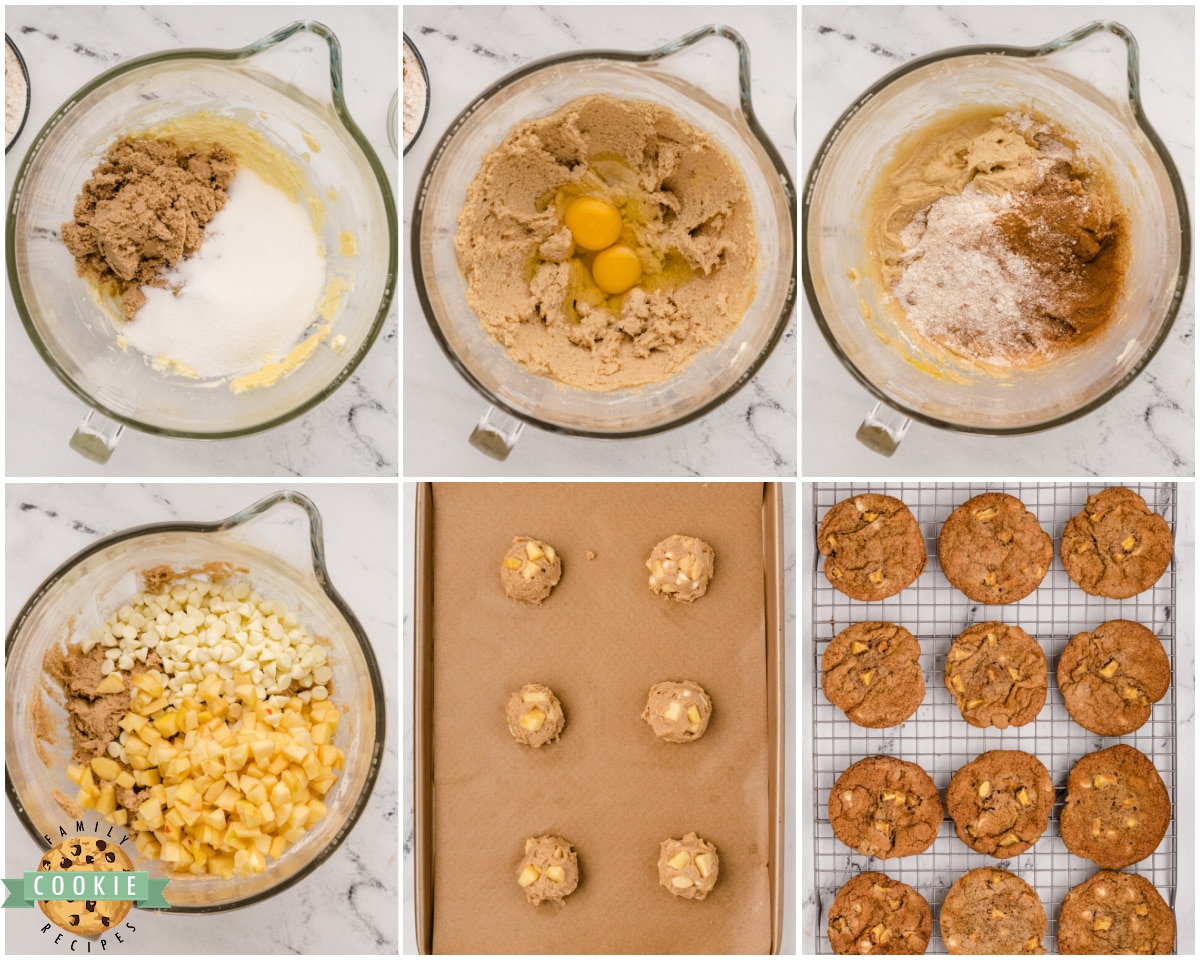 How to Make Apple Cinnamon Cookies
Prep
Preheat the oven to 375 degrees F. Then line two baking sheets with parchment paper and set them aside.
After that, peel and chop the apples into bite sized pieces and set aside.
Dough
In a large mixing bowl, cream the butter and shortening until blended. Then, add in the white and brown sugar and mix again until smooth and fluffy.
Next, add the eggs and mix again until well incorporated.
In a separate bowl, whisk together the dry ingredients, the flour, cinnamon, nutmeg, salt and baking soda. Proceed to add the dry ingredients to the butter mixture, 1 cup at a time, mixing well between each addition.
Once all of the dry ingredients have been added, fold in the chopped apple pieces and the white chocolate chips.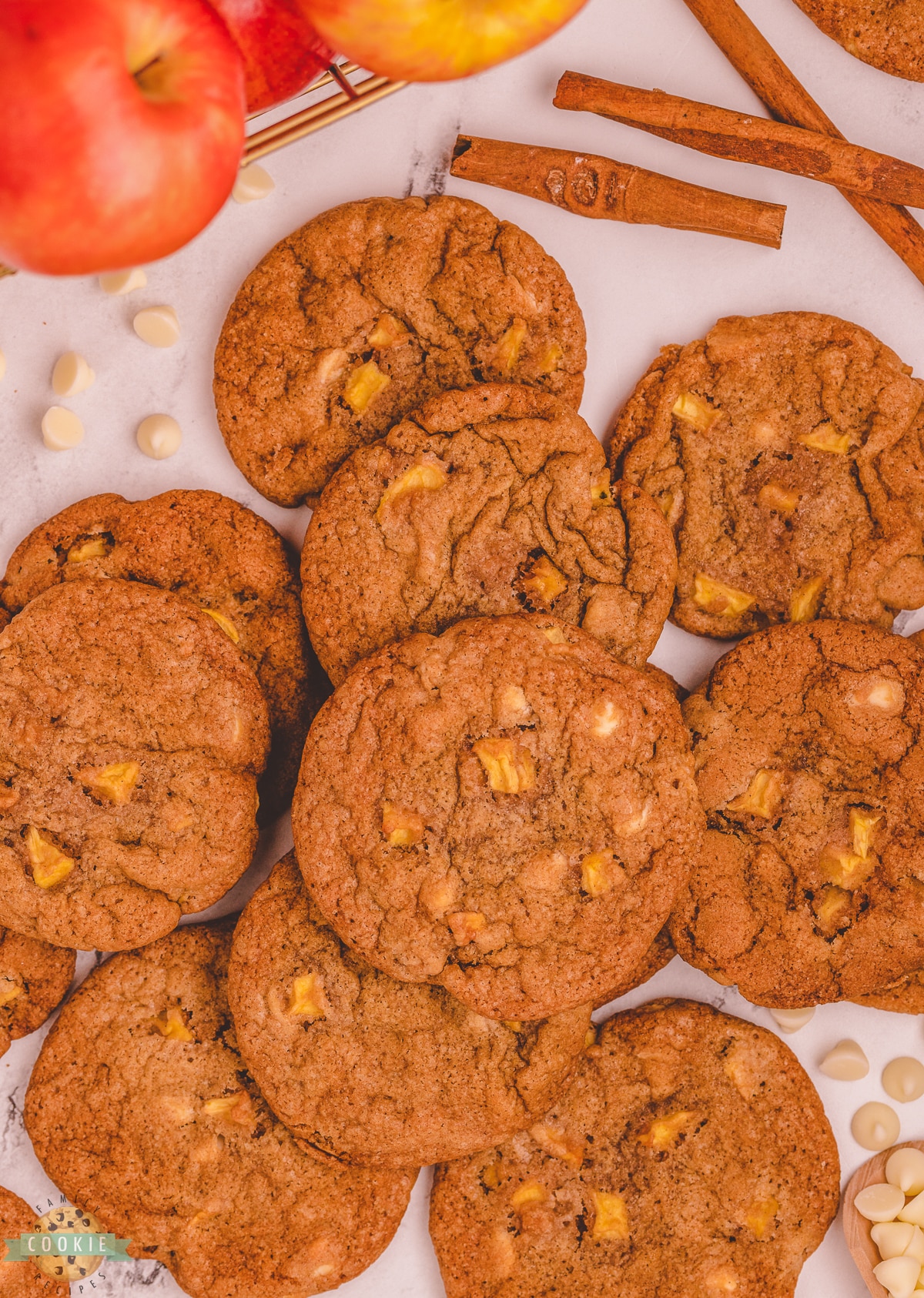 Bake
Proceed to scoop the dough by tablespoonfuls onto your prepared baking sheets.
Place in the preheated oven and bake for 9-10 minutes.
Allow the cookies to cool for 2-3 minutes on the baking sheet before transferring to a wire rack to cool completely.
Serve immediately and enjoy!
How long are apple cinnamon cookies good for?
I would recommend keeping these cookies in the fridge in an airtight container for up to 3 days. This will help to keep them from spoiling too soon because the apple chunks in them will shorten the lifespan of the cookies just a tad.
Can I freeze apple cinnamon cookies?
Yes, after the cookies have cooled completely, you can place them into an airtight container for up to 3 months. Let the cookies thaw in the fridge for a few hours before biting into them, as they will be pretty hard when frozen solid.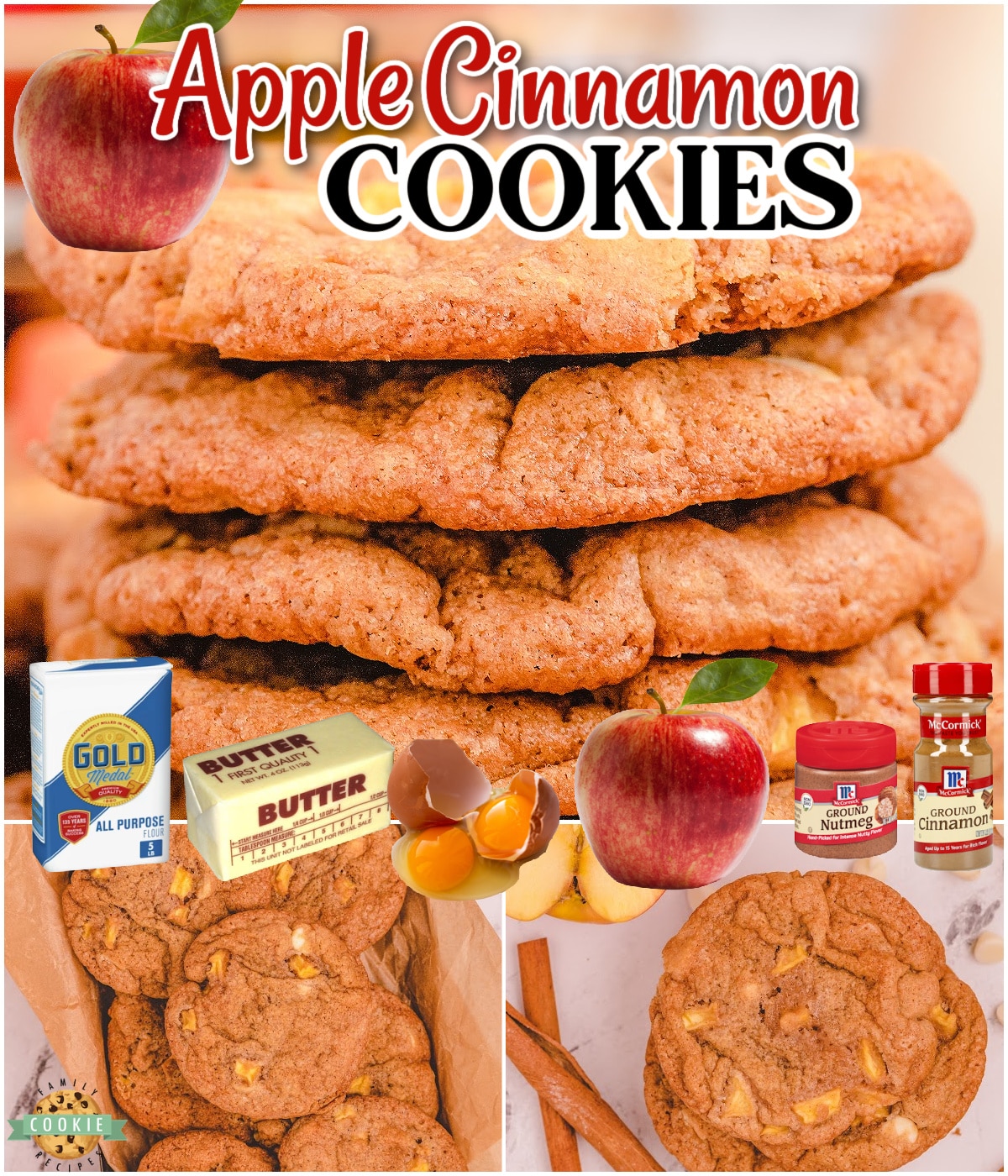 Apple Cinnamon Cookies are made with lovely spices, white chocolate chips, and tasty apple chunks, the best cookies for Fall! This apple cookies recipe is a delicious dessert that is so easy to make, it comes together fast and disappears just as quickly.